Measuring and analyzing traffic is the best way to know how well your site is performing. Google Analytics (UA) was the biggest player on the block, but on July 1, 2023, standard Universal Analytics will go away. So you have the option to migrate your Universal Analytics property settings to Google Analytics 4 or find other alternatives.
We engaged with SEO experts and active users to delve into the advantages and disadvantages of version 4, as well as some alternatives in case you want to switch to another platform. Let's have a look at our outcomes!
Research methodology
We asked 30 SEO specialists (among them Kevin Indig, Sam Underwood, Glen Allsopp, Joe Hall) and 25 active users of website analytics tools to go through the online survey.
There were 3 voting questions (from the most used features of web analytics platforms to their favorite Google analytics alternatives) and 1 open question to explain their choice of online analytics platforms for future use.
We calculated the votes and created infographics to visualize the data. The raw data can be accessed in this Google Sheet. Our study revealed some very interesting (and valuable) insights. Now is the moment to reveal our findings.
Key insights from the study
89% of SEO experts and active users of web analytics tools have decided to migrate from Universal Analytics to Google Analytics 4.
55% of voters believe that Hotjar is the best GA alternative with a simple way to visualize website behavior and collect customer feedback.
Landing page performance analysis is the most used feature in web analytics platforms according to the survey and only 3% use team boards and alerts.
The advantages of Google Analytics 4
1. Integration with other Google products
Google provides an extensive selection of products and services that together form a comprehensive technology stack. Many businesses stick to Google products, which makes considering GA4 competitors more difficult.
The decision to adopt GA4 isn't so much a choice as it is a necessity driven by my clients! Many of them already rely heavily on Google's suite of services, from Google Analytics to Looker Studio, BigQuery and Google Tag Manager. Given that their marketing teams are already accustomed to the Google Stack, the continuity provided by GA4 is the path of least resistance.
Also, while GA4 has had plenty of criticism, it hasn't missed the mark on everything. Being able to send multiple parameters with an event is a significant improvement to be able to better understand user interactions. In a nutshell, I chose GA4 for its integration with other tools, familiarity among my clients, and the hope it improves further.
2. One place to track the website and the app
In the past, if you had a website, you would use Google Analytics, and if you had an app, you would use either Google Analytics for Firebase or Google Analytics APP view. These would require separate GA profiles for each. However, with GA4, we can now track both website and app traffic within the same property. Nevertheless, in order to prevent the overlapping of user's data, we need to create filters to view them separately.
3. A 'free' web analytics platform
One significant advantage of GA4, similar to its previous versions, is that it is available at no cost. You don't need to pay anything to gain access to it right from the start. However, there is a hidden cost involved when it comes to training yourself, your team, or hiring someone to handle its configuration. Therefore, the term "free to access" doesn't necessarily mean 'completely free to benefit from', as was the case with Universal Analytics.
GA4 still holds its place as an effective analytics tool, with seamless connections to other powerful Google tools such as BigQuery, Ads, Looker and more, while still being free!
4. Updates in Google Analytics 4 for e-commerce
E-commerce advertisers and retailers will have the capability to access and analyze detailed data on cart events, purchase events, and monetization.
However, migration from UA to GA4 eCommerce tracking may present a significant learning challenge due to GA4's adoption of a new event-focused data model. You can ask admins to set up additional data layer code to track enhanced e-commerce events or try to set up Google Analytics 4 on Shopify by yourself.
5. More insights from machine learning
As Google incorporates machine learning further into its analytics tools, marketers are able to see more valuable insights into future customer behavior.
Moving forward, as Google introduces new predictive metrics, you will have the ability to forecast revenue for specific customer segments. These valuable insights help you to analyze diverse customer segments. By leveraging this information, you can optimize campaigns more effectively.
6. New valuable Google Analytics 4 features
Free BigQuery integration
The BigQuery integration helps you send raw data directly to the cloud data warehouse to generate machine learning-based insights.
Default event tracking
Probably, due to a lack of knowledge and feeling not comfortable with Google Tag Manager, but not so many website owners tracked actions on a website and missed out on juicy insights.
GA4 by default will collect some of the most common on-site events as a standard, with no additional configuration.
Funnel feature
The funnel feature, previously exclusive to GA360, is now accessible to all GA4 users. This feature allows users to create segmented custom funnels.
Custom reports
Custom reports enable the creation of visualizations for cohorts, paths, funnels, or segments, enhancing understanding of user behavior. These reports can be shared and downloaded as Excel files.
Better debugging
GA4 introduces a helpful new feature called the debugging view. This allows you to put the test data into one report specifically created for debugging, which improves troubleshooting.
Anomaly detection
This AI-powered tool aids in identifying unusual patterns in metrics over time. If a value changes significantly beyond the defined interval, you receive notifications about the anomaly.
I got some internal and external training on GA4, and it looks like it's not as scary as it seems. Integrating into Looker Studio will be as easy as it was with UA. Also, the feature to search customized insights is included in GA4, which I usually use in UA – such a time saver! Sadly, there's no feature to add annotations on GA4, but hopefully, it will come along the way.
Pay attention that in Sitechecker you have the possibility to add custom notes on Google Analytics graphs on the Dashboard 2.0. This feature allows you to track the impact of website changes on various metrics.

Although GA4 in its current format is lacking much of what I love about Universal Analytics, I believe the platform will be improved to deliver better reporting and details which will give us a clearer picture of how users are interacting with our sites.
The disadvantages of Google Analytics 4
Despite the above pluses, there are still many reasons to look for Google Analytics alternatives.
Privacy violation
First of all, although it is the first choice for analytics, GA was not built with privacy in mind. GA4 still collects personal data.
I really like the idea of GDPR-friendly analytics without needing any kind of cookie warning or setting cookies on our visitors. Our clients use GA4 but we'll not be using it on our websites personally. There may be exceptions for certain ad platforms that require GA data, but they will be exceptions.
Frustrations over the migration from Universal Analytics to GA 4
It is not user-friendly and requires training to be able to use it. If you aren't a tech-savvy person, figuring out how to use Google Analytics can be quite a challenge. However, we need to come back to the fact that many people are used to Google products, so it`s still a big question of which option can be cheaper in all aspects.
Listen, nobody LOVES GA4. It has a ton of problems in reporting and it's not what anyone is used to. That said, change management is hard. Setting up analytics is even harder. Sometimes, it makes more sense to choose a free solution that integrates with the largest digital ecosystem in the world than re-learning a new platform that may (or may not) be better.
Missed data
Google Analytics 4 doesn't track all data. The reports primarily consist of approximations, so it is not advisable to make important business decisions solely based on GA data.
Frequently, data is absent due to visitors declining permissions and therefore aren't tracked.
Limited data reporting
Dashboards aren't suitable for marketing reports. Google Analytics (GA) lacks the capability to provide information about visitors or their browsing patterns across multiple pages. Moreover, specific niches may lack comprehensive insights. You can compare Google Analytics 4 vs. Universal Analytics metrics to get the full picture.
Additionally, a site with higher web traffic needs to upgrade to the premium version of Google Analytics 360, which incurs an annual cost of $150,000.
One compelling reason to consider Google Analytics alternatives could be to explore a more tailored approach to your unique business needs. Every organization operates differently, and it is only sometimes the case that a one-size-fits-all solution like Google Analytics is the best fit. Many alternatives offer specific features that cater to specialized business models or industries, such as eCommerce or SaaS, that Google Analytics might not fully cover.
No customer support
GA has no real customer support 24/7 as you can have with GA competitors. You can get some answers from community members and from Google support several days (weeks?) later.
Continuous updates
Currently, Google Analytics 4 is on the market. Yeah, it's the fourth version. So you have to re-learn how to use metrics, reports, etc. From this perspective is quite exhausting and expensive, right?
The most used features of the web analytics platforms
If you are still doubtful about migrating to Google Analytics 4 or switching to another web analytics platform, you should pay attention to your unique needs and budget.
Interviewed experts and users highlight the most important features:
Landing pages performance analysis (65,5%)
Traffic sources performance analysis (63,6%)
Goal tracking (54,5%)
Audience insights (52,7%)
Funnel analysis (32,7%)
Flow visualization (29,1%)
User lookup (27,3%)
Automated reports (14,5%)
Tracking unit economics (12,7%)
A/B testing (10,9%)
User cohorts (9,1%)
Automated reports (7,3%)
Team boards and alerts (3,6%)
I love the ability to better understand the user journey through cross-device tracking, which is a game changer for identifying pain points your users face during their journey.
Top 10 Google Analytics alternatives
In case you see more cons than pros in GA 4, there are a number of Google Analytics alternatives you can try in 2023.
Let's take a closer look at the Google Analytics competitors that were voted by our SEO experts and users.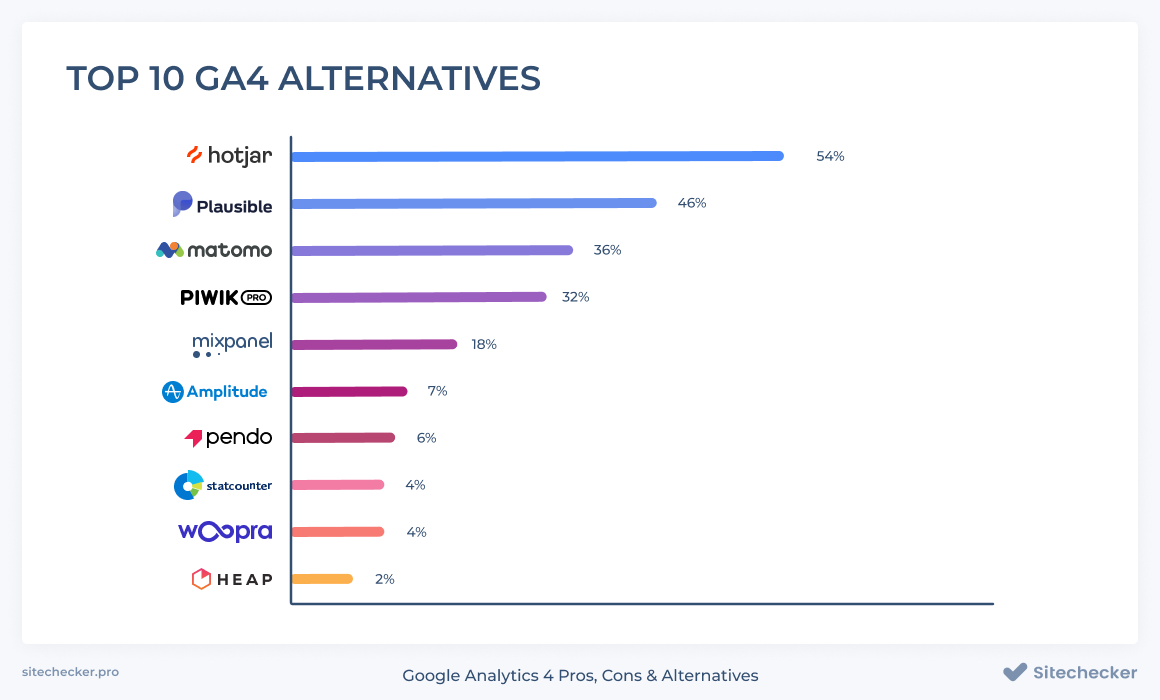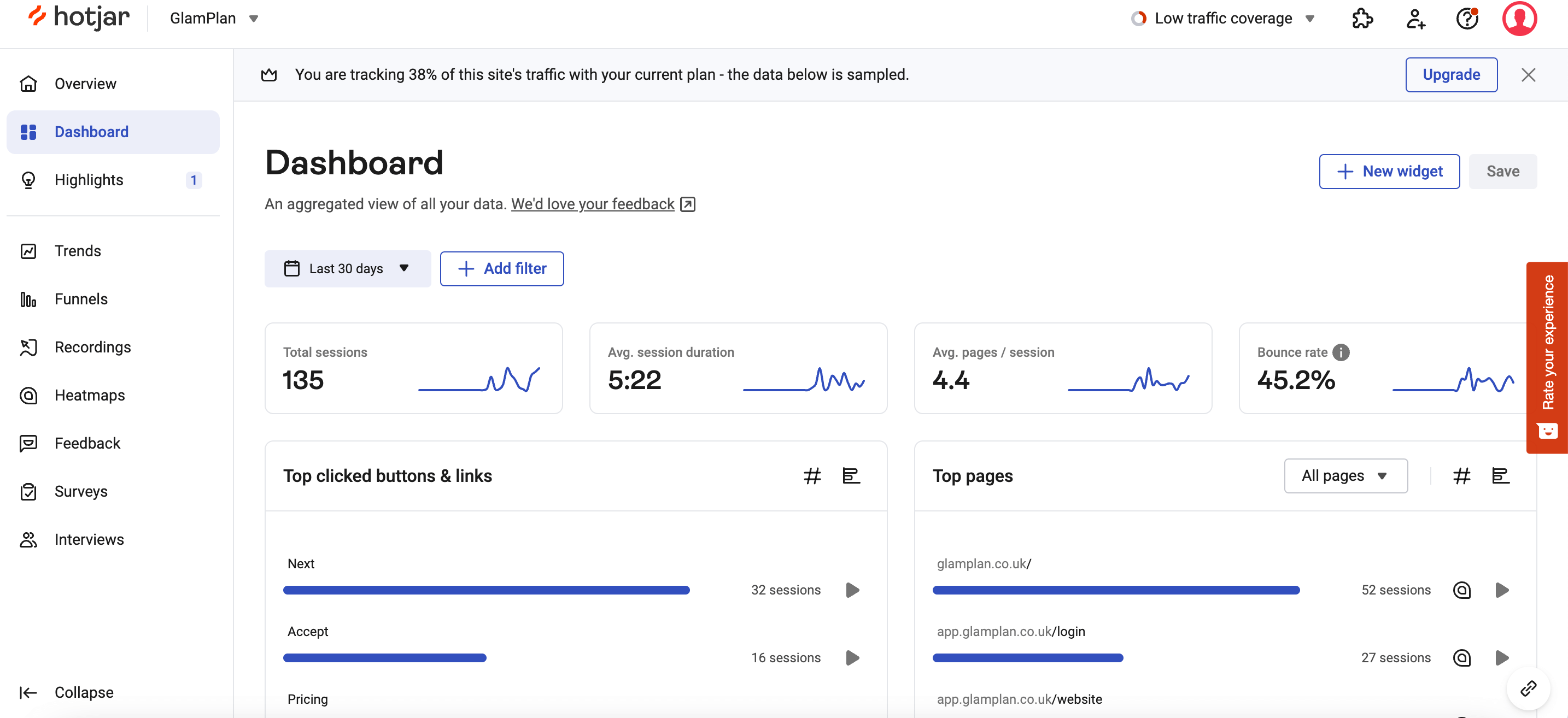 This platform can display some of the same data as competitors e.g., bounce rate, top viewed pages, and visitor country in the Dashboard.
However, where Hotjar truly stands out is its ability to provide a straightforward solution for visualizing website behaviour and gathering customer feedback. It offers advanced insight filters, customizable user attributes, and a large integration library for premium users. Also, Hotjar is a privacy-first platform and they are compliant with GDPR and other privacy regulations.
Choosing Hotjar as my Google Analytics alternative gives me more than just a detailed view of my website's metrics. It also provides me with invaluable behaviour-driven insights. Heatmaps reveal user interaction patterns, and session recordings allow me to step into my visitors' shoes.
Coupled with the power of user feedback and surveys, Hotjar offers an intuitive, privacy-first platform that doesn't just tell me what's happening on my site, but why it's happening. It's not just an analytics tool — it's my key to better understanding and satisfying my users, ultimately driving the growth of my business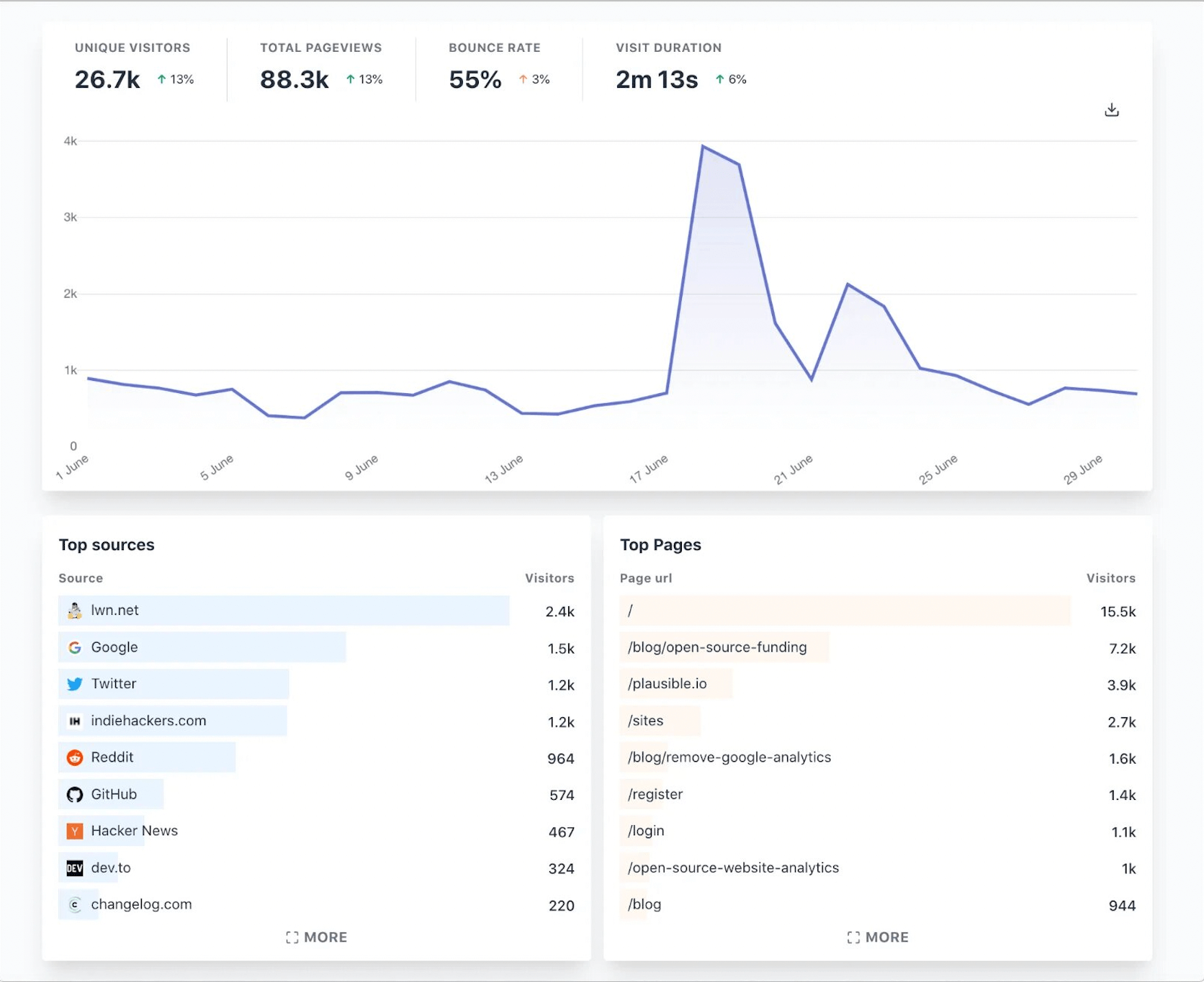 Plausible is a lightweight, open-source, and privacy-friendly web analytics platform. The dashboard is well organized with a simple, clean design.
The drawback with Plausible lies in its simplicity. You will find all its reports on a single page. However, it does track goals, conversions and campaigns, so you still get those basic metrics that you need to draw conclusions about how people are using your site.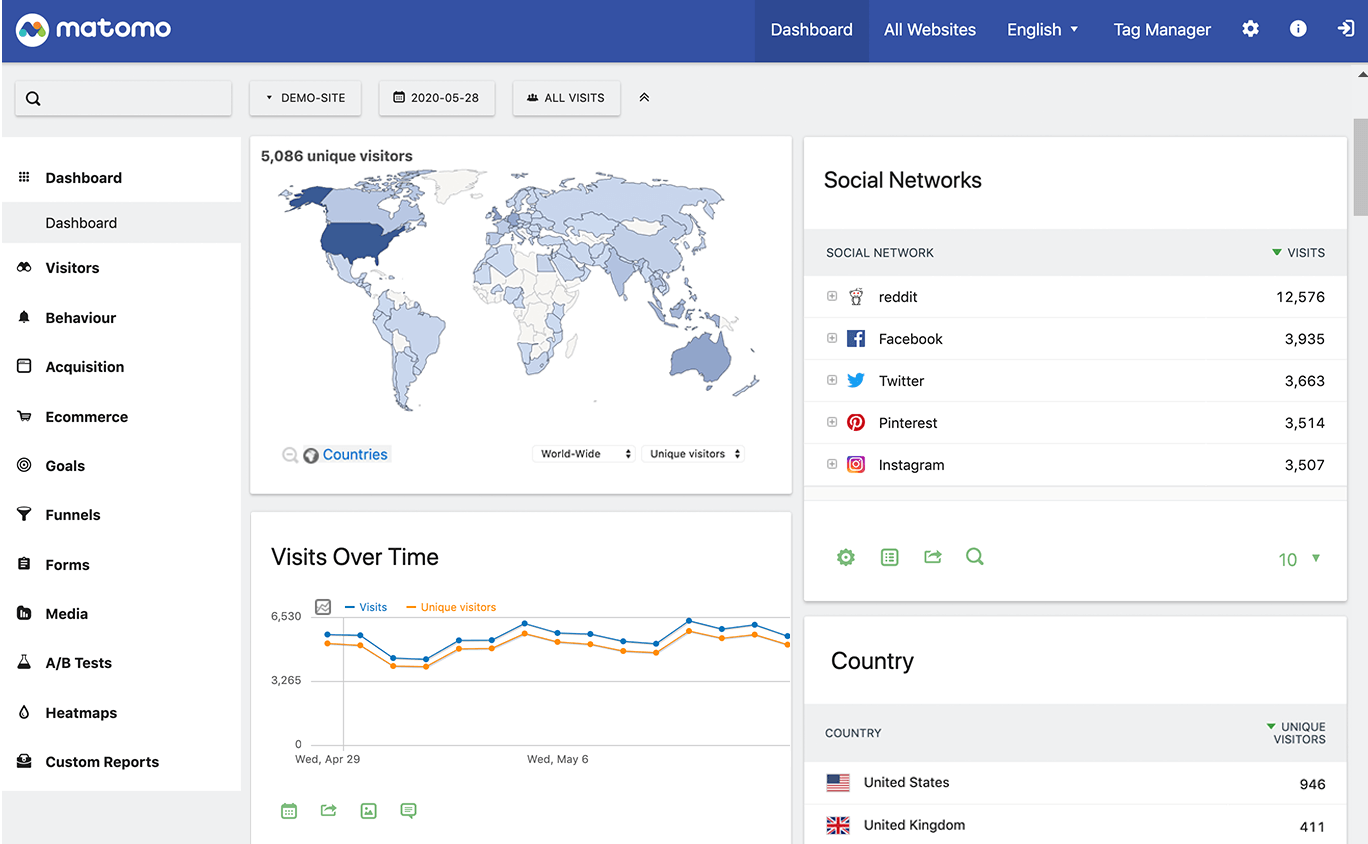 Matomo is an excellent alternative to Google Analytics that offers a wide range of features while prioritizing user privacy. It provides similar reports to Google Analytics, along with additional features like heatmaps, A/B testing, and session recordings.
What's interesting about Matomo is that it offers both on-premise and cloud-hosted options, allowing users to have complete control over their data. However, setting it up on a server requires a certain level of technical expertise unless one opts for the Matomo Cloud service for a fee.
I highly appreciate Matomo Analytics for its self-hosting capability, which allows users to maintain complete ownership of their data without any sampling involved. This eliminates the need for additional consent and alleviates concerns about third-party handling of customer data. Moreover, Plausible Analytics stands out for its cookie-free approach and exceptional lightweight performance. While it is a paid service, the associated cost is remarkably affordable.
Piwik Pro is a great choice for niches like government, healthcare, and finance that require special attention to customer data.
In addition, Piwik Pro offers extra features that are not available in Google Analytics, such as an SEO dashboard that serves as an alternative to certain features in Google Search Console.
If necessary, you can create comprehensive customized reports and seamlessly integrate them with Google Ads and Search Console. Similar to Google Analytics, Piwik Pro uses cookies for user tracking, but it provides tools for consent management to facilitate compliance with privacy and security regulations.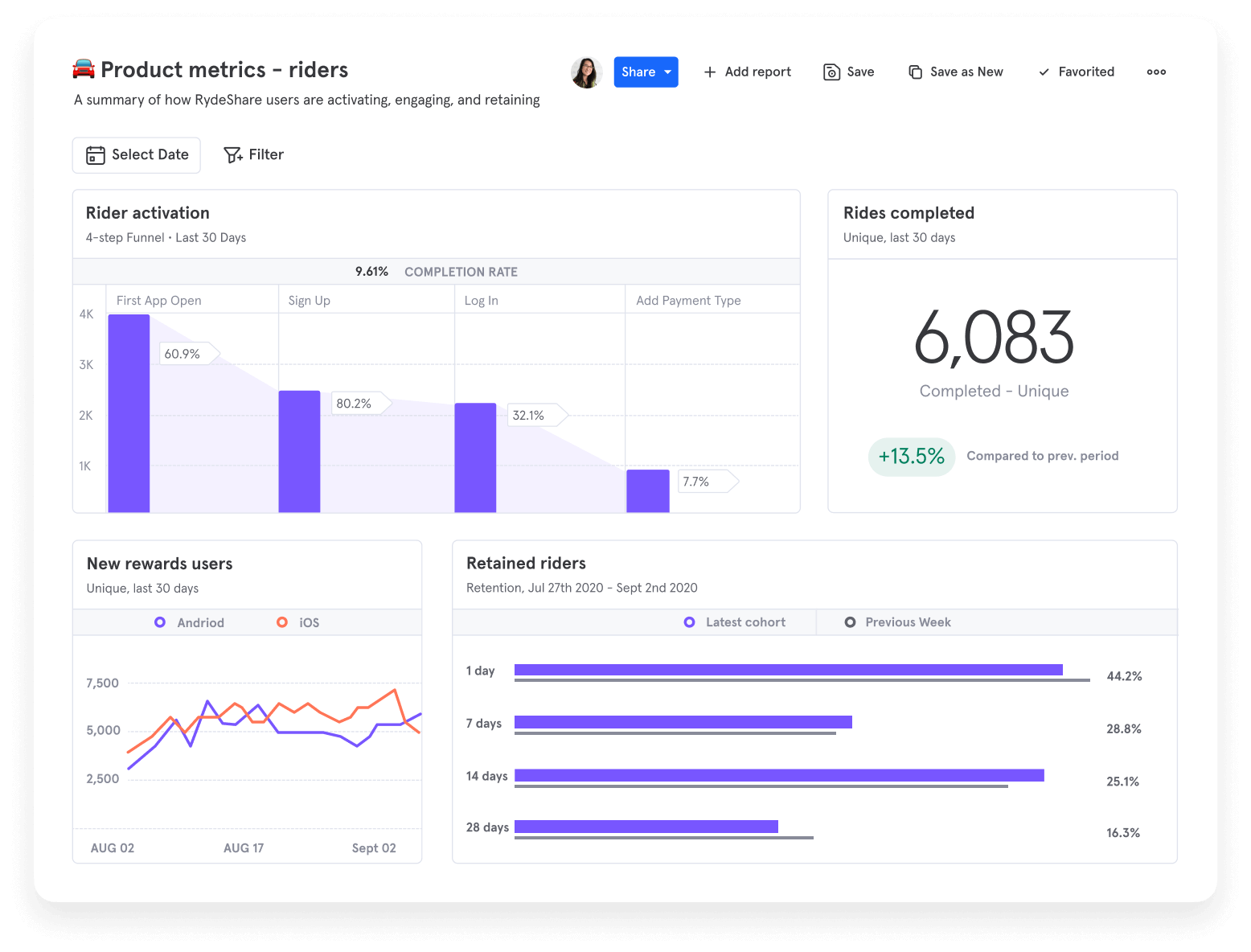 This product analytics software is an ideal choice for SaaS teams. It goes above and beyond basic traffic analytics by allowing you to monitor the popularity of specific features, identify power users, and analyze behaviours that contribute to long-term customer retention.
Mixpanel provides interactive reports that make it easy to query your data with just a few clicks and instantly visualize the results.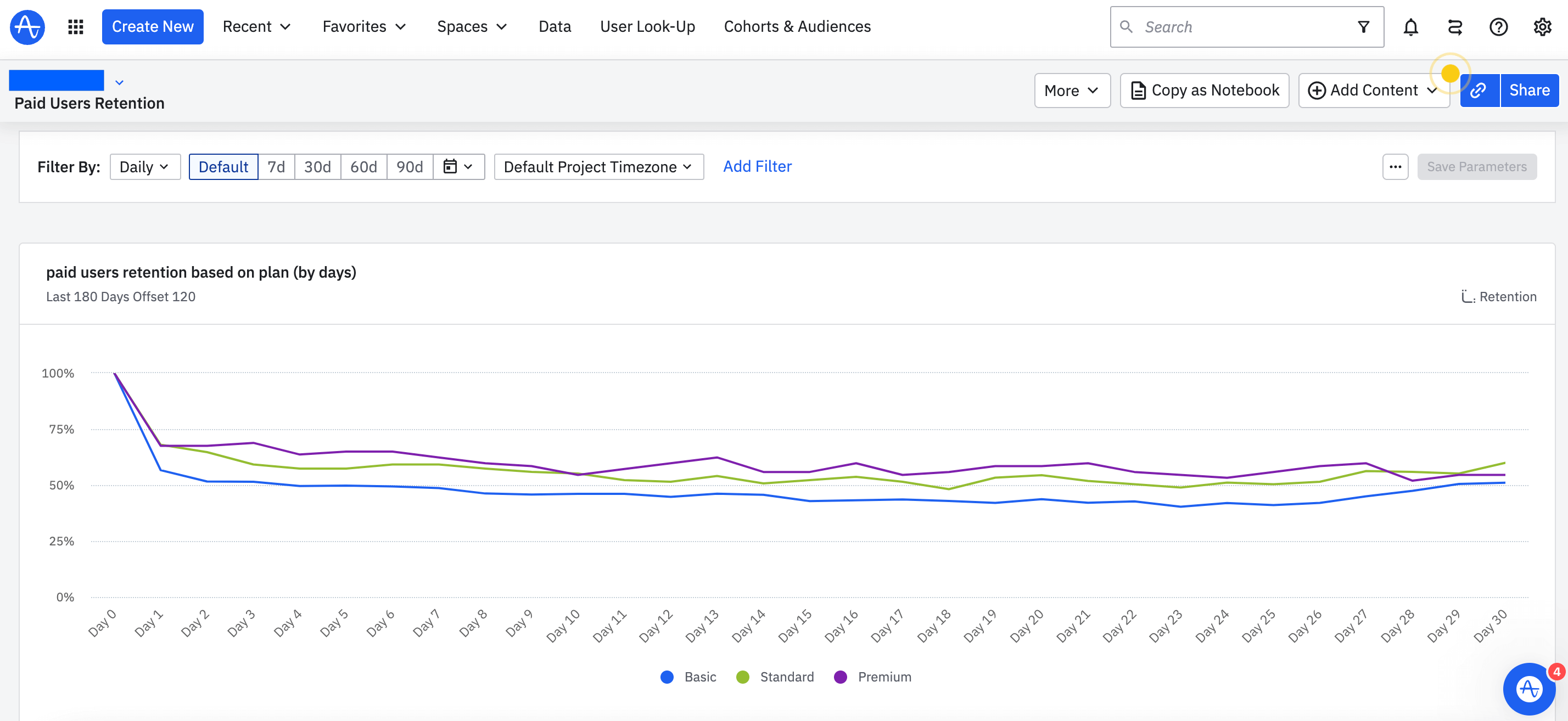 This one of the top-rated digital analytics platforms offers a range of features geared towards driving conversions and retention metrics, ultimately fueling business growth.
Amplitude offers a range of tools that enable businesses to establish product strategies, improve customer interaction, maximize conversion rates, and boost customer loyalty. These functionalities are instrumental in evaluating the effects of experiments and product updates, as well as comparing new features with existing ones as benchmarks.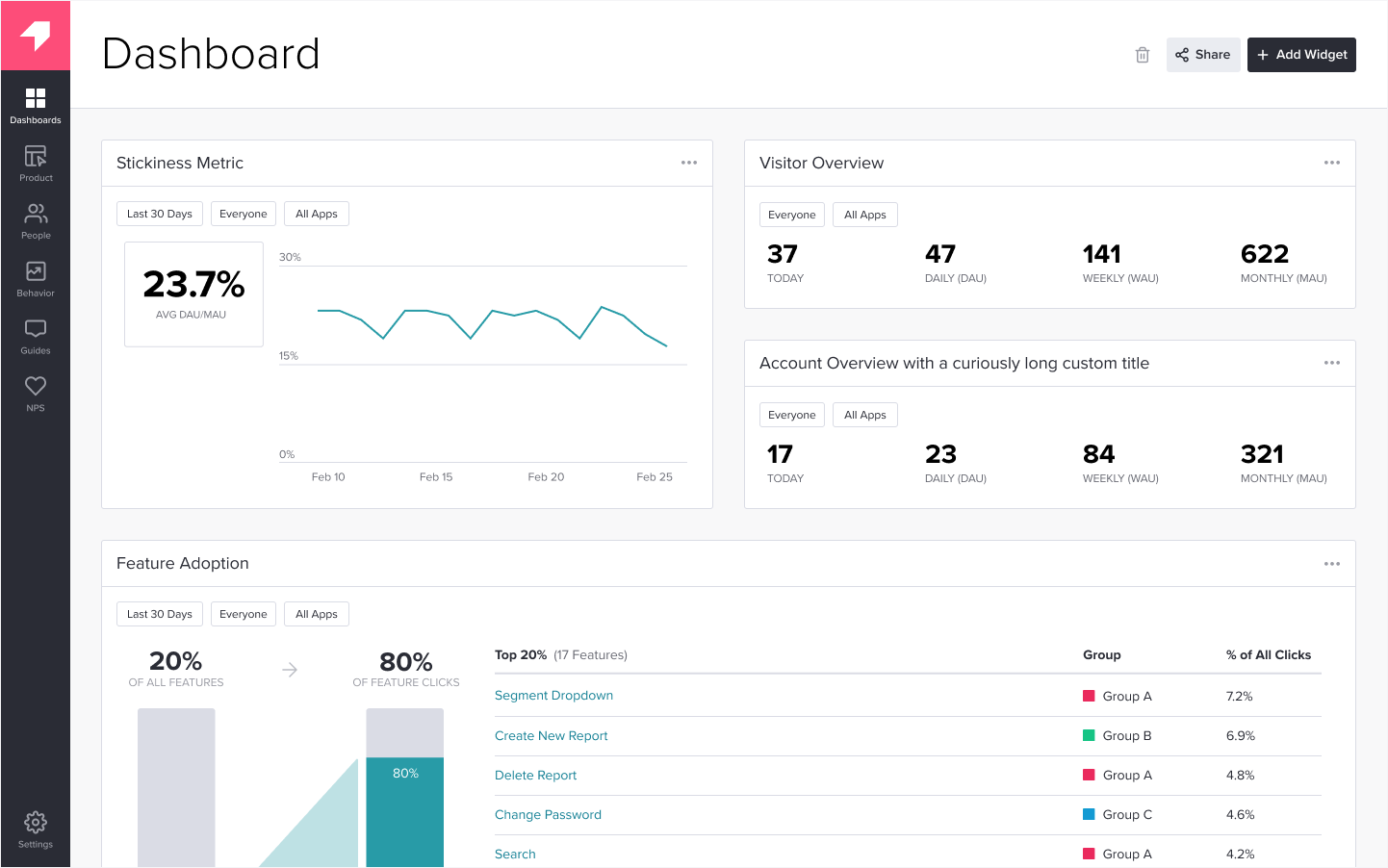 This product analytics tool helps software companies gain powerful product data and insights into how users move through your web and mobile applications.
Pendo analytics help product managers, UX designers, customer success teams, and growth marketers analyze in-app behavior including individual menu or mouse clicks to improve usability and provide targeted customer support.
Pendo's product analytics tool enables software companies to acquire valuable product data and gain insights into user behaviour within their web and mobile applications.
With Pendo analytics, product managers, UX designers, customer success teams, and growth marketers can analyze in-app behaviour, such as specific menu selections or mouse clicks, in order to enhance usability and offer targeted customer support.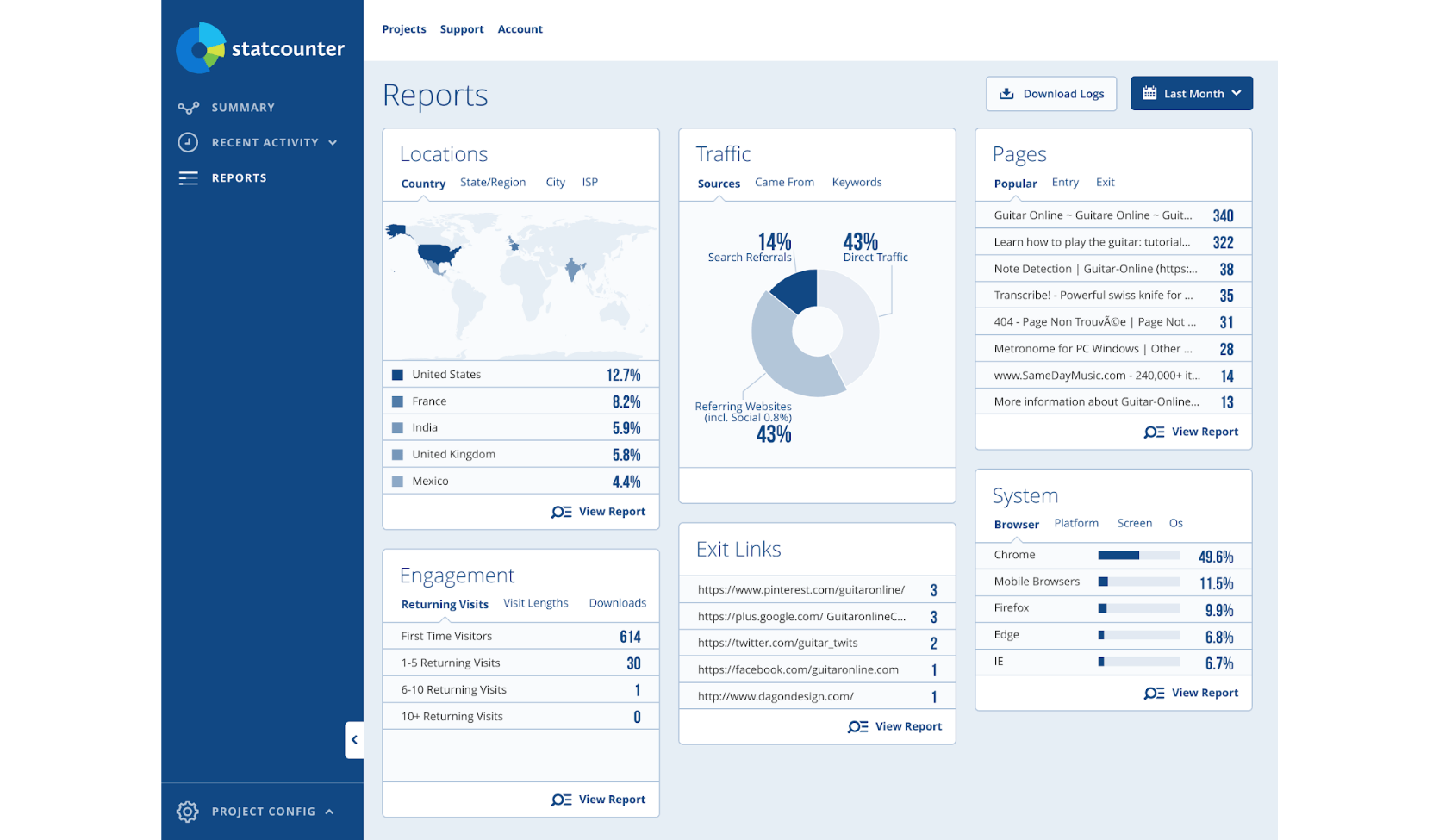 StatCounter is a web analytics tool that additionally can detect click fraud for paid ads. Furthermore, it provides alerts when a significant visitor comes back to the website.
With this tool, you can observe the complete user experience and pinpoint potential problems related to navigation, website structure, and user flow. In terms of privacy, StatCounter does not encrypt or conceal the IP addresses of your visitors, but it does ensure their anonymity.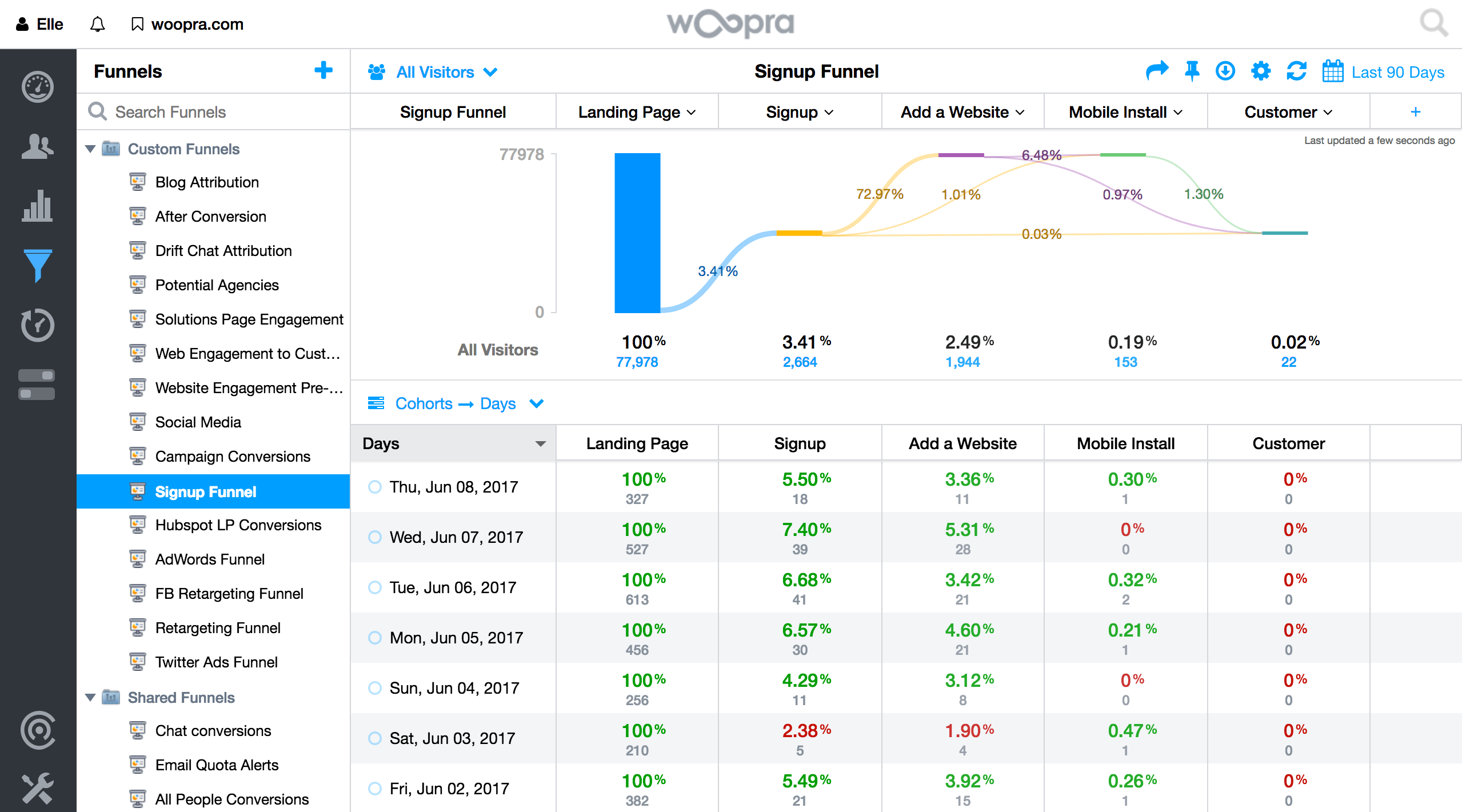 Woopra is a comprehensive tool that enables product, marketing, sales, and support teams to gather valuable insights by tracking users throughout their website experience, Woopra provides essential information. Additionally, it offers real-time functionalities, like the ability to send notifications to a Slack channel when a new user signs up.
Woopra focuses on four primary data categories, namely people, journeys, trends, and retention. It offers customizable tracking capabilities and seamless integration with over 50 popular products including Salesforce, Google Ads, Hubspot, Zendesk, and many others.
However, one drawback of Woopra is its control panel, which may not be user-friendly for non-developers. Accessing raw complex data may require assistance from a developer.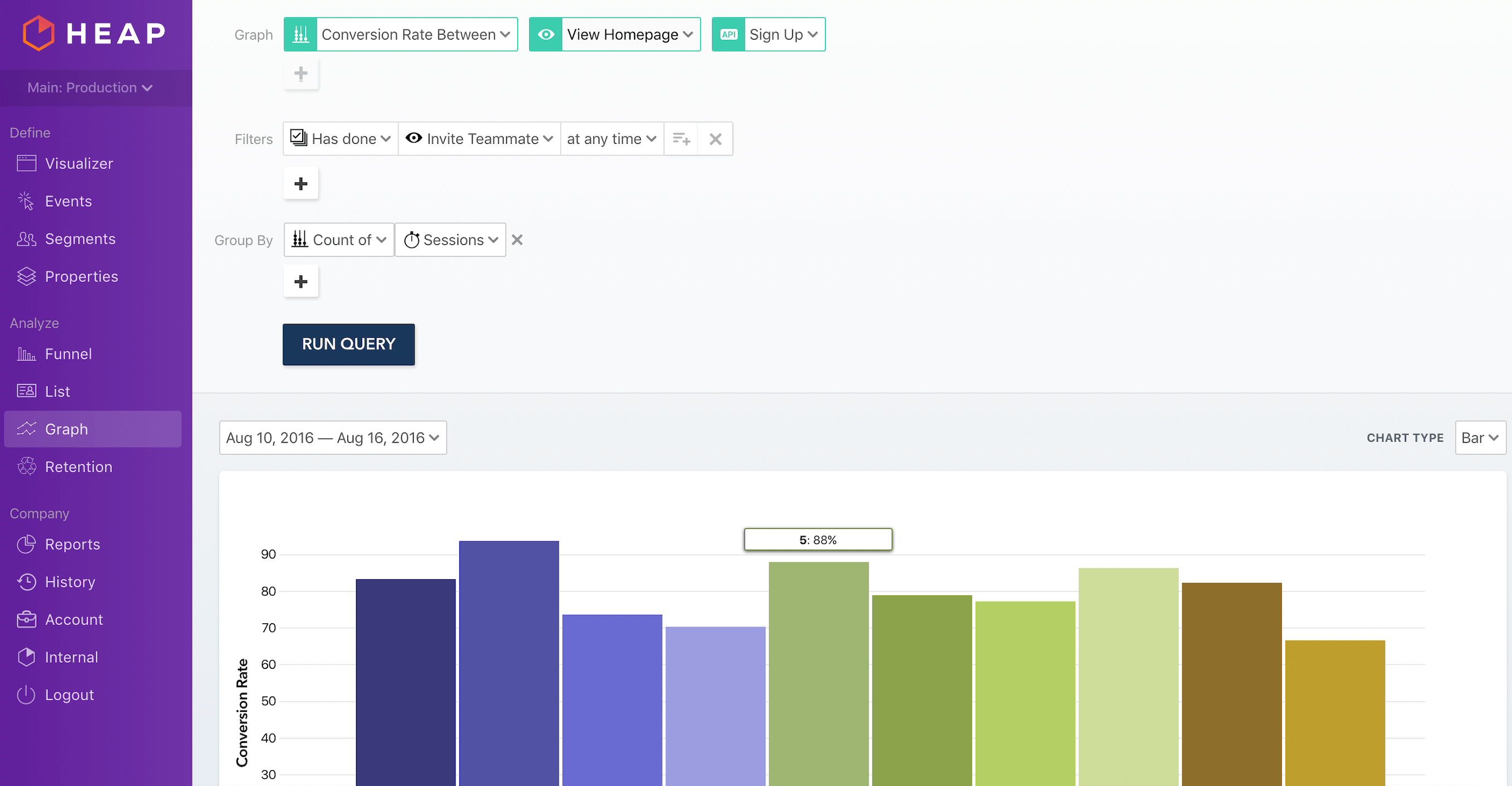 Heap is an ideal choice for online products as it offers a user-friendly interface that allows you to track all interactions on your website, including swipes, clicks, tabs, form submissions, and page views.
However, one drawback of Heap is its automatic event-tracking feature, which can become slow and confusing when multiple events occur simultaneously.
Conclusion
GA4 might have some drawbacks, but most experts after testing different platforms decided that getting used to GA4 now will help you in the long run. Additionally, we can expect Google will release more features and educational resources to help businesses understand GA4 better.
Google Analytics 4 is still the biggest player on the block, but it may not be the best for every situation. So, depending on your needs, there are several alternatives to Google Analytics above.
In any case, we strongly recommend switching over to GA4 now, so you have time to set up and learn the new property and gain an advantage over competitors who may not yet be on the bandwagon.