Newsletters are trendy again these days and even more than before. It seems like everybody wants to share their thoughts in any convenient way. So, you need to be picky with your subscriptions for getting reliable and relevant info in your inbox. However, if you want to save your time and keep up with the SEO world, here is the list of top SEO newsletters that you'll definitely want to subscribe to.
Research methodology:
We asked Sitechecker subscribers and website visitors to vote for their favorite SEO digest. After that we created infographics based on analysis and summary of the votes. You can view the raw data in this Google Sheet. Our research revealed some interesting facts and worthy-to-subscribe SEO newsletters.
N.B. We asked only the Sitechecker audience to fill in the questionnaire. Our audience primarily consists of SEO beginners and people who have primary not SEO-related jobs. So, the results can be biased, but they are still more than useful for those who are just starting to discover the SEO world. Now, it's time to share what we discovered via the poll.
A quick summary of our key findings:
44.6% of voters subscribe only to 1 or 2 SEO newsletters and only 10.9% prefer not to receive SEO related emails.
66% of voters subscribe to SEO digest to get tips and tricks from some of the leading SEO experts and platforms in the industry.
One of the least voted reasons to subscribe to any SEO newsletter among offered choices is to belong to a community and share experiences between subscribers.
Periodical subscribers need more practical information than SEO news in their inbox. For example, technical SEO tutorials for beginners, tips for website security or real examples of successful SEO campaigns.
Reasons to check out SEO newsletters
Subscription to the brightest newsletters helps you get rid of the FOMO, gain new knowledge aka real-life cases through your inbox in a timely manner and improve your SEO efforts in the nearest future.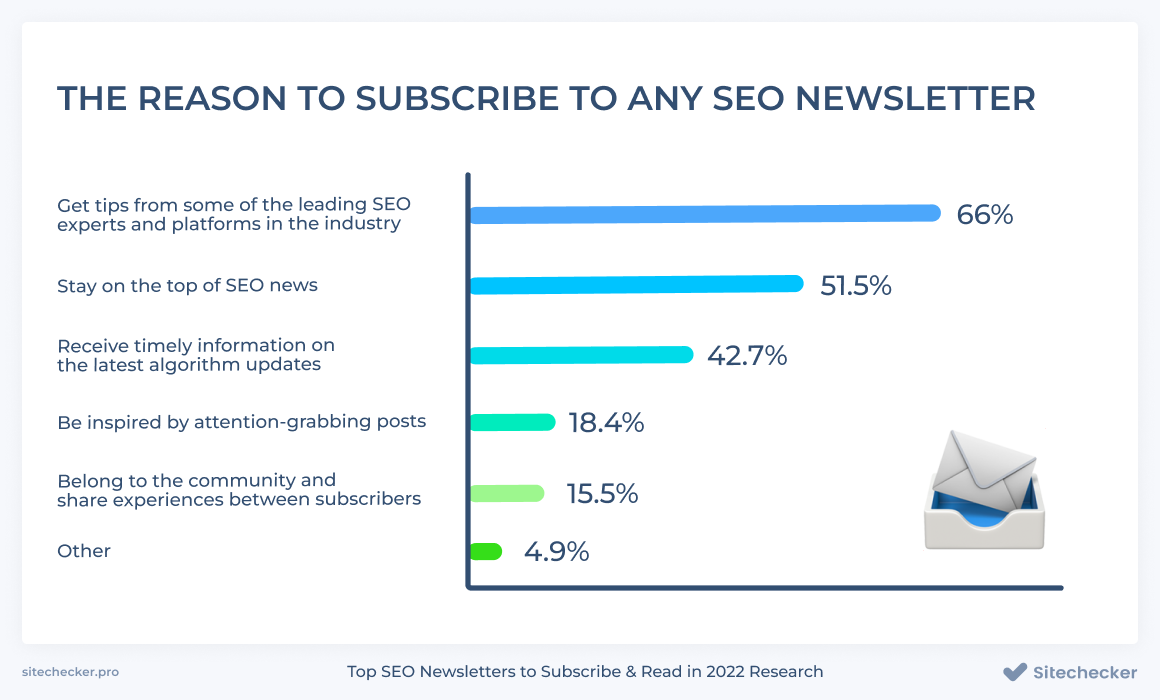 Quality over quantity
Now, there are tons of newsletters in different niches and it's impossible to read all of them at a time. According to our study, most voters only read 1 or 2 to stay informed about all SEO updates.
We encourage you to choose the amount and the type of subscriptions depending on your role and knowledge in SEO. But, the best option is to choose 3-5 newsletters, test how relevant they are to you, unsubscribe from the ones you don't like and replace them with better subscriptions in the future.
List of top SEO newsletters
The worthy-to-subscribe SEO newsletters are usually written by leading SEO experts and on the popular platforms in the industry. They provide actionable insights, tips, tools, thoughts, and updates from search engines.
Here is the list of the most valuable SEO newsletters according to our survey. We hope it saves your time from having to hunt down really substantial SEO content.
Let's bring some order to the SEO newsletter chaos!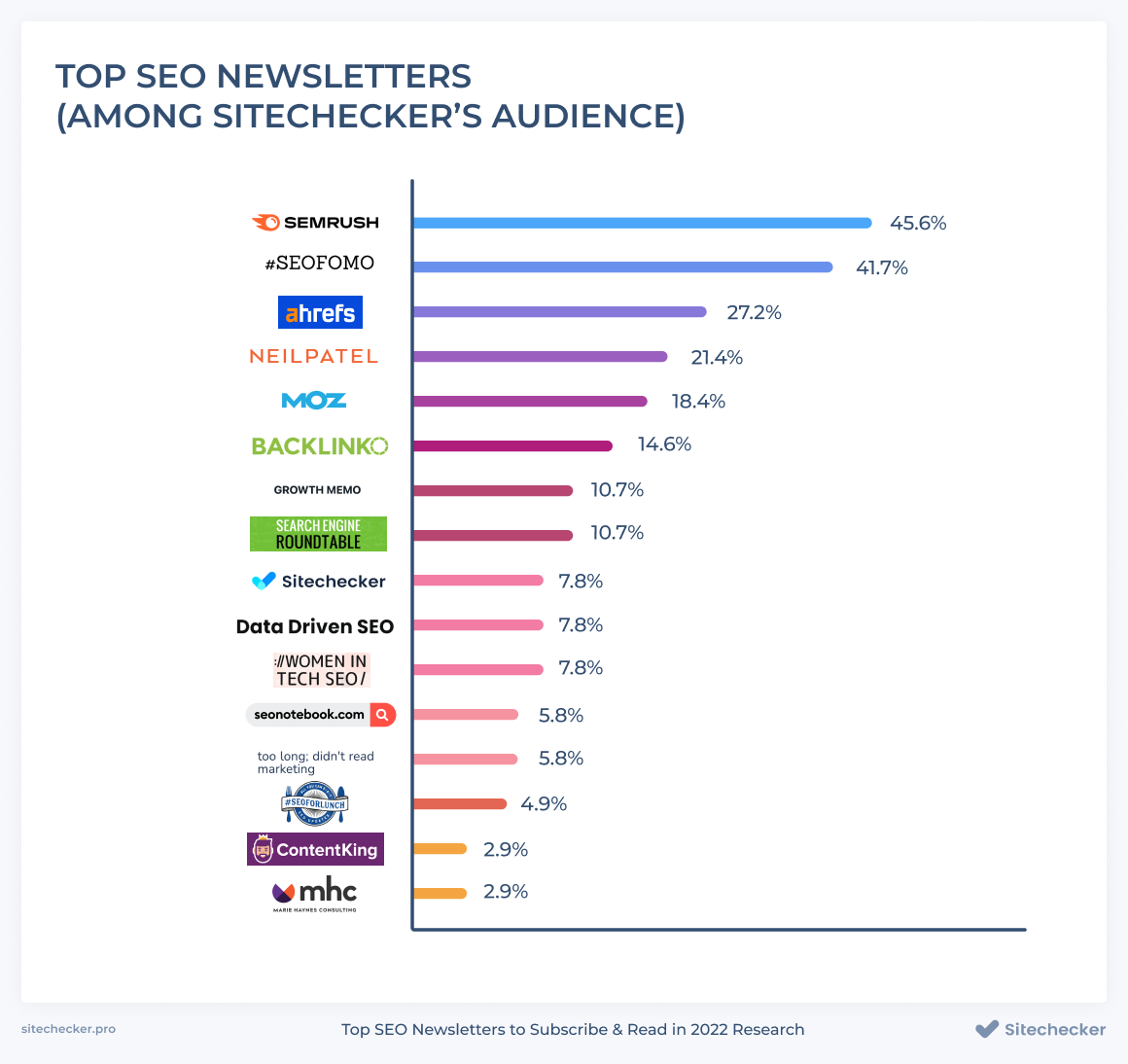 One of the most famous SEO tool also has its own blog and shares the last top publications in the newsletters biweekly. It covers such SEO topics like keyword research, SEO copywriting, website architecture, on-page SEO, link-building, technical SEO.
Aleyda Solis is one of the biggest players in the SEO world. Every week she shares some official Google news, remote SEO jobs, upcoming SEO events, a list of marketers you should follow on Twitter and exclusive SEO giveaways. You surely don't want to miss out this periodical.
Ahrefs is a SEO giant that is well-known for both SEO beginners and SEO pros. Subscription to their weekly digest helps you to expand your SEO and marketing knowledge with deep-in case studies and detailed tutorials.
Neil Patel is one of the brightest influencers who runs insightful text and video blogs about all aspects of SEO and digital marketing overall. His newsletter is especially essential for Ubersuggests' users who can find a lot of step-by-step tutorials based on this tool in their inboxes.
This semi-monthly email newsletter will update you with 10 hottest SEO (in Moz's opinion) articles during the last 2 weeks. Along with the SEO digest, subscribers receive exclusive webinar invitations to the webinars to be definitely attended.
The weekly newsletter with the fresh SEO strategies, proven tips and insightful studies is curated by experienced SEO expert and entrepreneur Brian Dean. This digest is a source of inspiration for readers with any SEO background.
This weekly newsletter is written by Kevin Indig, the SEO Director at Shopify. It's a trustful resource about SEO and Growth with only SEO updates, but with its deep analysis and comments by Kevin.
One tactic that works very well is email referral programs that reward users for bringing in more readers. I'm lucky to get a lot of word-of-mouth growth, and that's in part because my format is unique. No one else writes weekly essays. That also allows me to leverage SEO more as a growth lever.
Keep an ear to the ground and be a member of a lively search community with Barry Schwartz. You can choose or subscribe to all feeds like Daily Recap, Weekly Video Recap and Picture of the Day newsletter. The newsletter is the best source to get more about any search engine updates and then it in the search forum.
We also have a newsletter 😏 Each week, we share different type of content like SEO news, interviews with experts, studies, guides, Sitechecker product updates and special offers. Only sweet & short emails to your inbox.
This weekly newsletter is curated by a Ukrainian SEO expert with 15+ years of experience. Besides sharing personal tips and tactics Victor provides one free personal consulting session to one of his subscribers.
From women but not only for women. This newsletter is a spectacular initiative by Areej AbuAli. The newsletter catches up with articles, talks and projects by women and smashes all bias about women in tech.
Each week Steve Toth, well-known SEO expert, shares a page from his personal Evernote SEO Notebook with his readers. The juicy insights and secret SEO strategies are waiting for you there!
SEO consultant Saijo George sends daily highly curated newsletters with summary of all SEO, paid and social media news. Always stay updated in quick TL;DR style.
Nick Leroy, professional SEO consultant, helps you never miss another Google Update again! All SEO essentials and news in a quick and digestive manner.
This newsletter with carefully curated content on SEO and digital marketing gives you a quick summary of all updates in tech and content. If you don't have time to check your email inbox or Twitter often, this monthly recap will be your preferable subscription.
This weekly distributed newsletter created by Marie Haynes, a famous leader in the SEO industry. It includes the most important news regarding Google algorithm updates and abbreviated insights from Marie.
Bonus: some ideas for newsletters creators
The voters had one open question and could write down what they are expecting from SEO newsletters. We classified the most popular answers for creators' inspiration. Let's dig in!
tutorials for SEO beginners;
website security tips;
(successful and not really) SEO case studies of big and small businesses;
SEO tips for different roles (e.g. affiliate marketers, YouTube creators, software developers, etc.)
technical SEO basics with step-by-step instructions.
Final thoughts
Now, you can get SEO updates from blogs, Twitter, YouTube and even TikTok. However, the most reliable and fastest way to do that is still a newsletter subscription. You don't have to subscribe to all the newsletters in our list. Choose and analyze several of the most insightful subscriptions for you and take the next step toward your biggest SEO goals!