People started writing centuries ago on the walls of caves they used for shelters. Nowadays, you can hardly even count, how many specific types of writing exist – from school essays to filing in some tax blanks. SEO writing, similarly to all the rest, appeared suddenly and quickly became a part of the web management routine. Ironically, many website owners still don't understand what it is and how it influences their projects.
However, as an SEO specialist, you must be investing your time in creating SEO optimized content. If you work in this field but this type of writing is still a kind of magic box to you, keep on reading.
What is SEO writing?
Many still believe that SEO friendly articles are full of keywords and written for robots only. However, with last-years changes in Google's algorithms, writing for SEO purposes becomes a kind of science with different aspects and metrics to consider.
So, SEO writing is creating unique expertise and research-based content for both, search engines and a real user, with using the right keywords and proper structure.
So, here we come to two key points about SEO content as a start-point.
a) It has to meet the demands of search engines.
b) It has to be an exhaustive answer on the user's question (or, in SEO, it's called, user's intent or search intent).
Taking a step back
So, at this point, you may state an indeed important question: Why to focus on SEO copywriting at all? When it comes to ranking positions, a clever SEO content strategy shows the best results in website promotion. It allows reaching high positions in the majority of search engines for a large number of keywords. The main advantage of SEO articles lies in increasing customer loyalty. If users find your content relevant, interesting, helpful, they will come back or open your site when they see it among search results. This is all about your online presence which is huge power as with this tool you can reach influence, income, popularity, or any other purpose you're aiming at. So why not get it with the help of SEO writing?
How to write SEO content for a website
Here is what you should consider.
The intent
Let's start this from the intent, which has already been mentioned.
When you just plan to write a new article for your website, you need to think about "Who you are writing for" as well as "What's the reason for creating this content." Both questions are spinning around such a concept as the user's intent.
So, before writing SEO content, try to answer the following questions
Who is your reader/customer/user? (Country, occupation, age, interests and so forth)
What is the reason they need the information that you present within your content? (To find the direct and brief answer / To find alternative positions / To get a list of facts / To be entertained etc.)
Do you have the needed knowledge to fulfill their intent? (If yes – great, if no – try to change the topic or gain that knowledge).
Topic
The first thing to start here is to fully comprehend the previous point. Second, you need to make sure you have the needed knowledge and the expertise to write on this topic.
Next, you need to conduct competitors' research on what's out there has already been written. You need to bring value to this topic, provide a new piece of quality information to that subject and make sure your article can compete with your main competitors and people from SERP top ten.
If those steps are done, proceed to the next point.
Keywords
This is a really tough point as there are many aspects to consider. Let's review them.
Your main keyword (or a keywords group) should be based on two things, user intent (you already know what it is) and the demand.
Demand
The demand is how popular the keyword as the search term is. There are different metrics to check this.
For example, this can be done by checking the volume of this keyword. There are many tools for this; however, Google AdWords Keywords Planner, Ahrefs, SEMush and Kparser are those which I recommend. Google AdWords Keywords Planner is a free tool but it's very basic and can serve as the first step in the keywords research process but not as the only one. As for professional SEO tools, these are Ahrefs, SEMush and Kparser, which are paid but helps much better in finding the right search words.
So, let's take Ahrefs as an example. Here, you should check the volume (how popular it is – should be high enough), the difficulty (how competitive it is – should be low enough), what are similar keywords ("Having same terms" – those you can also use while writing) and questions ("Questions" – What questions your article should also answer).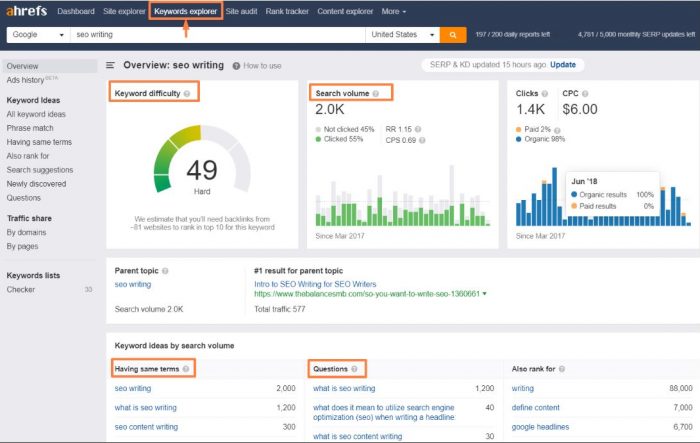 As well, you can check the demand by using Google trends. It's not an SEO tool but it's good for finding what's trending in the targeted location related to your subject. Here you can also find out what are similar trends and even compare keywords you're interested in.
Usage
First thing first, try to use keywords eventually; a rule of thumb is 1 keyword (word or phrase) per 100 words. Here, you can use such a metric as density; this can be check by using copywritely.com, the tool I recommend. Keyword density should not exceed 1-3%. Use them wisely and remember that the rule "the more, the better" doesn't work here. Content overpacked with keywords will drive the attention of spam filters as well as can make your content hard to read for a user.
When speaking about this aspect, it's important to mention synonymization. Today, search engine algorithms based on NLP (natural language processing) are smart enough to recognize synonyms and treat them the same as your main words. Thus, do not use spammy tactics of including the same targeted words over and over again – use synonyms!
Last but not least about this aspect is choosing between short (one word), medium (two/three-word phrase), or long-tail keywords (which include more than three words). Of course, you should keep balance but long-tail keywords are often the secret of well-optimized SEO content.
In the last few years, many content writing tools for SEO have emerged, such as SurferSEO and Clearscope. These will give you recommendations on which keywords to include, and how often.
Structure
After you conduct the keywords research, probably, you would see that those words or phrases would give you hints on how to build your article.
To illustrate this with an example, let's assume you need to write a piece of SEO friendly content on on-page SEO but you still have a vogue outline. Here, you should start doing keywords research. You can use one of the mentioned tools or you can opt for a free and the easiest way, Google search. When you enter your title, you get search suggestions. You can use them to build your structure.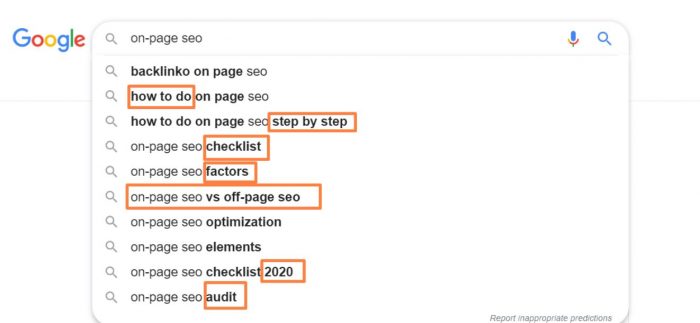 Particularly, you can include such subtopics to your article, as how to do it step by step, reveal which factors have influence on it, describe the difference between on-page vs off-page SEO etc.
Another important tip is competitors' research. The majority of SEO operations and tasks start with this step so you should not neglect it.
As a free way to do so, start with googling your topic. The first ten (or even five results) are your guide on what structure your article can have. Those five articles are the pieces which Google evaluates as the best ones on that topic. The important note, you cannot copy those articles. You should use the best elements out of them and provide deeper, more useful and newer content.
Also, remember to include subheadings (subheadings with proper keywords is even a better idea!). This is how search engines and your reader easily determines whether your article is worth reading.
Uniqueness and Grammar
It is very simple but an essential rule, your SEO content must be unique. By this, I mean it must reach at least 85% of uniqueness; for this check, I recommend utilizing copywritely.com.
Grammar, spelling, stylistic – making any kind of mistakes when writing for SEO is a risk. At the same time, users believe that mistakes are a sign of poor service, and they are often right. Also, this point touches using misspelling keywords (those that are used exactly how they are typed in Google) which is a bad practice. Today Google is smart enough to understand different word forms – so make your keywords grammatically correct.
When SEO writing might not work for you
(And how to make it work)
Some SEO specialists believe that content is responsible for maintaining high website positions in search results during a regular change of ranking algorithms. Unfortunately, this is not completely true, even though they meet many important requirements of search engines. So, here are cases when you may find SEO content not efficient – and how to switch this to the opposite.
1. Request performance. SEO content marketing works only for queries that are not highly competitive – not used by a large number of people. The most competitive requests are "casino," "sex," "insurance," "health" and "hotel booking." Those examples are short-tail keywords – so it can be hard to reach your goal with them as too many people fight for reaching high results on these words.
Solution – try to switch to medium and long-tail keywords as they are usually less competitive.
Limited applicability. Some sites are not suitable for SEO content. Many pages just don't contain enough text, and increasing the text part can affect the design.
2. Solution – you can add a blog to your website where it would be completely fine to create content optimized for SEO – some informative piece of content related to your business.
Additional tips on how to integrate SEO into content
1.SEO-friendly URL. This means you need to build such a slug of your article, that it would laconically represent what your content is about. Also, it's a good practice to use one of your focus keywords here. Below is an example.



2.Internal linking. This is a way to connect your pages inside your website and this could be a really powerful tool.
3.Meta title and meta description. These are your summary for search engines and users of what your content is about. You can check this by pressing Ctrl + U (in the code) or by site:yourwebsite.com in the Google search; here is how it looks like.


Final thoughts
SEO writing is an important step in your website optimization strategy as it as an essential part of on-page SEO. Your text should be not only filled with meta keywords but be a quality response to the user's intent and should be written after conduction decent research. The main point, your content has to bring value, be based on your expertise and uncover something new.