On-Page SEO is the optimization of structure and content (information) of the web page on your website. Page ranking factors can have a huge impact on your page's ability to rank if the information is optimized properly. This does not cease to be relevant in 2020. Although Google's algorithms are improving every year, still the on-page SEO ranking factors remain very relevant. You can verify it by yourself reading the Google report "How Search Works".
Recently, many SEO specialists are trying to high rank their webpages by using off-page SEO promotion (mostly backlinks). Such methods will not bring you good results. And if you want your page to be highly ranked, you should consider a fact that this way of search engine optimization is the most fundamental and crucial. So it is much better to focus on on-page SEO.
Let's take a look closer on what is On-Page SEO and why it is a very and very important side of website promotion.
What is On-Page SEO and Why it's so Important for Success
On-Page SEO is the process of optimizing the web page in order to increase the ranking of the website for search engines. This is done to increase organic traffic and to make your web page more popular.
Besides publishing relevant and unique content, on-page optimization includes optimization of HTML tags (such as headings, meta title, meta descriptions) and multimedia content (like images, video, infographics etc). This all is done to make your webpage well structured and adoptive. Mainly it is done to help Google, Yahoo! or other search engines to identify your web page as a high level, trusted, reliable and credible webpage.
On-Page SEO is a very important part of optimization because it helps search engines to understand your site and the content on it. Also it helps to determine whether it relates to a search query. You should know that lately search engines more and more consider the relevance and semantics of search engine result pages (SERP).
 As a matter a fact, Google, with its many complicated and multiple algorithms, clearly recognize:
what exactly users are searching by entering a particular requests;

provide the information in accordance with the type of request (informational, commercial, navigation)
Therefore, it is very important for you to optimize your webpage in such a way that it will be visible easily both for a visitor (content, table, images and videos) and for search bots (mainly HTML tags and properly structured data).
You can't ignore On-Page SEO ranking factors if you want to get a lot of organic traffic on the web page. So we have prepared for you a checklist with detailed explanation of the practical implementation of each item of this list.
High-Quality Content
If you want to bring your webpage on the top, the content that you publish on the website shall comply with the following parameters:
It shall be original (text, images, video, etc.). Of course copying, cribbing or rewriting  of the content from existing articles is not acceptable. It is also important to make sure that the content is unique. For this you can use reliable checkers for plagiarism like 

CopyWritely

which in our opinion seem to be one of the best and the most reliable tools. Consider also that the words are what matters the most. That is why it is worth using different words to describe a topic.

Information shall be exclusive and separate for each and every page of your website. The content on every page of your website should meet one cluster of requests entirely as much as possible. Also it mean that it is not the best decision to create many pages with similar content. You should do your best to arrange your website in such a way that every web page of your blog is created to describe a separate topic or matter.

Shall contain multimedia. It is a global trend that visitors spend a lot of time online watching pictures or videos. That's why images and video content on a page that describes better the text is what both visitor and Google like. It also helps to improve readability and perception of content on the webpage. For example, you should (if possible) add an image (or video or infographics) and describe by text what kind of image it is. We know that sometimes it is not so easy to find the proper media files for your blog. But it is worth doing the best to find and to publish it. Consider also that often people Google pictures or videos. So it can potentially bring you additional website traffic.

The content shall be useful for a visitor. Do your best to publish really interesting and relevant knowledge. Please, do not post content just for posting the content. It is necessary that every published page will add a value to your site. It would be great to have an independent review of material before putting out.

The content on the page shall fully reveal the topic and be based on the analysis of materials. This is the main reason why we avoid using copywriter services and we prefer to study and reveal the subject by ourselves.

The length of the content or quantity of words in the webpage do matter. Many experiments that we've made have proved that an article with a lot of content is ranked much better than the short one. The length of the article is determined by studying the competitor's content in TOP 10 of SERP.
Tag Title
Headers are the thing that make the search engine understand better what this page is about. So it is not good if there are no headers.  When search bots crawl the pages (besides the content) also page headers of the blog are being scanned. Based on such understanding and based on other factors (external links, domain authority, competition) the position in the SERP is being inputted.
Each page should have a unique title that helps search engines and users to understand what this page is about.
Here are some tips for optimizing Tag Meta Title of your webpage:
Use target keywords at the very beginning of every article. This will help search engines to understand from the very beginning which keywords and what content the page is targeting.

We consider you to write short headlines that will describe the topic as much as it is possible. Please, do not write too long headlines. Also, do not exceed 60 characters in headlines, as this is the average number of characters displayed by Google in search results.

Use numbers and attention-grabbing words in the heading, such as Unique, Useful, Practical, Tips, etc.

Do not place the domain in the title. This is not necessary as Google itself will put it.
Tag Description
Page description is what the user sees in SERM. It should describe the content of the page. Also make sure that  it does not exceed 200 characters and is unique to each page.
This is an opportunity to advertise your page and convince the user to click on your link, and not on the link of your competitors.
But it is worth noting that Google does not always tighten the specified description, and often use an automatic description if they consider it to be more useful for the search engine.
These are main Optimization Tips for Tag Meta Descriptions for you:
Do not use descriptions which are generated automatically as often such descriptions are senseless.

Use keywords. In SERM Google highlights keywords and makes them more relevant and suitable.
Optimize page content (keywords, LSI words)
The material that will be published on the website should contain keywords.
Before writing content, you need to make s research and choose proper keywords and queries that the user types in the search bar. This will help you to create the information that will be relevant to the request of the visitor.
After defining the list main keywords, also you should make a list of latent semantic indexing (hereinafter –  LSI) words and long-tail search queries. In such a way in the future you'll need to add LSI in headings and text itself.
Why is it important? Now Google's algorithms have become more intelligent and in addition to keywords, relevance to the topic is also crawled.
How do I know which words Google refers for a particular topic? There are several simple ways to do this.
Using Google offers for your webpage material
When you type words into the search engine Google, you can see the list of possible phrases that can be used to point out your request. We consider you to use all the suitable phrases in the content of your webpage. It is also a great tool to figure out what people exactly are looking for. 
Use "people also ask" tools
After clicking the search button, Google will display all the results. At the end of every Google's, right below search results, you will see the "People also ask" section. It is very good to use such phrases and words in subtitles.
At the bottom of the search results, Google shows you a list of related queries. You should also mention this in the content. It is very necessary to understand that suiting Google means suiting a visitor at the end.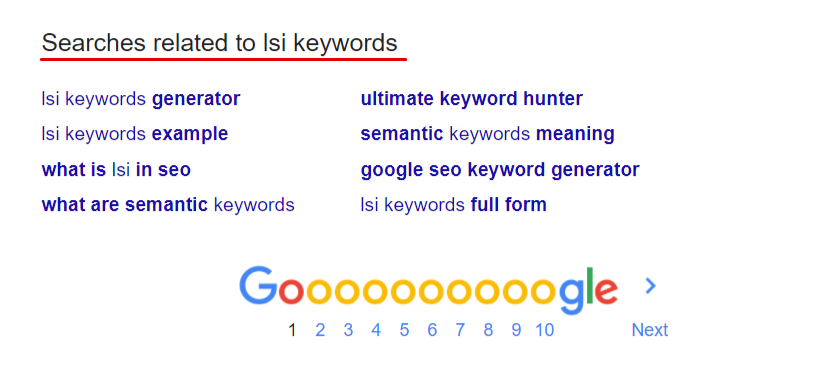 Heading and Content Formatting of the Webpage
The page must be formatted correctly. We consider you to include headings, subheadings, lists (better both numbered and marked). This will not only increase the ranking of your page, but will also be convenient for the user you read your article.
Tag h1
There should be only one tag H1 heading on the page. Consider that h1 is not the title tag, which is displayed in the SERP, meanwhile H1 is displayed right on the page.

Indication of h1 tag is very important, as it is one of the signals (in addition to the title tag) for the search engine about what this page is about.
Consider also that by using the keywords in your H1 tag you help search engines understand what your page is about.
 Recommendations for optimizing the H1 tag:
H1 tag shall be different from page title

Use keywords in your headlines

Avoid very long headlines

Make sure your H1 tag is visible and not hidden to users

Use headers in hierarchical order
As for the rest of the headers h2, h3, etc., there is also a specific recommendation for use:
Avoid using a single word for the headline and make your headlines interesting and useful to users who reveal the essence of the written content below.

Use headers in a hierarchical order, i.e. the first title tag is <h1>, then <h2>, and then h3, h4, etc.

It is very good to use related keywords of your content in subheadings.
Main rules for content formatting
It is very important not only to publish the content, but also to make sure that it is readable for the user.
Here are some suggestions:
Use bold, italics, and underlined text to highlight important suggestions for what to look for. It is not worth highlighting keywords in the text.

Use a normal font

Separate the text into small paragraphs (3-4 lines) and make a small distance between paragraphs. This improves the readability of the text.
Image and Other Multimedia
We think that today it is a must to use multimedia content if you want your article to be highly ranked. Also it makes your page more user friendly, nice and pleasant.
Follow these guidelines, when using multimedia content:
Use only original images. If you want to use an existing image from the Internet, you need to refer to the source.

Optimize the size of the image and try to use smaller dimension (in bytes) images.

Use the

ALT tag

to describe images. It helps search engines to understand what the image is about. Also it will make possible for Google to display a picture from your webpage in image search results.

Use file names to describe the content of the image. Better not to name files like "image1.jpg" or other words that have nothing to do with your article. It is useful to name the file as a description of your article, for example, "on-page-seo-factors.jpg".
Url Optimization
There are two things that are important in URL optimization: this is the URL optimization itself and the URL structure.
This link is the unique URL name of each of your pages.
We recommend to make URL friendly in the following way:
Your page URL should not exceed 255 characters and use the symbol "-" to separate words in it (like "on-page-seo-factors").

It is better to make the URL short and descriptive (as much as it is acceptable and readable).

Make sure that URL contains main keywords (considering that it shall be short).

The structure of URL shall match with the structure of your website. Consider to use categories of URL's to arrange your pages. This is very convenient both for the search engine and for users.
We do not consider you to use URL subcategories. It is better that the page is not below 3 levels from the homepage.
 It is very good if you will use the Breadcrumbs menu. It allows users to structure the navigation on your website, and they always know where and how far from the home page they are.
Internal Links
Internal linking on the site is very important. Let's take a look closer to understand why this is so important.
Internal links are a great way to show search bots other pages of your website. When a search bot crawls your page with links to other pages of your website, it switches to that page and scans that page as well. You should make your internal linking in such a way that when scanning one of the pages Google bot would scan other pages as well. If you don't have such links, the bot will not scan other pages.
This is a good way to show search engines which pages on your site are important. Proper internal linking is one of the best ways to identify the most important pages by giving more weight to such pages.
This is also a good way to increase the time that users spend on your site and reduce the bounce rate.
Please, follow these guidelines, to make this part of On-Page SEO more efficient:
Internal linking should be useful to users.

You should place links in the main part of the page.

It is very important to hide the link inside of the text by generating an anchor link;

Try to use not only keywords, but also main phrases for linking.
External Links
By placing links from your page to other trust sites, you increase the reliability of your content. In addition, it helps Google better understand the topic that you describe in your content. Be sure that the source that link is referred to is a very highly ranked one.
Page Loading Speed
Page loading speed is an important ranking factor and Google has included it in the list of ranking factors.
It's very important to keep track of this metric based on Google's recommendations, as in addition to ranking, it affects user retention and conversion.
Mobile friendliness
As you know, more than 60% of search queries on Google now are from mobile devices. And this indicator is growing every day. This means that if your site is not adapted for mobile devices, you are already losing more than a half of potential traffic.
So, you need to make sure that your site is applicable for mobile devices. For this you can also check your website with Google Mobile Tool and solve all possible problems and website bugs.
It is very important the design for mobile devices of your website to be user-friendly and to have all CTR elements displayed correctly.