Have you ever stumbled upon a text intensively packed with search requests? Such texts are always difficult to read. They seem to be assembled artificially from phrases that make little sense together. How to make sure that materials featured on your website don't belong to those? Always read them before publishing. And maybe try using a keyword density analyzer, or any other kind of a checker tool.
What is keyword density?
Keyword density is a percentage ratio between keywords and the total amount of words in a text. Simply put, if a phrase "buy a car" is one of the most frequently mentioned on your page, you have something to do with car sales rather than painting.
There is classic and academic density. The latter designates the most frequently used collocations and phrases that are common all documents, like articles and prepositions. The primer is what we are going to talk about today.
If a key request is mentioned enough times, a page is more relevant for this request. So does it mean that inserting more search requests in the piece allows achieving higher ranking positions? It doesn't actually work this way. Every searching system has a built-in checker system – a web page word counter. If there are too many of them, it will be considered spam.
How is keyword density calculated?
There is a keyword density formula that will help you with calculations: divide the number of keywords on the total amount of words and multiply by 100.  According to the statistics, an average index should remain between 4% and 8%. Nevertheless, it is important to understand that these numbers are quite individual. They depend on subject and size, page location and specifications, etc. The index may differ depending on a search system. Sometimes you write about niche topics, where such words cannot be replaced with synonyms. Thus, there is no adequate checker or calculator for optimal key requests density.
The most meaningful indicator is the number of direct insertions. Use a key phrase at least once or twice in the article. Longer texts tend to attract traffic for requests of low frequency. The use of incomplete keywords is also possible – a part of a phrase or its modified form. Some SEO specialists claim that synonyms and different word forms increase the content's value.
Classical keyword stuffing defines the most frequently used key phrases in the text. In this case, the keyword density formula is counted by the square rooting of a total number of repetitions.
Academic keyword stuffing is the usage frequency of all key requests and combination of words. The more target queries appear on the page, the larger value this characteristic has. Its index depends on the number of words and the total amount of the material. You can calculate keyword density yourself, or use a keyword density checker offered by various services like Copywritely.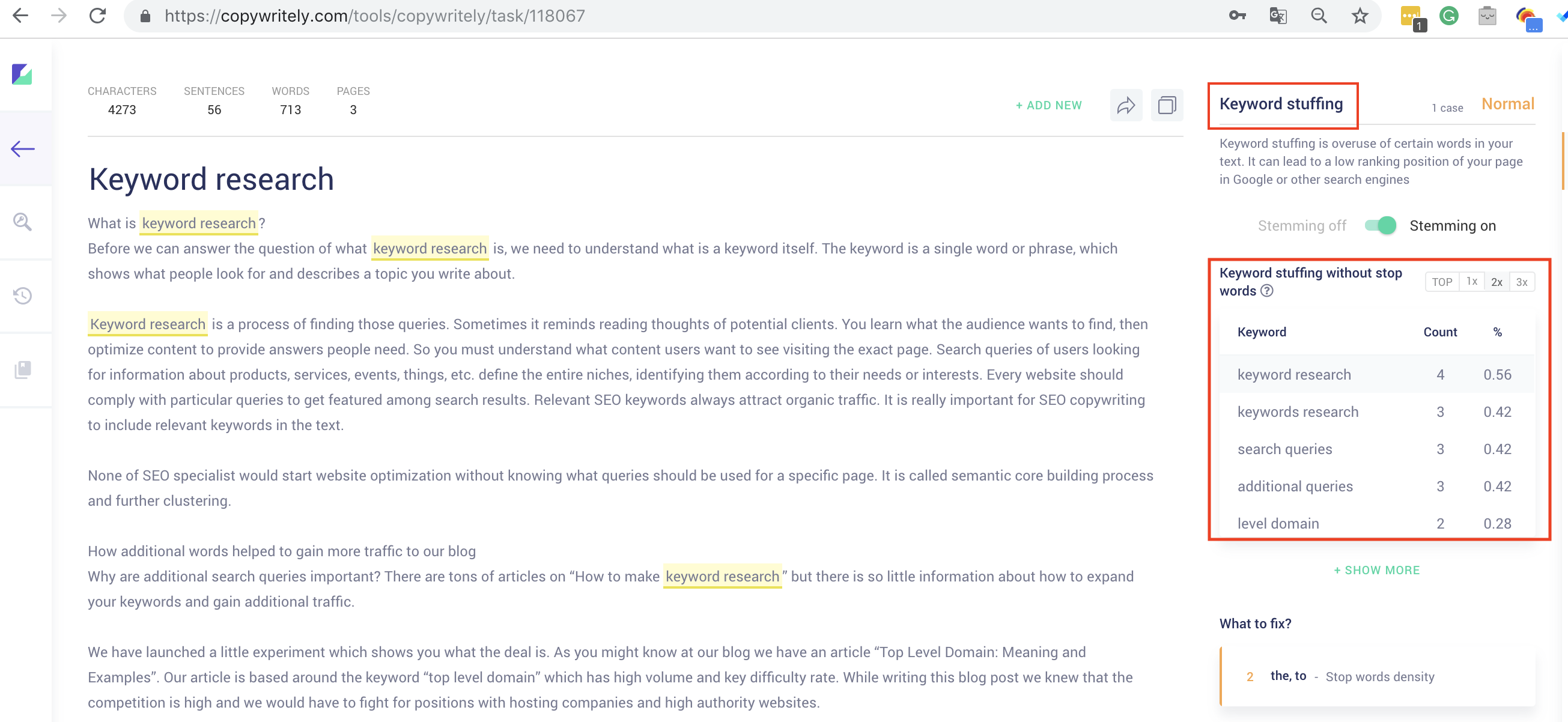 How to deal with keyword stuffing?
You can write a good original article, but the intense keyword stuffing can ruin it all for you. How to deal with this problem? The best solution is to start researching your competitors. Enter a request and open several websites in the top. Find keywords in the text on each page, keeping in mind an average result. Then, write an article on the same topic and adapt stuffing to the results you've got. The piece will be informative for a reader and attractive for robotic checker systems.
Keyword stuffing directly influences page promotion. If it is too low, then the chance that a site will get good ranking by search engines is low. But, if there would be an overabundance of information queries, search bots may treat this as spam, and this will lead to the lowering of its position in search.
Several tips on how to reach an optimal keyword density
Moreover, different search engines treat the phenomenon of keyword stuffing individually. For instance, Yandex used to have an optimal keyword stuffing rate of 10%, but then it was lowered to 3-5%. Now this search engine can accept 3-7% level of stuffing. As you may have noticed, there is no optimal rate of keyword stuffing, thus you do not need to chase an ideal index, you just need to follow some rules:
Do not over spam pages. Not long ago, it was very easy to blow up by writing too many keywords. Now, the search bots' working algorithms consider hundreds of peculiarities of the online documents. Systems are now able to recognize which articles are interesting for users and which are not. Therefore, the positions of over spammed materials are lowered by search robots. So use keyword tracker to prevent your website from positions lost.
Do not optimize one document for many queries. It is very difficult to optimize one page for many queries, and this may cause an ineffective promotion of the document. The best option here is creating several materials for various queries and placing them on different thematic pages.
Texts must sound natural. Texts must be interesting and useful for users. Quality content is obligatory for effective promotion. You can use 5-7% as an optimal rate of keyword density. In addition, you should use synonyms and word-forms; this will make your texts more diverse, unique and useful.
How to search for a word on a web page?
The simplest way to check density for free is to do it manually. Become a finder: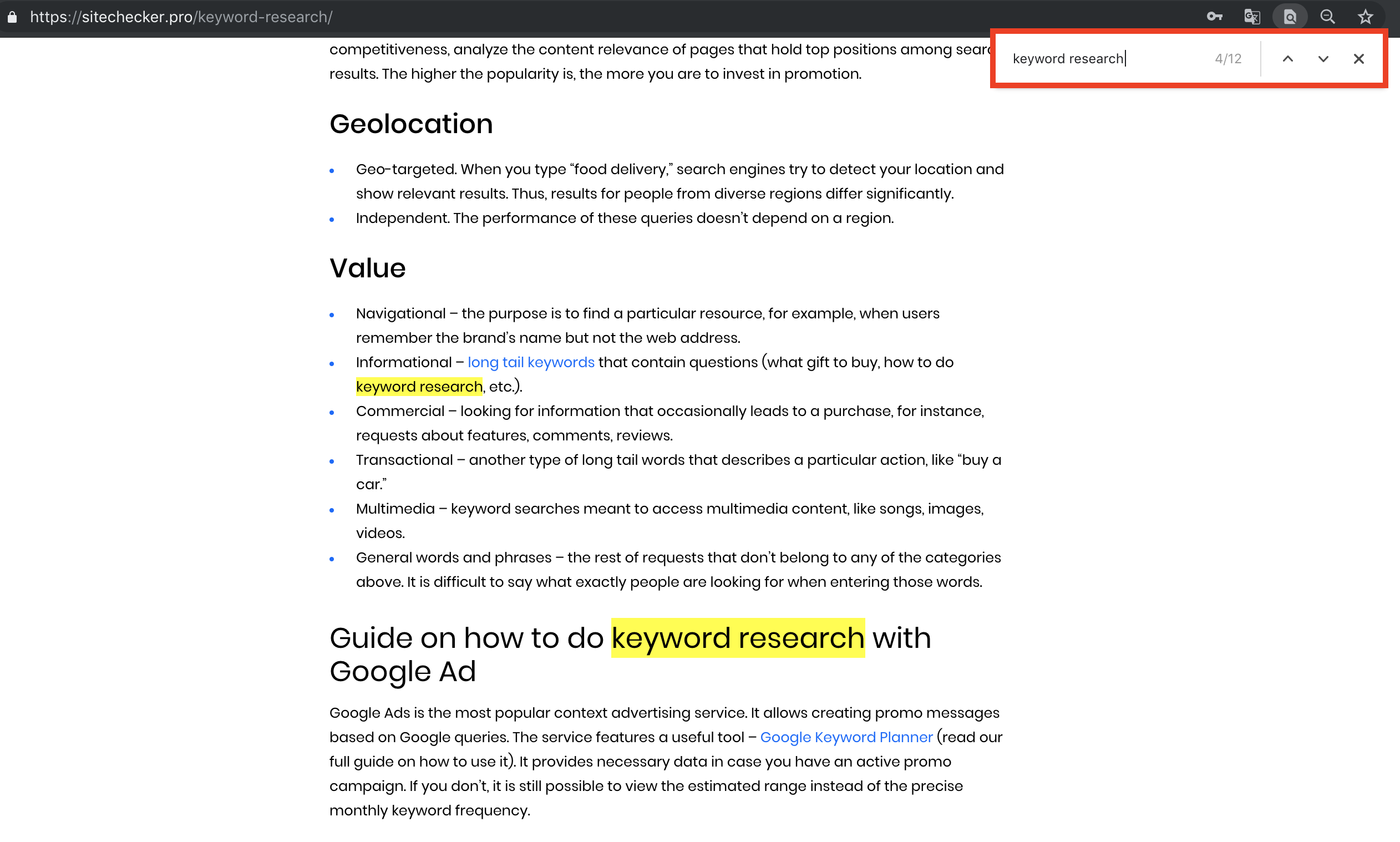 look at total word count in a text;
press Ctrl + F or Cmd + F for Mac;
type or paste a word/phrase;
find out how many times it is mentioned.
The other way is probably more effective: to use a keyword density checker tool. Paste a text, check it, and received a detailed report on the parameters – relevance and stuffing.
What is keyword density in SEO?
To draw the bottom line, let's answer three questions about keyword density.
How does it affect ranking? It doesn't play a defining role in SEO, but it is effective in combination with other factors. You can try website SEO checker to find on-page optimization errors.
Is there such thing as ideal keyword density? There is no formula for correct inserting of words and phrases that will make your website #1; ideal index doesn't exist.
How to find the right words for SEO? It is not density what matters but the relevance of the requests. Look up Google queries, snippets, related searches; research your competitors; use specialized SEO keyword checkers like Ahrefs and similar services.
Maybe keyword density is not a complete myth, but that is not a thing to focus on. Listen to the voice of reason: don't add more search requests than sound logical. Still, now you know what density is and that a decent checker can help you improve it, making your content readable and attractive to the users and search engines.