Since the plumbing industry is highly competitive, every professional needs to stand out — and it's not just about their experience and skills. To make an attractive appearance for potential customers and become a highly-in-demand plumber, you should also take care of your online presence. Look for your website in Google — if it doesn't show up early enough (i.e., on the first page), your business might be in trouble. However, it's not as bad as it sounds since there's a great and effective solution to it — plumber SEO services.
In this guide, you'll find out more about building a success strategy line for your company's website to grow your client database and improve your online metrics. Plus, we'll show you the importance of SEO for plumbers and how to use our user-friendly Sitechecker tool to make your web page rock and experience huge annual growth in traffic.
What is Plumber SEO, and Why is it Crucial?
To put it simply, plumber SEO is a set of edits to your website's content used to make every page of it rank higher in search engines like Google, Bing, and Yahoo. The major task is to bring your website to page one. Ideally — to top three or five. The higher your site shows up, the more impressions it gets. Hence, you have a bigger potential customer pool to engage.
No doubt, your competitors also follow modern trends and already take care of SEO for their own business pages and website visibility. You do want to beat them and excel in page ranking, right? Then it's time to learn more about the essentials of search engine optimization and why it's a useful thing to do.
Is SEO a Waste of Money?
In one word — no. Sure, using high-end solutions and particular analytics tools might seem expensive, but the return on investment will be extremely high.
So why should you implement an SEO strategy for your business and consider spending part of your budget on it? You'll find the answer below.
Plumber SEO is Cost-Effective
As for the marketing strategies, SEO is one of the most cost-effective ones. You're free to pick various options that would fit your budget perfectly. Plus, you always know what you pay for — who and how you're willing to target. You can always decide on your own how much you're ready to pay for a particular service or tool subscription.
For instance, you could hire an in-house expert, a freelancer, or a part-time employee. Depending on their level of expertise, your financial state, company size, and the scope of services you're looking at, you may expect a price range from a thousand to millions of dollars per month (yes, proper SEO can get paid like this!). Design a mind map to see your needs and a budget you can allocate for a particular task.
And it's not necessarily a bad thing if you pay less. It all depends on how big your company is and what budget it's ready to allocate. It's possible to not just obtain affordable SEO for plumber businesses but also get nice results out of it.
It Generates High-Quality Leads
SEO aims at potential customers surfing the internet for specifically the products or services your business can offer. This means you don't waste time, money, and effort on excessive, non-effective leads that won't bring you any value. SEO is inbound by nature, and that's why it's more efficient and less time-consuming than cold-calling, for example.
Plus, everyone is searching for products or services online, which is why search engine optimization is a mighty magnet for potential customers of yours. It's subtle and doesn't require any hard selling to bring more clients.
With SEO, people aren't forced to buy something — they're organically driven to a website and are more likely to convert from just website visitors to buyers.
Can I do SEO by Myself or Better Get a Contractor?
Sure, you're free to try both ways. For example, you may find a contractor on freelance platforms (Upwork, Freelancer, Fiverr) or hire a person someone recommended to you. Plus, there are various options like picking an agency or independent experts that also work as contractors, so you have full freedom of choice here. We'll provide you with a top list of such service providers later in this guide.
Alternatively, you can try to set up a marketing campaign on your own with some proper keyword research and using a trusted, effective service. If you're doing this for the first time, it may take more time than expected, though you learn on the way.
If you're still wondering which option to choose, it's time to dig deeper into the question.
Sitechecker is your personal SEO assistant

Sitechecker is a next-generation solution for running effective SEO marketing campaigns. The best thing about this tool is that you don't need to be a pro to use it. It doesn't take much time at all to understand how it works.
What else makes Sitechecker a viable option is its affordable pricing. On the service's website, you'll find options for startups, enterprises, and individuals. Plus, you get a free trial to enjoy its best features and helpful add-ons.
Its main purpose is to simplify keyword research and analysis, implementing the right strategies, and so on. The tool is basically a Wix among SEO services and apps.
Although Sitechecker is a simple and intuitive solution, it's got a bunch of advanced functions that will help you at every stage of your SEO setup. The key features it offers are as follows:
Tech audits with improvement guides
Sourcing data from GA and GWT for further analysis
The virtual Assistant feature keeps track of SEO manager tasks to be done
Tracking all the website changes
Tracking of the ranking positions by keywords (with regard to location, mobile / desktop devices, etc.)
Backlink tracking
Security checks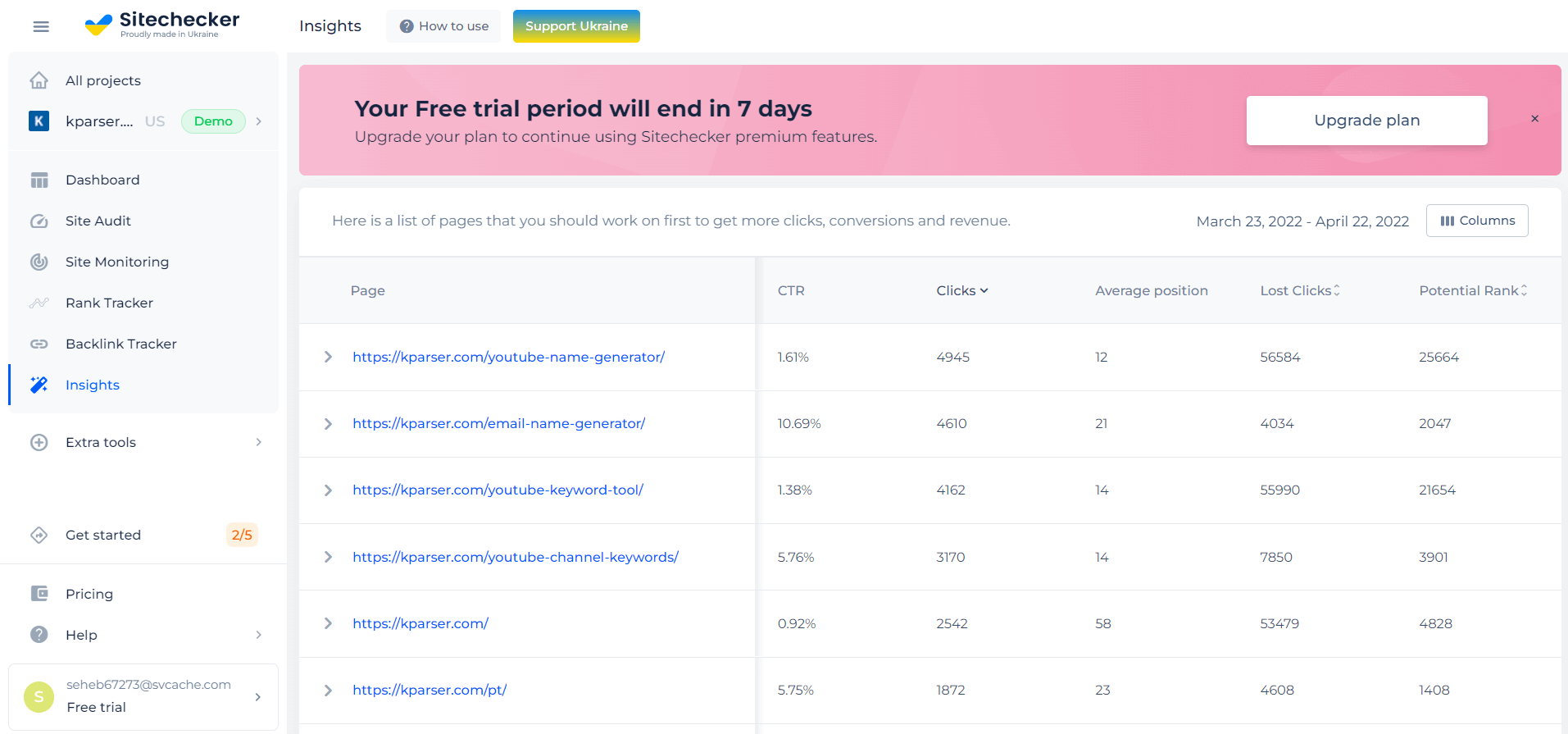 Pros of Using Help of Contractors & How to Control Them
One of the most obvious advantages of hiring a contractor is that you're free of any SEO-related tasks and can take care of other duties at work. You don't spend time and effort trying to figure out how it all works and define the best strategy for your company.
Plus, contractors are more skilled and experienced. Hence they can find some operational or other flaws and quickly fix them. And, since you're working with quite a specific niche, the company or person you hire must've worked with it as well, so they know what would work best for the business.
However, using the help of contractors isn't always the best option. Sometimes, they're too busy dealing with other projects, and eventually, they fail deadlines. Moreover, they can be less competent than they claimed to be, and their expertise may not be relevant at all.
That's why you still get to control contractors, monitor their performance, and always check up on them — if they're working on your project, if there's enough time for them, if their strategy works, etc.
With Sitechecker, you won't be having such issues. You can definitely use the tool to keep track of what's going on with your website, see what exact changes have been made, and of course, what results they brought. Plus, Sitechecker helps you quickly evaluate whether there's a rise or decline in sales or traffic, what the technical state of your site is, what position it's in, etc.
Consider these points while searching for a contractor or an SEO tool to use and you'll surely get the top results for your website!
TOP 5 Contractors for Plumber SEO in the USA
If you decided to hire a plumber SEO company to help you out but don't know where to look for the best ones — don't worry, we got it sorted for you!
Below, you'll see the list of top service providers for plumber SEO from the United States that will surely do an excellent job for you.
How to Make SEO for Plumbers
Now it's time to move from theory to practice. Keep reading to learn how to implement an effective SEO strategy for your plumbing business. Plus, we'll tell you how to use Sitechecker and monitor contractors' performance if you're working with any.
Website's on-page and technical SEO
The first step in setting up an SEO campaign is conducting a technical analysis. Technical SEO is part of server and webpage optimization that helps index your site more efficiently.
On-page SEO analysis deals with the website content and shows if it's well-optimized for the necessary keywords. Plus, it also shows how the content improves the user experience with your website.
Both these aspects are crucial for improving your online presence and your site's performance. Without analyzing the on-page and technical SEO for plumbers, there's no sense in any promotional campaigns if you have started one.
With Sitechecker, you're able to run both an on-page and website audit. Let's see how each one of them works.
Website audit for all pages
Our tool helps you run an effective audit for all your website pages. With it, you'll find all the issues and their types, together with detailed instructions on how to fix them. You'll get full information on the audit results in just a few minutes and how critical the existing problems are.
Plus, you're able to specify what you need the audit for. This way, you'll get more relevant insights into what's going on with your site. Here are the goals you may specify here:
Identify bugs
See the website's health score
Remove the issues you don't want to fix
See the guides to fix problems on your own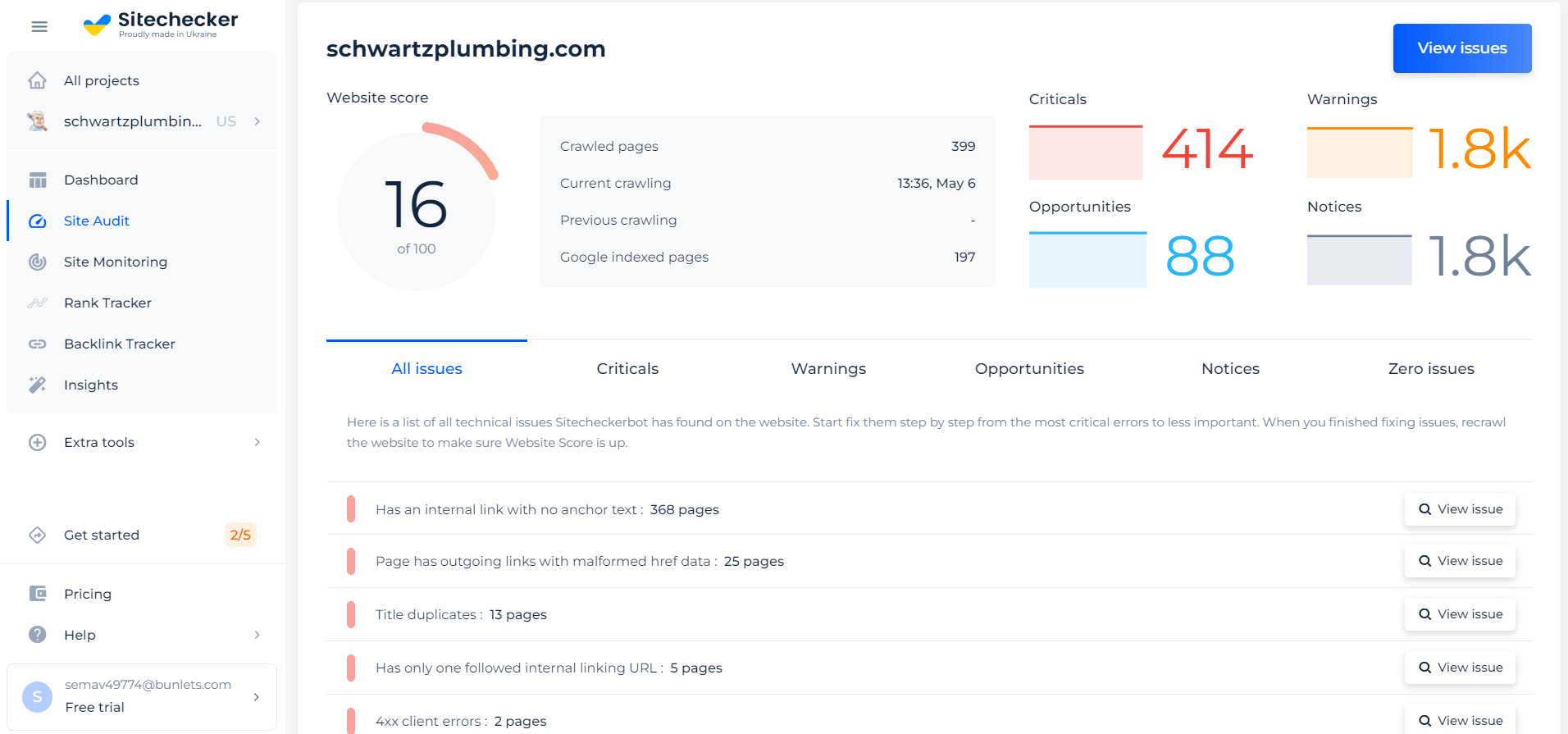 On-page audit for small sites
This type of audit is a perfect option if you don't want to do a full analysis of your whole website. Sitecheckers can help you with that too.
You're able to see the bugs on a specific page and its score independently. Plus, if you want to run a fast check, there's even a Chrome extension so you can do an on-page audit without leaving the page. The audit will include every link and image, meta tags, content relevance, etc.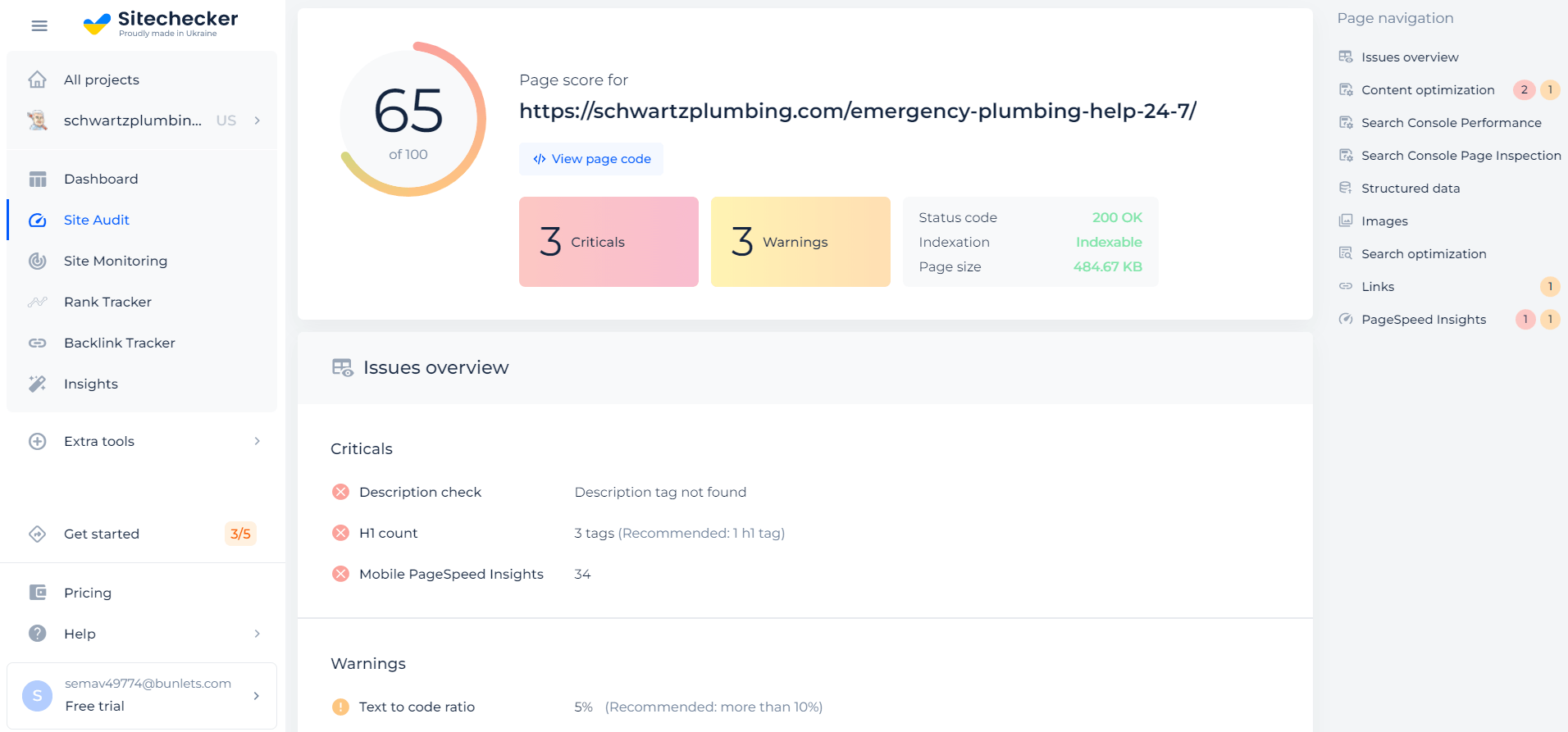 Make the first step in your plumber SEO right now!
Make a full audit to find out and fix your technical issues and get all other platform features.
Using Data from Your Google Search Console and Google Analytics
These are your best friends and essential tools if you're doing everything yourself. These powerful services point out the bugs and track a vast number of metrics necessary for different types of business and depending on the goals you want to achieve.
The number of functions, metrics, and add-ons is enormous. We don't want you to get lost in all this. With Sitechecker, you're able to see the essential aspects of your site performance. Even if you're new to GA and GWT, it's fine!
One of our tools, GA Tracker, shows if all the Google Analytics settings are working correctly. It also checks out the key metrics offered by the service and how your website is performing.
If you're having any issues installing GWT, there's a detailed guide to show you how it works. And of course, you'll need to connect your GA and GSC accounts to get more detailed insights on the website. Sitechecker has it all figured out for you!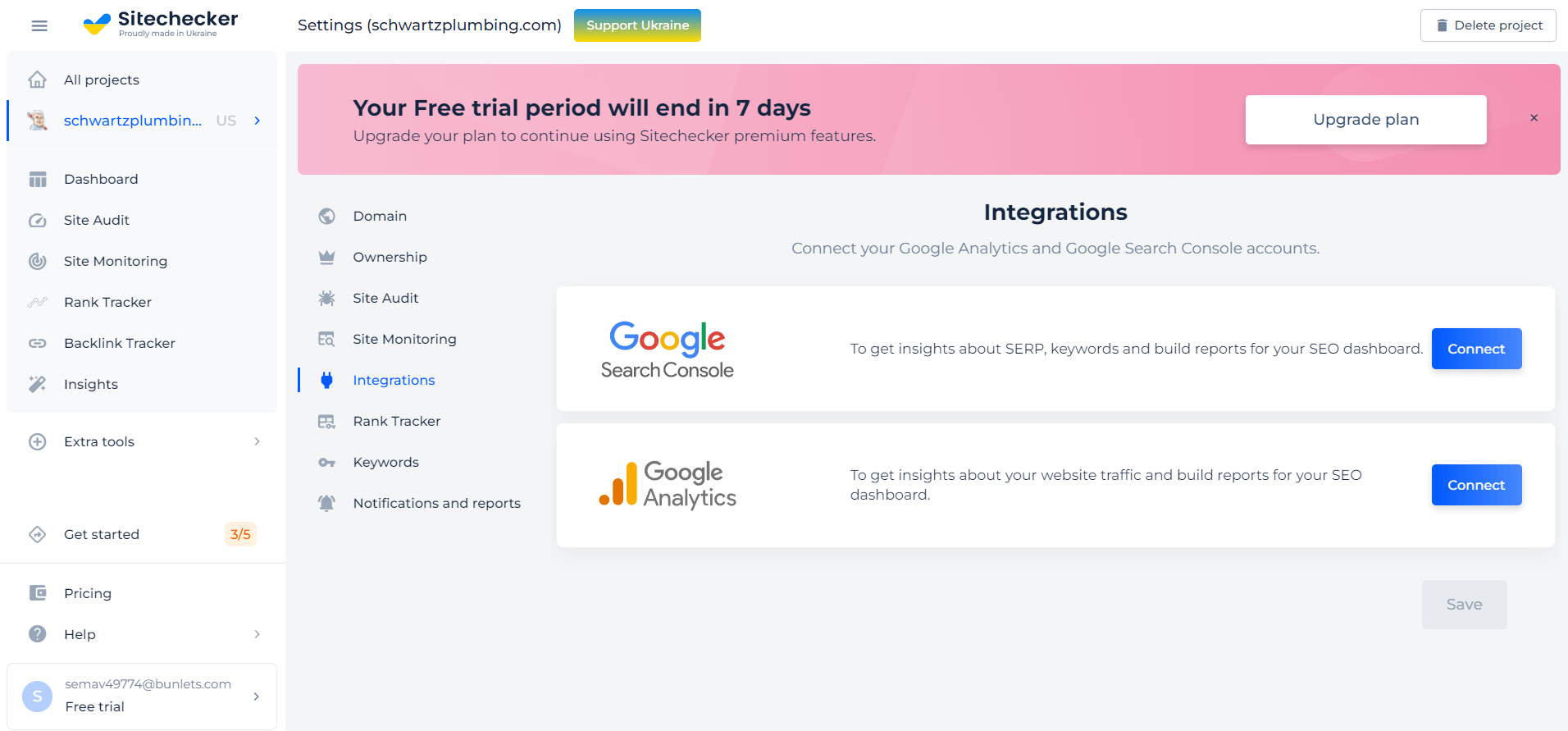 Use Data from GSC
With Sitechecker, the Search Console integration is a fast and easy process that won't take more than a few clicks. It's important to use GSC and GA to get more precise figures and metrics.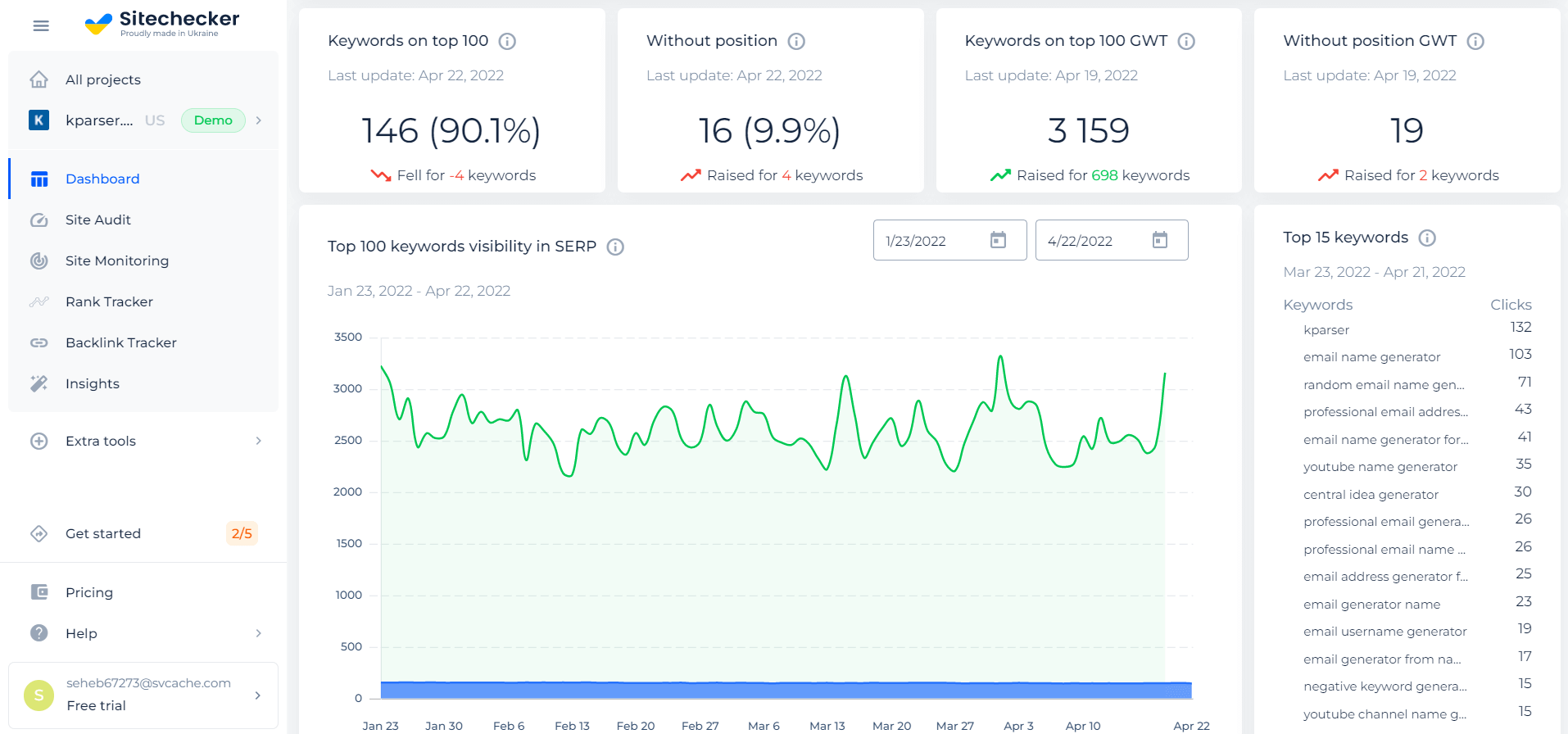 Our tool incorporates the following evaluation data:
Keywords on top 100 GWT
Top 15 keywords
Site Indexation Progress
External and internal links
Top 10 Landings with the details on impressions, click rates, etc.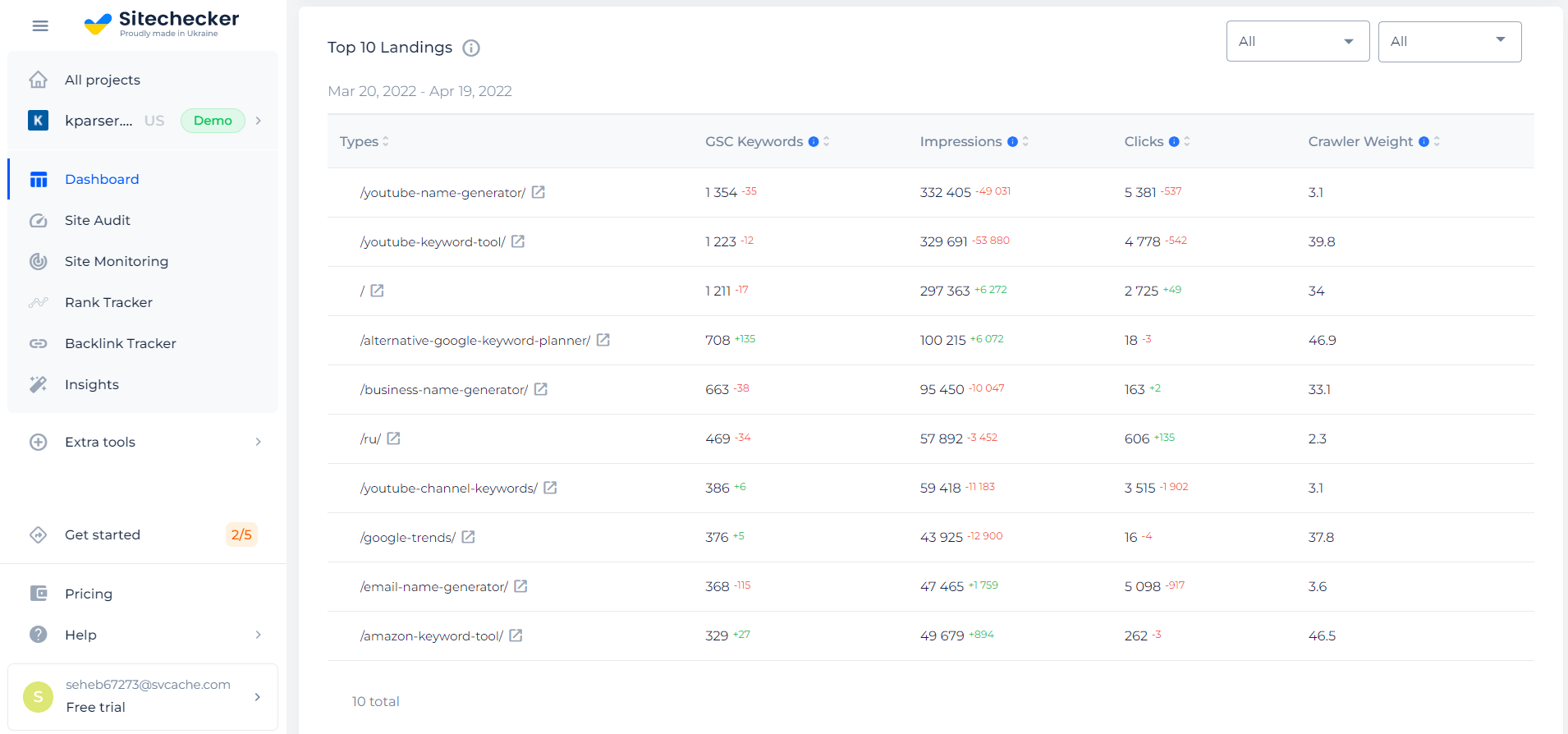 Use Data from GA
Together with GSC, our tool also helps you connect to your GA account in no time.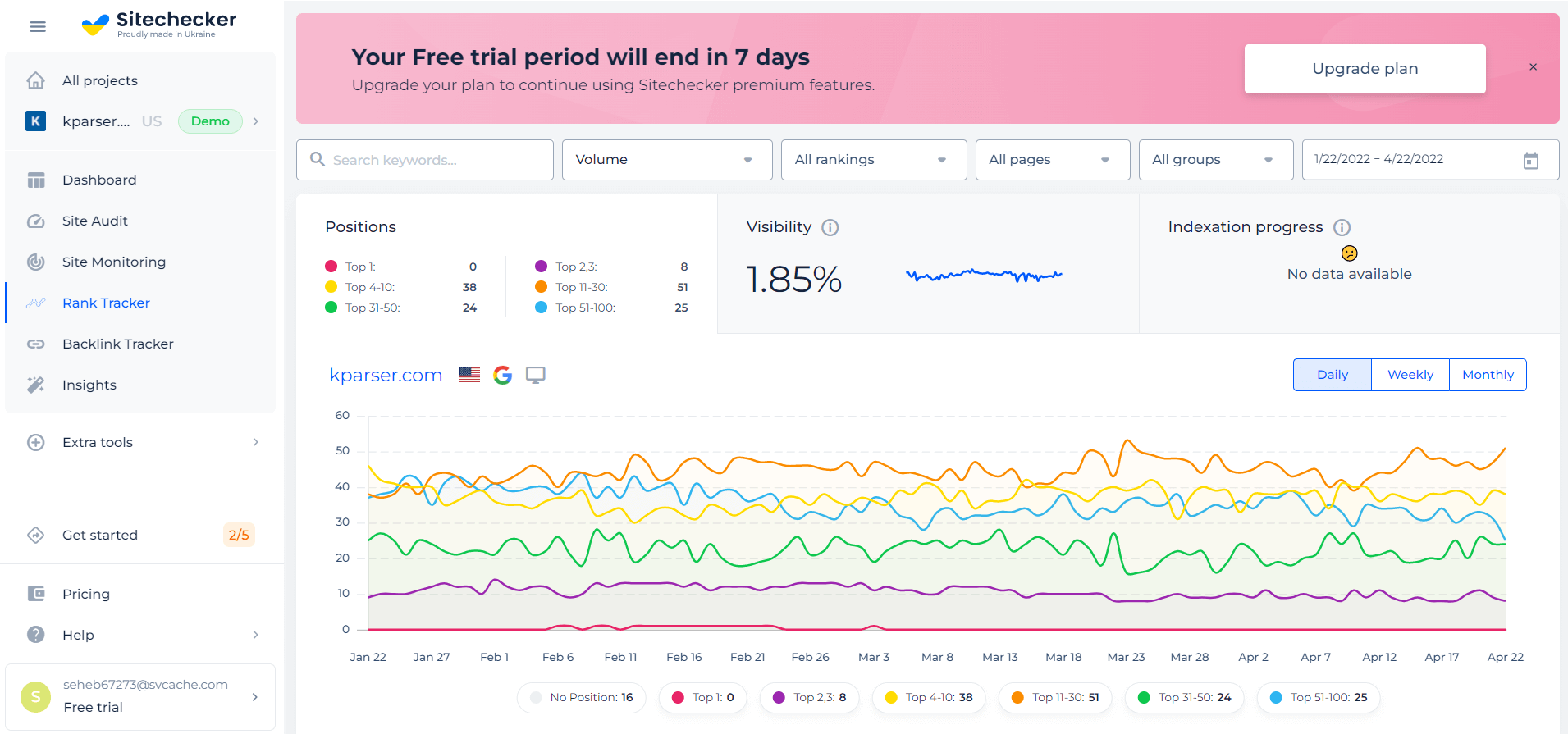 Here, you'll see All and Organic traffic. Plus, with the eCommerce extension, you'll also be able to track revenue and conversion rate, sales, and transactions.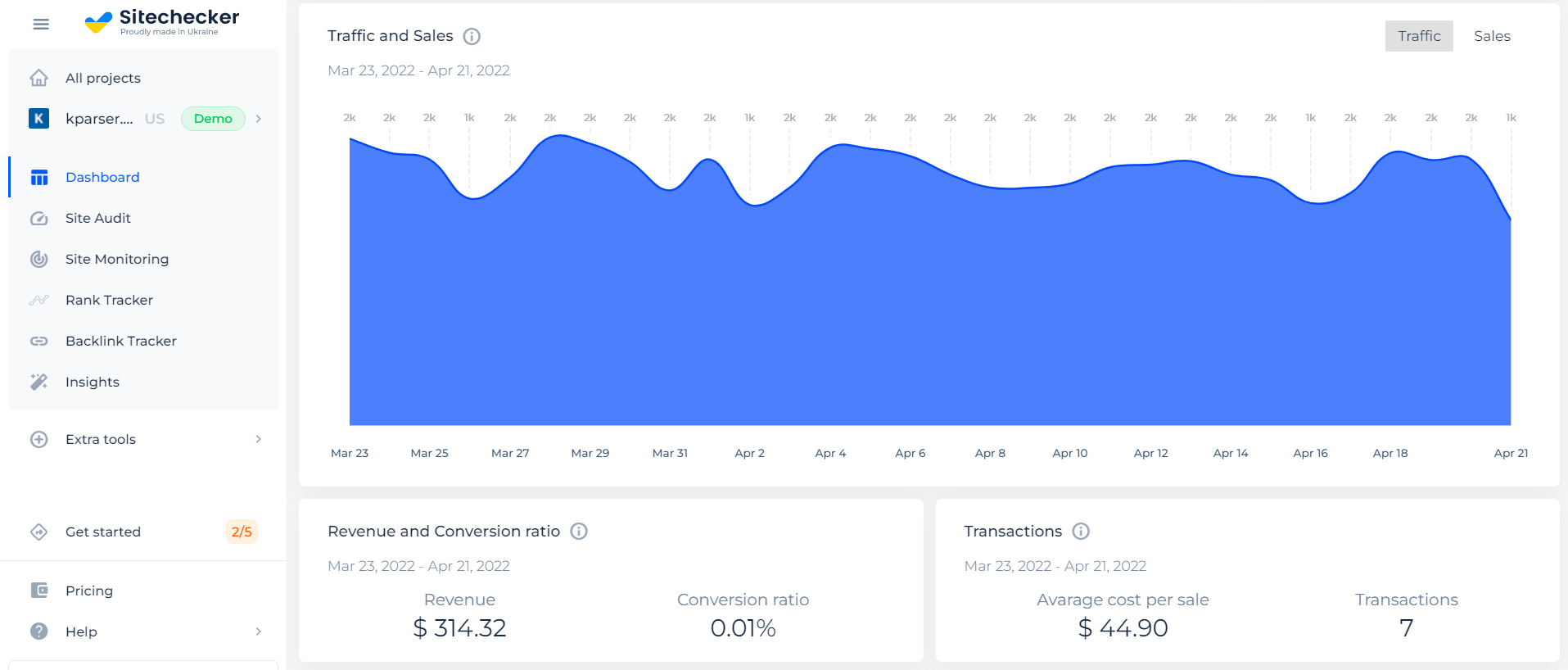 These metrics are the basic ones and give you an understanding of the current state of things.
How to Get Keywords for Plumber Niche and Accurate Rank Tracking Them
Keywords ranking shows the position of your website based on the most frequent user searches. Thanks to this, you'll know what your target audience is actually looking for. That's why you need to do fundamental keyword research to fit your happy customers' needs better than your competitors.
As for the main types of keywords, there are informational and commercial.
Informational keywords are used to help users get some details on a particular question: "How to repair a water heater"
Commercial keywords help when a person is looking for an actual product or service: "Plumbers in New York"
To help you with proper keyword research, you may use Sitechecker together with a range of services:
Ahrefs
Semrush
Google Keyword Planner
GWT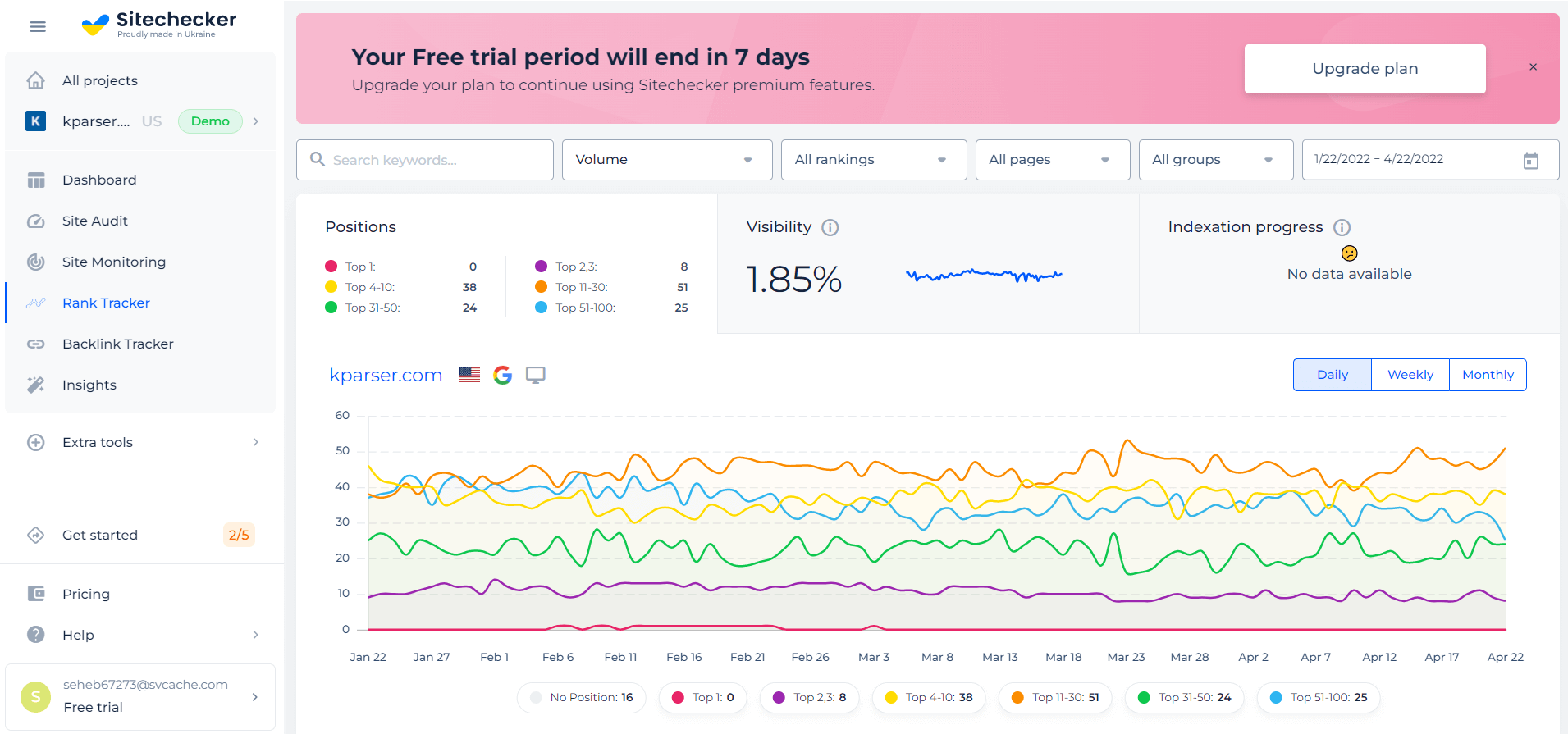 Plus, our tool offers an exceptionally useful Rank Tracker to monitor your website's positions in Google, Bing, and Yahoo. You can also use it for various devices and locations, see the keyword changes and their volume, and keep track of your competitors' positions.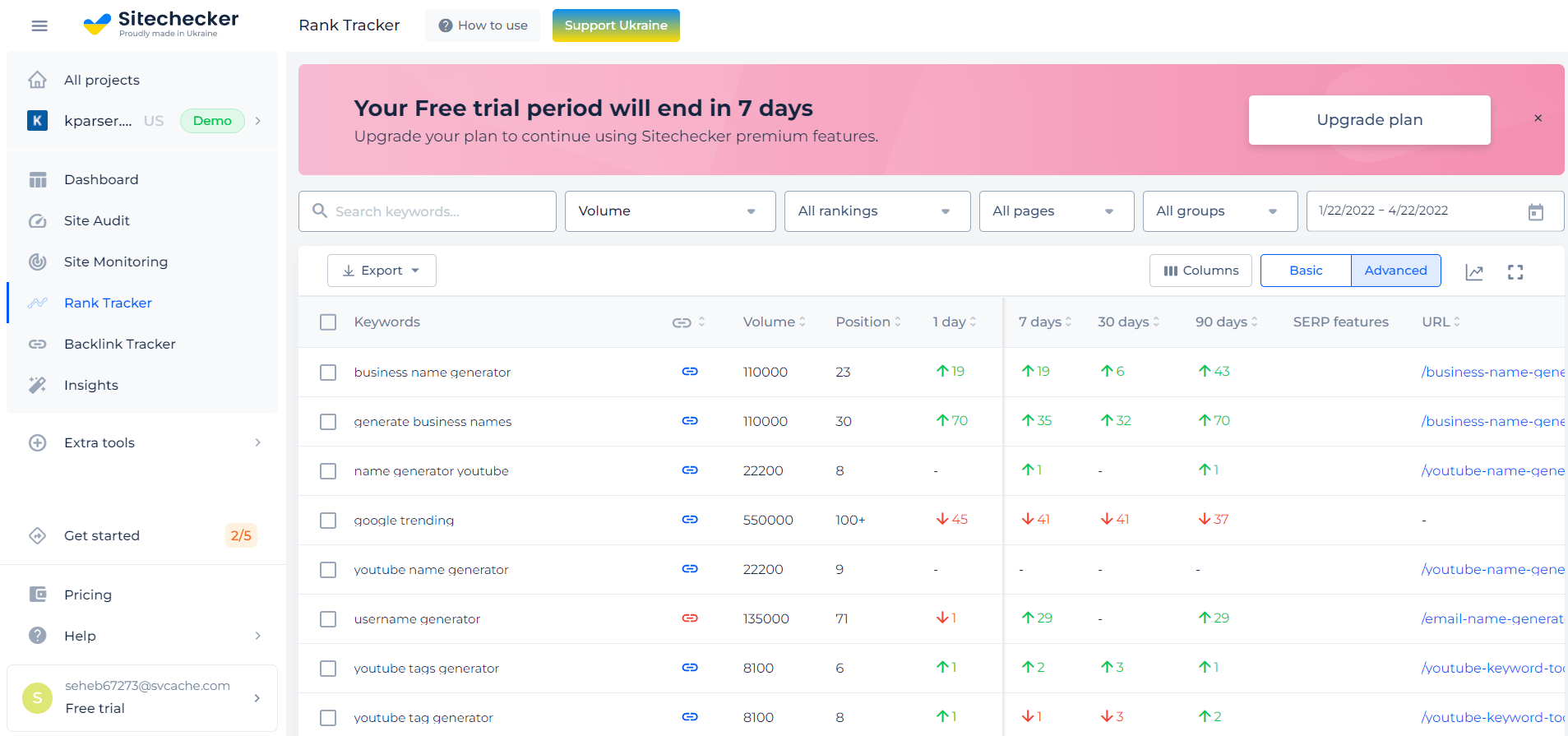 Add Keywords Manually or from GWT
Sitechecker allows you to add keywords manually from your GWT dashboard and get relevant information about them, including their volume and position. Сonnect it in just a few clicks and keep receiving data about the necessary keywords in real-time. Plus, there are convenient filters to sort them just the way you want.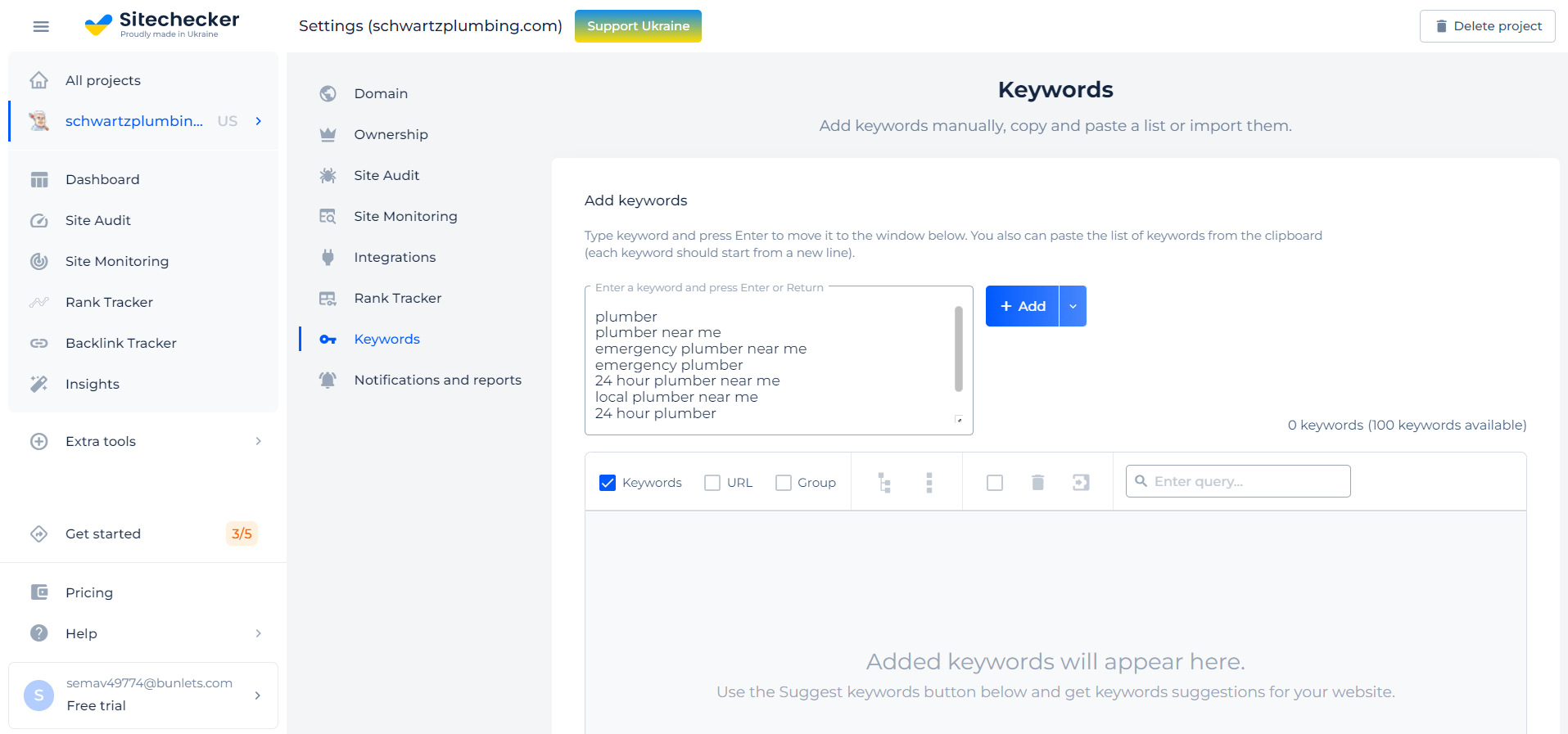 Local SEO Keyword Tracking
Local SEO for such a narrow niche as plumbing is crucial. It helps your website rank better among other competitors from your country, city, or state. Since a plumbing company operates in a limited number of locations, being the top one in your area is exactly what you'll need to succeed.
Local plumber SEO (just like for any other niche) has several ranking factors that include:
Location of a person who's searching for something
Keywords used in reviews
Number of check-ins
Shares on social media
NAP citations
Presence of Google My Business listing
Google Maps star rating
If you want to try local plumber SEO keyword tracking, here are some essential tips you could use:
Add a Google Map to your Contact or About page
Use location-focused keywords on top of every page (in headlines)
Optimize your title tag around 2-3 keywords
Optimize meta descriptions for local searchers… but not too much
Keep your Google My Business profile consistent and detailed, keep crucial information updated
Sitechecker allows you to do local SEO keyword tracking too! The tool has several filters to choose from: country, city, and language. This will help you focus on the target audience that might actually call you and ask for plumbing services nearby.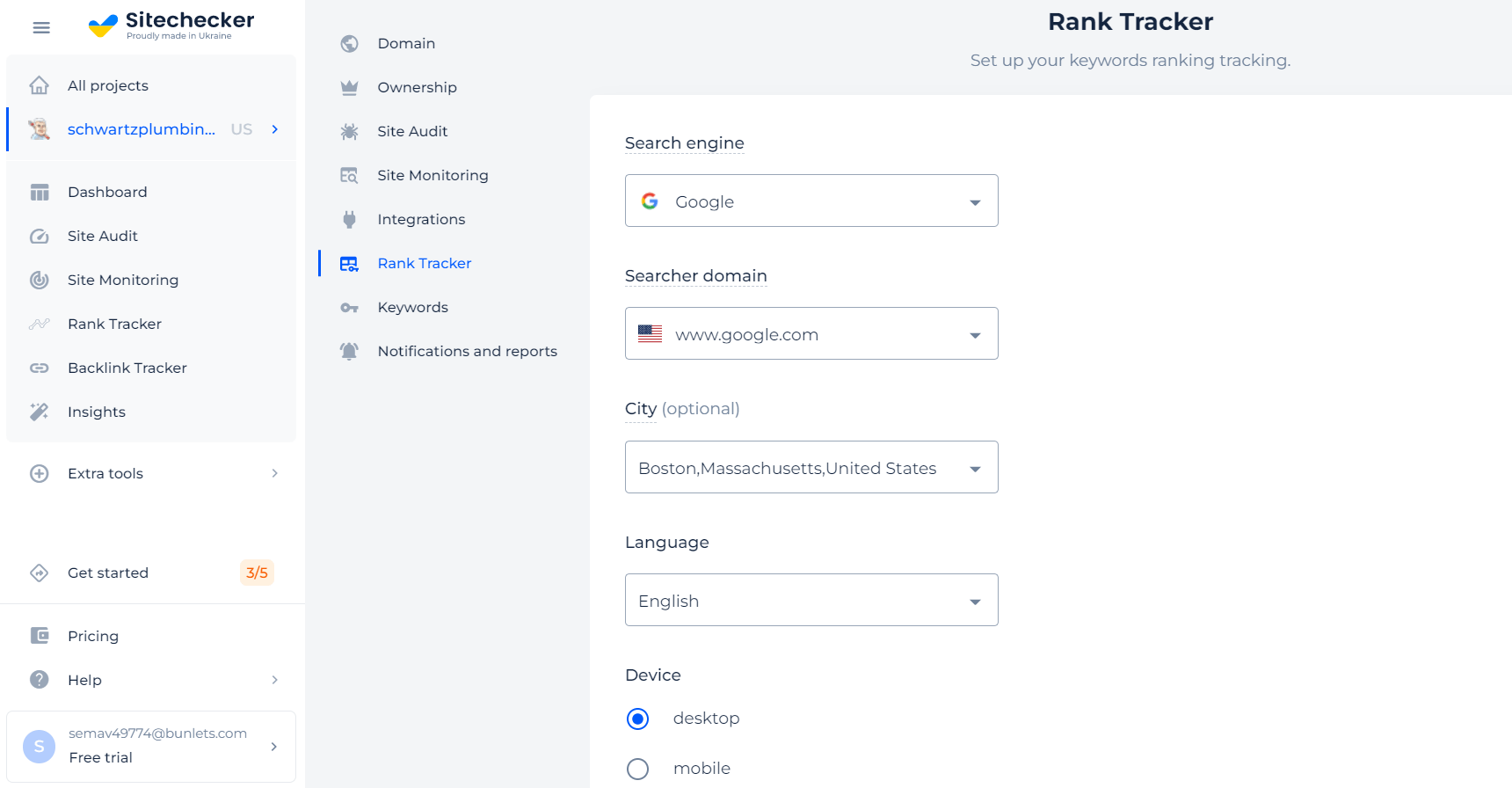 TOP 35 Keywords for Plumbing Niche
To make life a bit easier, we prepared the list of top commercial keywords in this niche (in the USA). Use them to keep track of your business site's ranking and deepen your SEO skills. The keywords are from Ahrefs (it paid, but you get them free) with information about Value and Keyword Difficulty. Keyword Difficulty (KD) is a calculated estimate of how difficult it is to rank in the top 10 organic search results for a keyword on a 100-point scale. Value – an estimate of the average monthly number of searches for a keyword over the last 12 months of observation. Also, recommend you use the keyword with your business location.
| Keyword | Keyword Difficulty | Volume |
| --- | --- | --- |
| plumber | 61 | 228 000 |
| plumber near me | 50 | 215 000 |
| emergency plumber near me | 36 | 22 000 |
| emergency plumber | 23 | 19 000 |
| 24 hour plumber near me | 34 | 10 000 |
| 24 hour plumber | 37 | 9 600 |
| local plumber near me | 48 | 9 600 |
| local plumber | 56 | 7 800 |
| master plumber | 15 | 4 800 |
| 24 hr plumber | 33 | 2 500 |
| hire a plumber | 40 | 350 |
| the plumber guy | 13 | 350 |
| a good plumber | 3 | 300 |
| cheap plumber service near me | 43 | 300 |
| emergency plumber service | 36 | 300 |
| local emergency plumber | 35 | 300 |
| plumber prices | 39 | 300 |
| best 24 hour plumber near me | 26 | 250 |
| plumber companies | 48 | 250 |
| plumber near | 61 | 250 |
| pro plumber | 20 | 250 |
| best plumber company | 45 | 200 |
| cost of plumber per hour | 39 | 200 |
| emergency plumber cost | 11 | 200 |
| i need a plumber now | 10 | 200 |
| industrial plumber | 1 | 200 |
| plumber specialist | 6 | 200 |
| your plumber | 12 | 200 |
| 24/7 plumber | 33 | 150 |
| plumber repair | 42 | 150 |
| plumber reviews | 2 | 150 |
| recommended plumber | 48 | 150 |
| water plumber near me | 51 | 150 |
| call a plumber | 18 | 100 |
| plumber for water heater | 16 | 100 |
Content Creation
What is SEO without content? Right.
It may take a while to master content creation and learn how to adapt it to a particular niche, convey the right tone of voice, and do proper messaging for your business. Plus, it's also important to know how to organically add keywords and optimize the web pages according to the research you've done for your SEO strategy.
Hence, if you're not sure you can do this properly yourself, consider hiring a content team or at least an experienced contractor or a copy writing expert. The latter can create valuable content to engage your target audience and make them call you.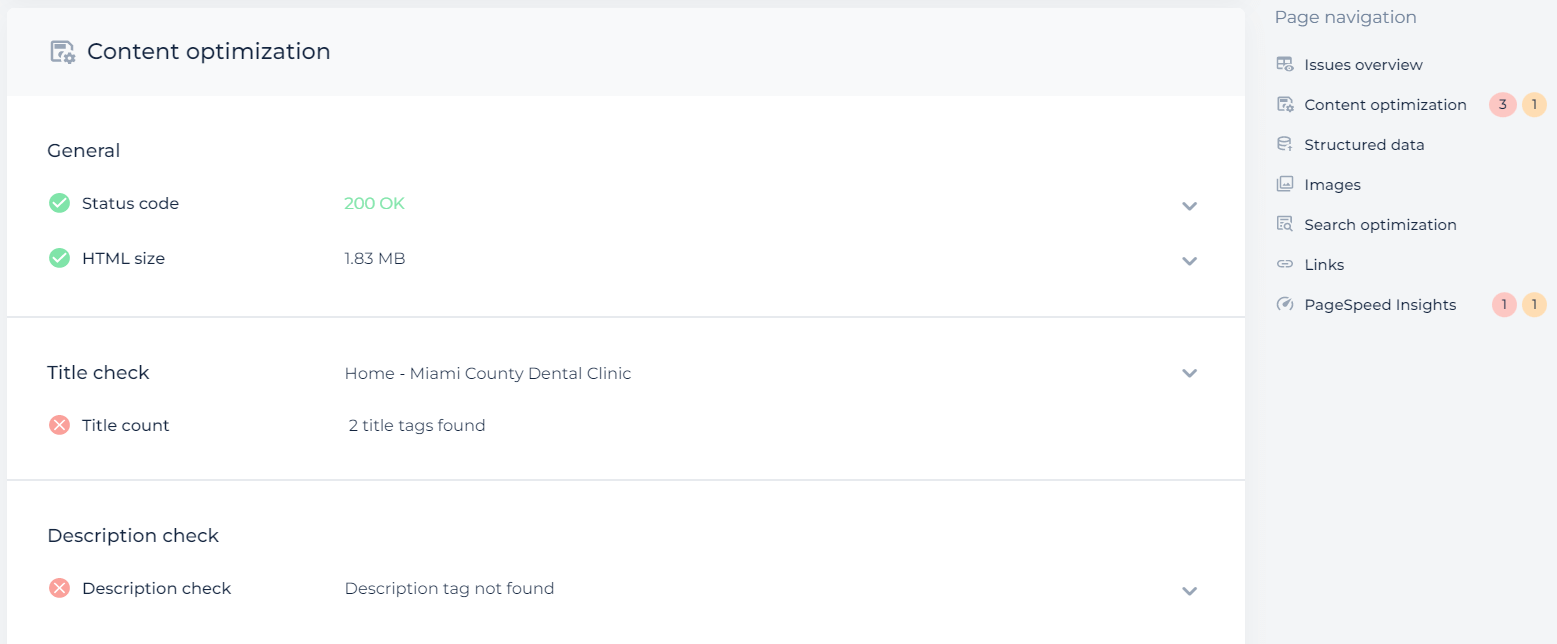 However, if you still want to try working on content yourself, Copywritely may come in handy. With this tool, you can analyze both pieces of content and the whole page at once. Plus, after you publish a page, you can use Sitechecker's on-page audit, see all the changes, and track progress right away.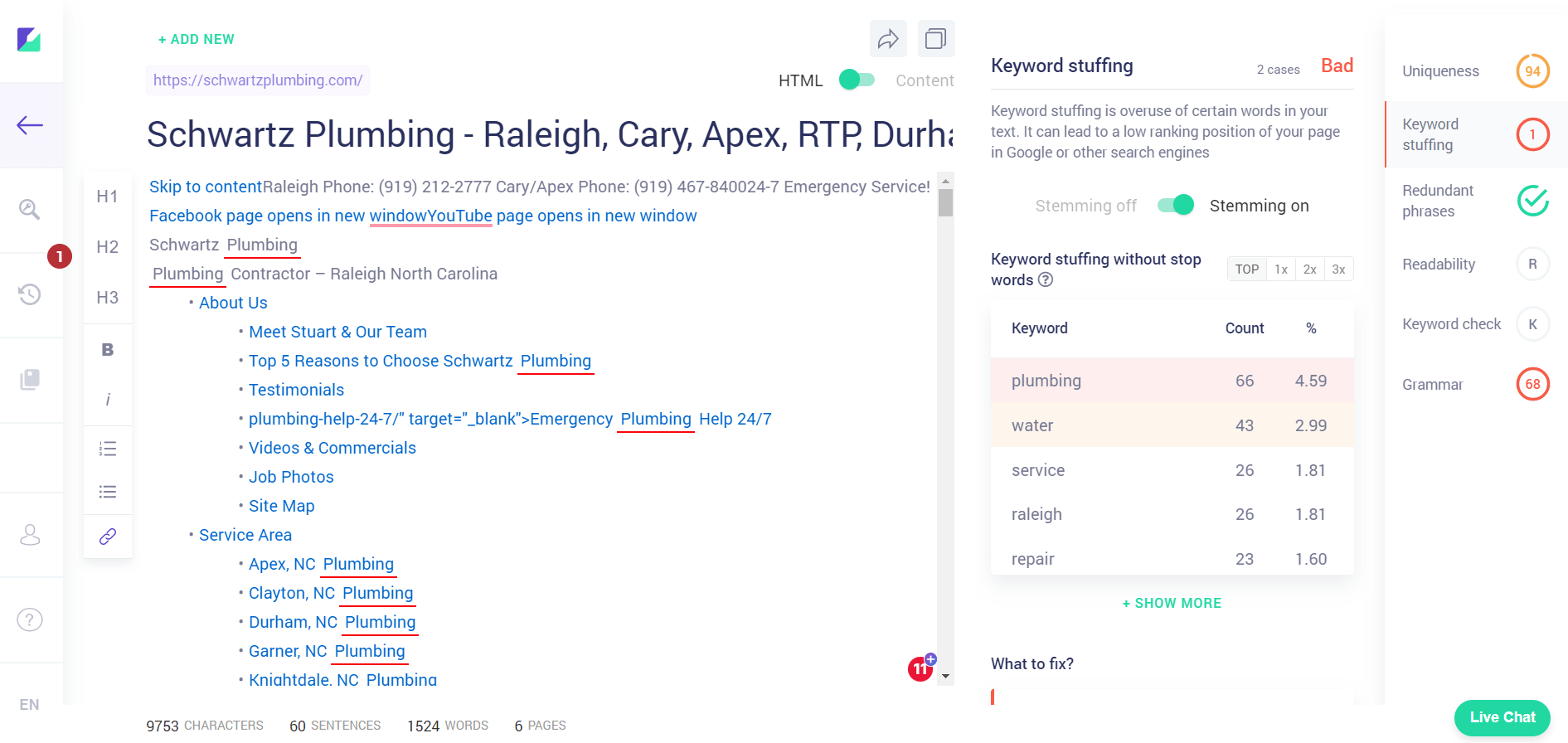 Monitor All Your Website's Changes 24/7
It's always important to keep track of your website's content rate and do regular check-ups. You need to be sure it's up-to-date, well-optimized, and has no mistakes or bugs. Sure, this doesn't mean you don't have to sleep and spend your whole day controlling your page. There's a better solution.
Sitechecker offers a real-time monitoring feature. With its help, you get access to all the changes and are able to react to them immediately. You'll get alerts if the ranking positions change or the traffic declines.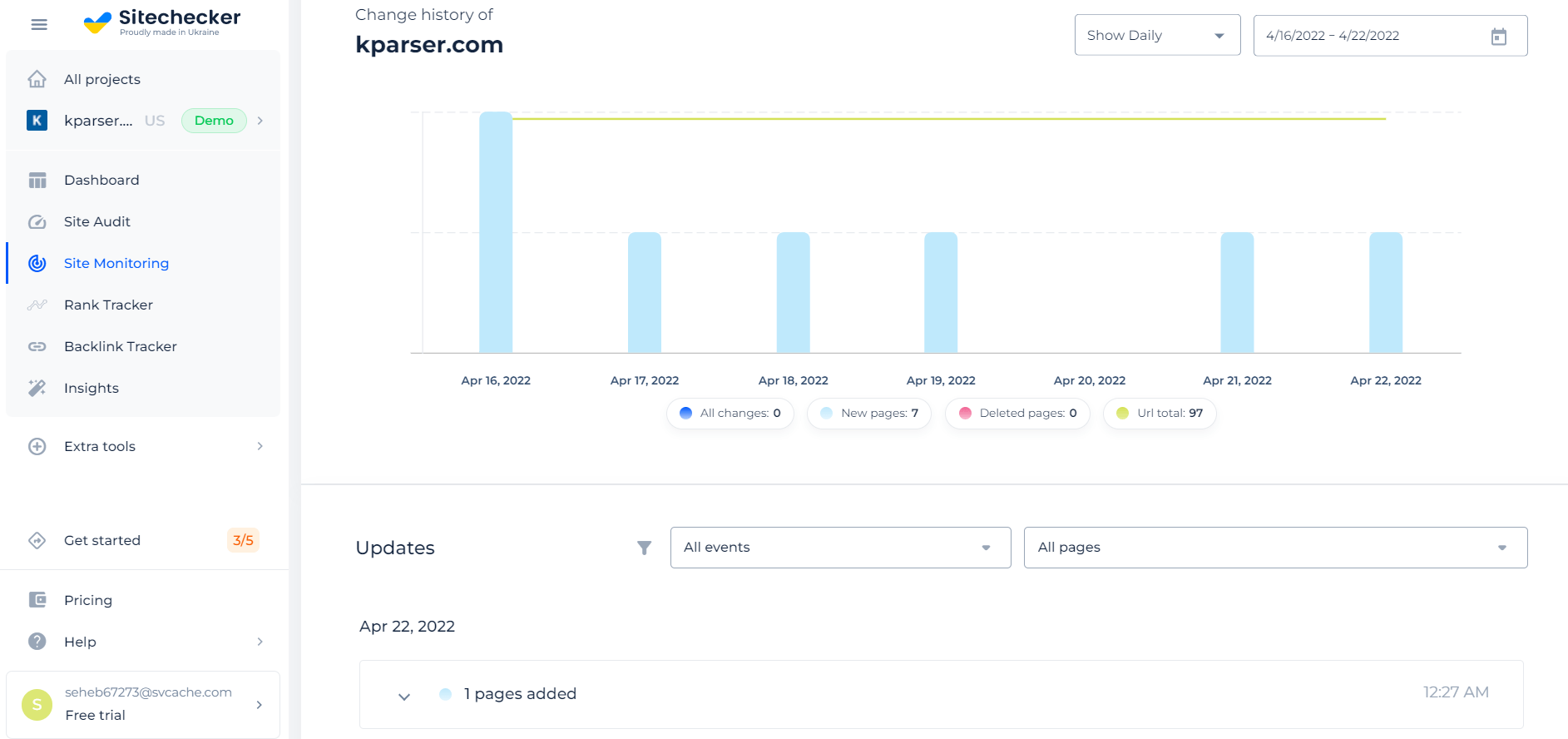 Building and Controlling External and Internal Linking
There are two main types of links that matter for your SEO strategy:
Internal links lead the users to other URLs on the same site. It can be a CTA, title, link to your services page, blog posts, etc.
Backlinks are led from another website to yours. As many trusted domains link to your site that is better.
Let's see why both these kinds of linking are vital.
Internal Linking
This helps users and search engines find a particular piece of content on your website. It usually looks like an anchor text. To make internal linking work best, the surrounding content needs to be of a relevant context to make sense and not distract users.
Internal linking helps can improve the UX and facilitate website navigation. It's usually a faster way of getting to some particular location on your website.
To see if it works well in your case, feel free to use Sitechecker. It shows you the effectiveness of links or anchors you inserted on your page and see your internal PageRank. Finally, you can see if the internal linking you set up with a contractor gives promised results.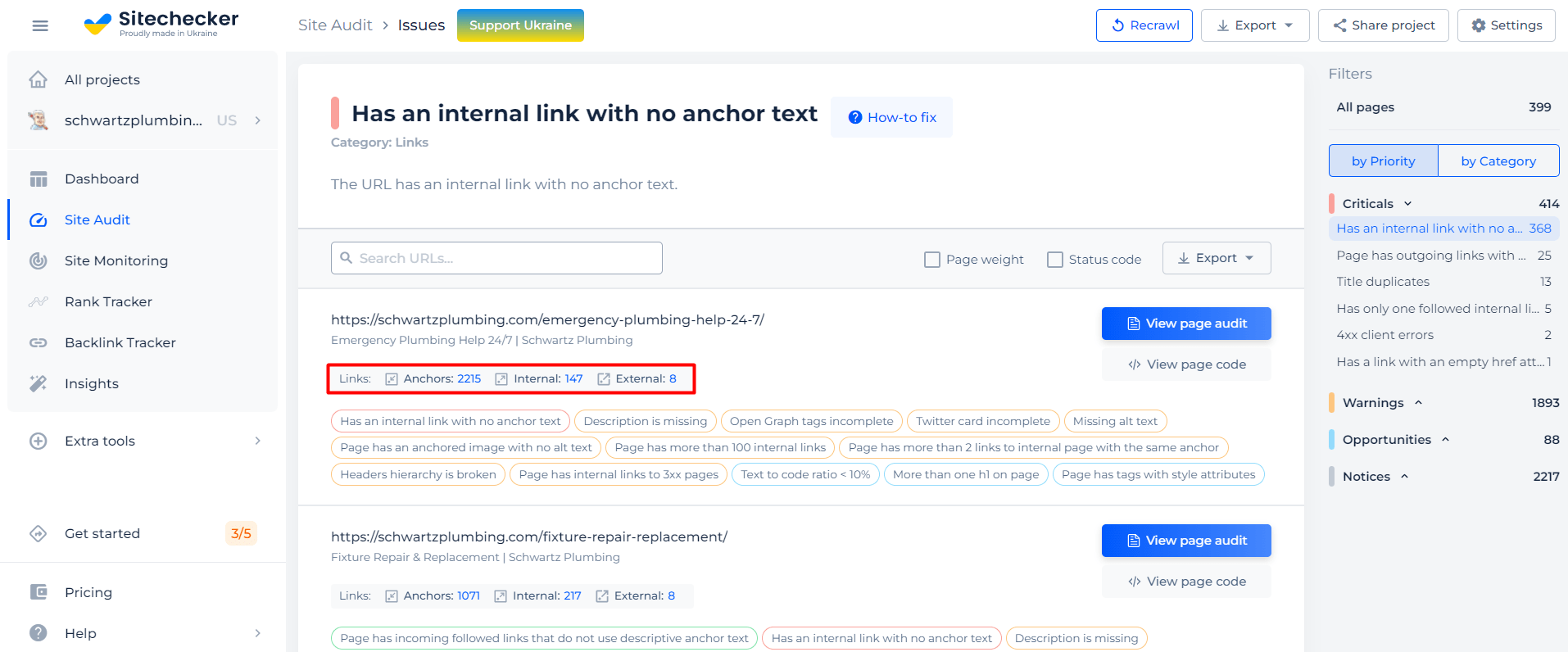 Backlinks
External linking is just as important as the internal one. If you use credible, trusted sources, it'll improve your website's credibility. The best thing to do here is place external links to trustworthy websites that are not just highly ranked but also related to your website's content.
This is also a great way to get free traffic to your page and an essential element for search engine algorithms.
It's important to differentiate between do-follow and no-follow links. The main point is that no-follow links, while bringing traffic to your page, have almost zero significance to a search engine. It's also not recommended to use no-follow links for internal linking.
One last thing to pay attention to here is the DR (domain ranking) and UR (URL ranking). DR point at the number and quality of domains linked to the whole website, while UR shows the same data, but for a particular page. These scores depend on a variety of factors, including the spam level of a domain. The latter badly influences the results.
To prevent your website from potential score losses, Sitechecker has two separate tools for checking the domain ranking and page authority validation. You'll see how you can improve here and what sources are the best to use for external linking.
Plus, if you want to get detailed information on the links you have on your website, there's a Backlink Tracker — a useful add-on to keep track of spamming and indexing effectiveness.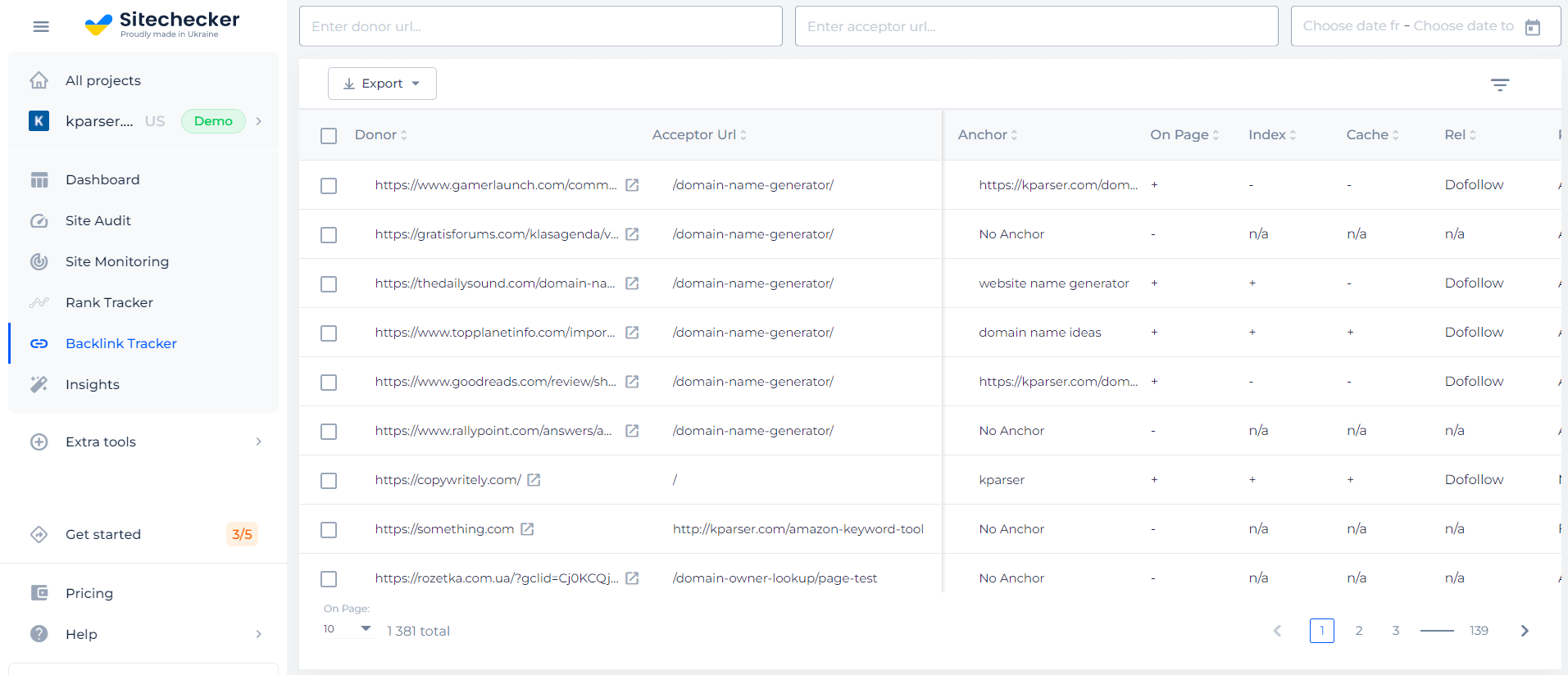 TOP 12 Specific Tips for Plumber niche in SEO
Lastly, we'd love to share some useful tips for making your plumber SEO action strategy even more effective and valuable. This may seem like a long road, but with effective strategies, it's a fun and exciting journey. Let's see the top dedicated tips and hear your thoughts on them!
Claim Google business listing. If you're a business owner, add your company logo, banner, working hours, website link, phone number, what you offer and areas of expertise, email address, pictures of your work, and a short description.
Getting reviews. Getting reviews on various platforms is a great trust booster and decision-making facilitator. Some of the places where you can get tons of comments are Yelp, Google My Business listing, Trustpilot, and Reviews.io.
Leverage traffic from other sites. Instead of fighting websites for the top ranking positions, get your website's links placed there. These sources are trusted and already have a lot of traffic, so they'll basically do most of the job for you.
Site structure. Make sure to create a vast variety of pages for your website to attract and capture more keywords. For example, if you offer an extensive service line, create separate pages for each one of them. Hence, these separate services will be able to rank higher across your local area.
Technical site audit. This will help you see if any major issues affect your ranking positions. What you should fix in the first place are page load speed, broken/harmful links, responsiveness, sitemap issues, mixed content, and duplicate headers/descriptions.
Business directory citations. What directories you should submit to are Yell, Yelp, Scoot, 192.com, and FreeIndex. Plus, don't forget to mention your industry qualifications like Gas Safe. Make sure you're mentioned in their listing and it's linked to your website.
Keyword research. This helps you see if you need to add any more pages and know what keywords you need to use to rank high in your local area. Try Google Keyword Planner, Semrush, or Ahrefs for that.
Adding keywords to the pages. After you've done the research, the next comes adding keywords to your website. Make sure to add the main ones in the home page title, meta description, URL, H1, and first paragraph of content. It's also useful to add them to at least some of the images' Alt-tags.
Structured data. It helps clearly understand the data you show on a website. If you want to get more insight on it, try Schema.org and Google Search Console.
Writing a blog. But only if you have a strategy and a specific intent on your website. The best way it would work is by providing articles that answer your audience's questions.
Guest posting. This is basically becoming a partner with another blogger that already has a highly-ranking page, excellent trust score among their readers, and a huge audience. This is a powerful external linking tool that boosts DR, sales, and your website's authority.
Pro tip: follow the E-A-T guidelines. E-A-T stands for Expertise, Authoritativeness, and Trustworthiness. This is practically a definition of a page quality. This rule has to apply to both the content you're using on your website and to the one you're using for backlinking and guest posting.
To follow the guidelines and improve the E-A-T, you should do the following (apart from the list of tips we highlighted above):
Build more links
Do the fact-checking
Get more authoritative mentions
Hire experts
Reveal your contact details
Get a Wikipedia page
If you want to improve your website's SEO and make it beat the competition also check out this video guide.