What is a GA Checker?
Measuring your website performance is of paramount importance. For this purpose, webmasters are using smart Google Analytics tools. These tools enable you to track audience visibility metrics, as well as analyze traffic sources and user behavior.
GA validator crawls your site page by page to determine if Google Analytics is configured. Basically, our free tool scans your website for the following Google Analytics tags:
Google Analytics (ga.js)
Google Universal Analytics (analytics.js)
Google Analytics Global Site Tag (gtag.js)
How to Check if Google Aalytics is Working with the GA Checker?
For your website to drive traffic and sales, you must know your audience. Also, you must be able to track the changes that you've made to your site. If you have no idea whether your site is using GA or not, just follow these simple steps.
Step 1: Insert your domain and start the free trial
Simply enter your domain name in the field below, hit the button, and you'll be ready. Best of all, no credit card is required. Use your Google or Facebook account for a hassle-free trial period. It doesn't get any easier than that!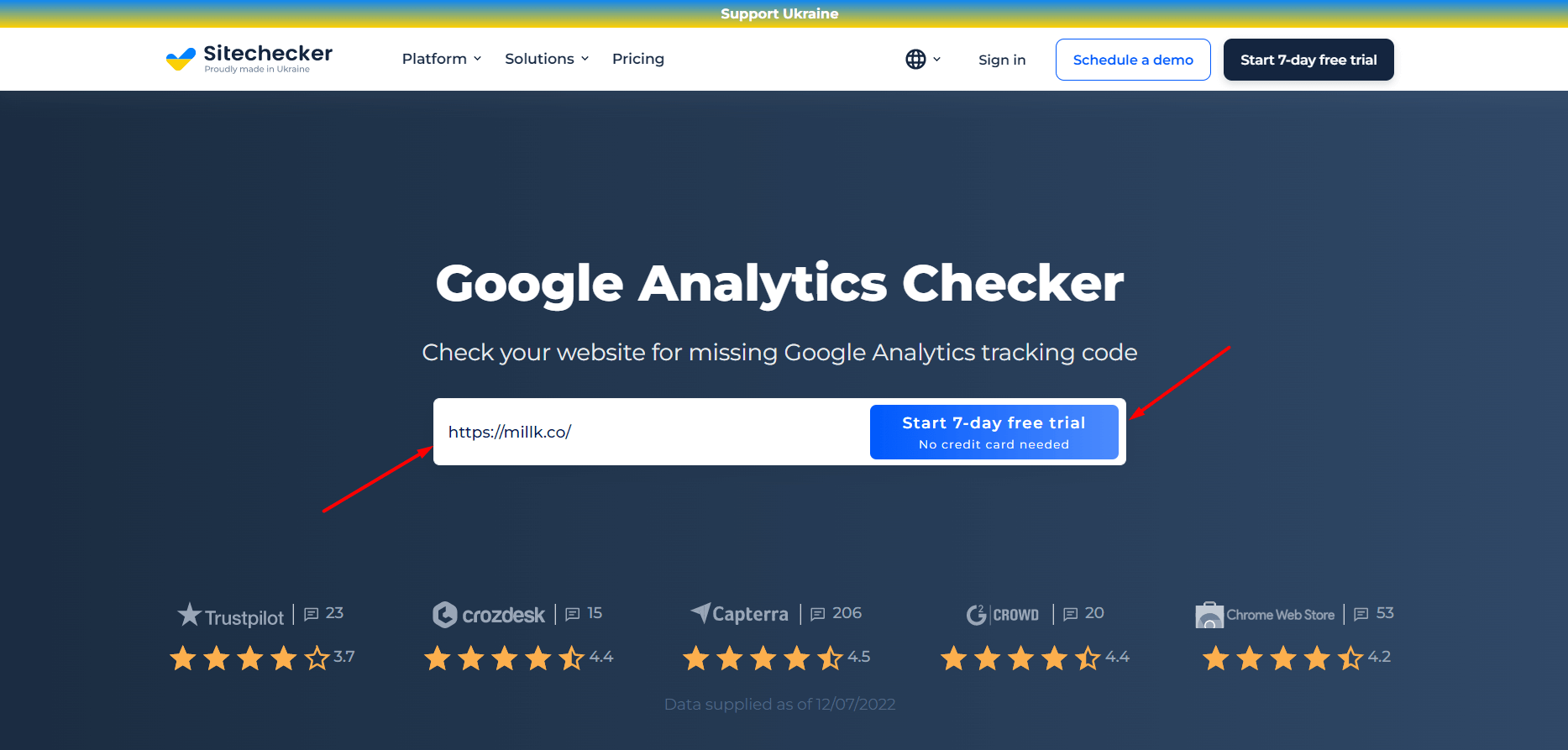 Step 2: Get the result
Upon completion of the check, you will obtain a data report with all the necessary information.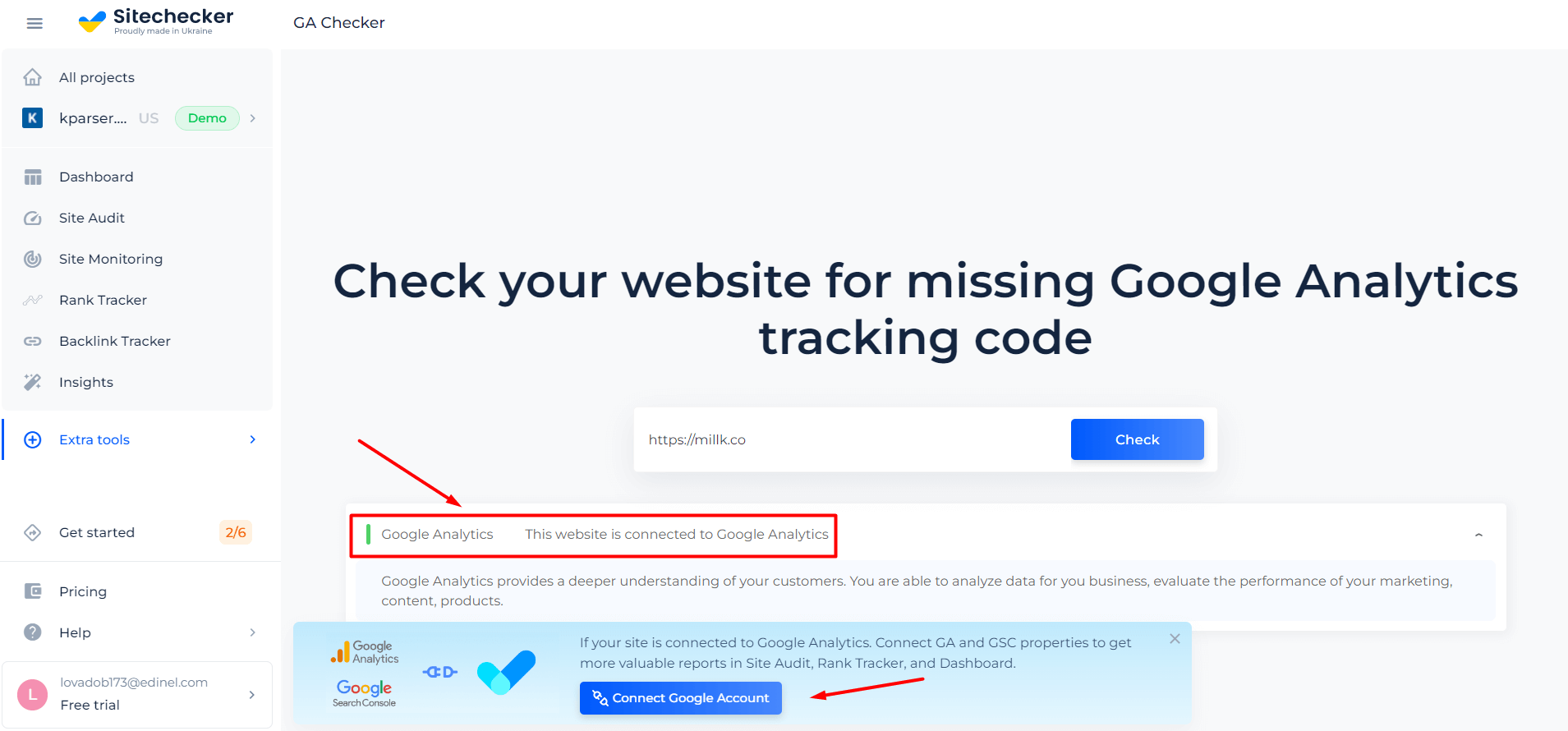 Sitechecker gives you the opportunity to connect your GA and GSC accounts so that analyzing traffic becomes much quicker while still providing accuracy in metrics. This helps eliminate any extra time spent manually setting up the right reports, making it easier for you to access relevant analytics directly from one dashboard!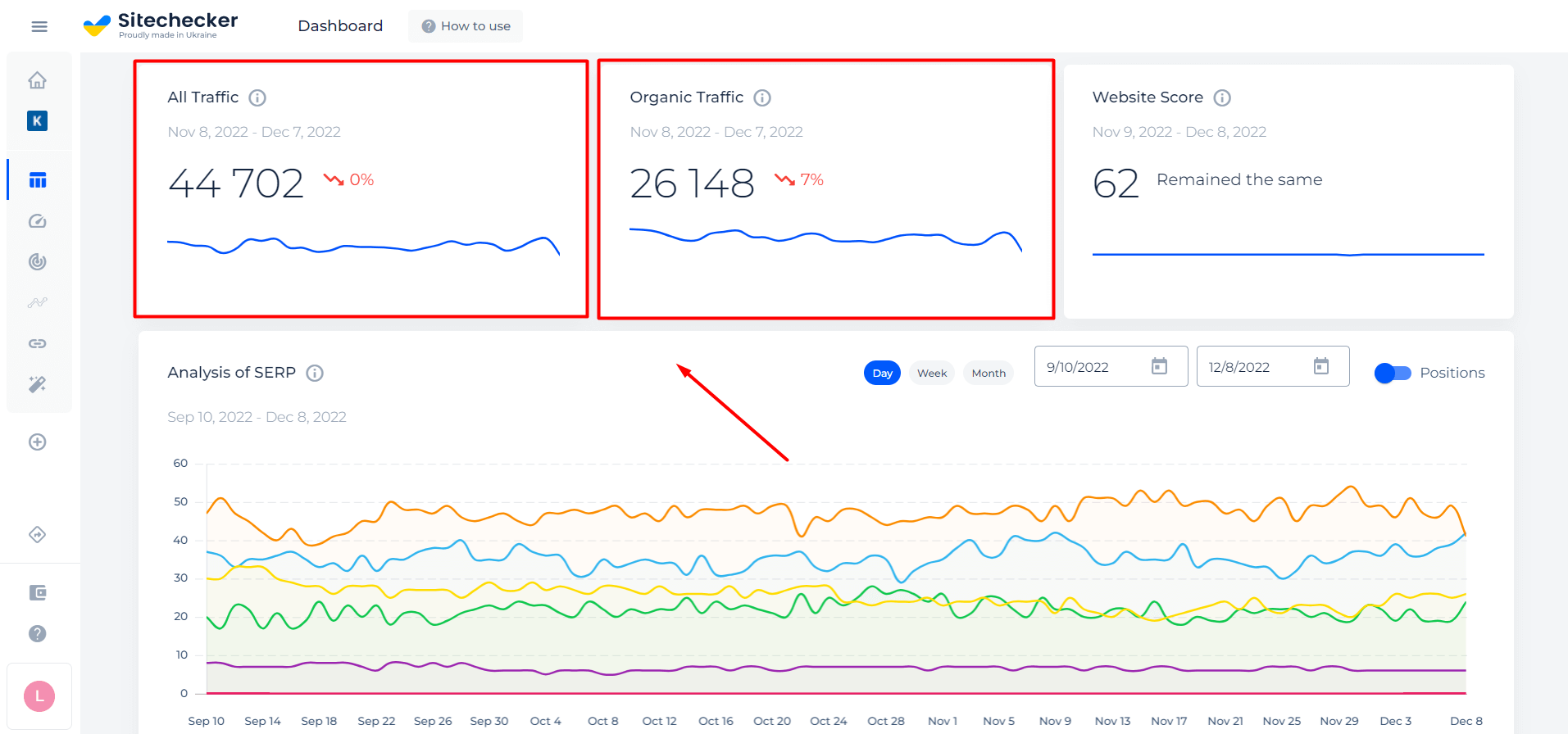 What if my Site Hasn't Passed the Test?
Don't worry about that! Adding the GA code is easier than you might think. Click here to follow the instructions from the Google Analytics Help Center. You have a lot of variants of adding GA code to your sites depending on your site platform, by using the admin panel, plugins for WP, Google Tag Manager, or Google Tag Assistant. Apart from that, there is a myriad of video tutorials on adding the GA code. For example, you can check out a video guide by Tasia Custode.
Once you've added the tracking code, go ahead and check your site again.
Keeping GA working correctly guarantees getting the statistics, but not a high ranking!
Make a full audit to find out and fix your technical SEO in order to improve your SERP results.
GA CHECKER FAQ
Why do I need such a testing tool?
The GA tracking code makes sure your website pages are enabled. The lack of tracking code all over your site means your reports will be inaccurate and you will be missing out on relevant data.
How long does the check take?
The check will only take a few seconds. You'll get your final report in no time!
Can I check the Google Analytics code for any site?
Yes. Just enter the website URL and click the Start button. Also, you can use it to see if your competitors are benefiting from GA.
If the checker says that the site contains the GA code, does that mean that it's working correctly?
Not necessarily. The tool validates the two key strings of each Google Analytics tracking code, UA ID and tracking page view string. Generally, if you see both of these parameters in your tag, you're fine. However, we recommend checking more than one page just in case.
And what if the tool uses my GA data?
No, it's out of the question. There is absolutely nothing to worry about. This GA checker is not programmed to access your analytical data or Google account. It's a standalone scanner that validates analytics tracking code.