If you don't invest in SEO optimization of your medical and healthcare business, you significantly decrease your website visibility and make it harder for potential clients to find you. As a result, your competitors rank higher. It means they get more requests, visitors, and clients.
However, it's never too late to boost your website visibility and increase traffic. All you need is the right tool personalized to your needs and a step-by-step SEO strategy.
In our comprehensive guide, you will learn why medical SEO can make or break your business and what you should do to choose the right SEO approach. We'll show you how the Sitechecker tool will help you optimize your website without being a healthcare SEO expert. Sounds interesting? Keep reading to learn more.
What is Medical & Healthcare SEO, and why is it crucial?
SEO is a long-term strategy that, if done in the right way, will help you reach right customers at the right time. With the right SEO strategy you will get more visibility and traffic analysis to your website, increase your brand awareness, and build an authority in your industry. Also, it will help you stand out among your competitors and cut a large part of their traffic.
When it comes to healthcare industry, doctor SEO helps patients find their doctors or get answers to their health-related questions. This is how patients who are looking for your services will find you. But before, you need to increase your SERP ranking presence. Let's dive deeper into a search engine optimization process and its peculiarities.
Is SEO a waste of money?
If you work in the medical & healthcare business, you've probably thought of investing in SEO.
Most business owners ignore spending resources for SEO optimization as they think it may be expensive and will bring no ROI. But is it true? Let's find it out!
Medical SEO is Cost-Effective
A lot of healthcare professionals rely on pay-per-click ads as they think they will bring them a large number of visitors in a short time. We won't refuse that PPC ads work great in this case. Still, if you want to build a long-term strategy, you need to invest in SEO and digital marketing.
According to Patientgain stats, experienced medical SEO experts charge $350 to $2000/mon for a typical small to medium-sized medical practice in USA & Canada. You may think that it's a lot. However, the game is worth all the candle.
Let's see why investing in SEO optimization will definitely pay off.
It Generates High-Quality Leads
According to DigitalAuthority, the conversion rates for healthcare websites ranges from 3 percent to 8 percent, while the average for e-commerce website globally is 4.31 percent. If you want to increase the conversions of your healthcare website, you need to optimize it with relevant commercial keywords that will convert your visitors into paying customers.
Can I do SEO by Myself or Better Get a Contractor?
If you decide to invest in SEO optimization, you have two ways out: either hire a contractor or use an efficient tool that will help you set up SEO marketing while saving time and costs.
Let's start with the latter and see how you can improve your SEO with Sitechecker, a fast and efficient SEO audit, and optimization tool.
Sitechecker is Your Personal SEO Assistant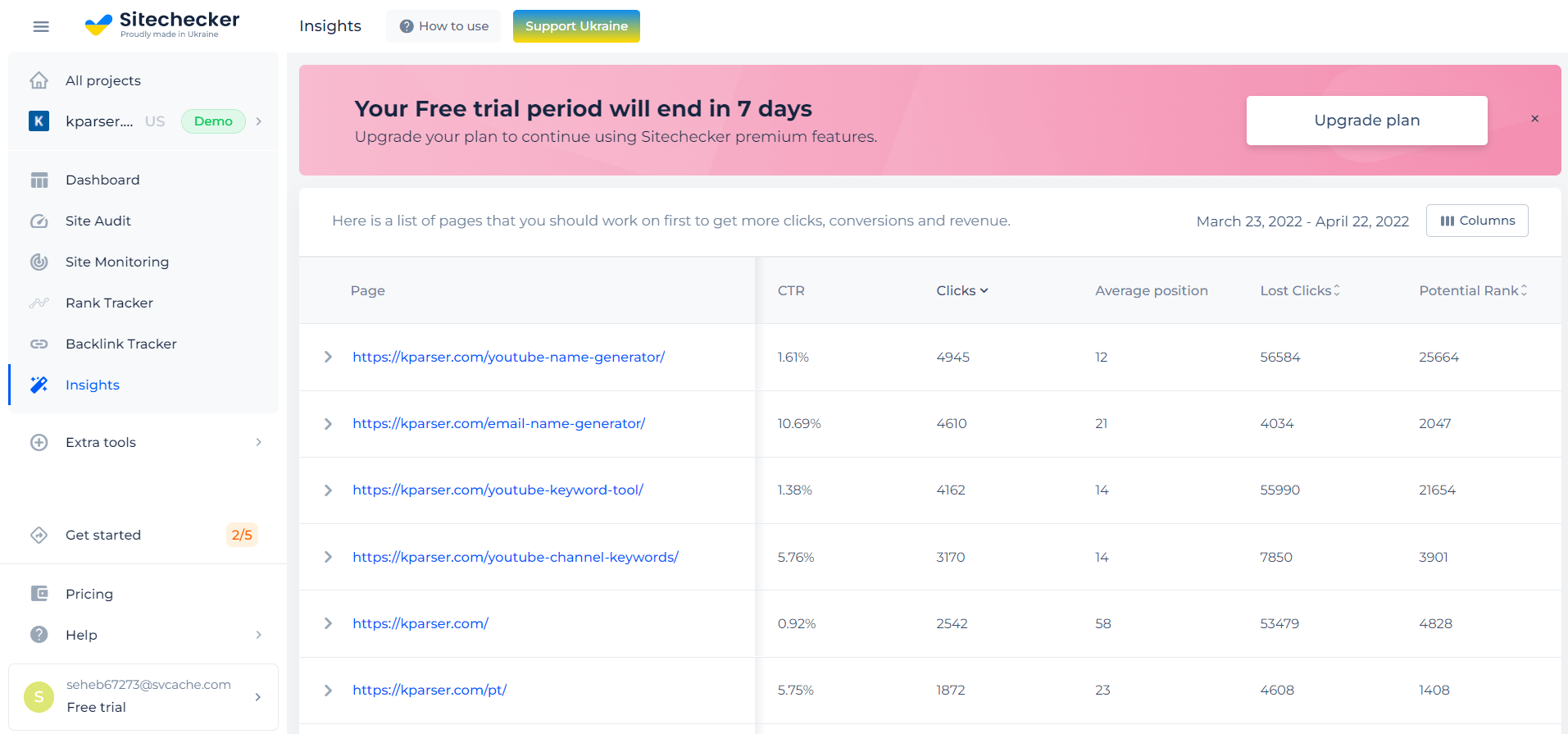 Sitechecker makes healthcare and medical SEO so easy and fast. You don't need to have any technical skills and depend on contractors. Now you can optimize your website and control your site ranking while saving your costs. One of the advantages of Sitechecker is that you can try a trial version before buying a subscription.
Sitechecker is all about simplicity and user experience. Think of it as of Wix in the world of SEO. It includes all the necessary tools for SEO optimization, listings, keyword research, website audit, and rankings tracking.
Sitechecker provides the following functions for medical & healthcare businesses:
Tech audits with detailed instructions.
Using data from Google Google Analytics (GA) and Google Search Console (GSC).
Assistance with the required SEO tasks.
Monitoring of all website changes.
Tracking ranking positions by SEO words.
Tracking backlinks, etc.

Pros of Using Help of Dental SEO experts Contractors & How to Control Them?
Turning to an expert in SEO medical practices may be a great way out if you want to save your time and delegate SEO optimization to professionals. You don't need to study the SEO industry and can focus on business processes instead.
However, there are two sides to the coin in this case. You still need to spend time controlling the contractor's work and tracking the results. Unfortunately, not all contractors are reliable experts, and you still need to have some general SEO knowledge and techniques to be able to check the contractor's performance.
Sitechecker can become a great alternative to hiring contractors, as it allows you to:
Control your website's

SEO

effectiveness and check the performance of the hired

specialist

.

Understand what works and what doesn't for your website SEO

Track the spike and decrease in website

traffic

and understand what factors influence these changes

Conduct a technical audit of the website and eliminate all the errors

Measure the impact of website changes on its rankings
TOP 5 Dentist SEO Companies & Agencies in USA
To help you find a specialist in medical and healthcare SEO, we have compiled a list of the best medical seo companies in US.
Sagapixel SEO The team of skilled SEOs & web designers specializing in digital marketing for healthcare providers. They provide dedicated teams specializing in these two verticals, allowing sharing their experience working in a specific industry.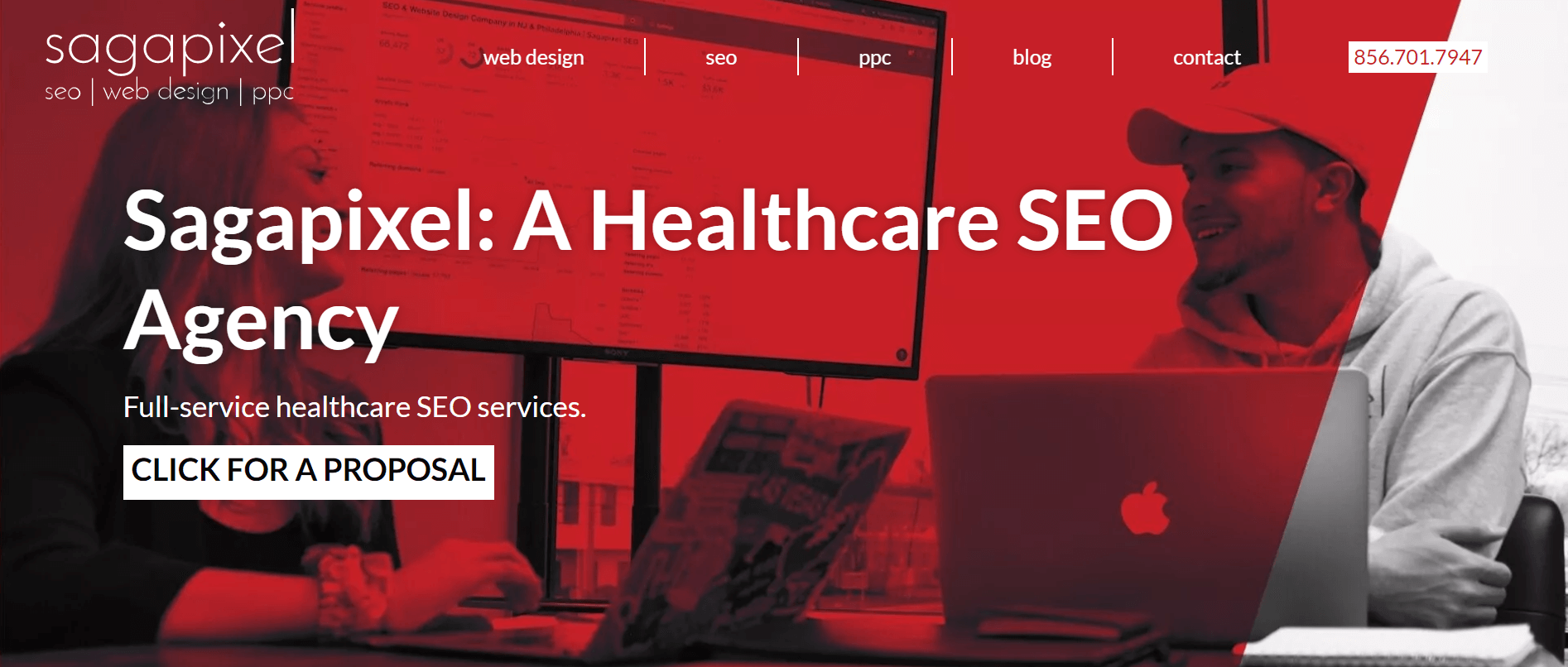 Cardinal digital marketing The company that offers a wide range of SEO and content management services to help medical practices build better search engine ranking (both locally and globally). It helps you attract new target audience and get more loyal patients in the process.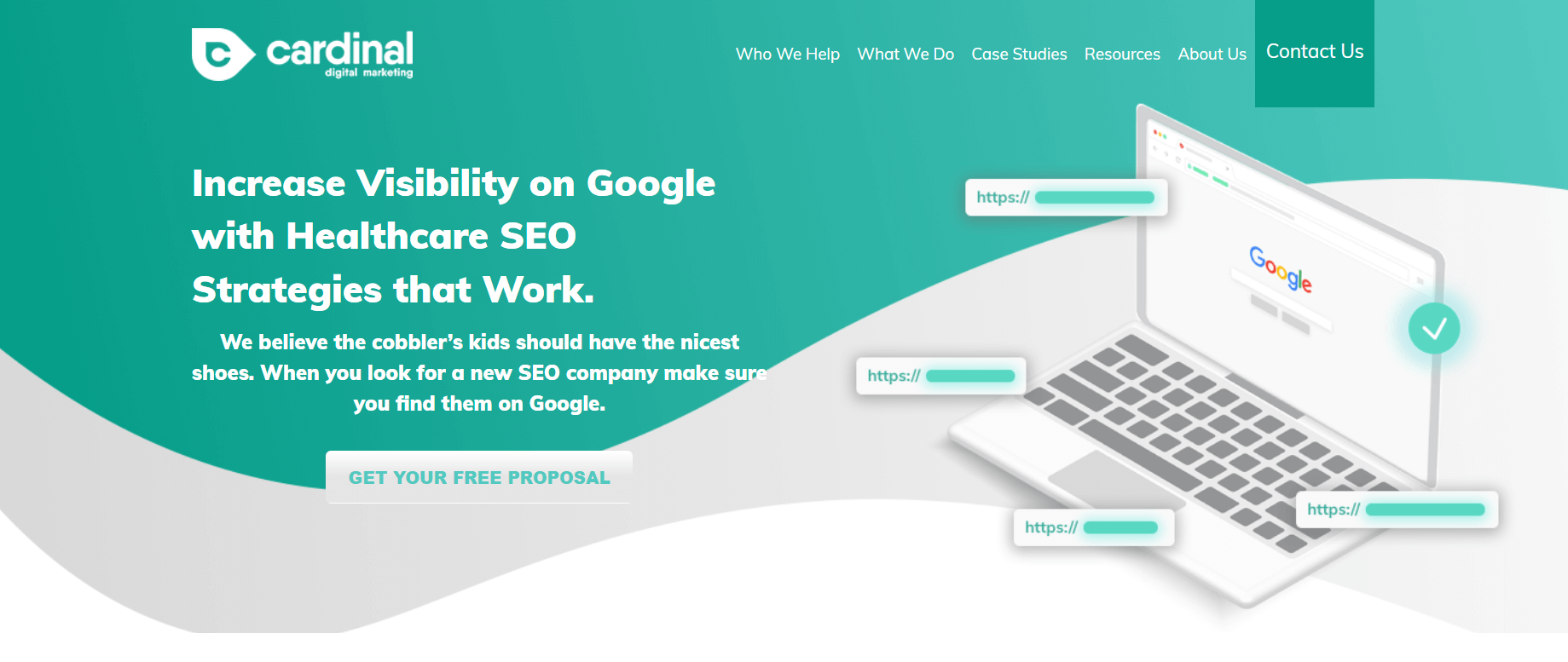 Thrive agency The marketing agency that helps businesses succeed in their specific niche markets. The agency provides targeted healthcare SEO services aimed at improving medical business results.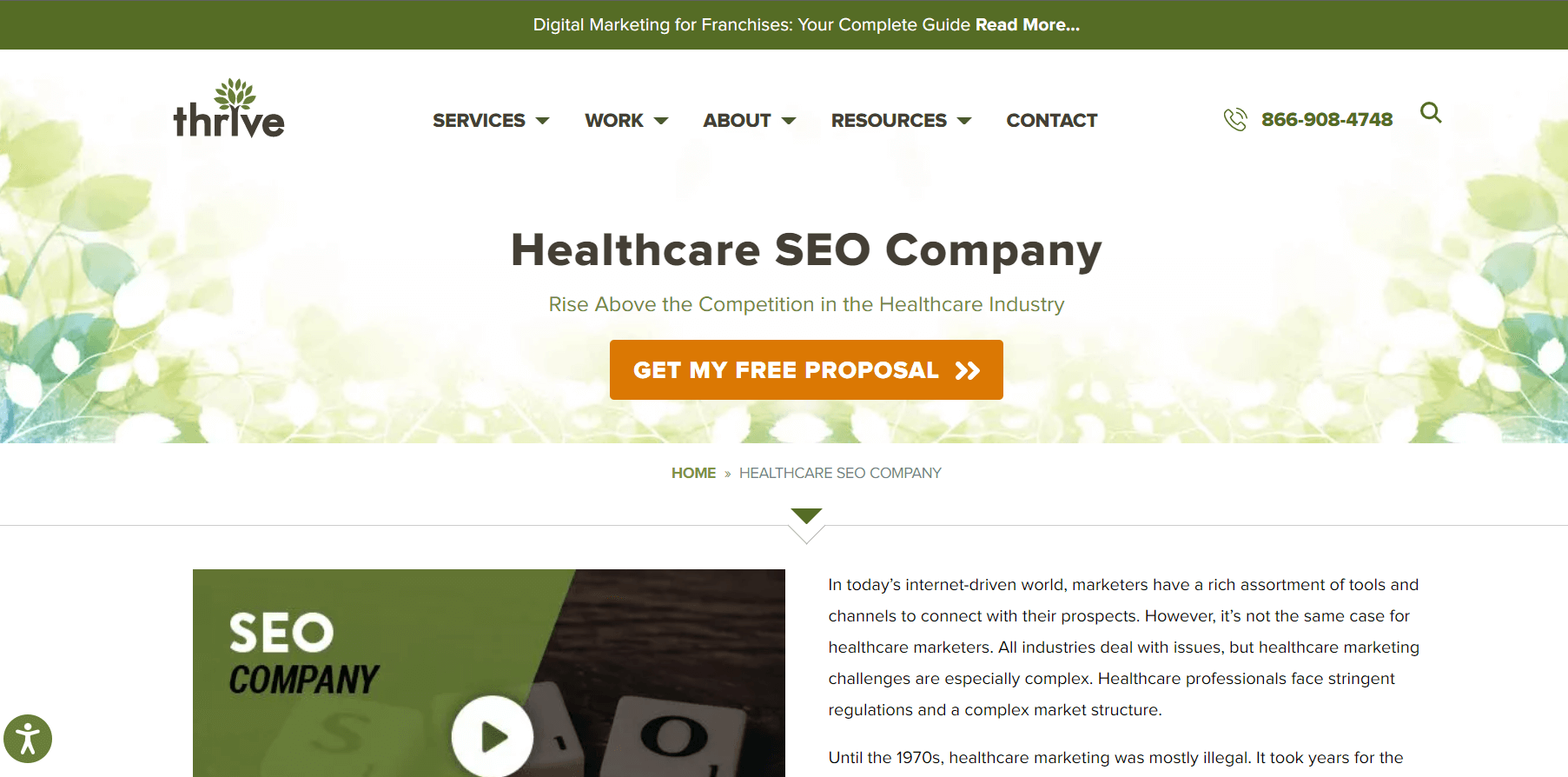 EverSpark Is considered experts in SEO for healthcare companies. They've helped dozens of firms and practices climb up Google's rankings to the first page.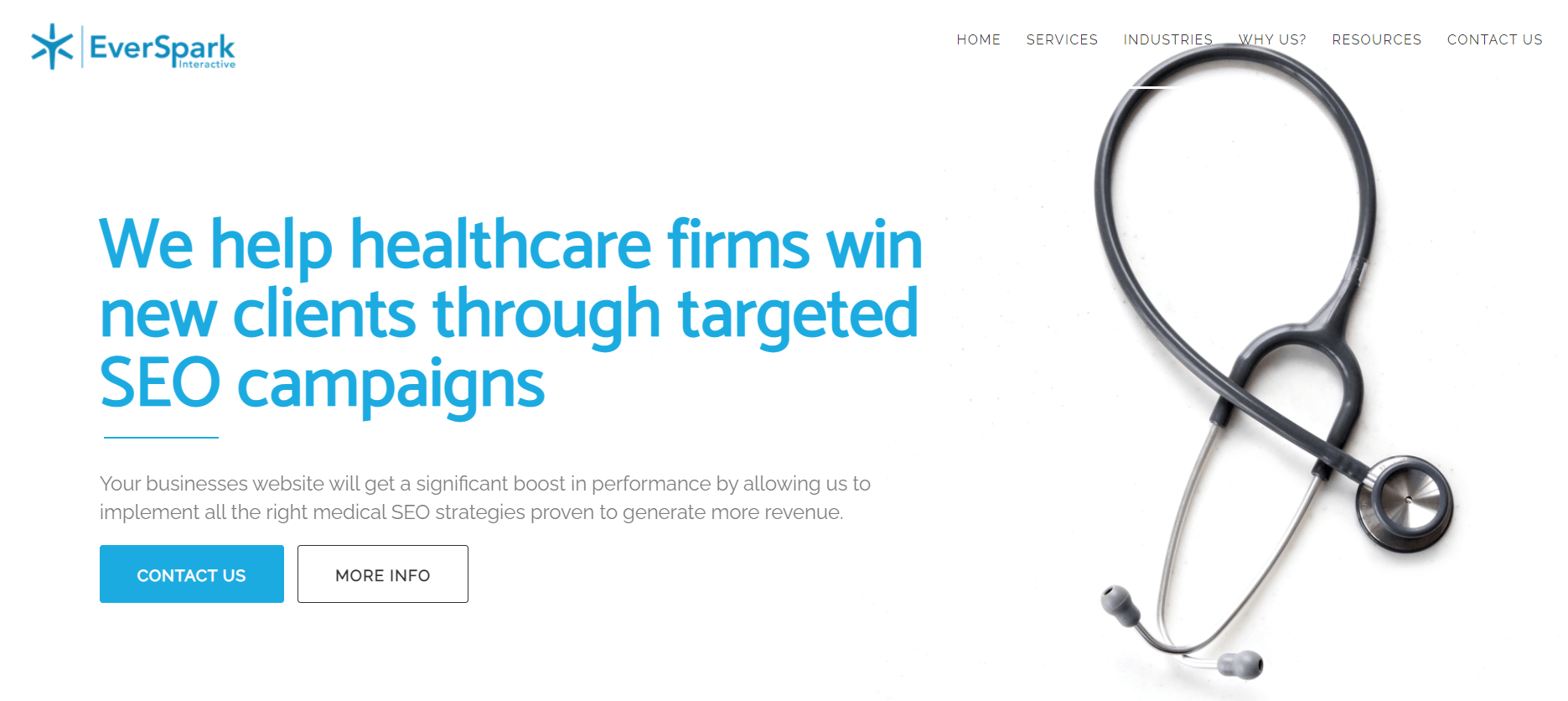 Intrepy Agency built on experience, backed by data and leading with transparency. An agency that actually understands the ends and outs of healthcare.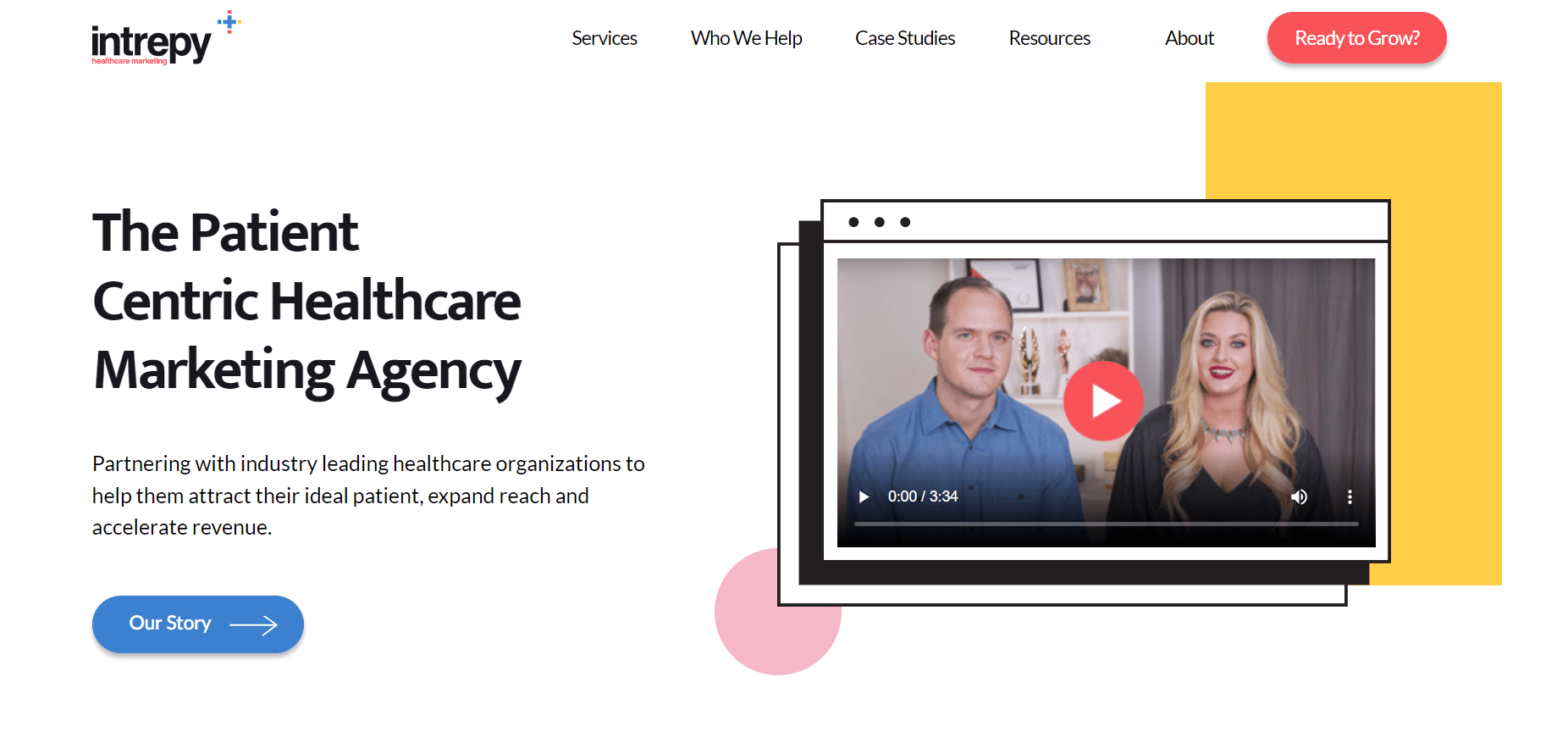 How to Make SEO for Medical & Healthcare Niche
Now, let's look at the essential stages of healthcare SEO strategy. We'll discuss how to use Sitechecker to optimize your website and improve your rankings. Also, you will learn how to control your contractor's work not to miss a thing.
Website's On-page and Technical SEO
Everything starts with a technical SEO. It's a pillar that keeps all your SEO strategy afloat. With a detailed technical SEO audit, you will get a deep understanding on your technical website health. Also, you'll learn about the issues that need to be fixed.
Sitechecker service provides a full audit of the website and an on-page audit. Moreover, it can become a great addition if you still decided to hire a professional contractor. You can invite them to this tool and delegate technical error. Simply send them a link to the project and recrawl a website when the work is finished.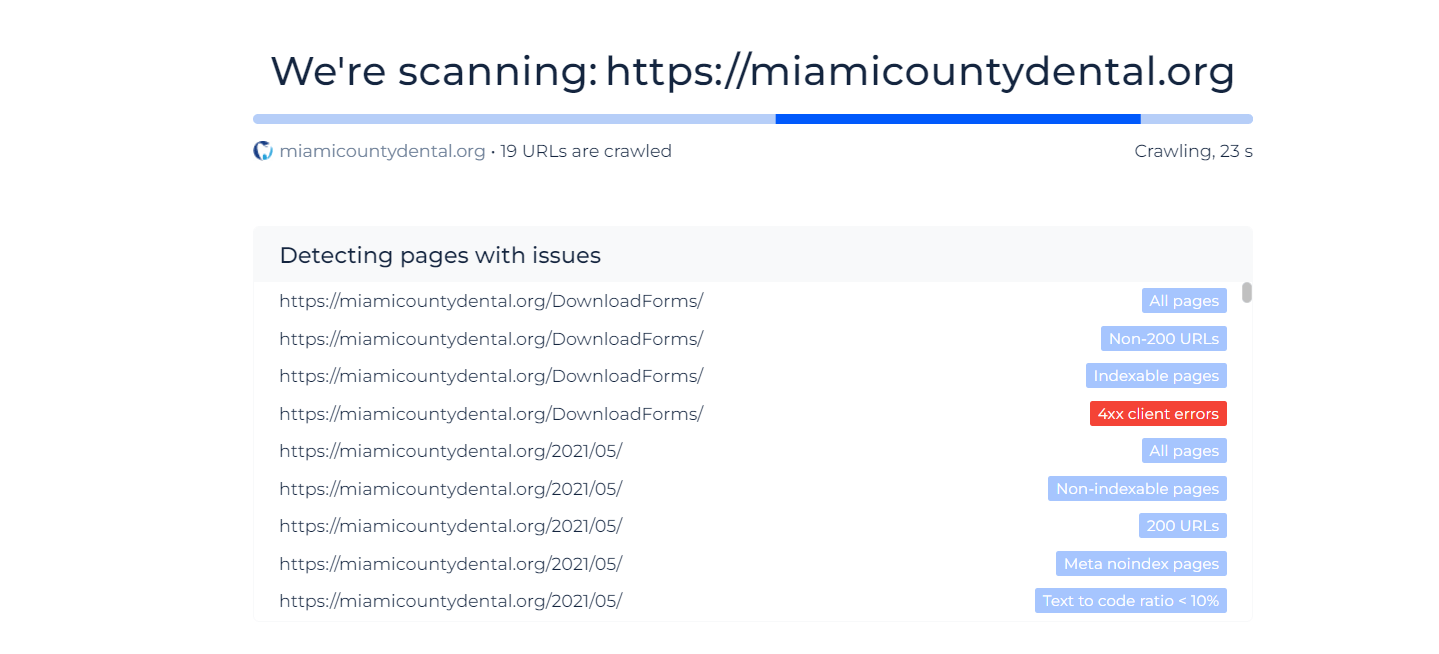 Website Audit for all Pages
With Sitechecker you can make a detailed and comprehensive website audit for all pages. Here's what you can do:
Check out your website health with website score.
Track what issues have been fixed.
Exclude issues you don't want to fix.
Read detailed guides and download website audit checklists to fix bugs by yourself.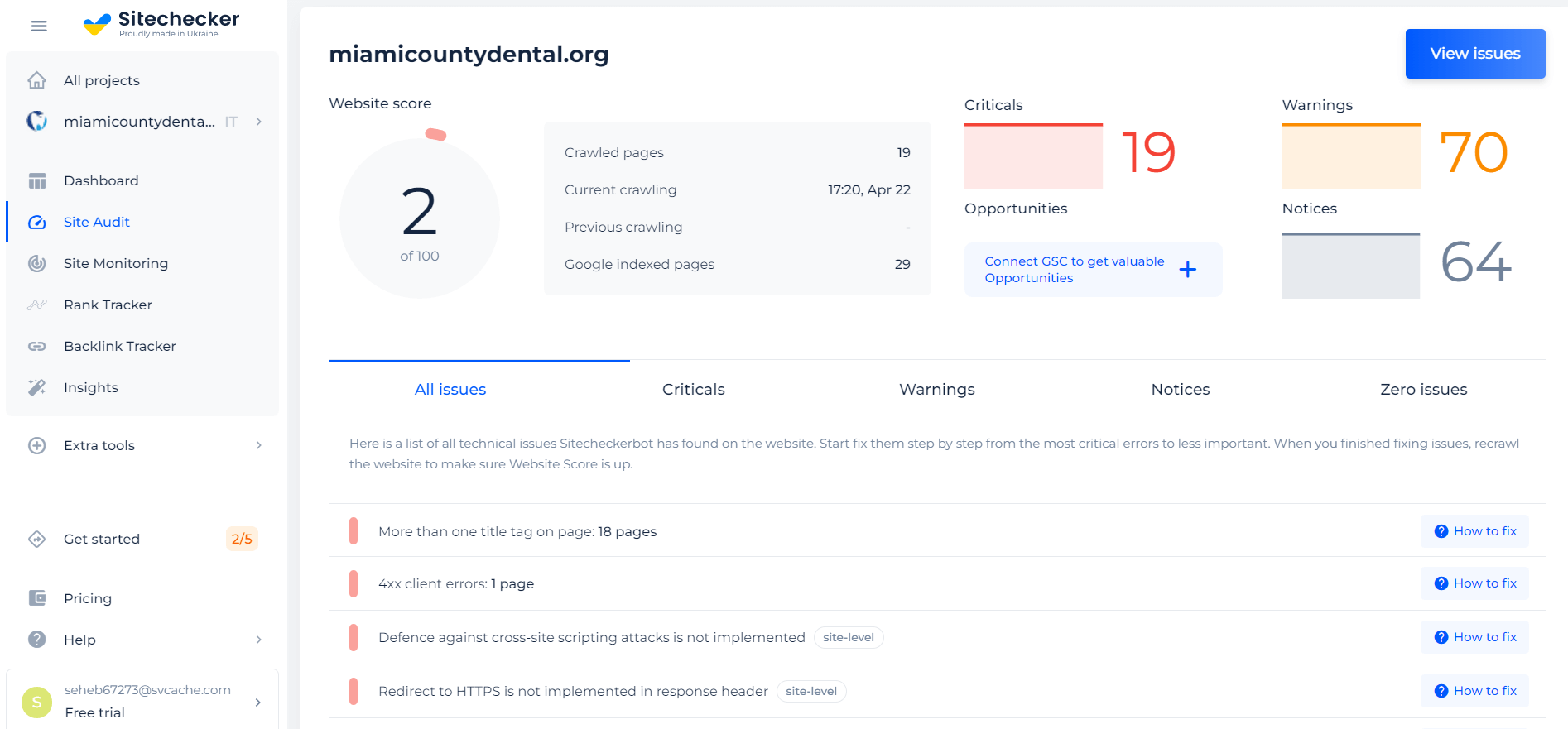 On-page Audit for Small Sites
If you need to check just one page or just the home page, Sitechecker makes it possible. You can make a full audit of a certain page or small website and test meta tags, content relevance, structured data, load images, links, etc. Also, our Chrome extension helps you stay tuned for the SEO performance of a particular page without a need to exit it.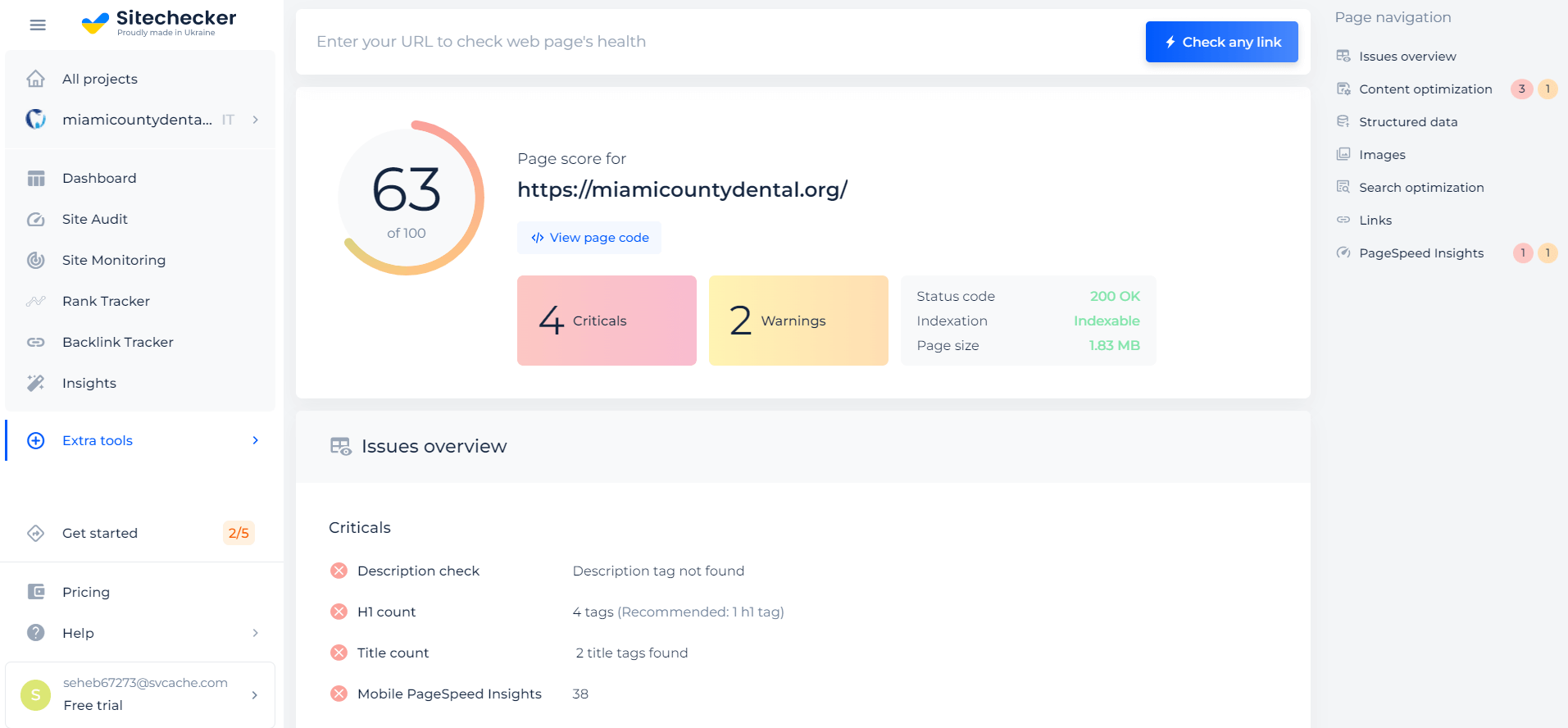 Make the first step in your Medical SEO right now!
Make a full audit to find out and fix your technical issues and get all other platform features.
Using Data from Your Google Search Console and Google Analytics
First of all, Google Search Console and Google Analytics are essential for tracking indicators and detecting errors. However, sometimes it may be challenging to understand their interface and learn how these tools work.
Sitechecker simple interface can become a great alternative, as it extracts data from GA and GWT and organizes it into user-friendly graphics. Here are the solutions you can use if you don't want to spend time setting up Google Analytica and Search Console.
GA tracker is a tool that verifies if you have set GA correctly and checks out if you have installed all the GA tags in the right way.
GSC installation a detailed guide on how to install GWT.
Connecting GWT and GA is easy as a pie with Sitechecker. You will have all the data at your fingertips thanks to our comprehensive and beautifully designed dashboards.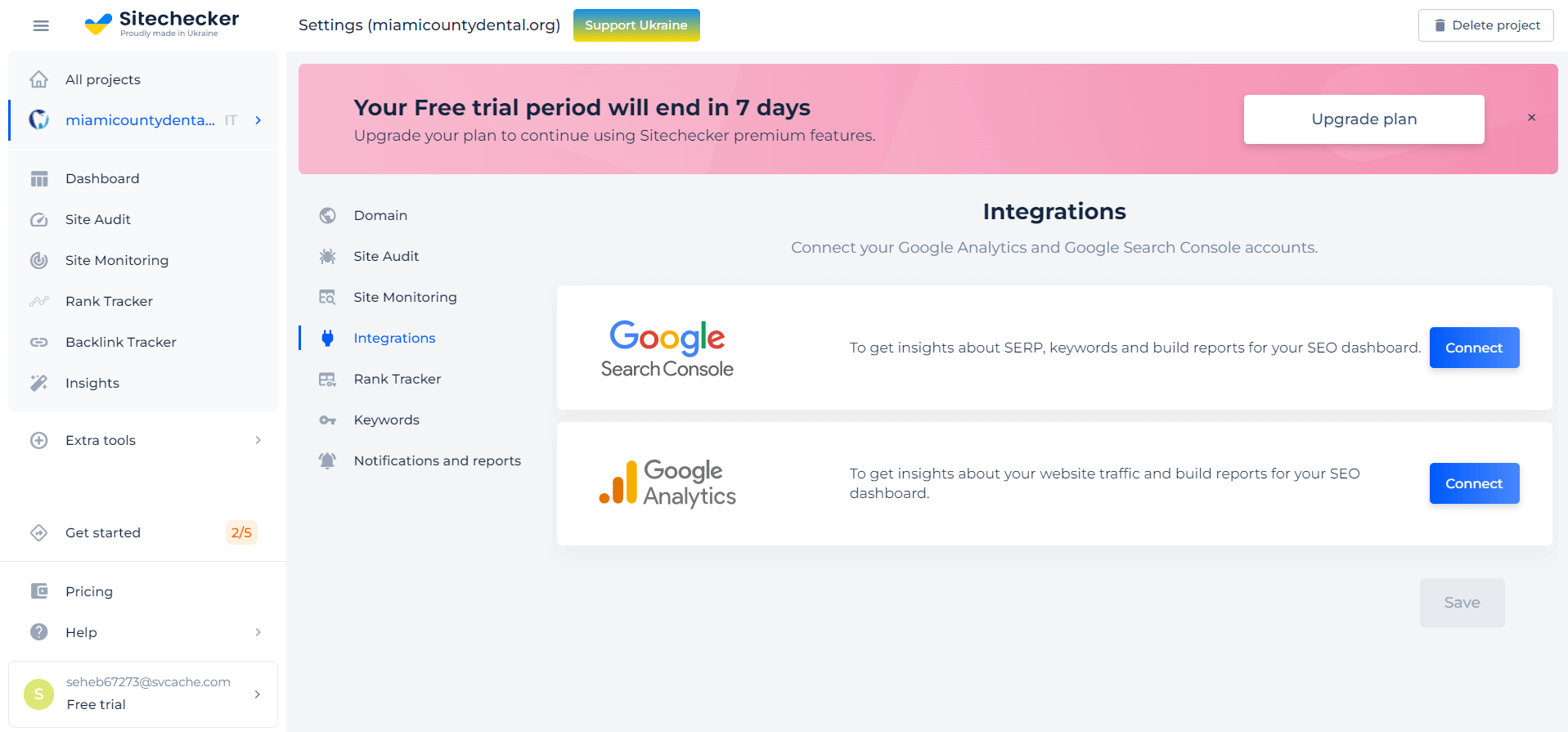 Use Data from GSC
With Sitechecker, you can connect to Google Search Console in just a few clicks. Just add your healthcare website to GWT, and our tool will extract all the necessary data:
Site Indexation Progress
Keywords on top 100 GSC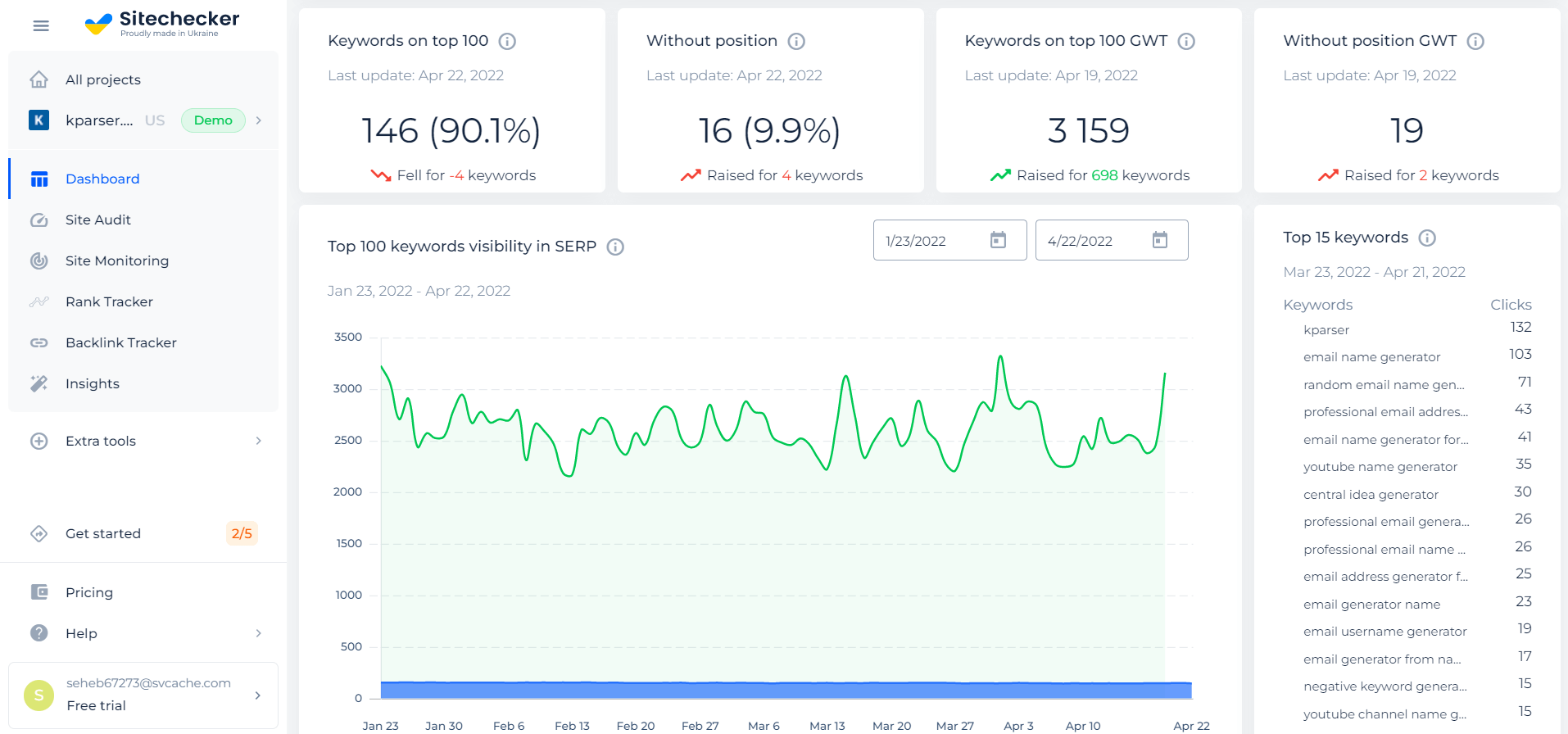 Top 15 keywords
External and internal links
Top 10 landings with information on visits and clicks, etc.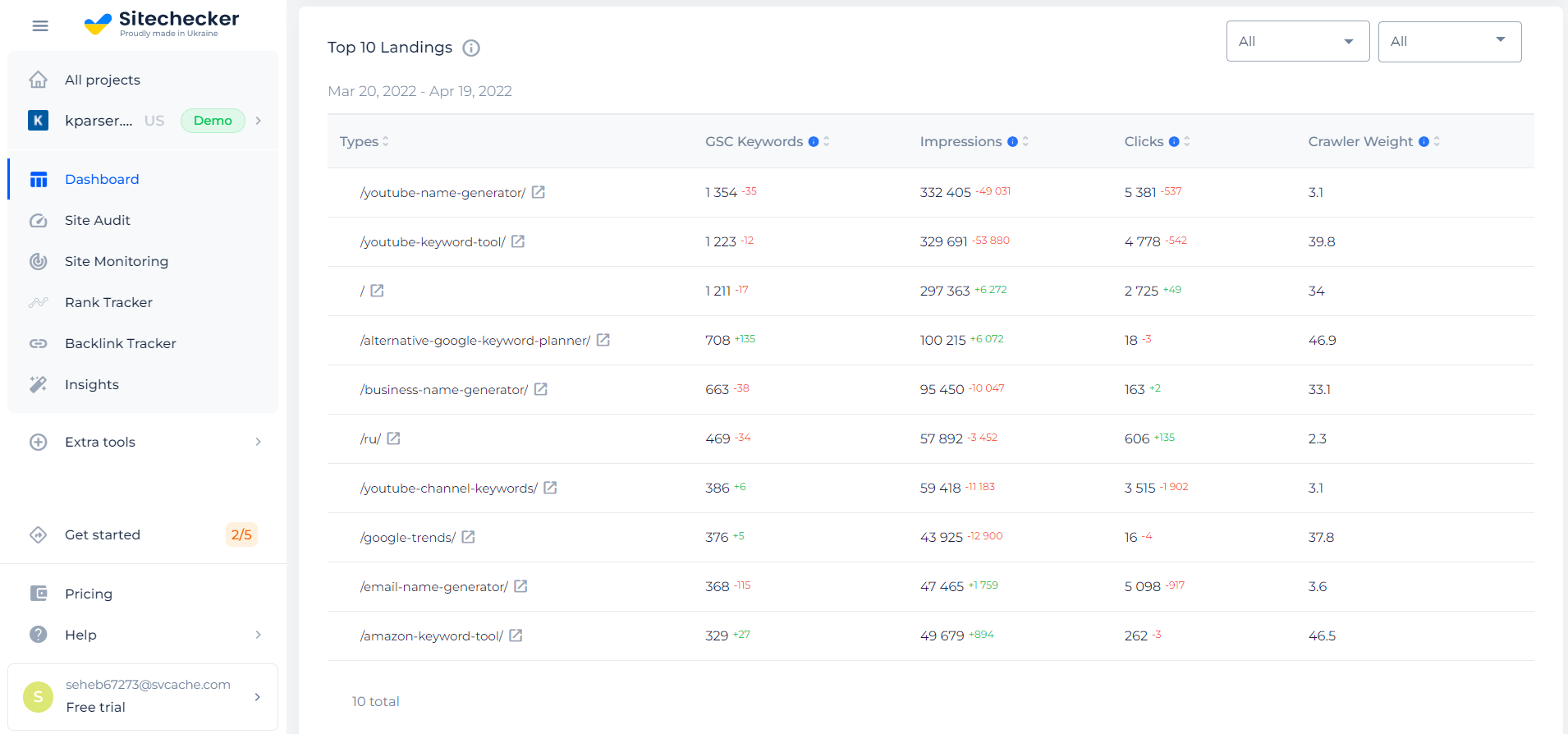 Use Data from GA
With the help of Sitecheker, you can connect to Google Analytics in several minutes. You can also track and manage all the required SEO parameters with the data received from GA:
All traffic
Organic traffic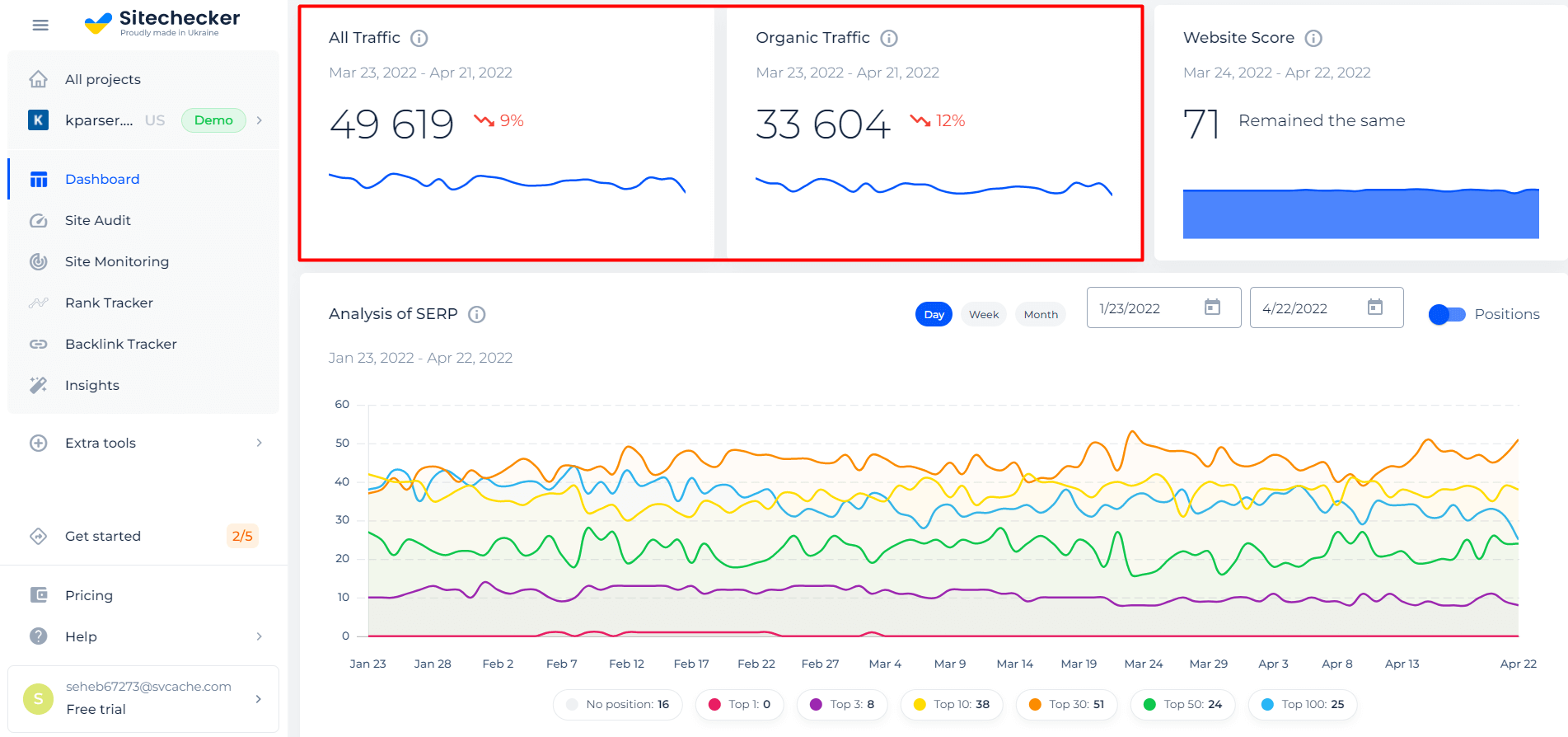 Want to track sales, revenue and conversion ratio, and transactions? No problem.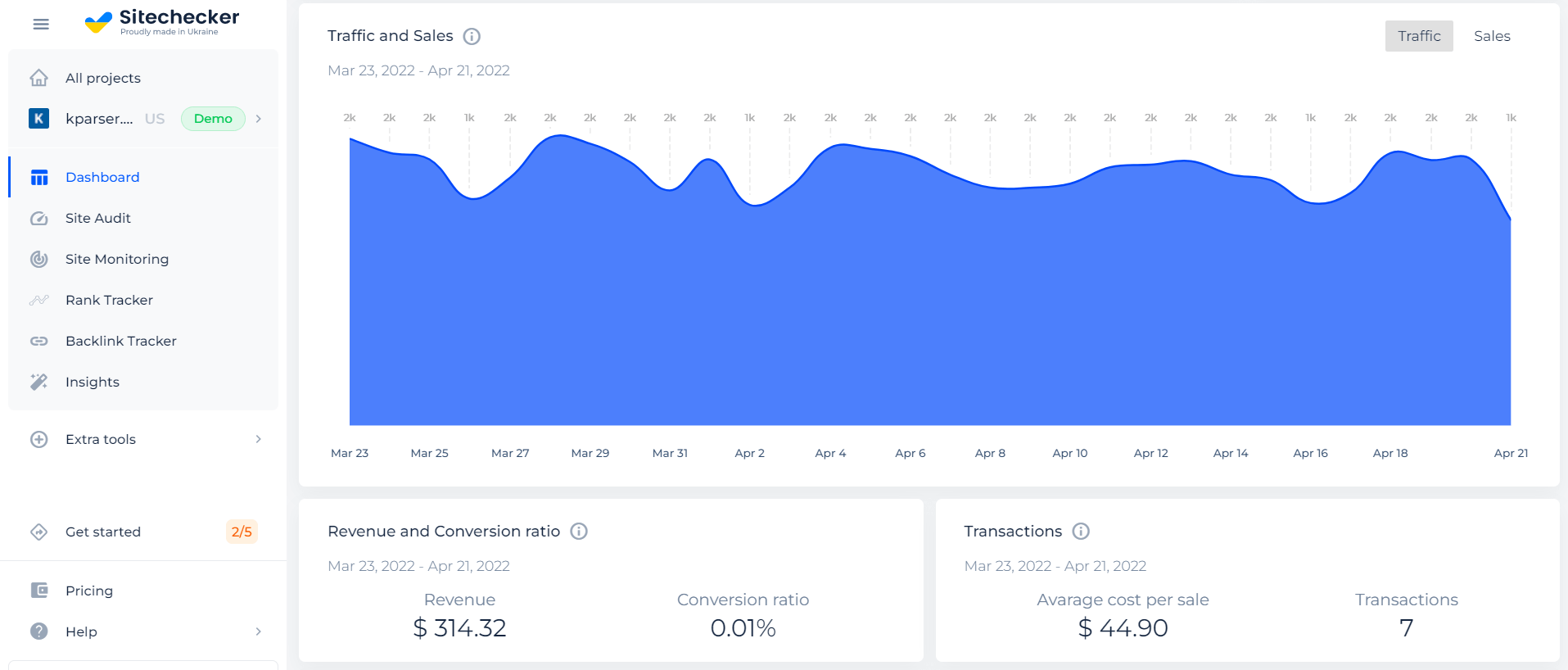 How to Get Keywords for Dental Niche and Accurate Rank Tracking Them
Efficient medical and healthcare SEO marketing starts with comprehensive keyword research. It will help you create content that attracts the right target audience and know what the audience tends to look for when it comes to treatment.
Sitechecker integrates with the following tools for keyword research:
Informational keywords help when people search for the required information. For example, "How to get teeth whitening service."
Commercial keywords come in handy when somebody is looking for particular products or services. For example, "Find an orthodontist in South Boston."
To conduct adequate keyword research and study what's needed, you can use several methods:
Ahrefs (paid)
Semruch (paid)
Google Keyword Planner (paid)
GSC (free)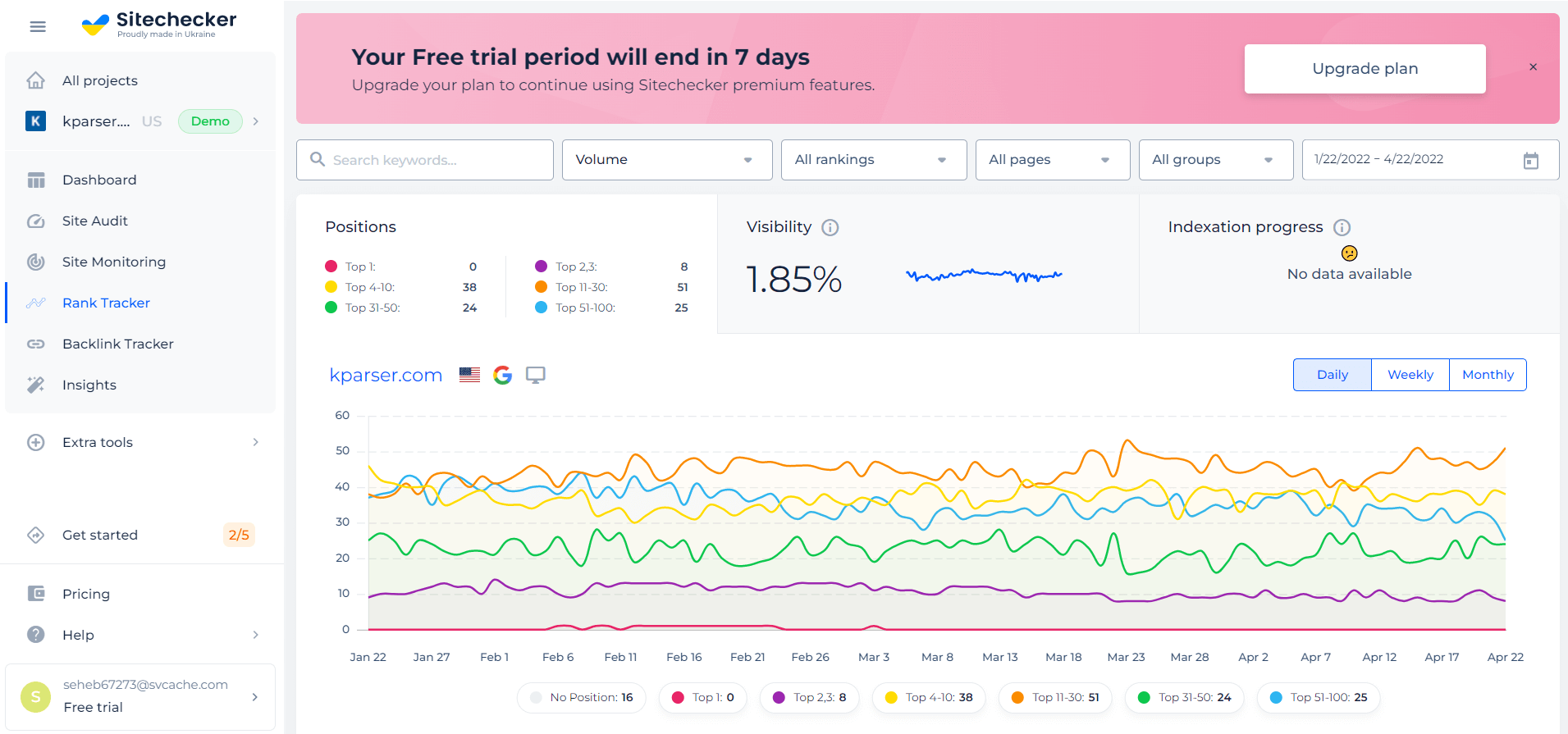 We also provide a rank tracker to follow the current positions of your website and the website of your competitors. Also, we show the volume for each keyword and its difficulty.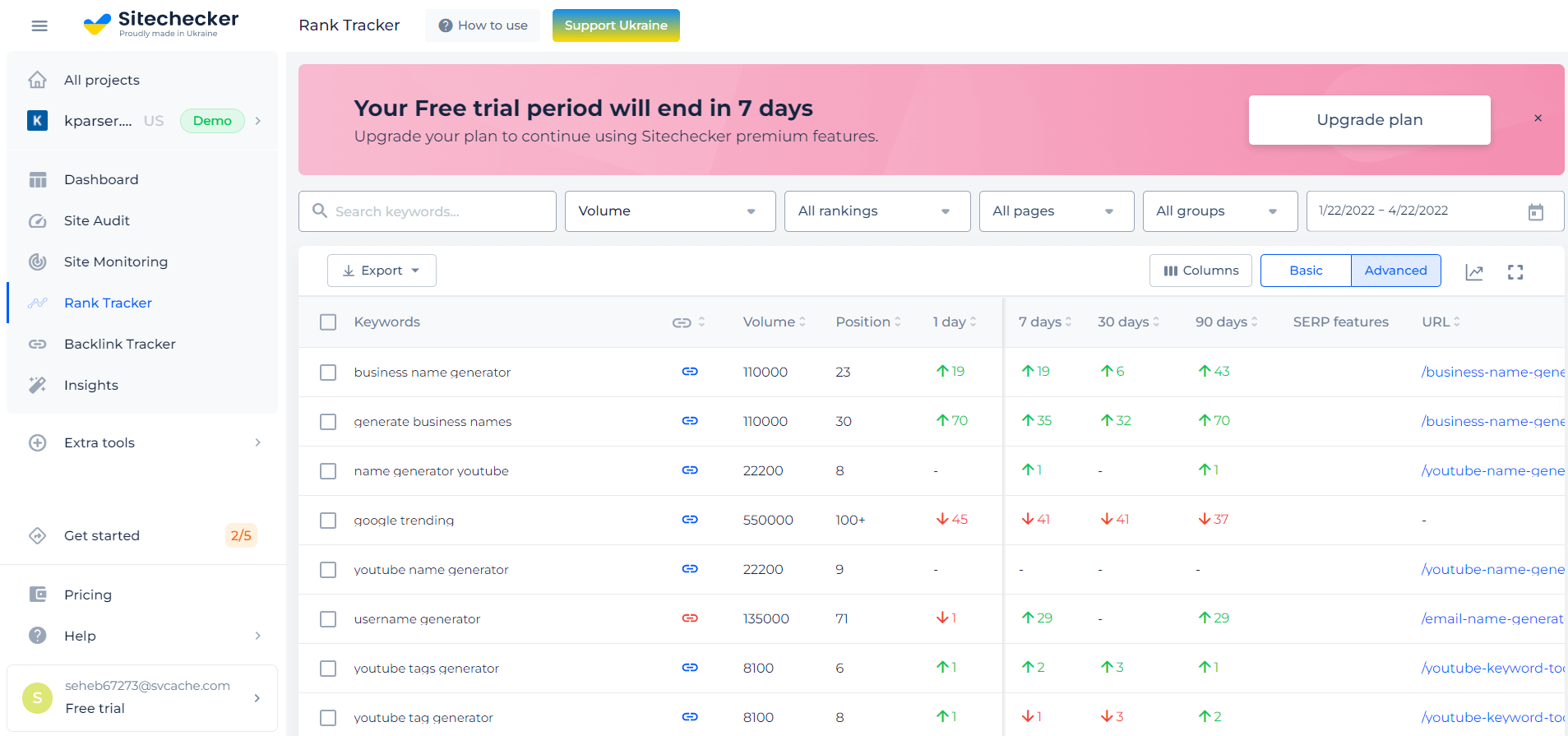 Add Keywords Manually or from Google Search Console
With Sitechecker, you can filter your keywords by the following criteria: search volume, groups, position, text, etc., as well as add them manually.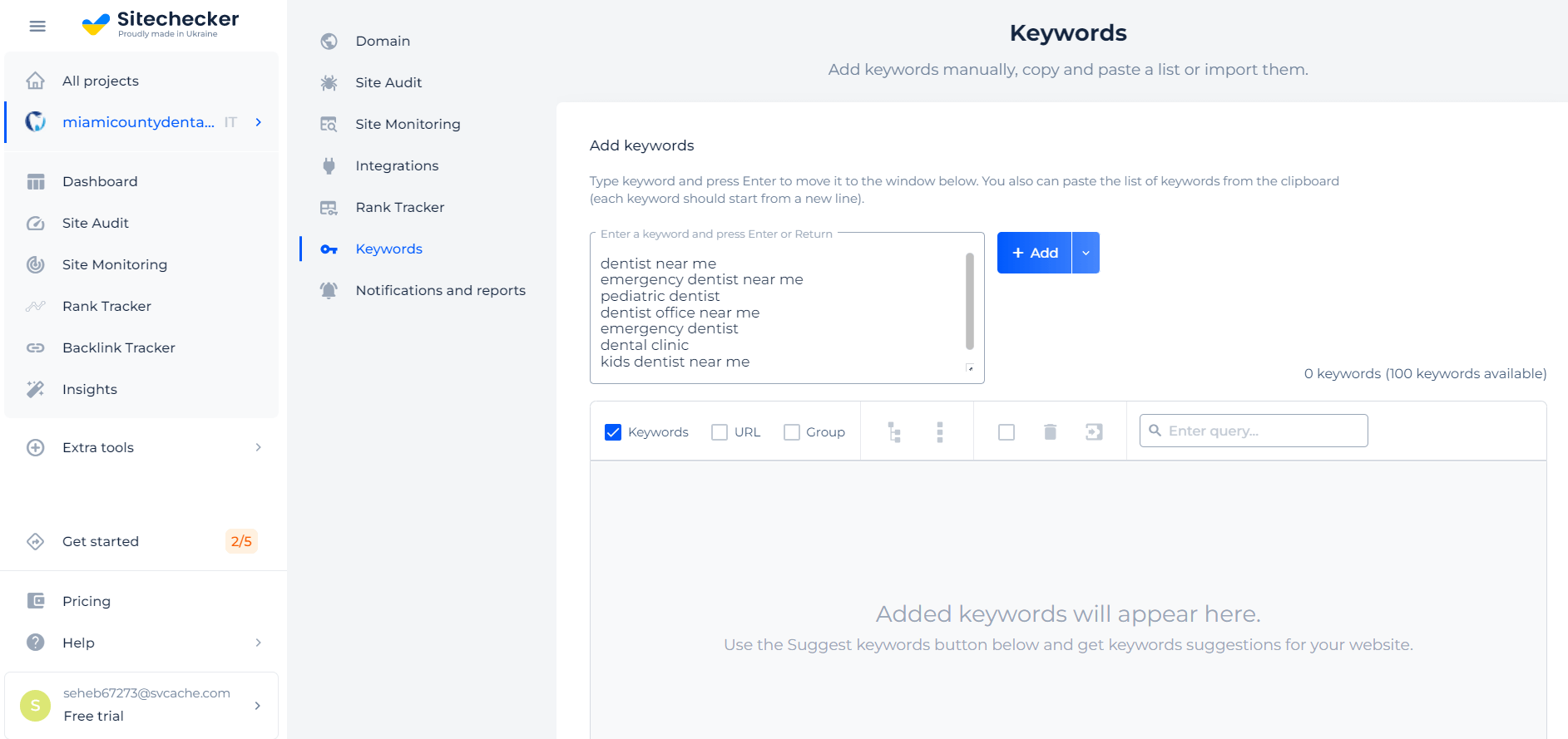 Local SEO Keyword Tracking
If you want to develop local SEO for medical professionals, you need to conduct narrow keyword research. With Sitechecker, you can filter the keywords based on the country, city, and language. In such a way, you will reach a narrow and more relevant target audience.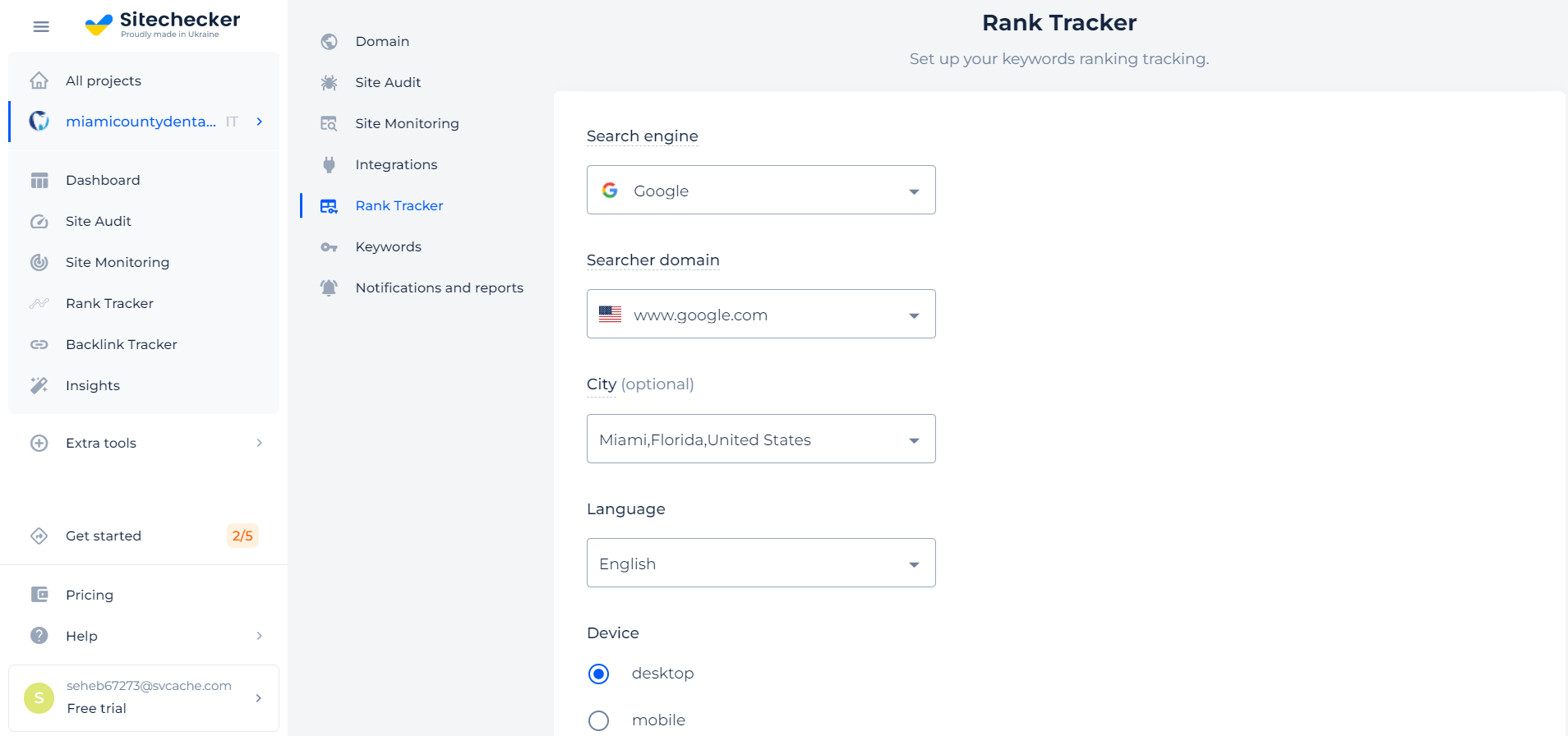 Content Creation
Detailed, engaging, and relevant content that answers your target audience's burning questions will help you gain trust and increase brand awareness in your industry.
To create such a content, you need to know how to make a detailed research of the keywords, its volume, relevance, style, tone of voice, structure, and more.
There is a concept called YMYL, which is short for Your Money or Your Life. It means any content that can directly affect a reader's health, finances, or safety. If your content doesn't meet those standards (e.g., if you post inaccurate information), you will not rank high in the search engine results.
What's the outtake? Double-check everything you publish to not mislead your readers and potential customers. It also means that you need to work with reliable content creators – if you want people to trust their health to you, you need to be responsible.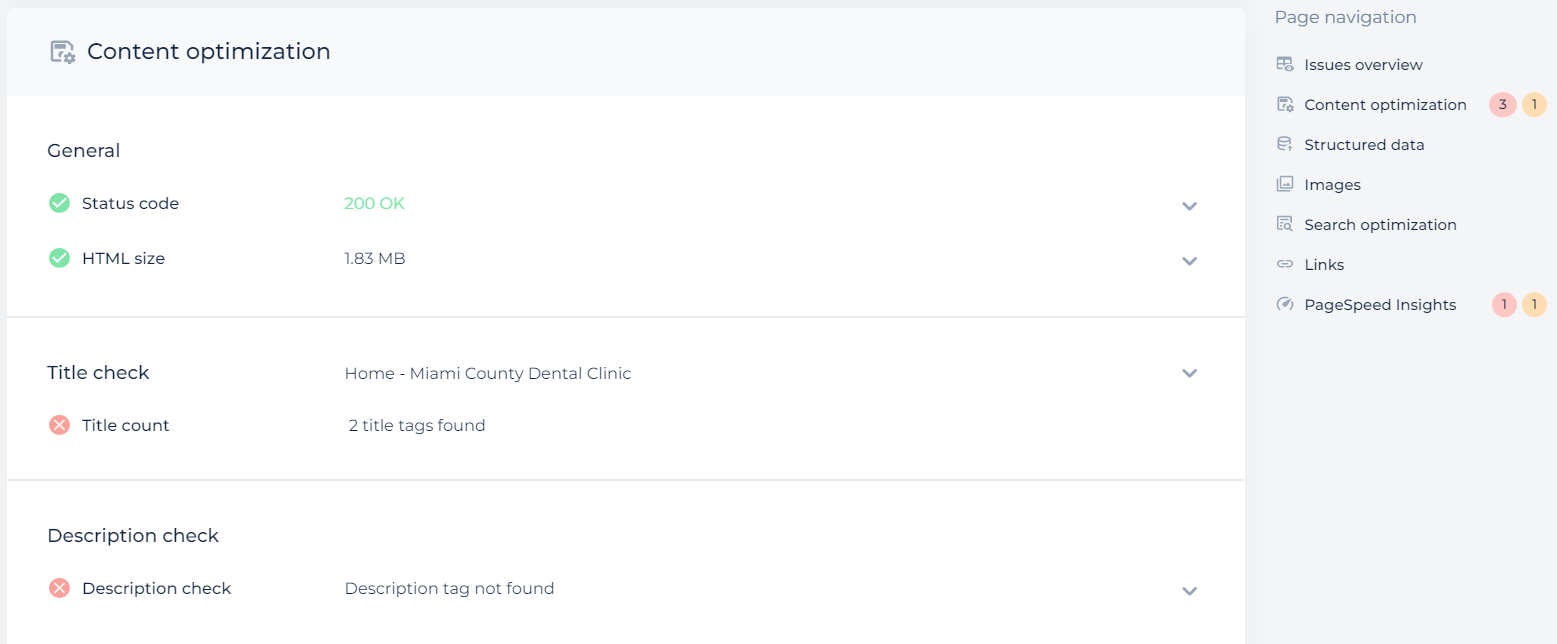 Also, consider our great tool Copywritely which analyzes your page and its content with different algorithms. It's great to combine it with our on-page checker.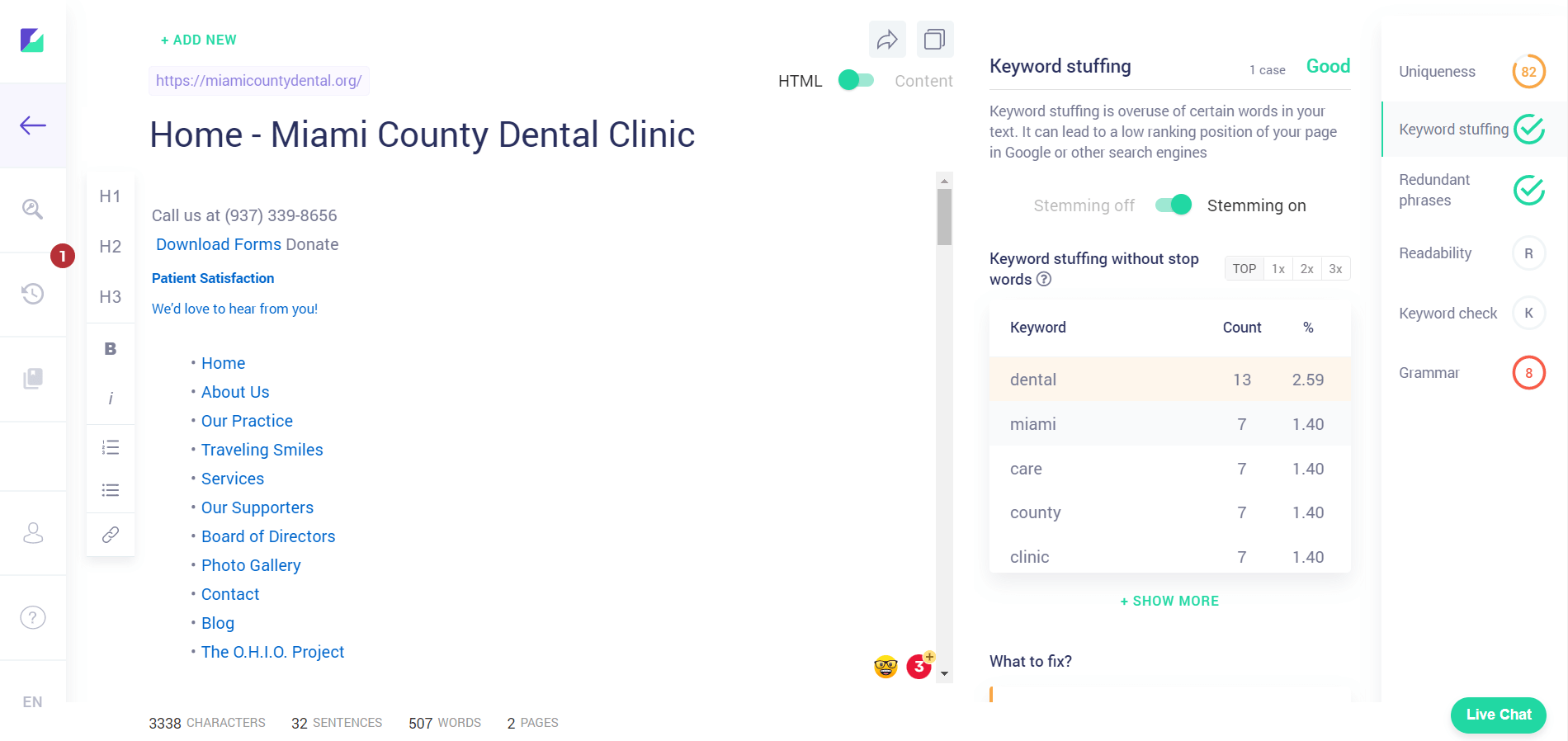 Monitor all Your Website's Changes 24/7
To improve your medical and healthcare SEO even more, you need to track any changes on your website, detect technical errors, and change the content. With our tool for real-time website tracking, you can see if your Google traffic increases or goes down and get alerts about such changes in real-time.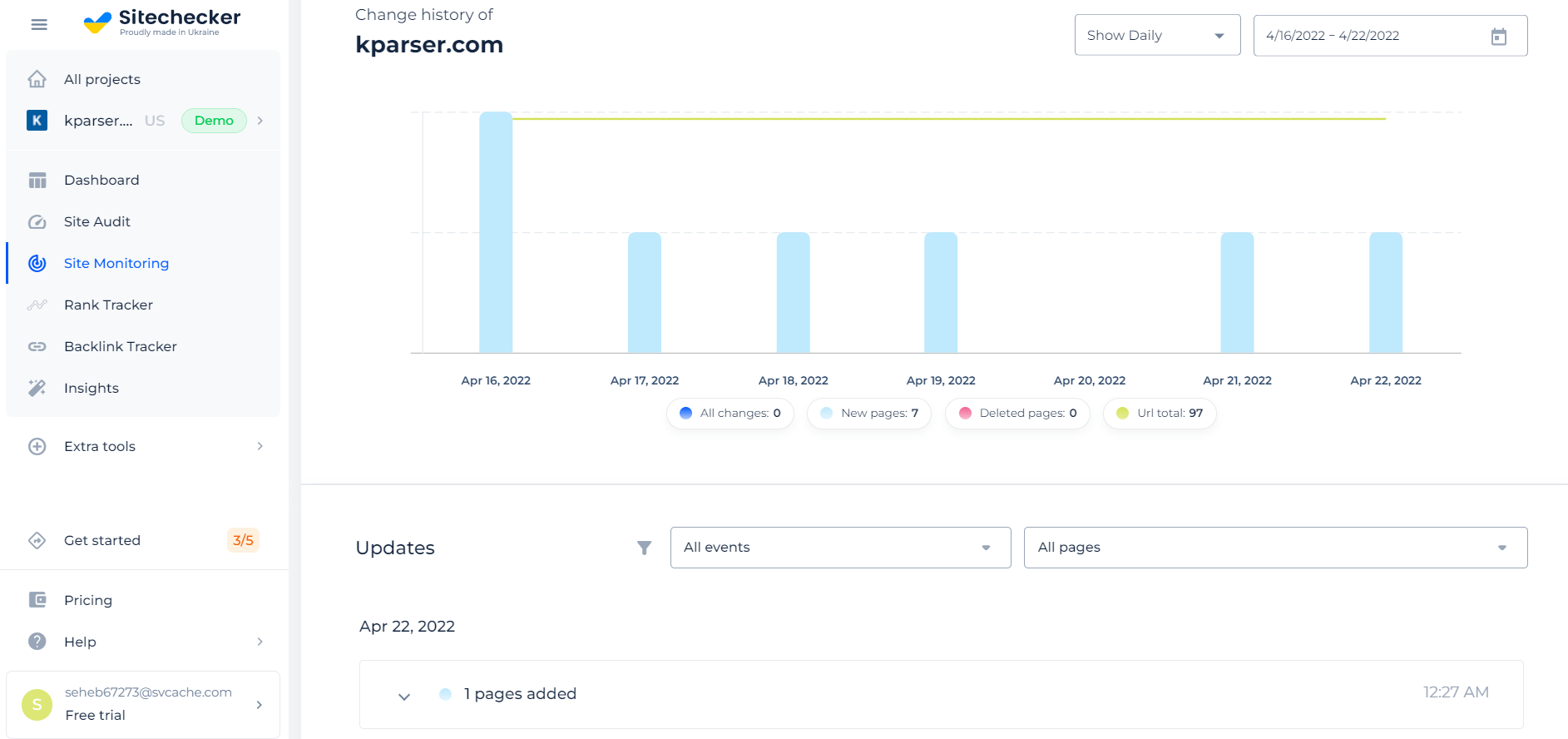 Building and Controlling External and Internal Linking
There are two main types of links that matter for your SEO strategy:
Internal links lead the users to other URLs on the same site. It can be a CTA, title, link to your services page, blog posts, etc.
Backlinks are led from another website to yours. As many trusted domains link to your site that is better.
Internal Links
Internal links help you improve user experience, streamline Google crawling, improve your rankings evaluation, and speed up website navigation.
Internal links help Google understand and rank your website better, as they indicate which pages of your site are important and what content they include.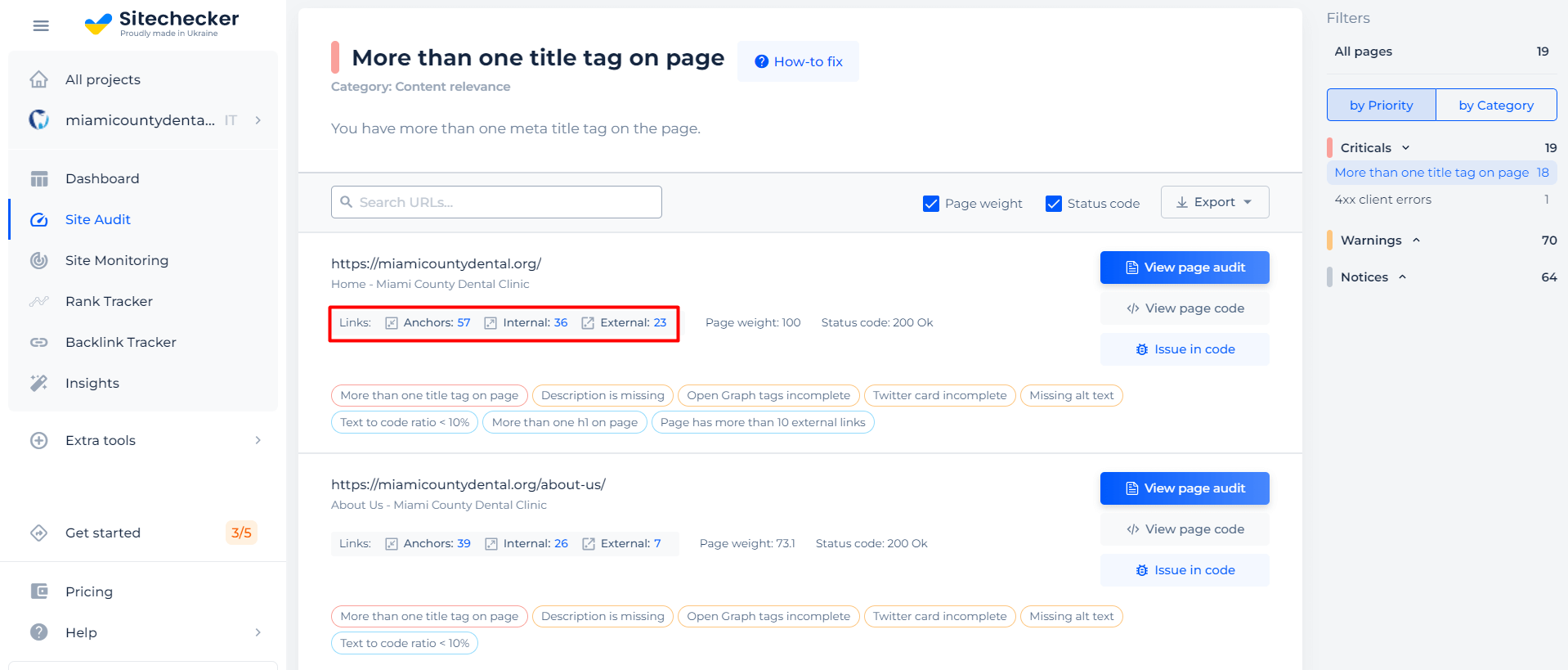 Backlinks
External links' core role is to help the engine find your page for efficient crawling and indexing. There are two types of external links: follow links and no-follow links. With Sitechecker, you can track domain ranking and page authority (PR) to understand the potential to rank for a particular keyword.
Also, our Backlink Tracker tool collects all necessary information about your backlinks and their quality.
The factors that significantly affect ranking positions are:
Volume
Quality
Relevancy
Trust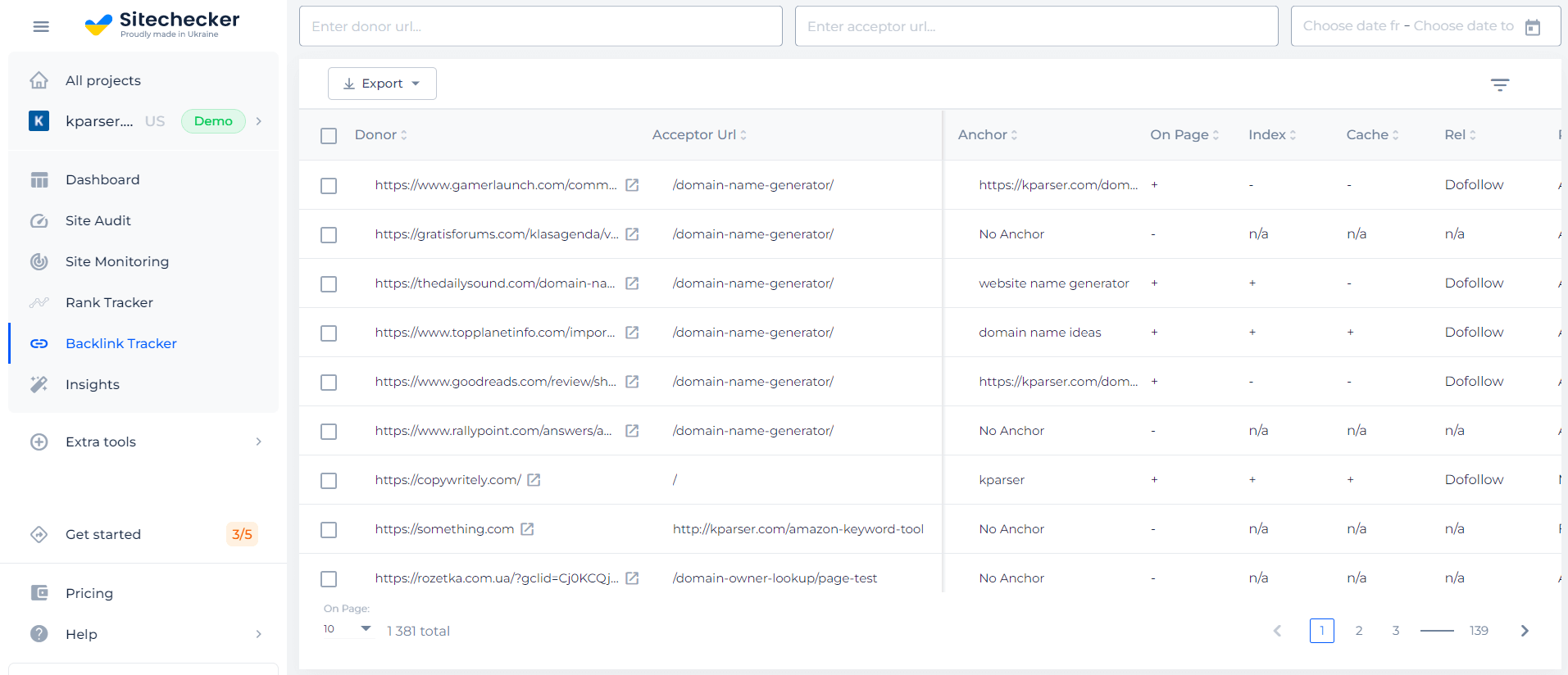 TOP 8 Specific SEO Tips for Medical Niche
Now, we want to share several dentist SEO tips that can help you cope with the most critical aspects of local SEO and explain why you should care.
#1 Pay attention to local SEO specifics. Don't forget about people who live near your clinic or office as they can become your clients if you don't neglect the local SEO.
#2 Choose keywords and phrases according to your area's specifics. Don't forget about "Geo-Modifiers" and do thorough keyword research. It will help you understand how local patients search for a doctor on the Internet.
#3 Use citations. NAP (Name, Address, Phone number) and directory listing will help your clients quickly find you and call you when they need it. Also, it will help you gain more trust.
#4 Create a Google Business profile. Google My Business is an essential tool for your business visibility. To always keep it relevant, update information, add relevant categories, photos, phone numbers, and your current schedule.
#5 Make your website mobile-friendly. A lot of patients search on the go. That's why you need to ensure that your website is easy to navigate on the mobile device.
#6 Provide schema makeup. In such a way, search engines will scan the information on your website and index your pages faster.
#7 Collect feedback. Contact your patients and ask them for a review by sending them a corresponding link.
#8 Use external links. Provide links to the relevant resources in your niche to tell search engines that your website is reputable and relevant to the users.
Want to improve your expertise in medical SEO? Watch this video to find out how healthcare and medical businesses can take advantage of an SEO structure and drive organic traffic to their websites.