Streamline search engine optimization with our powerful dental SEO checker. Take advantage of numerous helpful features to check your traffic, ranking, keywords, backlinks, and content. Our platform allows you to boost your website's efficiency and attract more patients with no need to be an expert in dentist SEO strategy.
Today, no dental business can withstand stiff competition without a prospective SEO marketing strategy. SEO has a significant impact on website maintenance, improves search engine results, and leads to better traffic to your web page. Therefore, you can significantly increase the number of patients opting for your service.
With the right SEO approach and a powerful tool, your future marketing campaign has every chance to take your business to the next level. How? This post will provide the answer.
With our detailed guide, you will learn why SEO is crucial for your dental practice. We will also explain how our robust Sitechecker tool can boost dental SEO marketing, and provide tips on coping with it without any expertise or controlling your vendor.
What is Dental SEO, and Why is it Crucial?
In a nutshell, dental SEO is the way to attract more users to your website and convert them into your patients. You can achieve it by optimizing your site's ranking in search engines like Google, Yahoo!, and Bing. Thus, your dental company's web page will appear higher in search results, increasing people's chances to click to visit it.
Your competitors are unlikely to ignore digital marketing trends and certainly work on their SEO. Don't want to lag behind? Let's learn more about the search engine optimization process and its core specifics.
How much does dental SEO cost – Is it a Waste of Money?
When a dental business decides whether to invest in SEO, there comes the question of such services' prices and reasonableness. So, how much does dental SEO cost? Let's make it clear!
Dental SEO is Cost-Effective
Typically, the cost of SEO depends on your strategy, so you should take into account several factors to estimate the price.  In particular, you may opt for an outsourcing SEO company, build one in-house, or use an SEO expert's consultation. Also, it will be depended on the number of pages that you want to have in TOP, the region of your business, specific dental category of service that you want to promote.
Minimally, a full-fledged dentist SEO will cost you from $1,000 to $3,000 per month or beyond, depending on your specific needs. Therefore, prioritizing cheaper options is quite risky as they may be inferior or lack some crucial components.
Now, let's find out why it's worth the investment.
It Generates High-Quality Leads
SEO is one of the most effective way for lead generation. It attracts users interested in your services with more chances to convert into actual customers.
And with good SEO, the conversion rate experiences a significant increase. For dentistry, this is extremely important since the conversion is about a patient ready to pay for your services.
You should be based on the numbers of leads and payments that you get from that channel. You can afford absolutely any investment in the SEO if it makes enough leads and convert it to payments, that give you the possibility to be in good profit. So important to know the cost of your average check and track & calculate your SEO results. To get more information how to do it easy and fast without mistakes, you can find it out right here.
Can I do SEO by Myself or Better Get a Contractor?
If you want to start an SEO marketing campaign, you can either hire a contractor on a website like Upwork or cope with it on your own using an efficient tool. Also, we made the selection of TOP contractors for the USA below.
Both options are possible and have their pros and cons. Now, let's get to know both options in more detail.
Sitechecker is Your Personal SEO Assistant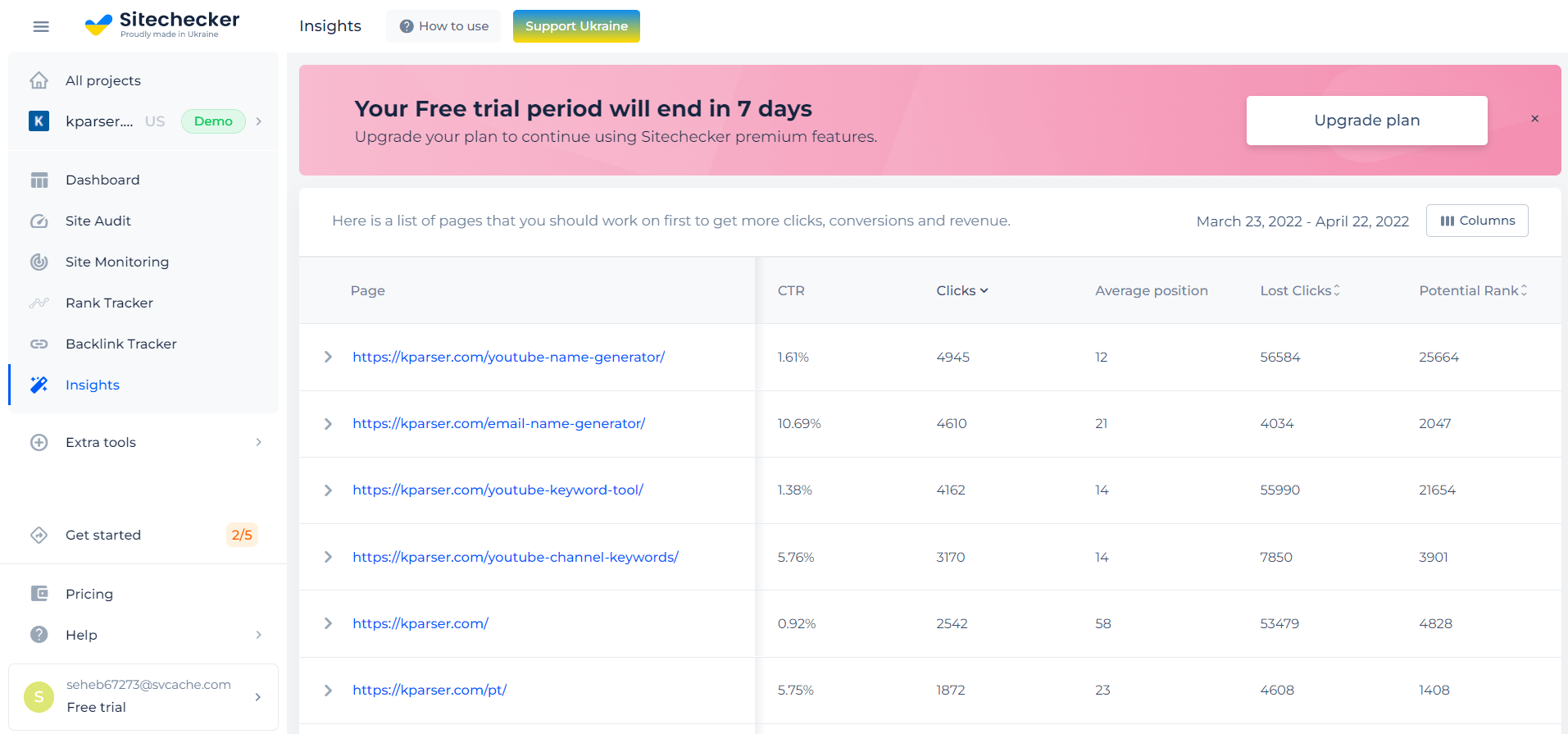 With the Sitechecker tool, you can handle dental SEO on your own since no special knowledge is required. The service is quite cost-efficient. In addition, we offer our customers to try it for free with the product's trial version before starting to use the paid one.
The key benefit of using Sitechecker is its simplicity and clarity of user experience. Everything is designed to make the customers' lives easier and streamline all SEO processes.
Our service allows dental businesses to benefit from the following functions:
Tech audits with detailed instructions.
Using data from Google Google Analytics (GA) and Google Search Console (GSC).
Assistance with the required SEO tasks.
Monitoring of all website changes.
Tracking ranking positions by SEO words.
Tracking backlinks, etc.

Pros of Using Help of Dental SEO experts Contractors & How to Control Them?
Turning to a dental SEO expert may be quite beneficial since it saves you time and effort.
However, this approach has its drawbacks. First, full-fledged SEO services in the USA are costly. Secondly, your involvement is still required since you need to be in touch with the hired expert and control their performance. In addition, you may face poor competence and dishonesty.
Therefore, even if you work with a contractor, it's still worth using Sitechecker to control your website's SEO effectiveness and validate the hired specialist.
TOP 5 Dentist SEO Companies & Agencies in USA
Hundreds of thousands of dentists, orthodontists, pediatric dentists, and other related professionals practice in the USA. So, not surprisingly, more and more SEO agencies appear. However, not all of them can provide quality marketing services.
Here is a shortlist of the best contractors for dental SEO to hire in the US.
The SEO Dentist. This Los Angeles-based firm focuses on the dental niche. The team offers an ROI-focused approach, complete transparency, and well-established communication with its clients.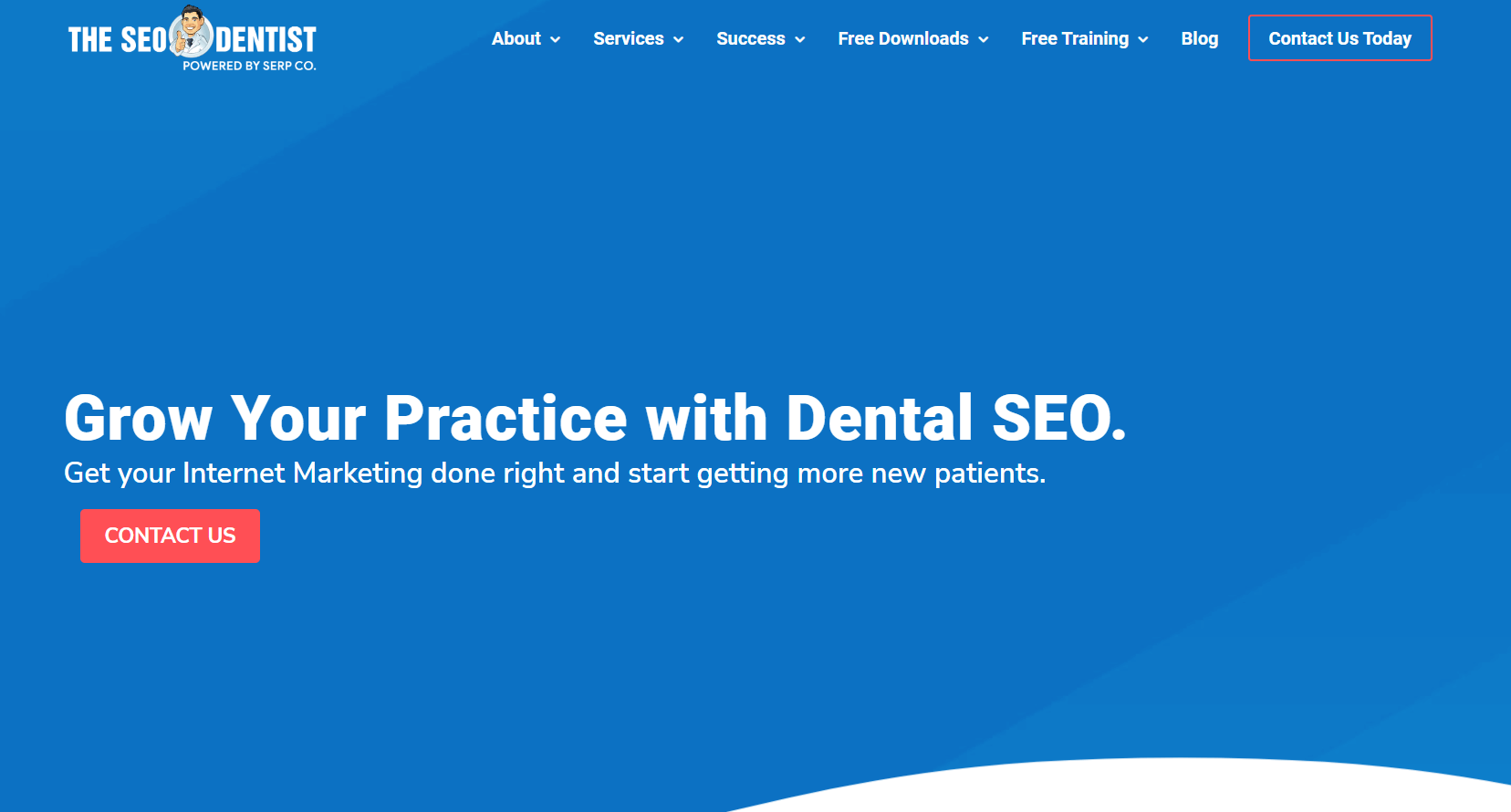 Cutting Edge Digital Marketing. The agency offers SEO services for dentists and surgeons. In particular, it provides an all-in-one dental marketing package.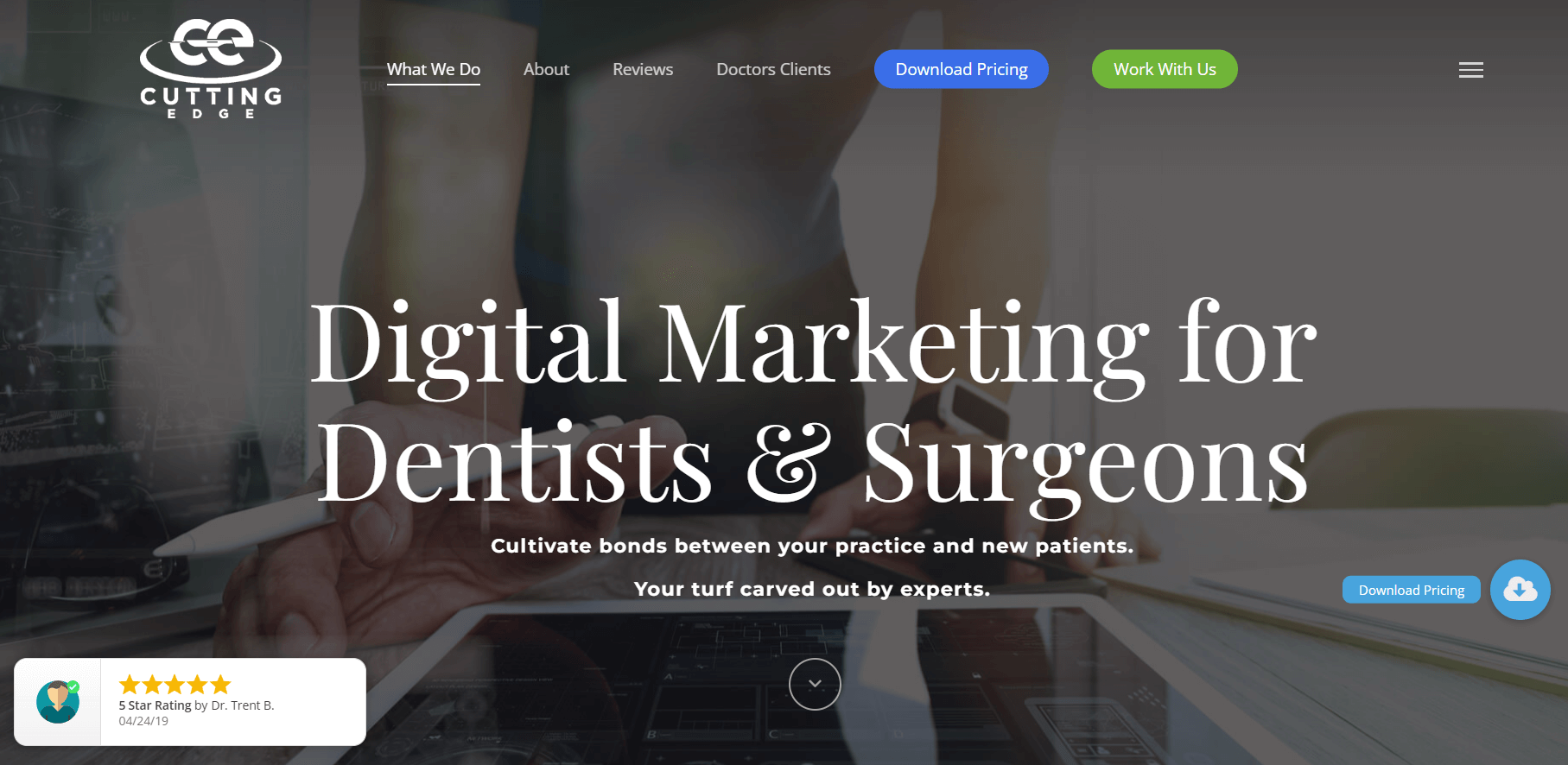 Progressive Dental Marketing. This dentist SEO company based in Florida offers full-fledged marketing services. It's especially relevant for those who need a comprehensive and meticulous approach to their campaign.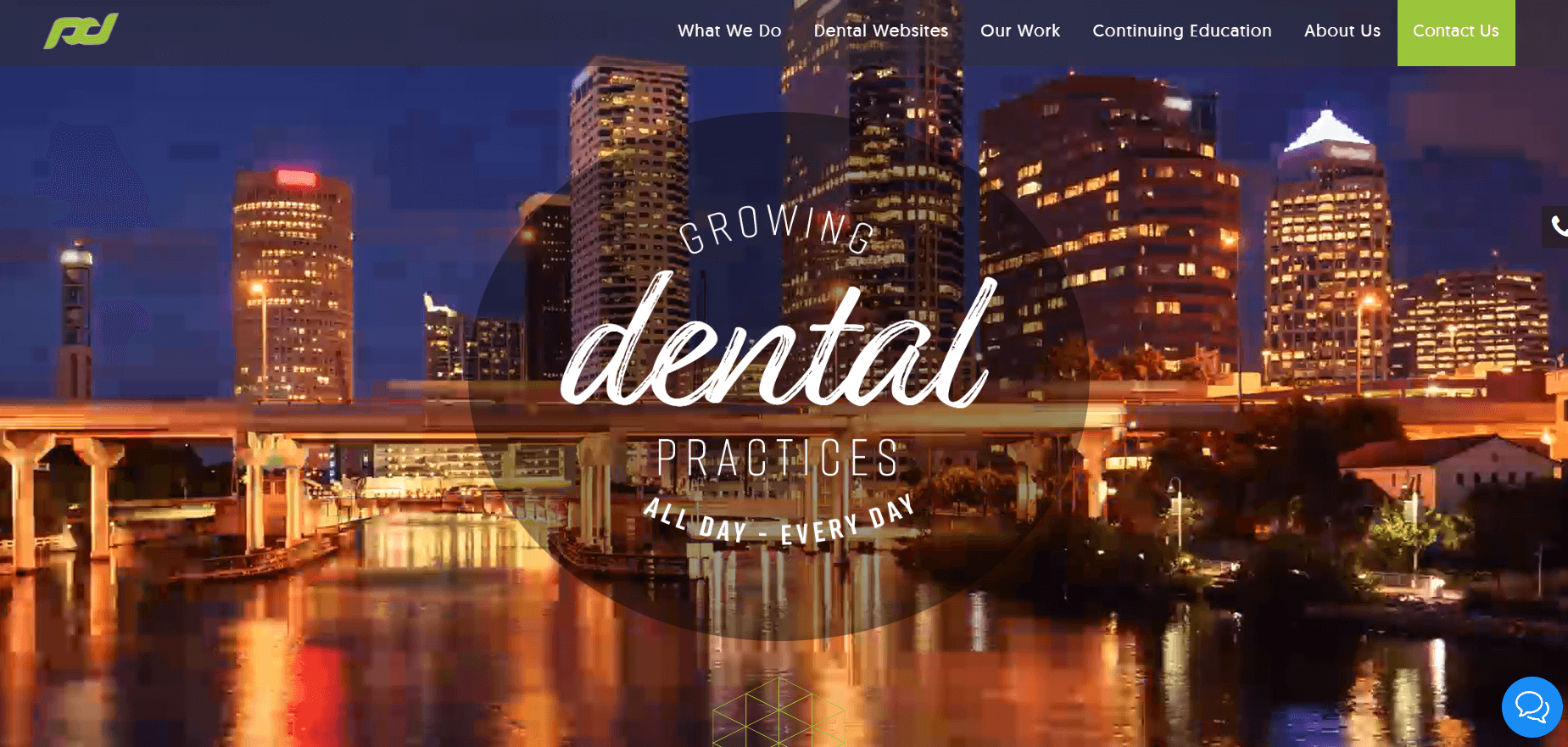 KickStart Dental Marketing. This is another reliable dental SEO agency with a specific methodology that brings together various marketing strategies. They include SEO, social media marketing, PPC, Google advertising, and more.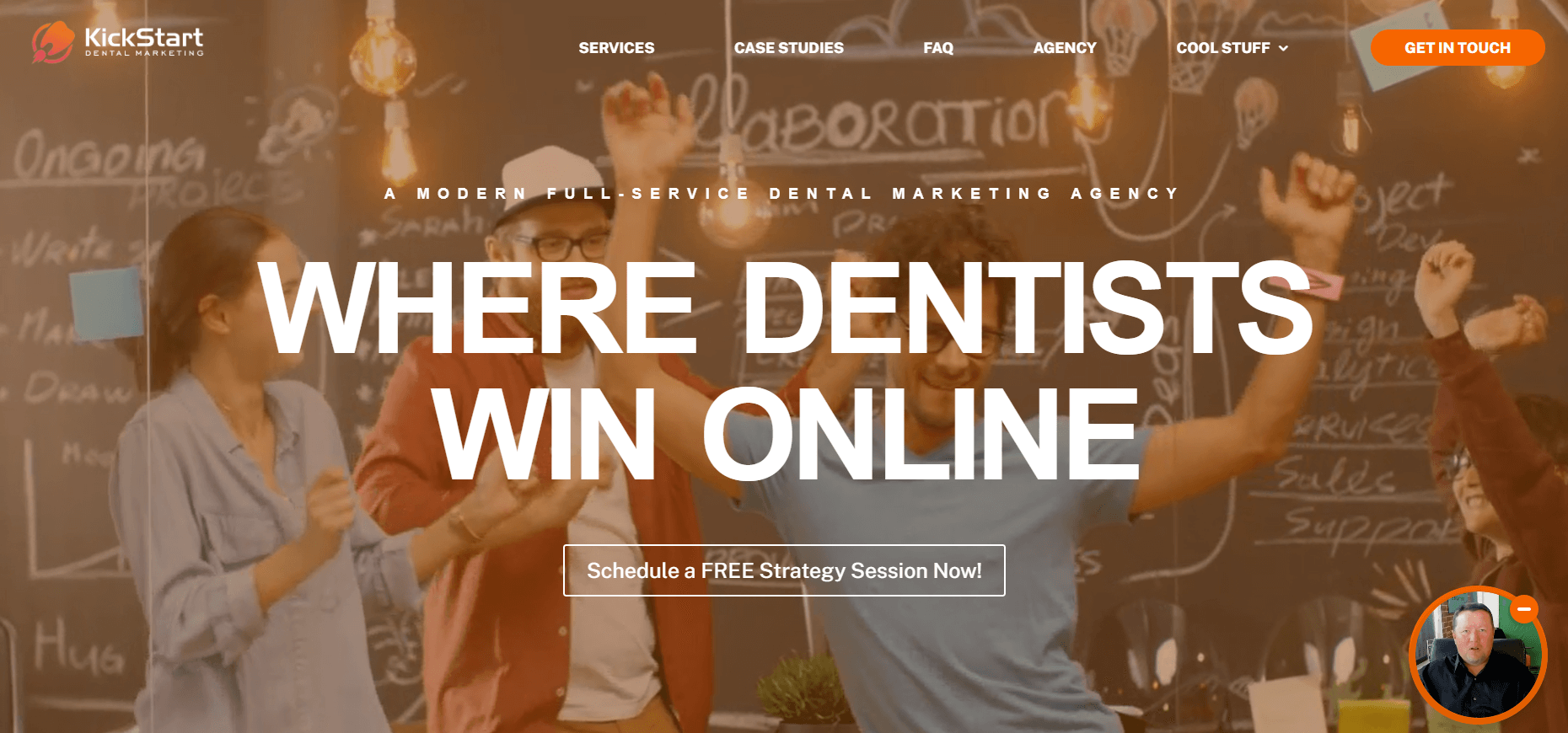 Seasame. These guys focus on establishing excellent communication with patients with an automated approach and HIPAA compliance. SEO is one of its core services.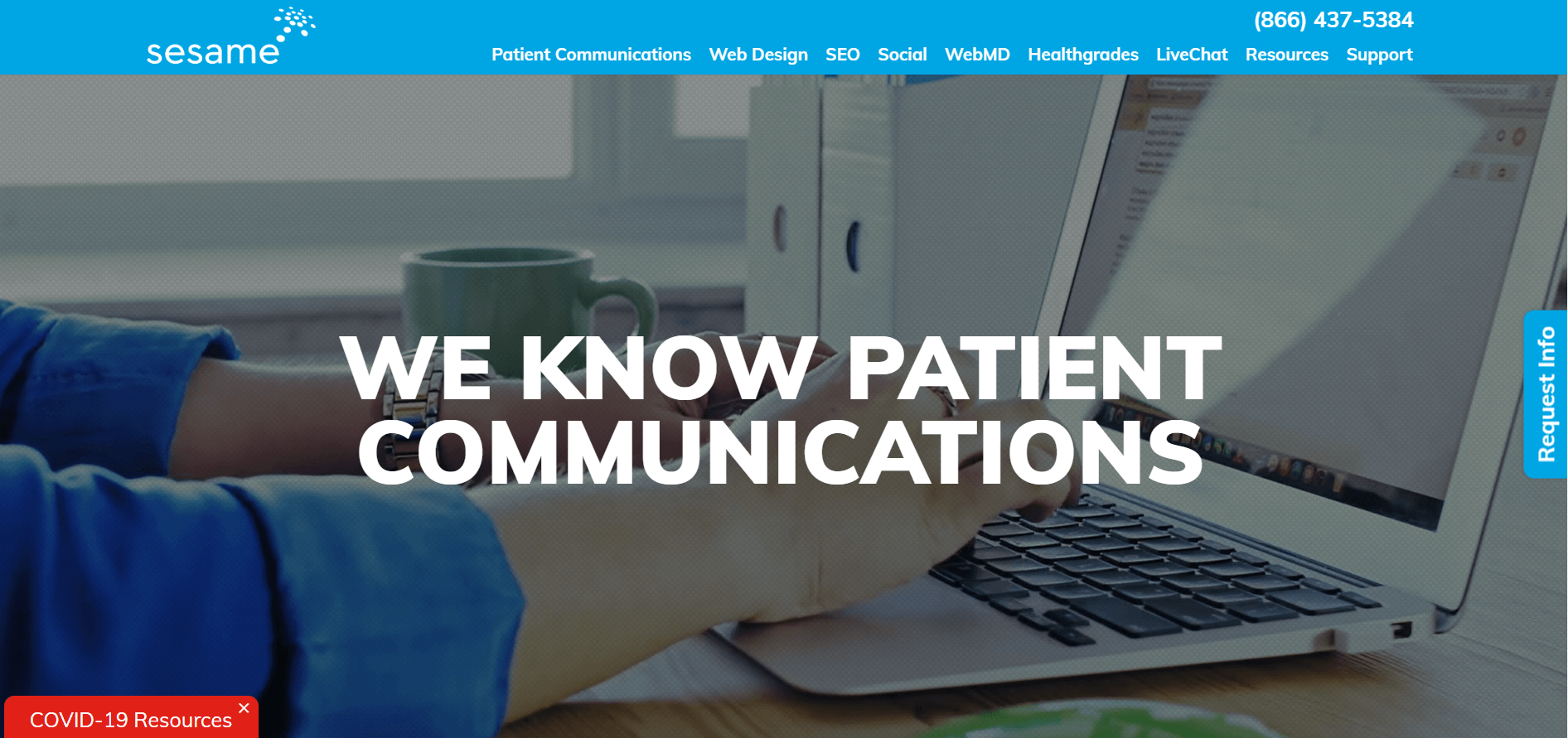 How to Make SEO for Dental Niche & Choose the Right Strategy
Now, let's look at the essential stages of SEO for dental companies. We explain how your business can use our service to plan and optimize the dental SEO strategy. We will also look at the aspects worth considering if you want to control your contractor.
Website's On-page and Technical SEO
The initial step is technical SEO and analysis of the existing problems. It's crucial since all subsequent processes will base on this stage. Technical SEO helps attract organic traffic and generate new customers. In addition, it ensures that search engines will detect no bugs and critical tech issues.
You can use the Sitechecker service that offers a full audit of the website and an on-page audit.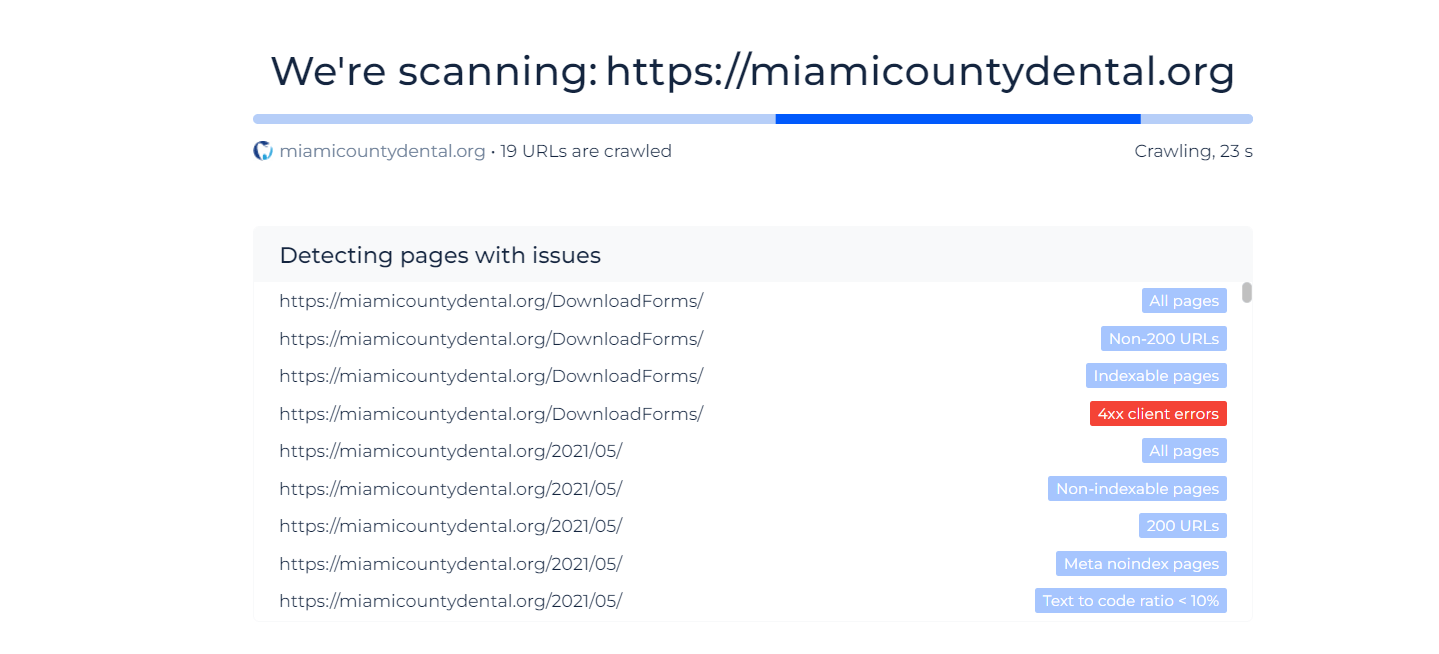 Website Audit for all Pages
Our platform's website crawler allows conducting a comprehensive audit of all pages. Thus, detecting any technical issues won't take long. Also, you can use crawling settings to tailor audits to your specific needs. In particular, you can address the following goals:
Validate website health with website score.
See which issues have been fixed.
Exclude issues you don't want to fix.
Follow detailed guides to fix bugs by yourself.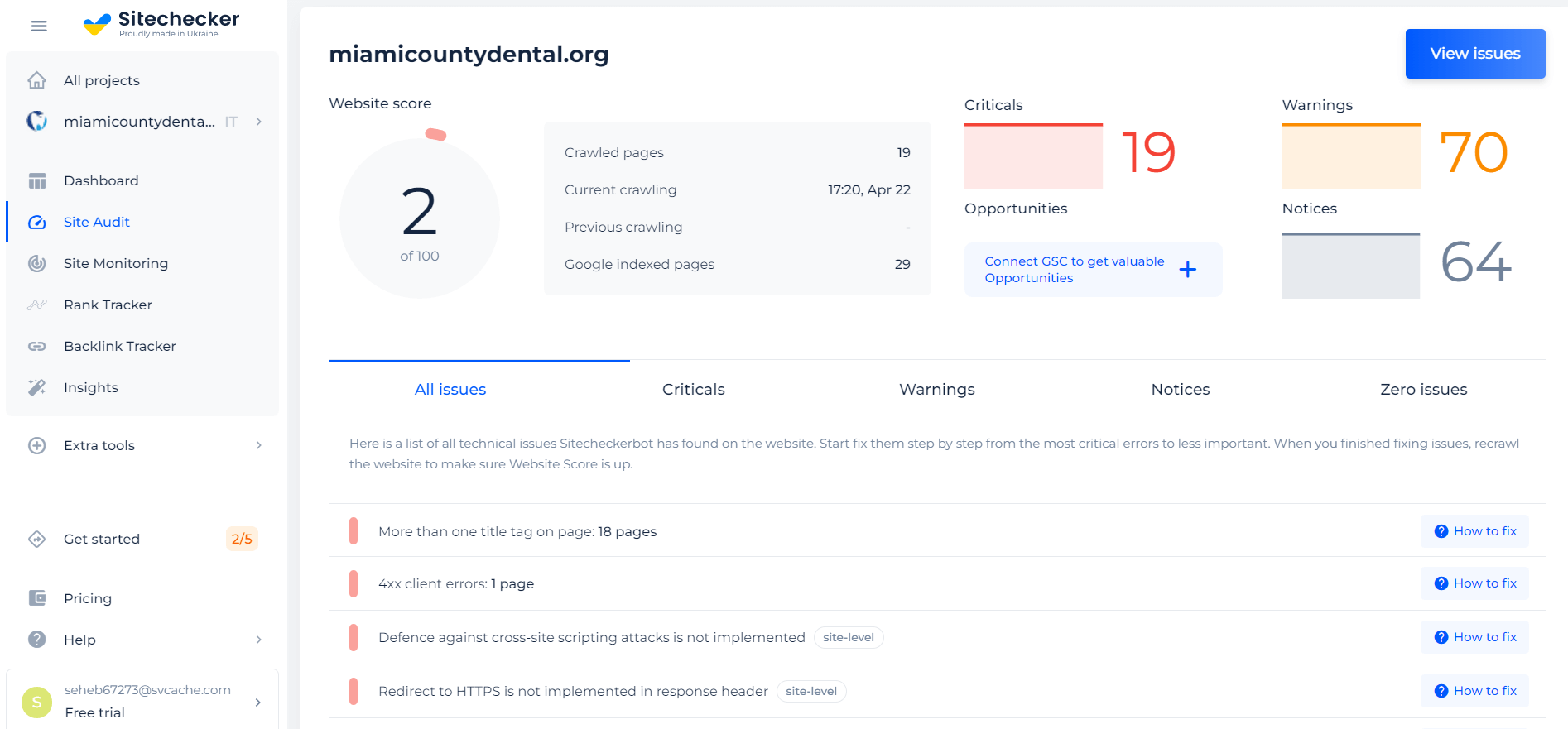 On-page Audit for Small Sites
If you don't need to check the entire website, Sitechecker offers a convenient on-page audit. It's perfect for assessing small sites or particular pages. You can conduct a full audit of the chosen page, including testing meta tags, content relevance, structured data, images, links, etc.
Additionally, our tool enables using the Chrome extension feature, so you can verify SEO performance without leaving the page.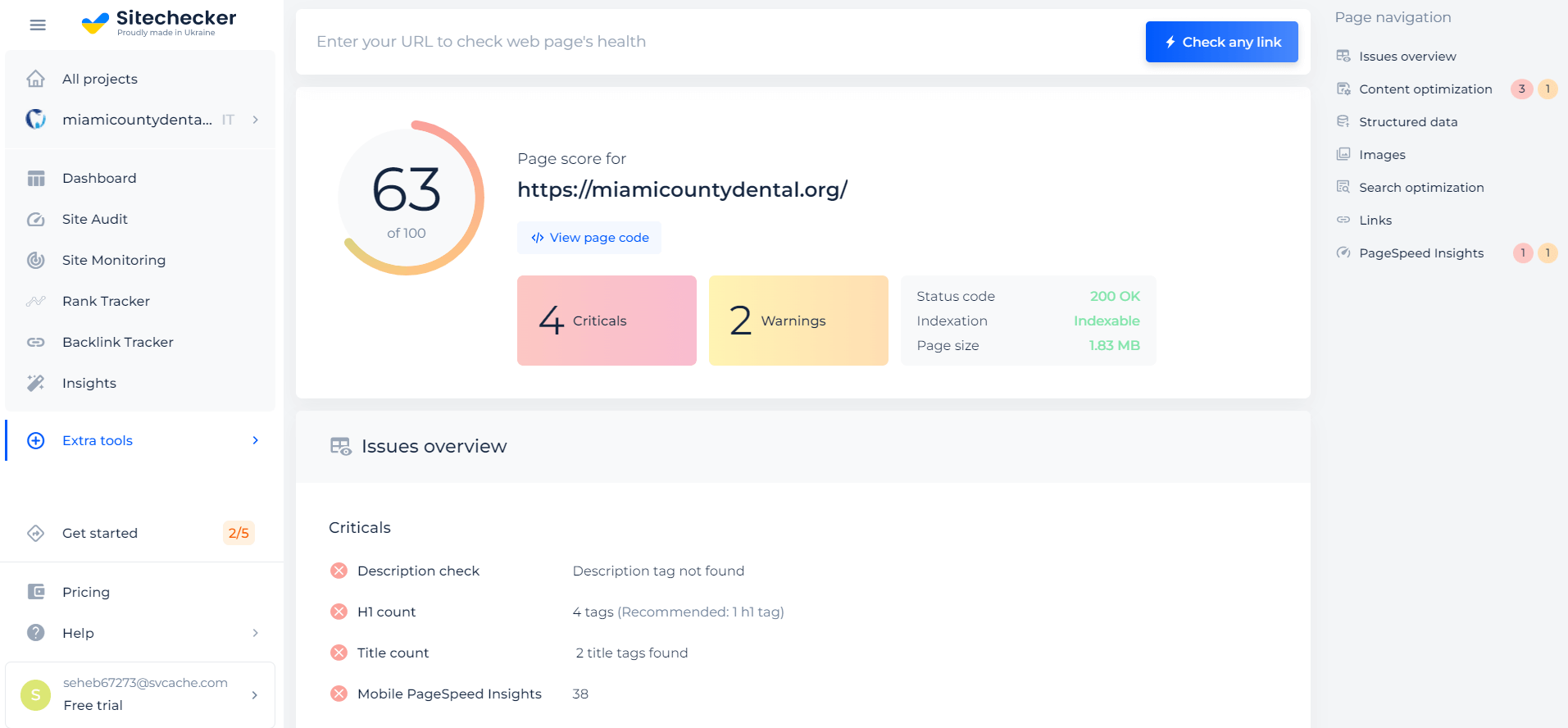 Make the first step in your dental SEO right now!
Make a full audit to find out and fix your technical issues and get all other platform features.
Using Data from Your Google Search Console and Google Analytics
Google Search Console and Google Analytics are must-have tools that help track many indicators and detect errors. However, their functionality is pervasive, so one may find it challenging to learn how it all works.
However, Sitechecker comes to the rescue of inexperienced users. Here are the solutions if you have no expertise in setting and operating GSC and GA.
GA tracker is a tool that verifies the correctness of Google Analytics settings and scans your website for the key GA tags.
GSC installation gets much easier with our detailed step-by-step guide.
Connecting GSC and GA in a few clicks is also possible with Sitechecker. You can access all necessary dashboards in one place.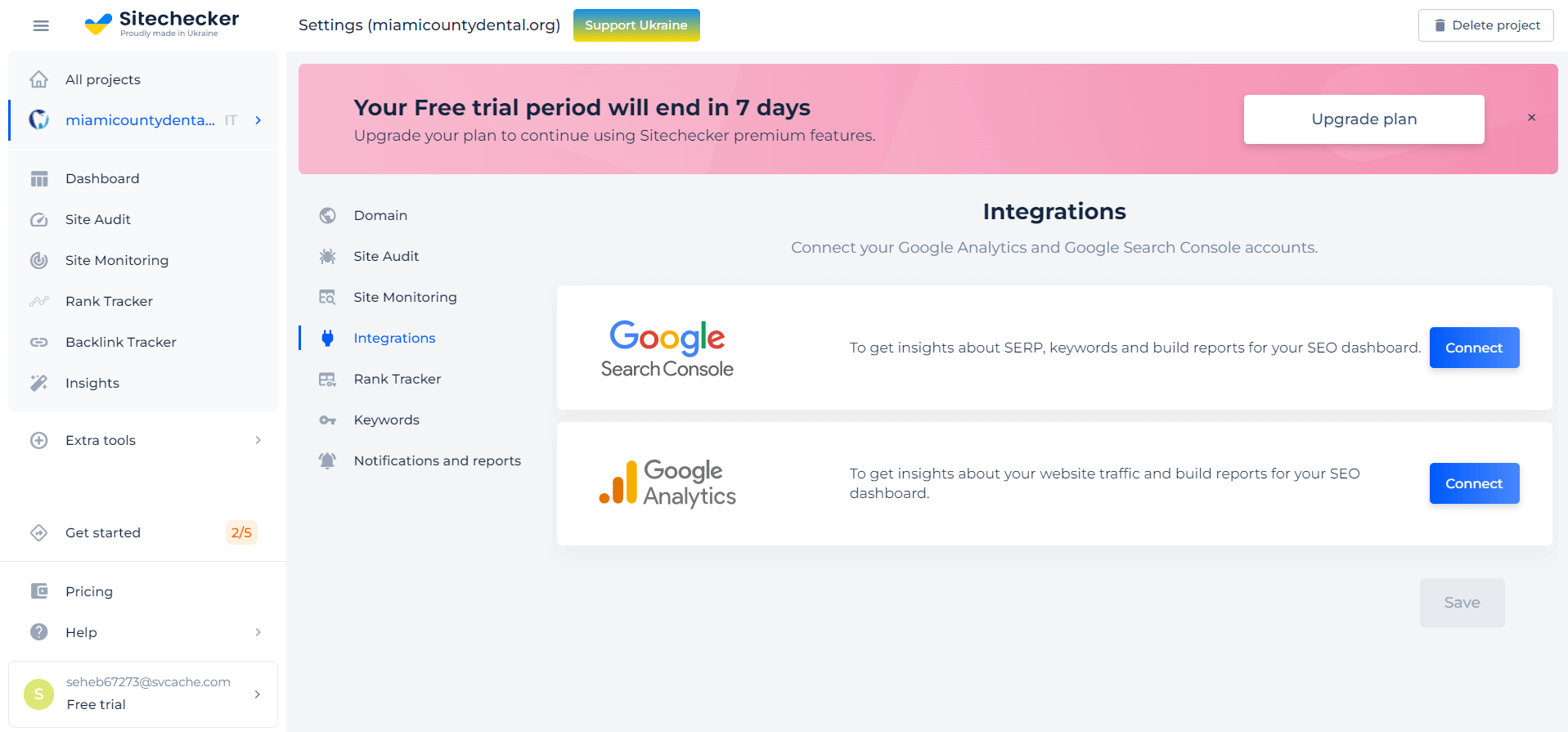 Use Data from GSC
Sitechecker allows users to connect to Google Search Console in just a few simple steps.
As soon as you add your dental website to GSC, our tool starts to provide data that is necessary for assessment:
Site Indexation Progress
Keywords on top 100 GSC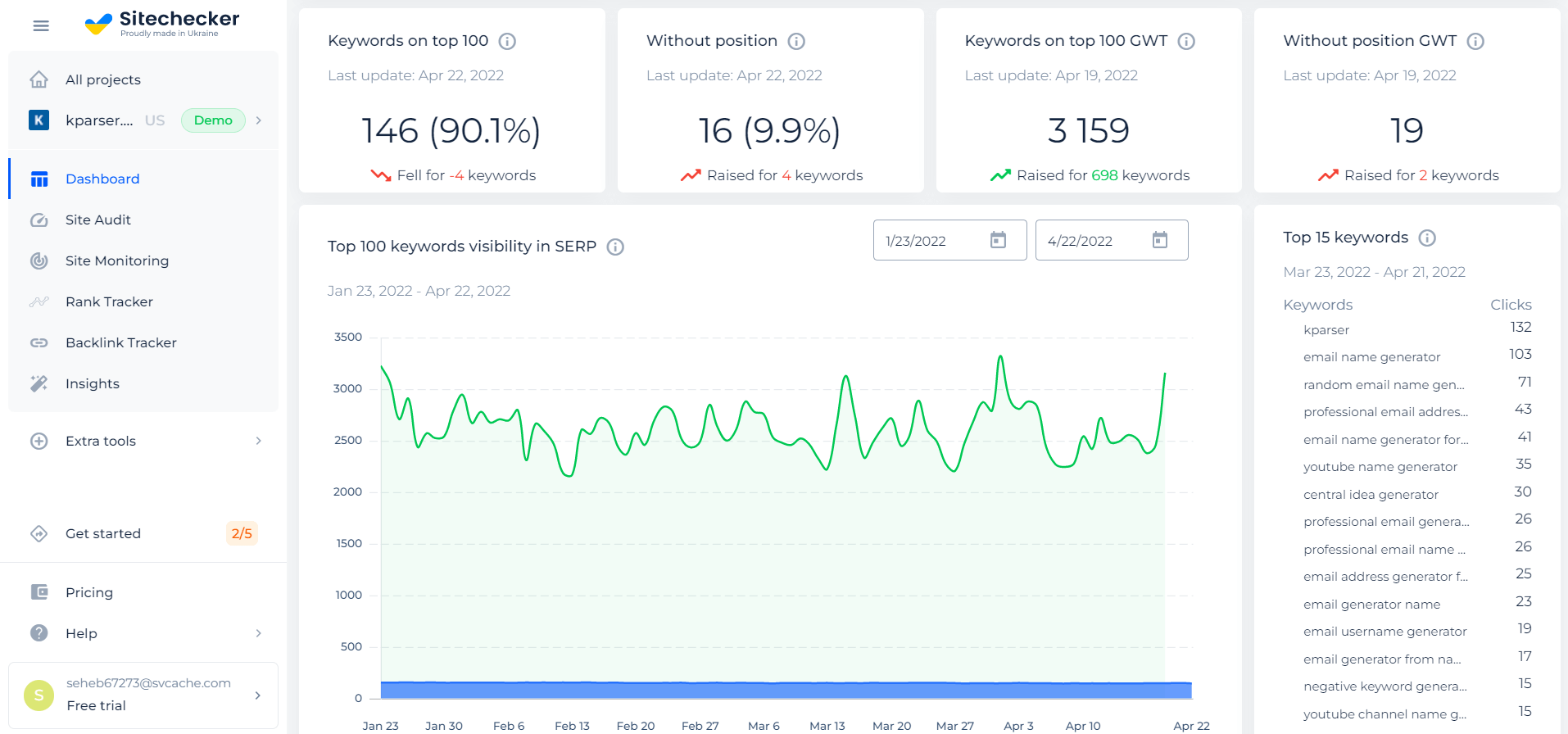 Top 15 keywords
External and internal links
Top 10 landings with information on visits and clicks, etc.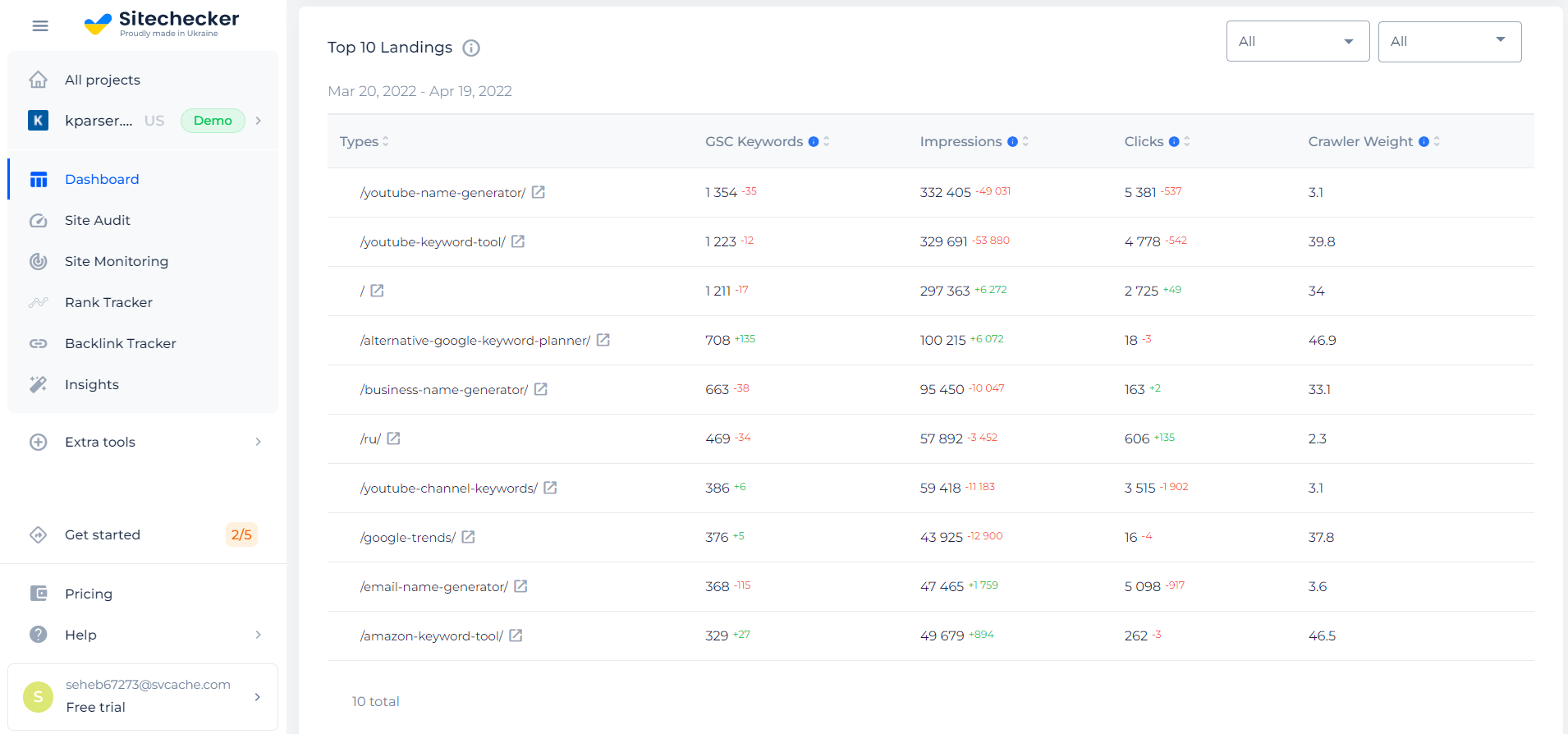 Use Data from GA
Our service also enables connecting to Google Analytics in no time. With Sitechecker, you can check all the required SEO parameters with the data received from GA:
All traffic
Organic traffic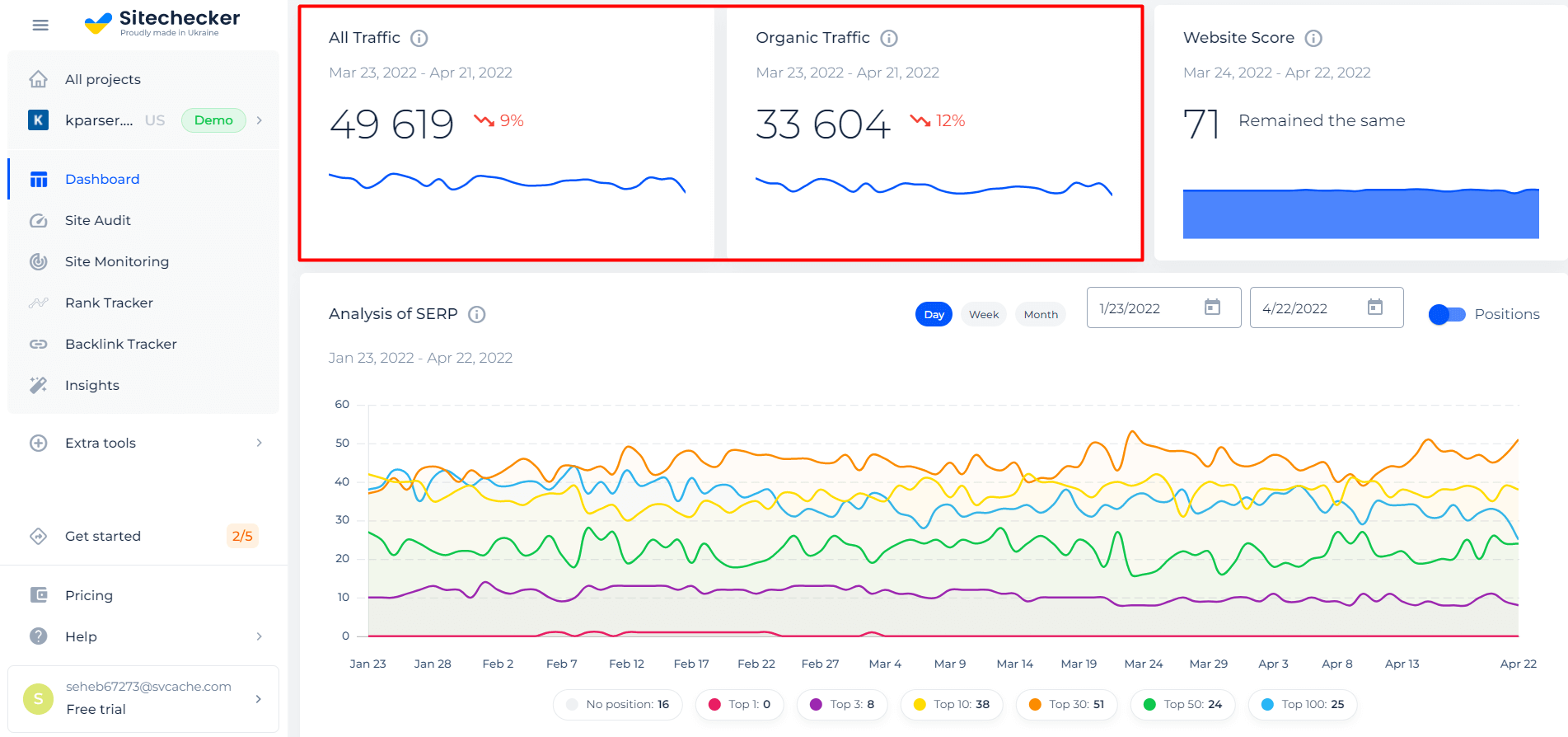 With GA Ecommerce, you can also track sales, revenue and conversion ratio, and transactions.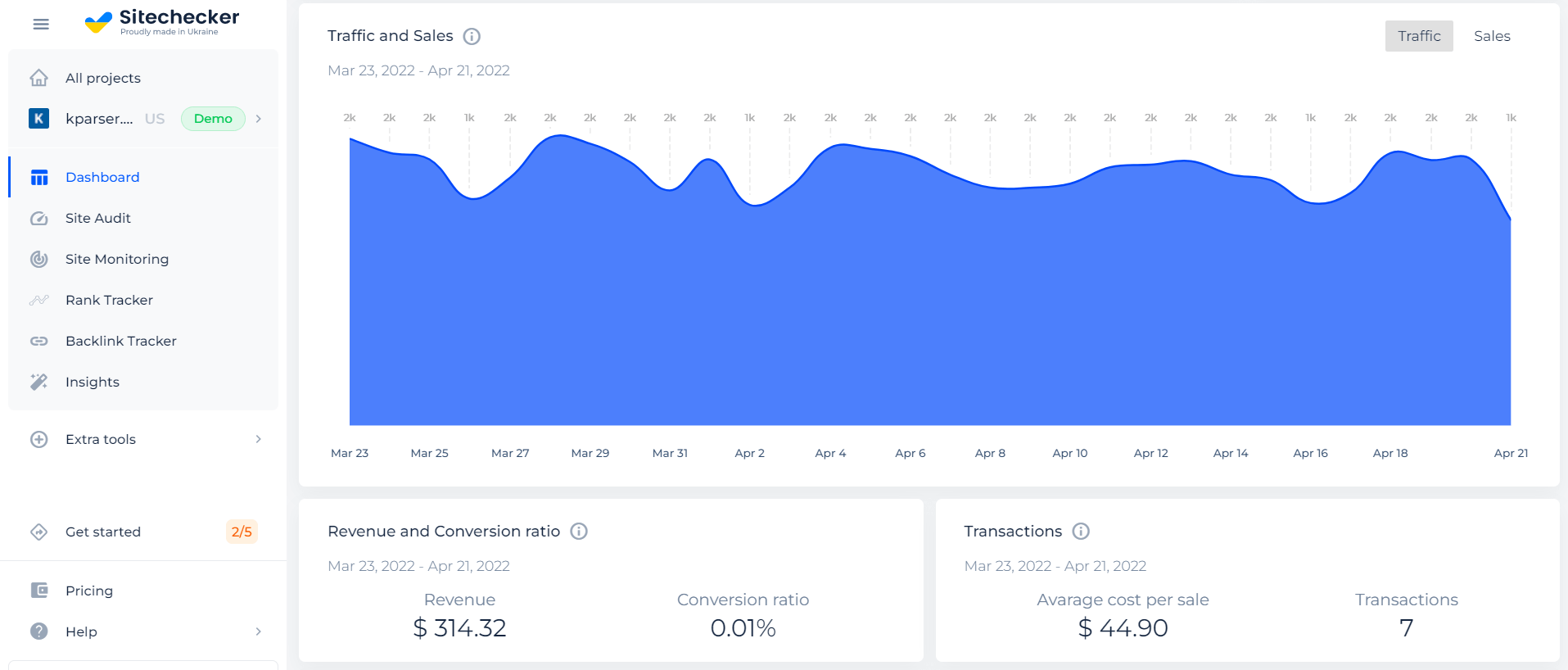 How to Get Keywords for Dental Niche and Accurate Rank Tracking Them
Keywords ranking is the foundation of successful dental SEO marketing. It's the position of your site based on search results of the most common users' queries. Comprehensive keyword research will allow you to determine what the audience tends to look for.
There are two main types of keywords:
Informational keywords help when people search for the required information. For example, "How to get teeth whitening service."
Commercial keywords come in handy when somebody is looking for particular products or services. For example, "Find an orthodontist in South Boston."
To conduct adequate keyword research and study what's needed, you can use several methods :
Ahrefs (paid)
Semruch (paid)
Google Keyword Planner (paid)
GSC (free)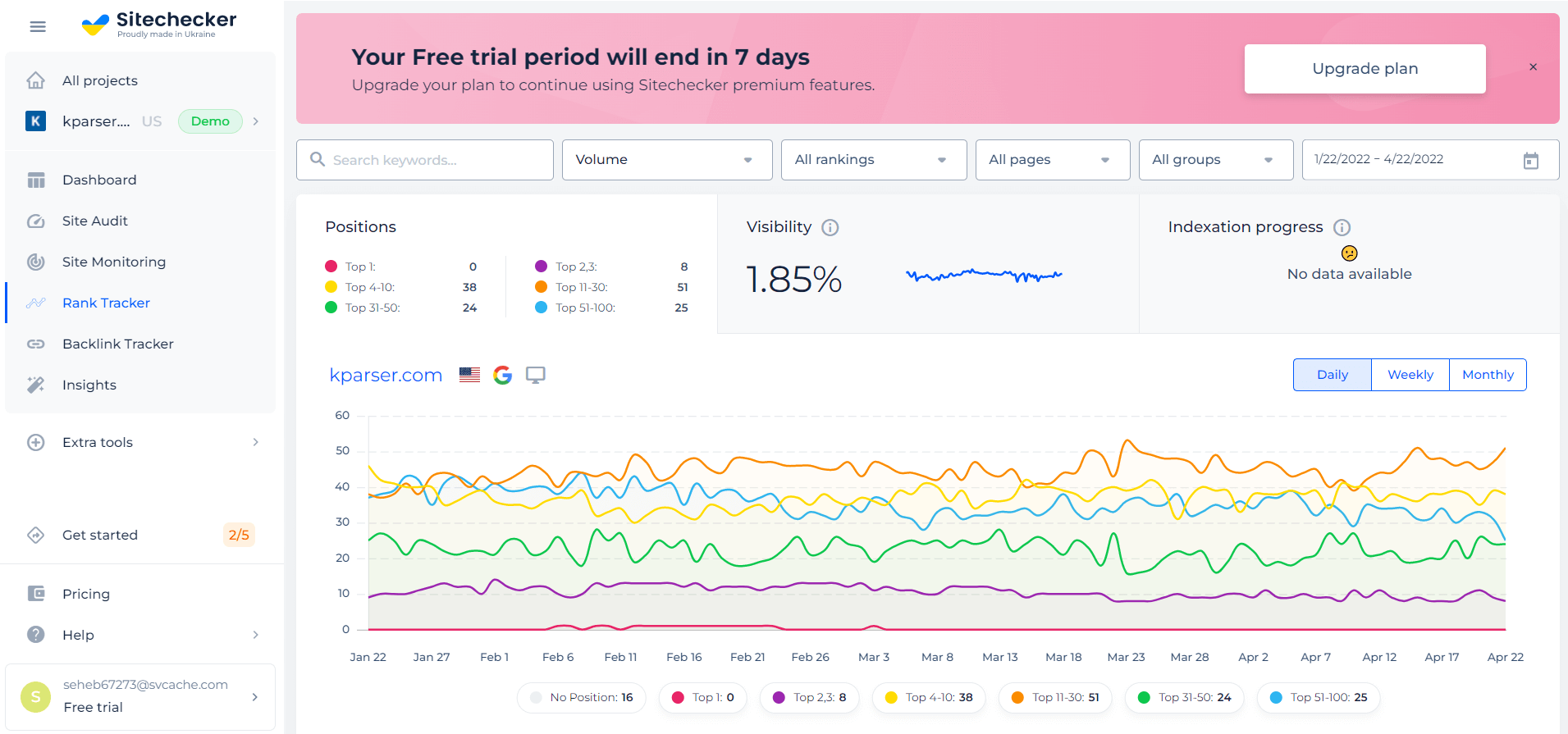 Also, you can benefit from our Rank Tracker tool that monitors your website's current positions in Google, Yahoo, and Bing. Thus, you can tailor your assessment settings to the required location and device type. Besides, it allows tracking your competitors' changes, improving Google algorithms, and accessing the keyword search volume.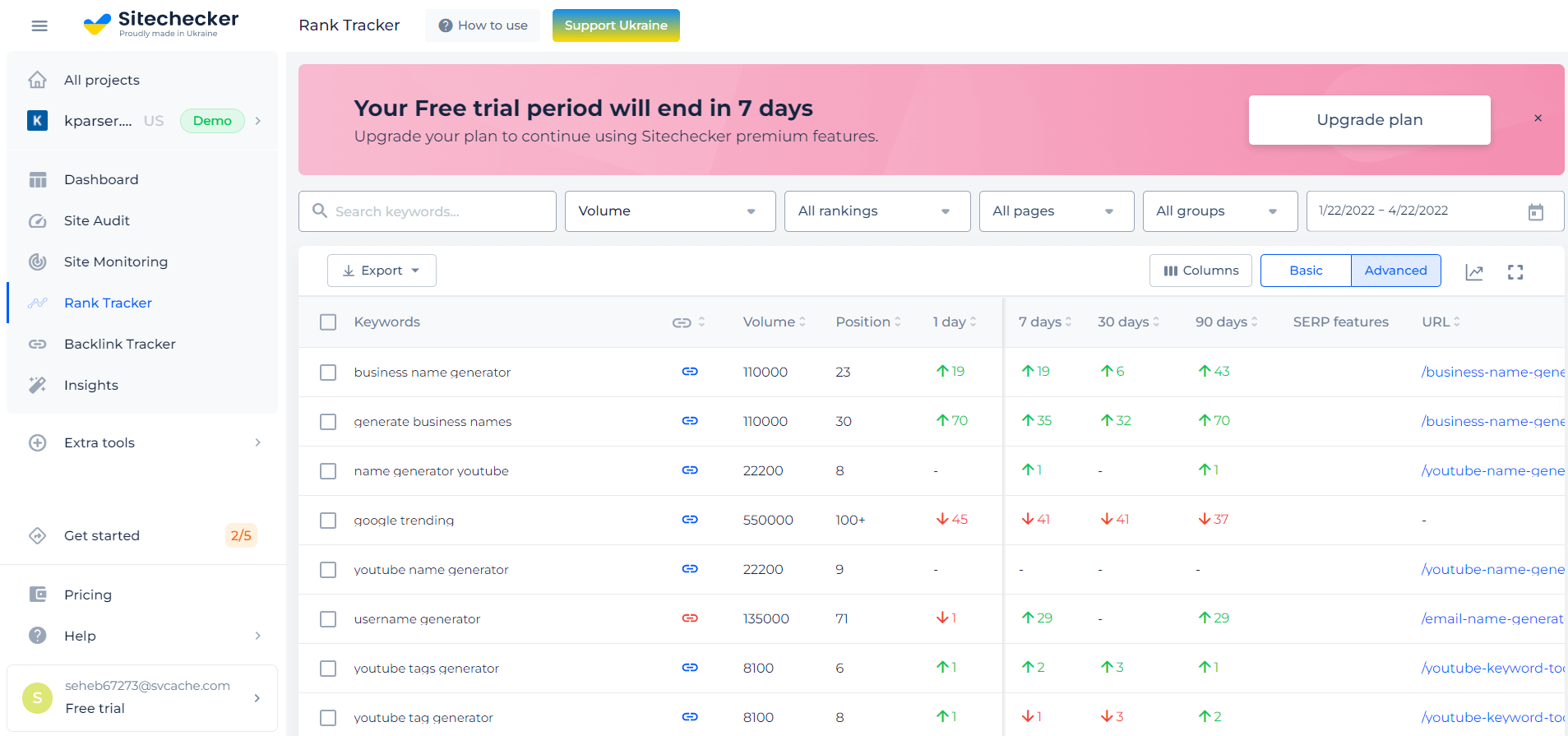 Add Keywords Manually or from Google Search Console
With Sitechecker, you can add keywords manually and filter them by multiple conditions, including search volume, groups, position, text, etc. Or, you can get the data you need by connecting to GSC. It takes just a few clicks and allows you to continue receiving and tracking the data you need.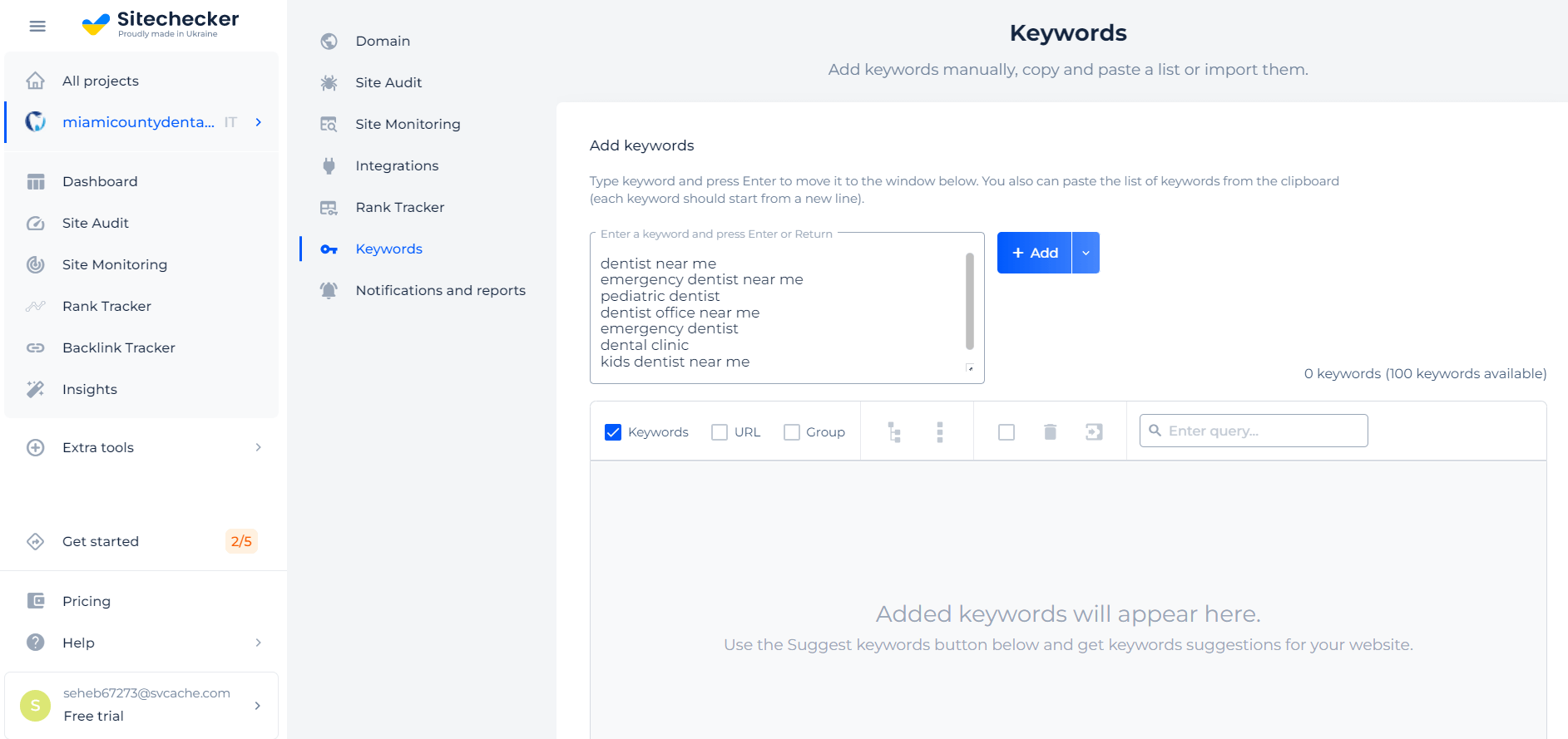 Keyword Tracking for Local SEO Dental Marketing
Local SEO dental marketing is quite a narrow niche. And you can implement a local keyword tracking method quickly with our platform. We have multiple filters to choose from, including country, city, and language. This approach will enable you to limit receiving and tracking data to your location, focusing SEO effort on the target audience.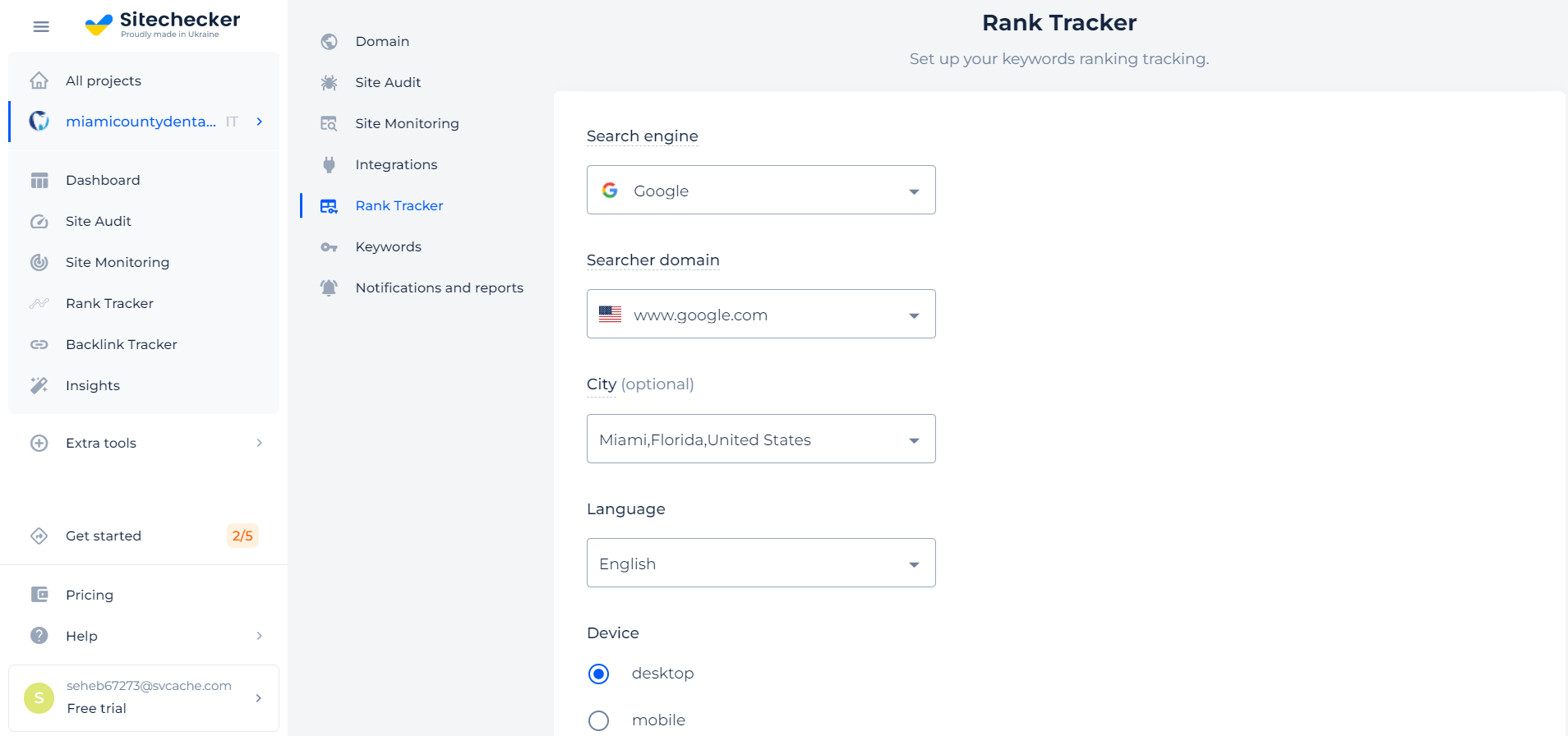 TOP 50 Keywords for Dental Niche
We've prepared a basic list of the most popular commercial keywords for the dental niche (in the USA) for your convenience. The keywords are from Ahrefs (it paid, but you get them free) with information about Value and Keyword Difficulty. Keyword Difficulty (KD) is a calculated estimate of how difficult it is to rank in the top 10 organic search results for a keyword on a 100-point scale. Value – an estimate of the average monthly number of searches for a keyword over the last 12 months of observation. You can use them to track your website's ranking or deepen your field knowledge. Also, recommend you use the keyword with your business location.
| Keyword | Keyword Difficulty | Volume |
| --- | --- | --- |
| dentist near me | 70 | 1 700 000 |
| emergency dentist near me | 44 | 135 000 |
| pediatric dentist | 40 | 127 000 |
| dentist office near me | 65 | 76 000 |
| emergency dentist | 44 | 71 000 |
| dental clinic | 43 | 59 000 |
| kids dentist near me | 37 | 52 000 |
| best dentist near me | 65 | 45 000 |
| cosmetic dentist | 44 | 26 000 |
| dental office | 46 | 25 000 |
| dental emergency | 62 | 20 000 |
| dentist office | 71 | 15 000 |
| family dentist | 33 | 15 000 |
| family dentist near me | 31 | 10 000 |
| emergency dental service | 33 | 9 800 |
| 24 hour emergency dentist near me | 31 | 8 800 |
| kids dentist near me | 35 | 8 100 |
| family dental | 46 | 7400 |
| best dentist | 41 | 7 000 |
| medicare dental | 68 | 6 700 |
| dentist open near me | 35 | 5 100 |
| adult dentist near me | 66 | 5 100 |
| dentist around me | 69 | 5 000 |
| urgent dental care | 25 | 4 900 |
| child dental | 69 | 4 800 |
| complete dental care | 34 | 4 800 |
| nearest dentist | 72 | 4 800 |
| find a dentist | 73 | 4600 |
| local dentist | 54 | 4 500 |
| black dentist near me | 12 | 4 500 |
| childrens dentist | 40 | 4 500 |
| dental care center | 37 | 3 300 |
| dentist emergency | 44 | 2 300 |
| most recommended dentist near me | 56 | 2 200 |
| emergency dentist clinic near me | 38 | 1 200 |
| community dentist | 34 | 1 200 |
| family dental clinic | 39 | 1 100 |
| dental emergency clinic | 28 | 1 000 |
| dental service near me | 68 | 800 |
| dentist service near me | 70 | 700 |
| full service dentist near me | 43 | 250 |
| family dental service | 25 | 150 |
| dental service | 84 | 100 |
| 24 hour dental service | 40 | 100 |
| dental health service | 50 | 100 |
| emergency dental service near me | 45 | 100 |
| dental service price | 54 | 70 |
| dental 24 hour service | 43 | 50 |
| dentist community service | 9 | 50 |
| emergency dentist service | 48 | 50 |
Content Creation
In the world of SEO, content is king. With the right approach to its creation, you will increase your chances of improving ranking and boosting user experience. Thus, it's directly related to UX design efficiency.
When creating content for a dental website, it's vital to consider numerous factors. To name a few, one should keep in mind the keywords, information relevance, style, tone of voice, structure, and more.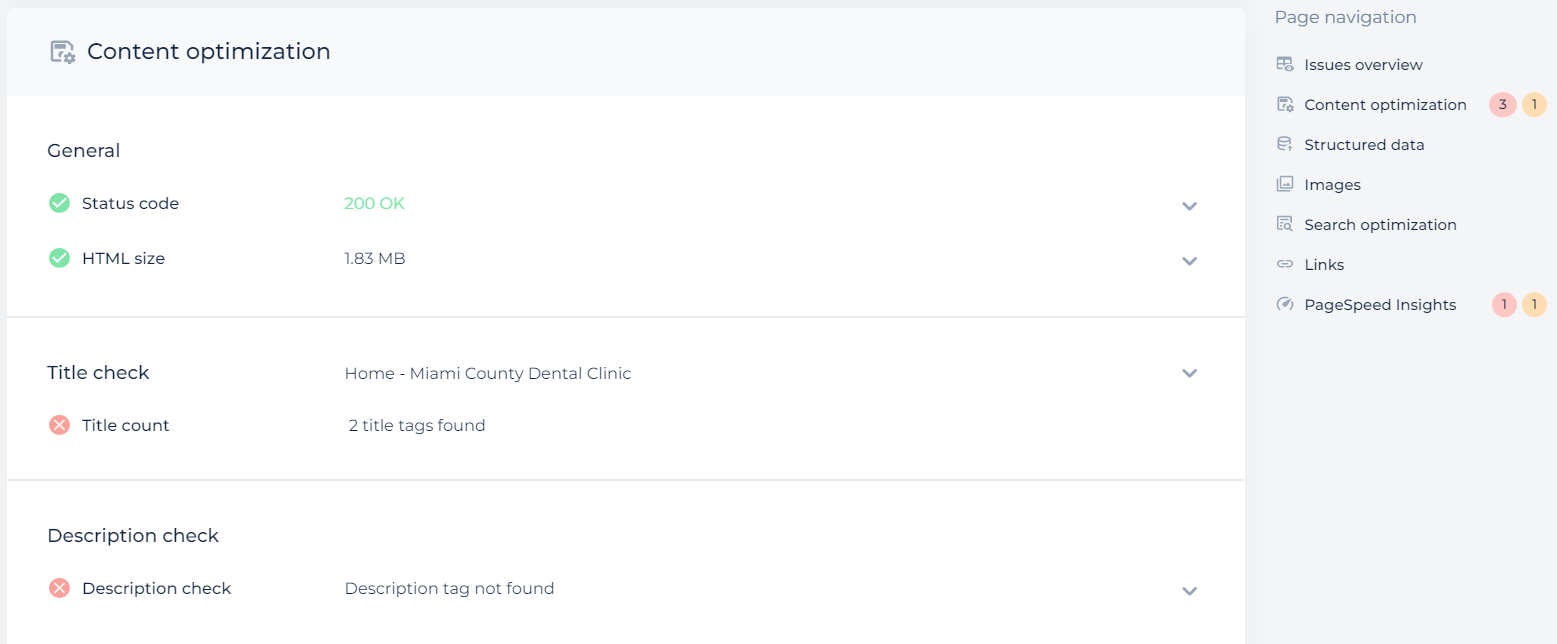 You can delegate content-related tasks to professional copywriters or SEO vendors with relevant expertise.
Also, you can take advantage of Copywritely. Our tool allows for a comprehensive analysis of your web pages and their content. Additionally, after publishing a page, you can check it with Sitechecker's on-page audit in our app or with the Chrome extension feature.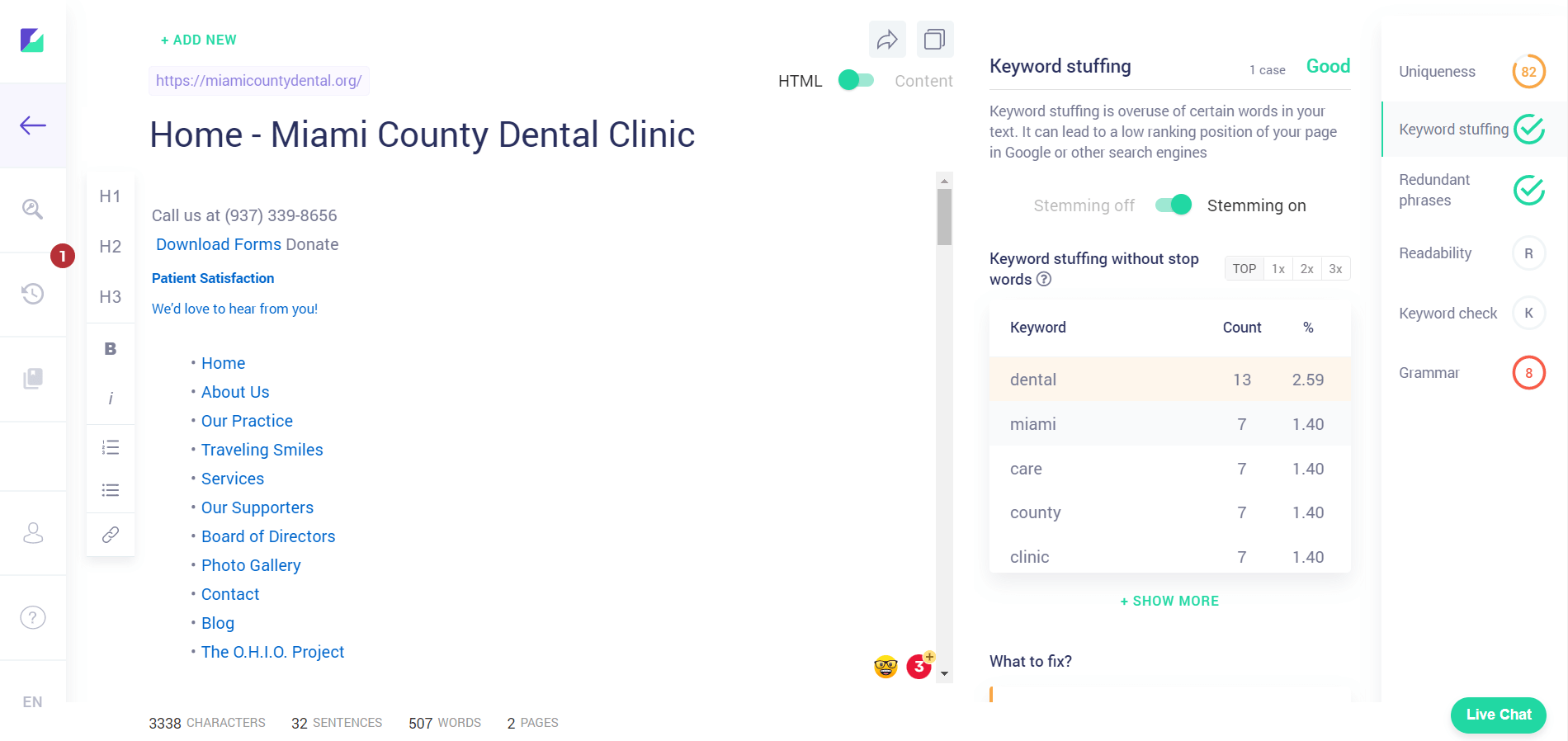 Monitor all Your Website's Changes 24/7
Another essential aspect of dental SEO is tracking any changes on your website, detecting technical errors, and changing the content if necessary. We offer a helpful tool for real-time website monitoring. This feature provides at-a-glance access to the latest changes.
For instance, if the Google traffic goes down or ranking positions have shifted, you will immediately get an alert about it.
Also, our monitoring tool is a great way to control SEO vendors' service efficiency and track their activity.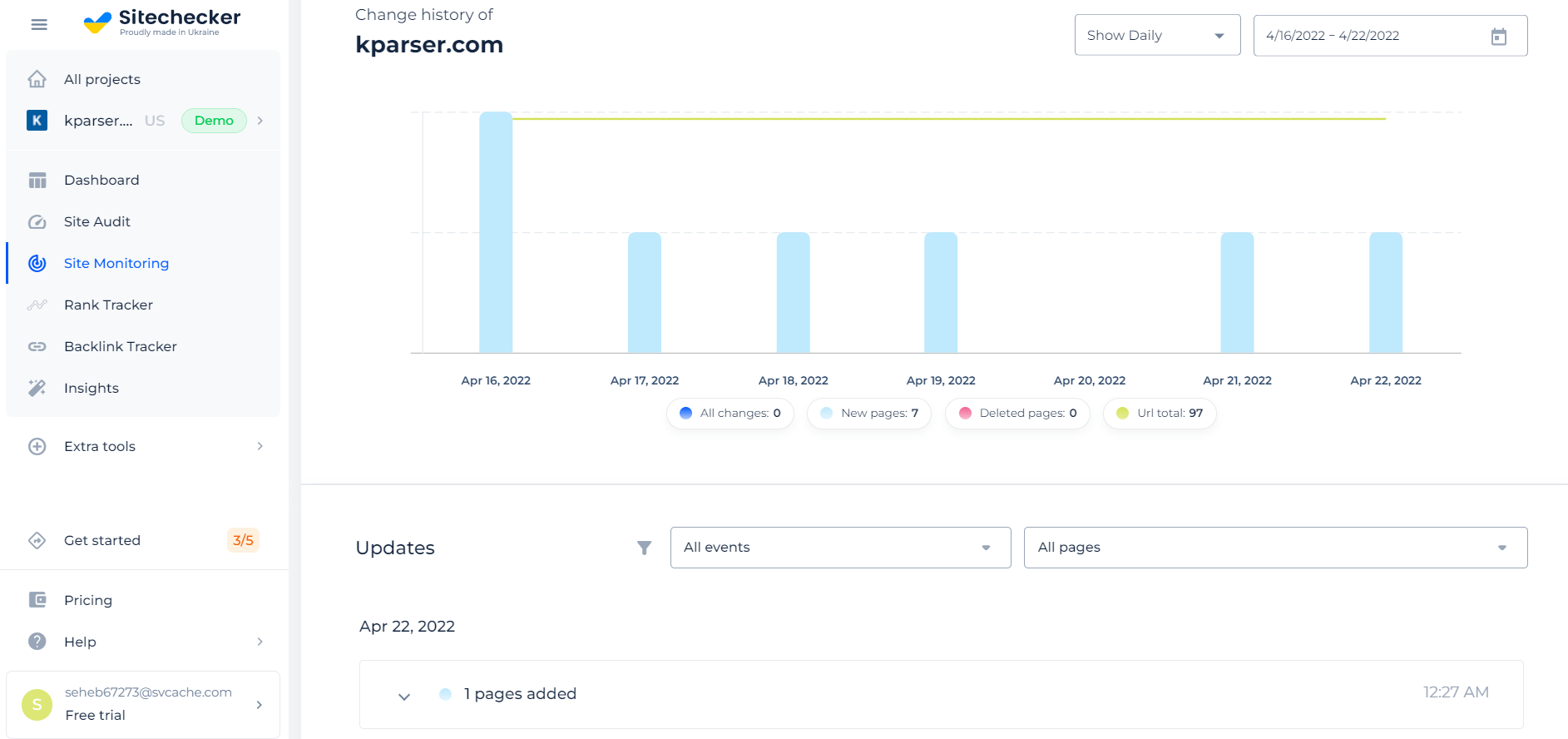 Building and Controlling External and Internal Linking
There are two main types of links that matter for your SEO strategy:
Internal links lead the users to other URLs on the same site. It can be a CTA, title,  link to your services page, blog posts, etc.
Backlinks are led from another website to yours. As many trusted domains link to your site that is better.
Internal Links
Internal links lead to other pages on the same domain and help a visitor or search engine find content on your site. Usually, the core of such a link is the anchor text. However, a good SEO strategy ensures that the surrounding content provides the readers with the necessary context.
Internal links considerably boost user experience, streamline Google crawling, and speed up website navigation.
Sitechecker allows tracking the efficiency of anchors and internal PageRank on your website. If working with a contractor, you can validate internal linking efficiency with our tool.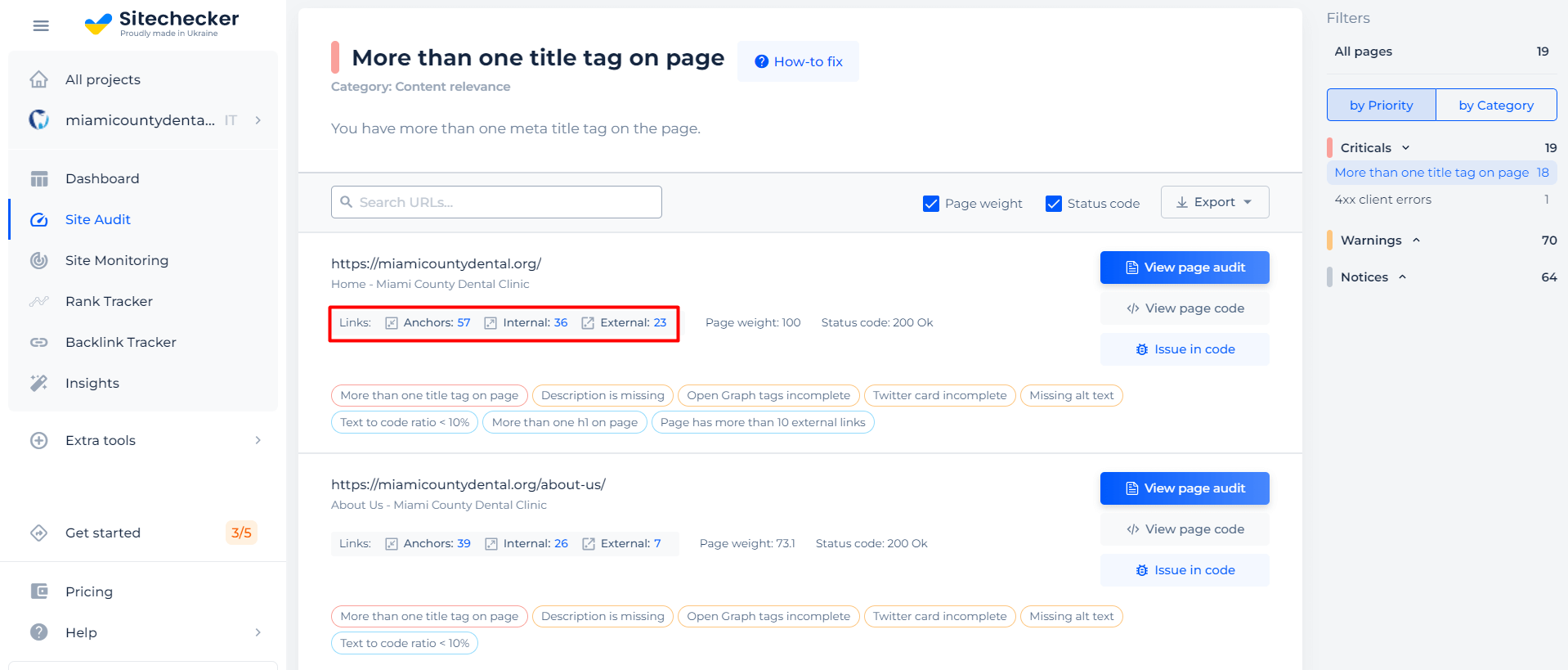 Backlinks
If internal links are just important, external links or backlinks are vital. They are placed on other domains and point back to your website.
External links' core role is to improve your ranking positions since they are more valuable for Google. That's because search engines consider the number and quality of your website's backlinks when it comes to ranking. And, of course, the priority here is given to trusted resources. Also, external links help the engine find your page for efficient crawling and indexing.
The factors that significantly affect ranking positions are:
Volume
Quality
Relevancy
Trust
External links fall into two types: follow links and no-follow links. The appearance of the nofollow tag emerged with a fast-growing spamming problem. Since Google introduced it in 2005, such links have lacked visibility to crawlers.
Besides, it's worth paying attention to domain ranking (DR) and URL ranking (UR). The DR term stands for the number and quality of domains linking to your entire website. In turn, UR shows the same indicators regarding a given web page.
Sitechecker offers a tool for checking domain ranking and enables validating page authority (PR) which can predict a particular page's ranking potential.
You can also track the efficiency of indexing and domain spamming with our convenient Backlink Tracker tool. It will help you or your SEO vendor collect all necessary information about your backlinks.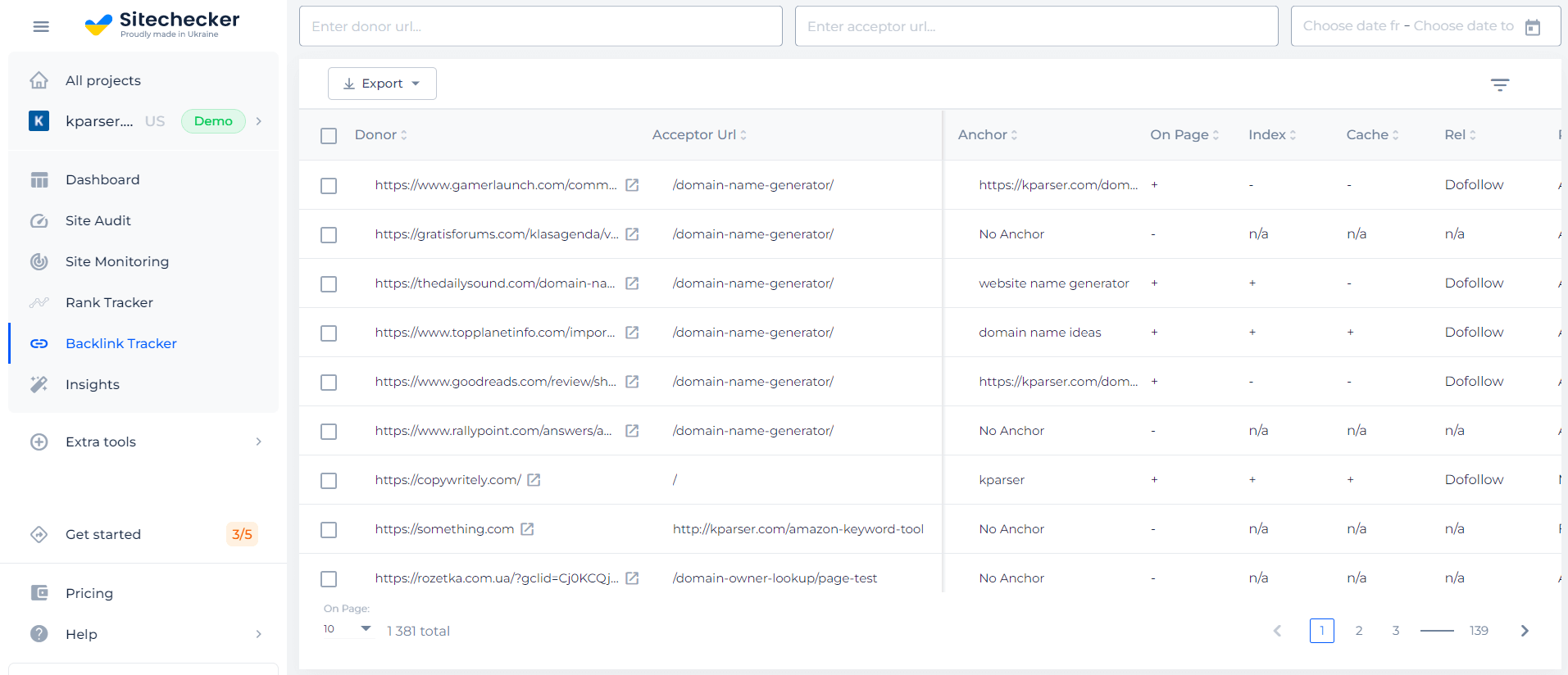 TOP Specific SEO Tips for Dental Niche
Now, we want to share several dentist SEO tips that can help you cope with the most critical aspects of local SEO and explain why you should care.
#1 Consider local SEO specifics. People who live near your clinic or office are your potential patients. This factor is critical in withstanding high competition.
#2 Adapt keywords and phrases to your area's specifics. Use "Geo-Modifiers" and conduct keyword research to determine how local patients search for a dentist on the Internet.
#3 Use citations. Take advantage of NAP (Name, Address, Phone number) information and directory listing. In this case, the users can call you if they need. Also, NAP boosts your trustworthiness.
#4 Create a Google Business profile. Google My Business is an excellent tool for attracting new patients. Ensure to update information, add relevant categories, photos, phone numbers, working hours, etc.
#5 Make your website mobile-friendly. Many patients go online to search for a dentist and make an appointment with their mobile phones. Such a move will make your website more accessible.
#6 Provide schema markup. This will help search engines understand and process the information on your website, so it will rank higher.
#7 Collect feedback. Contact your patients and ask them for a review by sending them a corresponding link.
#8 Benefit from External Links. Backlinks are the key to high ranking. Prioritize the links from reliable sources like industry events or local news.