You surely know that the roofing industry is highly competitive. It's also important to realize the importance of searching for potential clients in your local area — unless you have an international company that operates worldwide.
Your online presence and the ability to engage customers from the web are definitely on the success factor list. Everyone's searching for services on Google, Bing, or Yahoo. So, you should know if your website's doing well in the competition. Also, be sure: your competitors are using roofing SEO to boost their websites' metrics and convert a user into a customer.
Don't want to lose potential clientele? Strive to form even a bigger customer pool? Then, it's time to optimize your website's content. In this article, you'll find helpful tips on doing this and making you a successful business owner.
Besides, we'll tell you more about our advanced Sitechecker tool and how it can improve your annual metrics and online presence with no hassle. Ready to discover the best practices for your business needs? Let's go!
What is Roofing SEO, and Why is it Crucial?
In a nutshell, roofing SEO is necessary to improve your website's online appearance and make your page drive more potential customers. One of the crucial goals is to bring your website to the top three, five, or ten on the first page on Google, Bing, or Yahoo.
If you can't see your website on the first page of a search engine, this might be a bad call. However, no need to give up just yet. There's a plenty of ways to take your website to the next level, and we'll talk about them here.
Is SEO a Waste of Money?
No. One of the main roofing SEO pros is that they point out the weak spots and what you should add to your website content to make your business strive. You'll see it's a great return on investment after a short period.
Need more arguments? Read on to get a more detailed answer to this.
SEO for Roofer is Cost-Effective
SEO has become one of the most cost-effective digital tools on the market. It's flexible in price as you can pick whatever service or help you need. You know where the money goes.
The variety of options is massive. You could use the help of in-house employees (full-time or part-time), freelancers, or contractors. They design winning and advertising strategies that would suit your needs and budget. Finally, they provide services you specifically request for a particular task.
Usually, SEO services get paid differently: from a thousand to millions of dollars per month for full-scale projects, and up to a thousand dollars if it's some short-time task like competitor and keyword analysis.
Even if you can't pay much, it's still possible to find suitable SEO services to boost your online performance.
It Generates High-Quality Leads
SEO aims to boost your inbound process, allowing to generate leads of people 100% interested in your product or service. Therefore, you don't waste efforts, time, and money trying to reach irrelevant people who don't bring any value.
SEO doesn't require any additional marketing effort to engage potential clients. Instead, they organically land on your website and are more likely to convert into actual customers. It's way better and more effective than cold calls or email outreach. Consider roofing SEO lead generation while working on your marketing strategy.
Can I do SEO by Myself or Better Get a Contractor?
You may try both options to choose the most effective one. There are plenty of platforms like Fiverr or Upwork where you can source people. Also, don't forget about an agency and contractors as an option.
If you don't want to waste time on this, try setting up an award-winning campaign on your own. This may take a while but at the same time, you'll learn everything on the way.
However, if you're still not sure which option to choose, we'll try to help you out. Shall we get started?
Sitechecker is Your Personal SEO Assistant

Our Sitechecker tool is a new-generation service setting up great SEO campaigns with no extra hassle. It takes a few minutes to learn how it works. You don't need special qualifications to make use of it.
What else makes Sitechecker cool is its pricing policies. There are packages for individuals, startups, and enterprises. It also offers a free trial – you can test its best functions.
Our solution facilitates keyword research and helps implement proper SEO planning.
What are the main features?
Tech audits
Personalized instructions
Integration with Google Analytics and Google Search Console
Virtual Assistant
Website changes tracker
Positions and backlink tracking
Security checks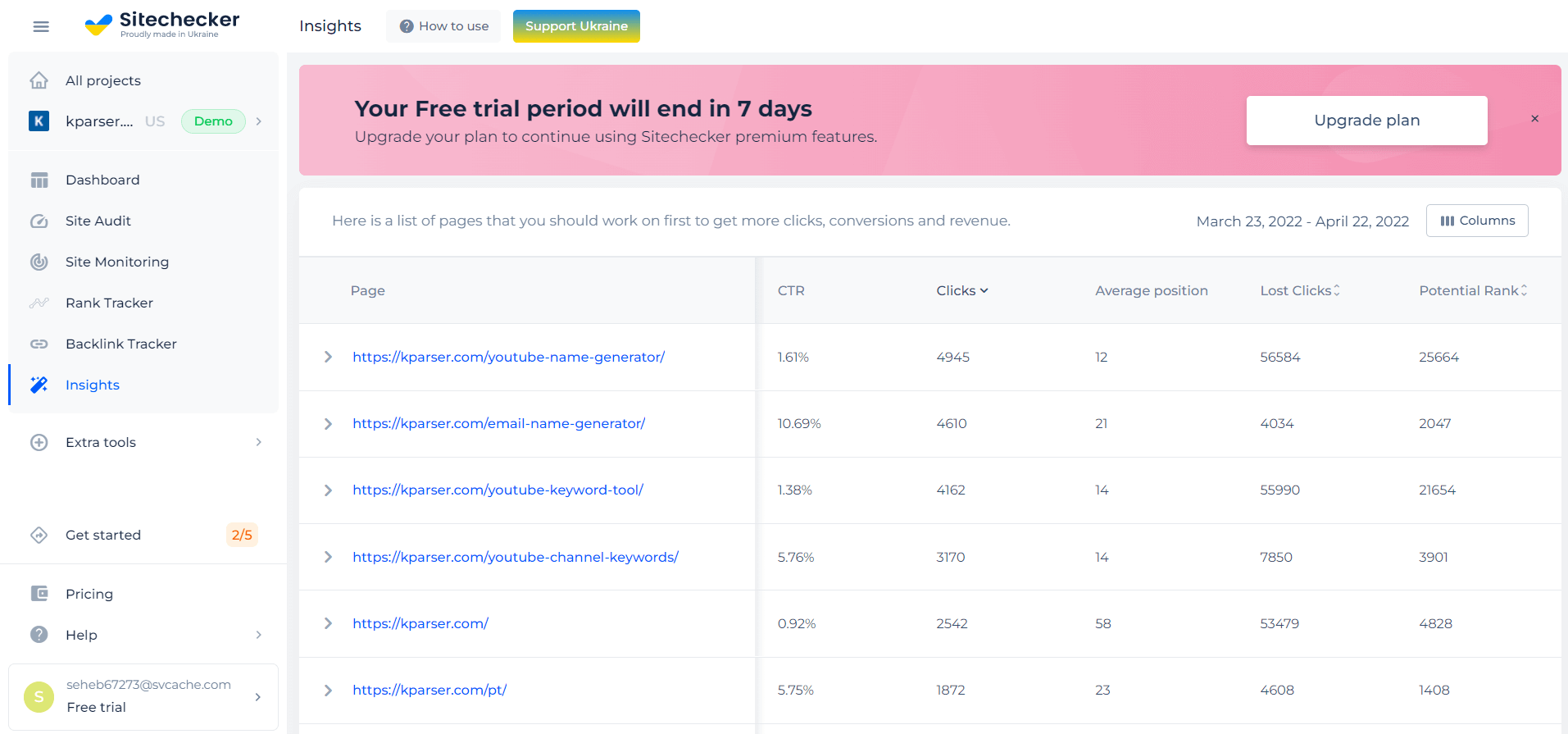 Pros of Using Help of Contractors & How to Control Them
Contractors get you rid of any SEO tasks. It's more time-savvy if you can't cope with all the marketing activities alone. Hiring industry professionals is good: they're skilled in exactly your area. People you hire will definitely know what suits your company best.
It's not always the top choice though. Contractors may work on other projects at once — hence, they fail deadlines and can deliver poor results. Some agencies simply don't know how to work effectively, and some of them turn out to be total scams.
If you want to avoid such troubles, Sitechecker will help you perfectly. You'll easily keep track of any website changes: its position, ranking, metrics, and so on.
TOP 5 Contractors for Roofing SEO Services in the USA
Looking for the best roofing SEO services in your local area?
This is where you can apply to get effective results in your roofing SEO planning, PPC campaigns, and marketing strategies:
Roofer Marketers. We look to bring over 15 years of digital marketing experience and combine that with our roofing industry knowledge to help roofing business owners reach new levels of growth.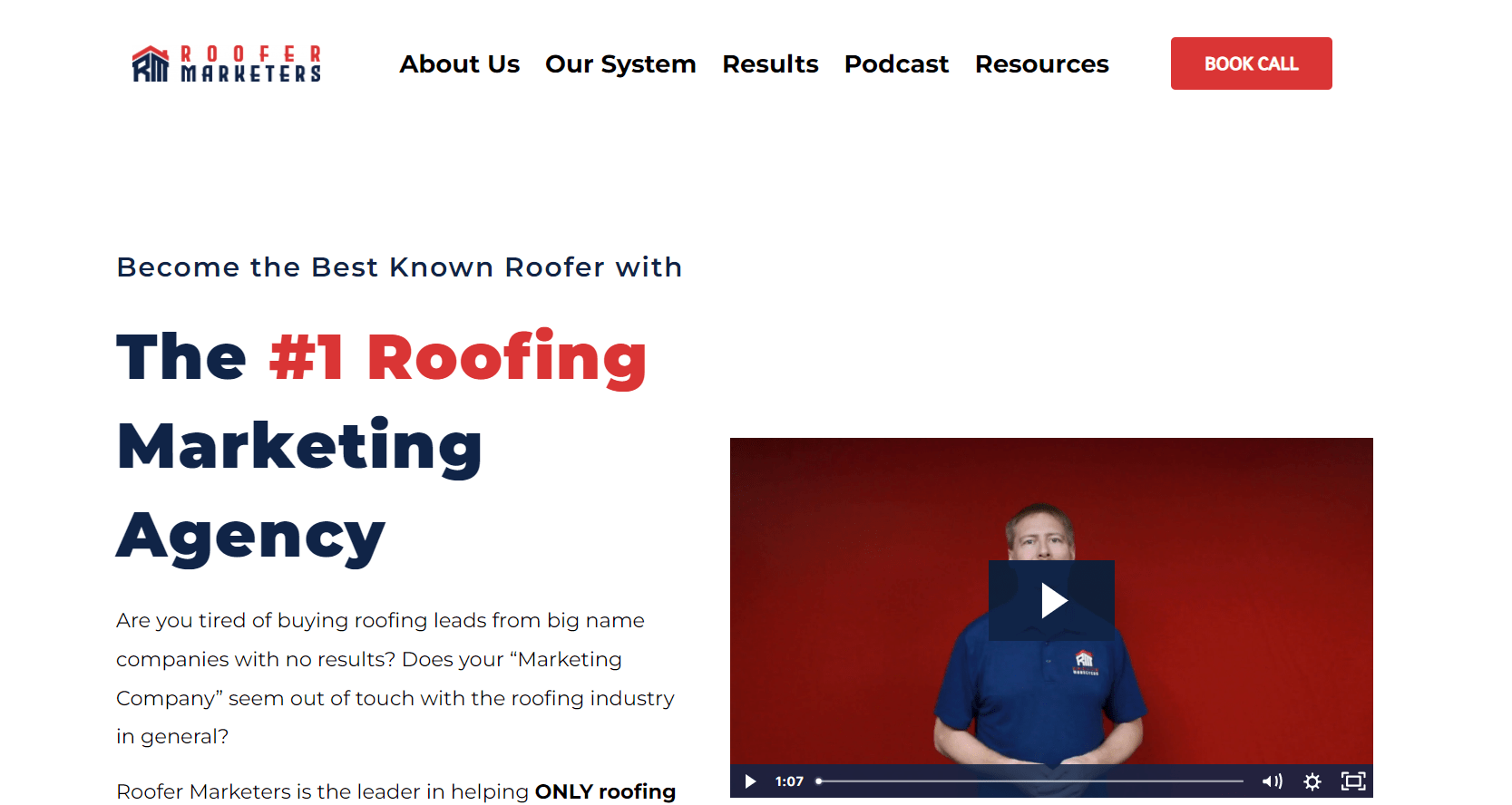 Black Storm. At BlackStorm we understand that business is a stormy environment and only the strongest survive. We'll do whatever it takes to help you crush the competition and give you the confidence to say "Bring on the Storm"!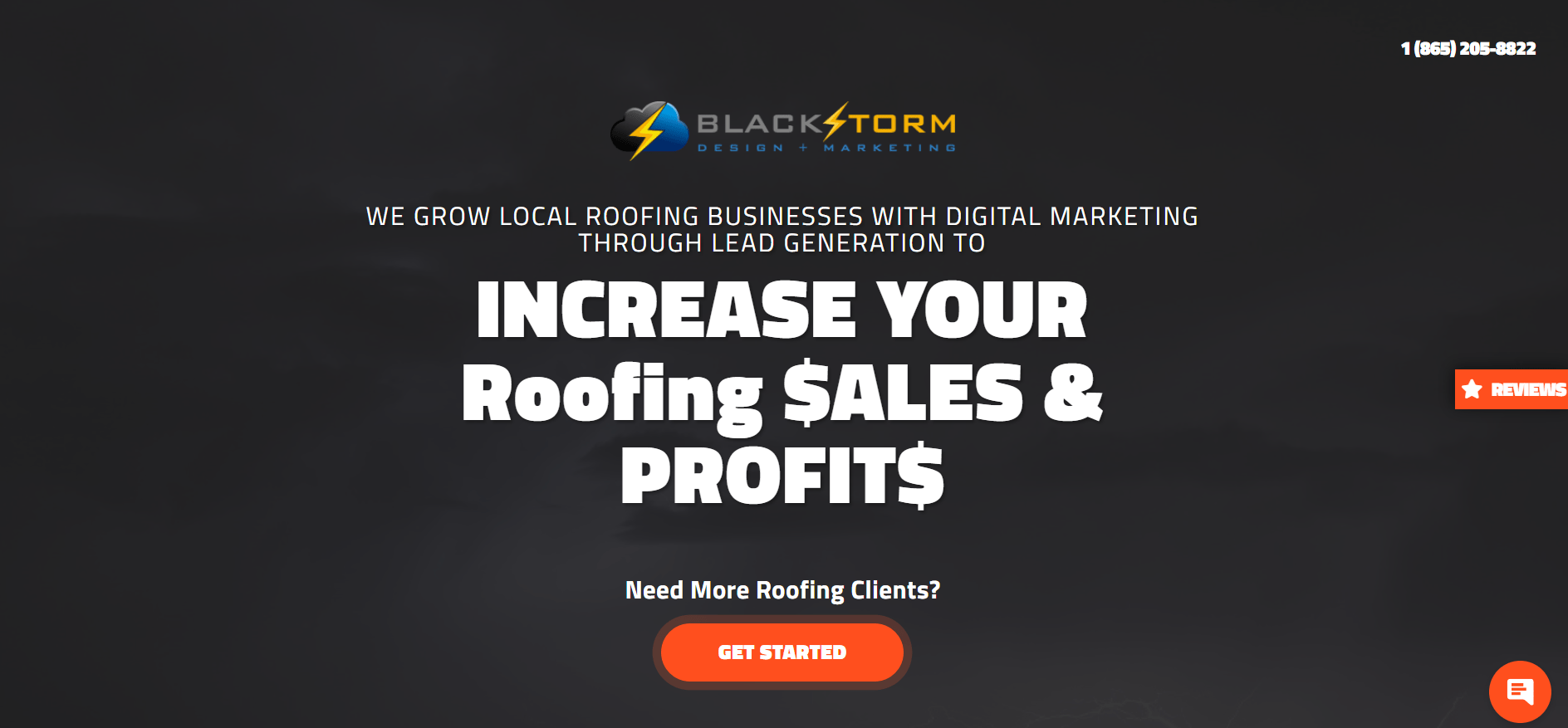 Roofing Webmasters. Is a full digital marketing agency for roofers. Our office locations are in Fort Worth, TX, but we serve the entire United States. With 15+ Webmasters on staff, we provide a diverse skill set that has proven effective for local roofing companies.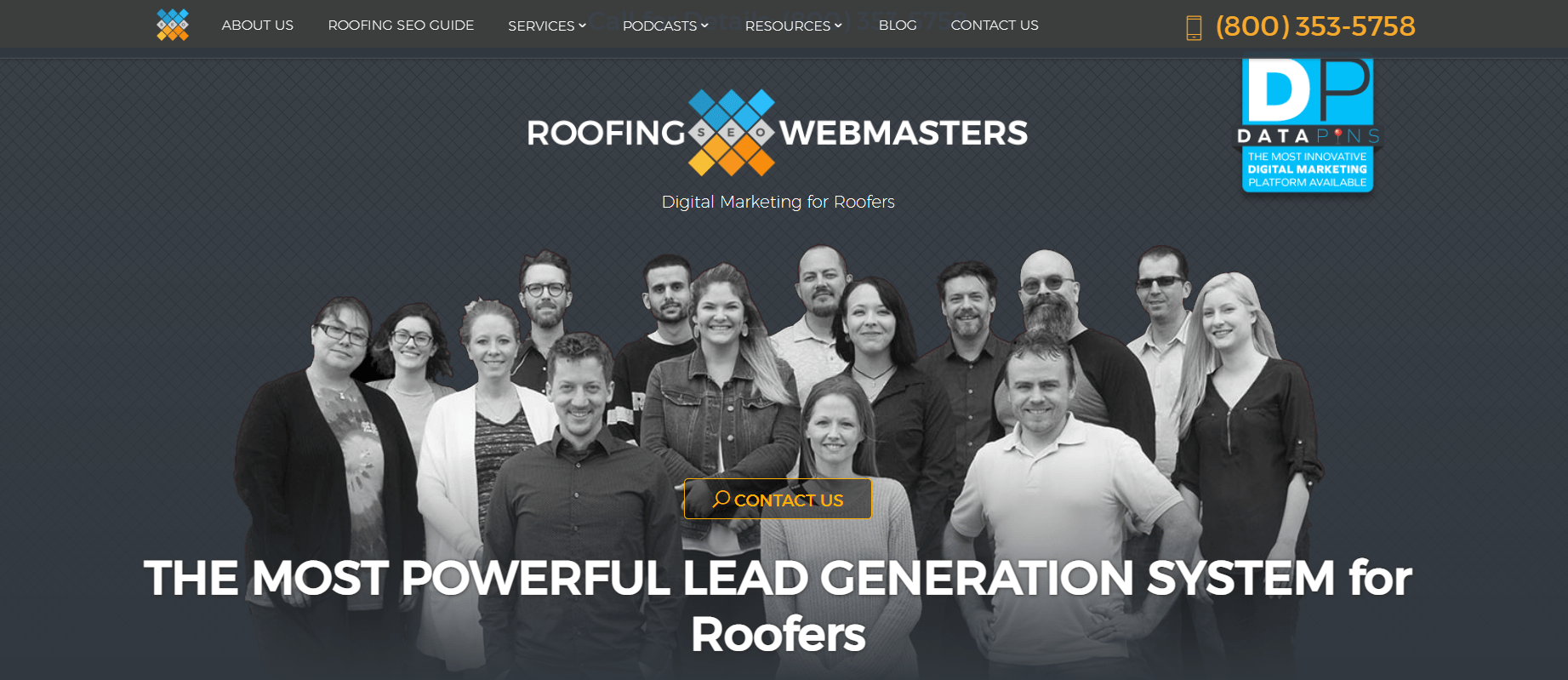 Roofer's Guild. Roofer's Guild is a roofing marketing resource for professional roofing contractors. Our owner, Mike Walker, has walked roofs with industry experts and helped companies market their companies for the past decade. As digital marketing experts and roofing industry specialists, we provide a unique perspective for newand tenured contractors.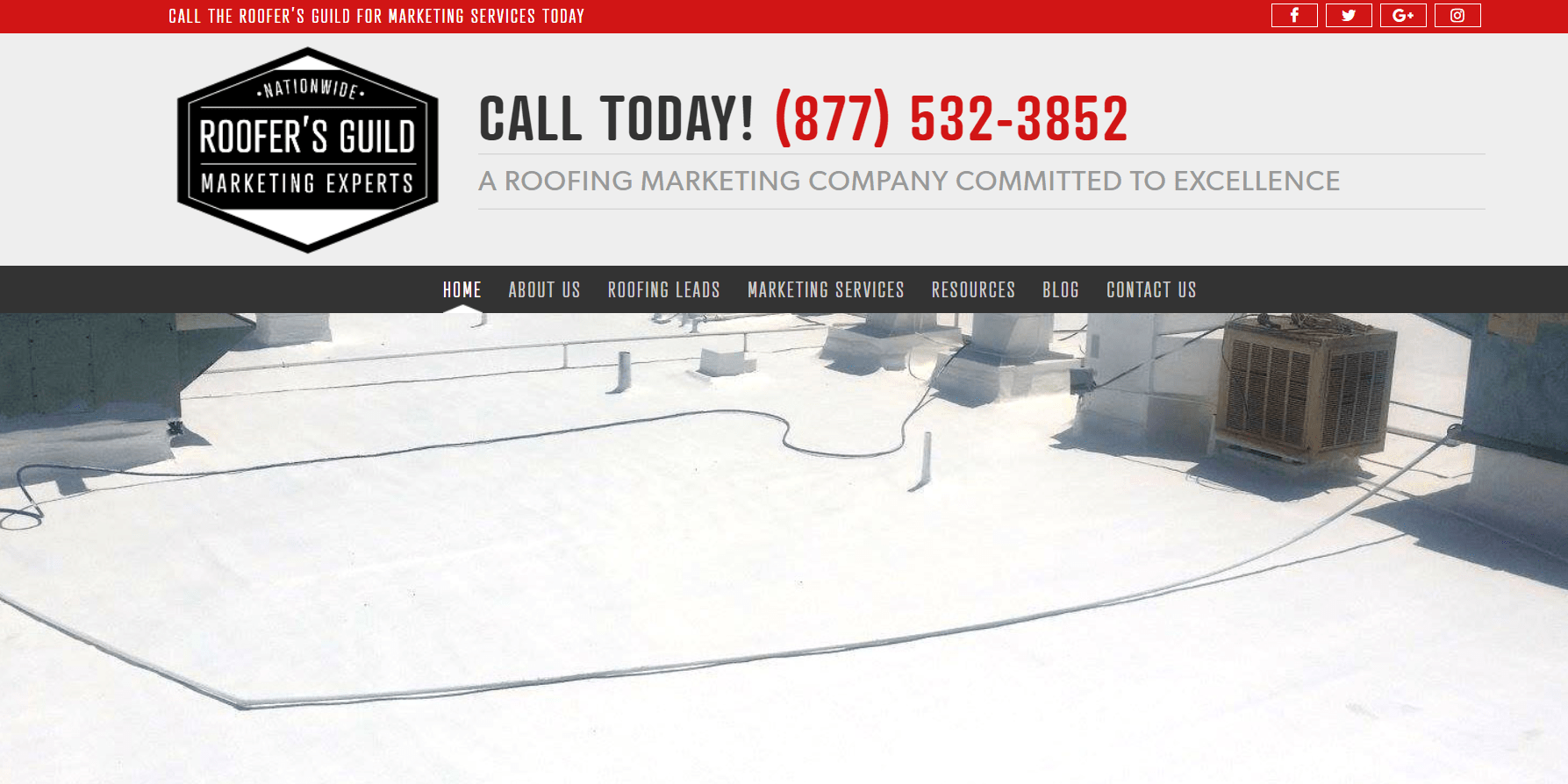 Roofing SEO Bros. When someone in your area searches for roof repair on Google, will your roofing company come up? Even when you have a good website or extensive social media presence, you may not be coming up in local searches, whether you have an established business or you're new on the scene.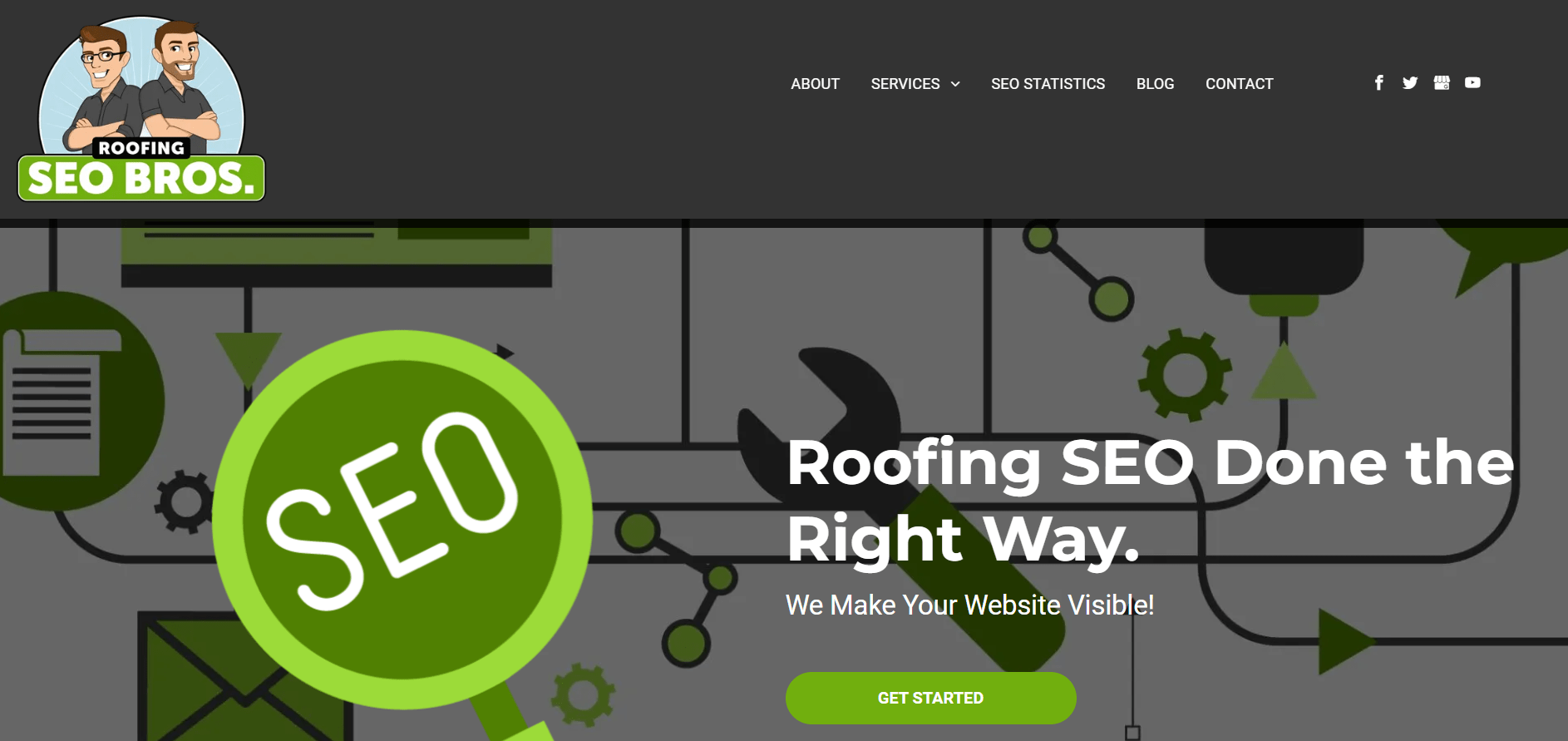 How to Make Effective Roofing SEO
If you're new to all this, we're here to help you out. This article will show you how to set up successful roofing SEO strategies. You'll also learn how to use Sitechecker to keep receiving calls from customers and see if your contractors are bringing results.
Website's on-page and technical SEO
Running a technical check-up is the first step in developing an SEO strategy. This analysis helps index your web page better and shows if there are any bugs you need to repair right away.
On-page SEO analyses website's content. You see if all the necessary keywords are there and if your site is well-optimized. Plus, you'll learn if the content you publish helps your page's UX. Without analyzing the on-page and technical SEO for roofing services, you won't be able to set up an effective marketing campaign.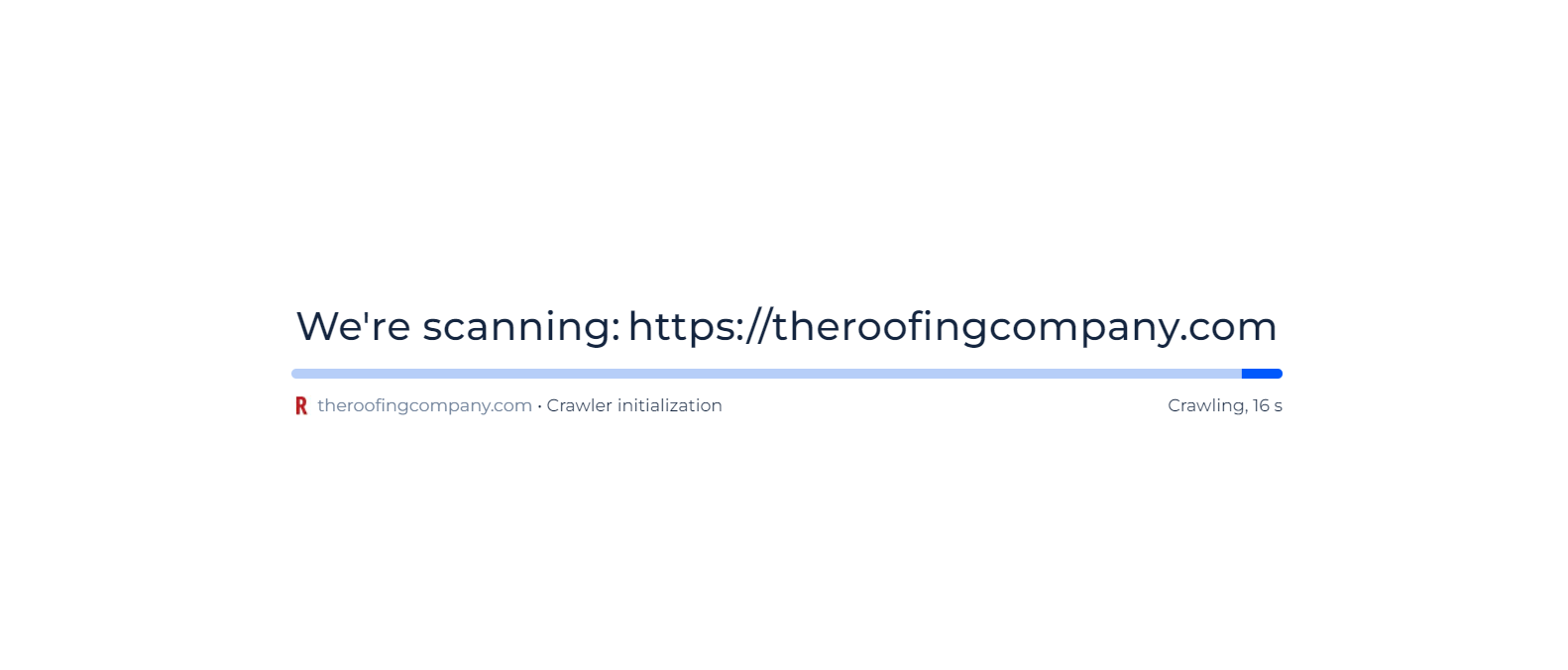 Our Sitechecker tool can run both on-page and website audit. Let us show you how it works!
Website audit for all pages
Our solution scans your website in just a couple of minutes. You'll see if there are any visible issues and get a detailed checklist on how to fix them.
Plus, you can set particular goals to get relevant audit results. It's a great replacement for external tools or contractors. Here's what you monitor your website for:
Bug checks
The website's health score
Fixing issues you don't want to fix
Getting instructions on fixing problems yourself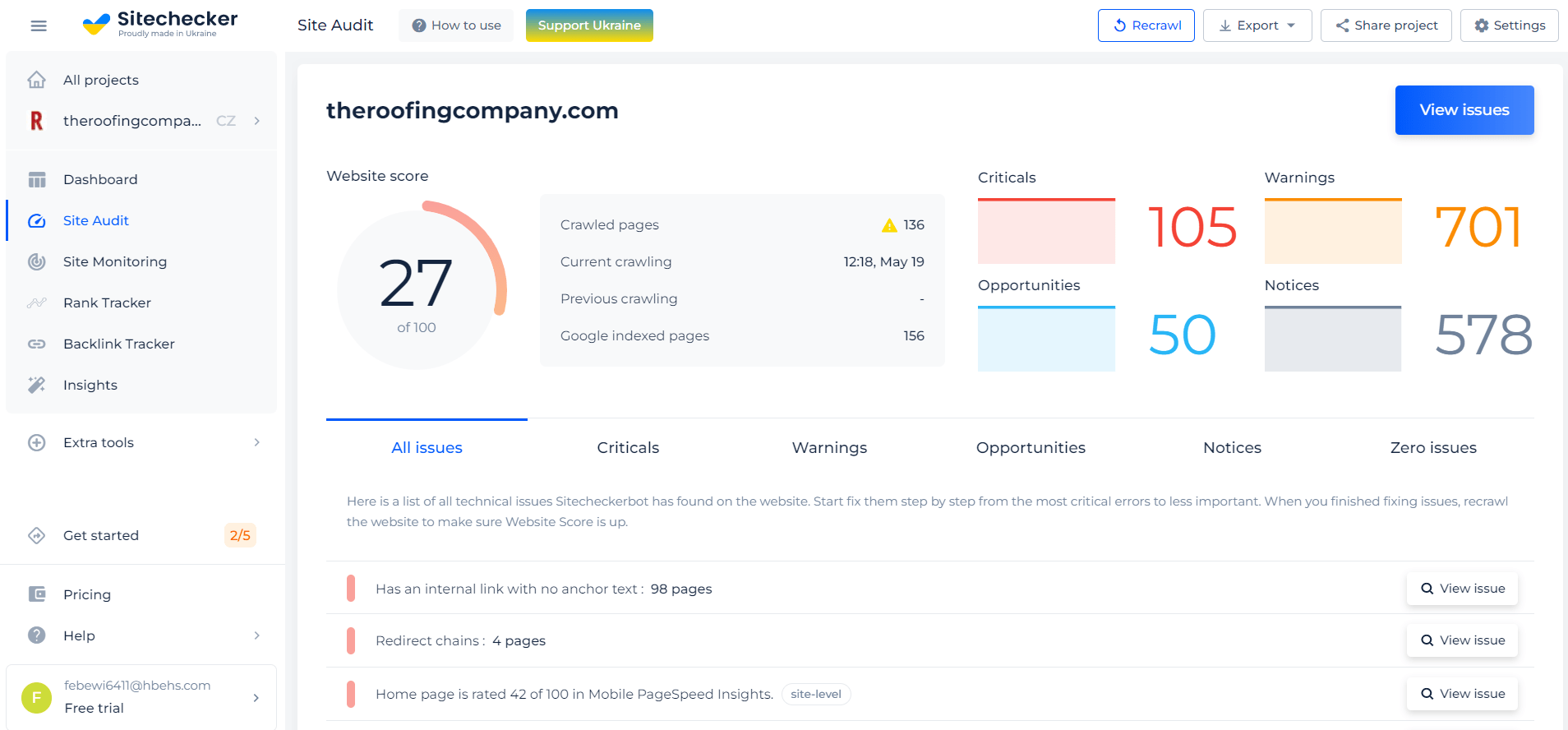 On-page audit for small sites
Sitechecker can also run an on-page audit for your internet page. This type of monitoring is ideal if you want to quickly scan your website to see if everything is working well.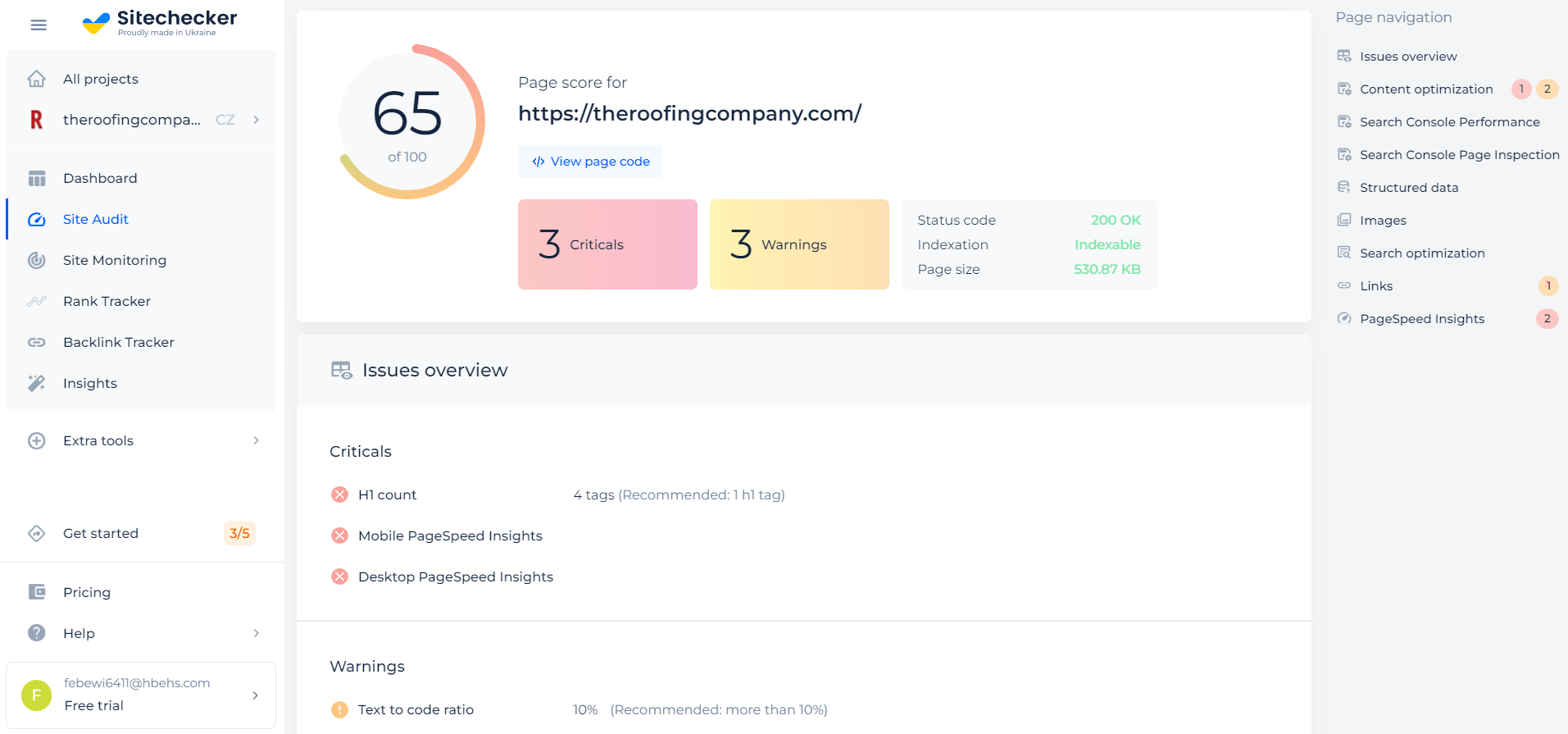 Plus, if you don't want to waste much time, you can add a Chrome extension. This will set up an on-page audit so you won't even need to leave the page. With this extension, you'll be able to check content relevance, existing links, images, and meta tags on a page of your choice.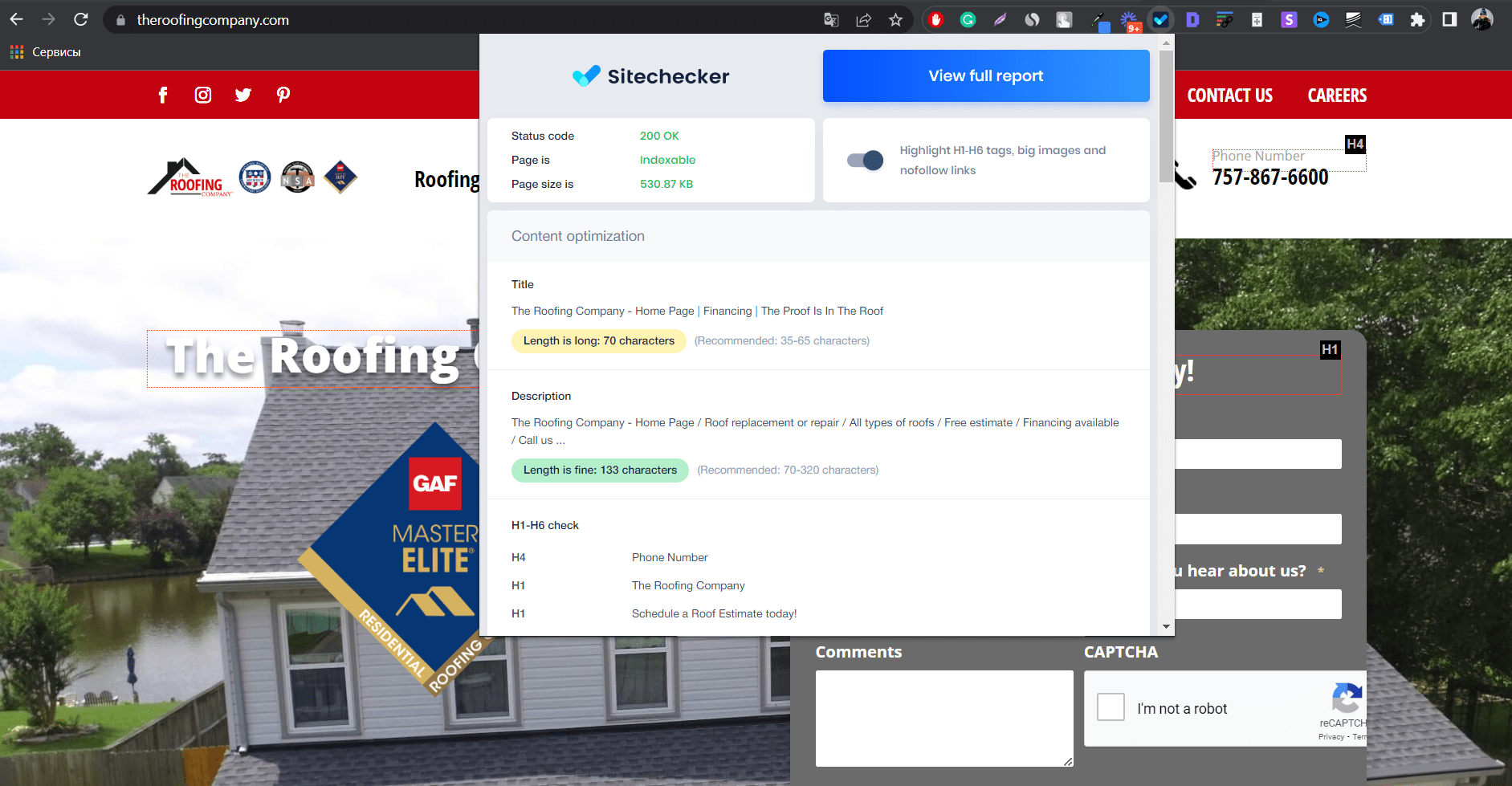 Using Data from Your Google Search Console and Google Analytics
These two tools are some of the most effective ones for receiving valuable insights about literally any metric your business might need to track. Plus, you get information on the target audience, their origin, and what should be improved right away.
However, you might easily get lost among these piles of data and analytics. Sitechecker will show you the most critical data to meet your personal goals and needs.
Having doubt if all the Analytics setups are working well? Use our GA Checker to make sure everything's fine. With this extension, you'll also be able to see your website's key metrics and how it's performing at the moment.
Is something wrong with installing GWT? This helpful guide can sort it out.
To make everything well set, connect your GA and GSC accounts. This will provide more precise data on your web page. Sitechecker will make it a lot easier for you!

Use Data from GSC
Sitechecker can easily add your Google Search Console dashboard. Why use GSC when you have Google Analytics? It helps you get more detailed insights on metrics and positions.
Our tool shows the following insights:
Top-15 keywords
Keywords on top 100 GWT
Site Indexation
External / internal link structure
Top-10 landing pages (including impressions, click rates, etc.)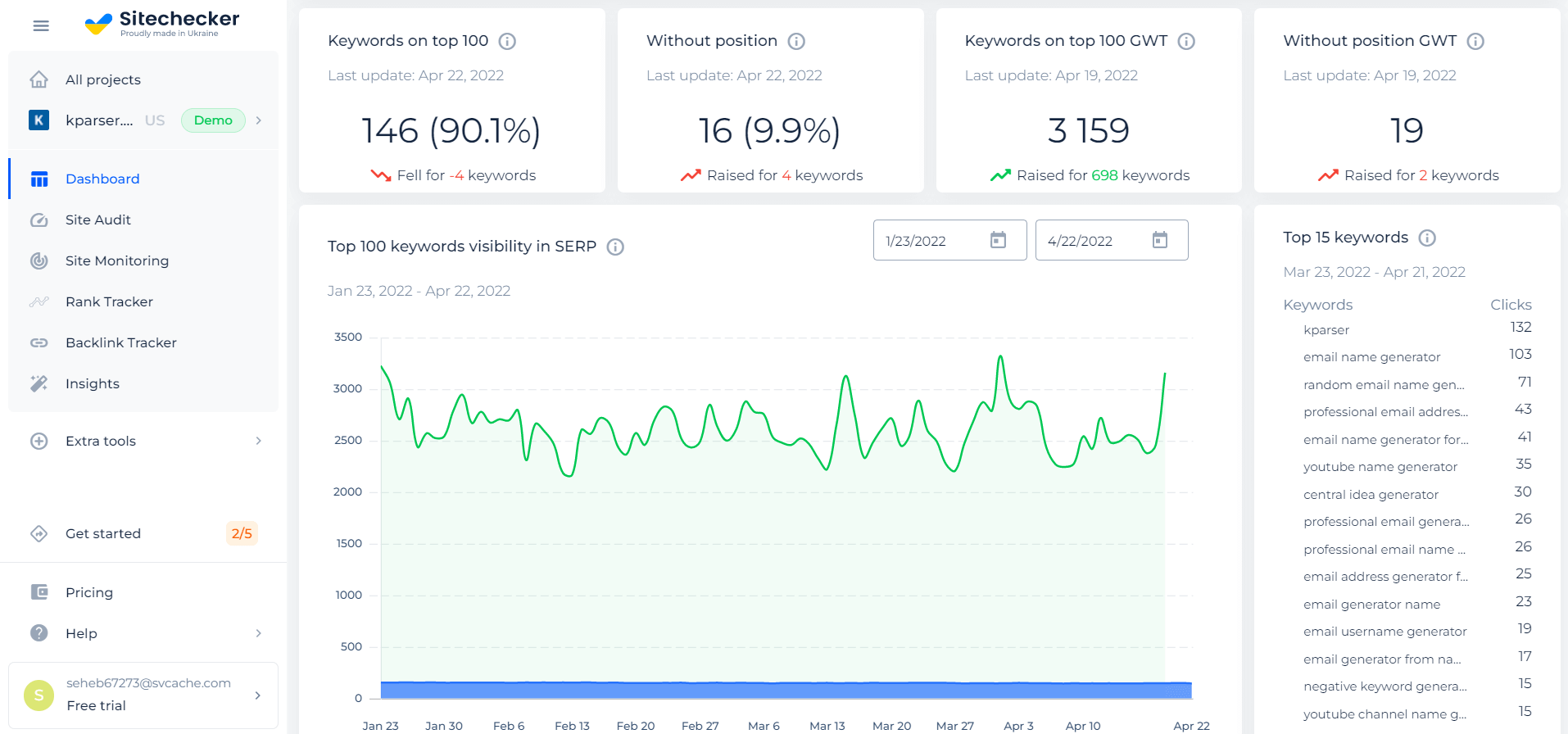 Use Data from GA
Apart from Google Search Console, Sitechecker also integrates your GA account right away.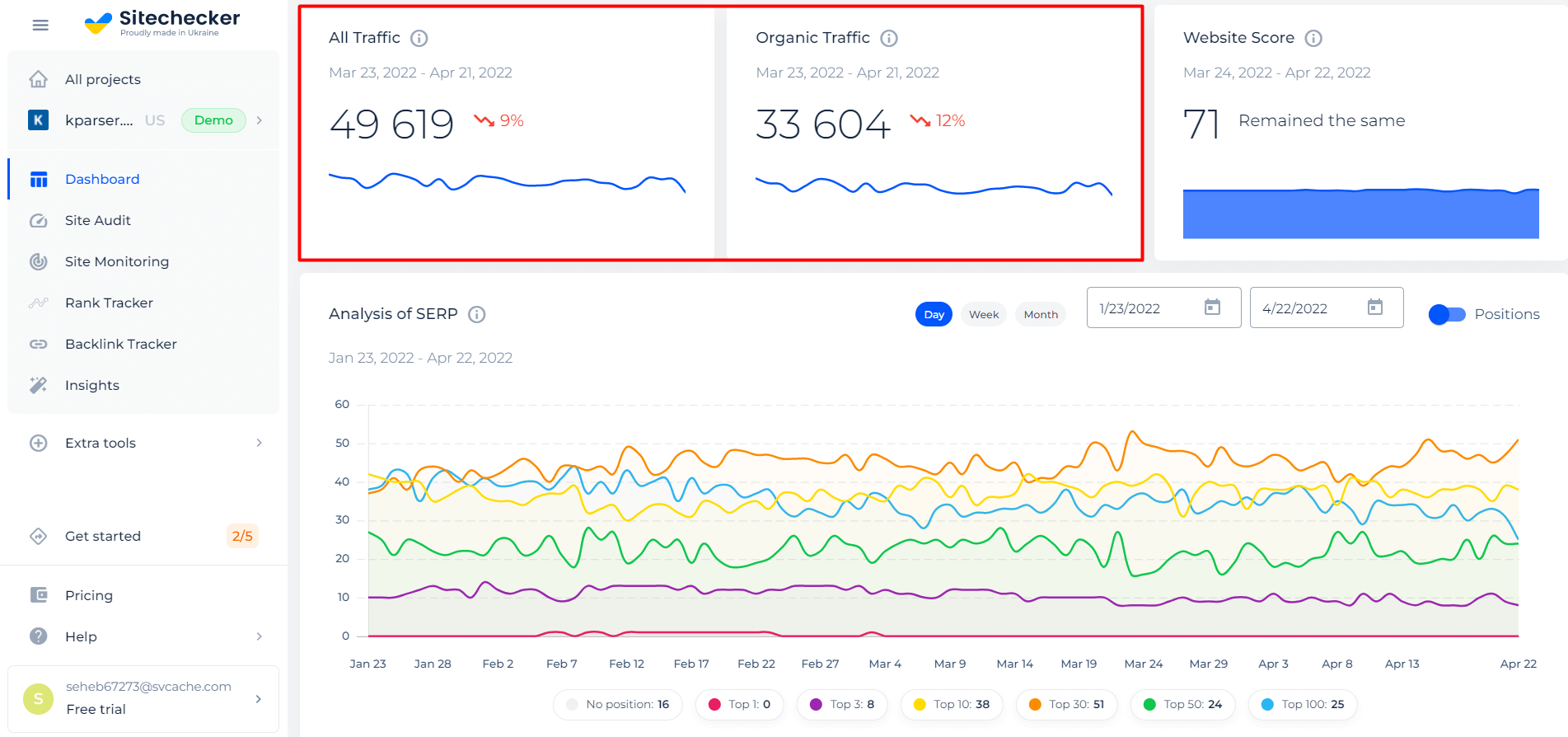 You'll see the stats on the overall and organic traffic growth, and monitor revenue, sales, and conversion rates with an eCommerce add-on.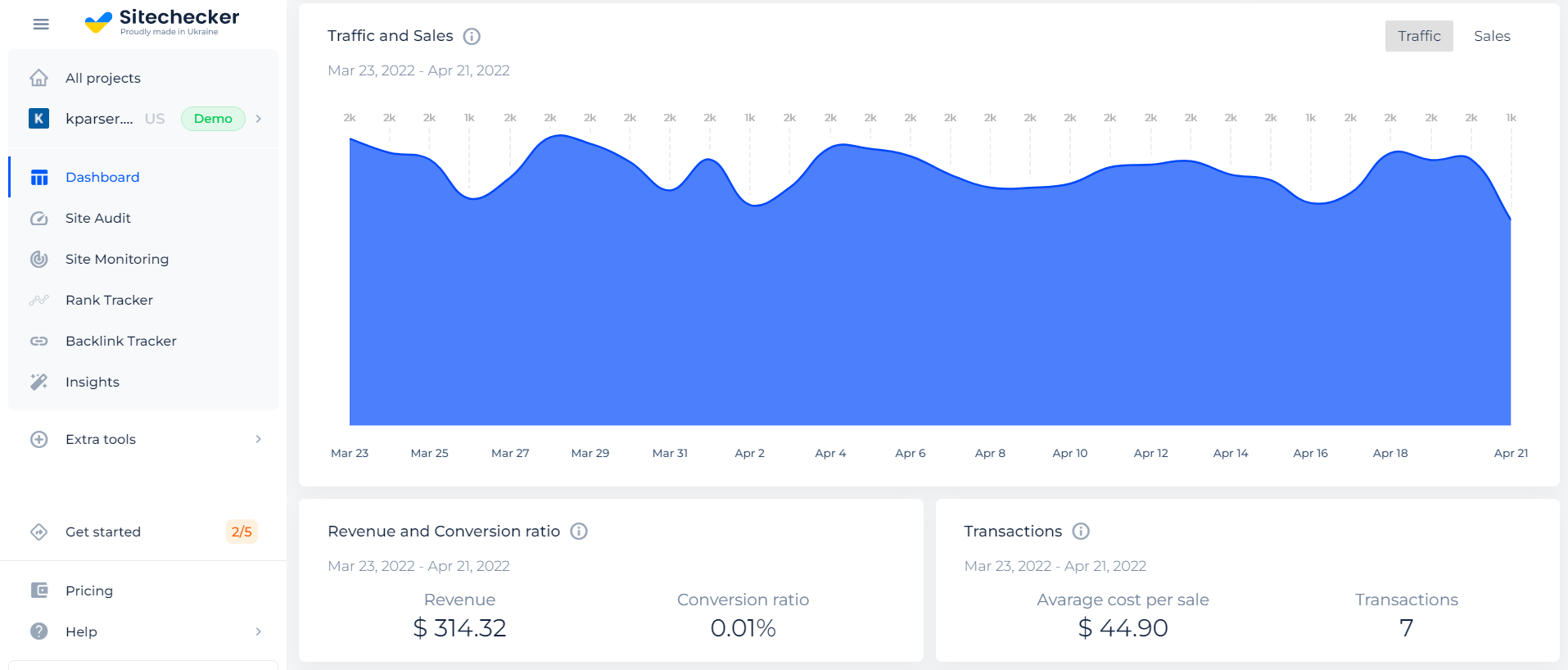 These basic metrics give you an understanding of the current state of things.
How to Get Keywords for Roofing Niche and Accurate Rank Tracking Them
There are two main types of keywords you'll use for proper ranking and content improvements:
Informational — they answer a particular question: "How to find a reliable roofing company"
Commercial — these give insights on actual products or services: "Metal roof mending services in Chicago"
Sitechecker helps you run proper keyword research. Here's a list of SEO services you can use together with our tool for better results:
Semrush
Ahrefs
Google Keyword Planner
Google Search Console (GSC)
There's also an integrated Rank Tracker that monitors Google, Bing, and Yahoo positions. The keyword research works for various devices and locations. With this tool, you can see the changes in keyword trends, their volume, and competitors' positions.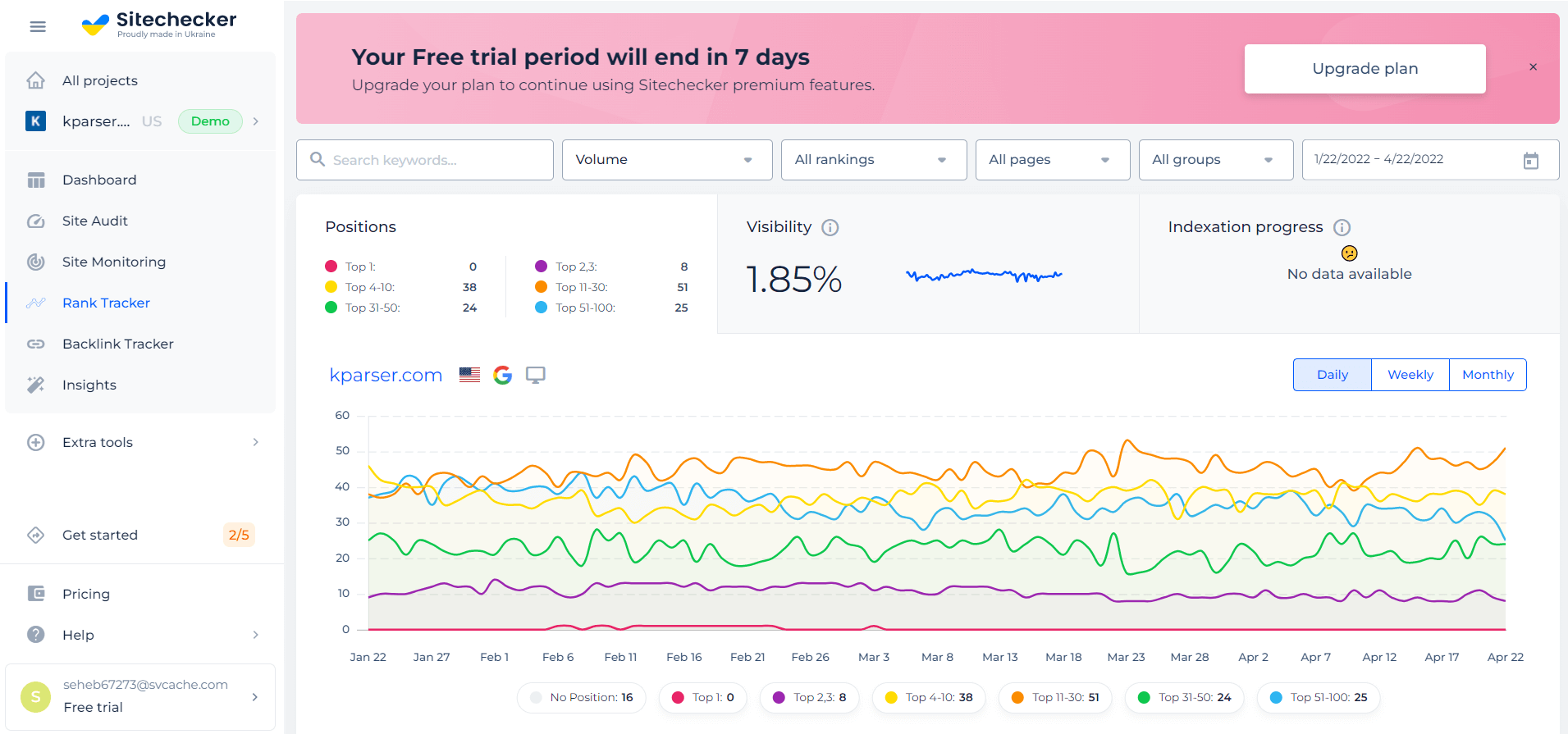 Add Keywords Manually or from GSC
With Sitechecker, you can manually add keywords from the Google Search Console dashboard. You'll receive insightful data on volume and positions in real-time.
Local Roofer SEO Keyword Tracking
Why consider local SEO when you can target the whole world? Well, it depends on your business.
If your roofing company operates in just one country or city, there's no sense in targeting worldwide audience — they simply won't be able to use your services. That's why local SEO is your lucky ticket. You'll rank higher than your competitors and drive more potential customers. It is always a great solution when you operate in a limited number of areas.
What ranking factors should you consider?
People's location
Google Maps' star rating
Reviews used in keywords
Number of check-ins at a particular place
Social media shares
Google My Business listings
Plus, here are some tips for trying local roofing SEO:
Google Map location to About/Contact page
Add location-related keywords on the landing page's hat (headers, headlines, etc.)
Insert around 2-3 keywords in the title
Your Google My Business profile should be as detailed as possible
Sitechecker will even help you track local keywords! The tool will target people with the prospects of becoming your actual customers.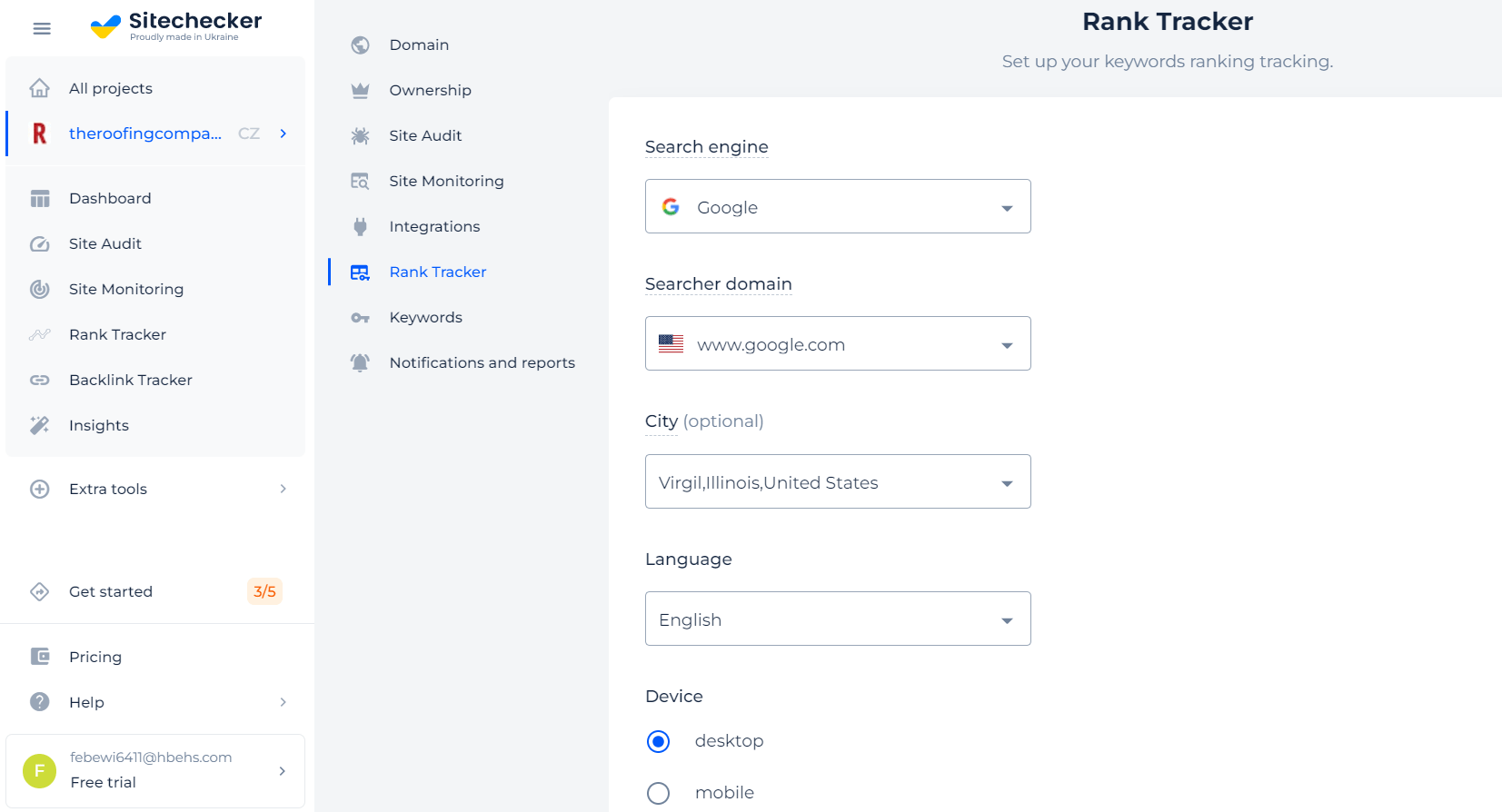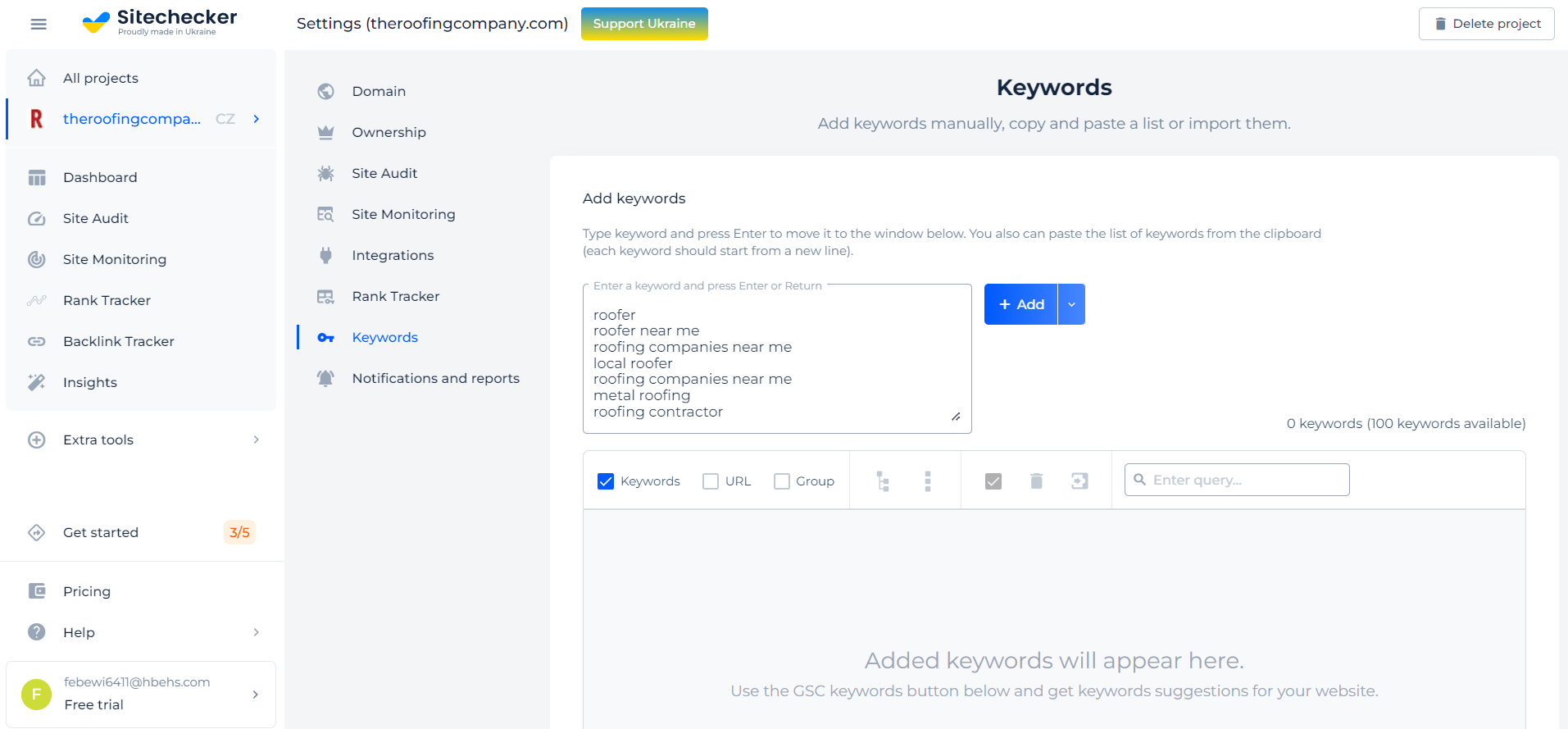 TOP 50 Keywords for Roofing Niche
To make your job easier, we've made the list of the top-ranking roofing-related keywords (in the USA). Feel free to use them an improve your website's online presence and performance. The keywords are from Ahrefs (it paid, but you get them free) with information about Value and Keyword Difficulty. Keyword Difficulty (KD) is a calculated estimate of how difficult it is to rank in the top 10 organic search results for a keyword on a 100-point scale. Value – an estimate of the average monthly number of searches for a keyword over the last 12 months of observation. You can use them to track your website's ranking or deepen your field knowledge. Also, recommend you use the keyword with your business location.
| Keyword | Keyword Difficulty | Volume |
| --- | --- | --- |
| roofing companies near me | 43 | 89 000 |
| roofing | 79 | 65 000 |
| metal roofing | 59 | 64 000 |
| roofing company near me | 43 | 42 000 |
| roofing company | 38 | 63 200 |
| roofing contractor | 64 | 38 000 |
| roofer | 51 | 34 000 |
| roofing near me | 49 | 24 000 |
| roofing contractors near me | 50 | 20 000 |
| metal roofing near me | 33 | 18 000 |
| best roofing company near me | 45 | 17 000 |
| roofer near me | 39 | 13 000 |
| roofing repair | 47 | 6 400 |
| local roofing companies | 31 | 5 200 |
| best choice roofing | 7 | 4 500 |
| roofing services | 55 | 4 000 |
| local roofing company | 30 | 3 800 |
| elite roofing | 37 | 3 800 |
| local roofer | 37/td> | 2 100 |
| metal roofing cost | 32 | 2 000 |
| commercial roofing company | 52 | 1 800 |
| metal roofing contractors near me | 31 | 1 800 |
| price roofing | 35 | 1 700 |
| roofing repair companies near me | 26 | 1 600 |
| quality roofing | 30 | 1 600 |
| all seasons roofing | 35 | 1 500 |
| guy roofing | 4 | 1 400 |
| quick roofing | 2 | 1 300 |
| commercial photographer | 12 | 1 500 |
| roofing cost | 57 | 1 200 |
| food photographer | 12 | 1 200 |
| metal roofing company | 72 | 1 100 |
| perimeter roofing | 4 | 800 |
| home advisor roofing contractors | 21 | 800 |
| local roofing contractor | 37 | 800 |
| best roofing | 63 | 700 |
| guaranteed roofing | 19 | 700 |
| local roofing | 27 | 700 |
| how much does roofing cost | 52 | 700 |
| how much is metal roofing | 33 | 700 |
| local roofing contractors | 48 | 700 |
| commercial roofer | 12 | 600 |
| best roofer | 48 | 600 |
| master roofing | 14 | 600 |
| roofing repairs | 55 | 500 |
| slate roofer near me | 18 | 300 |
| best local roofer | 43 | 250 |
| certified roofer | 30 | 250 |
| cemergency roofer | 3 | 200 |
| super roofer | 1 | 150 |
| find a roofer | 50 | 150 |
Content Creation
You can't plan any SEO activities without content. So creating valuable, well-optimized information for every page is your task number one. In these terms, think of hiring a content writing team and a manager or editor to control the quality.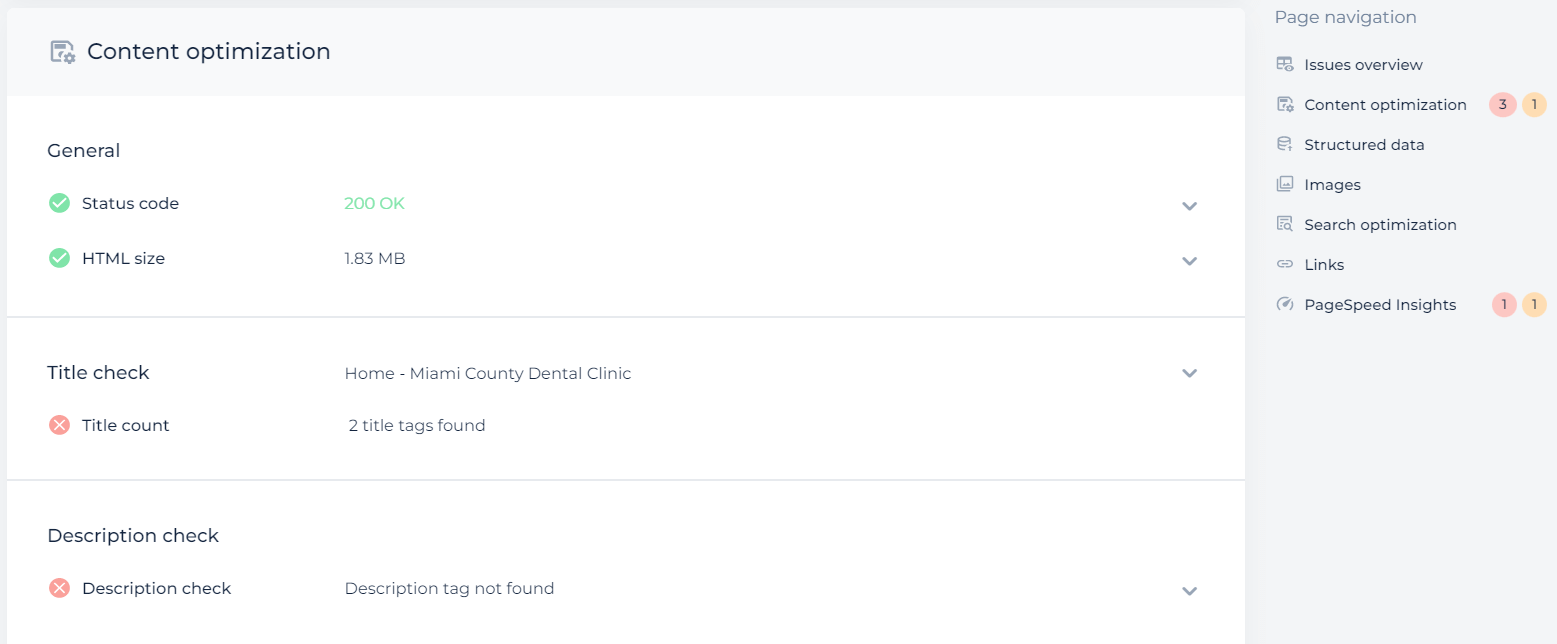 But, if you want to figure this out alone, Copywritely will help you out. The service can scan and measure both separate content chunks and the whole page. In addition, you can integrate Sitechecker's on-page audit to monitor every change instantly.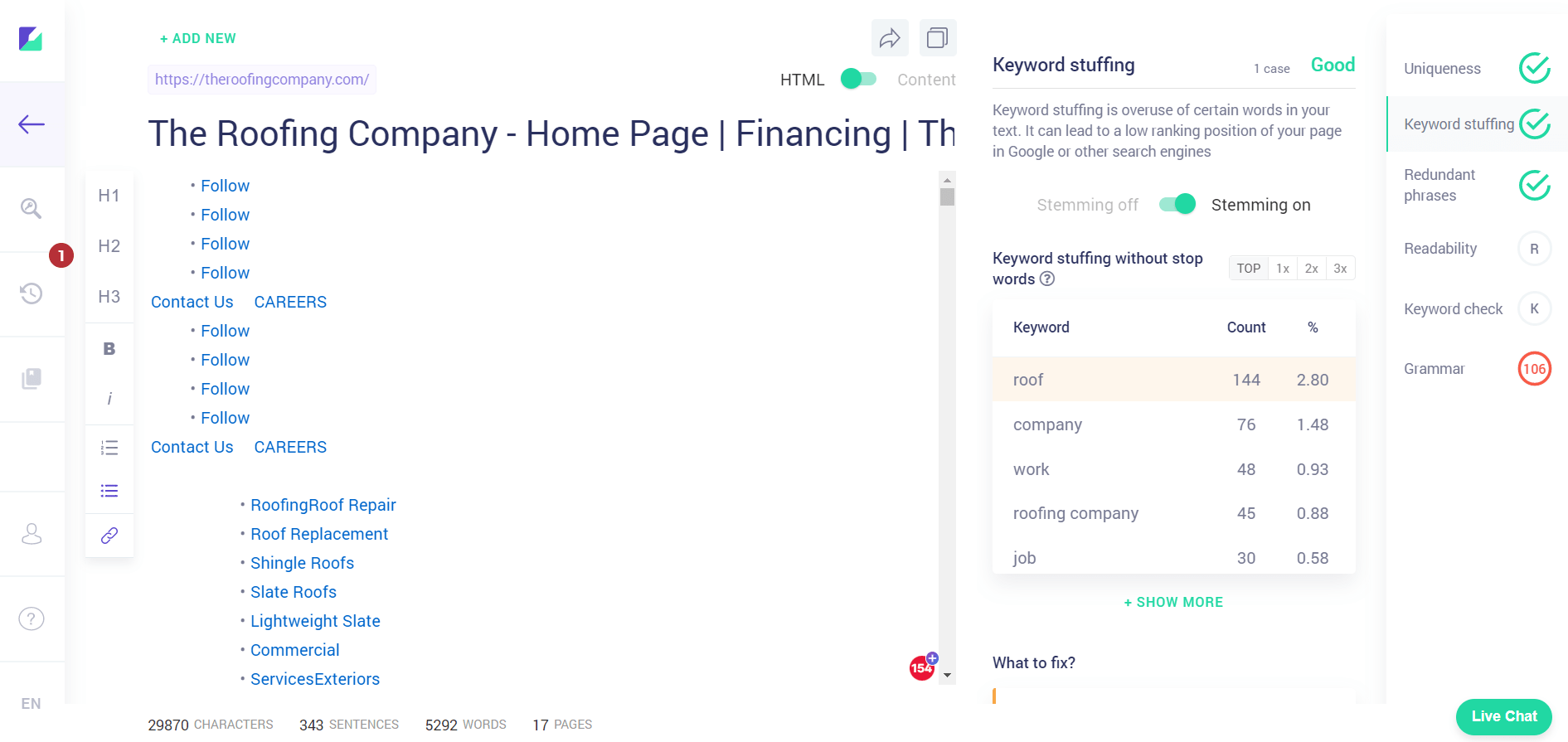 Monitor All Your Website's Changes 24/7
It's vital to keep track of what's going on with your websites. Regular position and ranking check-ups are an essential routine of your SEO strategy execution.
However, you don't need to spend a whole day tracking your page's performance. Sitechecker's user-friendly live monitoring will help you out instead! It shows all the changes instantly so that you can react to them right away. The add-on also sends you alerts — for example, if the traffic declines or your website changes its position.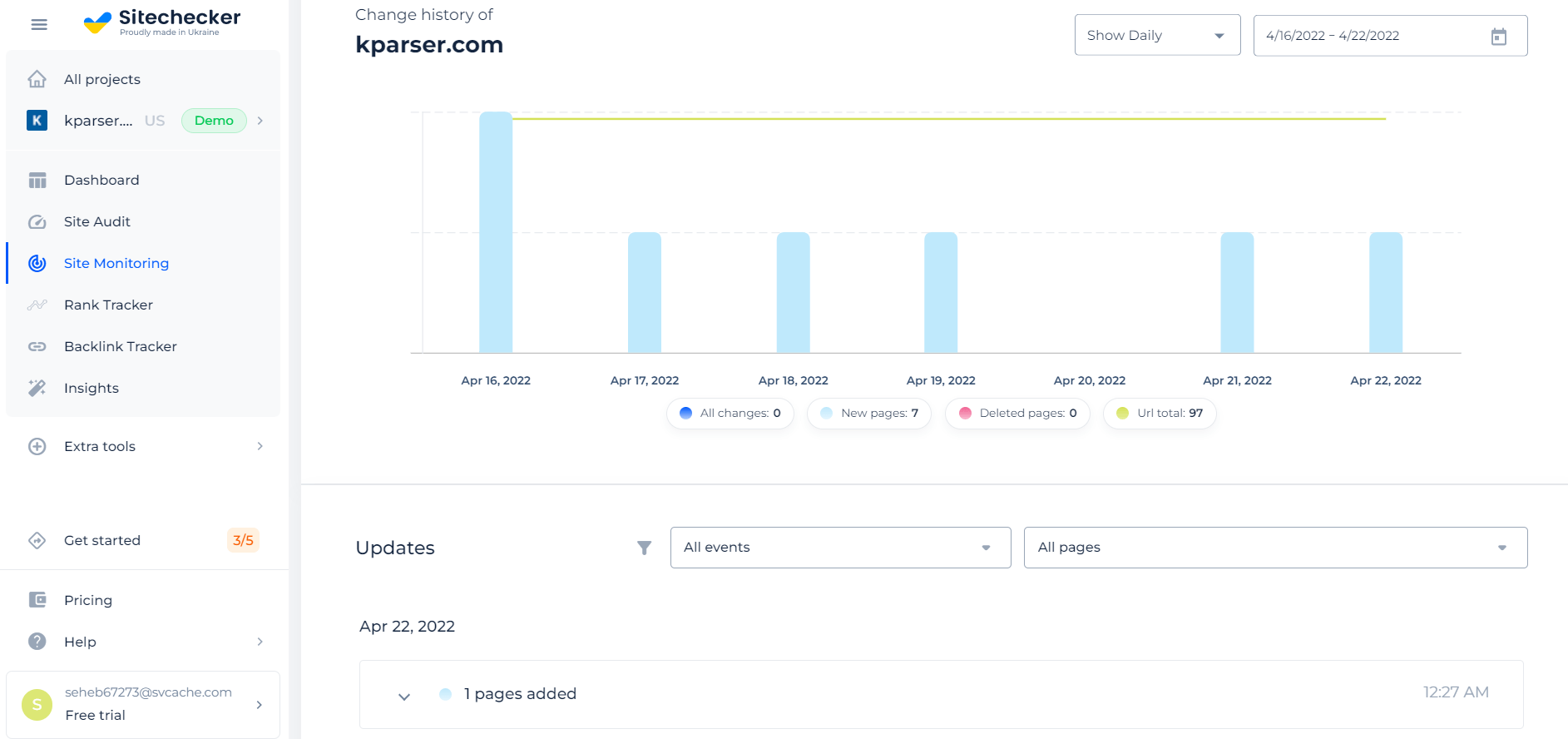 Building and Controlling External and Internal Linking
To raise the effectiveness of your SEO strategy, don't forget to use these two types of linking:
Internal — it brings visitors to a new URL on the same website (blog section, CTA, product page, etc.)
Backlinks are led from another website to yours. As many trusted domains link to your site that is better.
Why would you need that?
Internal Linking
Internal linking comes in handy if you need to find certain information on a page faster. Make sure the surrounding content has relevant context to make it more effective. Internal linking also makes website navigation easier and enhances the UX.
Sitechecker helps you see if it works well on your website. For example, internal linking shows the effectiveness of anchors together with the internal PageRank system. It's a perfect way to see if the work done by a contractor brought positive results.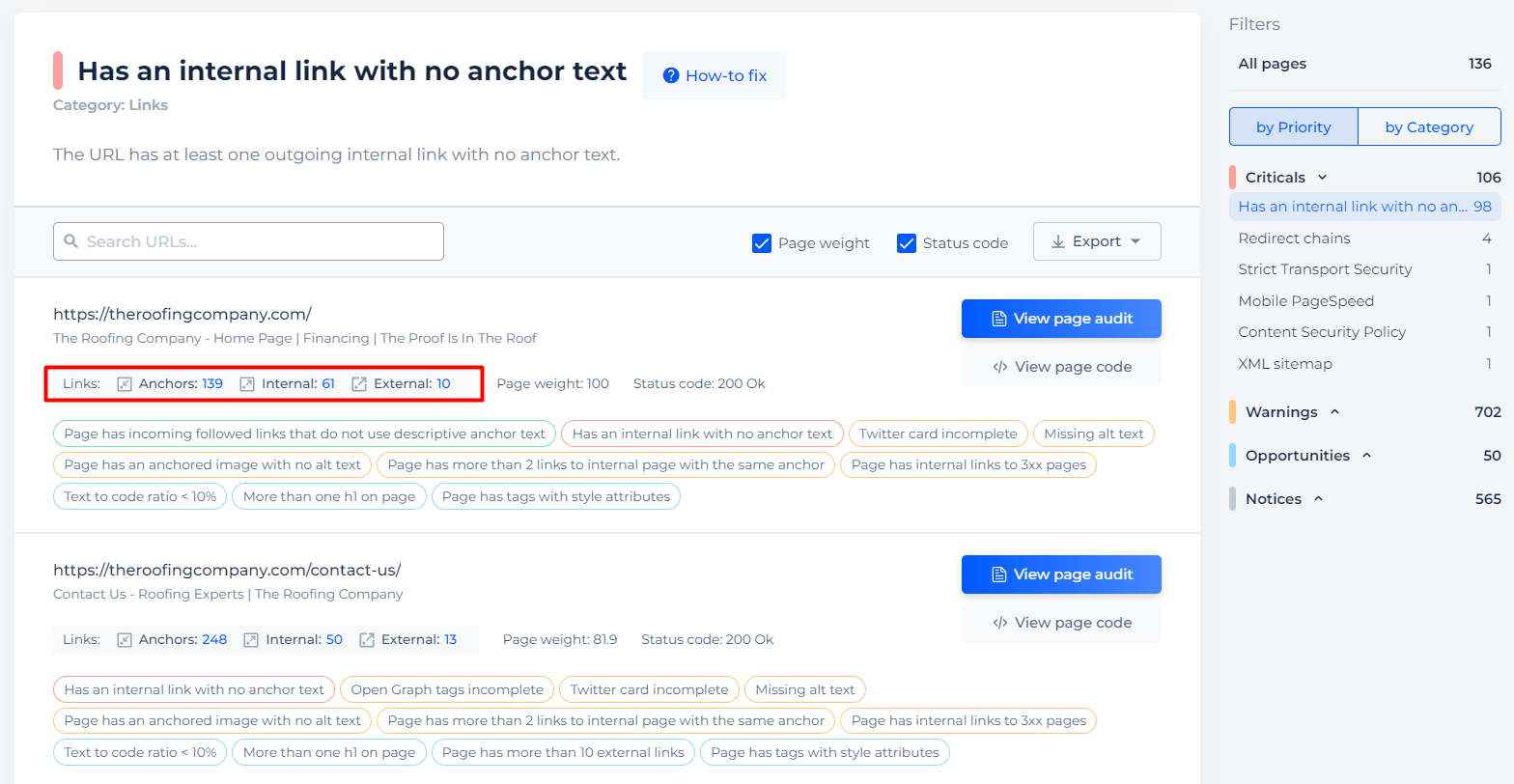 Backlinks Linkbuilding
Placing external links on reputable sites works well only if a page is highly ranked and includes content relevant to your niche. Nevertheless, it's a great source of free traffic and a way to improve your ranking.
Here, consider the domain and URL rankings:
DR shows the number and quality of domains linked to the whole website
UR shows the same data but for a particular page
Sitechecker can determine domain ranking and page authority with the help of separate add-ons. Plus, it offers a Backlink Tracker to get more insights on the links you have on the website, spamming rate, and the effectiveness of indexing.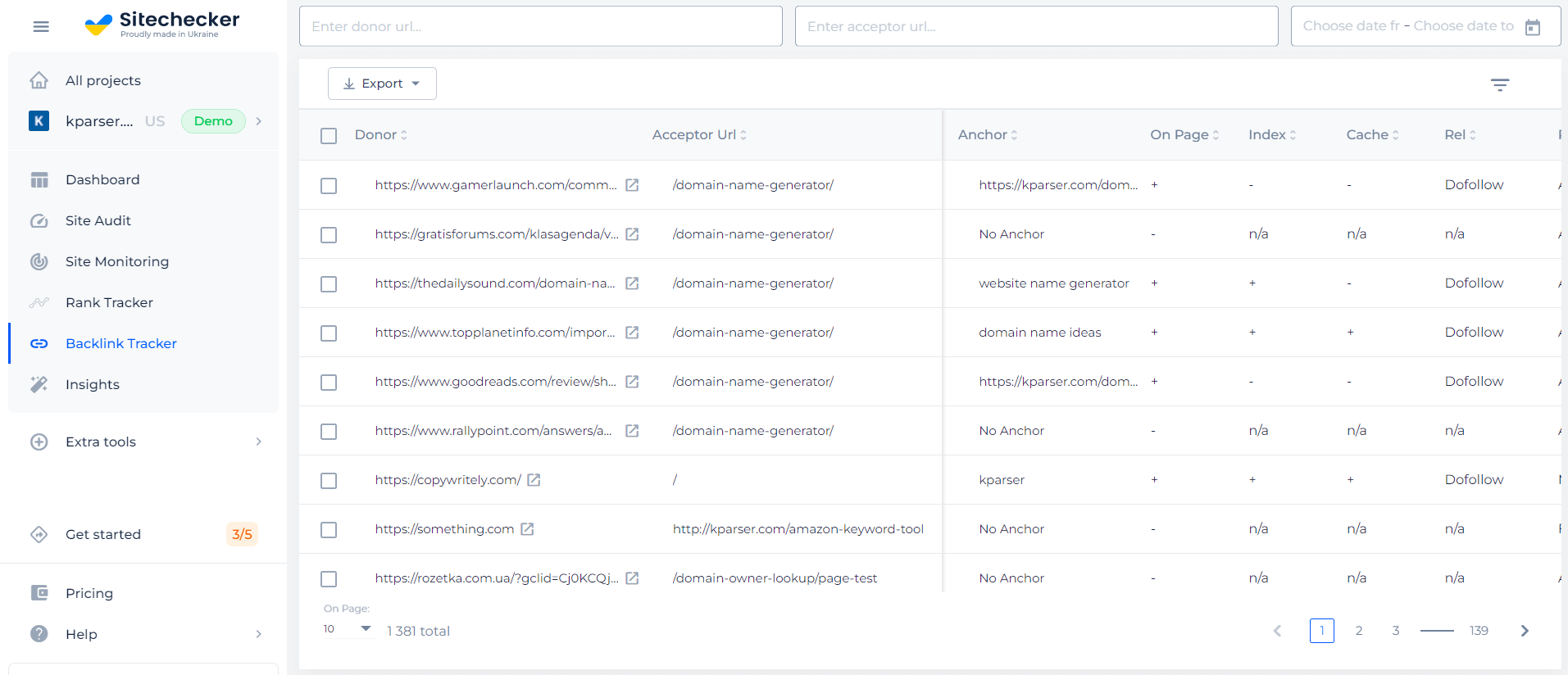 TOP 8 Specific Tips for Roofing niche in SEO
As a bonus, here are some tips to skyrocket your roofing SEO action plan:
Do local directory listings. Try to get as many top reviews as possible. Listings help Google decide what to put at the top of the maps.
Add a meta title and description to all your main selling service pages. Then, use Semrush, Ahrefs, or Google Keyword Planner to include the highest-ranking keywords.
Make videos for all your top service pages. They help increase on-page time and give more insights into what you offer.
Make use of the guest posting. If a website has a high DR, ask the editors if you can create a guest post for them and link back to your service page. This brings extra traffic to your website and helps it rank higher.
Write 700 words for your service pages. Add an FAQ section. Try to explain your service as clearly as possible.
Get at least three long guides for your website. For example, a 3000-word guide for your how-to section will help you encompass more keywords or topics and increase the on-page time.
Install Yoast SEO. It improves the indexing and helps remove duplicate content in just several minutes.
Extra tip: mind the E-A-T guidelines. Expertise, Authoritativeness, and Trustworthiness are the metrics that shape your website's quality.
If your page's E-A-T doesn't look well to you, use some of the advice below:
Run the fact-checking for any content to build a white reputation for it
Try getting as many mentions by reputable websites and bloggers
Hire qualified experts to work on branding and growing trust
Don't forget to share your contact details like a company's name mobile phone number, email address, etc.
Set up a Wikipedia page
If you're not sure about what you'll do to skyrocket your roofing SEO, here's a quick tutorial to help you out: