Page authority (PA) is a ranking term from MOZ that predicts how well a particular page will rank in search engine results. A particular page's authority score ranges from 1 to 100. Keep in mind that high scores mean a higher potential to rank.
The page authority of your site or that of your competitors is based on information from the search engine index and takes dozens of criteria into account. Like domain authority, this ranking uses machine tools to compare sites to each other more effectively. It is a relative indicator, which can change under various factors. You shouldn't judge a site's authority by this ranking alone. Nevertheless, it is a tool that allows you to learn how high the page gets a chance to reach the top of search results and attract more search traffic to your site.
To measure this ranking, we created a new page authority checker tool. This article will tell you how to use the tool to optimize your site and analyze your competitors' sites to get to the top of search engine rankings.
What is a Page Authority Checker?
Many factors can influence the ranking of the success and authority of sites in search engines. Special machine algorithms determine the quality of your site's pages and assign it a rating based on bulk factors. It's not just the sequential numbering of sites, but the badge of quality of their pages. It's a comparison of data from the MOZ web index. This index can change over time, so check it regularly.
MOZ explained a 100-point scale to calculate your inside rank of URL, just like it does with DA. The scale makes it easier to assign a rating and makes it relative. So, to check for changes in the ranking of your site or your competitors' sites, we recommend using Page Authority Checker regularly. We developed this free tool so that you can get up-to-date ratings of your site in conjunction with our other domain authority checker tool.
Using Page Authority Checker
The most reliable platform for checking PAs and DAs is MOZ. Many tools pull data from this service. Nevertheless, they have disadvantages, such as low speed or biased data. Use the one that gives the most accurate estimate. For example, it could be this Moz rank checker tool.
Checking page authority is the most convenient and fastest way among other similar tools. You can use this handy tool to check the rating quickly and conveniently. Page Authority checker will give you individual PA and DA scores for your site or any other site you might be interested in checking. Just a few clicks, and you will get the information regarding this ranking. Additionally, you can find out the number of Linking Root Domains and the total number of links pointing to each page.
Below, we'll show you how easy and fast you can get results with our handy PA checker. Just use the detailed instructions, and you'll have no trouble using the online checker.
Step 1: Insert your domain
To check the authority of a page, simply enter the URL of the page you want to research in the blank line on the tool page in chrome. Click the blue-button to start the scan.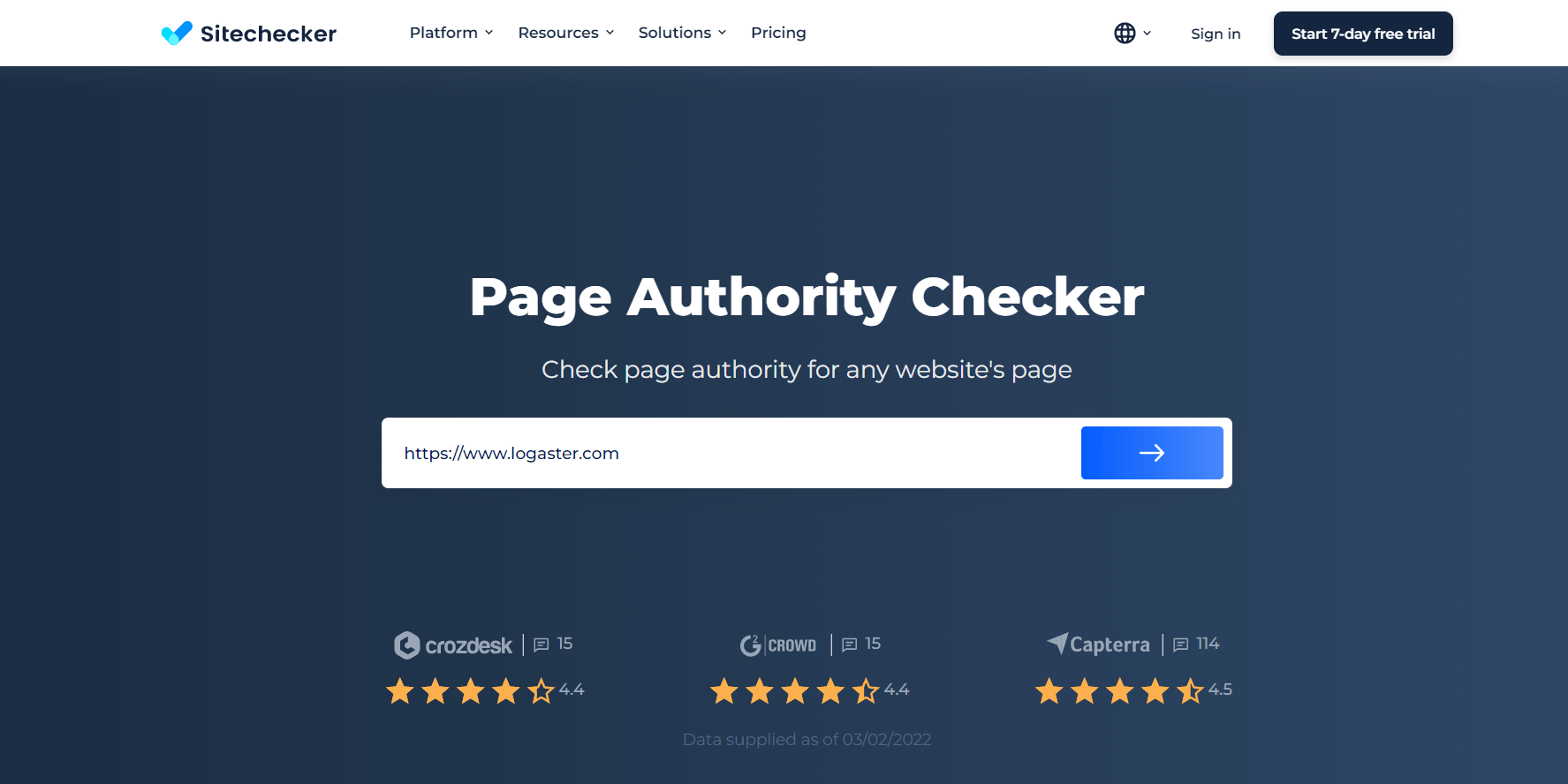 Step 2: PA checker results analysis
After the scan is finished, you will get the results. Are there enough external links on that page to get high page authority and rank better in the search engines? Knowing your site's PA will help you improve your backlink profile model. You should also look for the presence of poor-quality links on the page to work properly with your PA score data.

What is Page Authority?
MOZ introduced page authority. Page authority (PA) measures the quality of an individual web page on a site. This rating evaluates how high a particular page has a chance of reaching the top of search results for user queries. PA is necessary for the evaluation of sites by most SEO industry experts.
Creating quality content and building link mass are tasks that professionals perform to increase the authority of a particular page. Relevancy, among other things, is significant for keyword limits, and it's a strong indicator of the overall effectiveness of your search engine marketing strategy. Nevertheless, this indicator alone cannot provide a real ranking in search.
How to Calculate PA?
As for the rating, it's simple because MOZ uses a 100-point logarithmic scale to evaluate PA ratings. Those who focus on this rating while promoting and optimizing sites, and check the rating regularly, know that the higher the rating, the harder it will be to increase it. Simply put, it will be easier for you to go from a score of 10 to 25 than from a score of 75 to 80.
How is Page Authority Scored?
A page authority checker is a relative ranking, so a "good" or "bad" score will not be appropriate. You should define your goals before using a page authority checker. What do you want to change? Keep in mind that your goal should be specific. This data creates for site owners to pay attention to weaknesses in their pages. For example, a good goal is to build a strategy for buying links. And to do this, it is necessary to familiarize yourself with the overall state of your link building platforms.
Page Authority vs. Domain Authority
Each of the resources that link to a particular page on your site gives it some link weight and authority. It is essentially how search engines vote on the quality and authority of their sites. The more links a site receives, the higher the quality of its content and its ranking in SERP features. It is not uncommon for these indicators to differ significantly. Both the site and the specific page have their criteria da/pa for authority. They get it by similar algorithms. To successfully promote the entire non-spam site, you need to know domain and page authority metrics. You can check the domain authority based on the MOZ domain authority algorithm right here.
If you are a webmaster and website owner, you should know the difference between Domain Authority rate and page authority. Page authority provides a measure of the quality of the ranking of only one page, meaning that domain authority measures the visibility and ranking strength of the entire resource.
Is Domain Authority Important for SEO?
Domain authority provides the most accurate representation of user search results and is a significant key to understanding why some sites make it to the top and others do not. It's logical and correct. Accordingly, sites with a high DA perform better than those with a low DA.
What does Google say?
Google does not explicitly use domain authority metrics. Nevertheless, Google may use some domain indicators similar to Domain Authority, but it does not use Domain Authority itself.
What do SEO experts say?
SEO experts use this metric to evaluate efforts to promote a particular page.
In this helpful video, Rand Fishkin ex. founder & CEO of MOZ and the founder of SparkToro lays out which metrics you should pay attention to so that evaluating your website becomes less confusing.
Analyze not only Page Authority but the entire site!
Crawl your site and find out all kind of issues that can hart your users or your website SEO.
FAQ
What is a good page authority score?
Let's just say that if your site has a score of 30, it's already very good, but you still have room to develop your pages on the site further.
The score depends mostly on the link profile, and changes in your links will affect the PA score. So many factors impact the changes. Professionals often use a page authority checker to see fluctuations in the score.
The score depends mostly on the link profile, and changes in your links will affect the PA score. So many factors impact the changes. Professionals often use a page authority checker to see fluctuations in the score.