What Is a Page Authority Checker?
Sitechecker's complimentary Page Authority (PA) checker provides a user-friendly platform to assess the authority of any webpage. This metric, developed by Moz, scales from 1 to 100. A higher score indicates a greater likelihood of ranking well in search engine results. Our fine-tuned tool lets you evaluate the PA of any URL, be it your own or that of a competitor.
Key Features of the PA Checker
Get detailed insights on any landing you wish to evaluate for Page Authority, and additionally gain access to critical metrics such as Domain Authority (DA) for the domain on which the URL sits and the Moz Rank.
Recognizing the direct impact of backlinks on Page Authority, we have integrated a backlink checker & tracker tool into our platform. It facilitates an effortless examination and tracking of your domain's backlinks.
Sitechecker's comprehensive SEO platform extends beyond mere Page Authority analysis. It provides an in-depth SEO audit that covers both On and Off-page elements, rank tracking, and site monitoring, among other standout features.
Why it is Important to Check
It is essential to assess the PA for several reasons:
Ranking Evaluation: PA helps you understand how likely a specific page on your website is to rank on search engines. It's a great way to evaluate the effectiveness of your SEO efforts on a URL basis.
SEO Strategy: By checking the PA of your URL or a competitor's, you get insights into what is working for SEO and what to improve. It can guide your SEO strategies.
Link Building: If you're implementing a link-building strategy, the PA of the page you're getting links from matters. Links from high-PA URLs are typically more beneficial to your own page's SEO than links from lower-PA landings.
Content Marketing: If you're looking to guest post or contribute content to another site, checking the PA of the page can help you prioritize higher authority sites, which can provide more SEO benefits when they link back to your site.
Performance Tracking: Regularly checking your website's PA can help you track the effectiveness of your SEO efforts over time. If your PA is increasing, it's a good sign that your SEO strategies are working.
Remember, while PA is a valuable metric, it's just one of many that you should consider in your overall SEO strategy. It's also worth noting that PA is a relative metric, meaning it's most beneficial when comparing pages to one another rather than as an absolute value.
How to Use the Page Authority Checker?
Our tool enables you to swiftly evaluate the page rating for your website URLs and those belonging to partners or competitors. Now, let's examine the steps involved in this lookup process.
Step 1: Enter the URL of the page you wish to evaluate and click on the "Check PA" button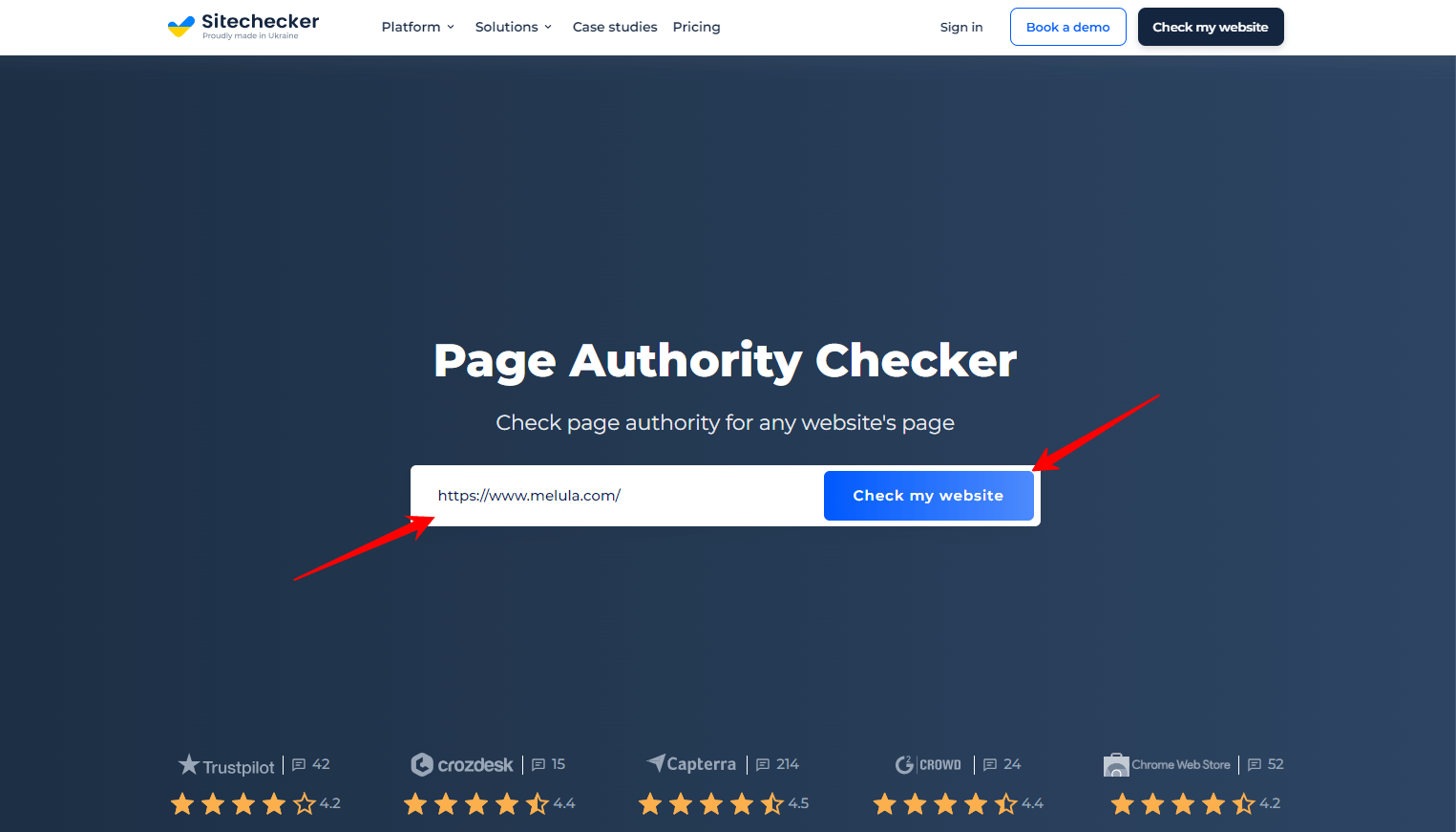 Note: To receive results and access to Sitechecker's features for 14 days, start your FREE trial. Sign-up is easy with your email, Google, or Facebook account. NO credit card is needed.
Step 2: Analyze the results
Upon completing the scan, you will obtain the Page Authority (PA), the Domain Authority (DA), and the Moz Rank for the website that you evaluated the URL.
This information sheds light on the credibility of the URL and its ranking potential. Depending on your objectives and the data at hand, you can make an informed decision about creating a backlink from the page if it belongs to another website. If it's a URL on your website, you can gauge its ranking potential and modify your SEO strategy accordingly. Such adjustments could include plans like link-building or on-page optimization techniques like internal linking.
Features of the page trust checker
Our tool does more than simply analyze your PA data. It also crawls the website you're assessing. If you're evaluating a URL on your site, this feature can be instrumental in identifying technical issues that might impact your ranking. To leverage this feature, simply click on the "Check Report" button in the results page banner. You will receive a detailed site audit report that pinpoints various issues on your website and recommendations on how to rectify them. To obtain more specific data for a particular URL, such as the one you're checking the PA for, utilize the affected pages button.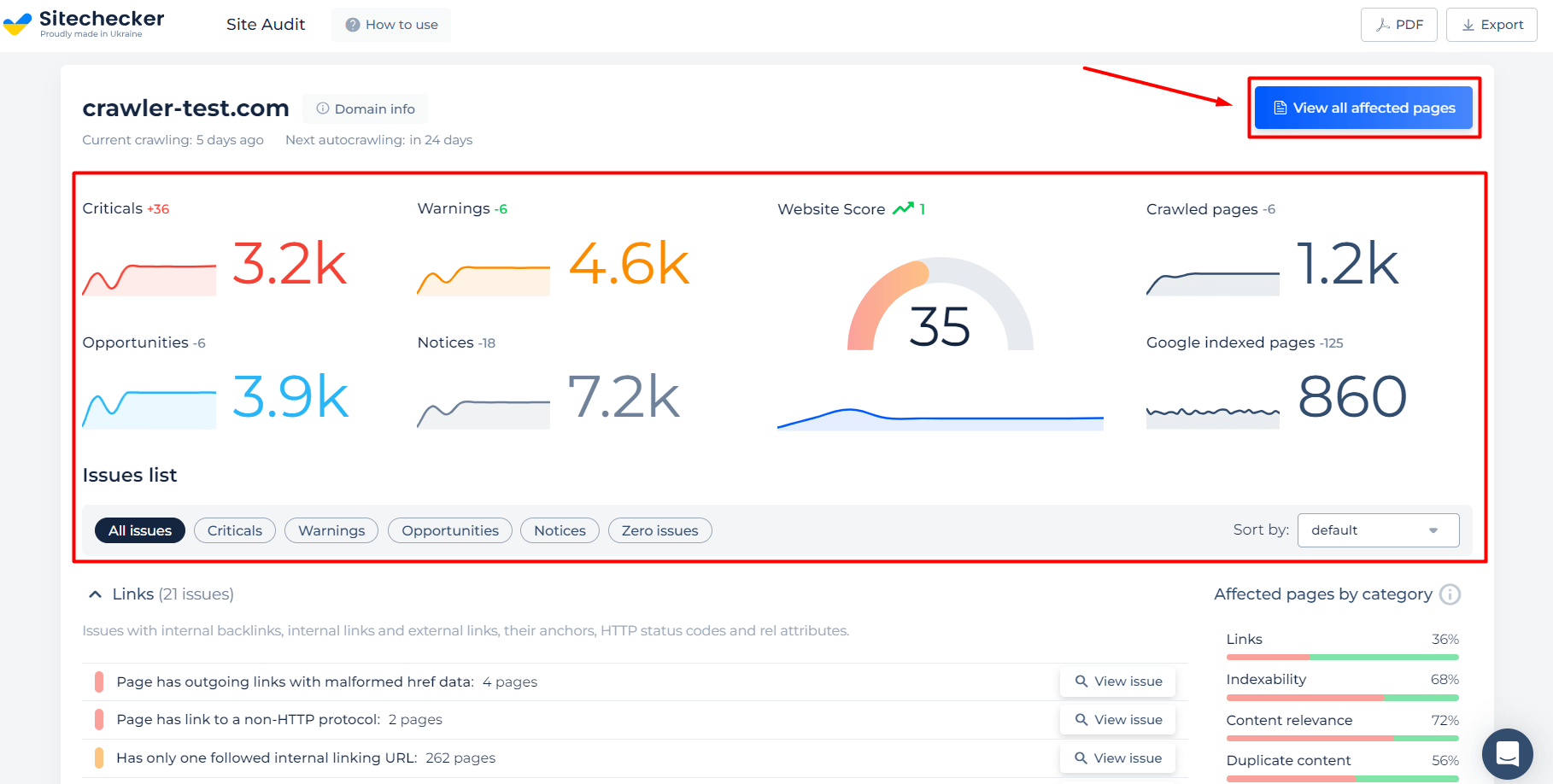 You can access a complete list of URLs and use filters to locate a specific page or a group of pages.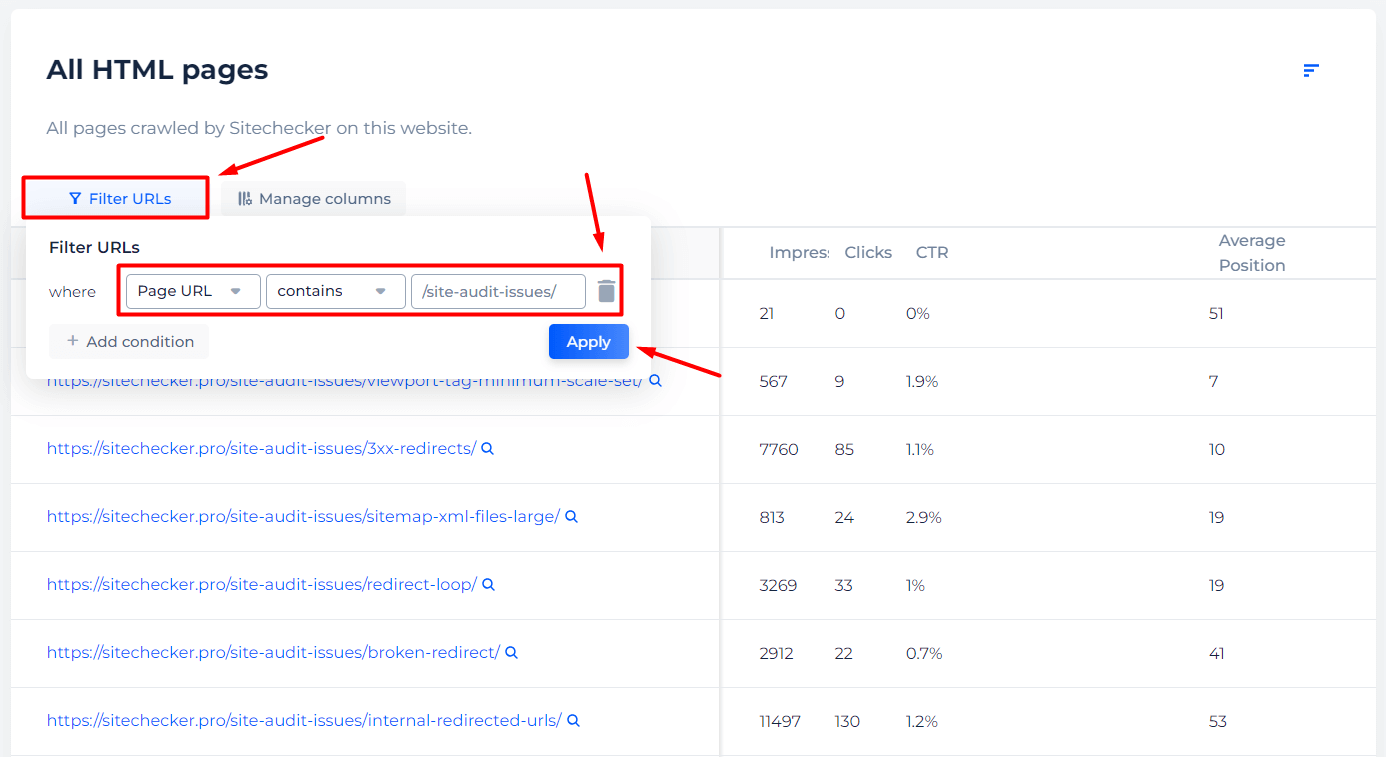 By selecting the page you're interested in, you'll get an on-page audit packed with information across various categories, including ranking data found in the "Search Metrics" section.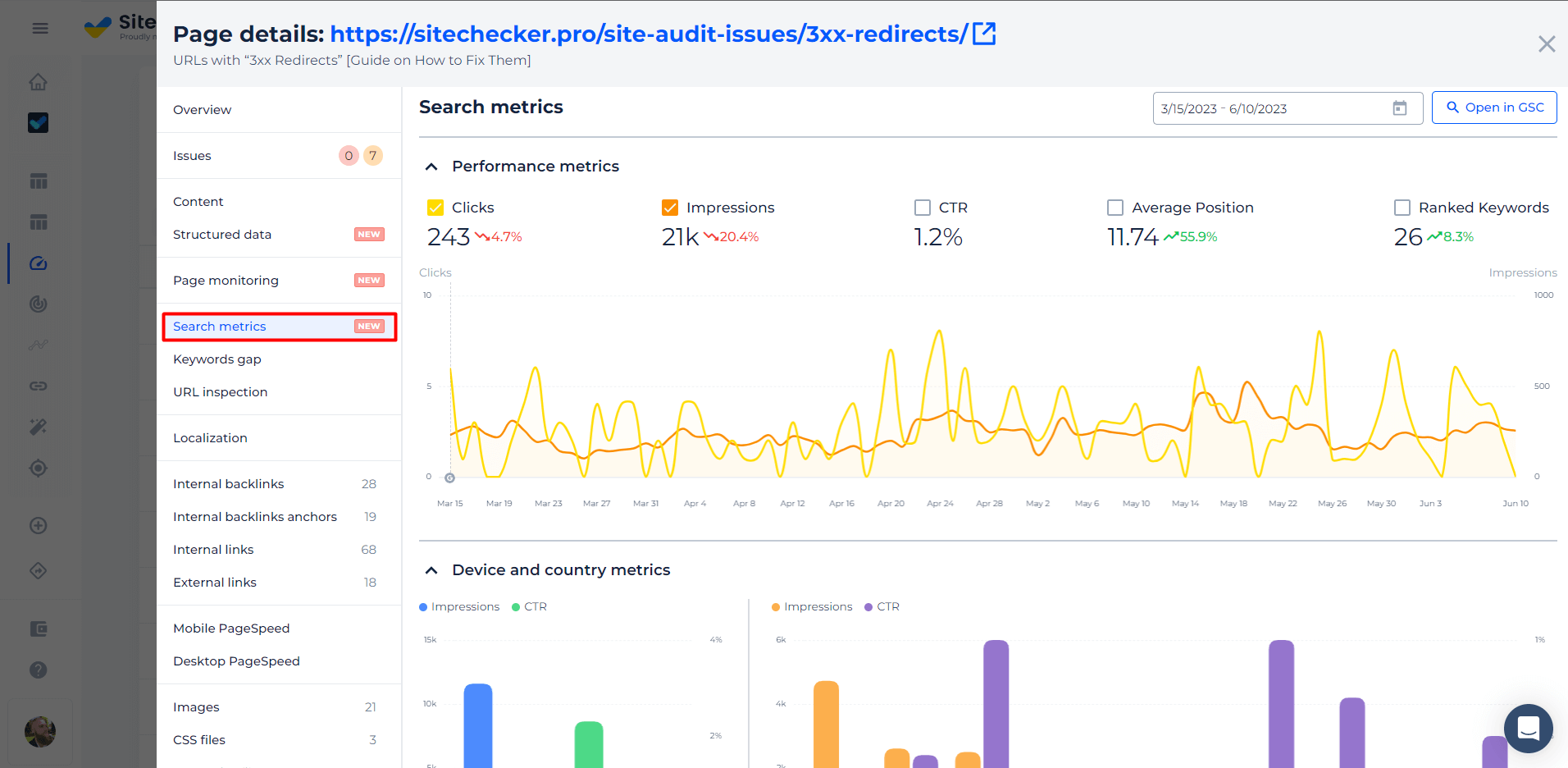 Concluding Remarks
Sitechecker's Page Authority Checker is an indispensable tool for SEO specialists, marketing agencies, and website owners. It provides a rapid and straightforward approach to assess PA and other Moz-based metrics such as DA and Rank. Beyond checking page authority, this tool offers additional features such as comprehensive site and on-page SEO audits coupled with valuable ranking insights.
FAQ
What is a page authority checker?
A page authority checker is a tool that measures the authority of a URL on a scale of 1 to 100, as developed by Moz. This metric helps evaluate the likelihood of a page ranking well in search engine results. The tool also offers additional features like backlink tracking, On and off-page SEO audits, and rank tracking. It guides SEO strategies, link building, content marketing, and performance tracking.
How to check page authority?
Simply enter the URL you wish to evaluate and click the "Check PA" button. The tool will provide you with the webpage's PA, DA, and Moz Rank.
What is a good page authority score?
Let's just say that if your site has a trust score of 30, it's already good, but you still have room to further develop your site pages.
How does SEO PA change, and how can I influence it?
Page Authority (PA) is a dynamic metric that can fluctuate due to various factors, with the link profile being one of the most significant. Changes in the number and quality of backlinks to a URL affect its PA score.