What is a Moz Rank Checker?
It is a tool offered by Sitechecker that lets you evaluate the Moz rank of a specific website. Moz developed this score that predicts how well a webpage will rank on search engine result pages (SERPs). It is primarily based on link data, reflecting the importance and popularity of a page on the web. Website owners, SEO professionals, and digital marketers leverage our tool to get insights into their website's link profile. This knowledge aids in making strategic decisions to enhance their SEO efforts.
Key Features of the Moz Rank Tracker
Get extensive data for any domain you want to evaluate for Moz rating. The tool also provides access to crucial metrics such as Domain Authority (DA) and Page Authority (PA) for the homepage of the domains you check rank.
Acknowledging the significant influence of backlinks on Moz rating, we've seamlessly integrated a backlink checker and tracker into our platform. It provides a straightforward method for inspecting and keeping tabs on your domain's backlinks.
Our all-inclusive Sitechecker SEO platform goes beyond just analyzing ranks. It provides an in-depth SEO audit covering both on-page and off-page factors, enables rank tracking, facilitates site monitoring, and offers several other remarkable features.
Why is it Important to Check Moz Rank?
Understanding SEO performance: Moz rating measures your site's link profile, a critical SEO factor. It helps you understand how likely your site is to rank well in search engine results.
Competitor Analysis: By lookup at the Moz rank of your competitors' sites, you get insights into their link profiles and SEO strategies, which can help you develop your own.
Link Building: Moz rating is based on the quality and quantity of the links to your site. By scanning your rank, you can assess the effectiveness of your link-building efforts and adjust your strategies accordingly.
Identifying Opportunities for Improvement: A lower Moz rank can highlight areas where your site's SEO could be improved, such as a lack of high-quality inbound links.
Tracking Progress Over Time: Regularly checking your Moz rating allows you to track your site's SEO progress over time, which can help you understand the effectiveness of your SEO efforts and make necessary adjustments.
Bear in mind, although Moz rank is a valuable resource, it represents just one of the many metrics employed in SEO. Consider it a component of a more comprehensive SEO approach.
How to Use the Website Moz Rating Checker?
To find the Moz rating, enter the domain of your interest and run the analysis. Our tool will generate the result and show it right away.
Step 1: Enter your domain and hit the "Check Rank" button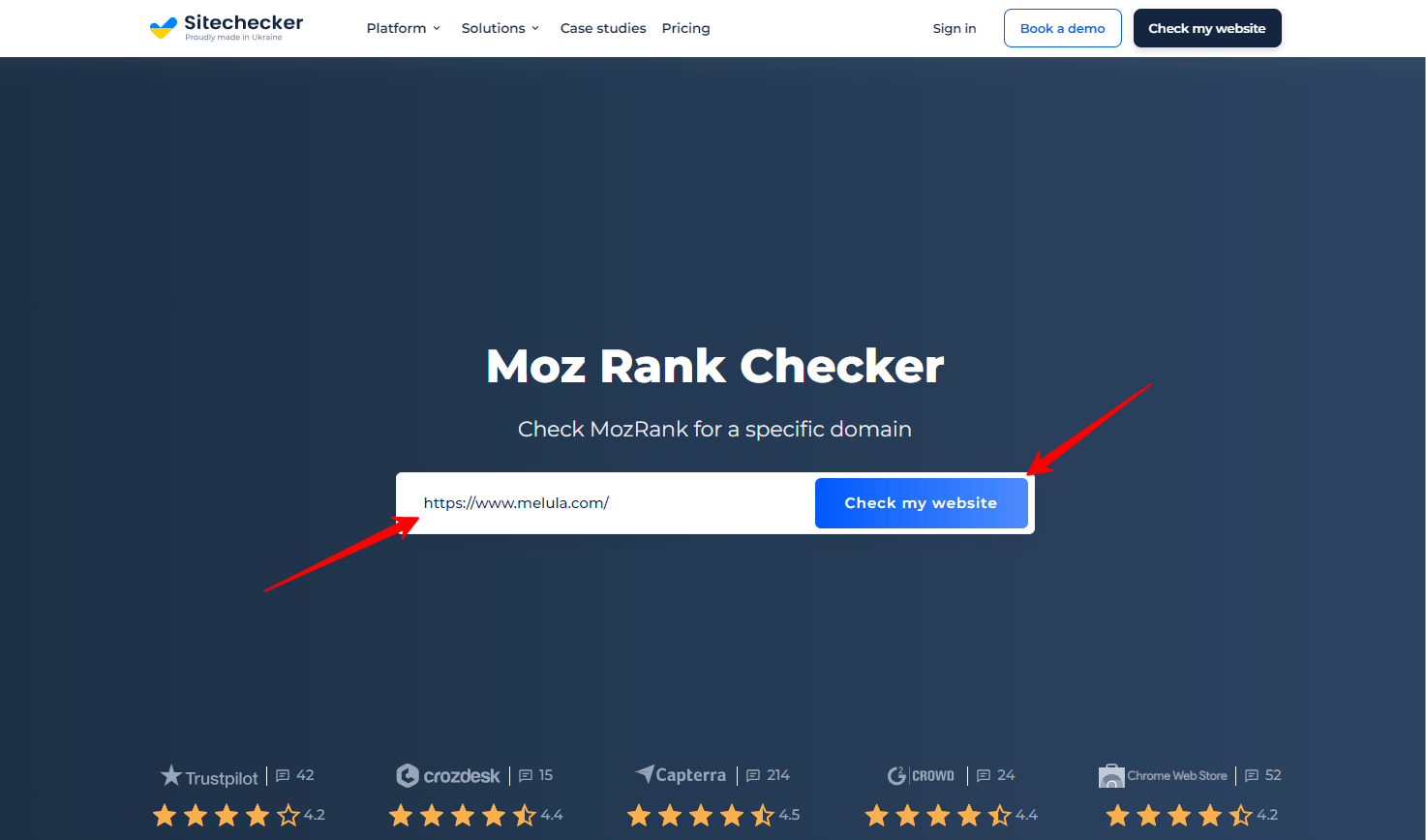 Note: To receive results and access to Sitechecker's features for 14 days, start your FREE trial. Sign-up is easy with your email, Google, or Facebook account. NO credit card is needed.
Step 2: Analyzing the results
Three indicators are available for viewing and analysis: Moz rank, DA, and PA. The first has a score ranging from 0 to 10. Based on your goals and the obtained data, you might decide to establish a backlink from the domain or identify it as a potential collaborator if it's another website. When evaluating your website, you can assess your ranking potential and fine-tune your SEO approach as required. This might involve strategies such as building links or implementing on-site optimization techniques like internal linking.

Features of the website Moz ranking checker
Our tool provides more than just an analysis of your Moz rating data. It also crawls the website you're investigating. If you check your website, use this function to identify technical issues that might undermine your ranking. To take advantage of this, simply press the "Check Report" button in the banner on the results page. You'll get a thorough site audit report highlighting various challenges on your website, complete with advice on how to mitigate them.

You can filter issues by type (Critical, Warnings, Opportunities, Notices, Zero issues) or category (Links, Indexability, Content Relevance, etc.). This way, you can swiftly tackle the most vital issues for your website's efficiency.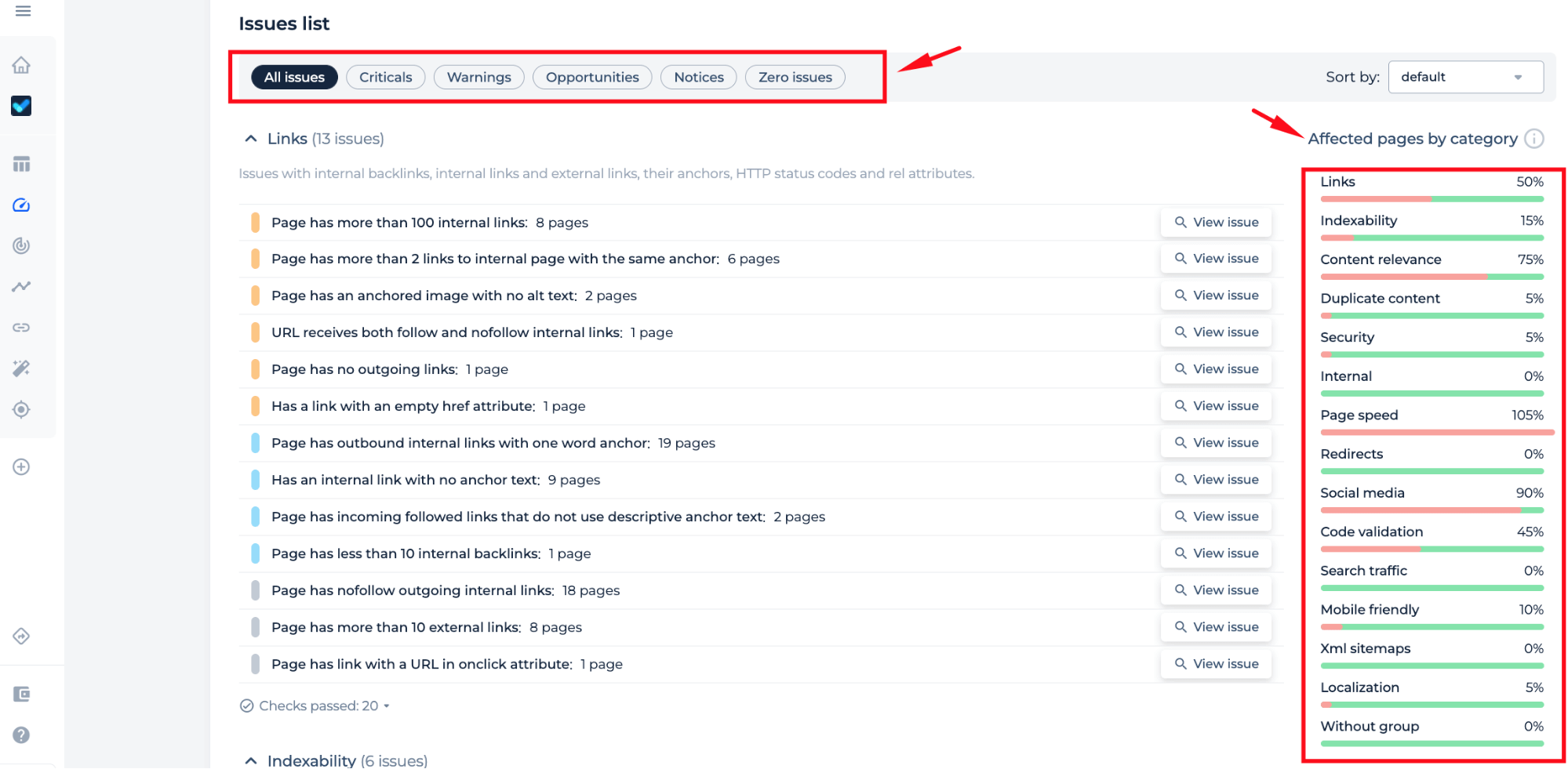 In addition, the tool gives you opportunities to delve into other features of the Sitechecker platform, like the rank tester. This software aids you in understanding your DA. Also, it pinpoints the queries for which your website is currently ranking, enabling you to track keywords with our rank tracker seamlessly.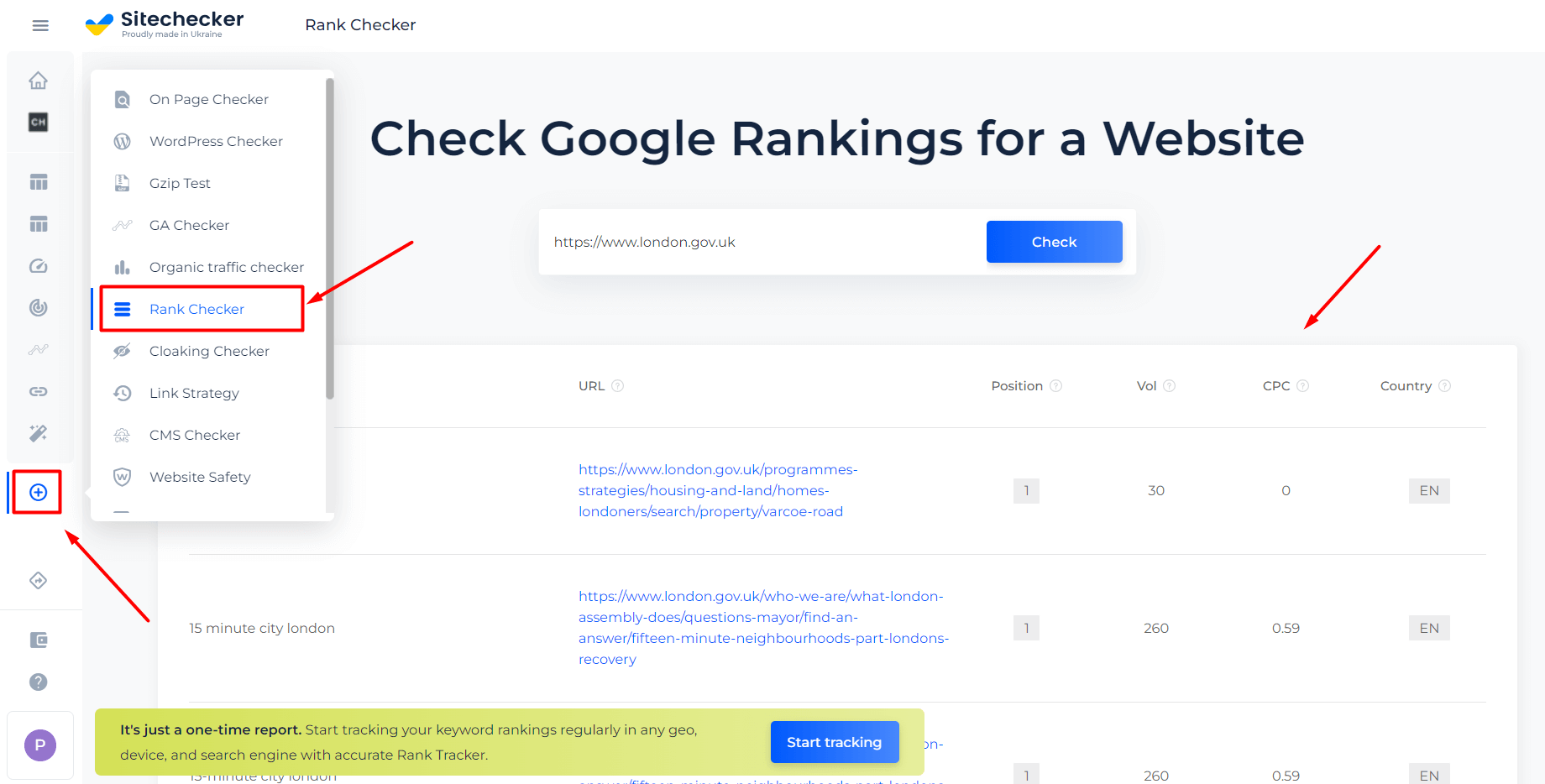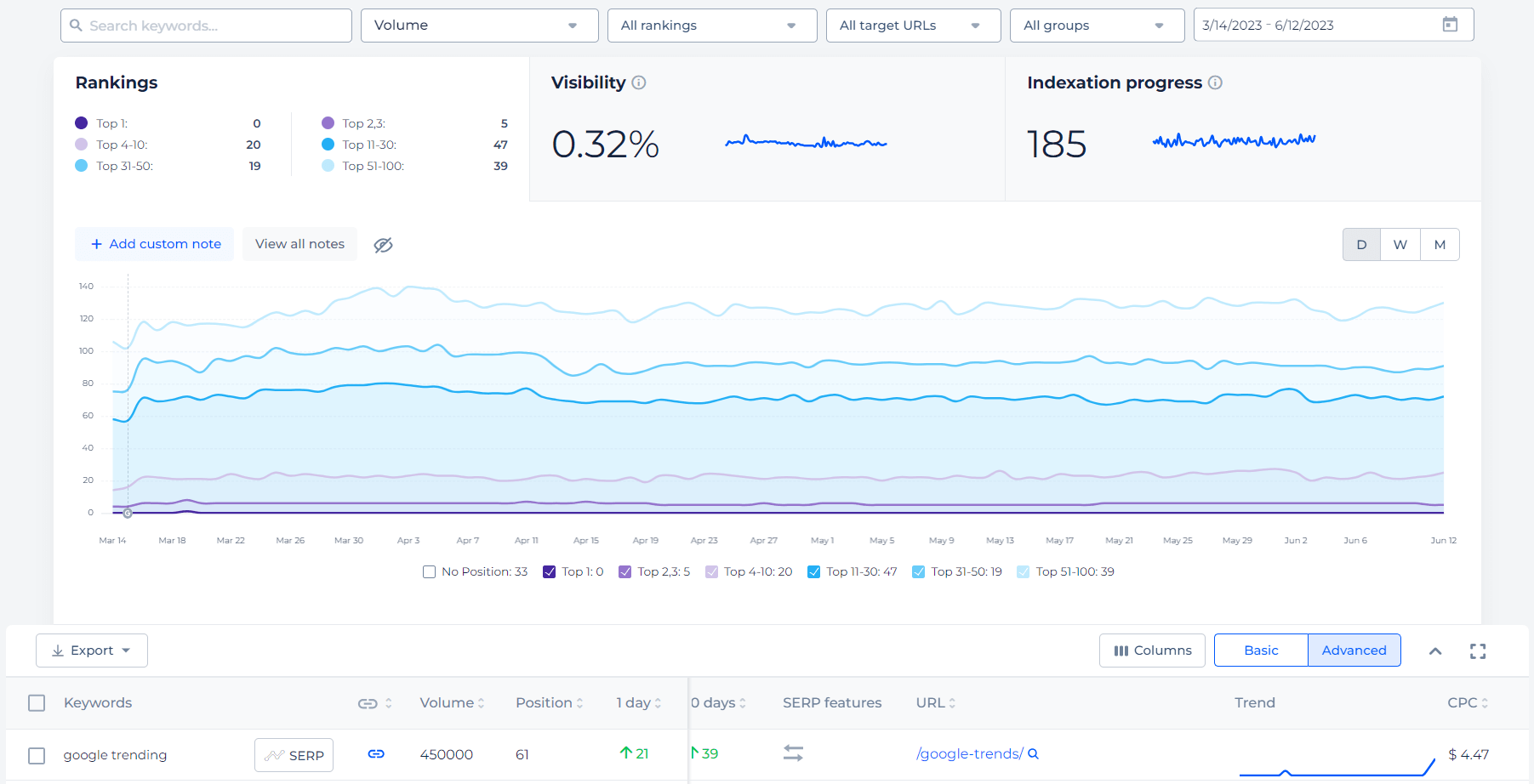 Concluding Remarks
To wrap up, Moz rank explorer is a comprehensive tool that lets you evaluate a website's rank, a key indicator of SEO performance. It also provides insights into other important metrics like DA and PA. The solution includes a backlink tracker and offers a detailed SEO audit. While Moz rating is essential, keep in mind that it is only a part of a more comprehensive SEO strategy. Using this tool, identify areas for improvement, track SEO progress over time, and make informed decisions to enhance your SEO efforts.
FAQ
How do I check my Moz rank?
Enter your domain into the tool to check your rank, and click the "Check Rank" button. The software will then analyze your website and comprehensively evaluate your Moz rank and other important SEO metrics.
The value of a strong Moz rating can fluctuate based on the specific industry and the competitive landscape of the website in question. Typically, a Moz score of at least 3 is perceived as positive. If the trust score is no less then 5, consider it exceptional, suggesting that the website possesses a robust link profile bolstered by numerous high-quality inbound links.
How can you improve your website domain authority?
The search engine is necessary to link your site to other good sites. If your site scoring seems insufficient, you can always improve it. Place only quality links on your site with good traffic. Get backlinks from other reliable sources without spam. And then your ranking will increase.