The photography business is getting more and more competitive. A comprehensive digital strategy becomes mandatory to become a market leader. One of its key elements is a detailed photographer SEO activity.
SEO significantly impacts website performance. It improves search engine results as well as increases the volume and quality of traffic. Moreover, it contributes to site visibility. Thus, a well-performed SEO strategy can help to attract way more clients.
We have prepared a detailed guide on what SEO is, why it is crucial, and what tips for improving it should be kept in mind. We also explained how the Sitechecker online tool and its unique features can facilitate SEO for photographers. Let's get started!
What is SEO for Photographers, and Why is it Crucial?
SEO or search engine optimization is a set of activities, including site development, user behavior analysis, content creation, and so on, aimed at improving the position of the website in search engine rankings.
Here are some examples of activities SEO can include:
Analysis of search engines algorithms and ranking factors;
Analysis of the demand for your web resource;
Semantic core creation;
Technical and UX improvement of the website itself;
User behavior analysis to improve behavioral factors.
Detailed analytics collection;
Website promotion by increasing the number of mentions on the Internet.
Consequently, photographer SEO is a set of measures aimed at popularizing a particular photo studio (or a personal website of a photographer) and attracting more clients. You can achieve this by improving the ranking of a web page in major search engines like Google, Yahoo! or Bing. This will greatly boost the website visibility.
A particular niche definitely requires some unique and specific approaches inherent in this area of activity. We will elaborate on them a little bit later.
Why is it so important? We live in a digital era when advanced digital marketing has become 100% necessary. Here are just some of the main advantages of SEO:
Organic traffic. SEO activity is based on the principle that people should be able to find the information they require on their own. Search engines do value this.
Comprehensive approach. SEO activity encompasses various elements. This allows you to get the most out of your website.
Long-lasting effect. SEO optimization doesn`t provide immediate results. However, the positive effect on the site performance becomes evident in the long-term perspective.
We can argue that SEO for photographers is definitely a useful tool nowadays. Let's not forget that your competitors are unlikely to miss the opportunity to speed up the growth of their business with the help of digital marketing approaches. You shouldn't ignore this chance too.
Why Is SEO Worth Its Money?
When a photographer or a photo studio representative meets an SEO specialist for the first time, the obvious question is why you should spend money on SEO. How efficient are those activities? Let's figure it out.
SEO for Photographers is Cost-Effective
The price of SEO activity depends on the strategy you chose, which determines the list of SEO measures to be implemented and their scale. Also, you can entrust site optimization to an outsourcing studio, build an in-house SEO team or rely on external SEO consultants. All these approaches require different investments.
However, SEO saves costs in comparison to any other way of attracting customers. A large portion of the budget is spent during the initial steps. This is because the site needs to be tailored to fit search engines' requirements.
A large number of edits within the web resource are made, new content is created, the technical quality of the site is improved, etc. Later, the promotion is focused on the quality of links and analytics.
SEO Generates High-Quality Leads
Another peculiar thing about SEO is that it attracts relevant traffic. It boosts visibility to the target audience. Photographer SEO activity results in showing the web page to those who are interested in such services, who may need a photo right now.
Moreover, site optimization focuses on economically active Internet users. In our case, those users are actively looking for photography.
Thus, search engine optimization brings site visitors with the highest probability of converting into customers. It builds an online presence specifically for the target audience. As a result, your business receives hot leads.
Doing SEO Yourself vs Hiring a Contractor
While preparing to launch marketing activities, site owners wonder whether to get involved in SEO themselves or look for external experts. Both alternatives have their pros and cons.
If you decide to do SEO yourself, you'd need an advanced multifunctional online tool. Sitechecker is the one that would fit your needs perfectly. We'll tell you more about this instrument.
Otherwise, you may find the necessary professionals on a platform like Upwork, for instance. However, you should choose wisely. In this section, we'll also dwell on the topic of hiring contractors for SEO.
Sitechecker is Your Personal SEO Assistant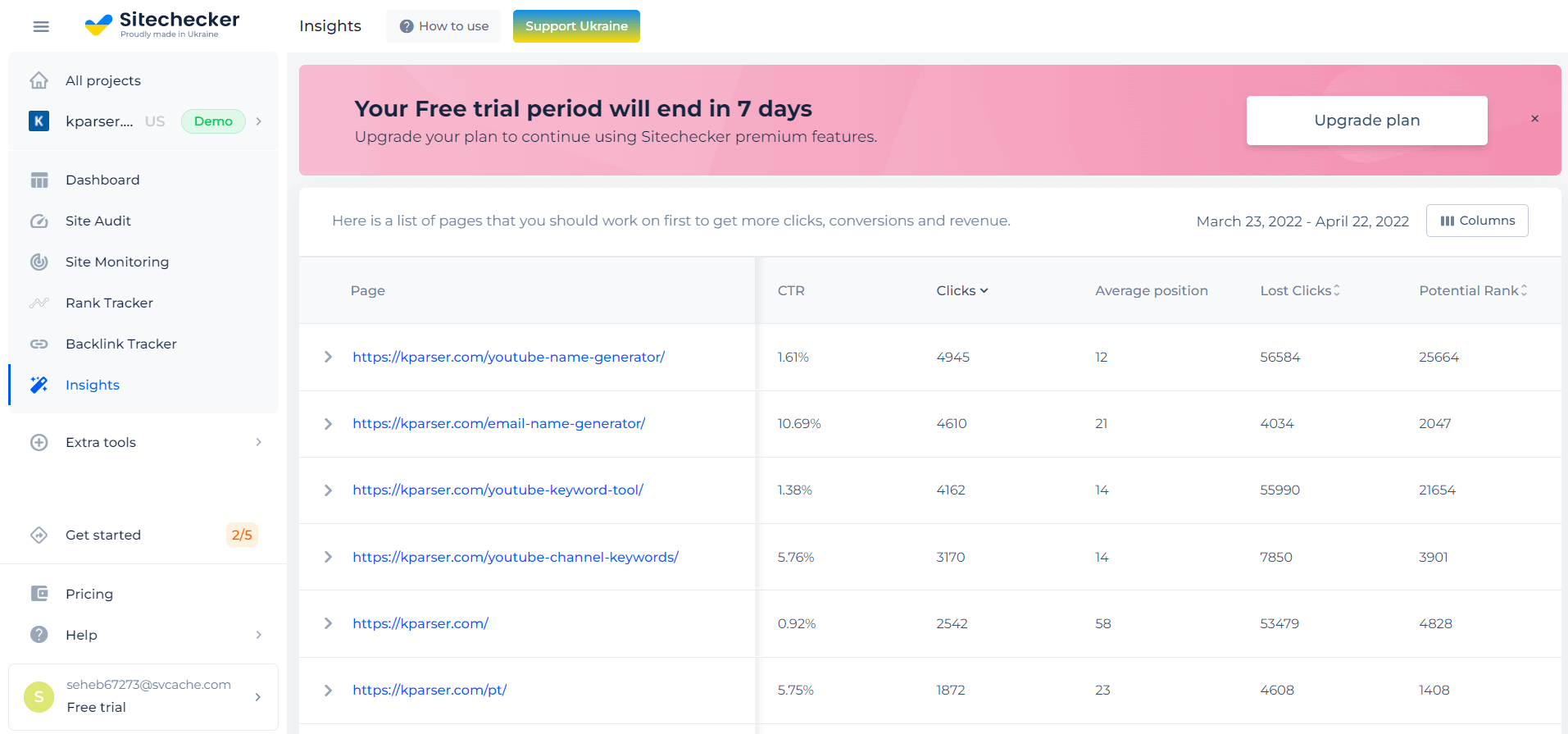 Sitechecker is a perfect example of an online SEO audit tool. It is user-friendly, has a free trial period, and encompasses all the features necessary to track the SEO performance of a web page. Moreover, it is very easy to use, so you do not need special knowledge or previous experience.
Here are some of its features:
Comprehensive SEO audit;
Site rank tracking;
Backlink tracking;
Using data from GA and GWT;
Monitoring of all website changes;

The tool offers a great opportunity to monitor and track SEO for photographers. There are also multiple guides that provide a detailed description of the tool`s features. Sitechecker offers a unique user experience along with satisfying all the SEO needs.
The Peculiarities of Delegating SEO to Contractors
In most cases, the main advantage of using a contractor for a photographer SEO is saving time. However, not all specialists can optimize a web page without the regular involvement of business owners.
The contractor's expertise should be your main concern. Real experts are hard to find, and their services cost a lot. As a result, the budget becomes an issue. The alternative is an increased risk of spending money without getting real results.
Also, you should decide how to control contractors, ensuring that the budget is spent properly and the performance of your website improves. We suggest using a specialized online tool like Sitechecker. It allows you to track every single aspect of activity with minimal requirements for domain knowledge.
Top 5 SEO Companies for Photographers in the USA
The photography business is becoming increasingly more popular, especially in the United States. Consequently, the number of specialized agencies offering SEO for photographers is increasing. However, their levels of expertise and reliability differ.
Since it is always better to contract local partners, we found some solid partners for potential cooperation in the US market:
How to Do SEO for Photographers
Now let's take a closer look at how exactly to set up your photographer SEO activity: key steps, potential points of concern, etc.
On-page and Technical SEO
This is the initial step. You need to clarify whether there are any technical problems, errors, or bugs with the web resource. This step includes checking whether search engines can clearly see and index your website, the site receives organic traffic, and the users face no technical barriers while visiting any page. You may also have to check the correct correspondence between mobile and web versions of the site.
Audit for all Pages
A comprehensive audit of all pages of the website allows users to check the general health of the site, clarify the website score, find and fix bugs, etc. With Sitechecker, you can carry out a general audit or focus on specific aspects like page errors, issues with content and its structure, or technical problems. You can also find useful instructions on how to fix everything.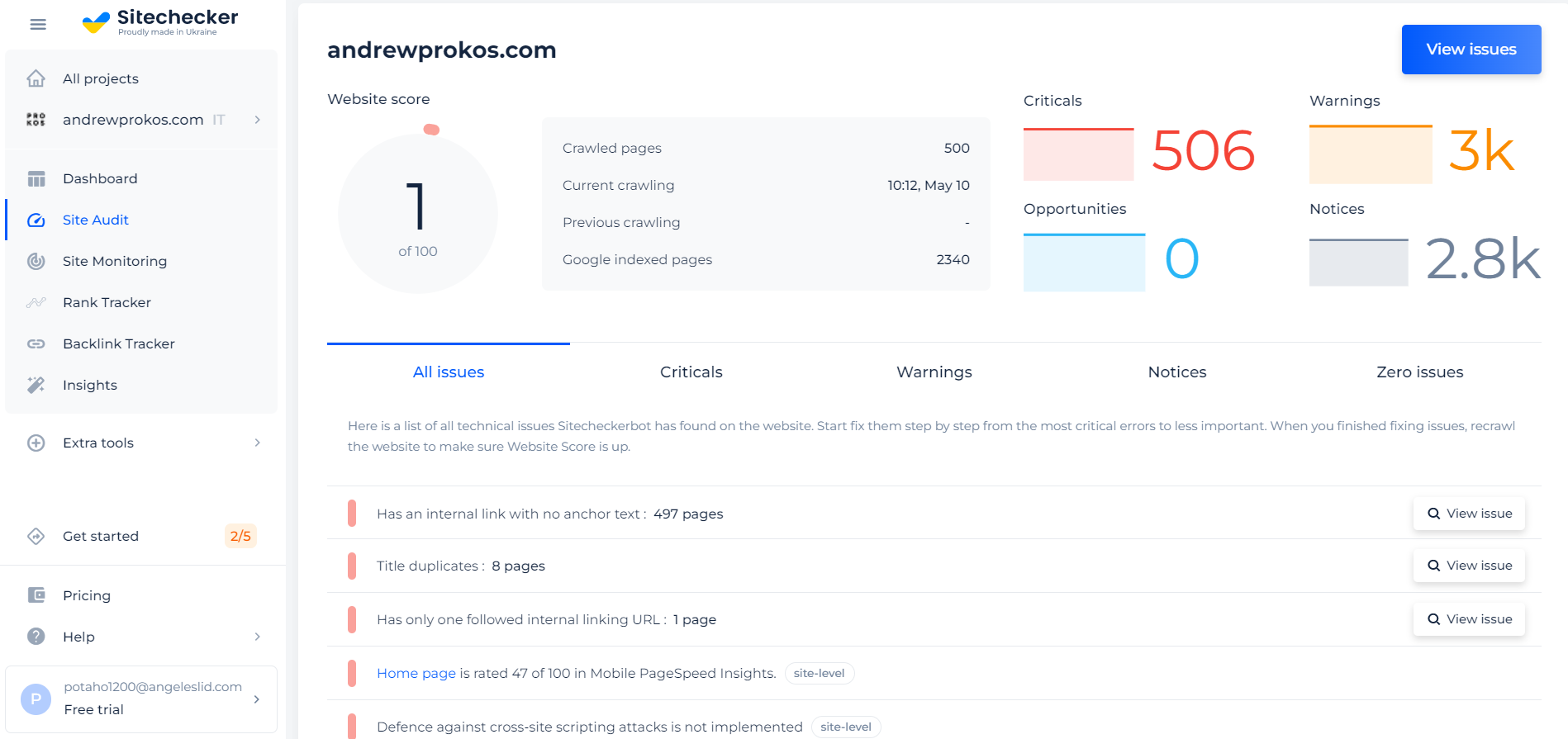 On-page Audit for Small Sites
For small sites, an on-page audit is a great solution. It allows you to check only a particular page, for example, wedding photography services, if we focus on the photographer SEO. You can test meta tags, titles, content relevance, text quality, data structure, images, links, etc.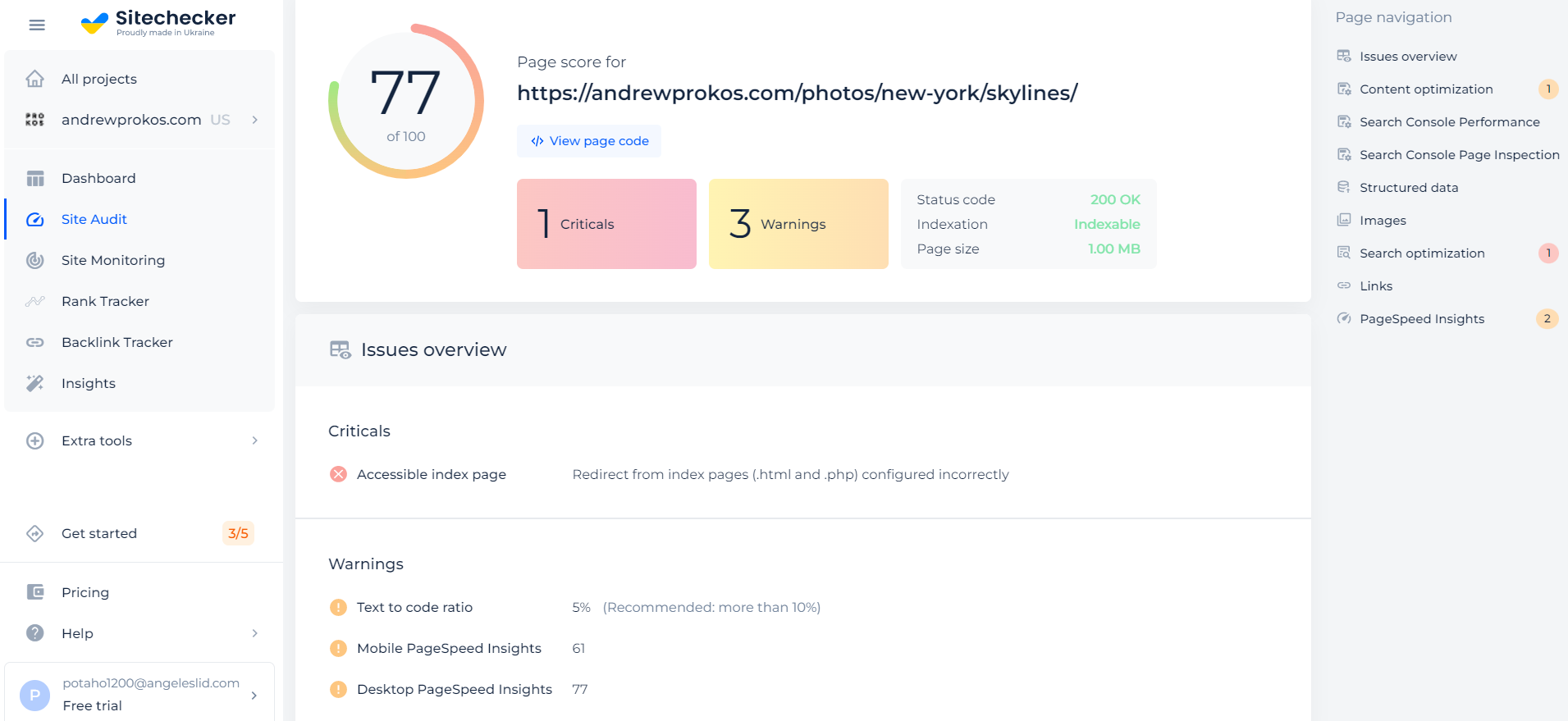 In addition, you can use the Chrome extension of Sitechecker. As a result, you can verify SEO performance without leaving the page.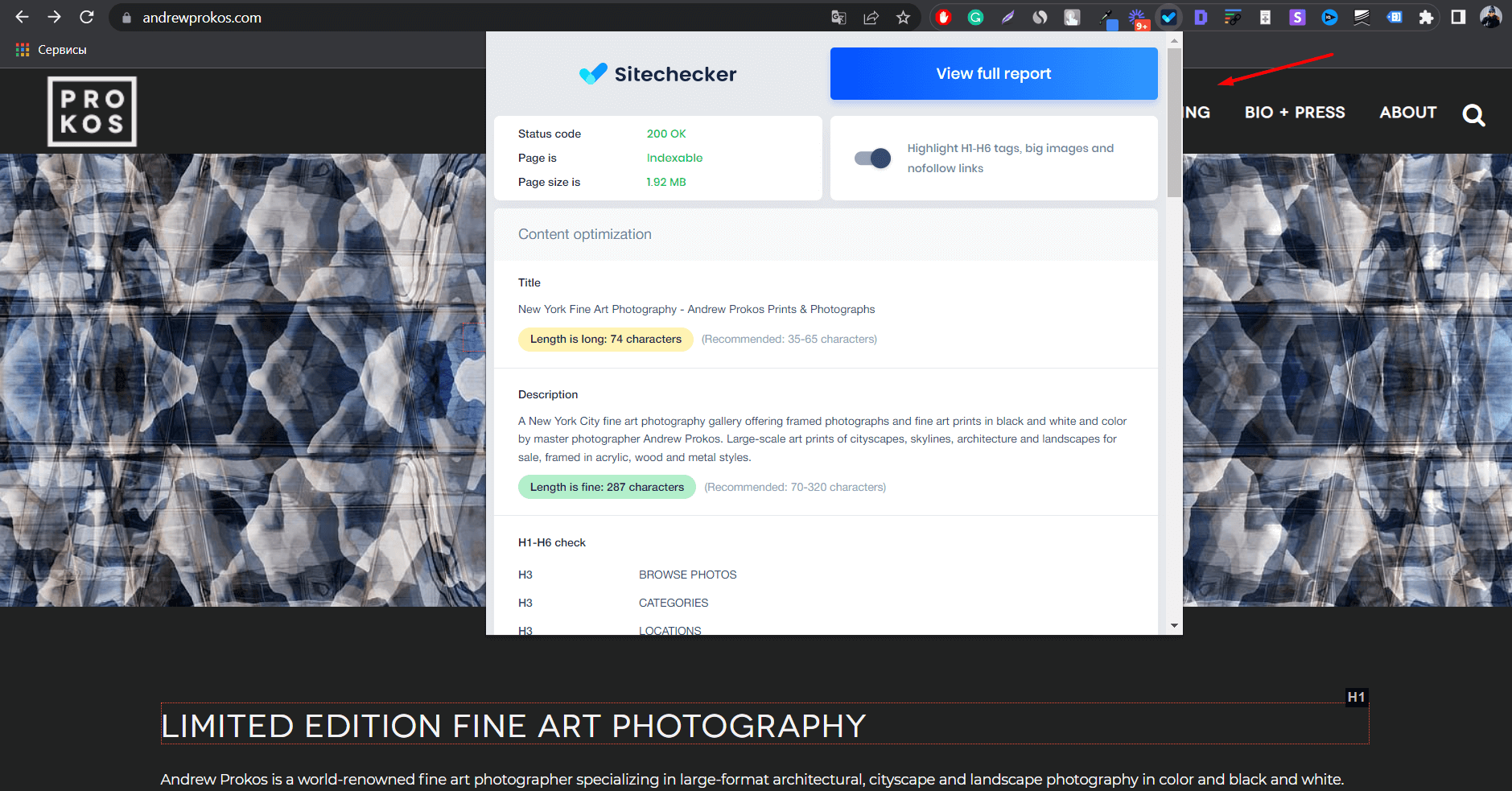 Make the first step in your photographer SEO right now!
Make a full audit to find out and fix your technical issues and get all other platform features.
Using Data from Your Google Search Console and Google Analytics
Google Search Console and Google Analytics are basic mandatory tools that allow you to track versatile indicators and detect errors while conducting SEO for photographers. The functionality of these tools is very extensive, so it may be hard for inexperienced users to deal with everything.
However, this is not a big deal with Sitechecker as it offers comprehensive solutions for operating these tools: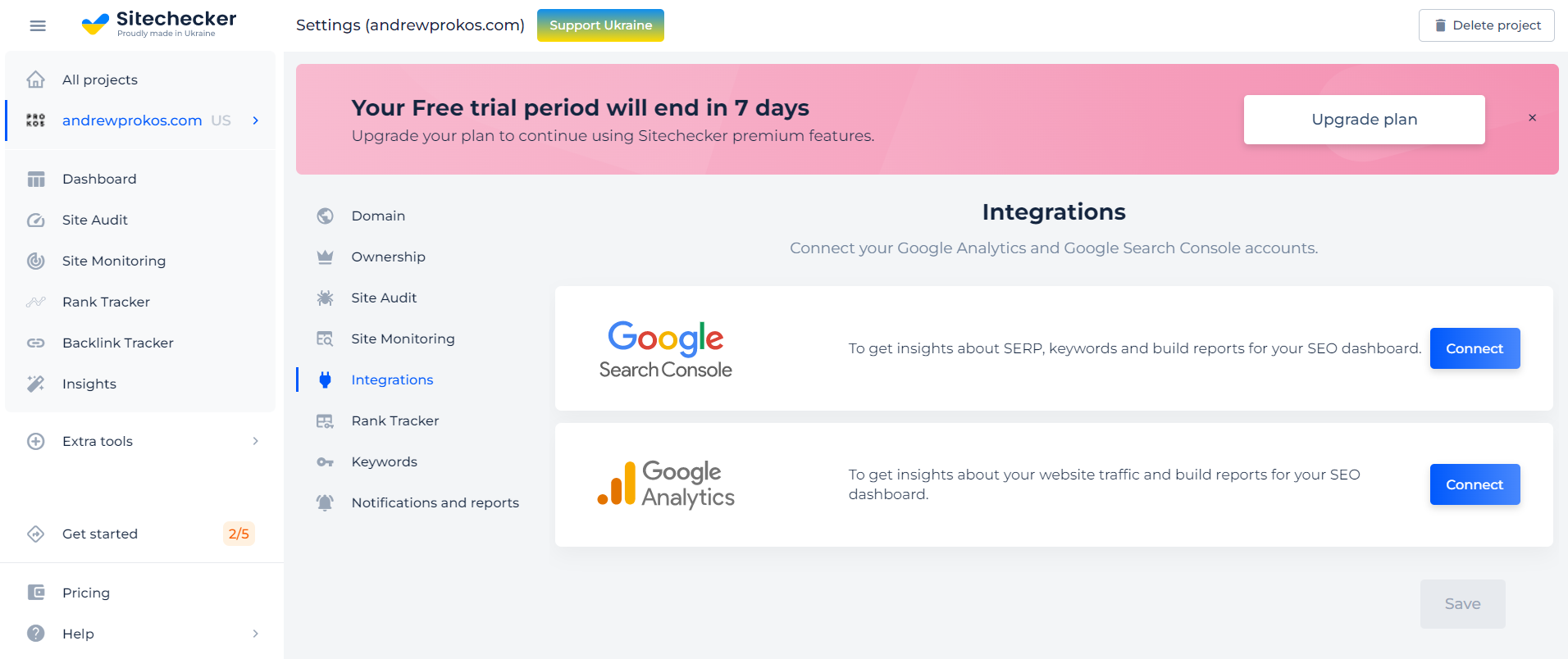 Use Data from GSC
Sitechecker allows users to integrate Google Search Console in a couple of clicks. Then you can use all the data available for your photographer SEO activity.
Sitechecker extracts and provides the following data:
Site indexation progress;
Keywords on top 100 GWT;
Top 15 keywords;
Top 10 landings with info about visits and clicks;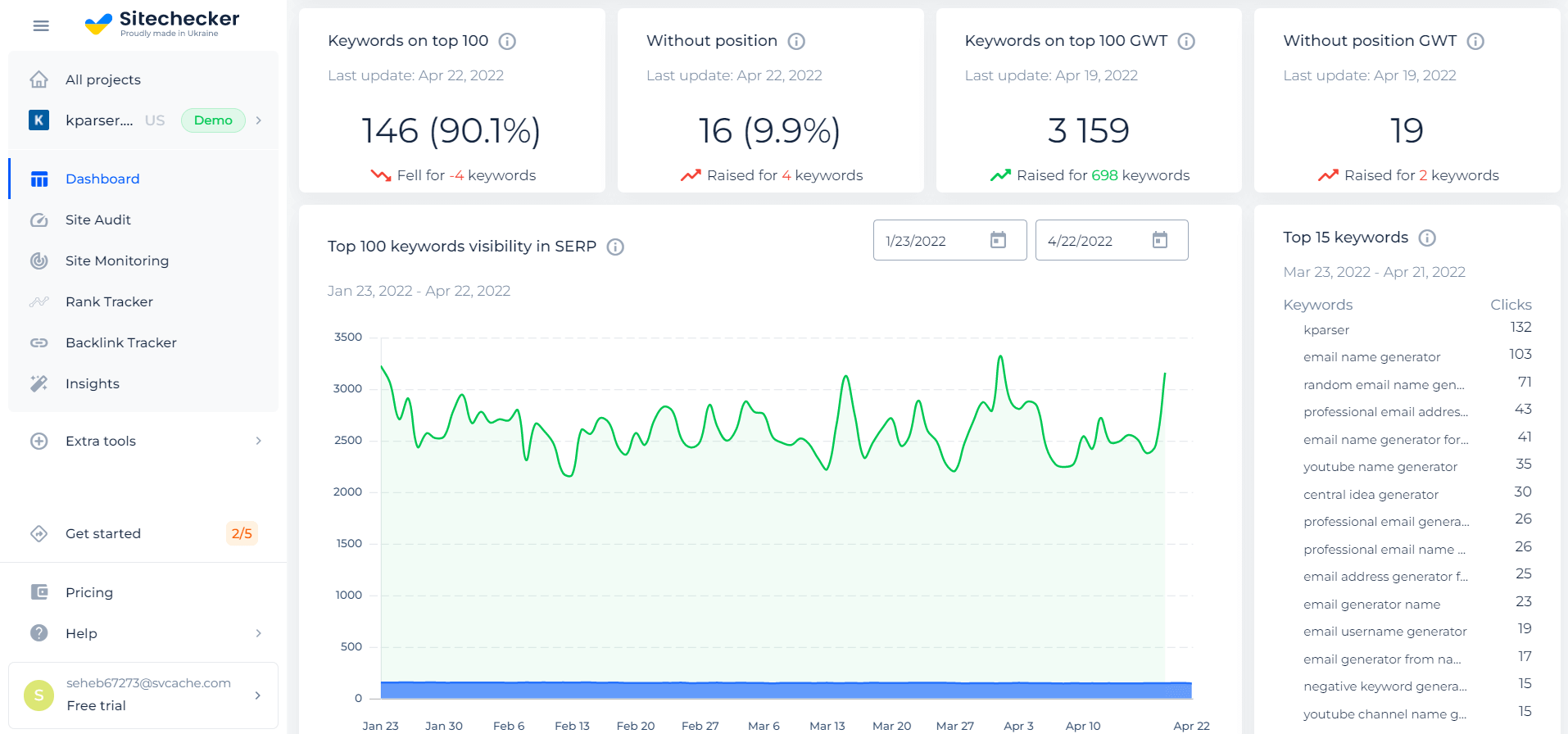 Use Data from GA
The Sitechecker tool allows you to connect Google Analytics in just one click as well. You can now see such info as the amount of organic traffic.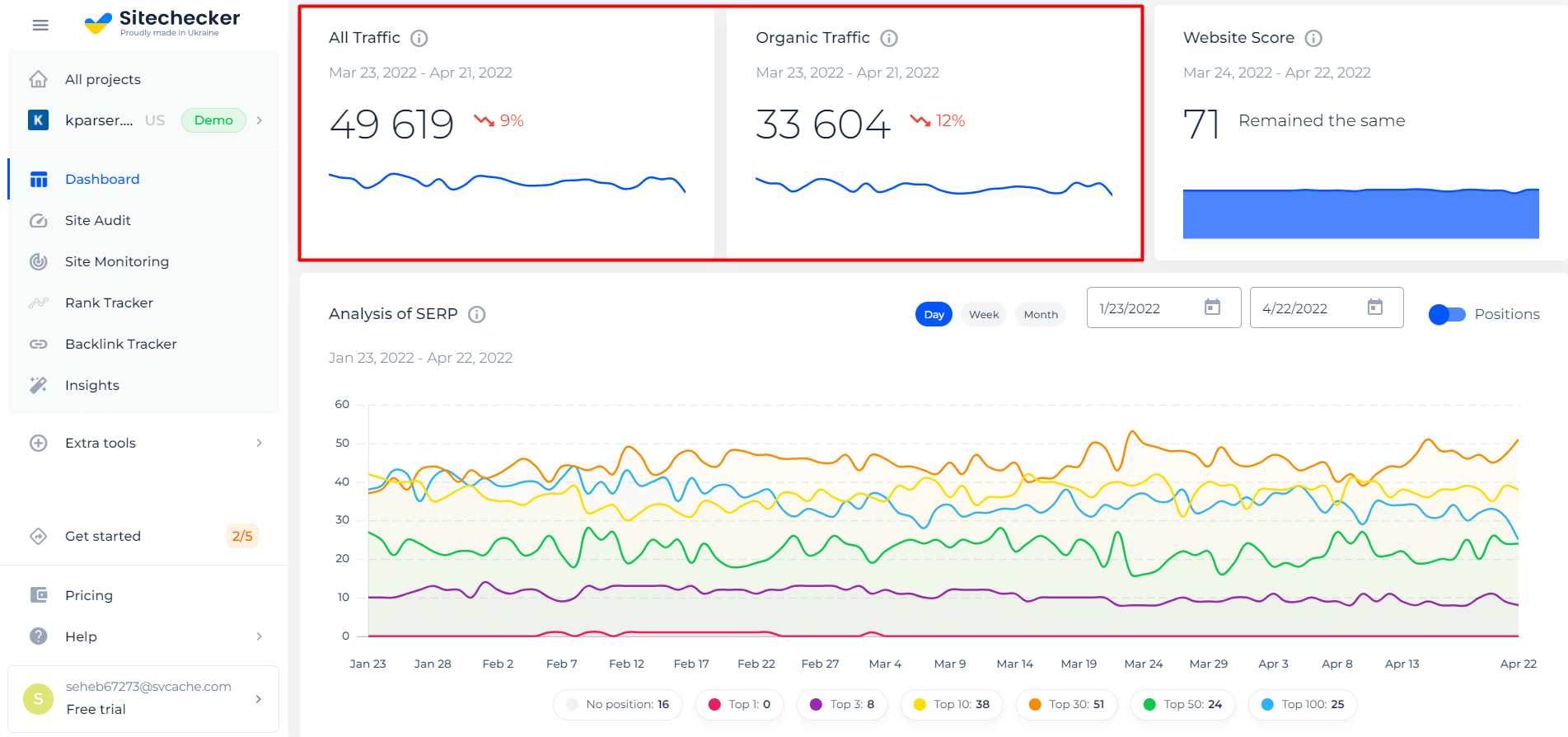 You can also see sales metrics if e-commerce is enabled in GA. They include revenue, conversion ratio, and transactions. This is enough for a basic understanding of the current situation and monitoring the dynamics.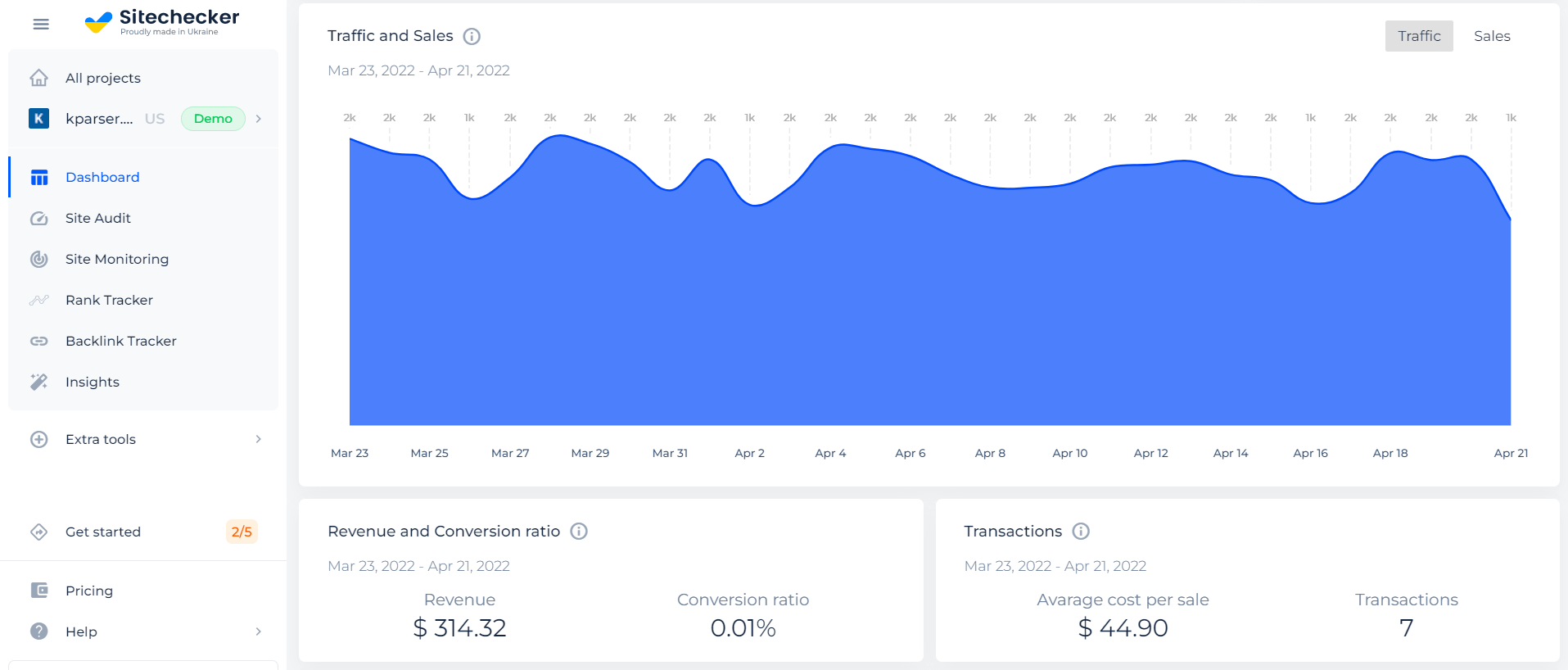 How to Get Keywords for Photographer SEO and Accurate Rank Tracking Them
Keywords are the key element in building a photographer SEO strategy. They represent the most common users' queries, directly impacting website ranking — the position of your site, which depends on search results.
There are two types of keywords:
Informational. They assist in increasing the visibility of information people look for. They are mostly used in blog articles, social media posts, etc.
Commercial. Such keywords are related to a particular good or service. They are typically used in service titles and descriptions.
To select the most relevant keywords, Sitechecker offers several instruments, like:
Ahrefs
Semruch
Google Keyword Planner
If the site already has a semantic core, Sitechecker can upload keywords from GWT.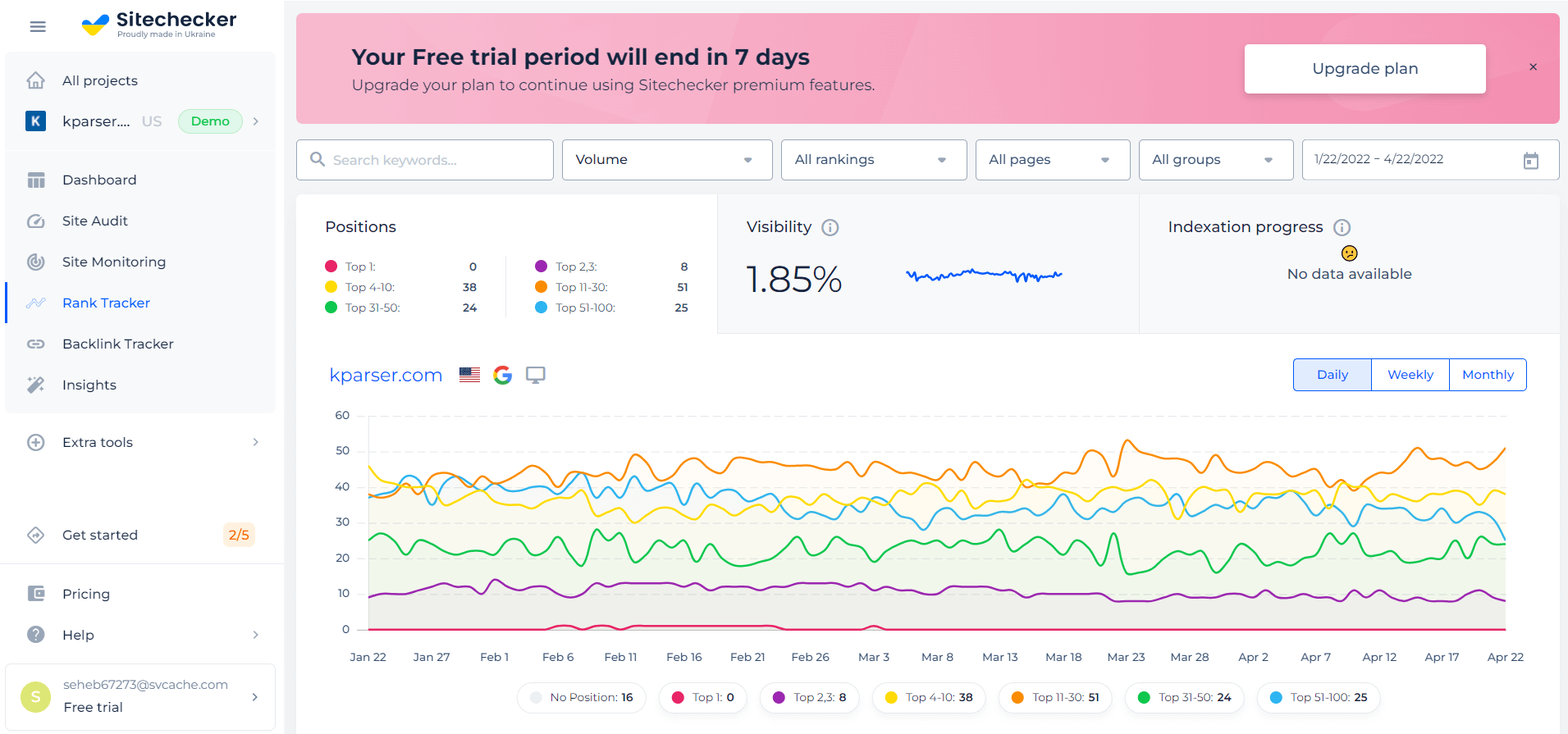 Moreover, you can benefit from our Rank Tracker tool. It allows you to monitor the website's current positions in search engines such as Google, Yahoo, and Bing. You can also adjust your assessment settings to specific locations and device types. Besides, with its help, you can track your SERP positions, monitor changes in competitors` positions, and access the keyword search volume.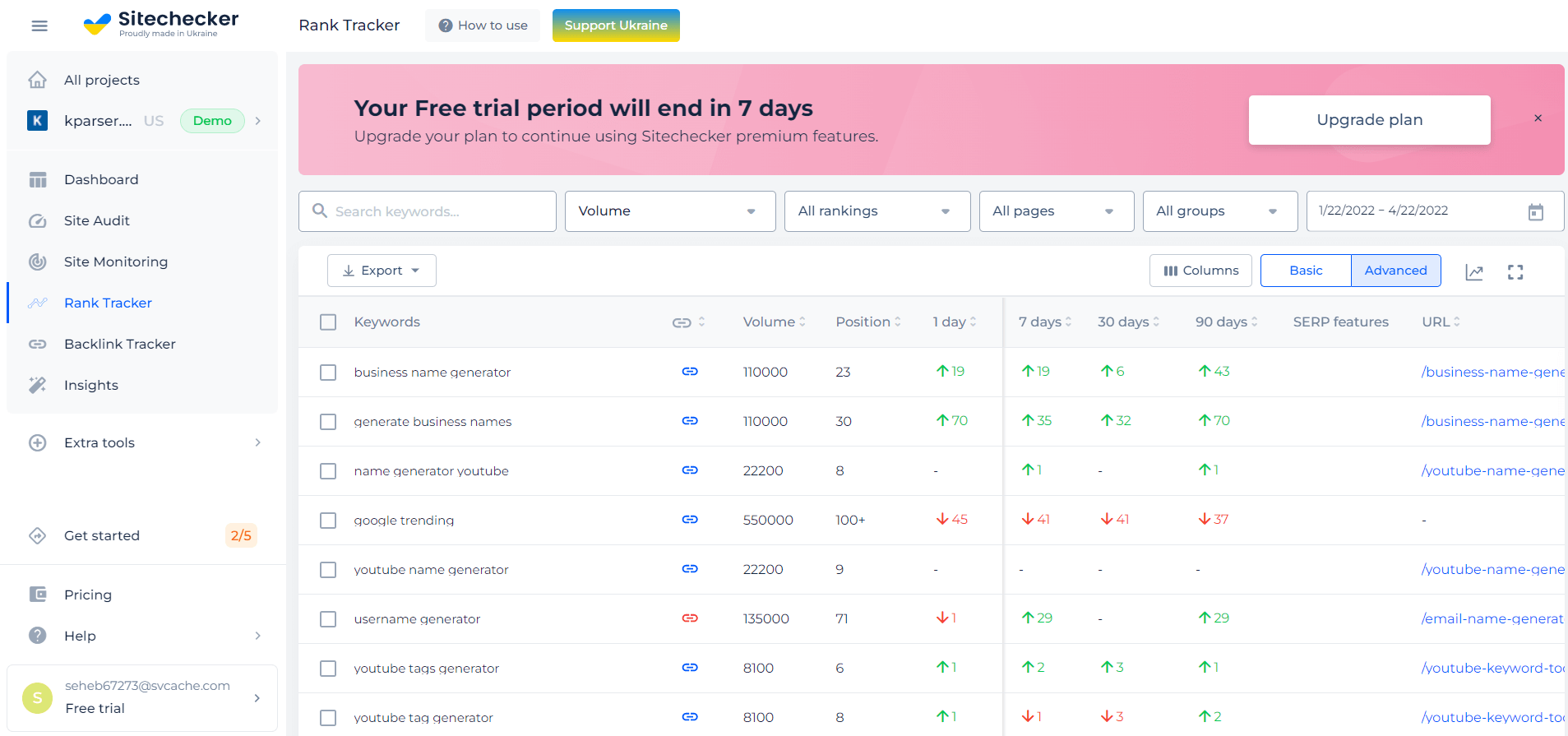 Add Keywords Manually or from GWT
Sitechecker allows you to add keywords manually and track them by using multiple conditions, such as search volume, groups, position, text, etc. Also, you can connect GWT and upload all the data. It takes just a couple of clicks.
Local Photographer SEO Keyword Tracking
Photo business is a specific niche. Moreover, it has a local focus. Few are ready to travel to the other part of the country to take a photo. Consequently, SEO for photographers should take it into account.
Sitechecker allows you to launch local keyword tracking due to the filters of language, country, or city. As a result, you can approach the most relevant target audience.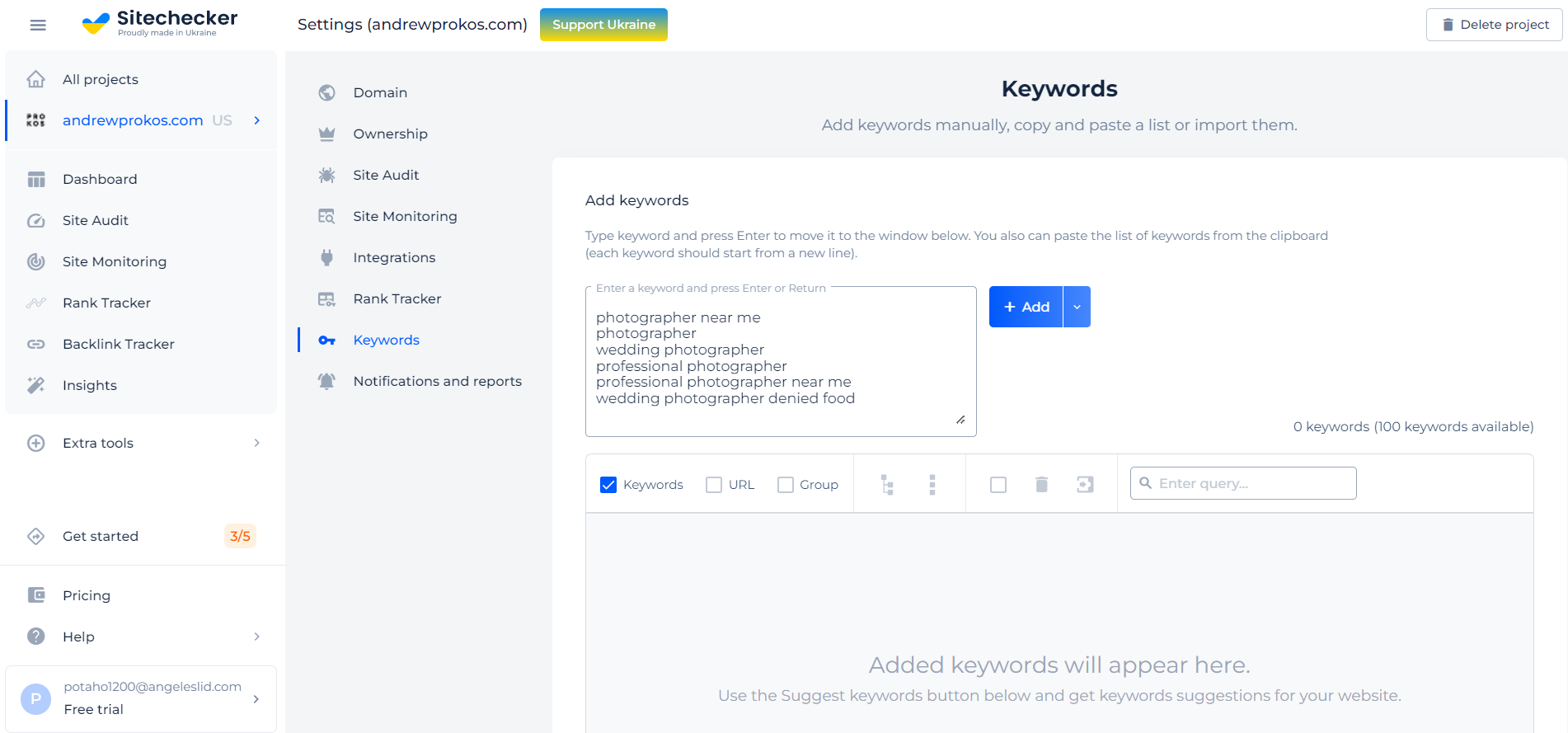 Top 50 Keywords for the Photography Domain
Here is the list of the most popular keywords for the photographer SEO (in the USA). The keywords are from Ahrefs (it paid, but you get them free) with information about Value and Keyword Difficulty. Keyword Difficulty (KD) is a calculated estimate of how difficult it is to rank in the top 10 organic search results for a keyword on a 100-point scale. Value – an estimate of the average monthly number of searches for a keyword over the last 12 months of observation. You can use them to track your website's ranking or deepen your field knowledge. Also, recommend you use the keyword with your business location.
| Keyword | Keyword Difficulty | Volume |
| --- | --- | --- |
| photographer near me | 51 | 27 000 |
| photographer | 72 | 23 000 |
| wedding photographer | 52 | 22 000 |
| professional photographer | 34 | 11 000 |
| professional photographer near me | 49 | 7 200 |
| maternity photographer near me | 2 | 6 300 |
| real estate photographer | 36 | 5 300 |
| wedding photographer near me | 45 | 4 100 |
| maternity photographer | 12 | 3 500 |
| wedding photographer cost | 41 | 3 300 |
| freelance photographer | 33 | 3 100 |
| the photographer | 8 | 3 100 |
| nude photographer | 3 | 3 000 |
| average wedding photographer cost | 41 | 2 700 |
| real estate photographer near me | 20 | 2 500 |
| product photographer | 16 | 2 400 |
| average cost of wedding photographer | 41 | 2 100 |
| headshot photographer near me | 17 | 2 100 |
| portrait photographer | 43 | 2 000 |
| beautiful photographer | 31 | 1 900 |
| engagement photographer | 2 | 1 800 |
| family photographer | 23 | 1 800 |
| event photographer | 18 | 1 800 |
| elopement photographer | 10 | 1 700 |
| newborn photographer | 26 | 1 700 |
| how much is a wedding photographer | 40 | 1 600 |
| how much does a wedding photographer cost | 40 | 1 600 |
| commercial photographer | 12 | 1 500 |
| wildlife photographer | 50 | 1 200 |
| food photographer | 12 | 1 200 |
| travel photographer | 30 | 1 200 |
| outdoor photographer | 43 | 1 100 |
| photographer for wedding | 66 | 1 100 |
| graduation photographer | 2 | 1 000 |
| fun photographer | 31 | 1 000 |
| fitness photographer | 11 | 900 |
| sports photographer | 17 | 900 |
| real estate photographer website | 16 | 900 |
| the online photographer | 1 | 900 |
| proposal photographer | 5 | 900 |
| portrait photographer near me | 22 | 800 |
| photographer websites | 55 | 800 |
| birth photographer | 41 | 800 |
| photographer and videographer | 43 | 700 |
| cost of wedding photographer | 40 | 700 |
| find a photographer | 62 | 600 |
| photographer studio | 67 | 600 |
| children's photographer near me | 8 | 600 |
| basketball photographer | 4 | 600 |
| lifestyle photographer | 16 | 600 |
Content creation
Content is the cornerstone of the site. When you do SEO for photographers and try to improve your content, remember that it has to be relevant, meaningful, unique as well as contain keywords and tags.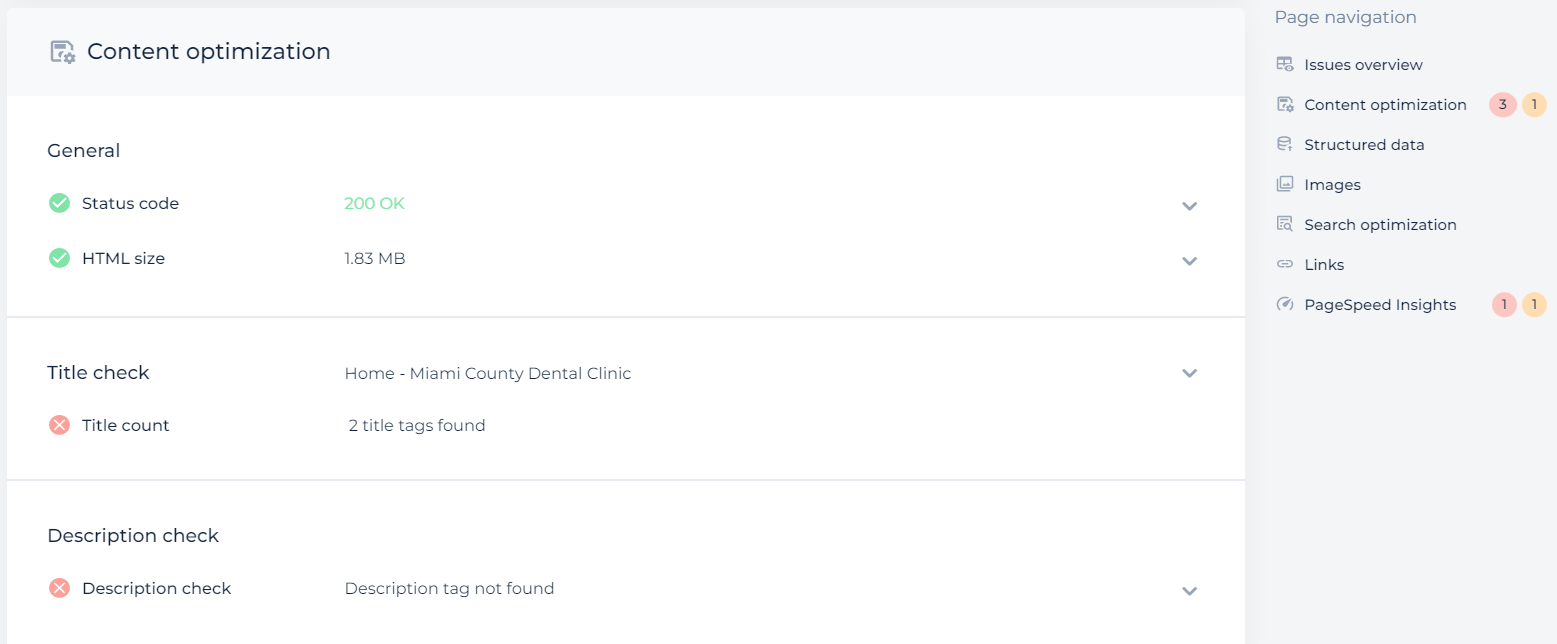 You can either create content yourself or delegate it to a contractor. In any case, we have a special toolfor both page and content analysis. After publishing a page, you can check it with the help of Sitechecker's on-page audit in our app or via the Chrome extension.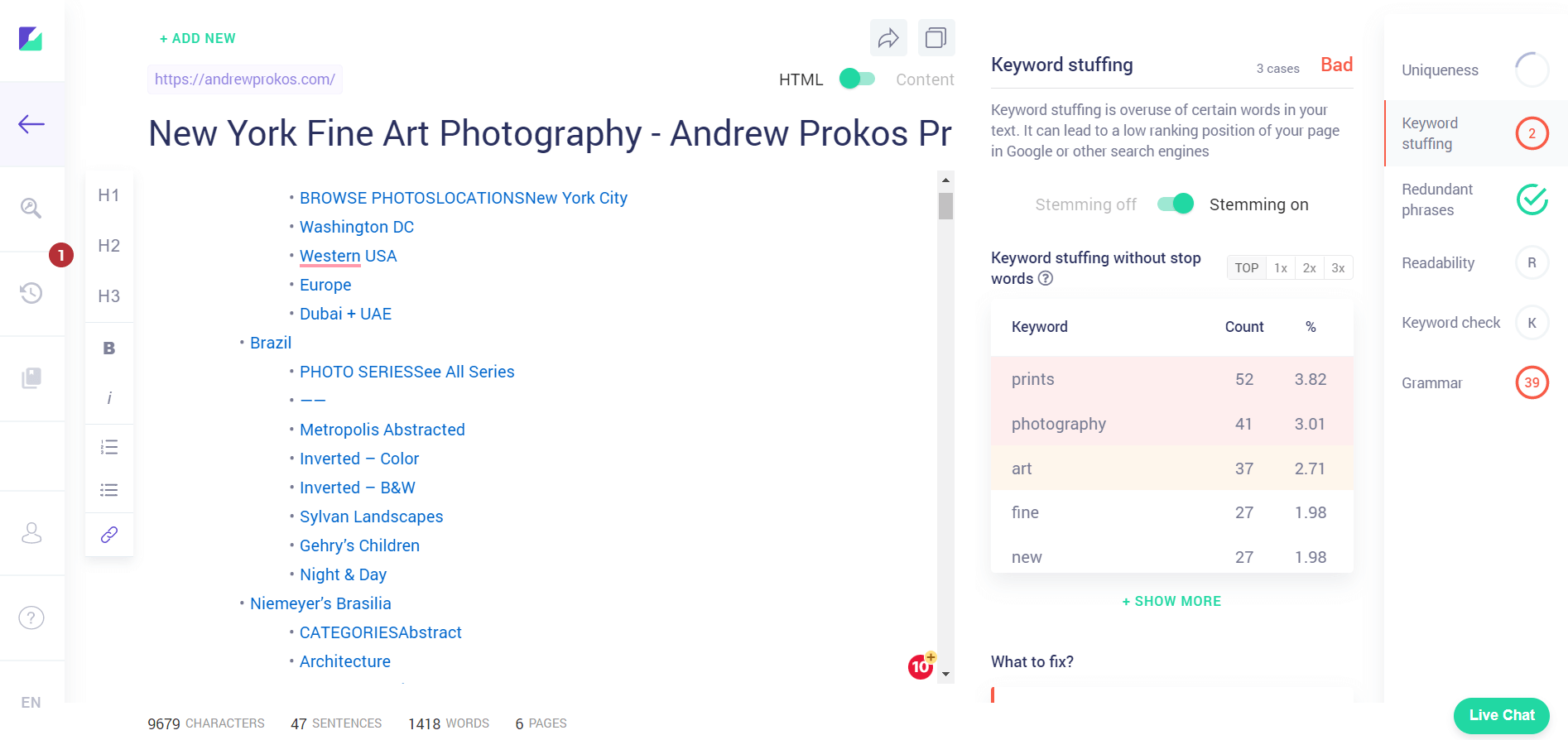 Monitor Your Website 24/7
It is vital for photographer SEO to track changes in search engine algorithms, detect any errors and constantly improve content. Sitechecker provides an all-in-one monitoring tool to keep an eye on your site's performance.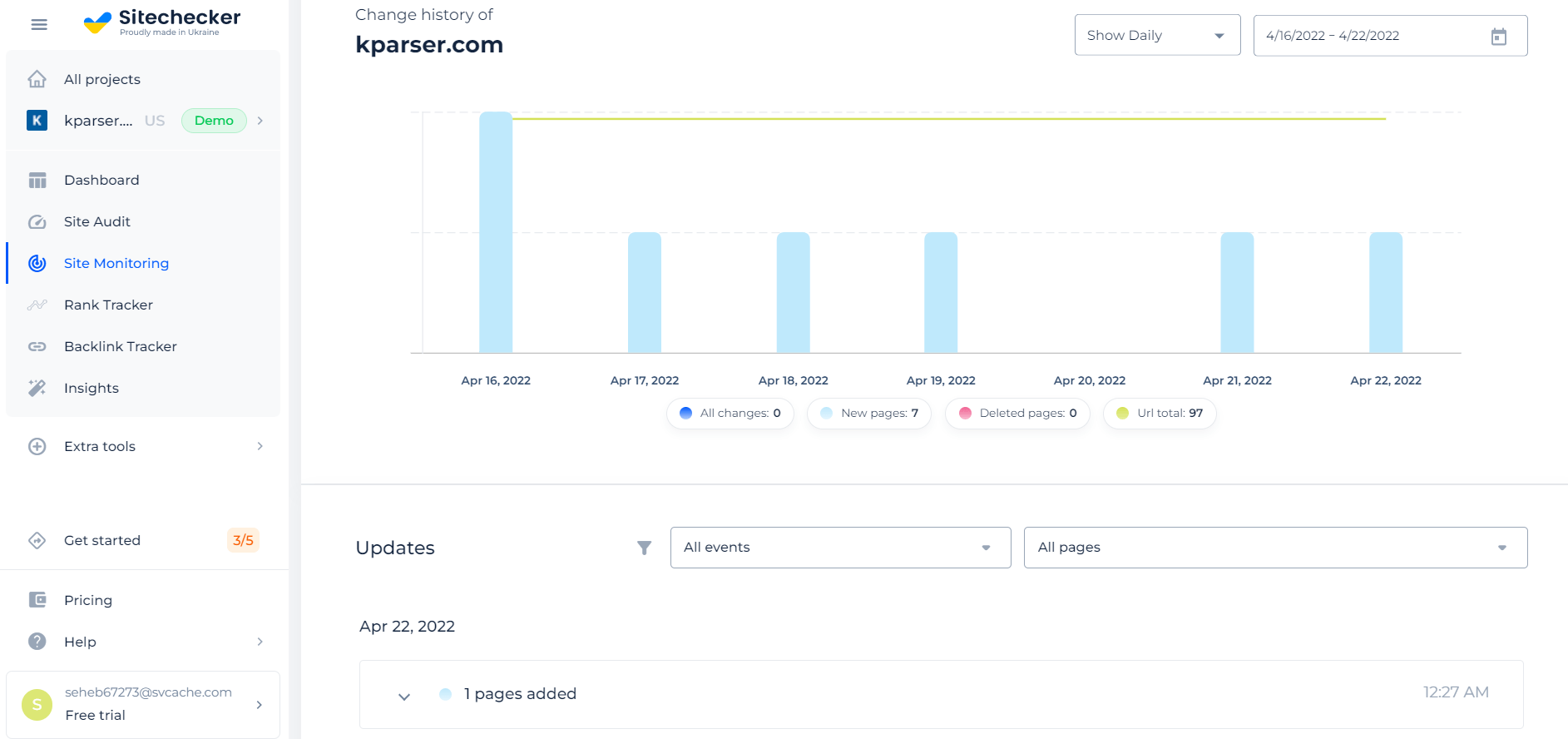 This feature can assist in tracking contractors' efficiency as well.
Building and Control External and Internal Linking
There are two types of links that matter for building strategy for photographer SEO:
Internal linking redirects visitors to other URLs of the same site.
External linking leads to other websites.
Internal Linking
Internal links connect pages of your site, helping people and search engines to find content. Such links are usually built via anchor text surrounded by relevant context.
Internal linking improves user experience, promotes information visibility, increases internal PageRank, and facilitates navigation around the website.
Sitechecker allows you to track the efficiency of anchors and internal PageRank as well as to verify the results of contractors` work.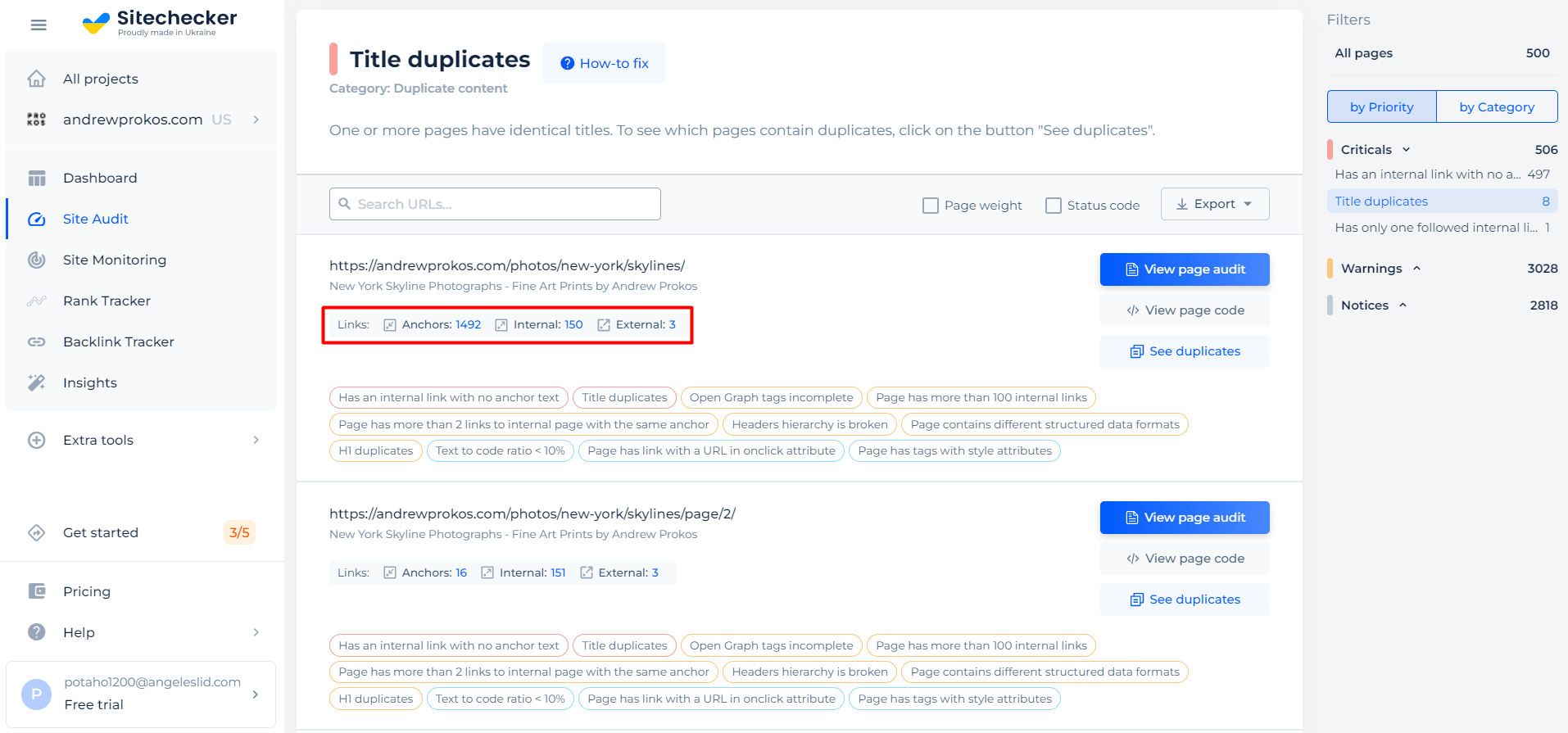 External Linkbuilding
External links or backlinks are vital for SEO activity. They improve your ranking positions because search engines consider the number and quality of your website's backlinks. That is why it is crucial to use links to trustworthy resources.
The description of external linking requires mentioning such metrics as domain ranking (DR) and URL ranking (UR). DR is the number and quality of domains linking to your website. UR stands for the same indicator regarding a specific web page.
External links are also divided into dofollow and nofollow. The nofollow tag emerged because of a fast-growing spamming problem. Since its appearance in 2005, this tag has served as a 'black mark' for crawlers, used to diminish the visibility of some sites.
Sitechecker offers online tools to check the authority of a domain and of a page. This can predict the ranking potential of a website or of a particular page.
You can also rely on a specialized Backlink tracker that allows you to check the spam level of the domain and whether the links are indexed or not. On top of it, you can use this tool to verify the efficiency of the contractors` activity.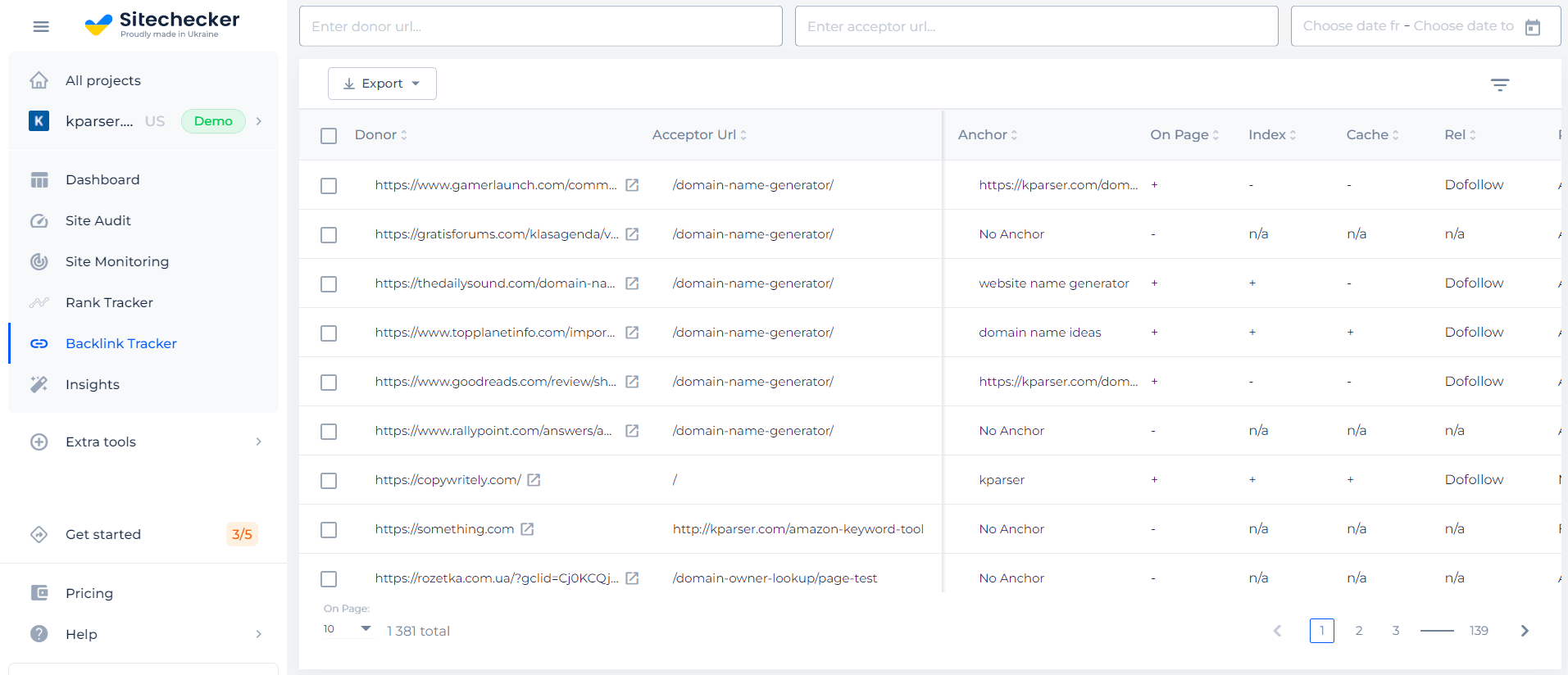 Top 5 Tips for Photographer SEO
To sum up, we would like to share some crucial tips for photographer SEO. Keep them in mind to cope with all challenges and maximize the results of your efforts.
Google Business profile is a must. Keep the information up to date, upload new photos, and specify relevant details. It will make Google Business an excellent source of new customers.
Location matters. When people are looking for photo services, they want them close to their location. Use "Geo-modifiers" to specify the area for your target audience.
Mobile version first. The volume of mobile traffic continues to grow. Make sure your web resource is mobile-friendly. Otherwise, you risk losing a lot of potential customers.
Backlinks bring added value. Not only do they increase the visibility of your website, but also contribute to site ranking.
Content is the key. Unique, relevant, and engaging content is vital for attracting visitors and converting them into customers.
For more information about SEO with a focus on the photography domain, check out this video guide.