When generating search results, Google takes into account the user's location. For example, if you're searching for "Chinese restaurant", Google will show you Chinese cuisine restaurants based on your current location. If you own a local business, it's crucial that you know this thing about localized Google search. It will help you in local search engine optimization.
It's important to track your website positions in SERP by keywords in local search results. You can easily monitor and analyze your SEO metrics by receiving regular and insightful reports.
What is Local Rank Tracker?
It is a clever tool that can help you check your website ranking in local search results, evaluate the effectiveness of your SEO strategy, see how popular your company is in a specific geographic location, and more.
You can track local positions of your sites not only by specific keywords but also by groups of search queries. Apply geo filters to see how your website ranks across regions. Receive accurate data to be able to evaluate the effectiveness of your marketing and SEO strategies.
Why is Local Keyword Tracking Important?
If you're running a local business, you must be able to receive and track accurate and relevant data on your keyword rankings. The thing is that website rankings are constantly changing. Plus, they differ heavily across different geographic locations. Your website's global rankings may differ from local search rankings – what your customers see when searching locally. Local rank tracker is a one-stop solution to this problem. We'd like to share with you a few useful tips so that you could make the most of this amazing tool.
Track your local ranking is important, but you should control the technical health of the site too!
Crawl your site and find out all kind of issues that can hart your users or your website SEO.
Focus on target keywords
From the list of popular search queries, pick those that generate the most target traffic and have good search rankings. Also, be sure to take into account conversion rate for each keyword. This is how you'll be able to get the highest return on your investment.
Track the dynamics of keyword rankings and use this information to determine whether or not your SEO strategy is effective.
With local rank tracking, you can monitor the dynamics of all crucial SEO metrics and see which of your SEO efforts have improved your Google rankings.
Determine the factors that constrain your growth
Local website promotion can be tricky. If your positions are going down, Local rank tracker tool will let you know that immediately. Identify and correct your mistakes and recover your rankings!
How Does Local Rank Tracker Work?
Step 1: Enter your website's URL and start free trial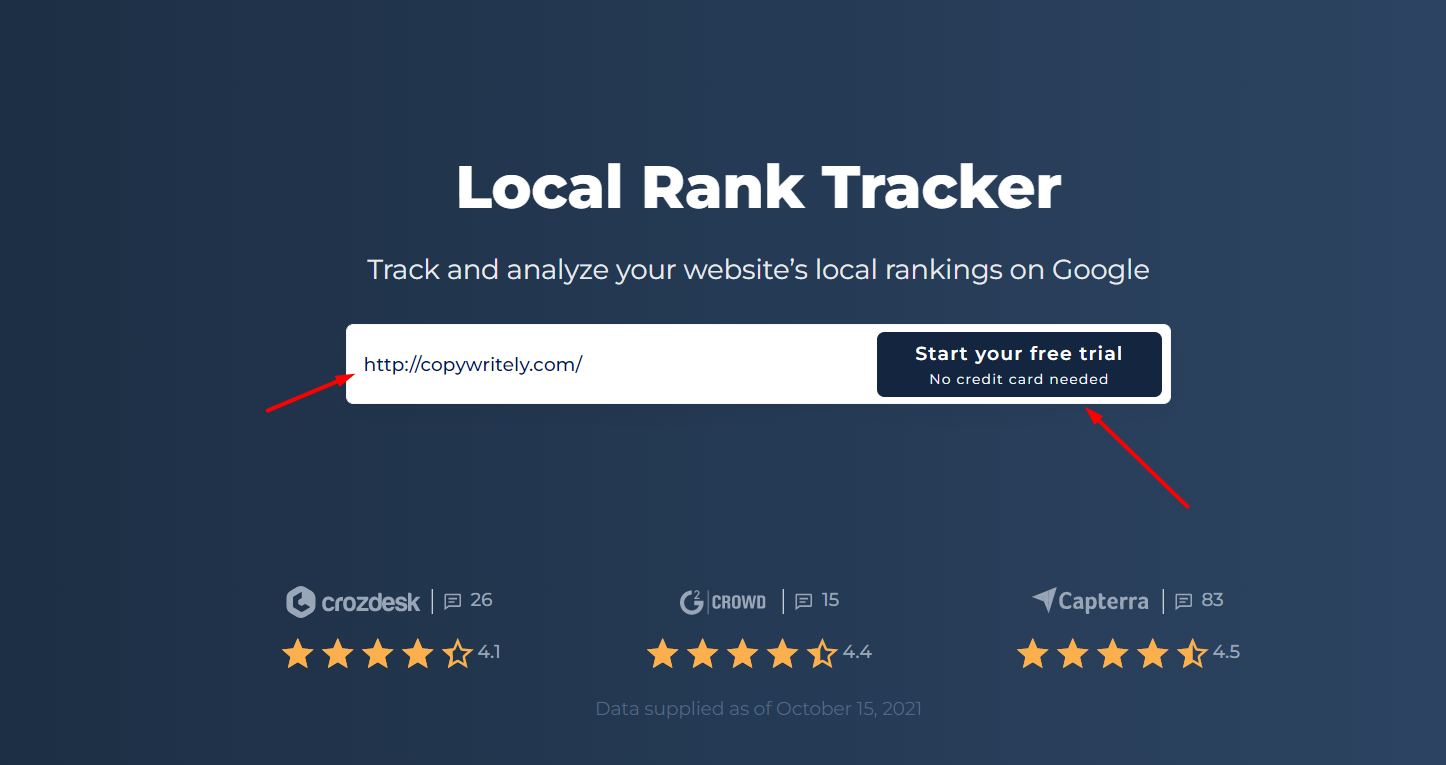 Step 1: Get result
Go to your project settings. Select your search engine, geographic location, and city (optional). Select the type of devices (desktop, mobile) for tracking. Click "Next."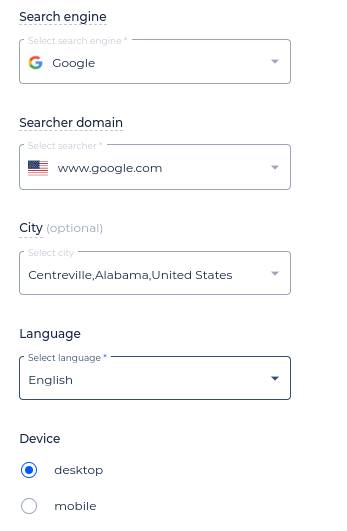 Note. What is more, we have separate mobile rank tracker tool, with the help of which you can track site's mobile performance.
Step 3: Add keywords and click "Finish" to start collecting data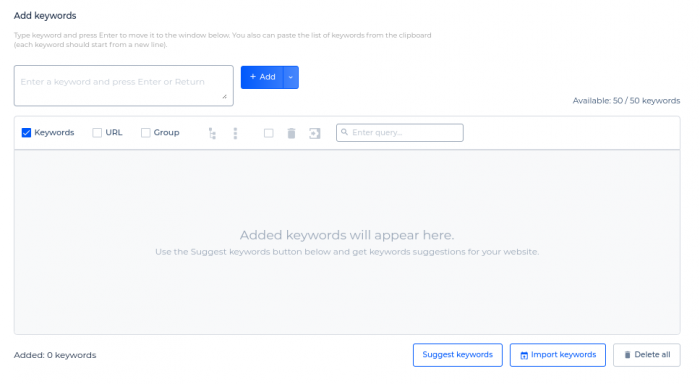 To help you better understand how to use our tool, we've put together this video tutorial. Monitor and improve your website rankings with ease!
FAQ
How do local keywords work and how can I use them?
Local keywords are search queries that you'll be tracking for a specific geographic location. Imagine that your company has three offices in Boston, Portland, and Seattle. With our tool, you'll be able to track the most searched keywords and see how your website ranks in each of these locations.
Can I use the service for free?
Yes. Use our free trial to see what our tool can do and choose the plan that will be right for local service area businesses' needs.
How many keywords can I track?
You can track up to 10 search queries for free. Our paid plans allow you to monitor 150, 500, or 1,000 keywords for one account.
Can I track my competitors' keyword rankings?
Our tool helps users track rankings for their own websites. However, if you have a list of keywords for your competitors, you can create an individual project for each of them and start tracking their local rankings.
Can I track rankings for more than one website?
Yes. You can create an individual project for each site and track its rankings across different locations.
Can I use a tool like Google local rank checker?
Yes, you can. After you did the account setting, peaking the region and added the keywords that you need. You will get the first report with your keywords local rank position for the day of project creation. So checking the Google ranking positions is the first step in our service. Also, you will be able for tracking keywords on a regular basis.