Having a functioning website is the core of the success of any business today. Learning how to design a website enables you to sell your products and create a popular brand image. Your website layout and design will affect the decision of potential buyers who are interested in your products or services.
A website that is not designed well or doesn't offer valuable experience to potential visitors will drive people away. In this article, we explain in details how to design a functioning and reliable website that attracts users and provides a satisfying experience. You should be aware that design has a huge impact on the web page size and further conversions.
What is Web Design?
Before getting busy, you must refresh your memory by revising basic terminology. Web design is the process of planning, designing, and building a collection of electronic files that create a unique experience for the visitors of your website. Successful web designing involves lots of skills and techniques that you can master with regular practice.
How to Design a Website in 5 Straightforward Steps:
Start your blog and advertise your business by building a reliable online to attract visitors. Here, we list the main steps that can help you reach the result you want by learning how to design a website like a pro.
Create a Plan:
First of all, you should decide on your brand image. Do you want to create a fun site? Should it be formal? Are you trying to make sales? Think about what your target audience wants and what they expect when they click your link.
Next, think about the features that you want to add. Do you want to activate social media sharing? Should there be a newsletter signup option? Being specific about the features displayed helps you avoid confusion later on. All of this should added to your creative brief.
Pick a Platform:
There are two options available if you want to create a successful website. You can either use a website builder or code it yourself.
Website builders are straightforward platforms for people who don't have lots of technical skills. For a fee, all maintenance and security work will be taken care of.
The best thing about web builders is that they are fast and straight forward. No coding skills are required. Moreover, they are relatively cheap and most of them offer free features. Most website builders also allow you to export your website to other domains, which is a big plus.
Although website builders are convenient for beginners, they might not be suitable for professional businesses as they offer content management systems for any specific need. They lack customization and are rarely optimized for mobiles. You might experience slow loading time or even have poor SEO which affects your website's ranking in Google search results.
If customization means a lot to you, then you can develop your own code. This is the right way to have a professionally designed website that caters to the needs of potential users. However, you should have excellent coding skills or pay for a professional web developer if you want to do things your way. If you don't mind taking care of technical, maintenance, and security issues then this could be a great option.
How to Choose the Perfect Webpage Design:
You can do this by analyzing the taste of potential users:
Studying Competitors:
Don't expect to design a successful website if you copy a competitor's design trends. Studying and analyzing successful websites in your niche helps you define the right techniques to stand out in a highly competitive environment.
Taking a look at several leading brand names in your niche, you will see that they share certain colors, fonts, and designs. You shouldn't copy that, but you can always add some special details and build a unique website. However, these tips should serve as your guide.
Analyzing Authority Sites:
Keep an eye on the other websites that relate to your niche. If you offer car spare parts, take a look at the leading car manufacturers' websites. You are not competing with these websites, but they attract the same target audience.
Decide on the Layout and Navigation Options:
Now it is time to start working on the first thing users will ever notice: the homepage. An efficient homepage design offers a clear idea of what the rest of your website will look like. It should contain a smart sentence that summarizes the value behind your brand, blog, or online company.
A successful homepage design shouldn't only look good. It should also provide a valuable experience for users. They should know how to navigate your website and what they should do next.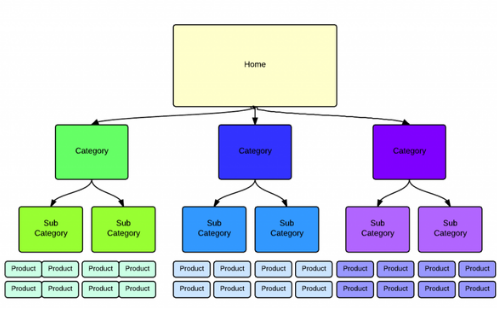 Successful Homepage Layout:
The content you post on your homepage is divided into above or below the fold.
Top half or above the fold is where you post a strong and clear sentence that summarizes your business. It should feature a call-to-action link that encourages people to check your products, share your content, or sign up for newsletter emails.
Bottom half or below the fold offers more detailed content. List the benefits of your business, the story behind your inspiration, or previous reviews.
In both sections, avoid confusing guests by posting too many details. Cluttering the homepage bores users and drives them away. This is an essential web designing tips.
There are several options when it comes to placing your logo. If you want to draw attention to the brand, place it in the middle of your homepage, under the menu bar. If you want users to focus on the products or services you sell, think about placing the logo on the same level as the menu bar.
Practical Homepage Navigation:
The navigation bar allows users to browse your website and find what they are looking for. Here are some issues that you should take into consideration:
Be smart about the tabs you add to your navigation bar. Too many pages will confuse potential users.
Build categories for faster and easier access.
Keep page titles clear and short.
Use clear fonts so users can see everything clearly.
Users expect to see a FAQs page, an About page, product categories, and a Contact Us link. The navigation bar should be on top of the page for easy access.
Get Busy with Website Designing:
Now that you have learned how to design a webpage, it is time to add your content. This includes the text, fonts, images, videos, and other visual elements that tempt your users to take action.
Focus on Successful Content:
One of the most crucial website design tips is to post exclusive content. This includes:
Text: these include blog posts, articles, reviews, lists, and comparisons. Don't clutter your website with chunks of text as this will bore people. Make sure that your texts provide real value that encourages readers to press the call-to-action link or make a purchase.
While writing articles and posts for your website, always keep an eye on original content. Pay attention to SEO rules that will improve your website's ranking in search engine results.
Graphics: These are images that you post to illustrate your posts and articles. A picture speaks a thousand words. The right images increase the number of clicks and engagements which improve your website's traffic. Use unique images and if possible take your own. Avoid using low-resolution images that affect the quality of your visual content.
Multimedia: Using videos can increase your traffic, but they can affect a page load time. It is a good idea to avoid using features that don't load on mobile devices like Flash or Java to increase the traffic.
Start Building the Website:
Now it is time to start building the core of your website. Here is what you must do:
HTML: This is the core of website building. This system tags text files to create color, font, and graphics. This is the first and most important thing to learn if you want to know how to design a website.
CSS: This controls the layout of multiple pages on the site you create.
JavaScript: This programming language is used to create interactive features.
PHP: This scripting language is related to successful web development.
Databases: This is a group of data and information stored on your website.
Keep on Testing:
Take a look at all pages while building them. See if all the pages are loading correctly and that your codes are working all the time. You should also pay attention to:
Goals: The website should always be designed to fulfill its purpose.
Technical features: All codes should function properly, and the pages should load successfully on various browsers.
Upload your Website:
Now, your website is almost ready. It is time to test it on various browsers and see how it loads. If you online site is not mobile optimized, then you might need to make a few adjustments to improve it. Check that all your links work and revise all contents for spelling and grammar mistakes.
Upload all files at once. This way you can see if they are all working and functioning successfully. The website has the latest versions of all the pages created, and you can see how they work together.
Invite People to Your Website:
You shouldn't spend a lot of money to let people know about your website. SEO or search engine optimization is one the best ways that help increase traffic. SEO improves the website's ranking so more people can find it when they are looking for products and services.
Regular Maintenance is the Key
After make a website, you must be ready for regular updates. An outdated website will drive people away. Online visitors are always looking for new and updated content that provides value. Change and update your content regularly to attract more visitors. Here is what you need to focus on:
Fix broken links. Checking broken links is hard work, but a link checker can do the job on your behalf. There is a need for white label SEO software.
Update your content. Delete outdated blog posts and articles to add new content.
Redesign: You can always examine your design and add a few changes. But at some point, you might have to consider a complete redesign to keep your website fresh.
You don't have to be a professional designer or go to college to learn how to design a website successfully. This detailed guide will help you plan and execute the job right. Just stay open to the new trends and remember that your continuous effort will eventually pay off.