Completing your online presence by choosing the right domain name is one of the most important aspects of building your brand online. Sometimes, though, it can be difficult to discern which domains are going to be around in the long term and which ones might disappear soon. That's where domain age checkers come in handy; this kind of tool makes it easy to find out just how old a given domain name really is, helping you to spot potentially bad choices before you commit to them.
What is a Domain Age Checker?
It is a great tool for anyone looking to purchase a domain name. It allows you to see how old a site name actually is and when it will expire. By using a website age checker, you can make sure that you are purchasing a valid and active domain for your business.
Before placing an order, there are a number of ways to check domain names. If you need to verify how old a website is, you may use a bulk domain age checker. You can also use a domain expiry date checker to see when it expires. In addition to this, a site registration date checker can be used to figure out when a website was formed.
Before purchasing an old domain, you must obtain information on when it was created, its reputation, the SEO strategies utilized, and its traffic — similar to what you would do when purchasing a used car. Domain age checker tools, in general, display your site name registration, update and expiration dates. It is also recommended to check the IP address, name of the server or web hosting company, web archive history, etc.
How to Use Domain Age Checker?
Step 1: Insert your domain and start free trial
No need to enter your credit card details – just type in your domain name, click the button and you're ready to go! Getting started is super easy and fast with our free trial – simply use your Google or Facebook account to create an account with us. Start exploring now!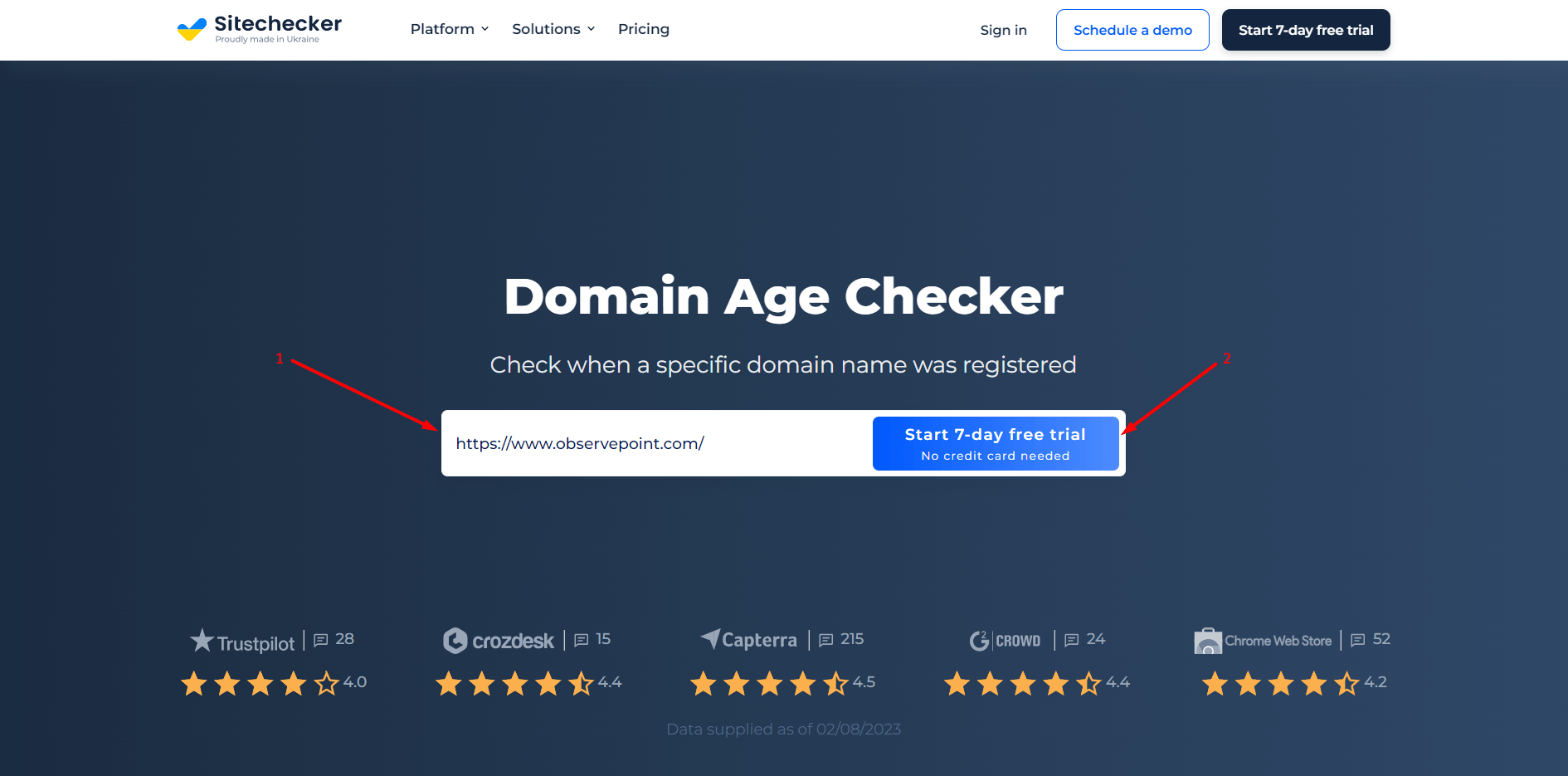 Step 2: Results analysis
After performing a domain crawl, you will be able to access the domain information data, which includes the age of the domain, its creation date, and its expiration date.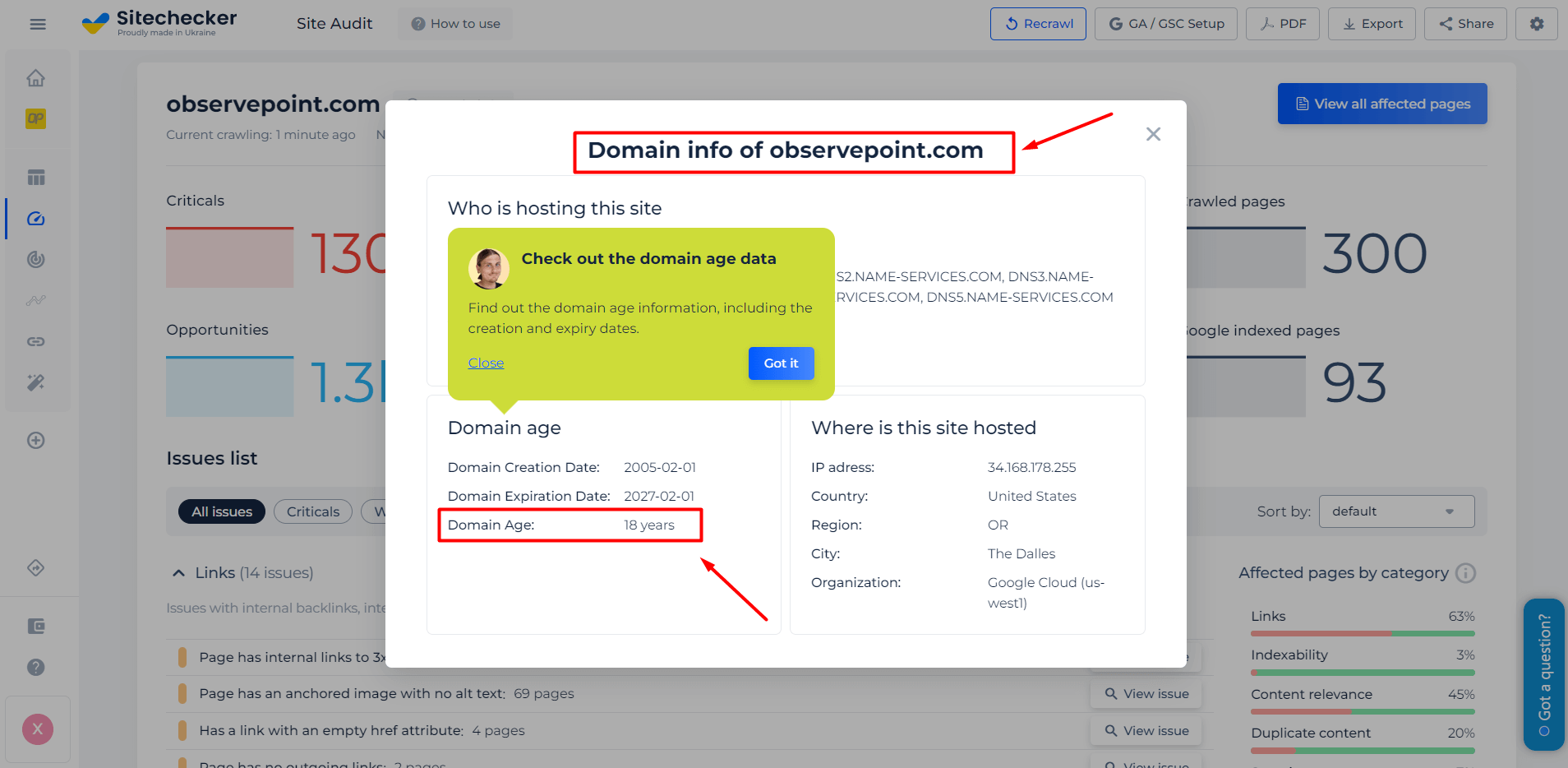 Discover the incredible benefits of using a domain age checker!
If you are checking your own domain or the domain of the project you plan to invest in financially, we have great opportunities for you. After completing the site crawling process, a detailed website audit report will be provided to help pinpoint any existing issues and understand the website's SEO technical condition. The report will include helpful recommendations for resolving identified problems. Additionally, the type or category of the issue (e.g. Links, Indexability, Content Relevance) can be determined to focus on those that are most important for improving overall website performance. This will enable users to effectively address any existing concerns and ensure optimal success moving forward.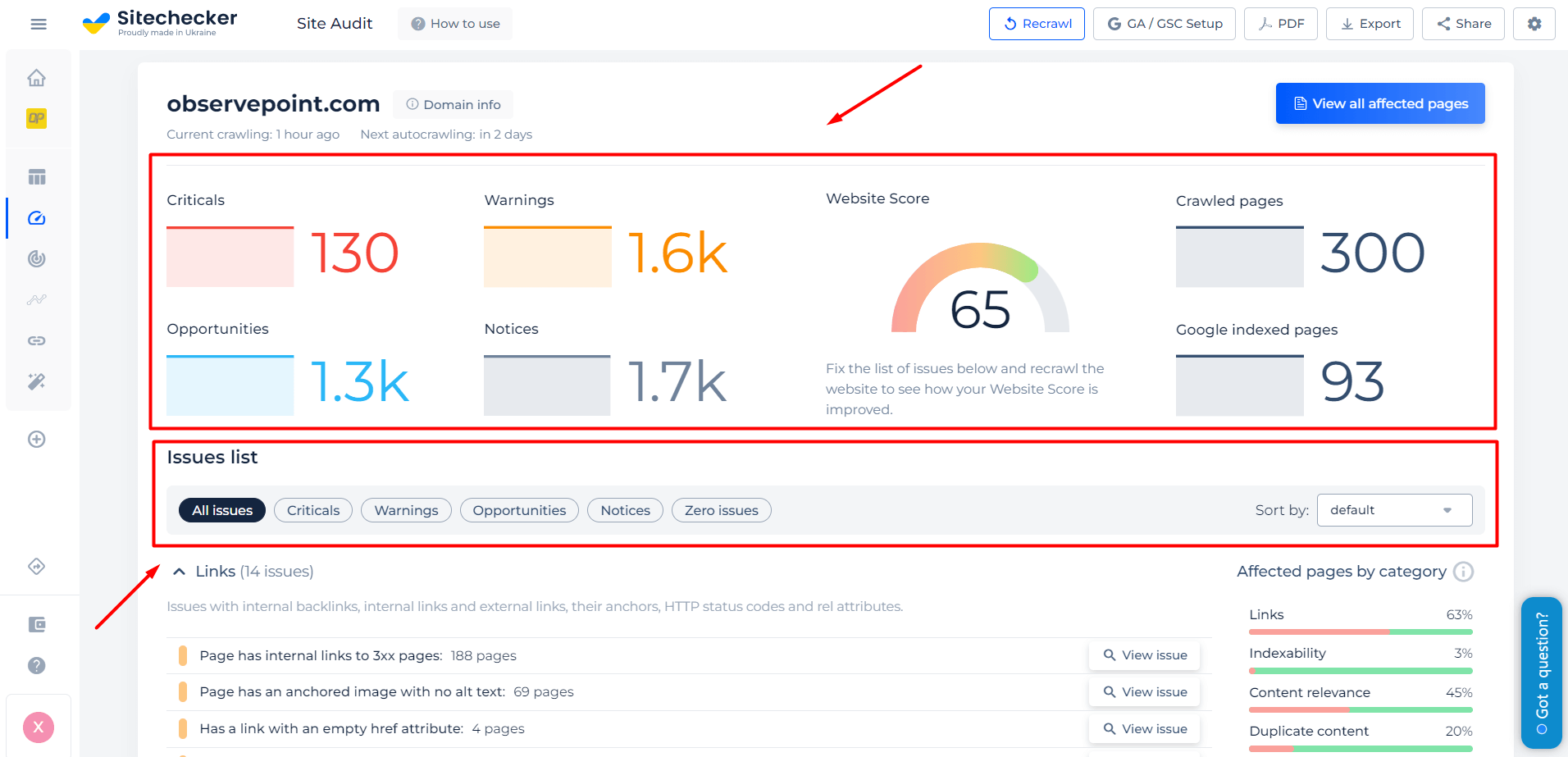 What is Domain Age?
The domain age is a rough estimation of how old a website or web page is. A website that has been around for several years will have an older domain than one that was recently registered. Website owners can use these tools to check their own domains and see how long they've been around. Site name registration expires after a certain period of time, and you are required to renew it in order to keep using it.
The website age also helps determine if someone else might be interested in registering your domain name before it expires so that they can take over ownership of it from you. What's more, it helps you decide when it might be necessary to purchase another site name so that you aren't forced into taking down your site altogether due to your current domain name's expiration.
Is Domain Age Important for SEO?
It has some impact on your SEO stats. Let's dive into the topic.
What does Google say?
As a rule of thumb, Google looks at two factors in order to determine domain age. The first factor is how often content is updated on a site and when that last update took place. Google needs to see that you're actively keeping your website up-to-date by adding new content regularly. How often a site is updated also makes an impact: if you don't add any fresh posts for years at a time, Google may conclude that you have abandoned your website. After all, why keep paying for web hosting if there are no pages to load? In terms of how many times per year you should update content on your site(s), we recommend doing so anywhere from 3–5 times per year — or even more frequently, depending on what types of sites they are.
To learn more about how Google determines domain age, check out this video.
Old DA benefits for SEO
Qualitative backlinking is one of the major reasons why older domains do better in search engine rankings. Search engines examine backlinks, paying special attention to the sites' dominance, and if they are authoritative, these sites are rated higher. Working on the construction of quality backlinks for a site would be a huge benefit.
Another benefit of old site names is that they usually have a strong reputation in their niche. It's a nice benefit because building a solid reputation takes a lot of time and effort at first. If you have the opportunity to purchase an old domain with a good reputation and a high SE ranking, consider yourself quite fortunate. Many businesses invest years and significant sums of money to establish a good reputation and trustworthiness.
Old domains also receive a lot of traffic. Having consistent traffic costs money, time, and work; thus, purchasing an older domain with previously established significant traffic is a huge bonus. All you have to do now is maintain the current level of traffic while working to increase it.
Any SEO manager's goal is to get their sites to the top of search engine results pages; therefore, if a site already has a good search engine rating, you will undoubtedly save money and time. The ultimate goal is to achieve a high ranking for your website, and top rank is synonymous with profit and visibility.
With that being said, there are some things you need to be careful about when buying old domains. Some site owners and webmasters use various black hat SEO techniques in order to get a higher ranking for their domain. You must examine the website in terms of this issue and work on its removal, or the site would be at risk. Moreover, some older site names also have a bad reputation. If previous users blocked this site or tagged it as spam, it means you will get a site with a tarnished reputation that can harm your business.
Checking Domain Age is important but not enough to get good SERP positions!
Now you know about Website Age, further - crawl your site and find out all kind of issues that can hart your users or your website SEO.
How and Where to Find Aged Domains?
To find an aged domain with age, simply use a domain age checker tool. Normally, site names with an age of 10 years and above have strong authority and SEO. You can only buy the domain once it expires, so make sure you check if the date aligns with your needs. However, before you buy, make sure to check its reputation and spam history. All available domain names can be bought via auctions on online marketplaces and websites.
FAQ
Can You Own a Domain Under 18?
According to ICANN (Internet Corporation for Assigned Names and Numbers), if you are under 18 years of age, you cannot register any domain names or hostnames.
Can You Buy a Domain Without Paying Yearly?
Yes, you can buy a domain without paying yearly. The registration of a domain name is done once a year. This means that you will have to pre-pay for up to ten years, ensuring that you will have a site name for ten years.
Yes, Google Domains is safe. It offers free privacy protection, one-click DNSSEC, and Google 2-Step Verification for any domain that you register.
What Age Should the Domain Have?
A domain with an age of ten years or more has a high chance of having a large backlink profile and some actual ranking strength behind quality content.