First impressions count. It might be unfair to judge a person by the appearance, but everyone has been through it. A situation with domain names is very similar, just implies more risks. Properly chosen name guarantees that users will remember your website and search engines will like it. So how to pick a website name that will work for you? How to register a domain name before someone have come up with the same brilliant idea? Here's your short guide that answers these questions.
What is included in the domain name
Domain name is better known for an average user as URL. Website owners can setup it before launching an online platform. It consists of several levels (no more than three) that are divided by dots and counted from the end.
The first level indicates a zone. Some domains indicate website's belonging to countries (.es = Spain, .au = Australia), some indicate spheres (.com stands for commerce, .info for informational activity, etc.).
The second level is website name made up from Latin letters, numbers, and sometimes hyphens. This is the core of every address that carries an important function for your business: to create linguistic associations with the brand and make it memorable.
Choosing the proper SEO-friendly name
Luckily, requirements of search engines and users are very similar when it comes to a website domain name. Here are some things you should keep in mind.
It should match your brand. It is one of the ways of getting a strong name. It will make it easier to find your website when using any search engine.
It should be catchy. Think about the way it sounds and looks like. Even if you come up with wordplay, make sure it is related to your brand, easy to read, spell, and remember.
Check out your competitors. Before you proceed to registration, type requests in Google search to check whether you get many results. If there are similar searches with strong positions, getting to the top will be difficult.
Don't get fanatic about keywords. A creative idea is always better. Of course, if your services are more relevant in Manchester, it is reasonable to acquire one with "manchester" part in it. Just remember that spammy names are ranked low by Google and consider to be not memorable.
Avoid hyphens. Check out several names of the big brands – you will not find many with hyphens. They look unattractive and are difficult for spelling.
Keep it short. The fewer letters URL contains, the easier it is to memorize.
Define your audience. Proper TLDs (top level domains) make it easier to reach the target market. For instance, go with .com if your audience is global, choose .co.uk if it is local.
Make it unique. How to choose a domain name that will stand out? Don't copy anyone. Make sure there are no trademarks or names that operate in social networks that only use that name.
Free vs paid domain names
Before creating your website, there are two ways how to get a website domain: by reserving it at hosting service provider or using website builders, like Wix or Foresquare. The latter allows launching your own web resource with little effort and almost independently. You just leave a request with basic requirements and get a ready website several days later. However, in this case, your website will be located on a sub-domain and look like this: yourwebsite.wix.com. This is not the best thing to do if you plan to start a long-term business and to build a strong brand at least for two reasons:
You don't own this name; another service owns your sub-domain name, which is not portable.
You get a longer name with "wix" or "foresquare" part in the middle instead of simple yourwebsite.com.
Nevertheless, let's take a closer look and consider all the pros and cons to get a full picture.
Advantages of free domains
Free yearly usage. If you don't know much about how to register a domain name or how things work, it will be your playground and workshop available for free for the entire 12 months.
One-time usage. If you are planning an event (local or college festival, competition, party), it will be used only once and be relevant during a short period of time. Save money and invest in that event. Don't bother about how to create a domain name.
Option for bloggers. If your blog is just a site for sharing thoughts, hobby or diary, free domain is a good decision.
Short-term websites. If you are not certain whether your blog or service is going to survive more than one year, there's no reason for purchasing a name. Use it for free for up to 12 months.
Cost-efficient. If there is some serious reason to launch your website creator quickly, you don't have enough money to buy a name – free version comes to rescue.
Disadvantages of free domains
Limited service. Free domain names come as bonuses. You will be charged anyway, only later – in a year or so. There's no use retrenching if you plan a long-term project.
SEO issues. Sub-domains cannot be easily indexed by search engines. You have low chances to build a recognizable brand. There's a chance you won't be found. Ever.
Things may get unexpected. If you decide to switch to a paid option later and enjoy its functionality to the fullest, get ready to start all over again with no visitors, backlinks, SEO settings, achieved rankings.
How to buy a domain name
Services for buying domains
GoDaddy is the most popular service that provides many special offers for first-time registration. Some important additional features, like privacy settings, are included in packages.

Namecheap offers lower prices and better selection of additional features at a reasonable cost. For instance, you can enjoy private domain registration for free for the first year.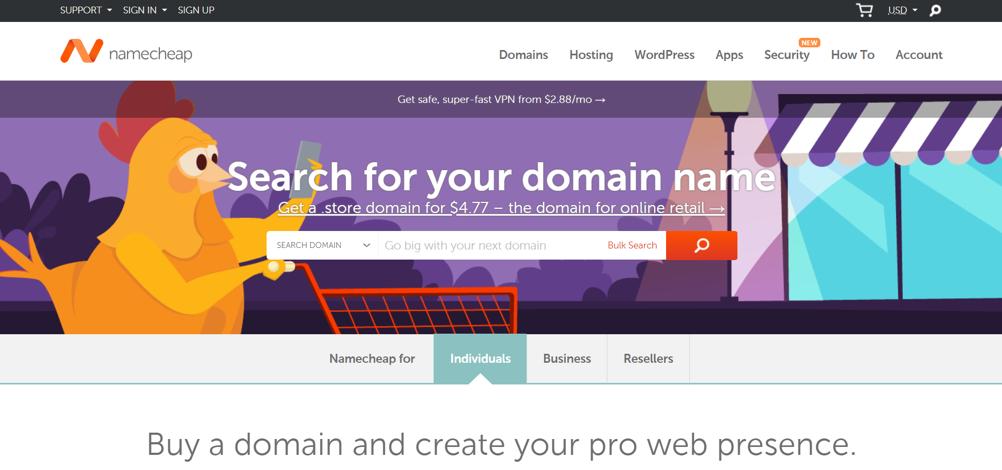 Google Domains provides a fair selection of extensions, reasonable prices, and a straightforward interface. Extra features and services, however, are not offered.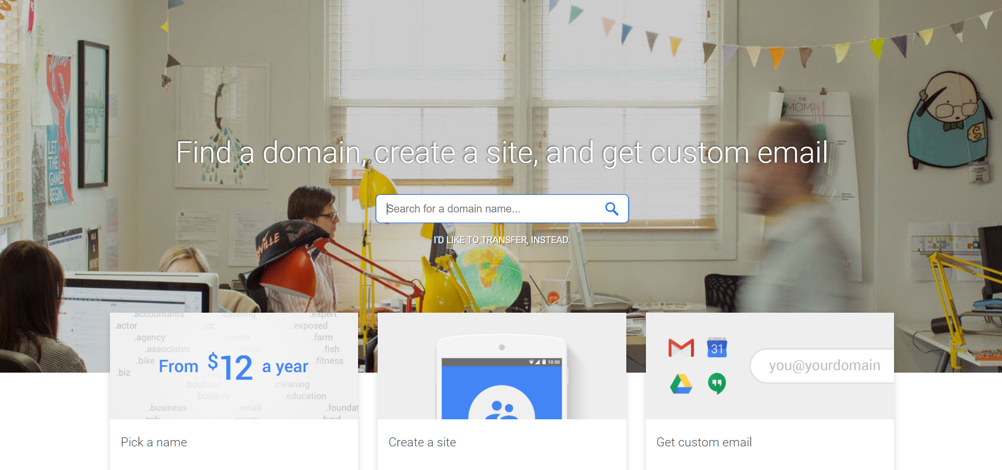 The list of other trusted and popular services includes:
What to look at when buying a domain:
History. It is not always possible to buy a fresh and new domain. Before buying, try the domain registration lookup tool to get entire information about the domain. It can be a huge advantage or a true disaster. In the primer case, you may enjoy smoother indexation and higher ratings. Bad history with a heritage like spam links, non-unique content, and blockages can cause serious troubles.
Terms and conditions. Before you pay, read the contract attentively, for it might affect the further development in many ways. Some providers reserve the right to revoke your domain and change their registration agreement. You should be aware of such nuances.
Price. This shouldn't be the main criterion for choosing a provider, but it still matters. No one wants to pay more when there is actually an opportunity to pay less.
Technical specifications of your website. Think about design and functionality. If you plan to load the future website with some heavy scripts, an abundance of content and so on, choose a proper hosting plan. Don`t forget to look through what cms website is built on.
Hosting company specialization. There are companies that are not suitable for all users. Some offer advanced hosting plans but don't have solutions for developing projects. The others don't have anything to offer those who own just a small blog. To find out IP address of a website, use our free domain to IP converter.
Scalability. If you think about website growth, opt for providers that offer several plans and allow switching between them.
Reviews. Look up for comments on specialized blogs and forums. Opinions are often subjective, but you can get the general picture by learning about the experiences of real users.
Step-by-step guide on how to register a domain name
Now let's sum it up into a short domain name registration plan you can save and use in the future.
Step 1. Choose a name. You remember those criteria —unique, catchy, relevant, easy to write and remember. If you can`t just use domain name generator.
Step 2. Choose a suffix. It should reflect either geographical location or the field of your business, although .com is used almost for everything these days.
Step 3. Decide on timing. Very often the name is included in the first year of hosting. Then you will need to prolong it every year or so. Some offer payment options for five or even ten years.
Step 4.  Choose a service. Check out several options from the list above and pick one that offers the best plan for you.
Step 5. Check availability. Many good names are already occupied. Don't make big plans before you are 100% certain the name is free. Check if domain is available before buying it. And if it is, claim it immediately! Sometimes you can buy a domain with an existing name and use alternative suffixes.
Step 6. Pass the registration. It is just like registering an email, an account in social networks, etc. Just look on the screen and follow the directions.
Step 7. Wait for a little bit. Some hosting service promise to turn everything on immediately, but actually, it takes some time – usually 48 hours or less.
Step 7. Keep a check on it. Don't forget to renew the domain name when the time comes. Otherwise, hosting services will just turn it off or sell to someone else.