Every website has its domain name. Basically, this is an address of website registration. It contains all information about website ownership and tenure.
In other words, it identifies the administrative autonomy as well as authority and control within the web. For a customer, the representation of the name is the website URL.
There are certain rules and procedures according to which the names can be created. The Domain Name System regulates them. It's important to know that all domains are organized on different subordinate levels within the DNS root domains. There are top-level names (ending on .com, .info, .net, .edu and .org) and country code ones. All of them serve to simplify the journey of the customer.
As we have already mentioned, they are controlled and authorized by registrars. They keep all information about these names and their owners. However, the history of domain name registration started not long ago. In 1985, the first commercial domain name was registered. Today, you cannot create a website without registering a name.
What is Whois Domain Lookup Tool?
Whois Domain Lookup is a special tool that allows to check domain availability, finding domain registration details like registration date and expiration date e.t.c. Additionally, this tool provides information on the registrar, reseller, contact details of owners, and other information that you may be interested in.
Whois database contains public information that is legally provided to all customers. When registering a name, a site owner agrees that info will be publically available on the web.  However, some registries allow you to hide the information.
But in most cases, anyone can discover the details about the website domain by using Whois Domain Lookup tool. It collects all data from the official resources and provides this info right on the page where you request it. It helps you check all information faster, as you don't need to go to other websites to check it. All tools that you need to improve your SEO and website performance are available in one place.
How to Check Website Details Information: by Domain Lookup Tool?
Whois Domain Lookup Tool uses domain name registrar, or URL, to analyse site info. Pay attention that information is provided for information purposes only.
Step 1: Insert your URL
The process starts with entering the URL of the website you want to check in the search field. Enter one URL per request. As an example, we used Sitechecker:

Step 2: Interpreting the website info lookup results
The extension uses the URL address to collect information assigned to the particular website. For example, you will be provided with the registrant names and email addresses, admin data, tech data, server, DNS provider, and other details. All information will appear on the page where you've entered the URL.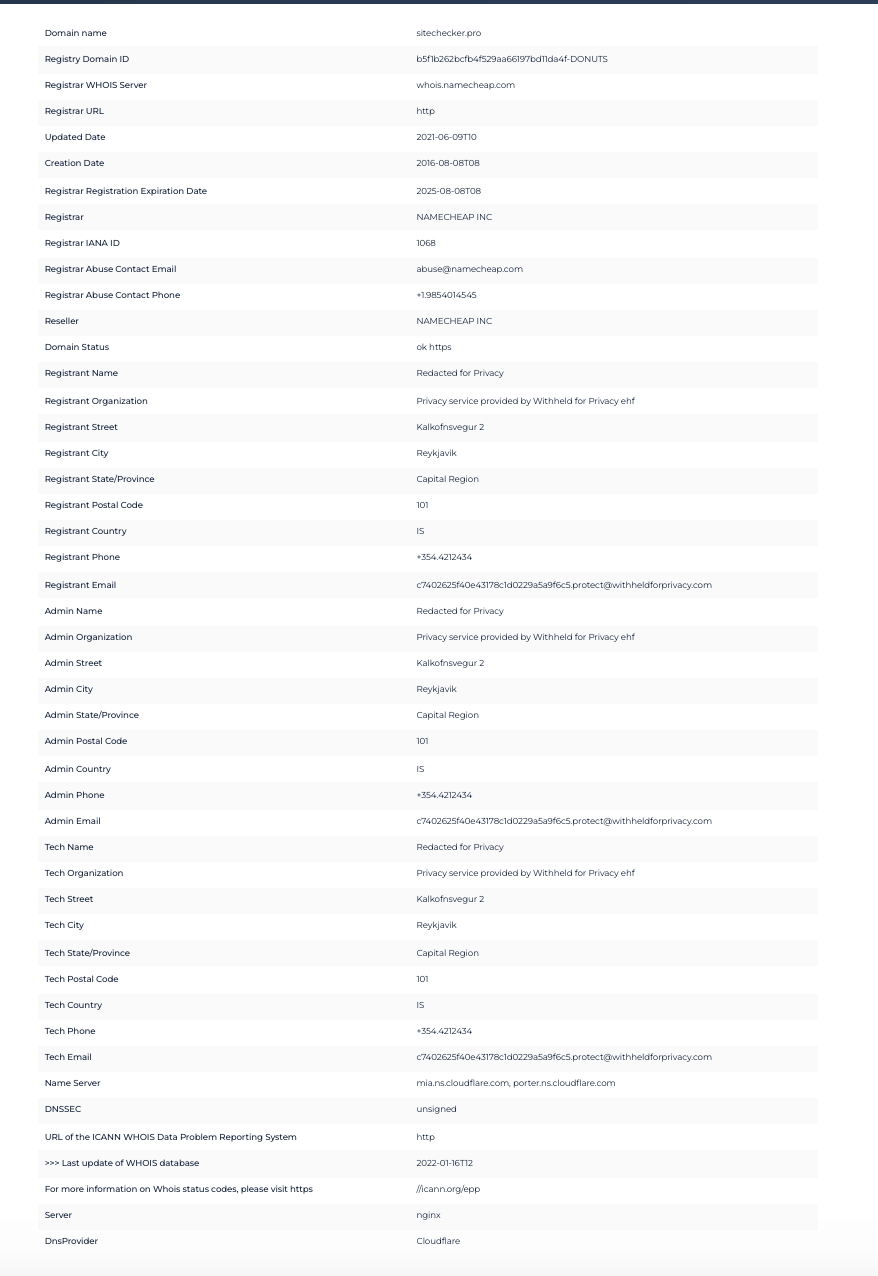 Cases When Whois Domain Lookup is Needed
The tool can be used by any small team or a big corporation when they need to find out information about domains. Basically, it can be used in the following cases:
To discover who owns the domain
Checker helps to look up all publicly available information, including the domain owner. For example, you are planning to create a website with a certain name. However, it is already taken by someone else. But in many cases, when the business is no longer functioning, the website may still be online. You can buy the name if this is your case.
To contact the representatives of the website
As the information is publicly available, you can find the contacts and IP address of the owner in case you need to get in touch with them. You will need this information in case you want to buy the name.
To check the creation date
Any customer can find out the date of domain creation for free. The service also allows you to check the date of the latest update, as well as the registrar registration expiration date. This information may be used in case you want to buy this name when the date of ownership expires. You can also use the domain age tool to uncover these details.
To check what organization a website current owner uses to host a website
Site owners use different organizations for website hosting. If you want to use the same organization as your competitors, you can check their domains with the corresponding tool.
To check domain name availability
If you are not sure whether the name is free, you can use Whois Domain Lookup tool to check the availability of the name. If no information is available, you can register this domain name.

Find out not only the information about domain, but also the presence of technical errors on it!
Make a full audit to find out and fix your technical SEO in order to improve your SERP results.
FAQ
Whois is a database that contains information about all domain names. This information is publicly available.
How do I see who owns a domain name?
If you need to check the owner of the domain name, use Whois Domain Lookup. It is a free and easy-to-use tool that collects all information and provides it for you on request.
Whois Domain Lookup tool is legal and free to use. The matter is that all information about domains is publicly available, and you can access it online. We've created a tool that allows doing this with the help of an extension that collects data from legal resources.
How do I update my WHOIS information?
You need to sign in to the Whois account center to update your Whois information. Next, choose the element you want to edit and choose Edit WHOIS Contact Information. After completing the form, submit it to save edits.