Sometimes, website developers wish to make things easier for the user or implement new functionality to their website in order to enhance usability, improve website performance, or upgrade user experience. In order to implement these new functionalities, developers or website administrators can choose to install small pieces of software that we call plugins.
Mostly, WordPress plugins are free, although there are some premium options that provide loads of different features, premium support, and regular updates. Use wordpress plugin detector to find out what WP plugin using a website. 
What do plugins do and why do we need them
The same way we can add an app to our smartphone in order to turn it into a compass or a flashlight when we launch the app, we add plugins to add more value to our web presence. In essence, plugins are just pieces of code that we can implement in order to change a certain aspect of a website's appearance or performance.
There are so many different types of plugins built for all sorts of purposes. WordPress plugin repository currently includes more than 55 thousand different plugins, some of which count millions of downloads by users that required improvements in the field of:
Safety

Performance

Visuals

SEO

Social Media Integration
Let's take a closer look through some examples:
Let's say you wish to improve your website SEO performance so you install Yoast SEO plugin. The plugin provides you with the tools necessary to boost your search engine visibility while leaving all other functions intact. This plugin can optimize your keywords use, rate content readability; as well as optimize your images.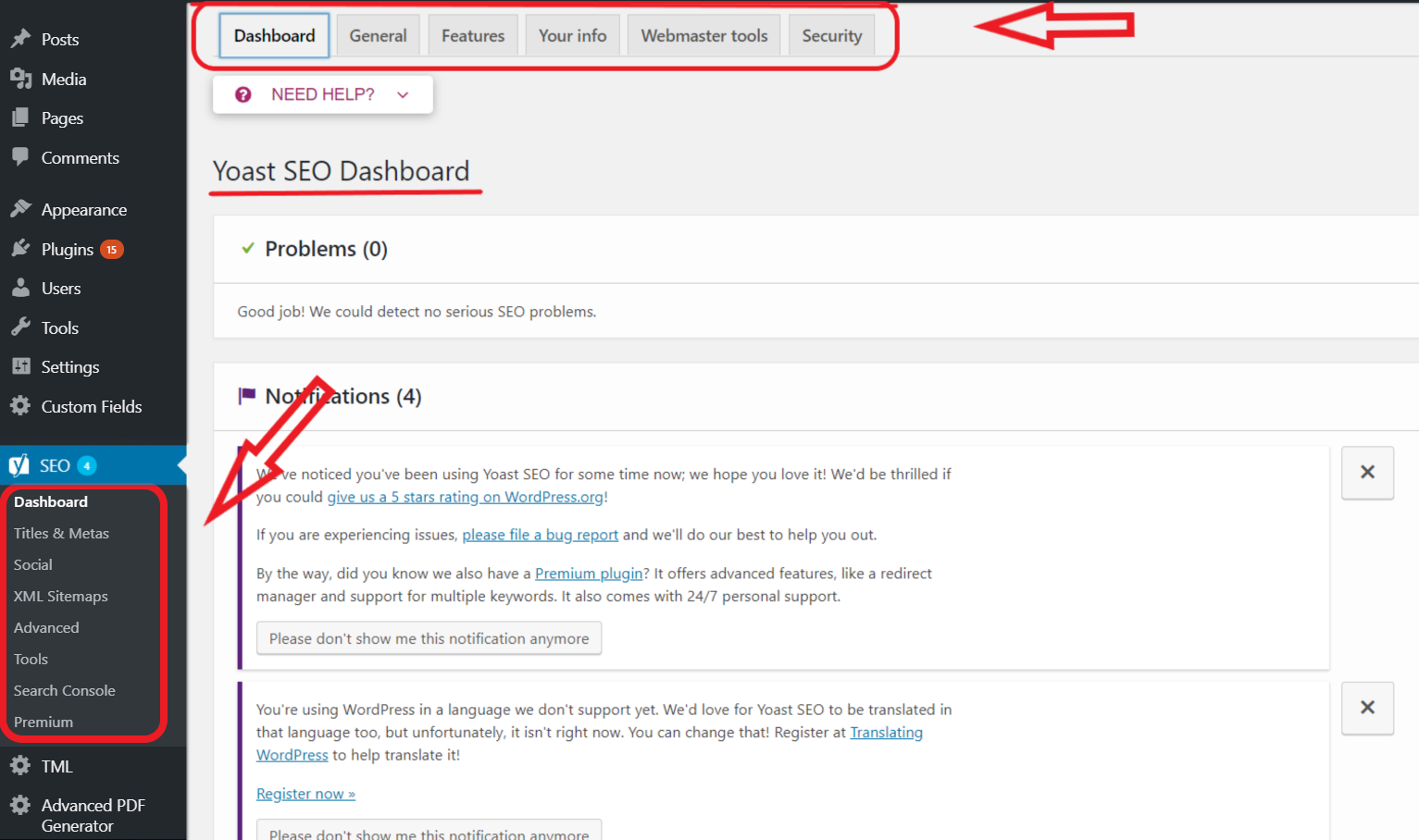 Loading speed is one of the major issues that influence the performance of your website, which is of utmost importance for the user experience. WP Super Cache is a plugin that creates a static HTML page which the web server distributes to visitors instead of loading the content live every time a user decides to visit your page.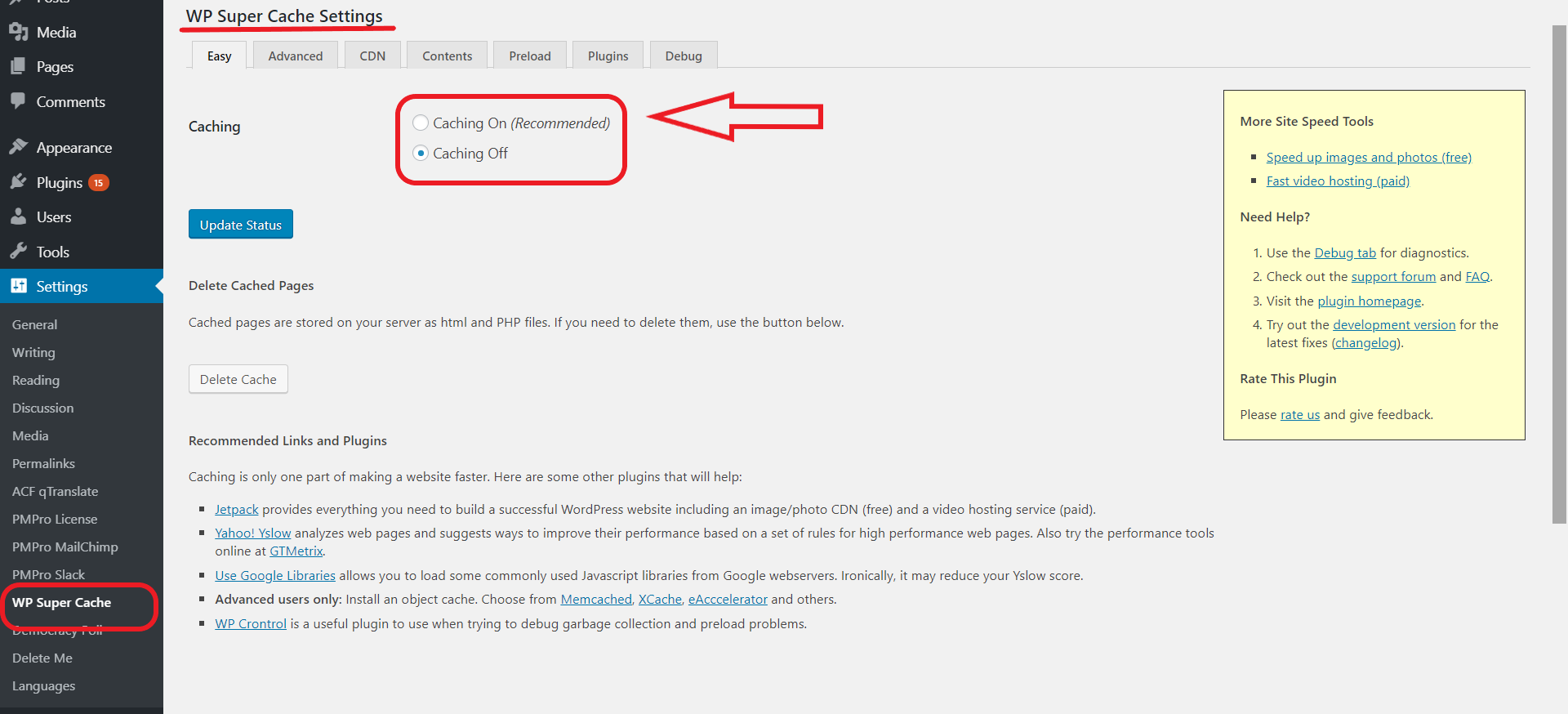 If you are planning to create an online store to sell products, you can utilize WooCommerce plugin which is a great plugin to let you sell different types of products from your WordPress website. And, even to sell services from your website, there are add-ons for Selling services with WooCommerce.
Making your website look good is also an important aspect of great user experience, therefore it's important to make sure the visuals are top notch. WordPress plugins such as Regenerate Thumbnails can help you improve the look of your thumbnails or images that can lose the initial size when you change existing WP theme with a new one that uses different image size for featured media content.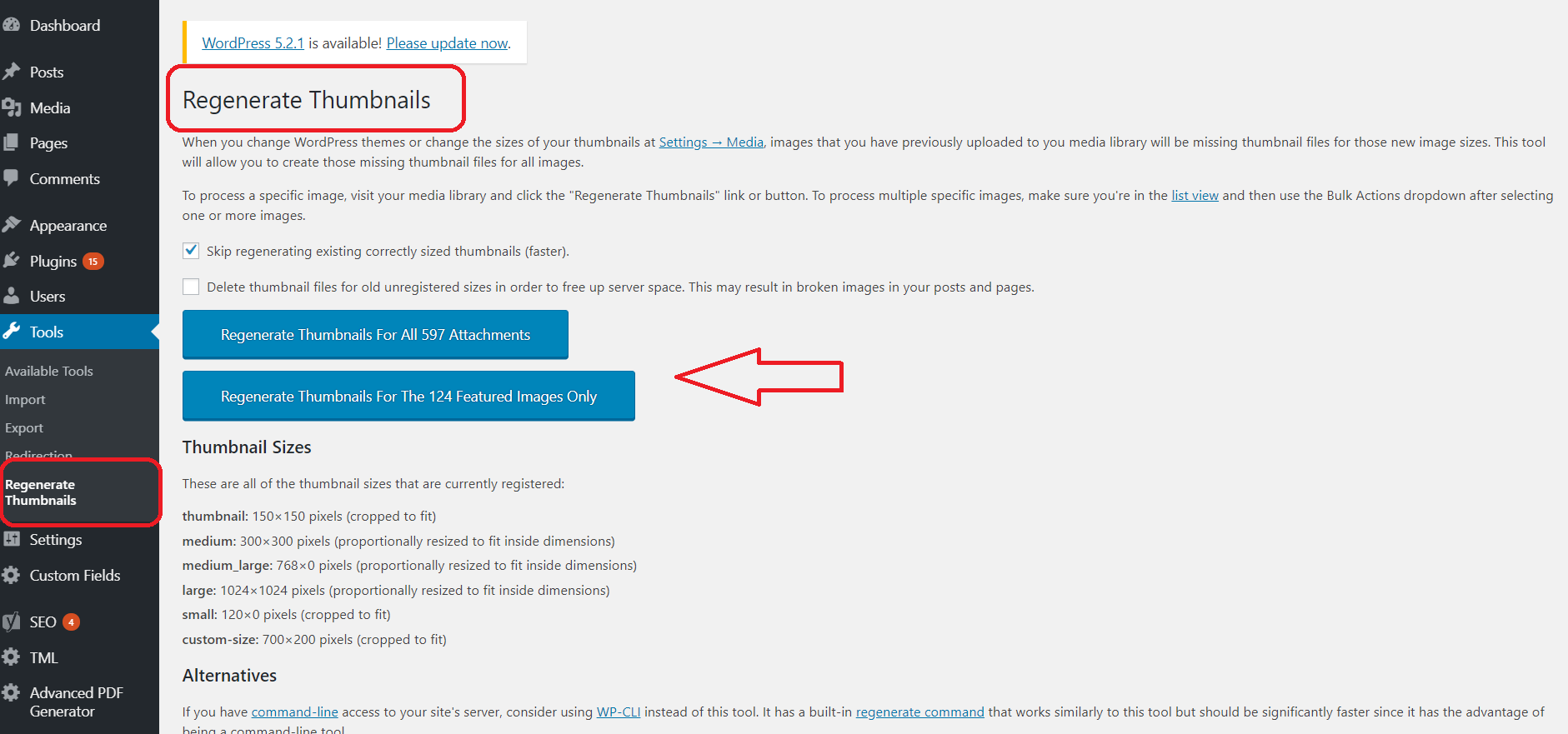 It doesn't matter if you run a business or use WP as a blogging platform the security of your content is essential. There are different ways to keep your website protected; you can automatically backup your data, add login protection, or even install plugins that keep you safe from various forms of online attacks. Since backup is already available without the use of plugins, it's best to avoid adding these types of software, simply to make your page lighter. On the other hand, plugins like All in One WP Security & Firewall provide comprehensive protection from all sorts of attacks and hassles.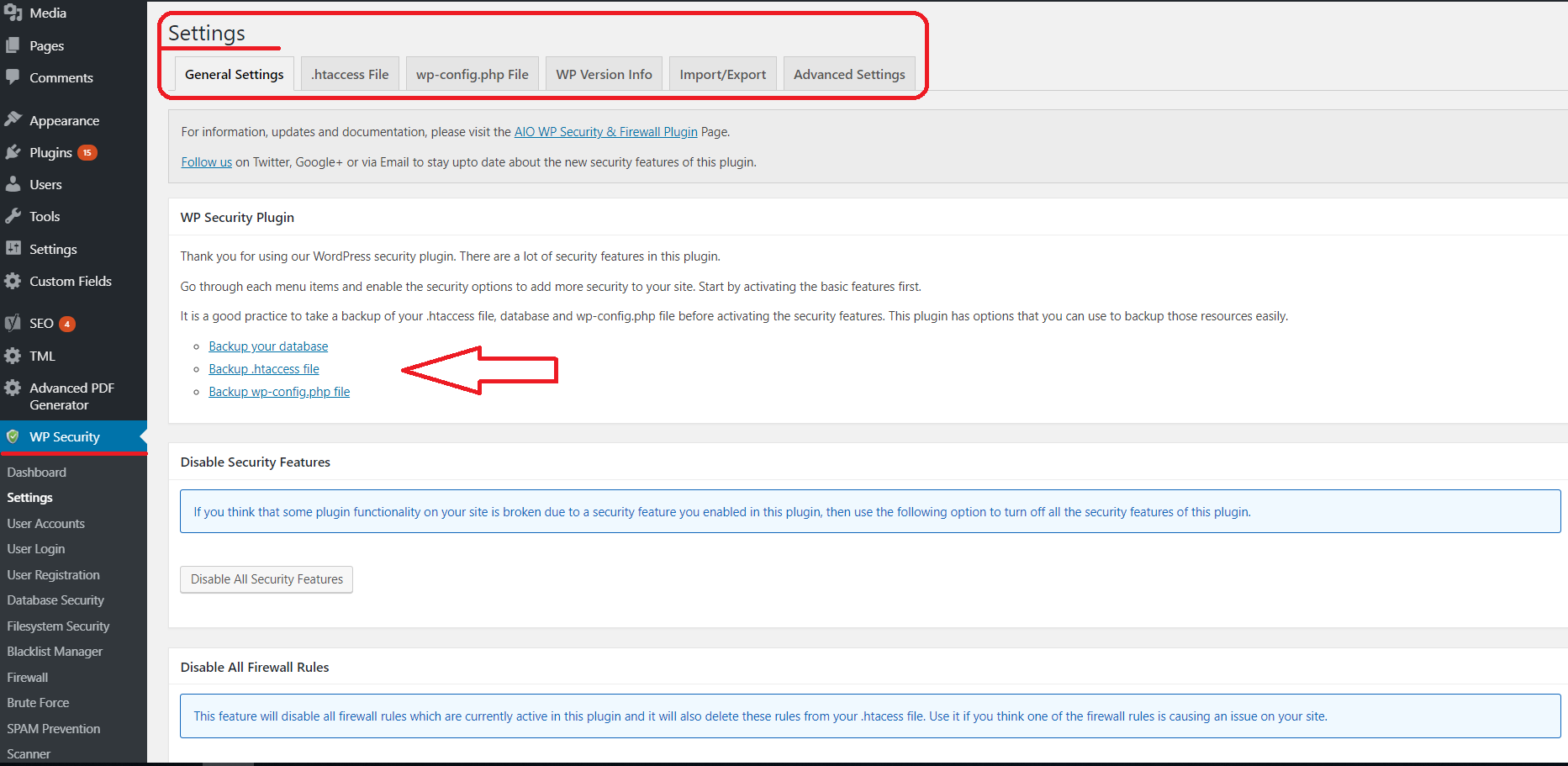 Sharing your content across multiple social media platforms allows you to extend your reach and get more followers, which is what every site owner aims for. There are a series of plugins that allow us to install all sorts of social media share buttons. Easy Social Sharing is one of those plugins, allowing us to add share buttons, buttons that link to our social media profiles, or simply include mail subscription forms.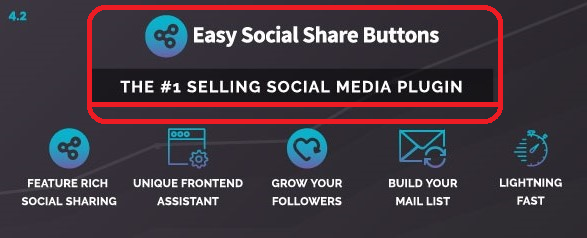 Some plugins can provide a series of different functions, usually correlated in some way, WordPress developers created the official WP Jetpack plugin, which carries all sorts of features that most basic users would require. Nevertheless, most plugins bring a single change to your website, thus preventing unnecessary waste of resources.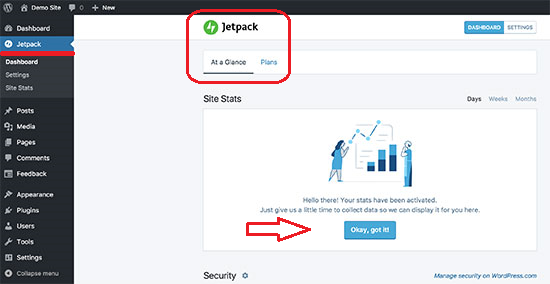 How do WordPress plugins work
There are two ways in which a plugin can change your website:
Frontend changes
This includes changes that user can also visually notice and interact with, like a weather forecast plugin or google maps plugin.
Let's say you want to allow your visitors to post content on your web page, or register to an event that you organize. Installing WP User Frontend Pro plugin allows your visitors to seamlessly interact with your page by displaying a customizable form that people can fill in depending on what the form allows them to do (post images, text files, submit event registration, etc.)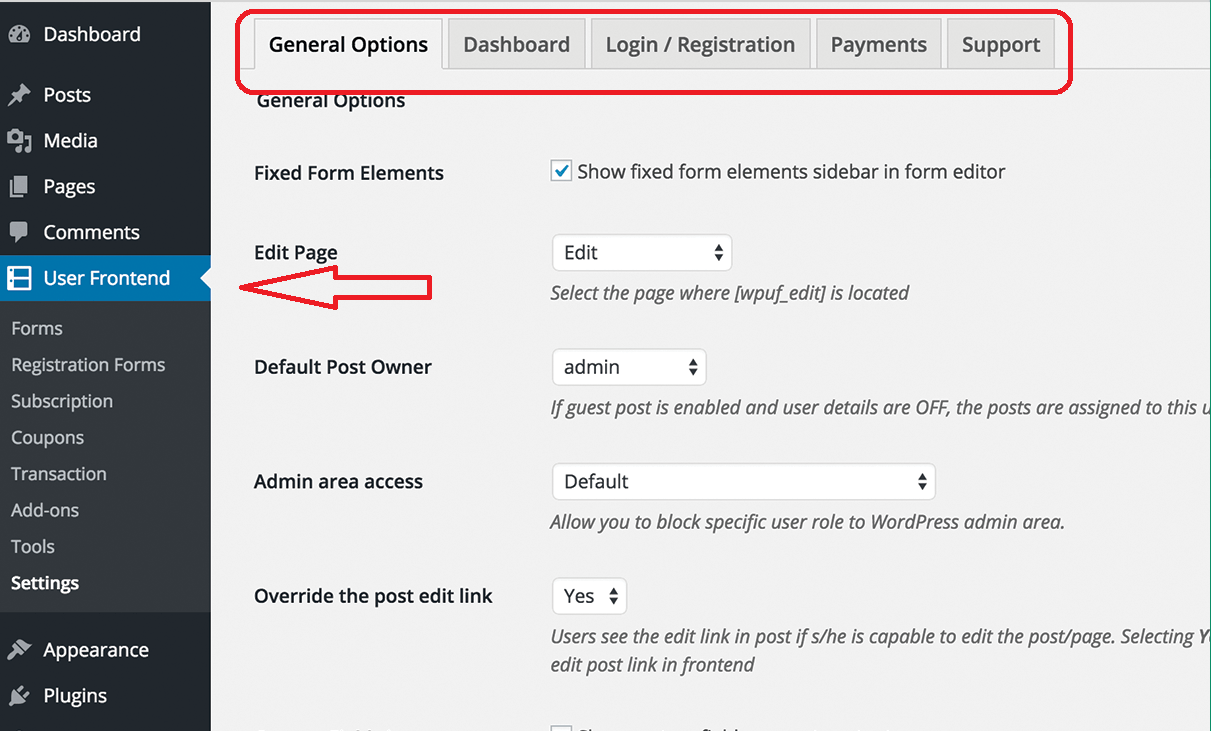 Backend changes
Plugins that change performance stats or improve SEO of your website but don't display any visual effect that user could see or interact with, belong in this group.
One good example of backend change that we can introduce to our website through plugins is Featured Galleries. The plugin handles the administrative interface for creation of features galleries using a simple drag and drop functionality that allows you to insert multiple images instead of doing it one by one.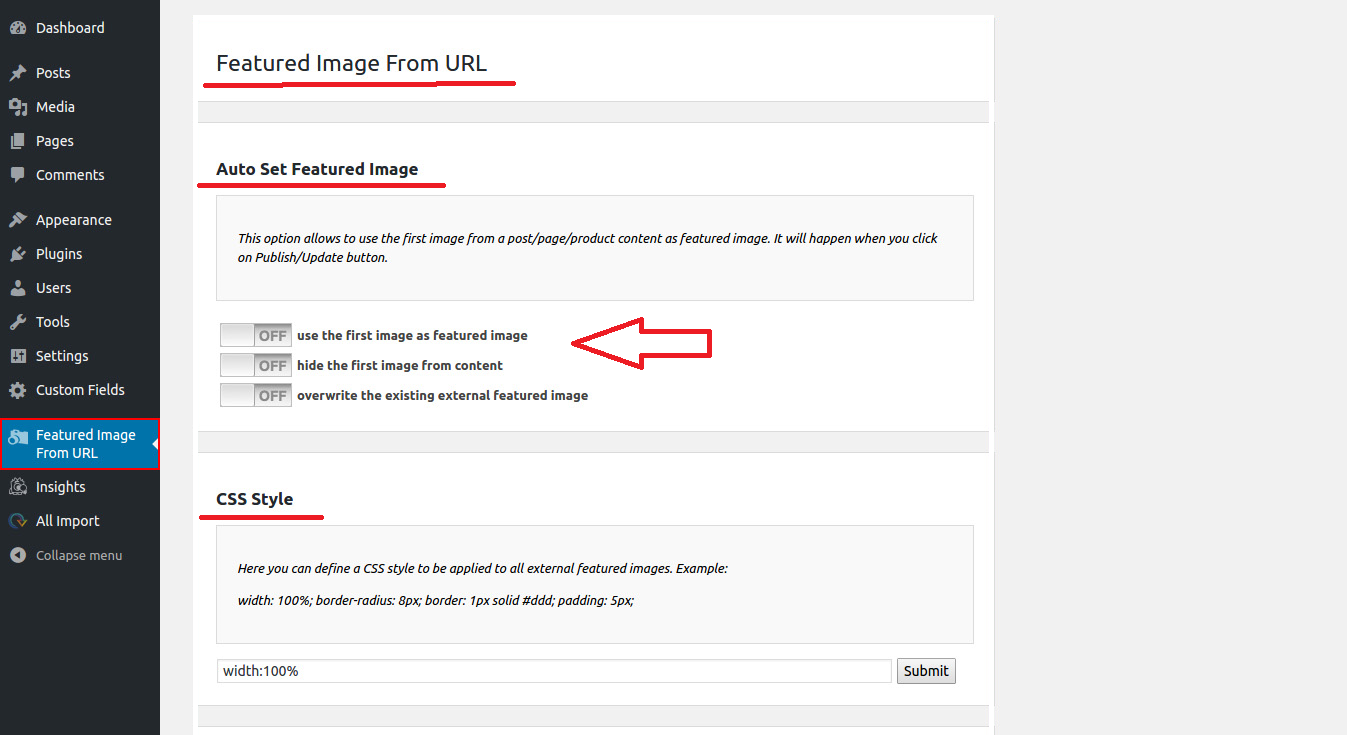 Since SEO is probably the most intriguing topic regarding plugin functionality, here is a table that shows how various types of SEO plugins differ.
| | | | | | |
| --- | --- | --- | --- | --- | --- |
| | YOAST SEO | All in one SEO pack | SEO Pressor | Premium SEO pack | SEO plugin by Squirrly |
| Page analysis and SEO suggestions | Yes | No | No | Yes | Yes |
| On page SEO report and score | Yes | No | No | No | No |
| Keyword recommendations | Yes | No | Yes | No | Yes |
| LSI keyword research | No | No | Yes | No | No |
| Optimize page titles | Yes | Yes | No | Yes | Yes |
| Meta tag templates | Yes | Yes | No | Yes | Yes |
| Create XML sitemaps | Yes | Yes | Yes | Yes | Yes |
| Create image sitemaps | Yes | No | No | Yes | No |
| Internal linking | No | No | Yes | No | No |
| Canonical tag support | Yes | Yes | No | No | Yes |
| Breadcrumbs | Yes | No | No | No | No |
Tips on how to use WordPress plugins
We already mentioned some of the plugins and what each of them can do for your website. However, it's always good to know some useful ways in which you can utilize certain types of plugins.
nRelate
Keeping the visitor to your website is of utmost importance for your bounce rate. This plugin allows you to display related posts, which is a proven way of keeping the readers engaged. You can set the number of related posts to display, featured images, level of relevancy, even choose which categories you wish to exclude.
Client support is integral to the success of any business. If you wish to allow your visitors Live chat support, ticket support, or voice chat then installing this plugin will help you in your endeavor.
You can also use WordPress plugins in order to monitor your website traffic. Wassup is a plugin that allows you to do just that, in real-time. This way you have an insight into what the people are doing while browsing on your web page, what they read, how many of them subscribe to your newsletter, and much more.  
The amount of plugins that you use is rarely an issue. A more important question is how that piece of software is coded, and how much strain will it put on your website. Sometimes, a single poorly written plugin could cause more performance issues than five well-written solutions.
Final thoughts
Hopefully, this article delivered enough information to let you in on what is a plugin in all of its aspects. A simple piece of code that improves your website by adding the functionality you and your visitors find useful. On the other side, plugins can make all the difference, yet all it takes to implement it is a simple click-and that is the true power of WordPress plugins.