When re-working, improving, or creating an SEO strategy, it's crucial to consider Google cache. However, the reasons for that may not be quite clear. How exactly can Google cache influence the SEO of the website? How does caching work for the website? Do we need to check a website cache regularly, or should we rely on search engine algorithms only?
To answer all these questions, first, let's clarify Google cache meaning.
Google cache is a snapshot of a web page that is backed up on the servers. The information is saved when search engines visit a site for indexing. These snapshots act as back-ups that are used to match internet user queries. It's easier for search engines to access cached copies than websites.
Web crawlers are used to perform web archiving. When a crawler visits your site, it finds it through hyperlinks. Next, the crawler copies the content. When you search for a keyword on the internet, you get links that can direct you to the original version of the website.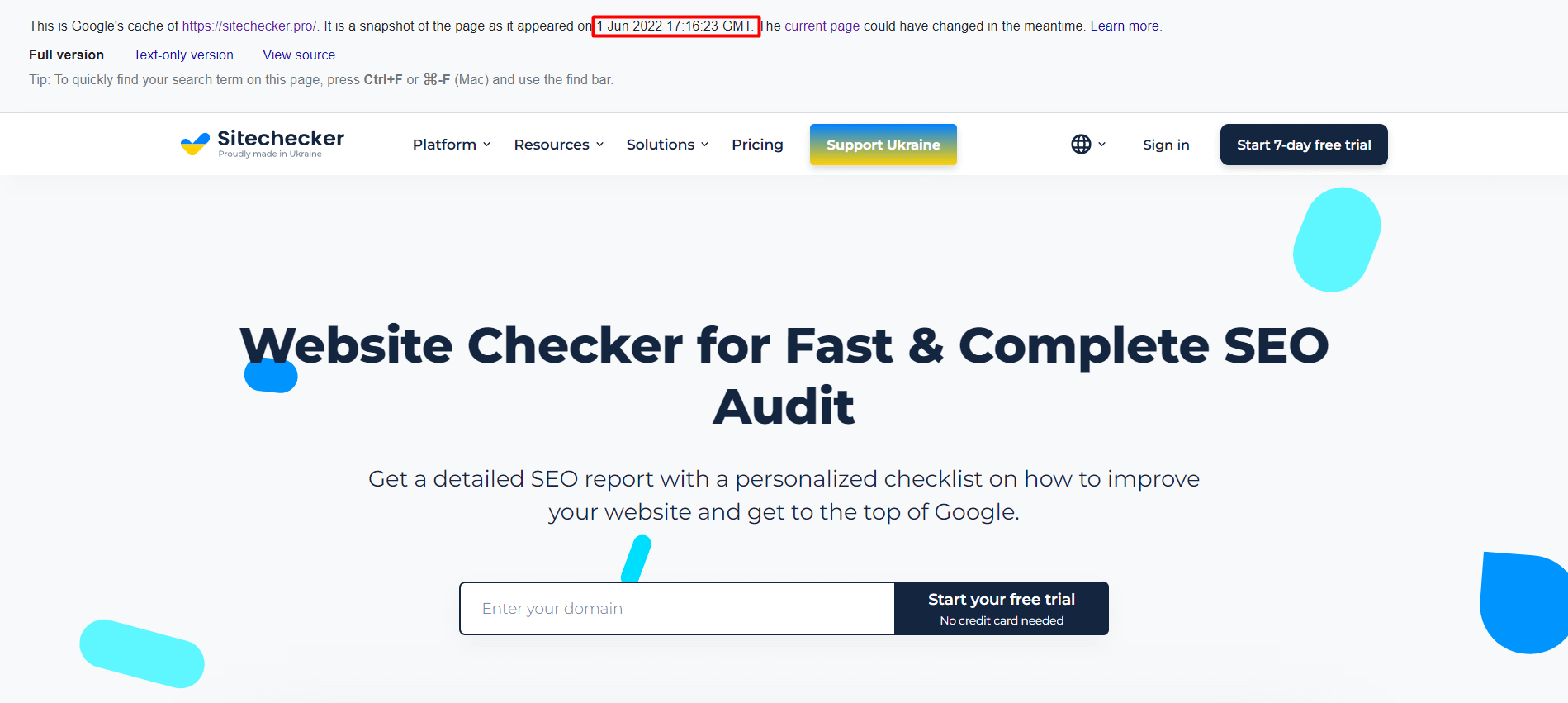 Basically, all cached sites are indexed and classified within indexers. But indexing does not happen automatically when the web page or website is launched or becomes available for users. The process takes some time. A viewer may get older information. Thus, you need to speed up indexing so the new content can be accessed easily on the internet.
Even if the web page has been online for a while and you've just changed some information, it still has to be re-indexed. Thus, a new copy is created. Search results will display up-to-date information.If you need to remove an URL from Google's webcache, use Google Search Console. By following instructions, you can submit a request.
Google Cache Checker Usage: a Step-by-Step Guide
Google Cache Checker is an effective tool that helps you determine the time and date the page was modified last time and saved in the cache. Such tools for checking must be easy to use as they can be used for different businesses.
Step 1: Insert your URL and start free trial
You can start your free trial with us in no time – just confirm your email address or use your Google account. No credit card needed! Simply sign up and you're good to go.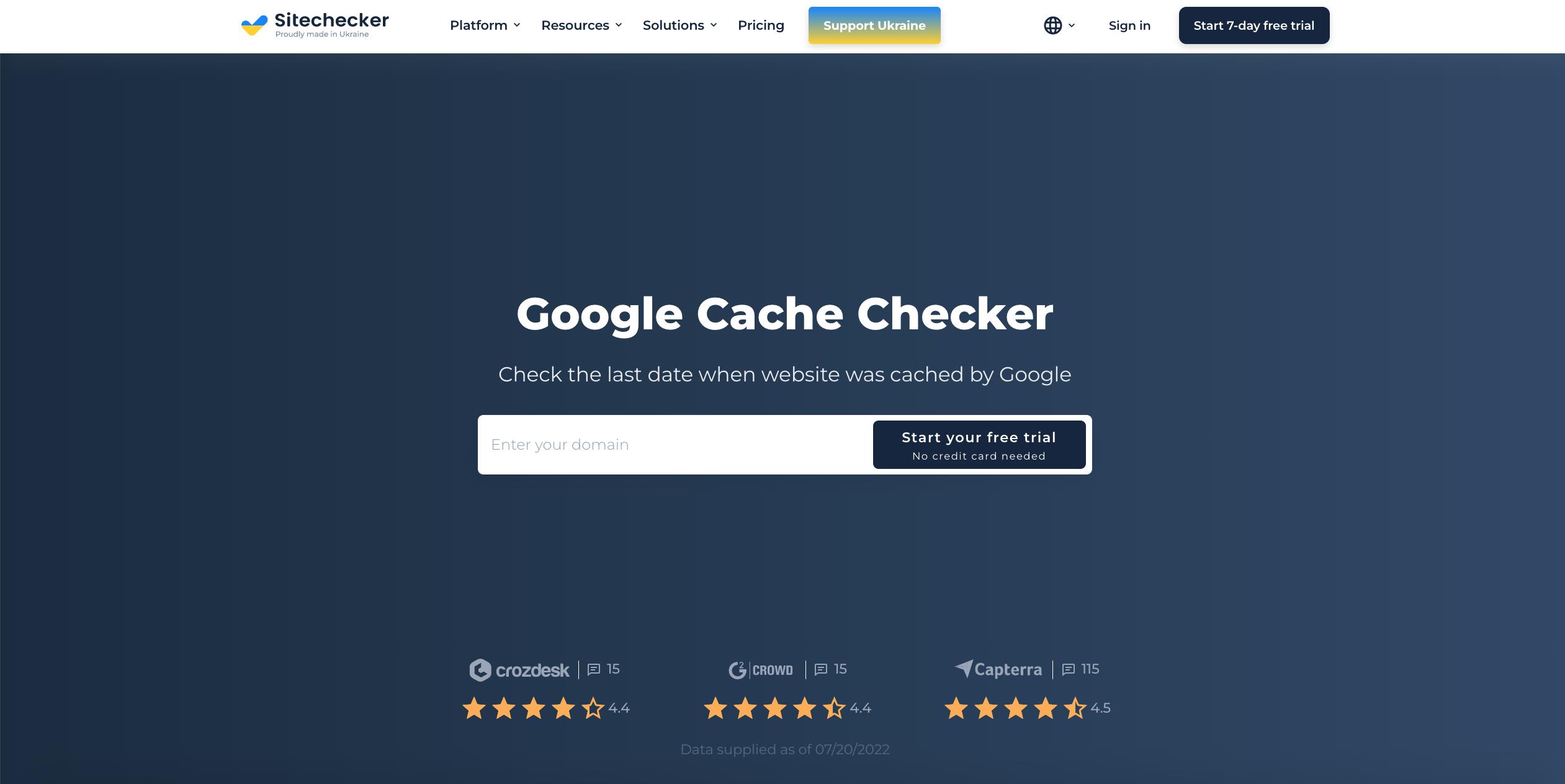 Step 2: getting and interpreting the Google cache checker results
After you add a URL to our tool, we will quickly crawl the site and give us results that include page details as well as information about how Google stores this web pages in their cache. The audit includes an overview of all issues present on each webpage too!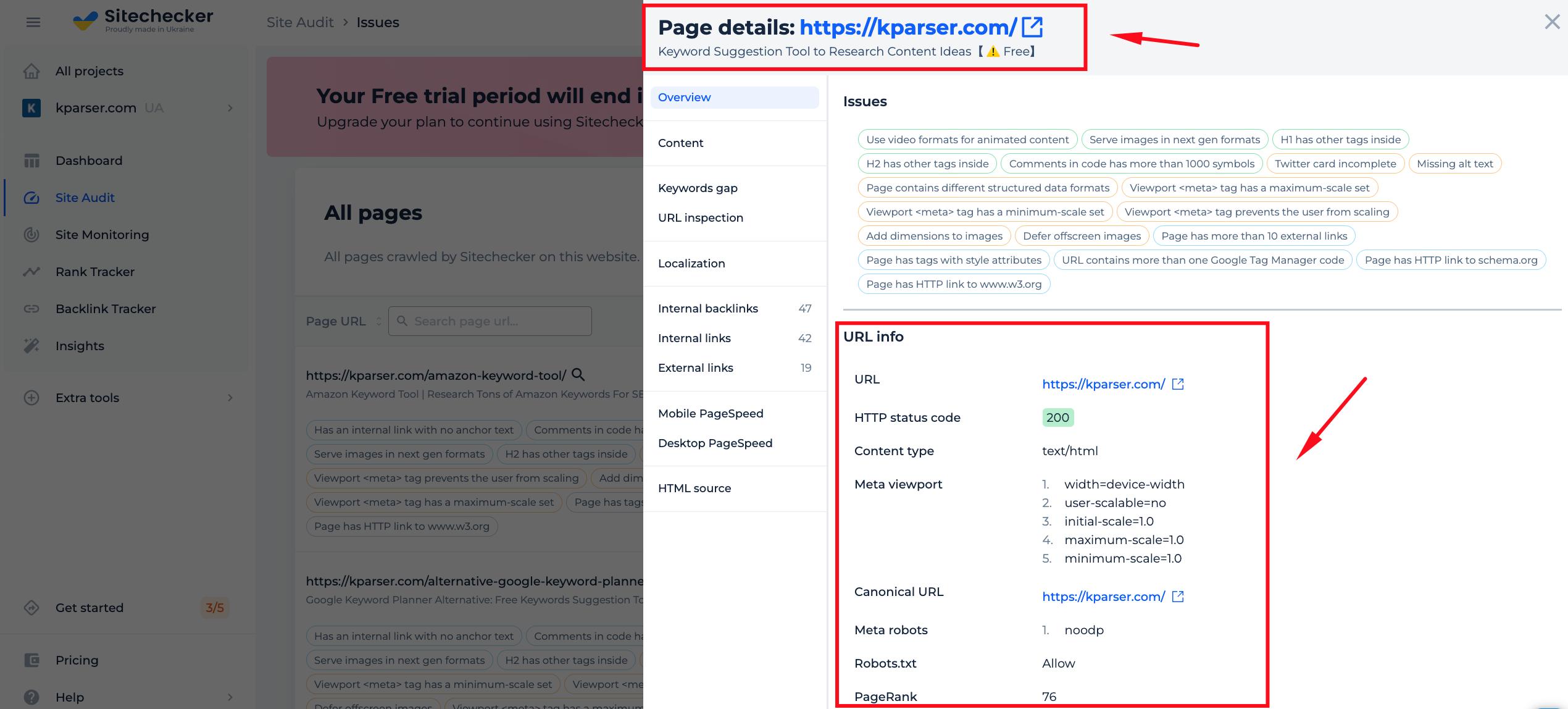 Features of Google Cache Checker
We can help you solve any technical problems with your website. After creating a trial account, we'll run an audit that identifies all sorts of issues and provides instructions on how to fix them!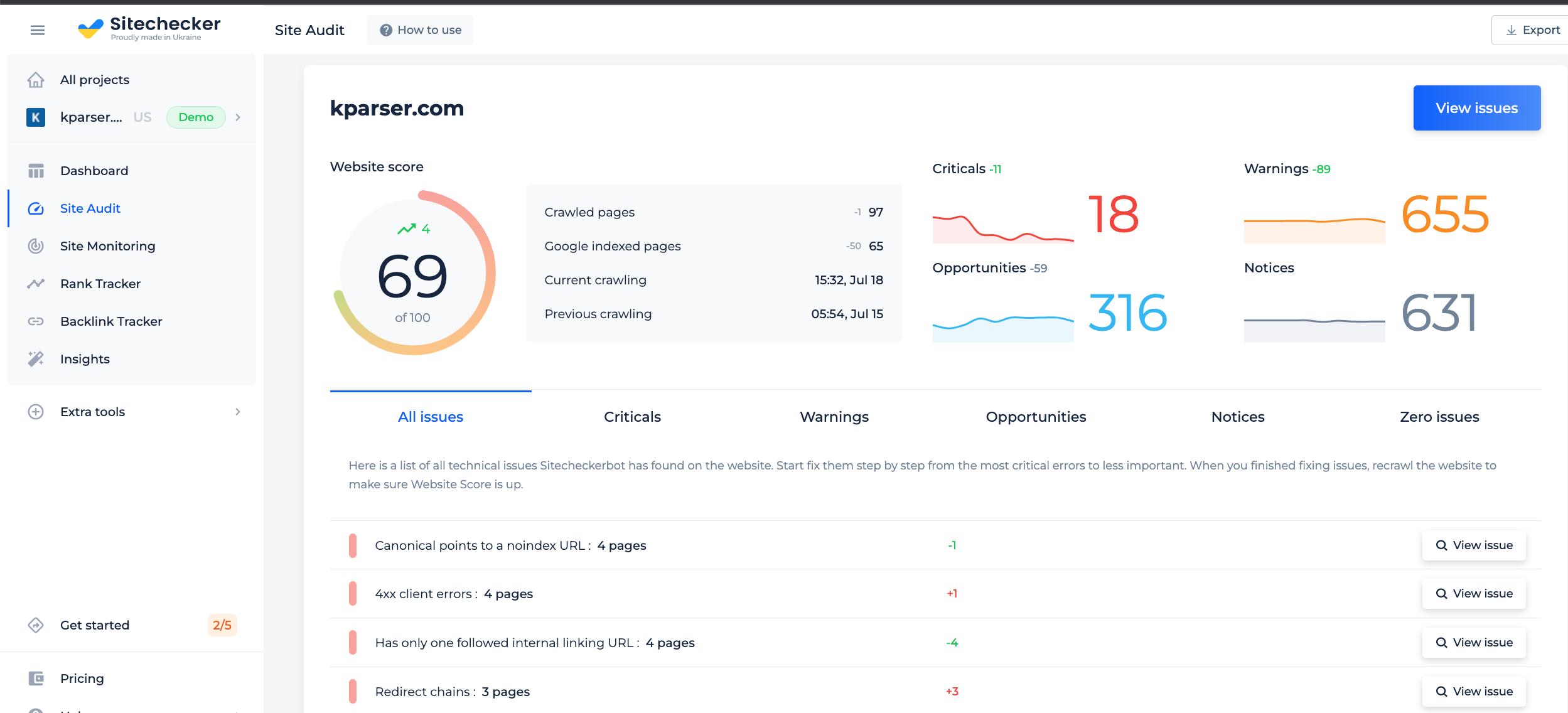 You can find all the crucial information regarding the web pages cached by Google. This way, you can quickly fix any issues that may arise. You will also be notified if such problems occur with new pages in the future! Consequently, you can take proactive steps to prevent them.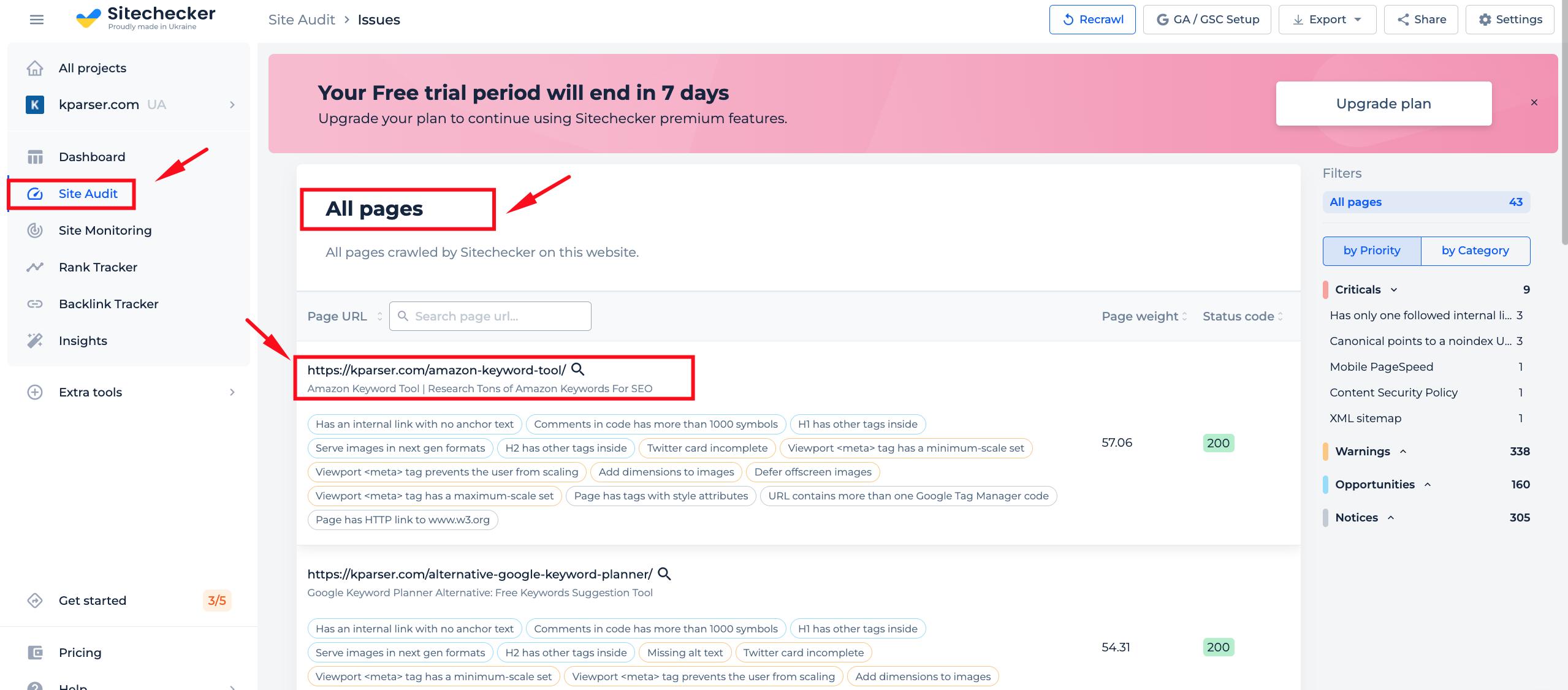 You can use our on-page checker in your account to make sure that there are no potential problems. This will help you identify any issues before they cause major complications, and then fix them fast!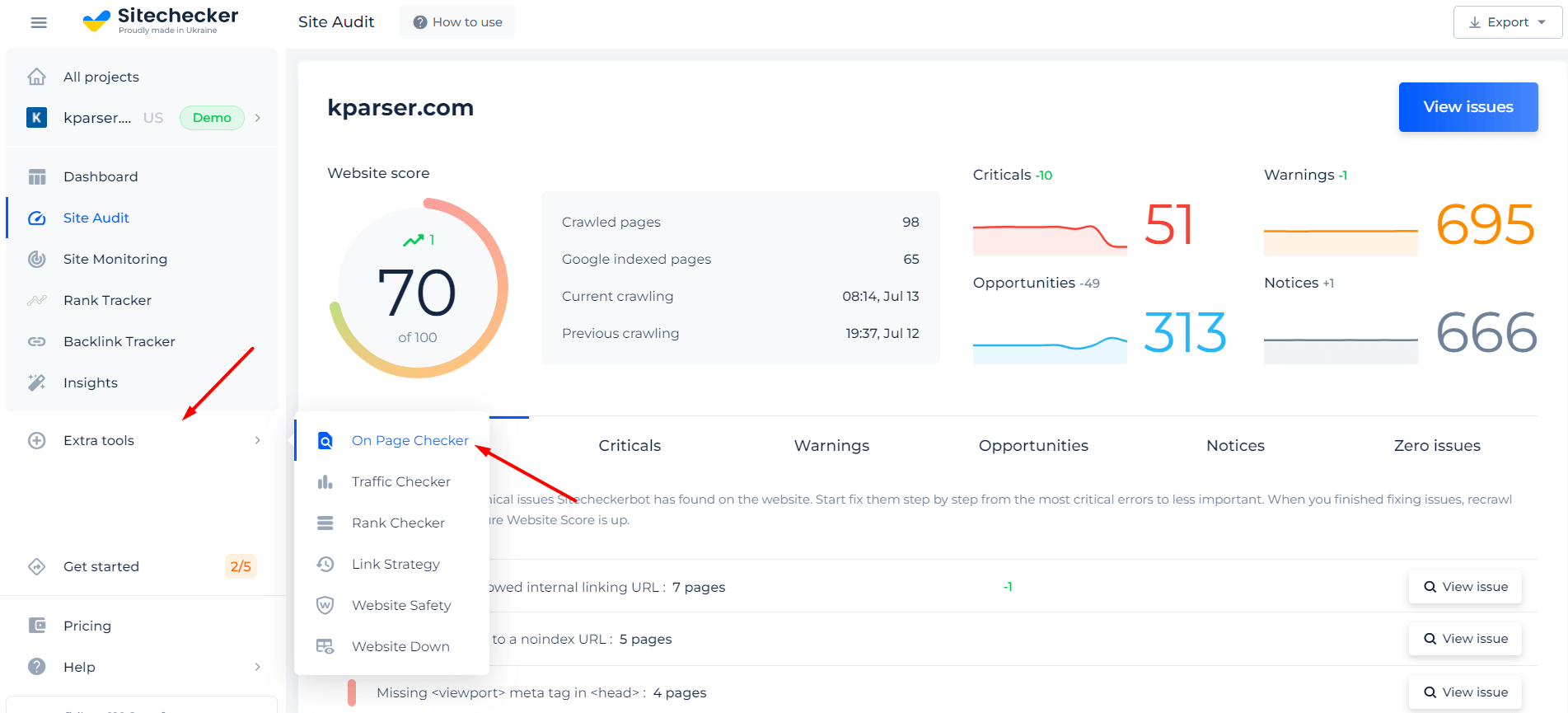 Find all pages with Google cache issues right now!
Make a full audit to find out and fix Google cache issues in order to improve your technical SEO.
Cases When Google Cache Checker Tool is Needed
Website cache helps your website to load faster. Visitors will see all the information right when they click on a link.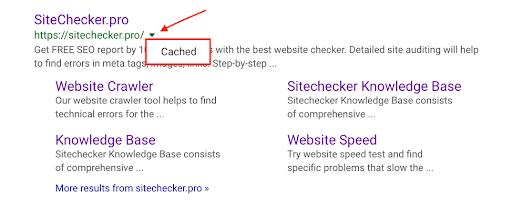 What does cached mean on Google search? It means that the Google bot crawled your page and detected all the needed information that might impact ranking.
However, current versions of websites may be unavailable for many reasons. Thus, caching of older versions becomes useful. Thus, caching of older versions becomes useful. For example:
The owner deletes a website. Imagine that you need to check website content, but it has been deleted recently. Its saved copy is located on a server with an HTTPS URL and can be provided to you quickly.
Congestion of internet traffic. Thus back-up of data packets is requested to speed up the processes.
When you need to see the last time a crawler finder visited the site. It is easy to see when google bots crawled your site for the last time. The exact time and date will appear on the top of the page.
The site loading is slow. If you reduce the time between the user's request and server, thus you reduce the time it takes to load the website page. So the website's speed is increasing. To check it, use website speed test tool.
When you want to access geo-blocked content.
The Google Cache Checker tool helps prevent all the negative consequences as you will always know whether your web page is available online.

Checking Google Cache is important but not enough to rank good enough!
Now you know your domain IP, further - crawl your site and find out all kind of issues that can hart your users or your website SEO.
Other Ways to View Google Cache
There are a few more ways to see cached webpages. These ways are simple and easy to do.
1. Chrome address bar
It's simply what you are typing in a search row. When Using the Chrome address bar, you should:
Open Chrome browser.
Enter "cache" in the address bar, enter "cache" followed by your target web address.
The results will be similar to Google search results.

2. Web archive
There is one more way to lookup the cache for Yandex, Bing, or google alternative search engine. Except for Google's help, you can also see how web pages looked in a specific period of time. Web Archive is a non-profit organization that collects saved copies of websites, different images, videos, etc. The main goal is to provide long-term archiving collected in free access for all internet users. It saves all old copies of the websites. Even if the domain age is more than 20 years. For using it, you should:
Open web archive using a browser.
Type the web address you want to access and click "Go".
In a calendar, you will see several saved versions of the webpage.
Browse for the most relevant option.
If the page does not have archived website cache history, the Wayback Machine will tell you that it doesn't exist.
3. Google cache checker
Cache checker is a specialized tool that is used to find out whether Google indexes your website. It helps to understand when search bots visited your website for the last time. Due to the information received, SEO specialists and website masters can conclude how fast web and mobile pages are indexing, whether the website needs more backlinks, and what to do to speed up the process.
FAQ
Google Cache is an online space where all information about your website is stored. This information contains a snapshot of raw HTML that the browser will render in order to demonstrate this information to the user.
What is the purpose of caching?
Caching creates a copy of all information on a website or a webpage. It means that if the website or page is down or missing, the user can still access an archive page.
Why does Google check some sites more frequently?
Some sites and pages are checked more frequently because website owners submit to recache their URLs to Google manually.
How to expand the size of the cache in the Google Chrome browser?
The fastest way to expand the cache size is to replace the current CPU with one that has a higher capacity.