Indexing errors can generate organic traffic for pages with a 4xx server response code. Therefore, webmasters have a question: how to fix 4xx page receives organic traffic? Let's see how to deal with this problem.
What Does «How do I Fix 4xx Page Receives Organic Traffic» Mean?
4xx Page is a category of server responses about an error, which is usually referred to as a client-side error. Having received a request with a 4xx error, the server cannot handle it correctly. The most common 4xx errors are:
403 Forbidden. It occurs during an attempt to access a client's resource without proper rights and permissions (for example, the user is not registered). The cause of the 403 error can be not only access denial due to the lack of permission on the client's side but also the web server settings.
404 Not found. This error occurs when the user tries to visit a page that does not exist. It implies that the server does not find the URL requested by the client. The page might have been deleted, renamed without redirecting, or the user entered an invalid request.
What Triggers This Issue?
Since 4xx Page receives organic traffic, it is likely that this page was previously indexed by a search engine, and the link to it is posted on external resources or on indexed internal website pages.
Error 4xx occurs if the client types an incorrect URL, tries to access the page via an invalid link, or fails to pass authorization. This can happen when there is a problem with the state of the resource, a prerequisite error, a prohibited HTTP method is used, etc.
To check how site pages were indexed, which of them have already been indexed, and to find out what problems have arisen in the course of this process, use the features of the Index Coverage report tool. Video tutorials demonstrate how to use the analytics service correctly. For more info, watch the video by Daniel Waisberg:
How to Check the Issue?
4xx Pages are revealed by webmaster tools in Google Search Console. Here, you can find information about indexing, errors in the page's server response code. The current status of site pages in the analytical report can be specified as:
valid;
warning;
error;
excluded.
If there are problems with individual URLs on your site, the Index Coverage report will be useful to quickly identify and fix them. You can find a detailed description of how to use this tool in the manual at https://support.google.com/webmasters/answer/7440203?hl=en.
Additionally, you can monitor 4xx errors on your website using supplementary services such as Sitechecker. Our bot will scan your site and identify pages that return a 4xx HTTP status code.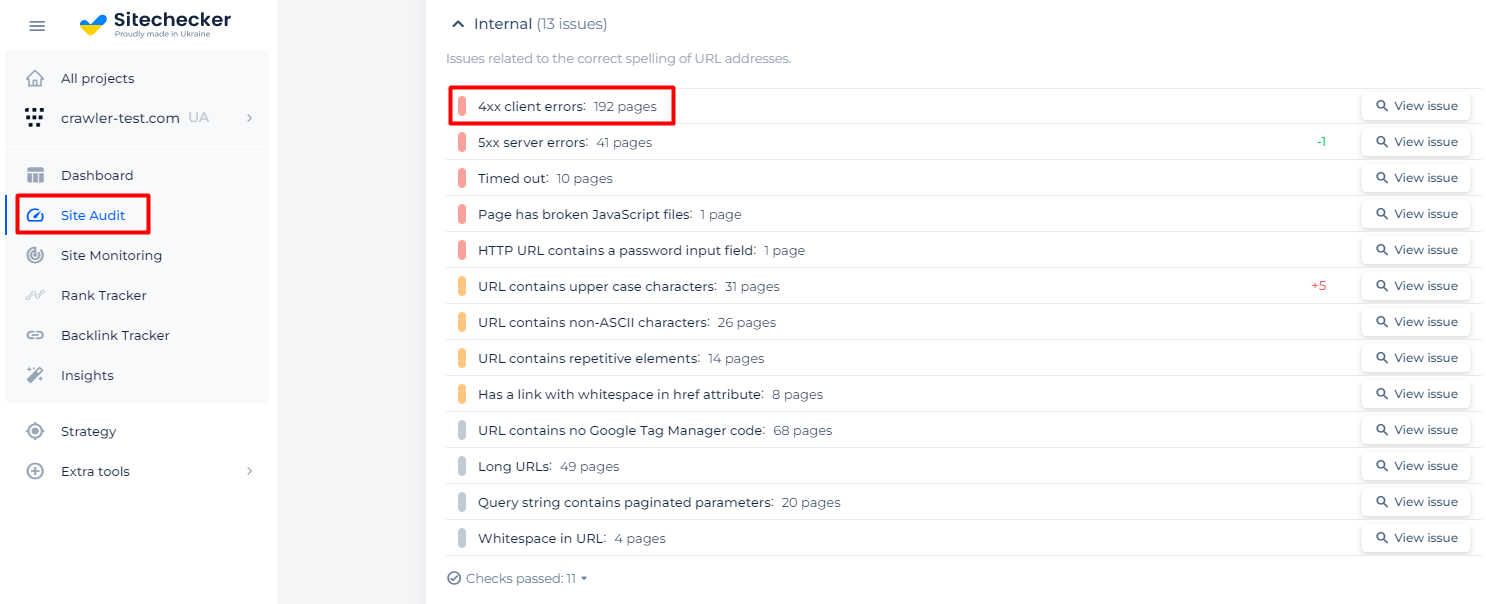 Delving further, you can locate a list of broken links and have the capability to view their internal backlinks.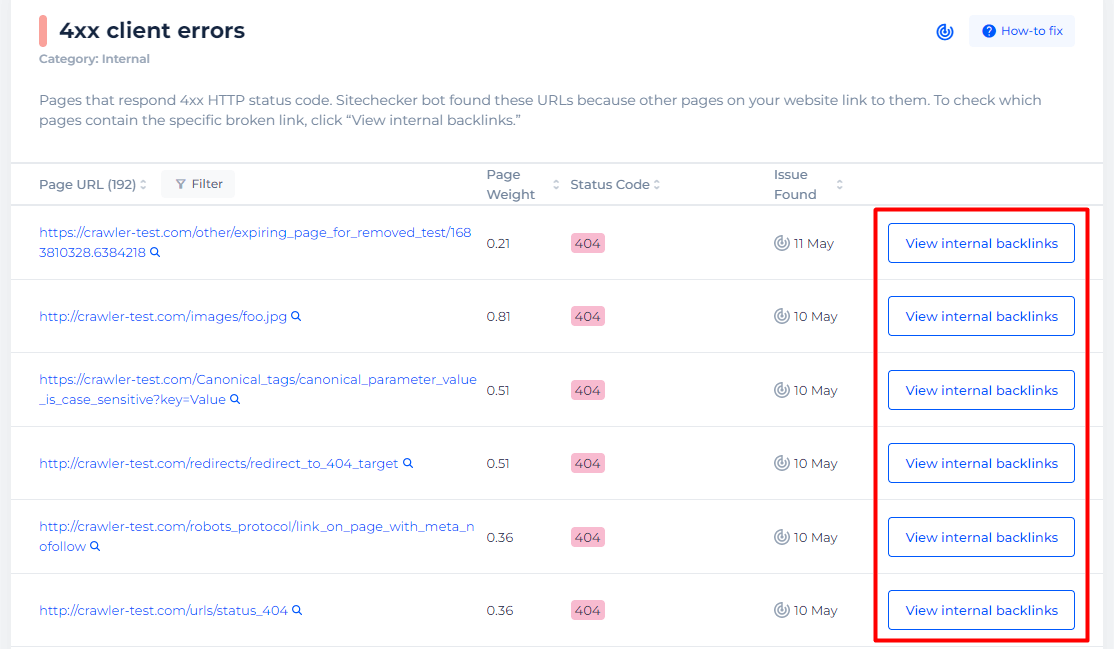 Why is This Important?
4xx errors are not critical to the site and its search engine promotion. However, if links leading to such a page are found in search results, they will negatively affect the user experience of interaction with the page. Most often, visitors do not try to figure out the causes of the error after receiving a response from the 4xx server. They simply leave the site immediately. If such cases occur repeatedly, Google will eventually start taking them into account and lower the site position in SERPs.
Analyze whether pages on your site link to 4xx client errors!
Make a full audit to find out and fix your technical SEO in order to improve your SERP results.
How to Fix the Issue?
To avoid the negative impact of access errors, you should fix the issue as soon as possible and identify URLs that have 4xx response codes. You should not wait for re-indexing by Google search crawlers, after which, pages will be removed from indexing if 4xx Page systematically appears in analytics.
Check what pages on your site are among the 4xx Page. Mistakenly deleted or blocked pages need to be restored, and redirects must be set so that users are automatically redirected to the new address.
Make sure that no registration or authorization is required to access indexed pages. Where users can't access pages due to security settings, the issue can be fixed at the server level. If this is impossible, pages whose response code contains 4xx errors should be excluded from indexing.