Web development can be tricky. Search engines and Google's algorithms behave like humans, lacking trust to some resources, checking everything before advising users something, and being extremely demanding. At least the terms denoting important factors help to reduce this tension – breadcrumbs, cookies, bounce rate. Let's find out more about the latter this time.
What is bounce rate?
So what is bounce rate in Google Analytics? The definition is simple: it is the number of web users that entered a website and left it almost immediately. It is calculated on a percentage basis on the basis of the general amount of users. Google Analytics counts every session, during which users have opened only one page and closed it without activating other links, for failure. In other words, a user made a single request to the server. If 100 users have visited a website for 24 hours and 60 of them left before spending 15 seconds here, bounce rate will be 60%.
How does the bounce rate affect site ranking?
The correlation between the site ranking and bounce rate is quite simple. The higher website bounce rate is, the more difficult its promotion is. In most cases, this factor shows directly that your site is of little interest and it doesn't respond to users' requests. However, there are some exceptions, like promo pages or one-page websites.
There are users, who need only contact details. For instance, people are looking for washing machine repair services. They just need to find a person, who can help to fix the washing machine. It takes a few seconds on a website. People don't need to read a service description or something like that. In this case, abandoning a website is rather a rule than a problem.
If we speak of bounce rate meaning in terms of SEO, it is also the percentage of sessions with viewing only one page. It also reports that a high failure rate usually means that there are problems with your website, for example, with its design or website navigation. But what if users managed to find all important information on one page and therefore do not enter other sections? A quick transition from a page becomes even an advantage for websites containing CTA buttons. It indicates that users are able to quickly find contact information and instantly apply for a product or service.
An article published on Search Engine Journal website lists nine main reasons that can lead to a high bounce rate. Among the others, they name low-quality web design, incorrectly chosen semantics, poor-quality content, and links to resources with unsuitable topics. It all signals about certain website issues.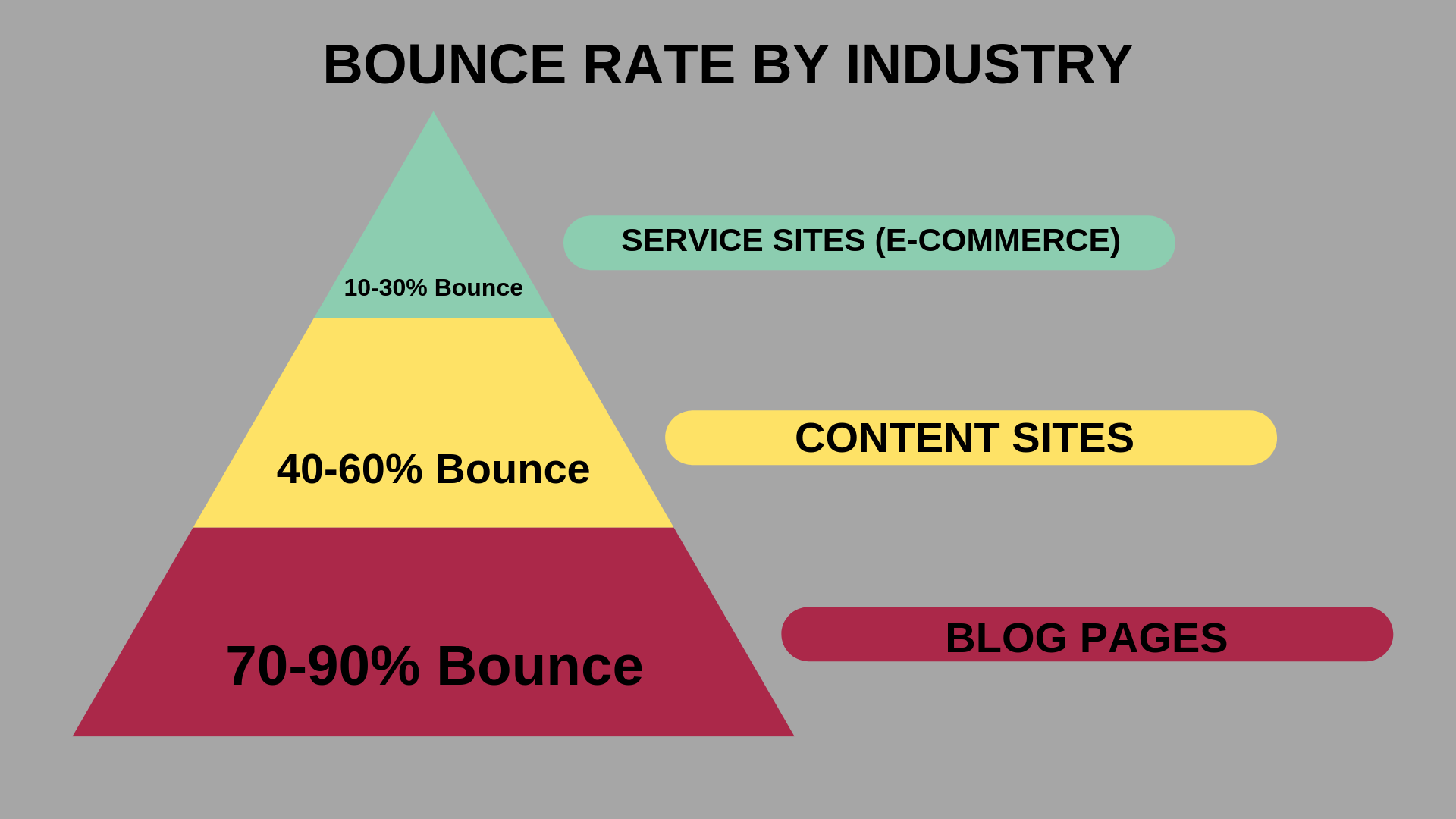 What is the good bounce rate?
If the bounce rate is 60% according to Google, it is a normal thing. It means at least four out of ten people using this web resource consider it interesting and useful. This greatly depends on traffic sources. Blogs have frequent visitors, who leave a website after reading an article they were interested in.
So what SEO bounce rate index is normal? Here are the average results:
50% and lower– good;
60-70% — average;
70-80% — bad;
80% and up – very bad.
Just don't remember about the exceptions mentioned above. Everything depends on the peculiarities of the topic and website specialization.
How to analyze the bounce rate?
Different types of websites have different average bounce rates. For blogs, business card websites, and resources where users read the basic information and use a phone number to find out more, it can reach 70–90%. This is normal. For webshops, it should keep around 20–40%.
These numbers are approximate. To determine a clear bounce rate, it is necessary to pay attention to the variety of other factors specifically for your website. You can use the following algorithm to define bounce rate:
Check whether the bounce rate is low or high.
If it is high, check the time users spend on your website.
If they stay for a long time on one page, everything is fine. If they leave immediately, check the conversion rate.
If everything is still bad, it's time for the analysis:
Is this page relevant for requests that bring users here?
Are all elements that let perform necessary actions present?
Is this page convenient to use?
Google Analytics, is considered to be a kind of bounce checker, always records the time of "bouncing visitors" as 0:00:00, no matter how much time users have really spent there. Thus, the data is always distorted. To see the correct indicators, choose visits without bounce rate in settings. Pay attention to the time spent on pages opened for certain requests. If it is significantly higher than average, this index is not critical. It means users have found what they've been looking for by studying information in details.
For example, it is shown like that: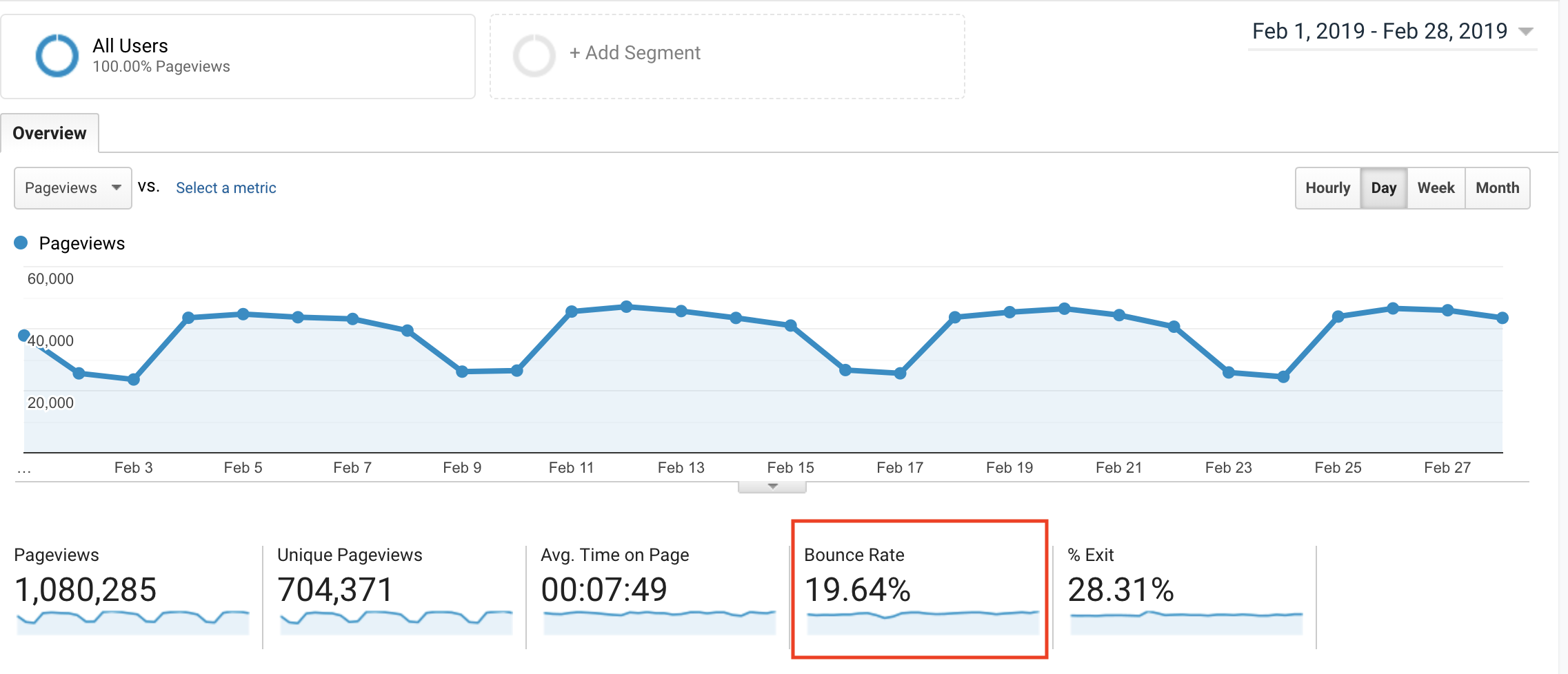 How to reduce the bounce rate?
It is important to improve the website in terms of conversions, test new designs, keep up with the latest trends — this is not a one-time action. Here are some tips on improving the situation and helpful strategies explained.
Focus on target users, improve traffic quality. Let's suppose, your website is focused on providing accounting or legal services. You try to attract the main audience from social networks. Expect quite high bounce rate — users aren't usually interested in serious services here.
Think about design and navigation improvements. If users cannot find the necessary information easily, they will not spend much time doing it. The right design and convenient navigation help to increase the number of users. Make sure your website it equally convenient to use via desktop and mobile versions.
Ensure high speed of website loading. If users find your website among search results and try to open it, they won't wait longer than a couple of seconds. It is easier to move to the next competitor's website. So make sure all technical aspects of your site are perfectly fine and not influence the bounce rate directly.
Get rid of obtrusive advertising. Marketing should be creative. The majority of users find pop-ups, glittering designs, and similar things very annoying. People often leave a website due to the abundance of advertising.
Setup the tracking of events. Sending the requests, article scrolling, downloading files — you can track all these actions can via Google Analytics. Understanding what is going on with your web resource is very important.
Provide relevant information. Well, pages are created to provide specific information users need. Don't place irrelevant keywords and metadata just to attract traffic. The content should be relevant for a particular request.
Make it visible. Some pages contain the abundance of images, banners, and advertising. The information gets lost, so it is easier for users to leave such page than try to figure out where to look for it. Work on usability or explain everything clearly.
Understanding bounce rate meaning and principles is significant for website promotion. It helps to track user behavior, to work on improvements, and finally come up with ideas for a web platform people won't leave immediately.