What is a Marketing Funnel?
The marketing funnel definition is a visual presentation to comprehend the whole performance when available leads become real customers, and you start to see this process in terms of marketing or sales. The core message here is that everything works like a funnel: market representatives cast a large-scale net to get the biggest number of leads and after that start to nurture gradually potential clients influencing them on the ground of buying decision, reducing the number of possible candidates in each funnel level.
Unfortunately, nobody invented it as a marketing cylinder, as when this occurs, all the available leads would be clients. Nevertheless, we do not have such an ideal solution in today's business, it is a great task for marketers to obtain more target customers turning their leads, and they are constantly trying to change the form of the active funnel they have into something resembling a cylinder.
Moreover, it is impossible to find a single variant of the funnel which would generally be accepted or established for both models of business; for someone it is convenient to have too many stages, when others think most of them are redundant and decide to use only several where the names and various business actions are different. Below, you can see the most important stages of the funnel, as well as actions and relevant terms to give the readers more useful information on the following topic.
Why Marketing Sales Funnel are Beneficial?
Active discussions of marketing sales funnel have always taken place, and now when evaluating the process of consumer buying, it is still interesting to know its owner, exact sphere of implementation (sales or marketing) including if it is considered as an essential element .
This article will help you to understand everything connected to the marketing funnel, taking into account contemporary changes and growing problematic issues for marketers. You will have an opportunity to compare two popular models of business, B2B and B2C, and the way they use the funnel we are talking about. Currently, a lot of people think this notion and phenomenon surely finds its place in sales, when at the same time others perceive it as something marketing cannot exist without.
Firstly, it is important to go deeper and try to explain a basic principle for the seo funnel to understand the main idea it conveys.
Stages and Marketing Conversions Funnel Metrics
Look attentively to understand each stage and grasp the idea of its work in real life.
Awareness stage: the topmost level of the funnel in marketing. These are marketing campaigns, client analysis, and discovery that draw would-be customers to this very level. There are many activities that appeal to trust, for instance, advertising, unique content with figures, exhibition fairs, various interesting related events, popular webinars, e-mail marketing, SMM, content marketing strategy, viral campaigns and so on. Finally, we obtain the generation of leads thanks to information collected and lead generation tool, then they go further to undergo the process of nurturing. If you're struggling to gather leads at this stage, you can always consider purchasing lists of leads.
Interest stage: After the generation of leads, they find themselves on the stage of interest. As a result, they start to learn more information on the company, items or products offered including any additional data and available research. This stage helps brands to create and improve a relationship with the obtained audience. Traditionally marketers begin to prepare special emails for this category of leads and also make interesting related content about targeted brands and spheres. Newsletters are implemented here successfully enough.
Consideration stage: this stage is known as a phase where selected leads are turned into MQLs (marketing-qualified leads) and considered as potential customers. Marketing representatives usually provide this group of clients with more comprehensive information on existing offers and products via e-mails which we know today as e-mail marketing. Again and again, the given stage implies the process of nurturing due to proper seo content, thematic studies, and the trial offers, and even more.
Intent stage: In order to reach the intent stage, its customer participants must show their huge interest in purchasing a company product. It can possibly occur in a survey, once the demonstration of a product is finished, or, for example, when you see an item in the shopping cart on a specially designed website for e-commerce purposes. The intent stage is a superposition featuring the product in the best possible way and showing its great quality for buyers.
Evaluation stage: During this stage, a final decision should be made regarding if you are ready to buy a company item or service. Sometimes the process of arriving at a decision requires a long time and the joined endeavors and activities of both marketers and sales managers. Only working together, they are able to implement the function of the evaluation stage and nurture this essential process persuading the buyer that he or she will choose the best option.
Buying stage: It is one of the most favorite stages in the marketing funnel with actual customers already having taken a decision. Here sales start to be concerned about buying transaction. Successful practices on the part of the purchaser can bring referrals that usually intensify the highest point of the marketing funnel, and everything starts again.
The Difference Between B2C and B2B Marketing Funnel in Terms of Brands
The most significant differences between B2B marketing funnel and B2C can be distinguished (although they are fairly arbitrary, since the tools used depend on specific companies, their size, financial strength, life cycle stage and the level of marketing training for managers and specialists).
The value of B2B brands is no longer created by advertising, but by product quality, service support, direct work with customers and the fulfillment of contractual obligations.
For deeper comprehension of what the key differences of B2B and B2C marketing funnels are when dealing with their brands, please find below the changed diagram to see the actions and conversions of the corresponding customers on different stages of the funnel.
Major distinctions between the marketing funnels of two business models:
The biggest part of B2C consumers influence the funnel by themselves only or dealing with some additional advisors (family members or close friends), and speaking about B2B consumers, they act a bit differently and have a very big purchasing group who is responsible for this function. There is no direct interaction between B2C consumers and the representatives of a company, especially when it comes to online marketplaces, while B2B participants traditionally cooperate with a sales manager in the lower-end part of the funnel.
The following factors can be distinguished among the main differences between these models:
In the promotion, the emphasis is not on product brands, but more on corporate ones (the reputation and image of the supplier company is identified with the quality of the goods and vice versa);
Compared with B2C, marketing budgets are much smaller;
The overall level of marketing activity is lower than in B2C markets;
The target audience is much narrower and smaller than B2C (as a rule, legal entities limited by industry or market).
 Funnels of the nonlinear type
According to expert opinion, the marketing funnel is not pertinent anymore, as the process of purchasing cannot be called linear at all.
Leads fill the funnel at completely different stages. Sometimes it happens when leads start from the intent stage at once as they know this product and want to buy it. One more reason for that is just their interest and desire to learn something new.
The dissemination of information through the Internet plays a considerable role in the given situation, and people around have more digital opportunities to read about the product, especially various recommendations and feedback that influence their buying choice a lot. They are well-informed through the content they find on forums, blogs, and many other platforms, and can easily research everything themselves.
Speaking about B2B customers, here they come to the funnel seo strategy plan themselves in 57% of the cases, while the rest is realized thanks to sales representatives.
You have surely heard about the consumer decision journey of McKinsey that uses a circular model to demonstrate the process of purchasing, key pivots, and core aspects. Many experts find this version and its approach inappropriate in the context of the contemporary market.
Evaluating both of them, we believe there is no ideal version so far, but still, we continue to employ them in business and see individual benefits.
Marketing and the influence of customer experience
Today turning the funnel into something more like a customer experience is a prevalent practice in sales and marketing. Here customers become advocates that continue to refuel the highest part of the marketing funnel. These customers at the same time provide further awareness and lead production. Look at our diagram with the customer experience funnel.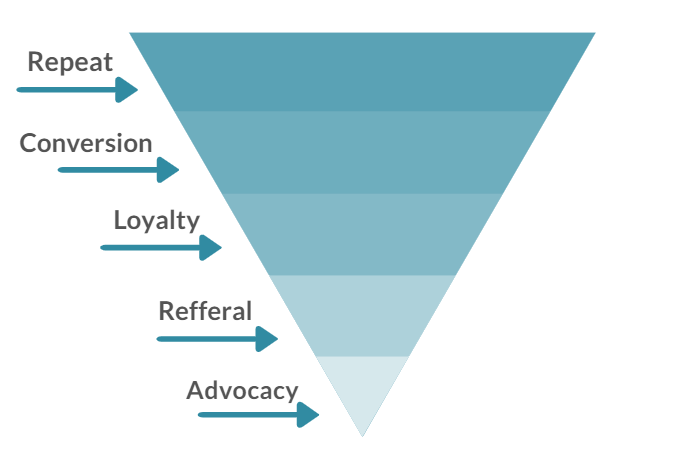 Five Important Marketing Funnel Stages and Their Functions
Repeat: When a client has bought the product, the next essential thing to do is to turn them into a loyal purchaser. For that, you need better retention and the methods for nurturing the customers.
Conversion: This index affects the number of visitors on a commercial web resource when they go through all stages of the conversion process from regular users to product buyers or subscribers to a service.
Loyalty: Here customers produce and generate their brand preferences, starting to associate themselves with it and customize items. Engagement is very important in this process, and marketing representatives know how to improve this individual connection to a certain product. They implement this strategy through the creation of community, engagement, and spreading of the ideas and standpoints.
Referral: After the customer has tried a brand and feels loyal to it, this next to the last stage begins, and they start to recommend the products and share recommendations that will definitely help to improve general buying capacity.
Advocacy: Finally, clients become advocates which is the highest point of the customer evolution. People dedicate their personal time to share this or that brand on the Internet, make posts on social networks and prepare interesting reviews on products they tried themselves. Marketers also actively participate in this stage, as their mission is to support advocates, involve them in various case studies and digital content provided by customers on social media.
SEO and Marketing Funnel
In the sales funnel of any type, conversion is important, that is, the ratio of page views to the number of targeted actions. It is not necessary to purchase or order a service. The purpose of the material may be finding the reader more than 1 minute per page. The duration of the session, that is, how many visitors in general look at the pages of your site, also determines the effectiveness of the pyramid.
There are some more recommendations:
If the sales funnel is stopped modifying, then it will gradually decrease, and then stop working altogether;
It is impossible to achieve 100% traffic conversion, but you need to strive for this;
No matter what they do, the main purpose is to enlarge the number of purchases and to increase the awareness of the product as well as the number of references to keep the marketing fuel full.
If the loss of potential buyers occurs already on the product page, then it is worth considering whether the offer made by the company is so profitable.
Sitechecker – DIY Platform to Simplify Your SEO Routine
Sitechecker offers a dynamic and intuitive platform tailored for digital marketers looking to enhance their SEO strategies. This all-in-one SEO toolkit simplifies complex tasks, providing users with a comprehensive suite of tools for keyword research, on-page analysis, and performance tracking. Its user-friendly dashboard presents vital SEO metrics in an easily digestible format, making it perfect for both seasoned marketers and those new to SEO. Sitechecker streamlines the optimization process, enabling users to focus on crafting strategies that elevate their website's search engine rankings and online visibility.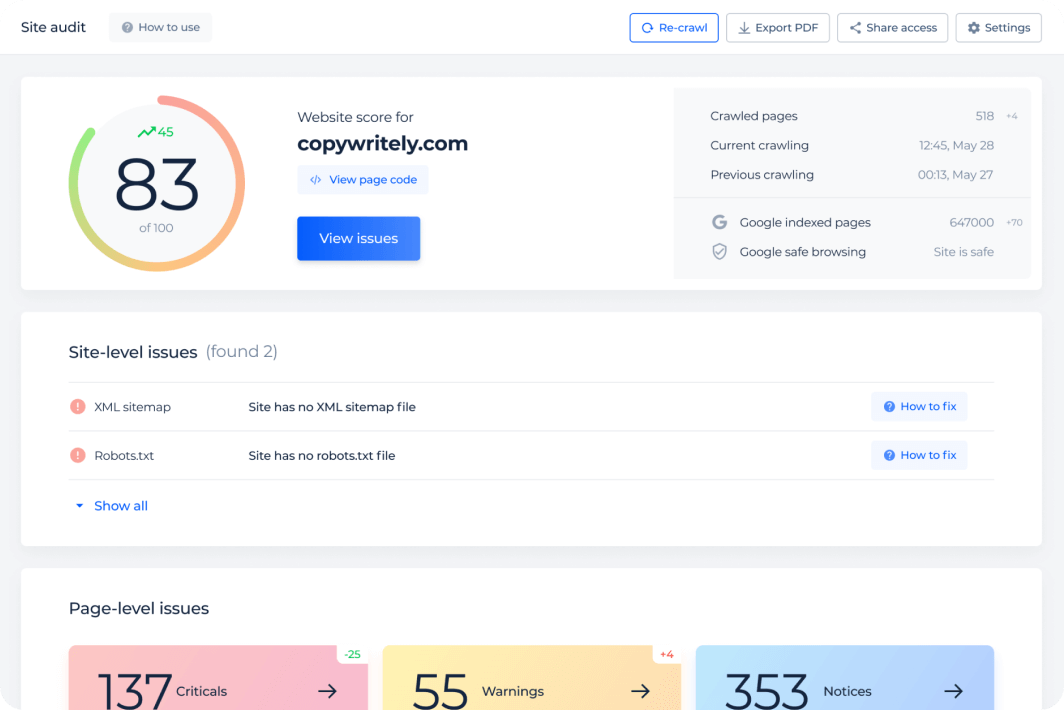 Beyond basic SEO functions, Sitechecker presents advanced features like competitor analysis, backlink monitoring, and website health checks. These tools offer deeper insights into the SEO landscape, allowing digital marketers to stay ahead of trends and adapt strategies accordingly. The platform's regular updates ensure compatibility with the latest SEO best practices, and its detailed reporting system makes tracking progress and ROI straightforward. With Sitechecker, digital marketers gain a reliable partner in their quest to dominate search engine results pages and attract more organic traffic to their websites.
Sitechecker – Your Digital Marketing Ally!
Simplify your SEO efforts and stay ahead of the curve with Sitechecker.
Conclusion
A marketing funnel is a process that businesses use to attract and convert leads into customers. It is a series of steps that a potential customer takes from awareness to purchase. The different stages of a marketing funnel are awareness, consideration, decision, and purchase.
B2B and B2C marketing funnels have some key differences. B2B funnels are typically longer and more complex, as businesses need to nurture leads for a longer period of time. B2C funnels are typically shorter and more direct, as consumers are more likely to make impulsive purchases.
Marketing funnels are not always linear. Customers may move back and forth between stages, depending on their needs and interests. It is important to create a marketing funnel that is flexible and can adapt to the customer journey.
Customer experience is important at every stage of the marketing funnel. Businesses need to create a positive experience for customers at each stage, in order to keep them moving through the funnel and towards a purchase.
FAQ
What are the 5 stages of the marketing funnel?
Awareness: Potential customers learn about a product or service.
Interest: They express interest and start researching.
Consideration: They compare options and consider purchasing.
Intent: They show a strong inclination to buy.
Conversion: They make a purchase or take the desired action.
What is the marketing funnel and examples?
The marketing funnel is a model that represents the customer journey from becoming aware of a product to making a purchase. For example, a customer might first encounter a product through a social media ad (Awareness), then sign up for a newsletter (Interest), attend a webinar (Consideration), add a product to their cart (Intent), and finally make a purchase (Conversion).
Why use a marketing funnel?
A marketing funnel helps businesses understand and optimize the customer journey, target the right audience at each stage, allocate resources effectively, and ultimately increase conversions and sales.
What is a sales funnel vs marketing funnel?
A marketing funnel encompasses the entire customer journey from awareness to purchase, while a sales funnel focuses on the later stages, guiding potential customers through the decision-making process and closing the sale. Marketing funnels attract and nurture leads, while sales funnels convert them.