Whether you're editing an existing piece of content or writing an entirely new one, it's important to ensure that your writing is easy to understand and engaging. There are several readability checker tools online that can be used to analyze your writing and give feedback on how difficult it is to read and understand your message. This article provides tips on how to use these tools to get the most out of them!
What Is a Readability Checker?
A readability checker is a calculator that determines how easy your language is to comprehend. The "reading age," a conditional parameter that indicates how intelligible your work is on first reading, is assessed by such software.
The average adult has a reading level of 7th to 9th grade. As a result, you must keep your content readability within this range. Easily assess the readability of your website content with our free tool, ensuring that your audience is satisfied.
To maximize website content, most web designers recommend adopting easy-to-read typefaces. Serifs, or tiny strokes at the ends of letters, should be avoided in such typefaces. Expert designers also agree that adopting popular fonts like Tahoma, Verdana, and Arial improves text readability.
Using a Readability Checker
To verify the readability of your content online, you have two options:
Copy and paste the URL of your website. You can insert a URL into the placeholder to check the readability of content on an existing page. It's an extremely significant factor in SEO content.
Copy and paste the content. You can type something in the text box above and then hit the "Calculate" button.
Then, you'll get a comprehensive report with all of the necessary parameters. Also, don't forget to utilize keywords in your body content and, if necessary, remedy a low word count issue. See the following step-by-step guide for checking readability on SiteChecker Pro:
Step 1: Submit the URL or text
If you want to check an entire webpage/website's text, then it is best to enter the URL. However, if you want to check a piece of text, simply copy and paste it into the search bar and click the green button labeled "Calculate Readability":

Step 2: Results
SiteChecker provides a comprehensive overview of your text's readability. It uses two different methods for increased accuracy: the Gunning Fox Index and the Flesh Index. The software also recommends what problems need to be fixed. If you require more detail, you can scroll down and click on "Get Free SEO Audit."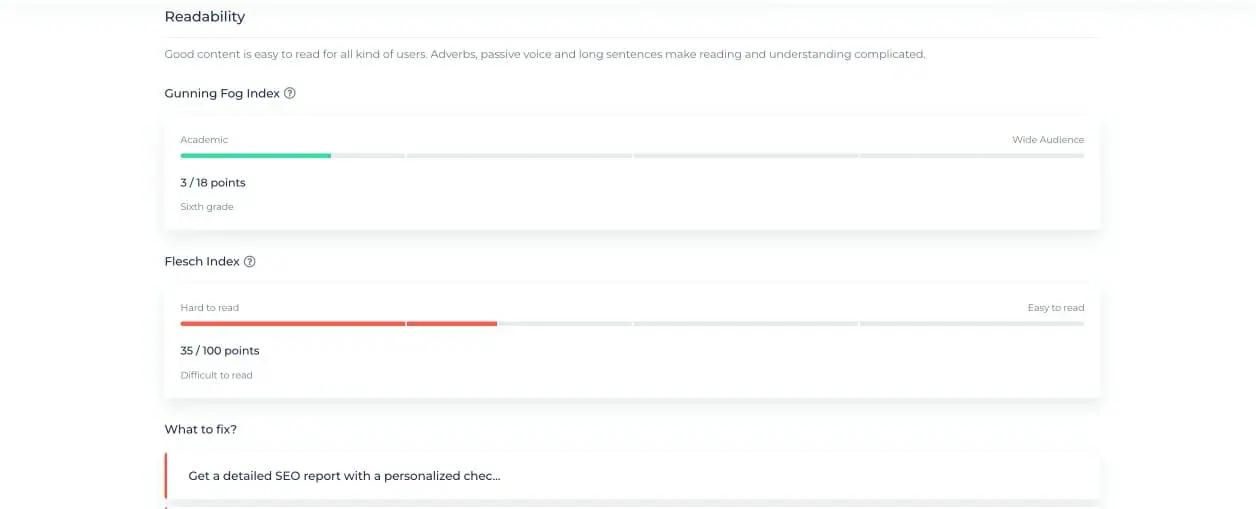 What Is Readability?
In simple terms, readability is how easily readers can understand a text. Readability can be measured by a readability score, which is determined by assessing a piece of writing based on a series of metrics. A readability score ranges from 0 to 100 and helps identify areas where you should focus your efforts in order to improve readability for various audiences.
Flesch reading ease
Formula: 206.835 – 1.015 (total words/total sentences) – 84.6 (total syllables/ total words)
Among readability test instruments, the Flesch-Kincaid reading ease score is the most often used. This reading level calculator was created to help you figure out how tough a text is to read. You will receive a score between 1 and 100 after evaluating the text, and there is a table that will help you interpret the value.
This test was created to assist educators in selecting levels that are appropriate for kids' academic abilities. However, it was later adopted by other industries. For kids in grade 7, a text with a score of 70% to 80% is adequate. A professional text for marketing objectives, for example, should not receive a lower score. A text with a lower score is more difficult to comprehend.
Flesch–Kincaid grade
Formula: 0.39 (total words/total sentences) +11.8 (total syllables/ total words) + 15.59
It is another readability level score that is used to determine the level of education required to comprehend a piece of text. It was first developed by the US Navy to assess the level of complexity of technical literature. It is now used for instructional reasons by educators, parents, librarians, and students. This score has no upper limit because it corresponds to the real number of years of schooling required to comprehend a given essay or paper.
Gunning fog index score
Formula: 0.4 [(words/sentences) +100 (complex words/words)]
This system of readability is based on the number of years of formal education required to comprehend a certain essay. The test is based on syllable and phrase comparisons.
Although some of the complex words are not very difficult to comprehend, they will have an impact on the readability of your text. A text with a score of 5 is readily legible, but one with a score of 20 is somewhat challenging.
Is It Important for SEO?
Readability is an important feature in online content, and it can help your site rank higher in search engines. When the material on your website is clear to your readers, they will learn about your service or product. This reduces bounce rates, meaning that search engines will favor the site and rank it higher.

Readability checking is good for your website but not enough to get good SERP positions!
Conduct a full audit to find out and fix all the site level and page level issues on your website.
What does Google say?
The easier the text is to read, the higher the score. For example, a score of 0-29 indicates that the text is extremely difficult to understand, but a score of 90-100 suggests that the material is quite simple to comprehend.
How to Fix Your Score
Fixing your readability score is pretty easy. Here are some points to consider:
Concise sentences keep readers focused on what matters most—your main idea.
Eliminate filler words like basically, actually, also, and yet. These words don't add anything to your content; they're interruptions that increase the word count unnecessarily.
Keep paragraphs short by breaking up complex ideas into smaller chunks of information. Then, separate these chunks with new topic sentences.
To make it easier for readers to scan your copy, repeat important keywords at regular intervals (every two or three paragraphs).
Take full advantage of headings and subheadings to break up long sections of text.
To learn more about readability scores and how to improve them, watch the video by Elegant Themes:

FAQ
How Can I Check My Readability Score for Free?
SiteChecker Pro Readability Checker tool is free to use and available online.
Is 47 a Good Readability Score?
No, 47 is not a good readability score. A readability score of 60-70 means that your content is easy to read. Any text that ranks 60 or higher is considered good.
Can I Check Content With No URL?
Yes, simply copy and paste your text in a readability checker.