What is a Negative Keyword Generator?
Sitechecker's negative keyword list creator is a tool that helps you create a list of words to prevent ads from appearing in irrelevant searches. This is a common issue with ad systems that can cause budget losses due to irrelevant traffic. You can use our suggestion app to safeguard your campaigns from inefficient budget spending.
Discover the top keywords for your topic, break them down into words, and pick out those that may be irrelevant to your campaign. Adding these negative keywords ensures that only a more relevant audience sees your ads. Thus, you improve your campaign's performance and minimize wasted expenditure.
Key features of the negative keyword list builder
Negative keyword list analyzer: Simplify the creation of a list of words to exclude from your ad campaigns, ensuring that ads do not appear for irrelevant searches. This protects your budget by focusing on relevant traffic and optimizing campaign performance.
Cross-Platform Keyword Recommendations: Our keyword tool casts a broad net, delivering suggestions gleaned from various search engines beyond just Bing. Dig up promising keywords reaped from platforms including Google, YouTube, Amazon, eBay, and others.
Comprehensive SEO Toolkit: Our SEO collection covers more than keywords and research, offering plenty of tools. With Sitechecker in your arsenal, you can access many features, including on-page and off-page SEO assessments, rank tracking, website monitoring, and a treasure trove of others. Utilize this in-depth data analysis to effortlessly pinpoint potential shortcomings and uncover invaluable opportunities.
When is the Negative Keyword Tool Needed?
The tool is needed when you want to optimize your Ads campaigns by preventing your ads from being displayed to irrelevant audiences. This tool is essential for minimizing unnecessary costs as it reduces the number of irrelevant viewers and consequently lowers the Customer Acquisition Cost (CAC).
Using the negative keyword research tool, you can specify certain words or phrases; when these are part of a user's search query, your ad will not be triggered. This is particularly useful for excluding searches not in line with the product or service you are advertising. For instance, if you're selling premium products, you might want to add "free" as a negative query to avoid showing your ads to people looking for free items.
You can use this tool in various types of campaigns, including Search Network, Display Network, and Video campaigns. Additionally, negative keywords can be set at different levels, such as the campaign or ad group level, and can work in different match types, such as broad match or phrase match.
How to Use the Negative Keywords Finder
Step 1: Input one or several initial queries, configure settings, and hit the "Generate keyword suggestions" button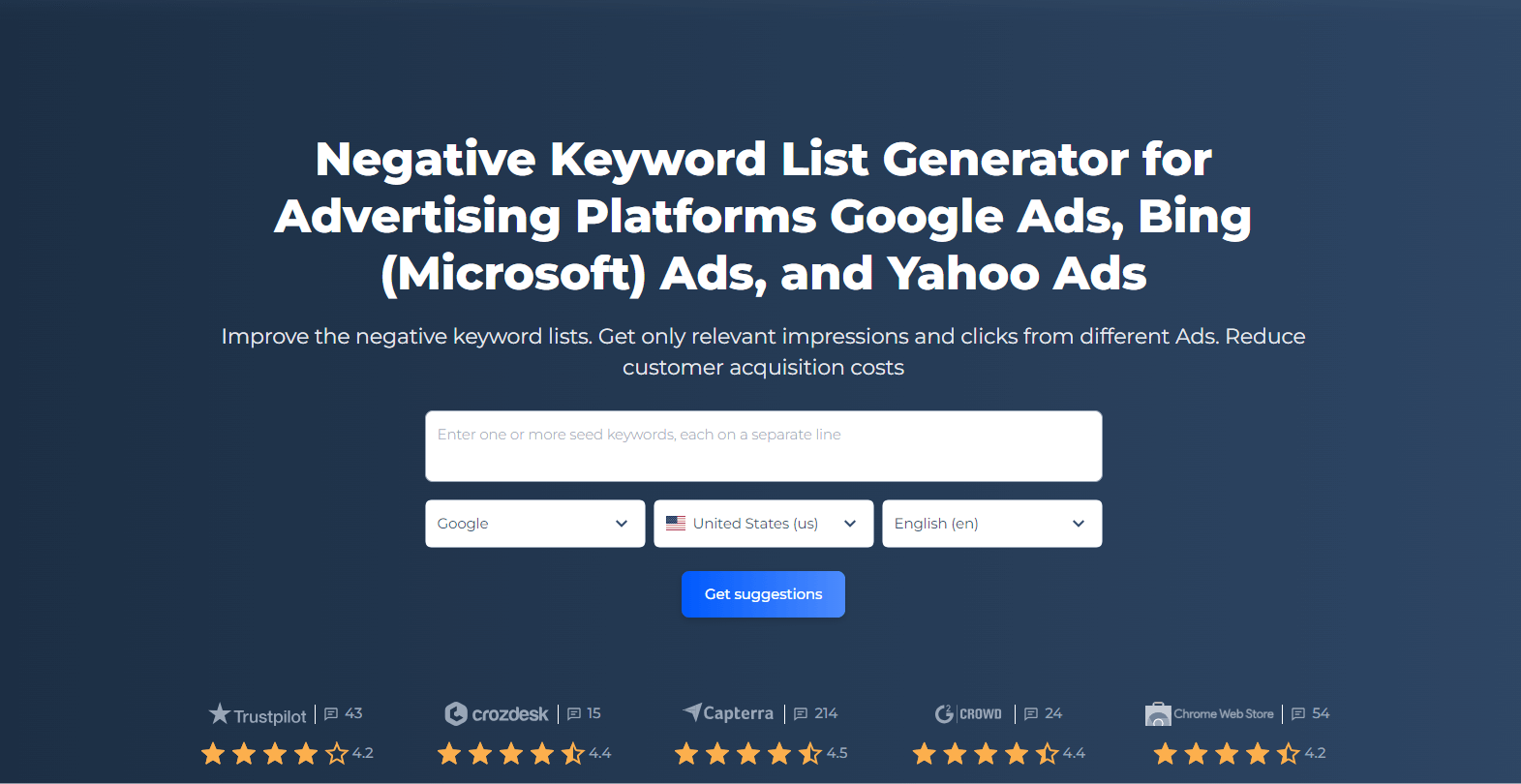 Note: To get more precise and targeted results, please use the additional settings feature to specify the search engine, region of interest, and language for the search suggestions.
Step 2: Retrieve your results and use the powerful features
The software helps to lookup an extensive list of negative queries depending on a specific query. Making long-tail keywords is one of the fastest methods to gather a list of negatives for the Ads group or campaign. For example, after collecting results for the query running shoes, we've got 1170 phrases and 834 unique words. And your purpose is to collect as big a list of informational (not commercial) words as possible to expand the list of negatives in Ads.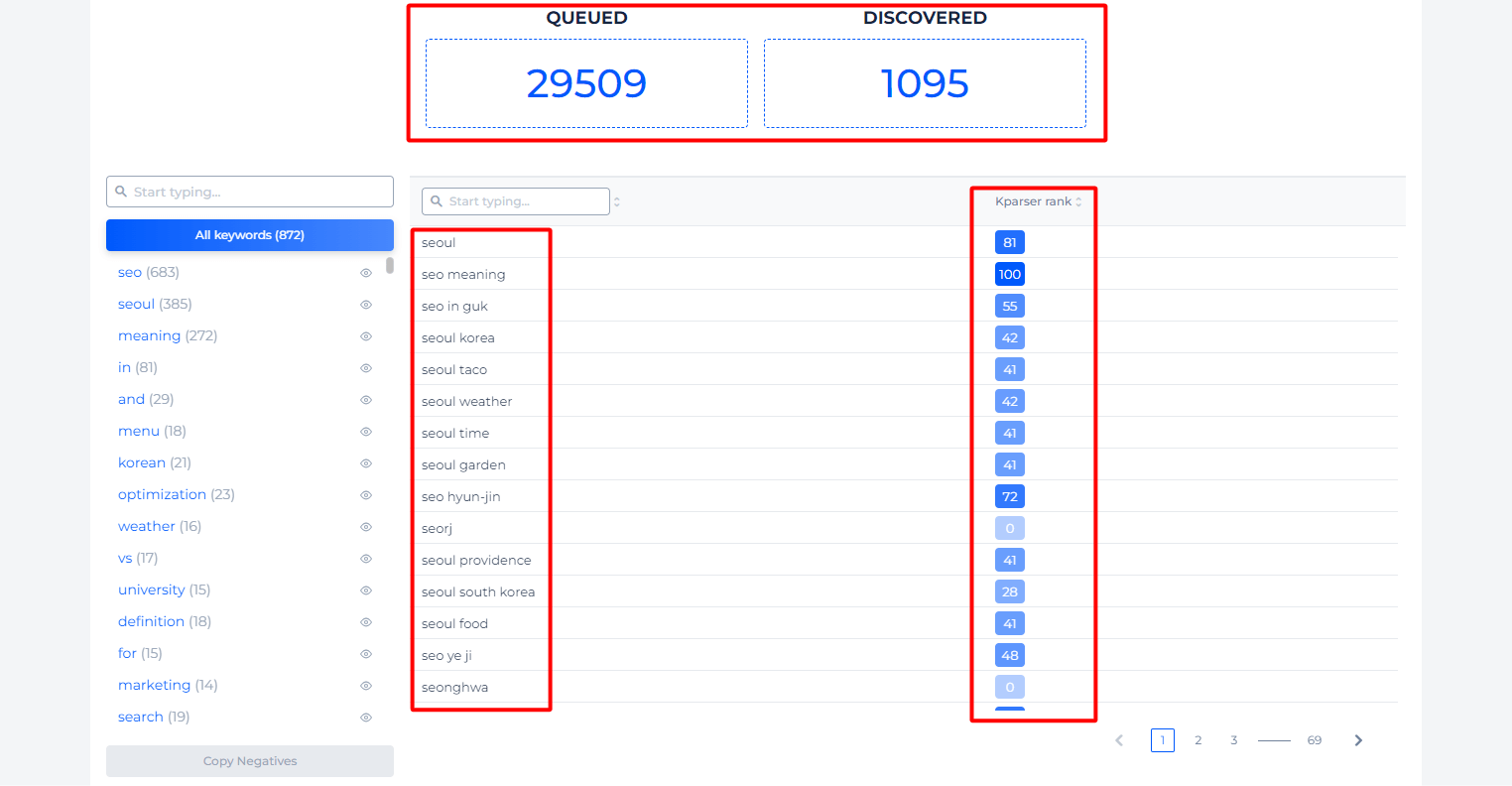 Look at the screen below. It's easy to check all the words you find as negative keywords and press 'Copy Negatives.' One click—and all the words are in your clipboard, ready to be added to the Ads system.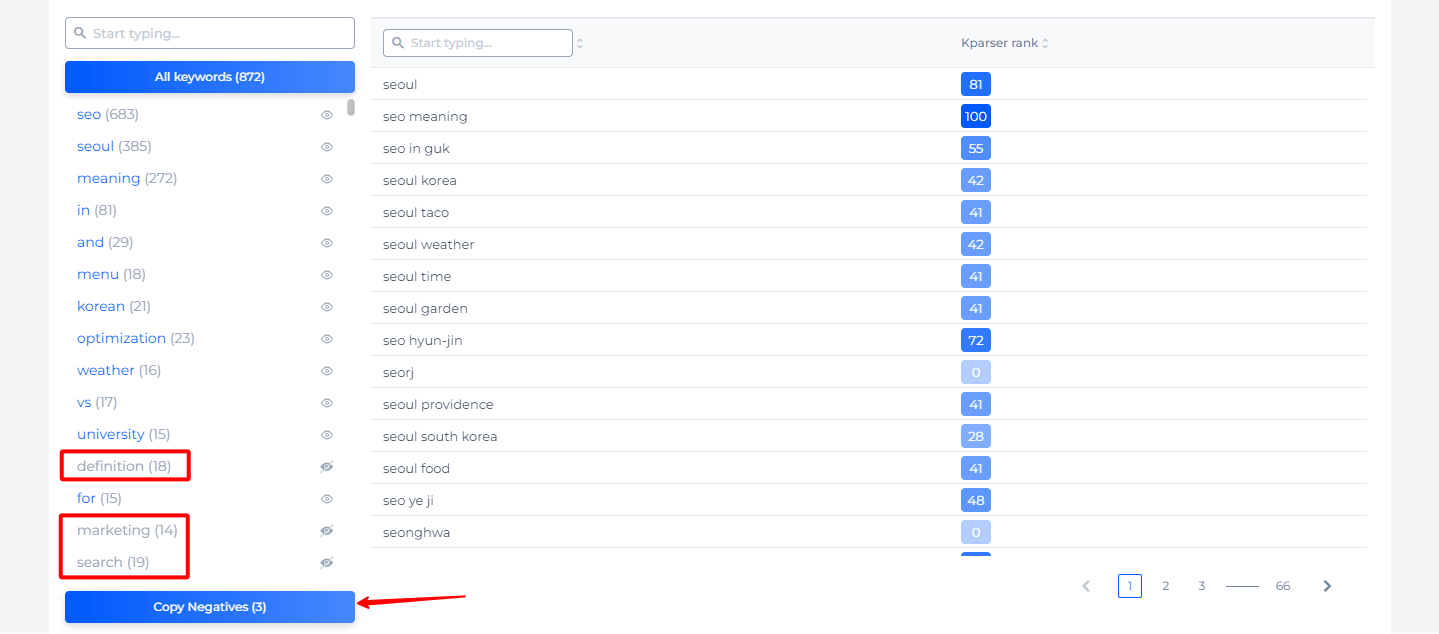 Additional features of the negative keyword planner
Leverage advanced mode features to expedite the process and extract every possible suggestion for your seed keywords.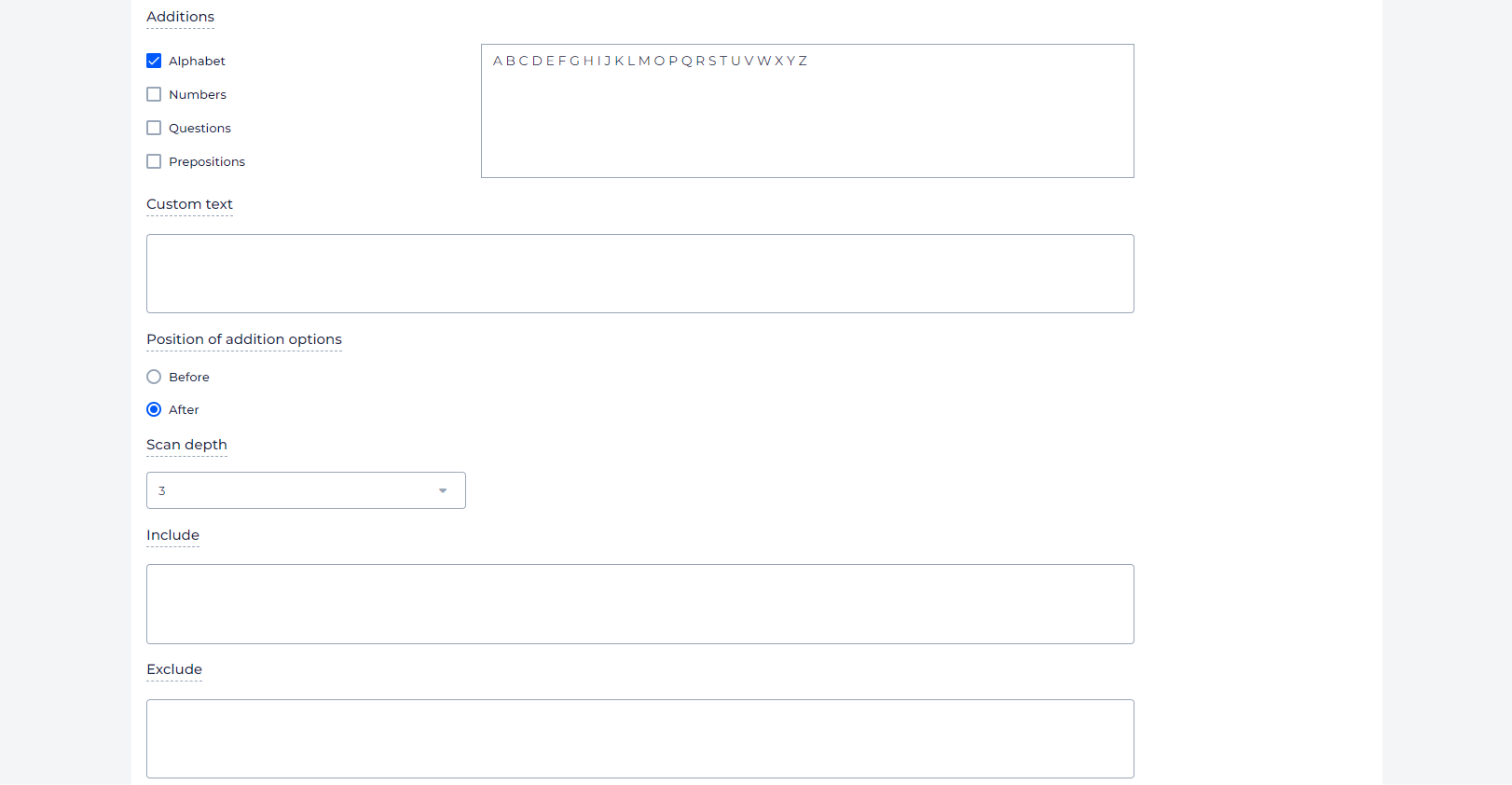 The advanced mode encompasses the following features:
Additions: Each checkbox represents an added avenue for gathering an expanded set of results. For instance, selecting "Alphabets" implies the system will search for suggestions by integrating different letters into your query. The "Questions" option implies that the results will be augmented by seeking answers to common queries, including your keyword. The "Custom text" field permits you to stipulate additional words, symbols, or phrases for inclusion to get a more extensive set of suggestions.
Before & After function: The "Before and After" toggles dictate the placement of alphabets, numbers, etc., preceding or succeeding your query.
Scan depth: This parameter represents the thoroughness of the search, indicating the number of layers deep the system will scour for suggestions.
Include: This feature enables you to input words or phrases (on separate lines) that must be part of the results. Any other keywords not on this list will be omitted from the final compilation.
Exclude: This function lets you list any words to avoid in the search results. Furthermore, suggestions containing these words will not be displayed or utilized for additional searching.
Concluding Remarks
In summary, Sitechecker's negative keyword checker is an essential tool for advertisers using Google Ads, Bing Ads, or Yahoo Ads. It efficiently curates a list of negative keywords to prevent ads from appearing in irrelevant searches, conserving advertising budgets and enhancing campaign effectiveness. With its user-friendly interface and customizable settings, this tool targets relevant traffic, ultimately reducing customer acquisition costs.
FAQ
How do I get a list of negative keywords?
To get a list of negative keywords, use Sitechecker's tool by inputting your initial queries, configuring settings, and clicking "Generate keyword suggestions." Review the results, select the irrelevant queries, and press 'Copy Negatives' to obtain a list ready to be added to your ad campaigns.
Do negative keyword lists work?
Yes, negative query lists work by preventing ads from appearing in irrelevant searches, which helps conserve advertising budgets and enhance campaign effectiveness by targeting relevant traffic.
What is a negative keyword example?
An example of a negative keyword is "free," which can be used by advertisers selling premium products to avoid showing their ads to people looking for free items.