What is Google Tag Manager?
Google Tag Manager (GTM) is a helpful solution for multiple businesses. It provides valuable data and so-called tags. They can help you with remarketing, conversion tracking, increasing your agility, etc. It also enables you to see if the website is running smoothly and if there are no critical issues that affect essential metrics.
However, it's not always possible to define issues with Google Tags. Hence, companies use various tools to check their websites and see if tags are properly installed and running well. If not, the reports and data necessary for successful operation will not deliver accurate results.
To prevent this and instantly detect the bugs, you can use Google Tag Manager Checker. It's simple, fast, and quite effective. With this tool, you'll get real-life results and a detailed report on what's going on with your website.
What is a Google Tag Manager Checker and Why is it Important?
Google Tag Manager checker is a special tool that shows if there's a GTM code on your website and whether there are any issues with it. One of the best perks of this solution is that it gathers data and provides you with a list of issues all over your website, not just one page. This is a convenient option if you need to run a quick website check for troubleshooting.
Google Tag Manager Tester doesn't need to be installed anywhere — you can simply enter the website and run the analysis right there. Moreover, you'll not just receive data on GTM-related issues but also get insights on whether your webpage has other problems.
How to Use Our Google Tag Manager Checker?
Our tool is quite simple to use. In just a few short moments, you'll get a complete website audit that will show you all the bugs and GTM problem indeed. Let's see how the tool works.
Step 1. Add your domain and run a free trial
Enter your website's domain in the box on the landing page. Next to the box, you'll see a "Start Trial" button. Click it to start the website check right away. You don't need to add any payment card at this point — just an email confirmation would be enough.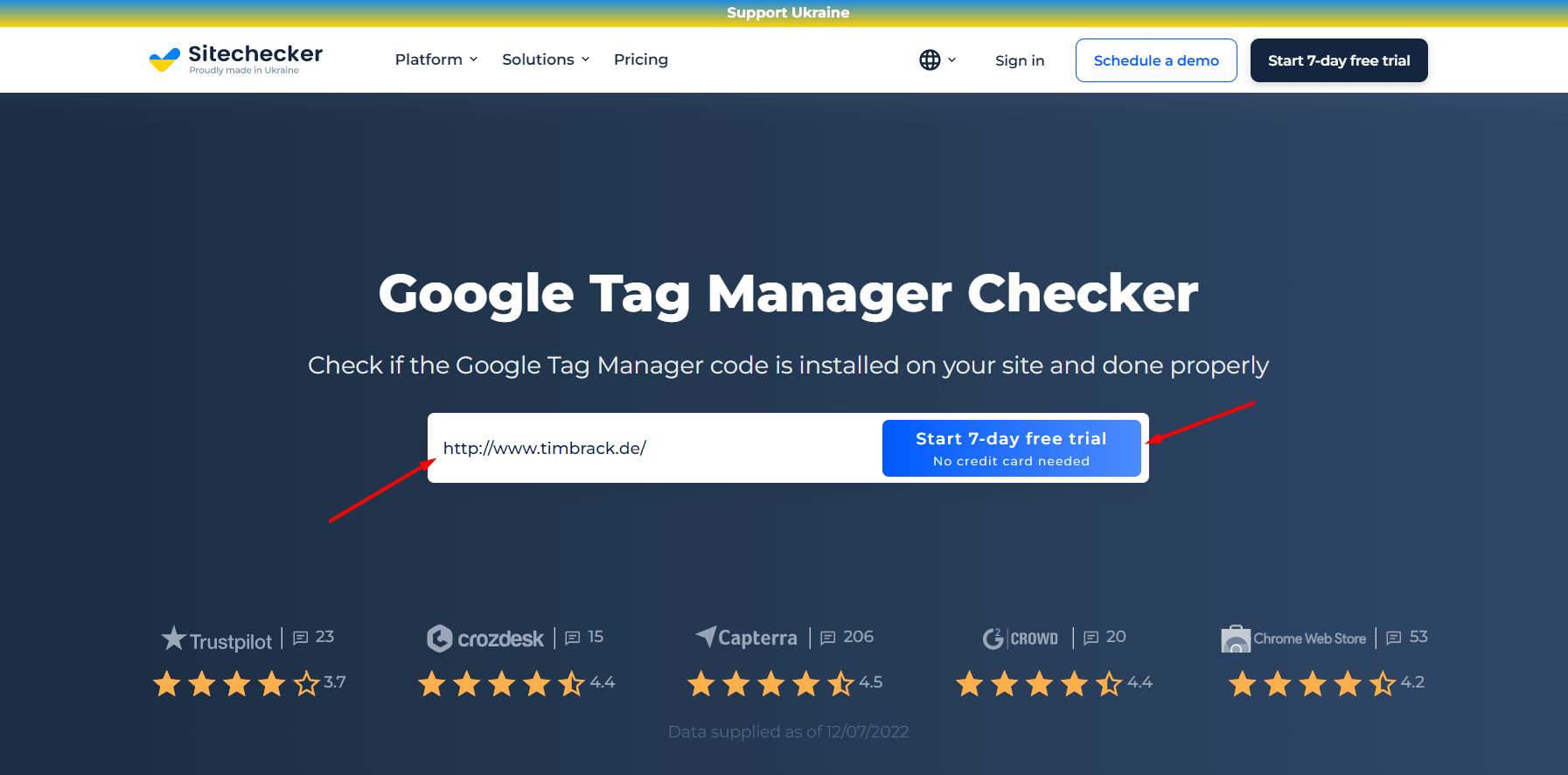 Step 2. Get results
Scanning a domain will create an audit of the site for that domain, revealing the website's technical issues. The audit will include the GTM code issue, in case it is actual, or done check box in case the code is added and done properly.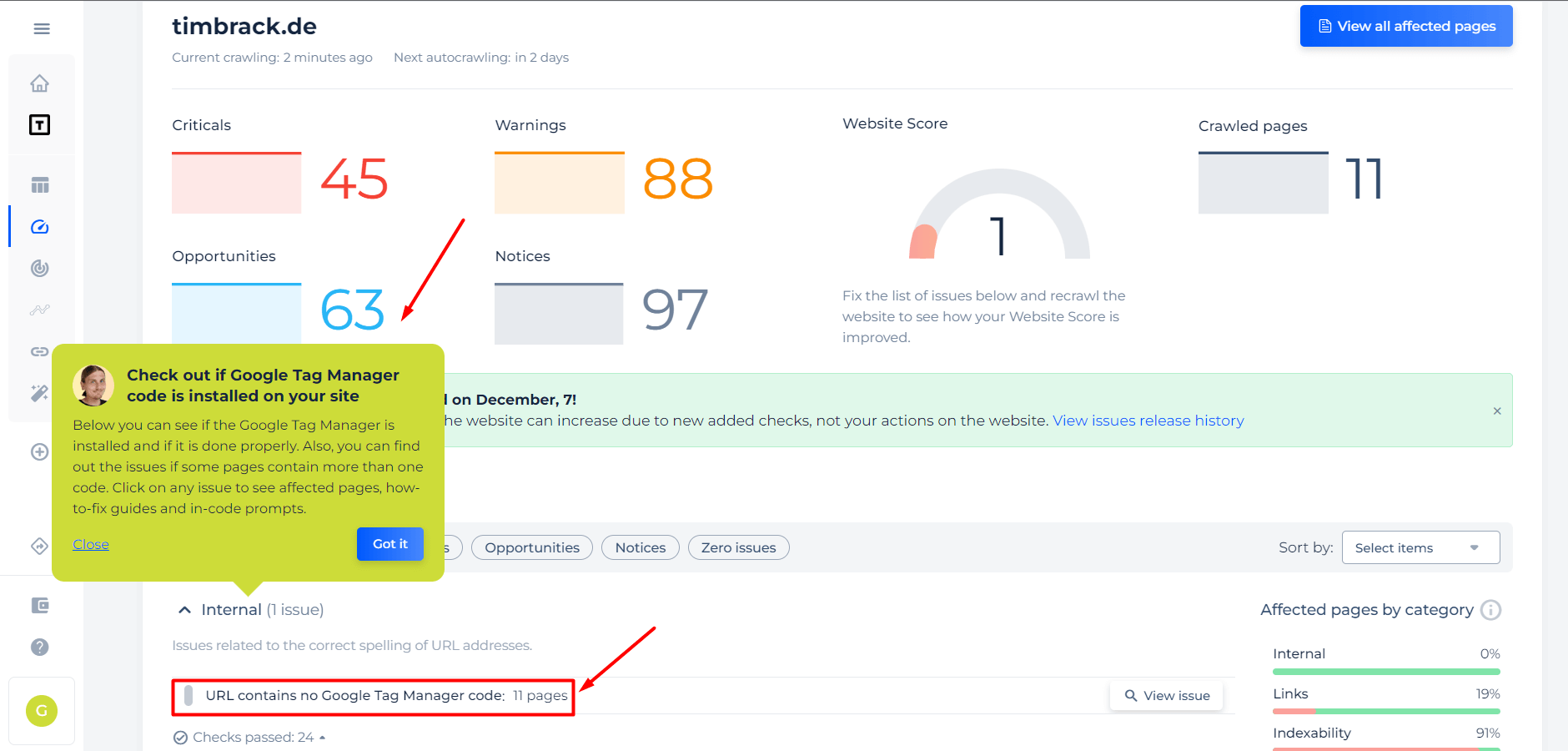 Features of Google Tag Manager Validator
With our solution, you will get a full website audit that will show you not just GTM-related issue but also the website summary with the list of technical problems, their categories, and troubleshooting recommendations based on the current state of your webpage.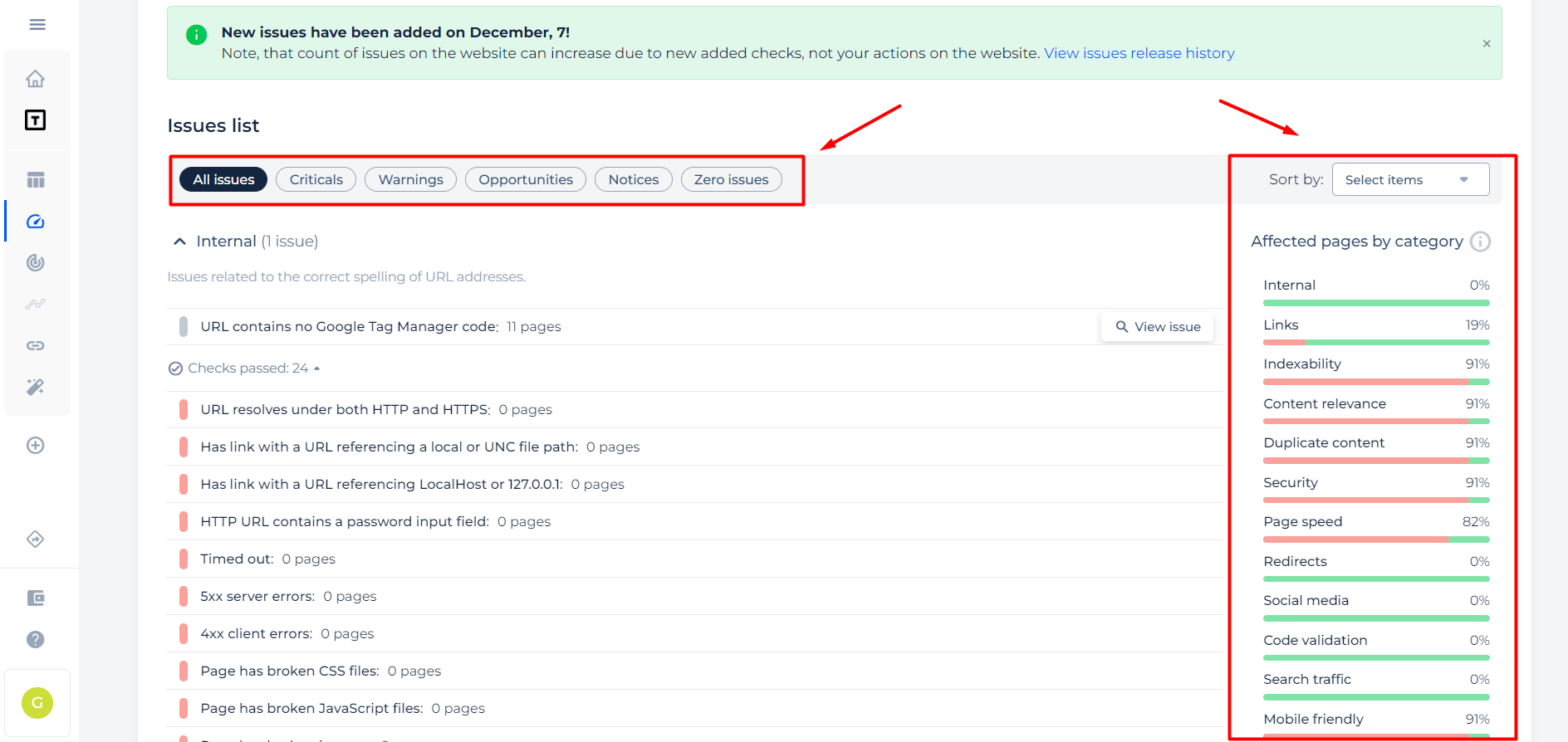 With the Sitechecker, you'll also get a list of all the flawed URLs and get a detailed check for every single page on your website. This is a helpful and effective tool that provides you with comprehensive data and valuable insights in just a few minutes.
Check out not only the GTM issue but also all the other technical issues on the site!
Make a full audit to find out and fix your technical SEO.
Why are Proper GTM Setups Important, and How Can you do Them Right?
Having proper GTM setups on your website or mobile app is a great option to help you quickly change measurement codes and related code fragments. This is essential for site or app analytics, conversion tracking, and more.
If you want to know a bit more about setting up Google Tag Manager, watch this insightful video by Julius Fedorovicius from Analytics Mania.
FAQ
How do I check if my site has Google Tag Manager installed?
If you need to see if you've got GTM installed for your website, check the source code for your webpage first. Press Ctrl (Command) + F and type gtm.js. If Google Tag Manager is properly installed, you'll see at least one search result for gtm.js surrounded by <script>. You can also use our Google Tag manager Checker tool for faster analysis. All you have to do is enter your domain, launch a trial version, and you'll get the results in a couple of minutes.
How long does it take to check if GTM is installed on my website?
If you're using the GTM Checker tool, it will take approximately two minutes to run a full website check and give the results you inquired about. Our tool works really fast and instantly provides you with a full list of issues together with an entire website audit. This means you'll be able not just to see if your site has GTM installed but also to get a lot of valuable insights at once.
How do I know if Google Tag manager is properly working?
There are several ways to check whether GTM works well on your website. Apart from checking the source code, you can also try the Chrome extension for Google Tag Assistant or GTM's preview and debug mode. You'll see more information about the Tag Manager and its current working state on your website. Lastly, you can check real-time Google Analytics reports that can also show if everything is correct.
How do I troubleshoot Google Tag Manager?
It's possible to fix some of the most common issues related to GTM. To make sure it's working well, use a GA settings variable. This will help you store custom metrics, tracking ID, fields to set, and other data you might use to reference in other tags. Next, use GTM workspaces to ensure only relevant people have access to data and allow them to make multiple updates at once: the ones for custom HTML, tracking pixels, GA updates, etc. You should also clear naming conventions to make sure there won't be a mixup with tags which would result in poor tracking or incorrect data. Finally, reconsider using too fragile or generic triggers to ensure flawless tracking.