Business owners always have to calculate something. It may once appear they need to evaluate the cost of a website, order it, buy or sell. To understand whether it is worth maintaining, how its value correlates with income, or simply to find the site's share in the business budget. Such a task requires precise and accurate evaluation. Hopefully, there is a web tool to facilitate it.
This article will discover what a website value calculator is, how this cost checker works, what factors impact the market costs of websites the most, and why it is important to rely on specialized tools. Let's go!
What Is the Value of a Website
Before investigating what a site value calculator is and how it determines the costs of web resources, it would be great to understand the very essence of what this tool estimates. So what is the value of a website?
The market value of a site is a median between how much money people want to buy and sell it for respectively. Sure enough, their prices differ, and value determination is crucial in this case. There can be different approaches to determining and calculating it. Here are some most valuable parameters in estimating the site's worth.
Site income
When checking the value of the web resource, we shall definitely pay attention to how much revenue it generates. In some cases, specialists use this parameter alone to assess the networth of the web resource. It is enough to multiply your monthly income by 12, 18, 24, or 36 (depending on the size of the business).
Site quality
What is the age of the site? Are there any sanctions imposed against it? How many pages of the site are Google or Yandex indexed? Is all the content written according to the SEO guidelines? Proper answers to these questions can greatly assist in finalizing the estimated value.
Unique visitors
Reaching out to the target audience is vital to any site since relevant traffic impacts every element of the site's life. These people are likely to make the target action and generate income or improve site's health due to the length of the session. In addition, this parameter directly correlates with how high at the top the site is in Google SERP, for instance.
Domain name
There are millions of sites. Unique domain names are quite hard to imagine nowadays. A beautiful name, consisting of only several symbols, may cost thousands, if not tens of thousands of USD. Furthermore, if the domain name contains a keyword, it further increases the value.
Site content
The high quality of a website's content is key to high ranking. If the content on site is stolen, spammy, or badly rewritten, the search engines will likely try to hide it from users. The content quality is especially important for young sites that have only started enlarging their visibility. Moreover, information is something people visit sites for. If it lacks added value, the behavioral factors will decline. So, do not forget to check the quality of content. Hopefully, there are sophisticated tools to correctly assess it, for instance, Copywritely.
Site design
The visual component is the first thing that attracts site visitor's attention. It should harmonize with the theme of the site, emphasize its structure, highlight the company's values, help to place accents, and evoke positive emotions.
At the same time, preferences in visual design are individual for each person. Moreover, it isn't easy to precisely estimate the exact value of the website design. Some may argue that this task is not for an online estimator but for an experienced web designer.
This is, by far, not the fully exhaustive list of factors that the website value calculation depends on. We can also add, for instance, the number of hours spent to build the site. This is another popular approach, widely used by many companies, like Flippa. However, such a method can provide only approximate estimations.
How to Use a Website Price Checker Tool
As we can see, a website price is a comprehensive notion. It is always wise to rely on specialized website price checkers before making a decision. So, how to use such an online tool? Quite simple.
Step 1: Insert your URL
Enter the URL of the website you want to evaluate.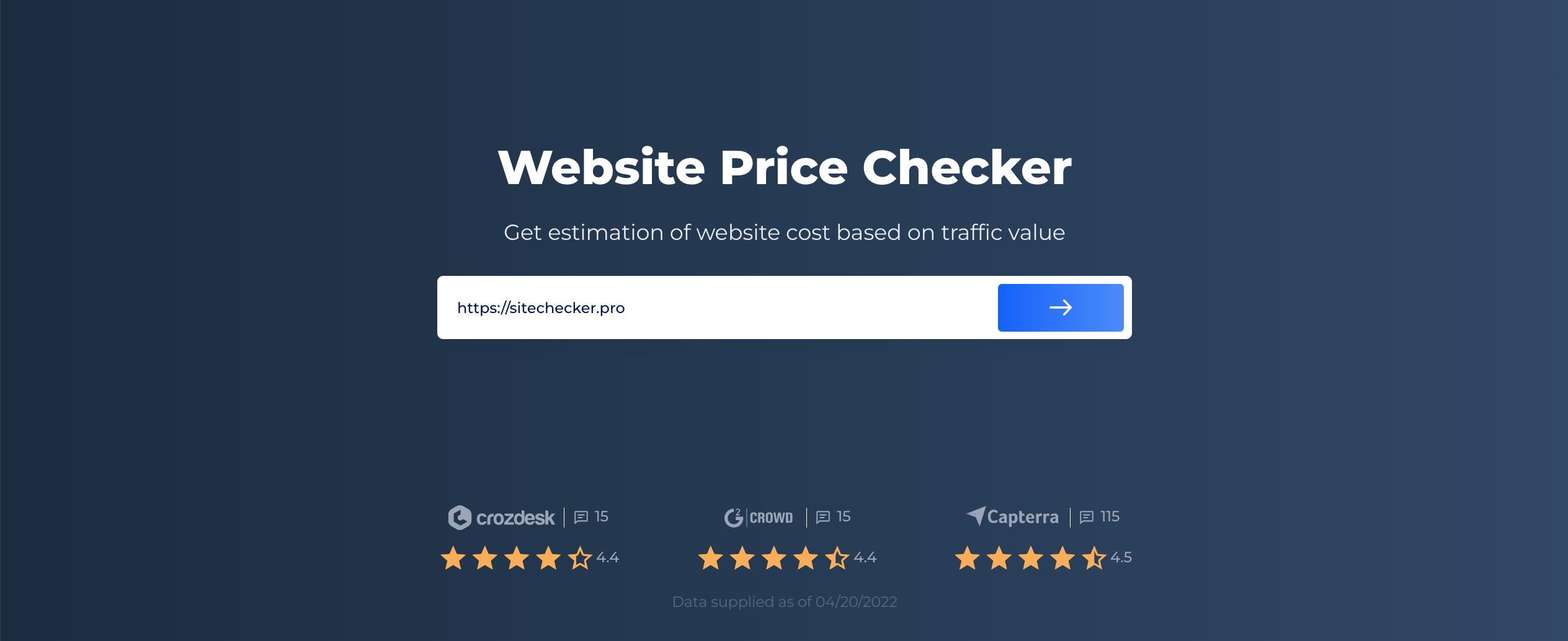 The pricesite analysis usually takes a couple of minutes maximum.
Step 2: Interpreting the website price calculator results
After the check, the program provides the exact price in USD. This is pretty much the whole process.
Checking Cost is not enough to optimize your site for search engines!
Crawl your site and find out all kind of issues that can hart your users or your site SEO.
Importance of Website Worth Checker Tool
Now you know how to use an online value checking tool. Below, we will highlight a couple of reasons why it is vital to use such a checker.
First of all, it is an independent and unbiased program for site appraisal. As we said previously, approaches to estimating the total value differ. So do the opinions of individuals: business owners, SEO specialists, external consultants, etc. The online tool leaves no room for speculation.
Second, precise results. It is a common issue to face value gaps with estimates "from" and "to". While in some cases, it may work, site value estimation requires an exact number.
Moreover, a website worth checking tool estimates the cost based on a data-driven method. As a first step, the program's algorithms collect and analyze tons of data: visitors, domain name, ranking, etc. Only then the tool provides the results.
Finally, a comprehensive approach. As we highlighted, many factors influence the final cost. People may drop some of them or over/underestimate the importance of a particular one. The best option, not to forget anything, is to rely on a specialized tool.
Now let's analyze the factors that can positively influence the value of a website.
Important Factors to Improve Worth of Your Website
Here are some marketing and technical tips on how to increase the value of the site.
Diversify traffic flows. Different sources of attracting visitors boost site's visibility as well as distribute risks in case of any problems. Not a single source of traffic is immune to ranking algorithms' changes. The more of them you have, the more stable performance of the web page is.
Work with social profiles. Nowadays, the site alone is quite a weak business instrument. A well-performed network of web resources and social media presence are also vital.
Build a brand. From a technical viewpoint, a site isn't too difficult to build. What really matters is the name that stands behind the online tool. Remember, your business' reputation goes far beyond the outreach of any web resource.
Choose the right domain. As we have already said, some domain names can cost thousands. Try to grab some unique, relevant, and easy-to-remember domain.
Diversify monetization methods. Many tend to evaluate the total cost of the website by multiplying its income by 12 – 36. This approach is easy and understandable. However, not only the networth revenue in absolute figures matters. The security of income is also vital. If 90% of site's monetization comes from one source, the resource becomes very vulnerable to any changes or transformations. Don't wait — act proactively.
Here is pretty much all about a website value calculator, its peculiarities, why it is important, and how to boost the price of your site.
FAQ
How do I find out how much my website is worth?
There are many options: from the manual calculation to the services of experienced web and design specialists. However, the best and most balanced approach is to rely on a specialized website value calculator.
The value of a website is unique in each case and depends on various factors: domain name, quality of content, traffic volume, etc. To estimate the exact price, use the special online tool — site cost evaluator.
Can you find out how much a website makes?
Sure. While calculating the value of websites, online site calculators also pay attention to income. Later, when providing results, you can find which parameter contributes to the total value and to which extent.
What is the price of a website?
It depends on size, design, content, traffic volume, etc. To find the exact price of this or that web resource, use a special website value calculator.