What is an External Link?
External URLs, also known as backlinks, are links that originate from a different domain than the website they point to. For example, if your website is about travel, and you receive a destination page from a travel blogger, this is an external link.
Basically, they are the hyperlinks that point from one website to another, but not a data type in the traditional sense. Rather, they are a part of HTML (HyperText Markup Language), which is used to create and structure content on the web.
In HTML, external hyperlinks are typically created using the "a" (anchor) element and the "href" attribute, which specifies the URL (Uniform Resource Locator) or web address of the target website.
Here's an example of an external link in HTML:
<a href="https://https://sitechecker.pro/" target="_blank">Visit Sitechecker</a>
While the hyperlinks themselves aren't a data type, the URL they point to can be considered a string data type, as it is a sequence of characters representing the web address of the target resource.
External links can be further categorized into two types:
Dofollow links: These are webs addresses that tell search engines to follow the target page. Dofollow links pass on "equity", or "juice," to the target page, which can help improve its ranking on SERP.
Nofollow links: These are URLs that tell search engines not to follow the web address. Nofollow hyperlinks do not pass on equity, but they can still drive traffic to the target page.
External Links: Impact on SEO
External linking plays a crucial role in determining a website's search engine ranking. When a website receives a high-quality external webpage address, it signals to search engines that other websites recognize its content as valuable and trustworthy. This, in turn, can improve the website's domain authority and page authority, making it more likely to appear higher on SERP.
However, not all backlinks are created equal. Search engines also take into account the quality and relevance of the connected website. For example, a URL from a high-authority website that is topically relevant to your website's content is more valuable than a hyperlink from a low-authority website that is not related to your content.
Here is what Brett Tabke advised about backlinks:
Here is what John Mueller said:
Linking to other websites is a great way to provide value to your users. Oftentimes, links help users to find out more, to check out your sources and to better understand how your content is relevant to the questions that they have.
Maile Ohye, from Google Search Central about outbound Links:
What are External Equity Passing Links
They are also known as dofollow or simply external links, refer to hyperlinks on a web page that point to a different domain, helping to transfer a certain amount of "equity" or "juice" from one site to another. Link equity is a measure of the value, authority, or credibility a URL carries and passes to the target website. This concept is an important factor in search engine optimization (SEO) and affects how search engines like Google rank websites in their search results.
When a website refers to another site without adding a "nofollow" or "UGC" (User Generated Content) attribute, it is considered an equity-passing link. This means that search engines will consider it as a "vote" for the connected website, potentially boosting its authority and improving its search rankings.
Equity-passing hyperlinks have a significant impact on a site's SEO performance, and they can come from various sources, including:
High-quality, relevant websites within the same niche or industry.
Authoritative websites or established news portals.
Trusted online resources, such as Wikipedia or other reputable directories.
Links from social media platforms, though some platforms use "nofollow" or "UGC" attributes by default, limiting the impact on SEO.
To benefit from external equity-passing links, focus on creating valuable, high-quality content that other websites will naturally seek. Building relationships within your industry and conducting targeted outreach can also help you acquire more equity-passing hyperlinks over time. Remember that the quality and relevance of the sites are more important than the sheer number of hyperlinks, as search engines have evolved to detect and penalize low-quality or manipulative practices.
External Link Plugins
External link plugins are tools or extensions designed to help website owners and administrators manage, track, or add external URLs on their websites. These plugins can be used with various content management systems (CMS) like WordPress: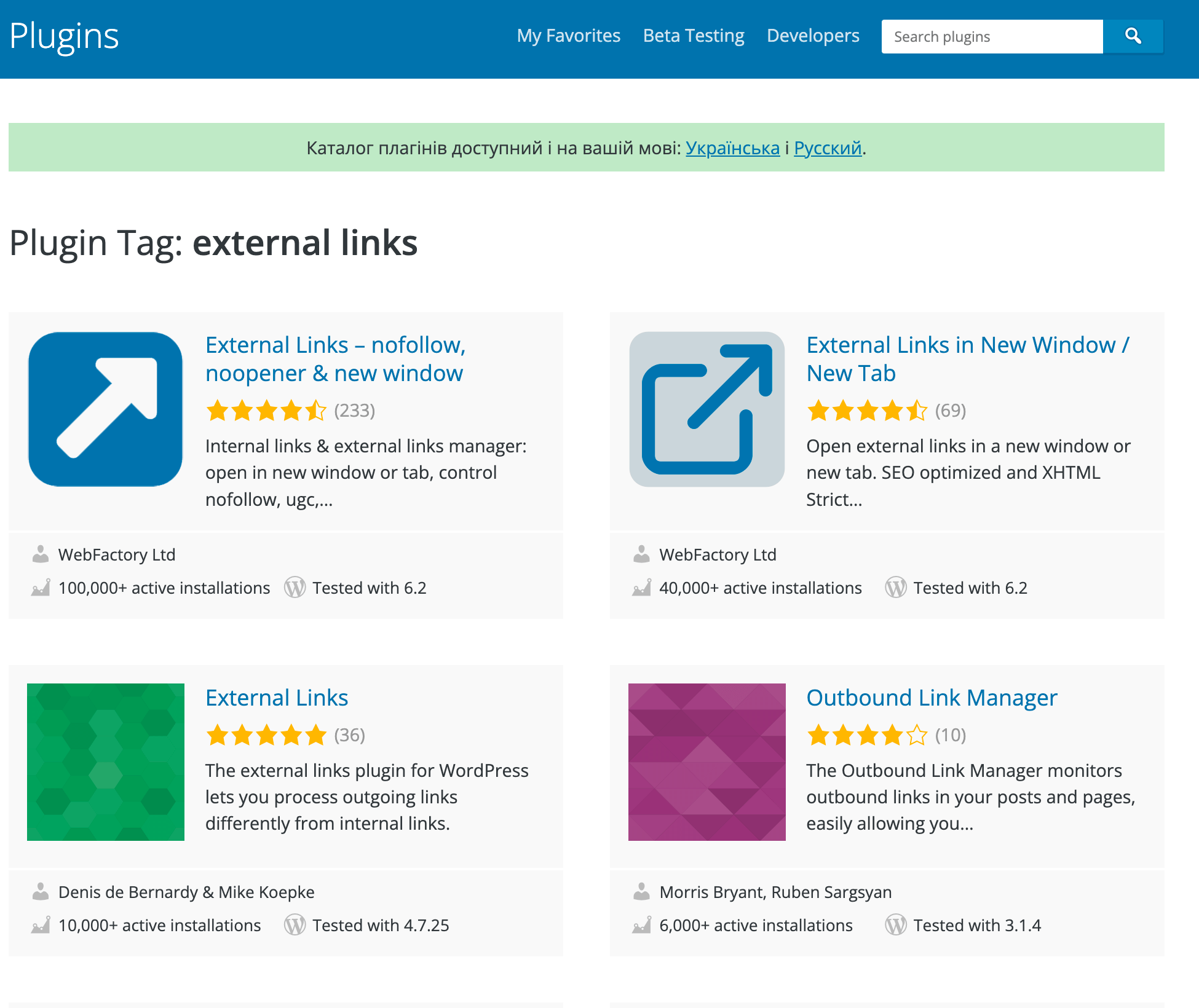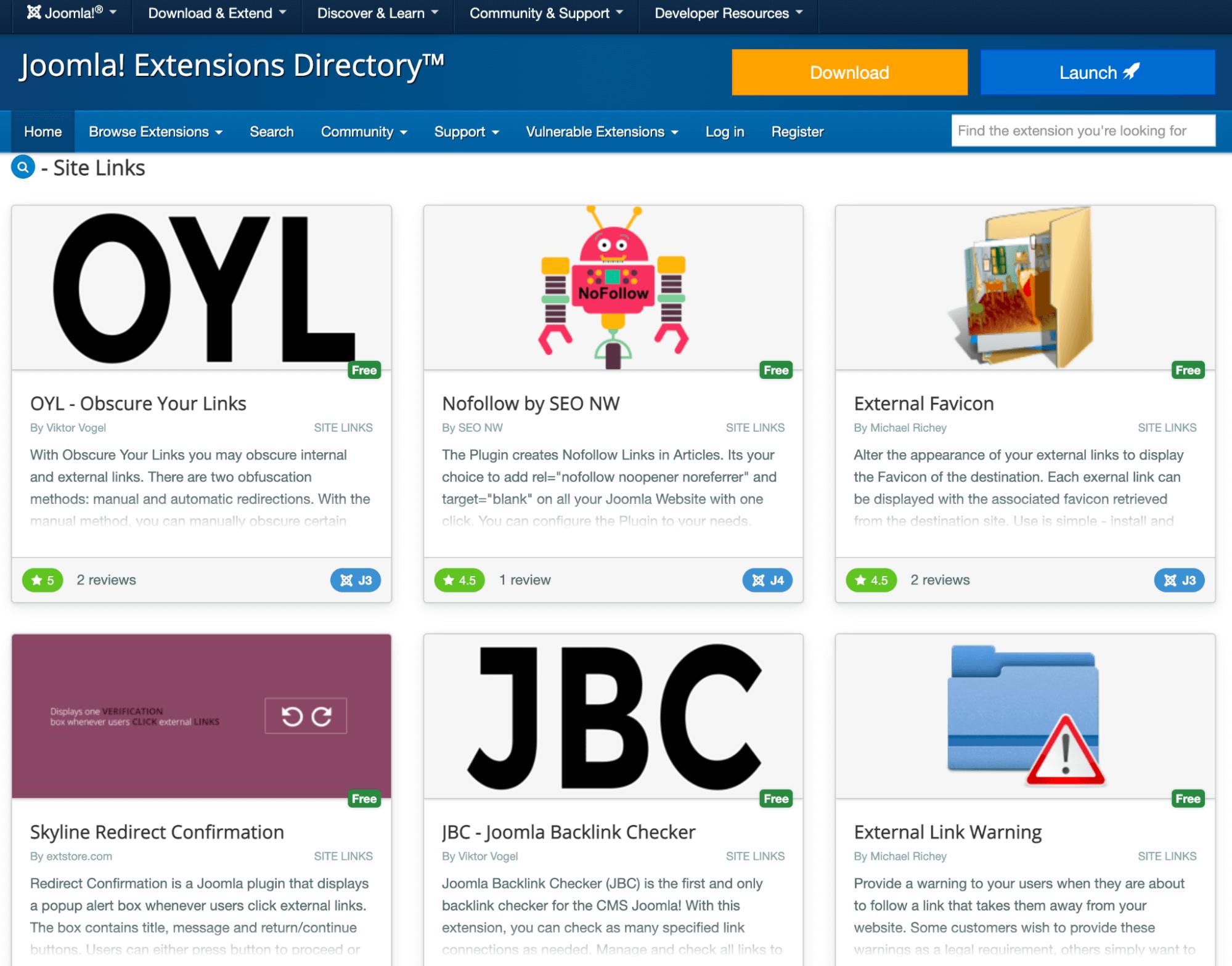 or Drupal.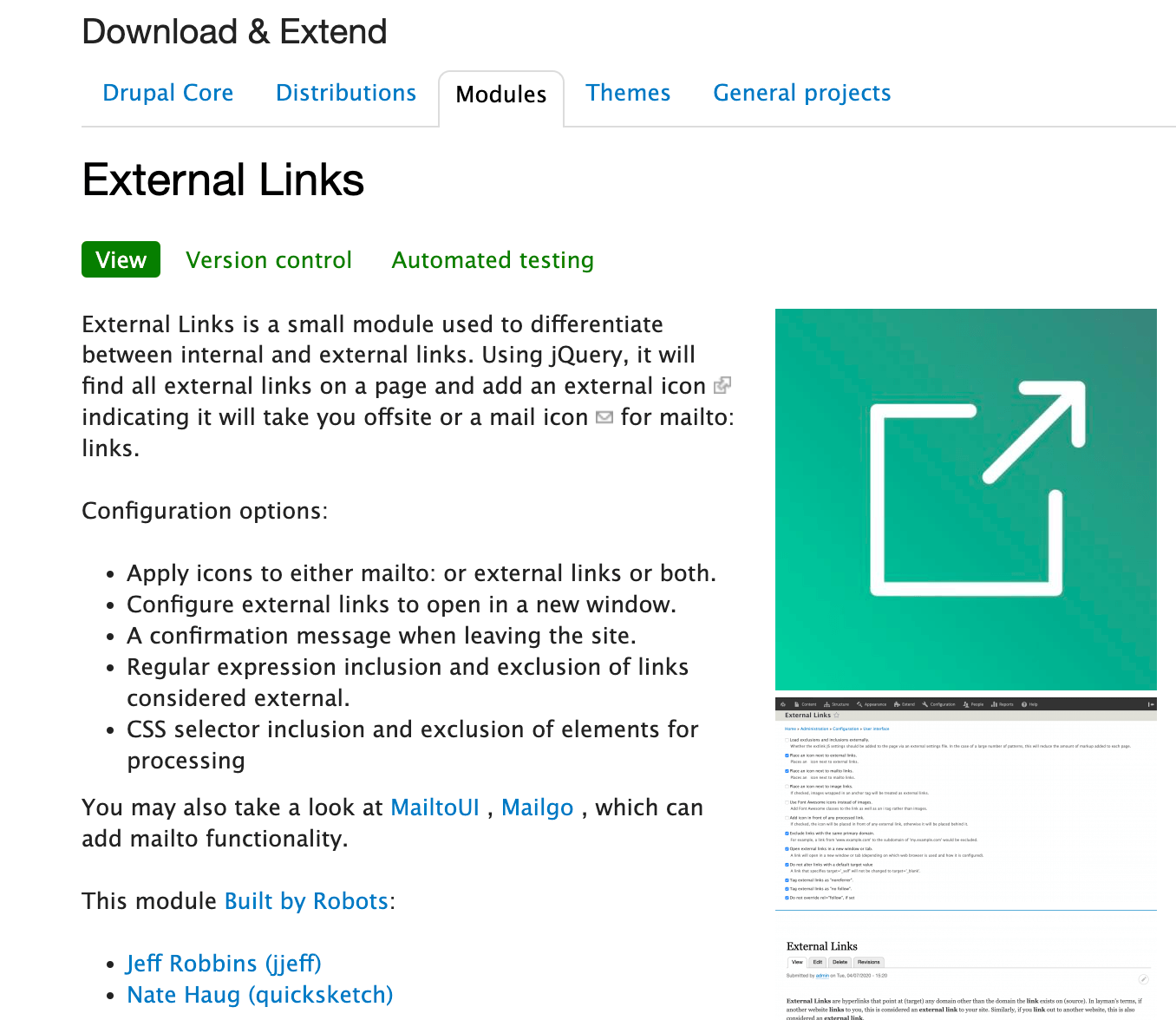 They offer several functionalities, such as:
Automatically adding "nofollow" attributes to external links: Some plugins can automatically add "nofollow" attributes to your external hyperlinks, signaling search engines not to pass any "equity" or "juice" through those URLs.
Opening external links in new tabs:These plugins can ensure that all external hyperlinks on your website open in a new browser tab or window, which helps keep users on your site while they explore the referred content.
Tracking external links:Some plugins enable tracking of external hyperlinks, helping you monitor the performance of outbound connections on your site and analyze how users engage with them.
Customizing the appearance of external links:Those plugins may provide options to customize the appearance of external connections on your site, such as adding icons or styling the text to differentiate them from internal ones.
Managing link redirects:Some options offer the ability to manage redirects, allowing you to create shortened, trackable URLs or maintain control over the final destination of the hyperlink.
By using plugins, website owners can optimize their site's user experience, maintain better control over their backlinks, and gain insights into the performance of these connections in relation to their overall online strategy.
External Link: Common Mistakes & Their Solution
When building backlinks, it's essential to avoid certain common mistakes that could harm your website's SEO. Here are some common mistakes and their solutions:
Focusing on quantity over quality
Solution: Prioritize obtaining high-quality backlinks from authoritative and relevant websites. These hyperlinks carry more weight and positively
impact your website's SEO, while low-quality connections can lead to penalties or decreased rankings.
Using overly optimized anchor text
Solution: Use a mix of natural, relevant, and diverse anchor text when acquiring backlinks. Over-optimizing anchor text with too many exact-match keywords can lead to penalties from search engines.
Neglecting the relevance of linking websites
Solution: Ensure that the websites connected to your content are relevant to your industry or niche. Irrelevant backlinks can be seen as manipulative and may not provide any significant SEO benefits.
Relying on link exchanges or reciprocal linking
Solution: Focus on earning organic, one-way backlinks through quality content and outreach efforts. Excessive exchanges can appear unnatural and manipulative to search engines and may lead to penalties.
A web page with no outgoing links
Solution: Review your content and identify any pages that could benefit from adding relevant references. These could be hyperlinks to authoritative resources, related articles, or references that support your content. Remember to prioritize quality over quantity and link only to reputable, useful sources. Read more about pages with no outgoing links
Utilizing external hidden links in HTML
Solution: Avoid using deceptive techniques to hide external URLs on your web page. Instead, provide transparent and easily accessible sources that enhance user experience and abide by search engine guidelines. This approach will help maintain your website's credibility and prevent potential penalties.
Excessive external linking
Solution: Assess your website's external linking practices, and make sure each hyperlink is valuable and relevant to your content. Remove or replace low-quality or unrelated connections, and consider using the "nofollow" attribute on less important ones to prevent the transfer of link equity. This way, you'll maintain a balanced structure that benefits both users and search engines. Read more about high external linking.
Acquiring links from low-quality or spammy websites
Solution: Be cautious when choosing websites to obtain backlinks from, and avoid low-quality or spammy sites. These typesc of connections can negatively impact your website's SEO and may lead to search engine penalties.
Ignoring nofollow links
Solution: While nofollow corrections don't directly contribute to your website's SEO, they can still be beneficial for driving traffic and improving your online visibility. Diversify your backlink profile with a mix of dofollow and nofollow.
Failing to monitor your backlink profile
Solution: Regularly audit your backlink profile using SEO tools to identify and remove any harmful or unnatural connections. This can help you maintain a healthy backlink profile and avoid potential penalties.
Broken external links
Solution: Periodically audit your site for broken links using tools like Google Search Console, Screaming Frog, or External Link Checker. Once you identify any broken backlinks, replace them with functional ones or remove them altogether.
By avoiding these common external link-building mistakes and implementing proper strategies, you can optimize your website's SEO, boost your online authority, and increase organic traffic.
How to Keep Track of External Website Links in Real-Time with Sitechecker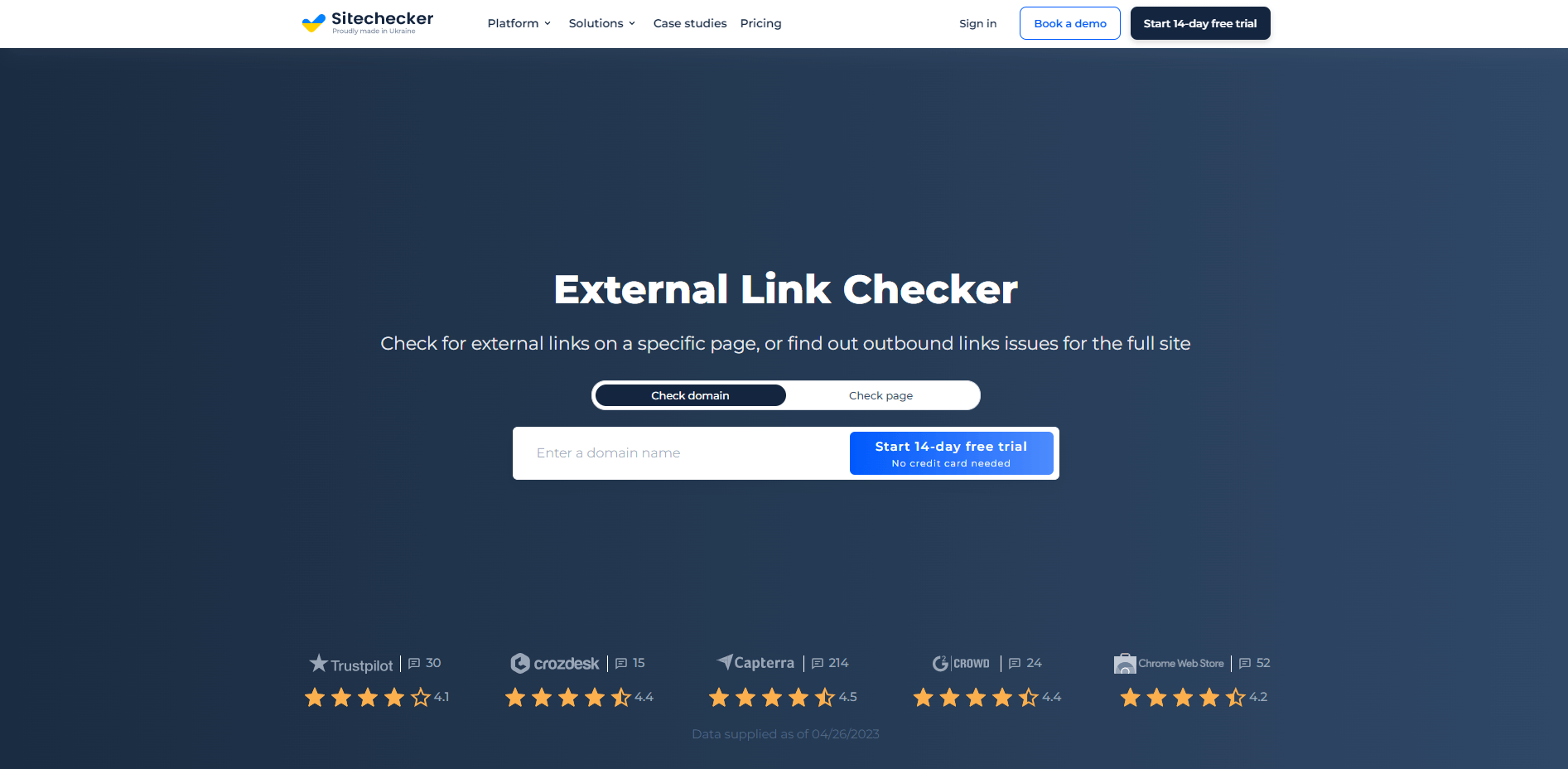 External Link Checker is a tool that helps users check the number of outgoing hyperlinks from a specific page or site and the anchor text used for them. It enables users to audit their sites and analyze each URL one by one, identifying external hyperlinks' issues such as status code problems. Users can either scan a domain or a specific page and receive a full site audit with recommendations for fixing any issues found.
The tool offers features to filter issues by categories and look at them based on the topic type, such as Indexability, Security, or Page Speed. External URLs play a vital role in a website's SEO and reputation among both search engine robots and users, making it essential to regularly check and monitor them.
Conclusion
External links are an essential aspect of SEO and can significantly impact a website's search engine ranking. By focusing on building high-quality, relevant external hyperlinks, website owners can improve their domain authority, PageRank, and ultimately, their visibility on SERP. Remember to avoid common mistakes like buying backlinks or using farms, and always prioritize creating valuable content.
FAQ
External links, also known as backlinks, are URLs that point to a website from a different domain.
How do external links impact SEO?
External hyperlinks play a critical role in determining a website's search engine ranking. When a website receives high-quality external URLs, it signals to search engines that other websites recognize its content as valuable and trustworthy, improving its domain authority and PageRank.
What is the difference between dofollow and nofollow links?
Dofollow hyperlinks tell search engines to follow and crawl the target page, passing on link equity to the target page. Nofollow URLs tell search engines not to follow or crawl the target page and do not pass on equity.
How can I acquire high-quality external links for my website?
Some ways to acquire high-quality external hyperlink include creating valuable content, guest blogging, and building relationships with topically relevant, high-authority websites.
What are some common mistakes to avoid in external link building?
Common mistakes to avoid include buying backlinks, using farms or private blog networks (PBNs), and focusing on quantity over quality. Always prioritize creating valuable content and building high-quality, relevant target pages.