What is a Content Idea Generator?
Creating amazing content is often challenging. Good blog post topic ideas that grab readers' attention won't come easy. But you can make the creative process easier with the content idea generator by Sitechecker. If you want to rise to a new level, our tool increases the number of your ideas with a guarantee. You only need to find the correct SEO keywords for your content theme ideas.
Key features of the content central idea generator
The amount of content ideas: Your content marketing strategy may look different. The only thing that matters is that it brings results. Thousands of suggestions from Sitechecker help create an extensive list of articles and posts for your blog or magazine. With our tool, you can analyze suggestions based on ranking. It aids in identifying content ideas with the highest potential for traffic.
Cross-Platform Keyword Recommendations: Our keyword tool encompasses an extensive spectrum. It furnishes suggestions harvested from numerous search engines. Unearth promising concepts for your content across platforms like Google, Bing, Amazon, eBay, YouTube, and more.
Holistic SEO Arsenal: Our SEO utility set transcends the confines of mere keywords and analysis. With Sitechecker, you get a diverse suite of features encompassing on-site and off-site SEO evaluations, rank monitoring, website oversight, and beyond. Leverage this in-depth data examination to identify potential pitfalls and unearth valuable prospects.
When is the Text Ideas Generator Needed?
Our tool can be helpful in the following cases:
Brainstorming Content: When trying to come up with creative ideas for articles, blog posts, or other written content, the generator provides multiple concepts you might not have considered.
Overcoming Writer's Block: When you're stuck and can't find the right words or ideas, the finder can offer suggestions to get the creative juices flowing.
Diversifying Topics: If you write about similar topics, the generator suggests new angles or related subjects to broaden your content scope.
SEO Strategy: When you want to optimize your content for search engines, a Text Ideas Generator offers suggestions for currently trending keywords and topics with high-ranking potential. Also, you can optimize your meta titles, descriptions, and headings.
Improving Engagement: When creating content that resonates with your audience, the finder suggests topics likely to generate interest and engagement.
Saving Time: If you're on a tight schedule and need to produce content quickly, the generator expedites the idea-generation process.
Targeting Specific Audiences: If you aim to reach a particular demographic or market segment, the creator suggests topics more likely to appeal to those specific audiences.
Expanding Your Brand: When trying to establish or grow your brand's presence, using a Text Ideas Generator comes in handy. It suggests content that aligns with your brand's image and values.
Educational Purposes: When educators or students need topics for assignments, presentations, or research projects, the maker is a valuable tool for coming up with educational content ideas.
Social Media Planning: When creating a content calendar for social media, the creator offers viable ideas to keep your social channels fresh and engaging.
This tool is an invaluable asset for content creators, marketers, SEO professionals, educators, and anyone who needs to generate written content quickly and effectively.
How to Use the Content Topic Generator?
Step 1: Input one or multiple foundational queries, configure settings, and hit the "Get keywords suggestions" button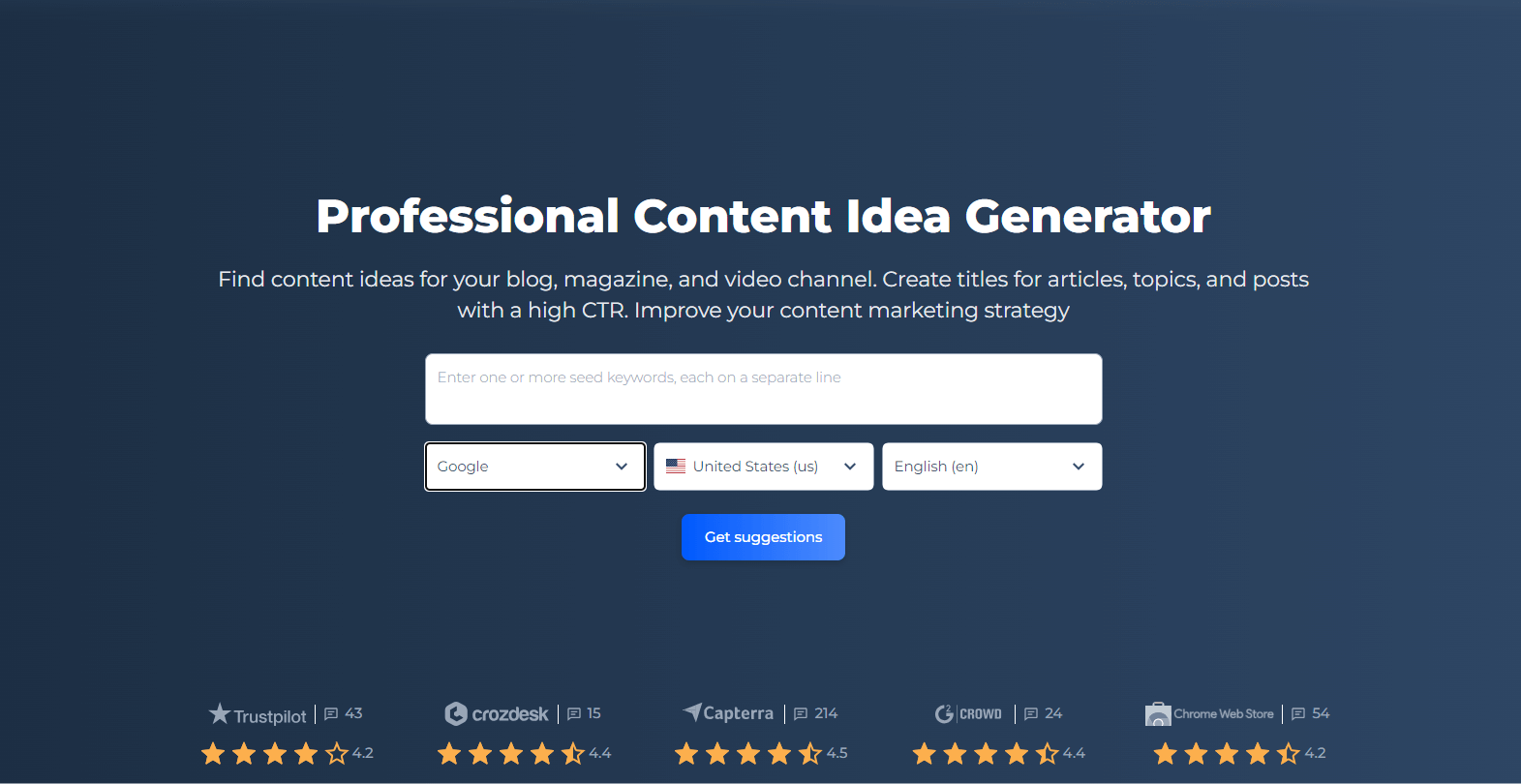 Note: To obtain more precise and targeted results, please utilize the additional settings feature. Specify the search engine, region of interest, and language for the search suggestions.
Step 2: Retrieve your results and utilize the potent functionalities at your disposal
Upon commencing the crawl, you will navigate to the results page. It exhibits the information regarding the count of suggestions unearthed and lined up at the top. It means that the crawl is in progress, so you can halt it once you have garnered a sufficient number of suggestions. Beneath this information, you'll find a compilation of suggestions, each paired with Rank statistics. The rank represents a metric predicated on the recurrence of each word within the expression amongst the outcomes procured.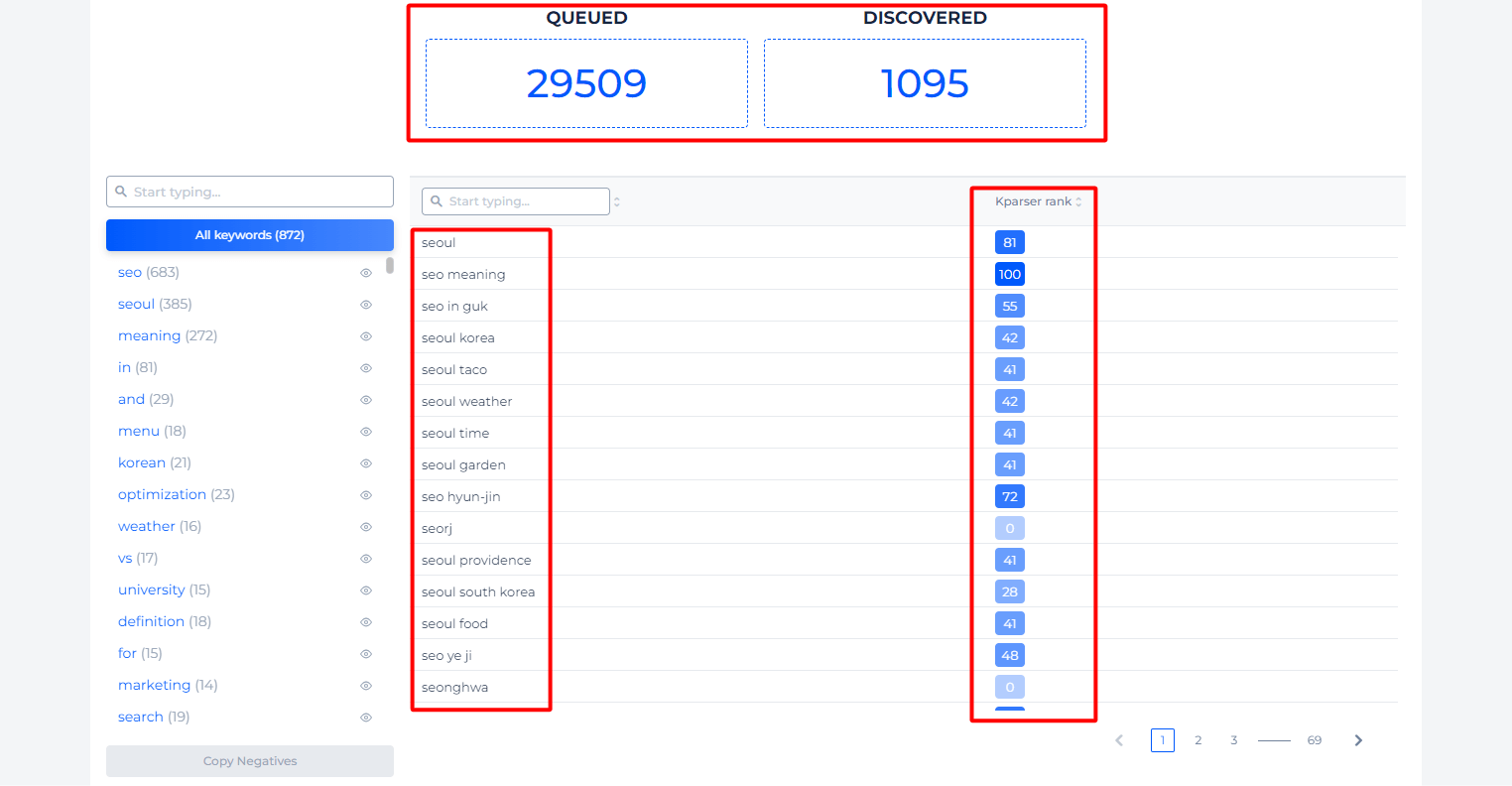 Thus, you can use this data as content ideas and assess potential through the ranking score.
In the left panel, discover clusters of suggestions categorized based on the primary query from the general list. This way, use the tool as a keyword grouper.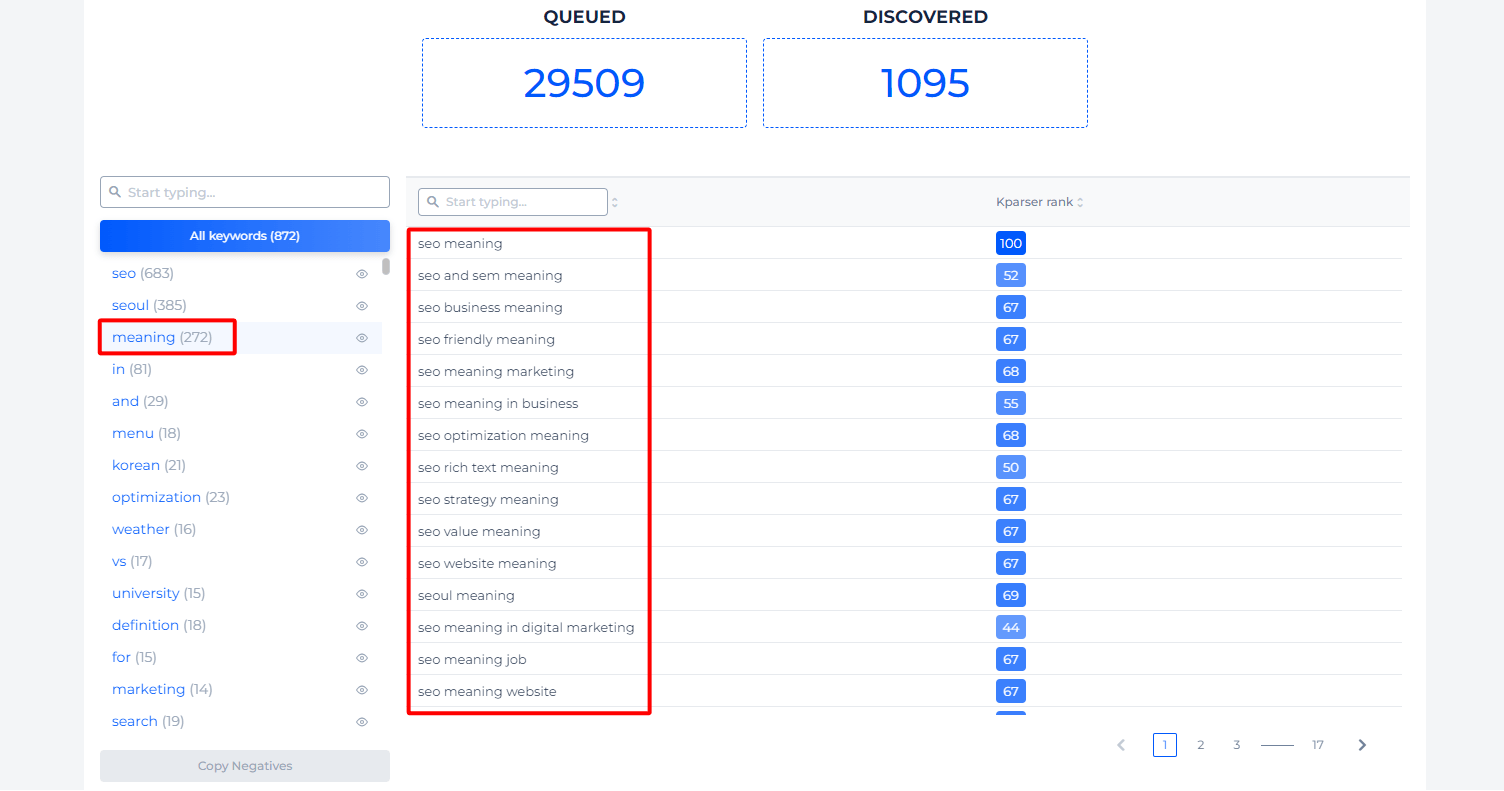 Additional features of the article idea generator
Leverage the capabilities of the advanced mode to expedite your process and extract all suggestions for your seed keywords.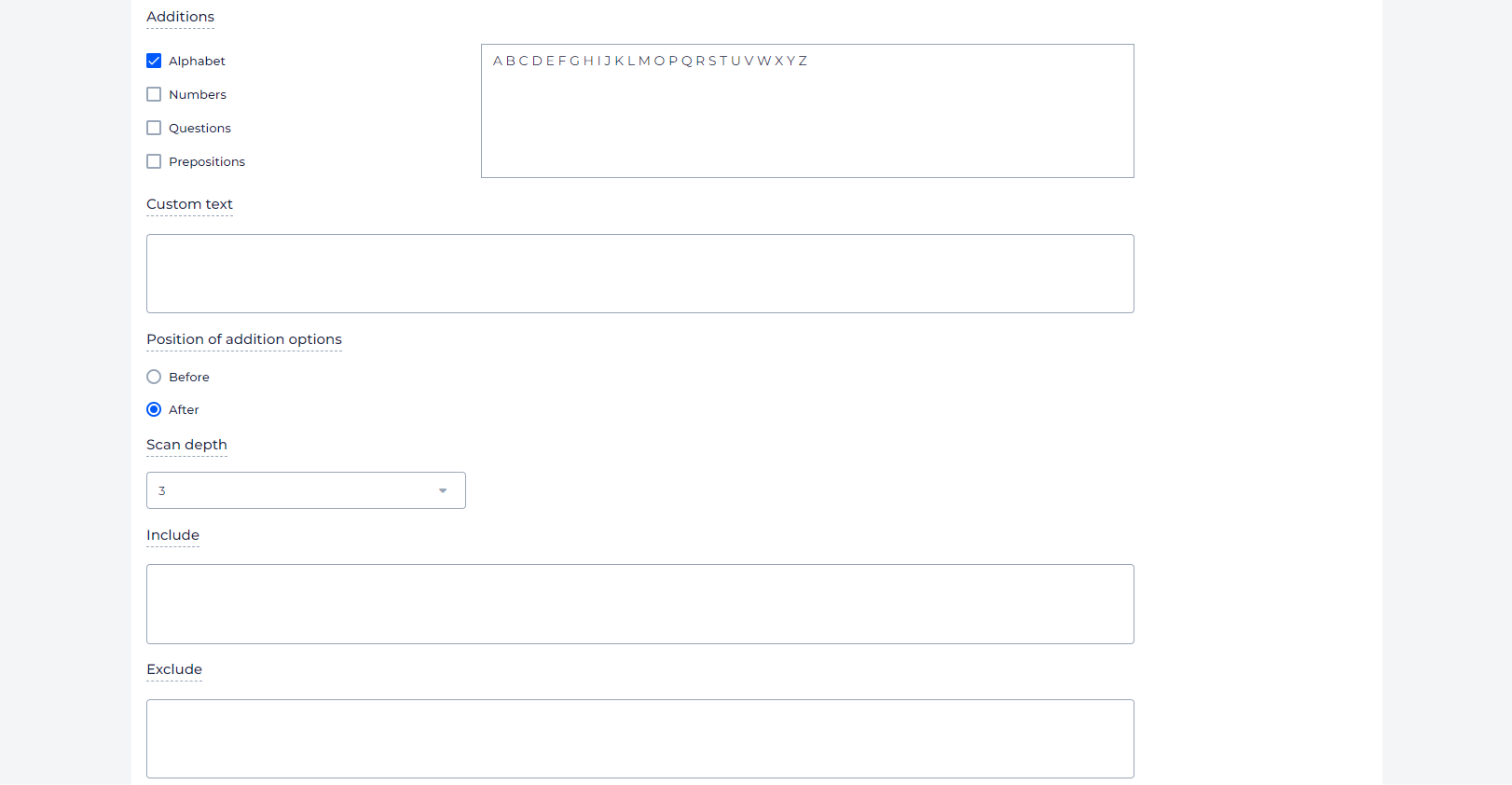 Here are the cutting-edge features available:
Additions: Each checkbox represents an avenue for harvesting augmented results. For instance, "Alphabets" implies the search will involve variations by integrating different letters with your word. The "Questions" segment broadens the search by probing for responses to conventional queries containing your keyword. The "Custom text" field outlines supplementary words, symbols, or phrases to interchange. Thus, it assembles even more insights.
Before & After Functionality: The "Before and After" toggles act as markers to determine the positioning of alphabets, numbers, etc., whether preceding or succeeding your term.
Scan depth: The search depth specifies the number of results layers the tool explores for insights.
Include: With this feature, you can enumerate words or phrases (each on a separate line) you want to embody in the search results. Keywords not meeting this criterion won't appear in the final array.
Exclude: This facilitates listing all undesirable words you want to filter out from the search results. Additionally, the tool won't display and employ insights containing words from this category for subsequent searches.
With these features, you will obtain more targeted ideas that align directly with your needs.
Concluding Remarks
Sitechecker's Content Idea Generator is an essential resource for anyone who wants to craft impactful content. It streamlines content creation with multiple suggestions, SEO tools, and customizable features, catering to diverse needs and optimizing engagement.
FAQ
What is the Content Idea Generator by Sitechecker?
The tool assists in generating creative and engaging content ideas. You can use it as a blog post idea generator. Also, it's suitable for magazines, videos, and other content formats. The tool assists content creators in overcoming writer's block, optimizing content for SEO, targeting specific audiences, and improving content marketing strategies. To achieve those goals, it provides keyword recommendations and content ideas based on ranking data.
How can the Content Idea Generator help in improving my SEO strategy?
The tool offers SEO utilities that go beyond simple keyword recommendations. It provides on-site and off-site SEO evaluations, rank monitoring, website oversight, and more. Analyze suggestions based on ranking to identify content ideas with a high potential for traffic.
How do I use the Content Idea Generator?
To use the Content Idea Generator, input your foundational query or queries, configure the settings, and hit the "Get keywords suggestions" button. Also, use the advanced mode to leverage additional features for more targeted results.