Gender diversity is a worthy aim in which we have made progress, but the work isn't finished. According to a 2020 survey by North Star Inbound, the SEO industry has twice as many men as women. The Sitechecker team decided to check on what it's like to be a woman in the SEO industry and what we need to do to encourage diversity and inclusion through real stories.
Research methodology
We asked 90 bright female representatives of the SEO industry to take an online survey.
There were 12 voting questions (from educational background to career goals) and five open questions for sharing stories about the participants' start in SEO, the most nerve-racking and "aha" moments, recommendations for female SEO beginners, and how inclusion at every level can change the SEO world.
We summed up the votes and created infographics based on them. You can view the raw data in this Google Sheet. Our research revealed some positive changes in the SEO field and inspiring insights. Let's dig in!
Educational background and the start of one's SEO career
Almost 60% of voters have a bachelor's or master's degree that is not connected to SEO.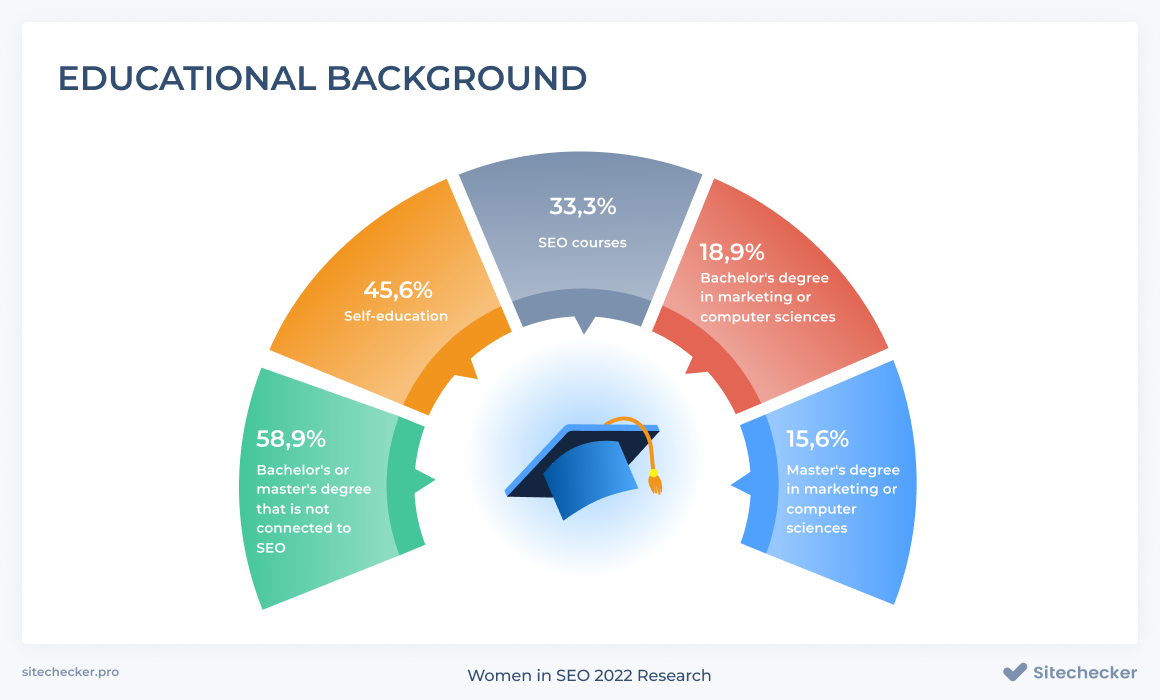 They all demonstrate that no matter what background is under your belt (design, hair-dressing, photography, marketing, engineering, blogging, etc.), there's always a chance to make a dramatic career change and become one of the best in your field.
I created a travel blog for fun, and I learned SEO and marketing strategies to help it grow. After about two years working at my job (which was unrelated to SEO or marketing), I quit to become a freelancer. I loved writing content and was using the SEO strategies I had learned for my own content, and the businesses started to notice that they were getting more traffic from Google.
My first job out of school was for a directory SEO company, and it opened my eyes to how many opportunities there were in the happy marriage between technical and content. I ended up transitioning to PPC, working for SAAS and agencies, which gave me access to thousands of accounts across verticals.
I was a writer by passion and took that to the internet. It quickly became a freelance writing career, and in 2011, the majority of writing gigs were around SEO content. So, that's where I started! Within three months, I was writing SEO content that was ranking for my clients on the first page in Google. I quickly saw how much content mattered to the search engines and built my first agency.
I was working as a front-end developer/designer for a company and noticed that we were spending 3-4 million a year on Google clicks. I had heard of this SEO stuff and asked my VP if I could do it. She said I could use time to teach myself and we would see. Later on, they had hired an SEO agency for a new site we were working on and the site was not indexed after 6 months. She told me that if I could figure out why, she would fire the 20k a month agency and let me do it. I found the noindex tag on the site and a career was born.
I was a hair and make-up artist who developed a driving phobia. I needed to find another way to work without driving. I got sucked into an Amazon FBA course and realized traffic and websites were needed. I had to learn how to do this. Several more courses were under my belt and I started with the rank and rent method.
I have been doing the SEO part of my marketing job that I had. I was self-learning and took WordPress and basic PHP, CSS, and HTML courses. In 2018, I decided to quit my job and do only SEO. It was the best career move I have ever made.
I am a wedding photographer by trade and learned SEO whilst ranking my own website. Then I started helping friends, and it grew from there.
Sometimes the start was caused by a successful accident and no regrets:)
I met a guy from Google on the train when Google Street View first launched and was being taken into businesses for them to show a 360 view of their bar, cafe, museum, etc. He offered me a part-time job to help him sell Google 360 videos for their local search listings.
It all started in 2009 while waiting for my spouse's visa. I Googled, "make money online." I found sites teaching blogging to make money, especially if these sites are ranked on page 1. I was so amazed, and I said to myself, "I got to learn this!" I worked for someone on Upwork as a writer for their pharma blogs while learning SEO. Ah, I love those days!
Completely by accident. I was working in the marketing field when I lost my job due to Covid. I found a new position at an agency and got backed into being the in-house SEO expert. I took some online courses to keep up with my workload and that's when I fell in love.
I have always been into technology. I am an early adopter of the internet, learned HTML to build my first websites back in 1996, and have been a search quality rater for a hobby. But my real job has been as a corporate event planner for more than 26 years. Then the pandemic stopped travels and events all at once. I used all that free time to study and test my knowledge. And I finally made the decision to work as an SEO generalist and content writer and translator, in particular in my niche of expertise - travel and events.
They took SEO courses, looked for experienced mentors, and weren't afraid to start from the very beginning.
I was randomly browsing the Internet when I stumbled upon some SEO course. I didn't even know what SEO was at that point. I didn't know what a website was. I didn't know anything! Yet I decided to try it. Oh god, I remember how hard it was! I even took a break from my job to read and read and read and read about SEO. I went to the classes, got some info there, and then came back home to find more info. After the SEO course, my life completely transformed. I got a job at an agency as a junior SEO and the rest is history.
In the beginning, I had two offers of roles working as a manager who leads the client's SEO project or doing backlinks as a link-builder. I chose the latter as I wanted to know everything from scratch and I do not regret this choice.
I bought a course to get a sense of what SEO is, but it wasn't very good, as the course listed just a small number of things (which I noticed even then). Then I got a job at an outsourced company where I expressed an interest in SEO from day one, which my SEO manager gladly accepted as an invitation to turn me into his Junior SEO. And he was a really great mentor. He really showed me everything, let me explore things by myself, pitch my own ideas and thoughts, and I really got into it. Then I had my junior, so I had to teach somebody how to do SEO. Next, I started an agency with my friend which has been an amazing experience so far. It wasn't a long road here, but it was filled with a lot of memories and learnings.
Job type, SEO niche, and specialty
The four most common career environments for SEOs are working as an in-house specialist, working in an agency setting, or operating independently as either a consultant or a freelancer. Each path has its advantages and disadvantages. However, we found that more and more women (42%) are ready to take risks, get experience, and found their own agencies.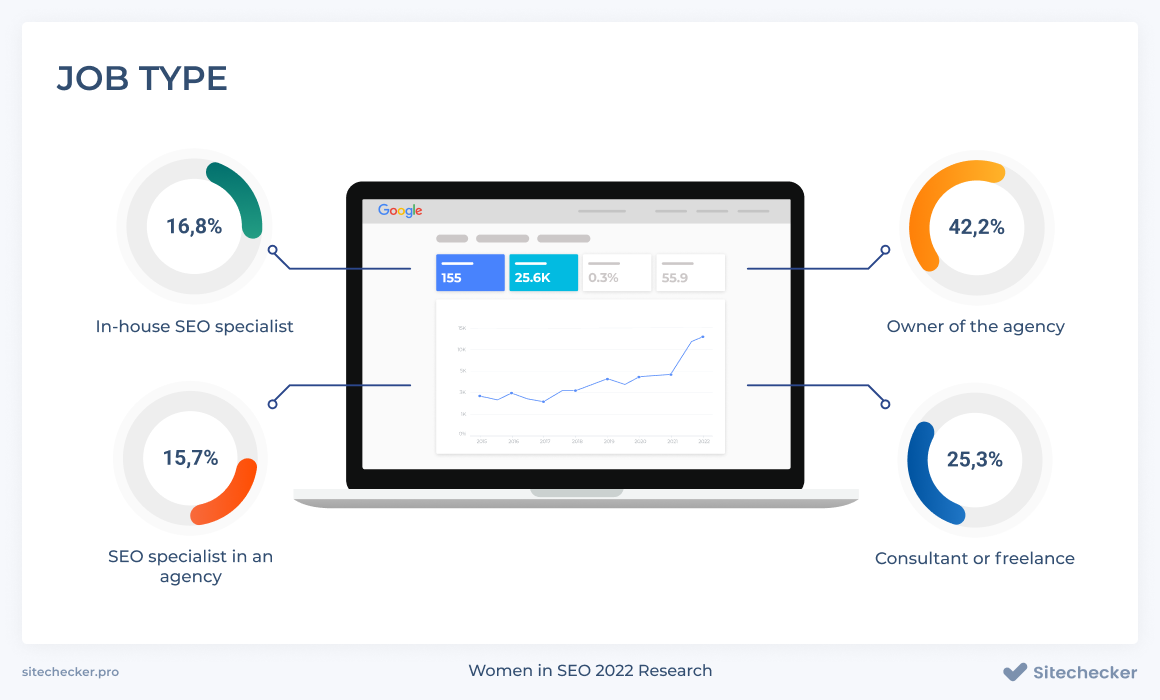 Leaping from freelancer to agency owner was hard. That's a tough decision. Do I simply charge more for my time, or do I scale up? I chose to scale up, and I'm still not sure that was the right choice. I spend far more time managing my team than I do learning and doing SEO these days.
Most female SEOs consider themselves as content experts and SEO generalists, but 43% of voters are also technical SEO experts, which shows that tech SEO isn't a "boys club" anymore.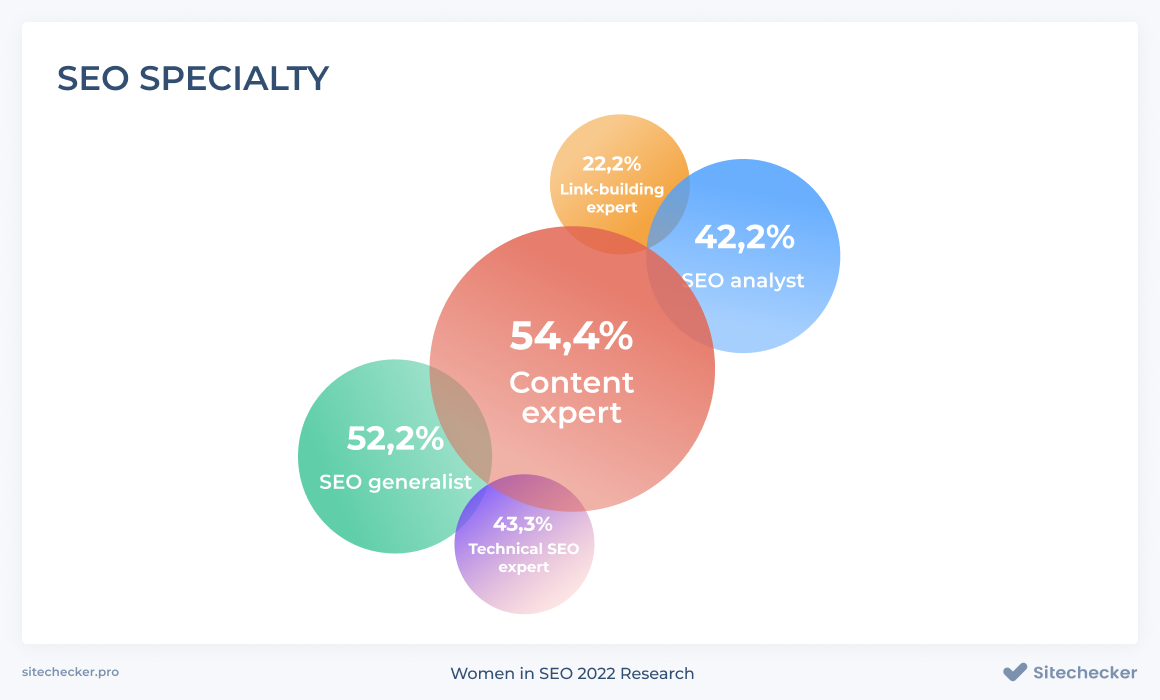 Having focused a lot of my time on content and link building, technical SEO had always been an area of SEO that I had some experience with (via technical audits) and a general understanding about, but nobody to really tell me if I was on the right track or not. After being paired with my mentor (Mary Albright) through Women in Tech SEO's mentorship program, it all made so much more sense. I realized how fundamental technical SEO is for any website and do a lot of tech SEO tasks now.

As for the SEO niche, nowadays, female SEOs work across various industries, but mostly in services.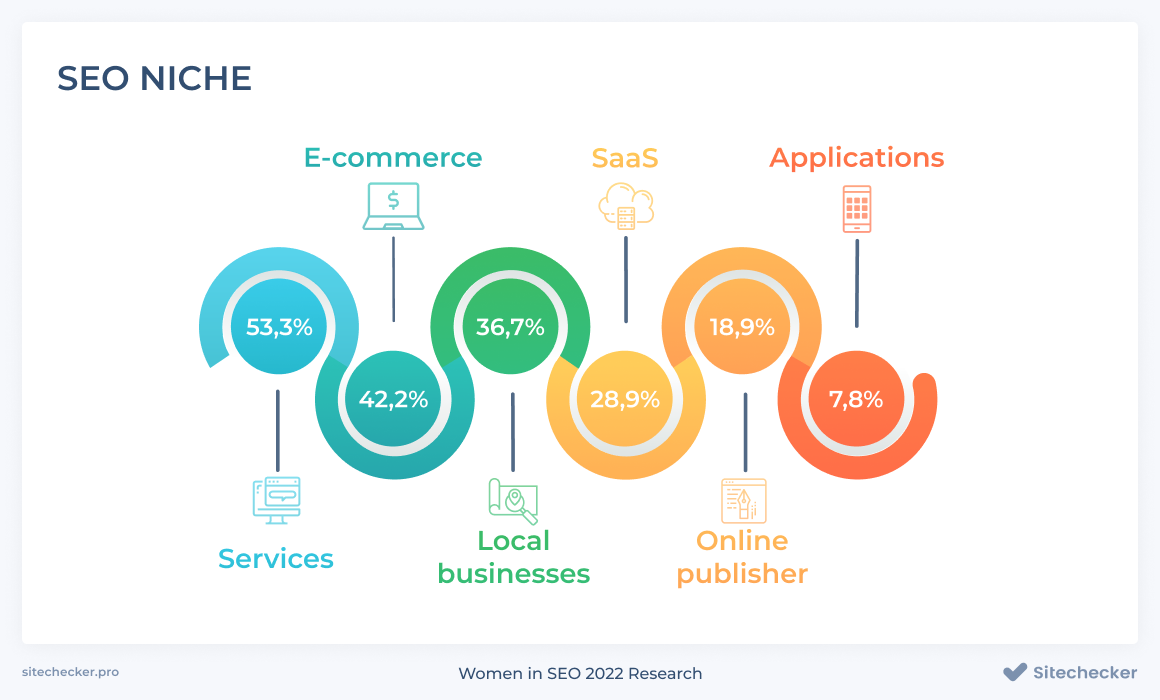 SEO experience
Thirty-four percent of female-identifying SEOs have been shaping the SEO field for more than 10 years, and that impact has only grown with time.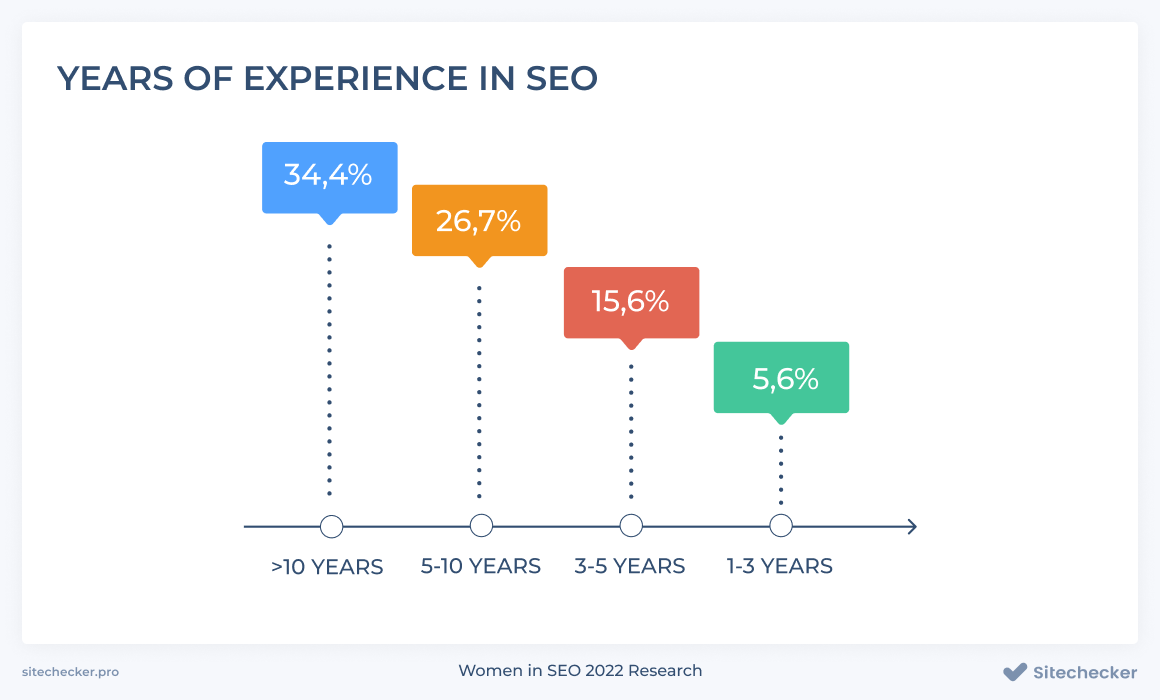 I started building websites around the time Google was created. We hadn't heard of SEO, so it was a very manual trial and error method. We wrote content based on products and services without a thought to how a search engine would index sites and pages. My passion has always been in data, so I started learning all I could about SEO. It's a continuous learning journey as we keep up to date with the evolution of search engine algorithms. Now we must incorporate new standards of website accessibility and content-centric SEO within a conversion optimization methodology.
Ways to upgrade skills
SEO changes really fast, so it's all about lifelong learning, launching experiments, and making mistakes.
Most of the voters believe that SEO courses give only a theoretical basis; the best way to upgrade skills is to be aware of all SEO updates and test, make mistakes, test, and get results.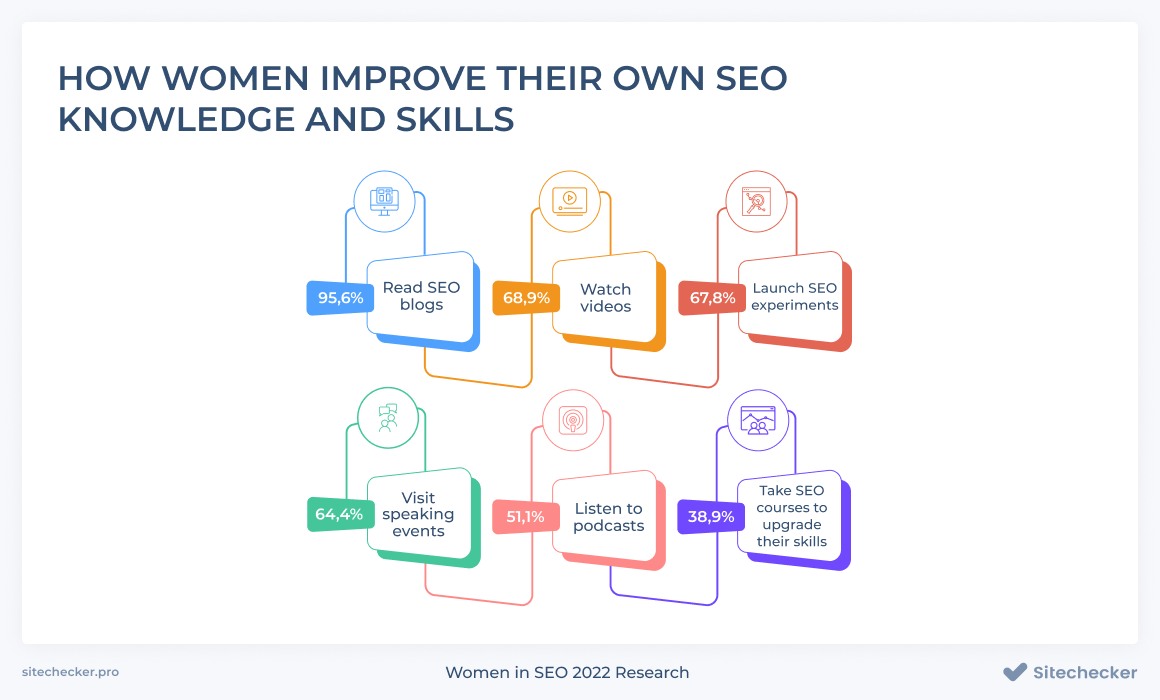 Every website is unique and although some strategies work across similar niches, it's important to be on your toes, experiment, and keep an open mind to what might be happening.

When I was an SEO beginner, I thought that blackhat techniques could definitely harm SEO. Then I researched many websites that do such SEO. Spoiler: Such techniques can harm, but many sites in TOP use them to get better results. Thus, it's a risky and sometimes not a long-term game, but quite effective.
Learning by trial and error is a positive thing in the SEO industry. If I learn how to find reliable resources, I can learn many things.
Tools and other people's documented SEO experience should be used as guidelines for each of my projects. My approaches for each project will be slightly different depending on the industry, locale, competition, and content.
Every time you finally find a way to solve your problem. Finding new link-building tactics that bring in cool new links.
In general, I can't think of anything that has caused me to go "ahhh" lately. I tend to be more concerned when things don't change. IMO, that is way more telling and a cause to go "ahhh-ugh."

"AHA" moments
Older sites with good content, but unchanged for years, can still outrank someone trying too hard with a beautifully designed and well-written site. My first rule of SEO then became to first evaluate and do no harm.
Probably the fact that Google is not as smart as it says (or thinks) it is! The crawler is a bit of a lazy teenager in my view - the more work it has to do to understand what's going on, the grumpier it gets, and the worse your site performs.
One time, the legendary Dawn Anderson presented a slide at MozCon that showed how Google treats various directives vs. suggestions (i.e., canonical tags and hreflang). That was a big 'aha' moment for me.
My AHA moment happened when I discovered how much technical work is required to get good SEO results. Before that point, I focused mainly on on-page optimization and link building. I felt like my eyes were open to a whole new world…I think that's a song 😉
When an employee who was thought (by a manager) to have zero potential to work out turned out to be the longest-employed one at the company, I realized that absolutely anyone can learn SEO.
I have some great aha moments. The biggest one lately has been to realize that what is 'basic' to me is helpful to someone else. Now, I share my knowledge in the hopes that other people can have AHA moments as well.
Pros and cons of the SEO job
Females choose SEO because it's one of the most creative technical jobs, with a variety of career paths and the ability to scale the business.
SEO is a great field to show technical, linguistic, analytical, and many more skills. There are many ways to develop in SEO and become the specialist you really want to be!
In SEO, you can explore different options and broaden your horizons. An SEO specialist is a flexible, open-minded, studious, communicative woman who is always ready to be up to date with trends and tendencies on market. That's why I love my job!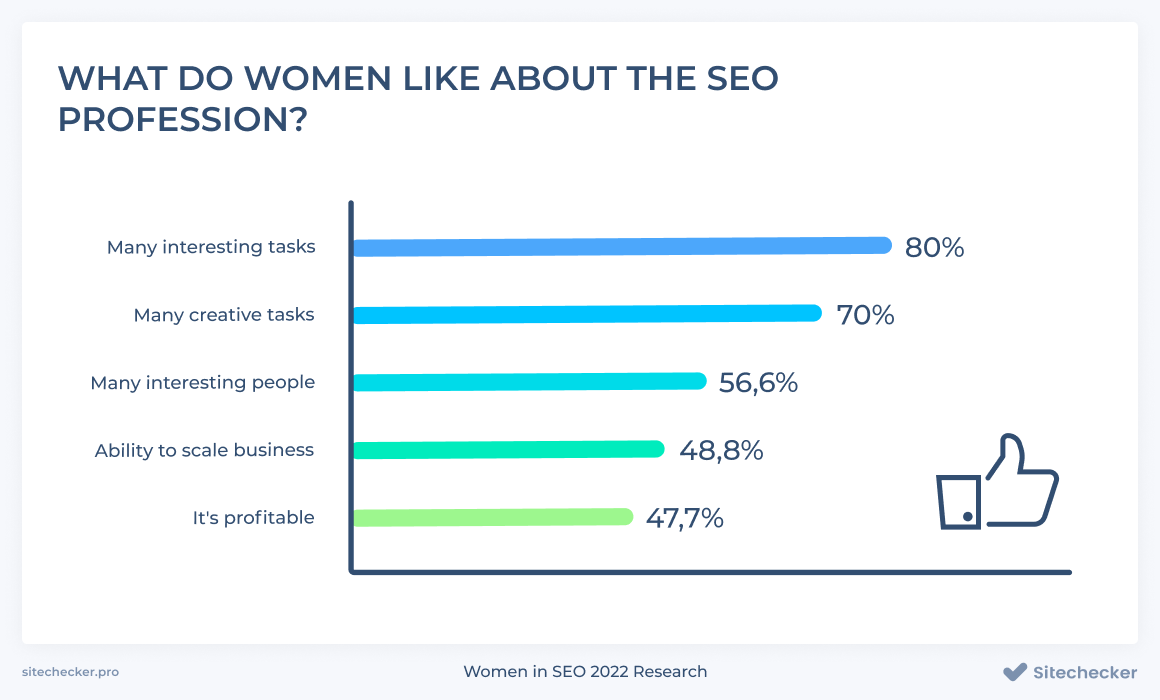 As for disadvantages, clients, relatives, and family members still don't understand what SEO specialists do. There's also no clear outline for how to get 100% positive results from all efforts, what the future of SEO is, and what brings a new update.
New clients really don't understand what we do...even the ones who understand! I've learned it's best to take the approach of teaching and engaging the clients into asking not just questions but the important/right questions!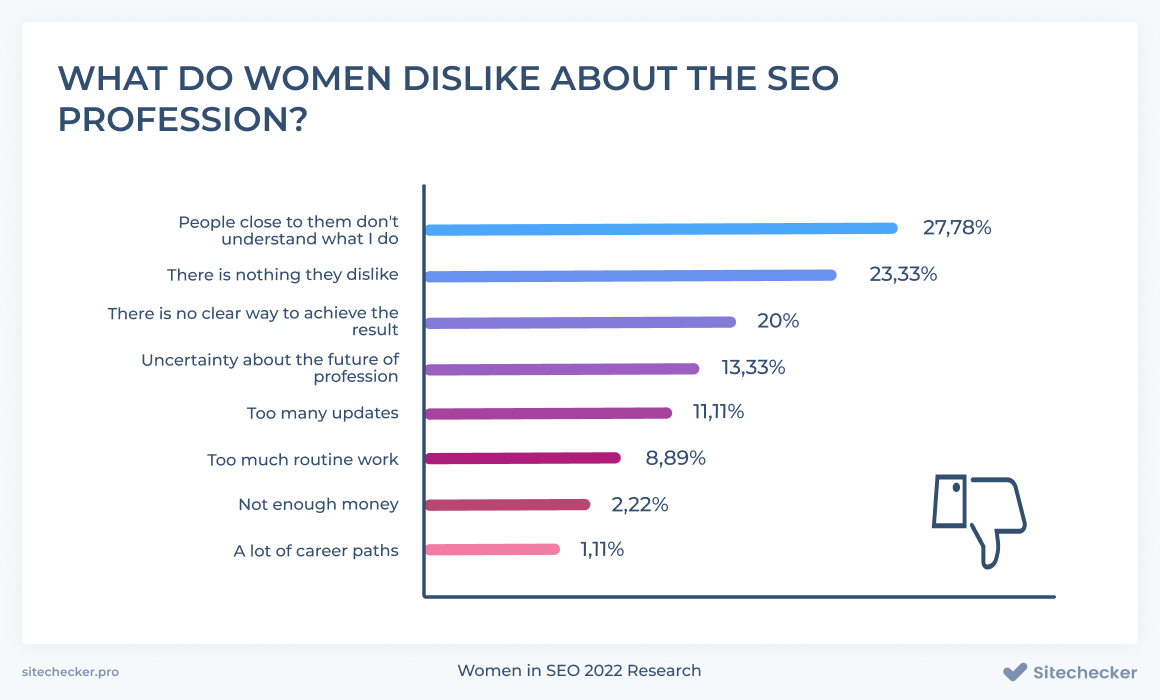 The most nerve-racking moment in one's life as an SEO specialist
It's all about the first time. First job, first public talk, first call with a client, first SEO audit, first promotion, and permanent feelings of self-doubt.
One of my very first SEO audits was for a company specialized in biotech, a hyper-niche domain that I didn't know at all. I'll let you imagine the semantic analysis around oligonucleotides, mRNA, and other antibodies:) The stakes were high because it was a site redesign and redefining their entire content strategy. One of the most complex projects I've ever had to handle!
Taking the very first video call with a client to meet them and set expectations for our work moving forward. I was so comfortable working behind a screen. I initially hated the idea but putting my face to my work and showing up for clients in this way turned out to be such a positive experience and now brings the human element into client relationships.
Delivering my first keyword localization project. I felt like a total imposter, but I have come to realize that there is so much to learn within the field of SEO and it changes so fast, no one knows everything and it is totally fine to ask questions and ask other SEOs for advice.
My most nervous moment as an SEO was giving my first talk. It was at a dive bar here in Denver called The Crow Bar. I presented on how to configure a web crawler from behind the bar (after doing a shot of whiskey with the bartender first).
The most nerve-racking moment in my life as an SEO was when I became a team lead when I wasn't ready 🙁 But I've made it!
SEO is not always about fast and positive results. A lot of effort, many mistakes, a unique approach to every case, and unpredictable situations are an integral part of an everyday SEO specialist's job. However, this sometimes challenging experience helps one grow and develop as an SEO professional.
Updating an article that was doing incredibly well for an organization but was three years old and really needed a refresh. It brought in a significant amount of their traffic and if the algorithm hit us in an unexpected way, it could have had a really negative impact. But the article is doing better than ever and ranking on the first page for 50 more keywords than it was previously.
Meeting with John Mueller and being a guest at the Google Search Central Office Hour! That was butterfly nervousness, though 🙂 Other than that, I once managed to redirect the most popular product pages to an infinite loop at a larger company, on a Friday and didn't notice until Monday. I had a few nervous times until my manager said they were not firing me…
It was two months after the launch of the new website, and the head of the engineering team was screaming in a meeting, 'You don't know what you're doing!' while pointing at me. Onе month later, we saw a hockey stick of traffic and the pages became the biggest traffic driver for the site.
When I decided to work on the content optimization strategy in a company I just landed in. I spent a lot of time on it only to see the visibility of the website not moving an inch until it started to take off two months later...SEO takes time to bring in results you can be proud of!
When I came back to the SEO industry after 1.5 years (after Panda and Penguin updates), I felt left out, as if I was no longer required in the market. I didn't know how I would cope with my skills, whether I would get a job, what I would do, etc. Honestly, this was more devastating than any client or personal SEO experiments, as they're based on data but this was unpredictable. So I didn't know what would happen to my career.
Unpacking a site from black hat strategies and keeping that client calm while we navigated the early 2010s, when the competition was hacking the black hat strategies.
I was late on links for one of my first big clients, and instead of talking to them about it, I felt miserable.
Ha, I've had a few over the years. Some of my first-hand horror-story experience includes a church-related school website that had injection spam on their sporting event calendar which led to Russian-language porn sites. Then there are the ones you weren't ready for, like when a dev launched the site on the non-www version instead of the www version by accident. I've seen clients ignore paperwork only to wake up one day and find that their domain is seized due to copyright infringement. Each experience made my heart jump to my throat, but each experience was a lesson learned (the hard way).
The moment when I had a few outstanding brilliant job offers in SEO and just couldn't make up my mind about what to choose because each offer was absolutely great.
SEO females in leadership positions
These days, we're seeing more and more women in leadership roles, from the team lead to CEOs, broadening their impact and forging opportunities for others. They show that women shouldn't get back "to the kitchen" and should constantly change the rules of the game.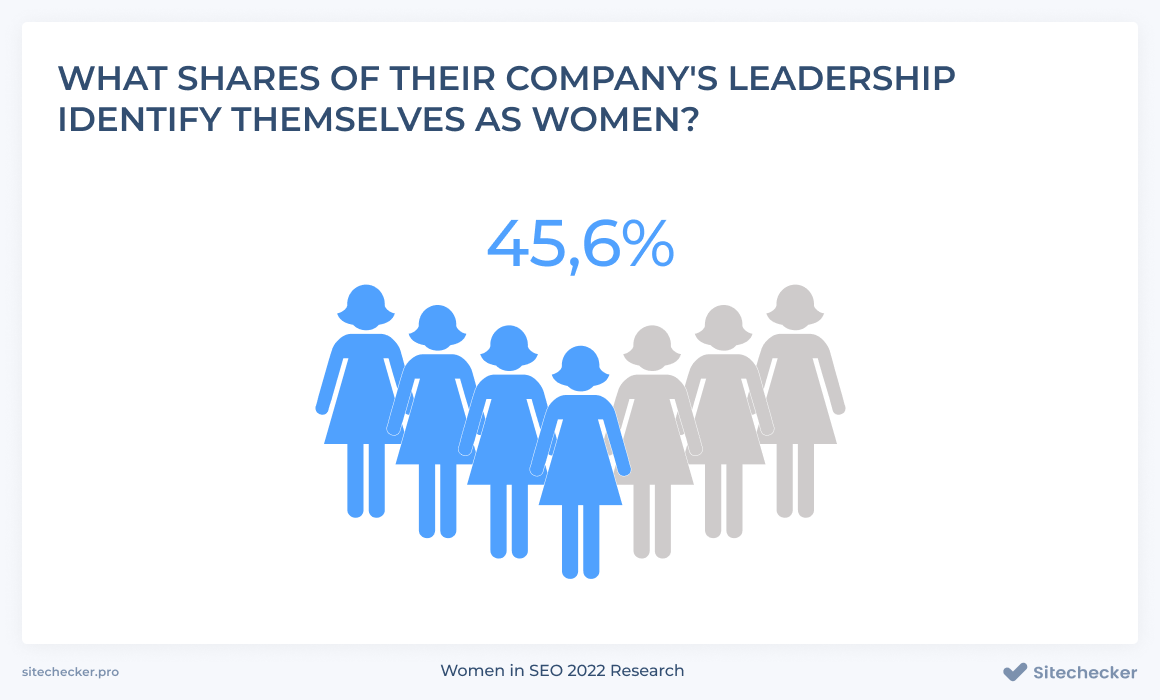 Career goals
As for future plans, most female SEOs want to grow their own websites and personal brands, as well as diversify their skill base in other areas of digital marketing and niches. Also, all professionals will continue to deepen SEO knowledge with one voice.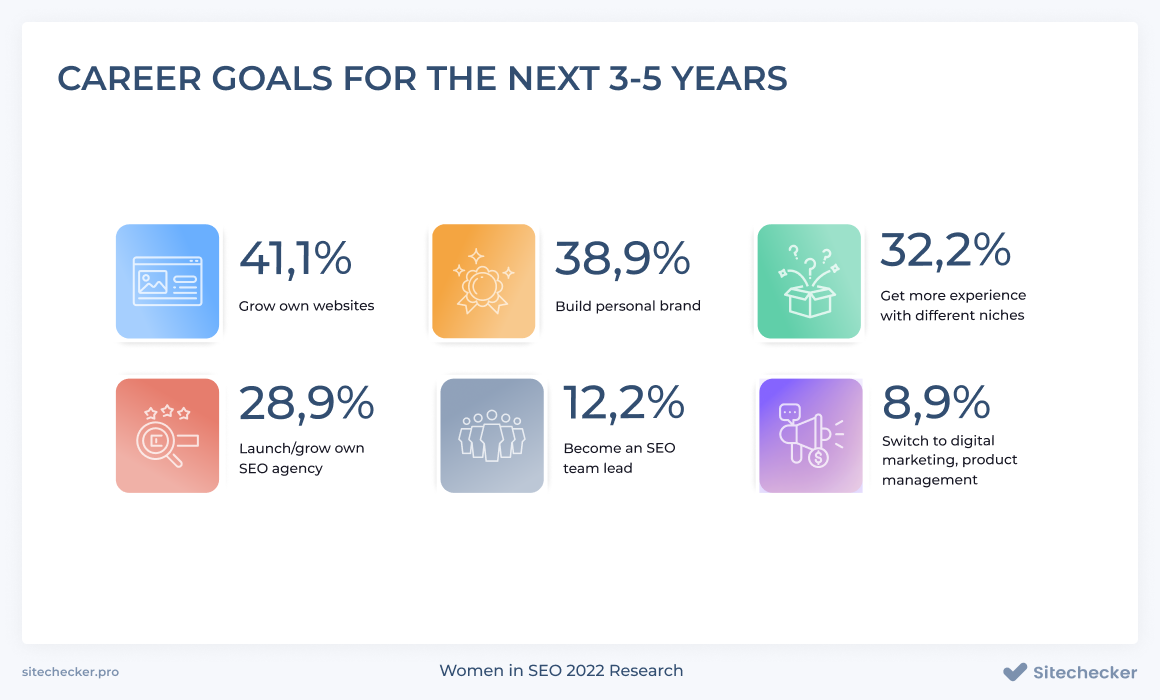 Steps to encourage diversity and inclusion
Seventy percent of voters describe the SEO industry in terms of gender as somewhat diverse. The situation is improving every year, but barriers for women are still high in Latin America, Australia, and the Middle East and for BIPOC women around the world. On the other hand, most European female SEOs don't feel any discrimination based on gender, race, sexual orientation, etc. in the SEO field.
Everywhere I have worked has been really good at this, luckily! I think one thing companies can really be aware of is work-life balance and a flexible schedule, especially for working moms. As a remote team, this comes naturally for us, and we haven't really had to try to work it in. It's just weaved into the culture.
To be honest, I haven't noticed anything like that yet. Now the gender equality situation is getting better and better.
The people I work with are extremely inclusive and diverse, from what I know. Almost all of my clients are women of a non-white race and they hire a lesbian writer.
I don't think it's an issue with the SEO industry as such. Perhaps my view of the world is very liberal. I think exposing all kids to coding and technology early in school will spark an interest earlier in both genders, which is only a good thing.
I know a lot of agencies/companies that encourage diversity and inclusion. I hope it's not only about luck!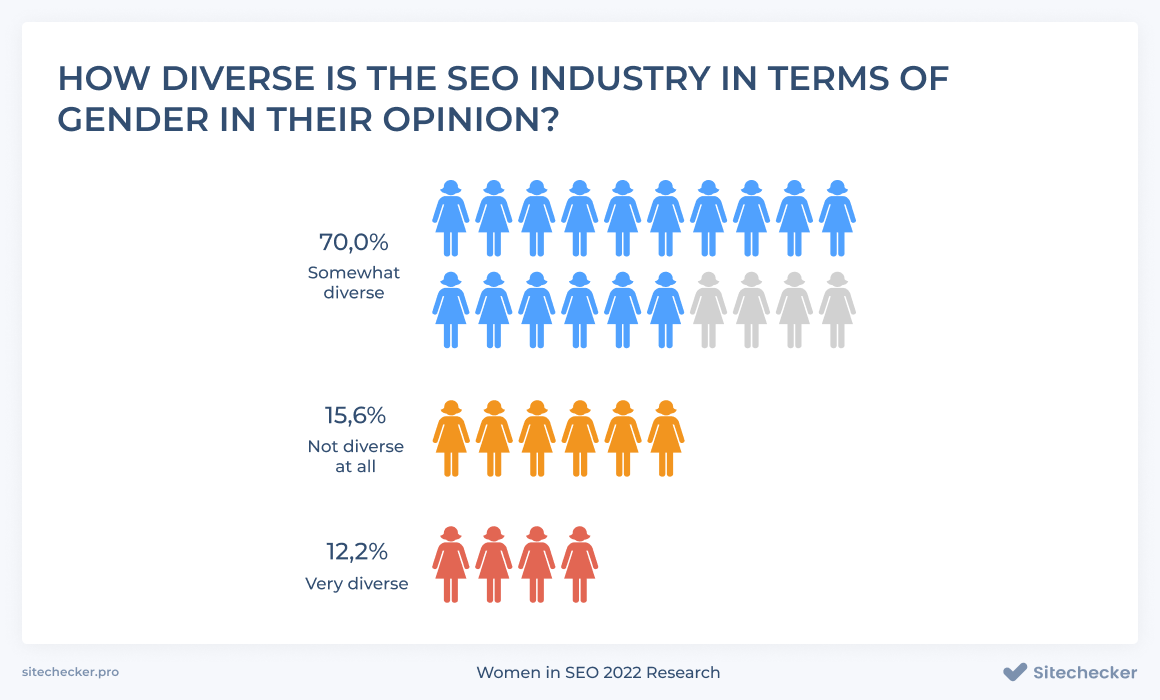 Here are several of the ways that female-identifying SEOs enhance diversity and inclusion in the SEO industry.
Actions at the corporate level
Many people self-reject as a result of internalized beliefs, so an active approach can be life-changing. Offering more diverse role types (e.g., part-time, temporary, contract) can also be very encouraging for people who have commitments outside of the professional world, such as parents or caretakers, as well as neurodiverse people
Do not ask women about their plans to take maternity leave.
The hiring process should include a hiring committee that is based on diversity to avoid bias. I believe that quotas are also necessary to include diversity.
Hire remote teams, use digital tools for communication, use international language, and provide language courses for employers.
Too often, there is this pressure that SEO professionals should know everything about all aspects of SEO. But SEO is such a diverse and ever-evolving field that it's virtually impossible to know EVERYTHING. Therefore, companies and communities can work towards encouraging a spirit of collaboration and curiosity.
Just keep equal conditions for employees. This applies to careers, salaries, offices, projects, and internal rules of companies
Invitations to speaking events and roundups
According to the case study, smart early players, active SEO bloggers, and founders/CEOs of companies have a significant advantage.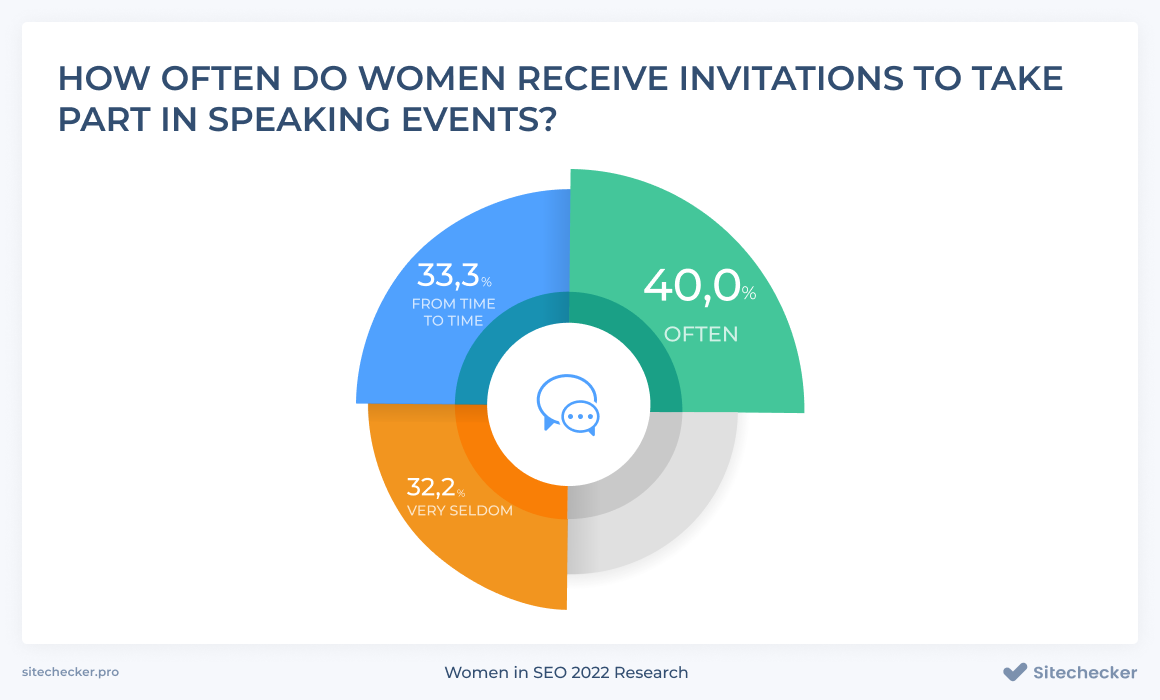 One of the most effective ways to change the diversity gap is to consider EACH SEO expert regardless of gender, race, or ethnicity for roundups and speaking events. Making viral the talks given by different professionals will help to broaden their network, give them the ability to share their unique experiences, and turn impostor syndrome into confidence. However, the most important thing is not to invite speakers because they're women or BIPOC, just for the diverse lineup. Invite SEO professionals.
I had goosebumps and impostor syndrome when I spoke in front of 500+ people for the first time. Now I'm a frequent speaker at search marketing conferences globally.
The most nerve-racking moment in my life as an SEO was setting out on my own in what was, at the time, a very male-heavy industry. My biggest fear was that I wouldn't be taken seriously or that I wouldn't get clients.
One time, I was invited to speak at a very large event, the biggest I'd ever been invited to speak at. I initially took this as a sign that I'd really 'arrived' in my career - until someone slipped and told me that the only reason I was requested to speak was that they were required to have one more female speaker in the lineup. The wind was immediately taken out of my sails and I ended up feeling so much worse about myself than before I had gotten the invite. It did more damage than good to my self-esteem. I think it's much more effective to be subtle, yet strong, with diversification efforts. Set goals and targets for diversification, and pursue them strongly, but don't advertise them. Shoving diversity down people's throats can lead to the majority getting angry with the minority, and the minority feeling more 'less than' and discriminated against than ever before.
Conference line-ups need to be more diverse and aware of the lack of diversity. They also shouldn't ask a woman or PoC to join a conference panel just because they're a woman or PoC and would help diversify the lineup. There are plenty of communities, such as Women In Tech SEO and
Women in STEM Leadership Summit
, with incredible women in the industry. Get to know women communities and you will find some of the brightest talents in SEO outside of your bubble.
New opportunities that you created
In Brazil, I participate in a YouTube channel called
SEO de Pijama
in which half the presenters are women and the other half men. We are judicious with this, so we help to spread more voices of women in the industry. When I founded my consultancy, I made a point of prioritizing women in hiring and teaching them to develop in the area.
As a South African who moved to the US to study and then work in tech, I understand how black females are at the bottom of the food chain for everything. I love partnerships and working with other females, especially Africans.
The most effective and powerful step I've seen taken is the growth of the Facebook group
Sisters in SEO
.
Open their wallet! What I mean by that is actually putting some money where your mouth is. If you want more diversity and inclusion, then support initiatives already there, doing the work. Create initiatives to encourage people from marginalised backgrounds to enter this industry. We can't just keep talking without any monetary backing. That's very lazy.
I do my best to make sure that my teams are diverse and that I am giving everyone a platform to speak and share. I previously worked with a nonprofit group whose mission was promoting pay equality for working women.
Why diversity is so important
Building a more balanced and peaceful world is a must-do in 2022. We need to listen to different opinions, look at situations from all angles, consider people with disabilities and the next billion users, not judge gender and LGBTQ+ diversity, and be open-minded in all fields.
Bringing together people of various backgrounds with different life experiences can generate creative ideas or perspectives because every single person sees the world in a different way.
Understanding local problems and developing localized and innovative solutions requires a diverse team with expertise in and knowledge of different cultures, languages, views, and geographies.
Any SEO content created needs to be accessible. For example, don't just read the text in front of you, but test it out on screenreaders to see how the software presents the content to people who may use assisted technology. Assisted technology plays an active role in my everyday life and has played an important role in ensuring my content is accessible for more people regardless of their differences.
All people need to be considered. Unfortunately, our industry is filled with mostly males, 25-35, of the same race with a tech background. We need all types to join and become part of this still-growing industry, still very much required to advance digital marketing through the 21st century.
I'm not sure what steps SEO companies take but they should be making it part of their process to ensure their teams look diverse - not only because everyone should be given an opportunity, but also because those diverse voices are needed in the room. They will see things and approach things differently. Those diverse experiences will help, especially when working with diverse clients.
Recommendation to all females
To those who are just starting to pave their way in SEO and fighting with self-doubt, read these tips to succeed in this field.
Be prepared to be constantly learning and trying new things
SEO isn't just content and it doesn't exist in a silo. SEO needs to connect with the rest of the marketing strategy to truly make an impact. SEO in 2022 is also hugely technical, meaning that it involves page speed, page design, and how users interact with the page. Holistically learn all the elements of SEO and you'll have a much more successful strategy.
Scio me nihil scire. Be open to unstoppable learning, feel free to conduct experiments. Keep calm and don't be afraid of Google Updates.
Take the jump. You won't regret getting started. Creating your own site is a great way to learn but also to help yourself get a foot through the door.
Before limiting your career to search, assess where you see your life going over the next 20 to 40 years. This includes factors beyond work such as relationships, health, spirituality, and more. Think about the skills and environments you want to work in. Beyond learning how to write, do arithmetic, statistics, and programming. Consider which changes taking place now you want to be part of such as voice, AI, web 3.0, and others.
SEO is about knowing your customer. You need to understand who you're marketing to before you can successfully find the right keywords. You need to know their problems, and how you can solve them. To do this, you must create a customer avatar/buyer persona and build your SEO strategy around them.
Don't feel like you have to take a load of courses to prove yourself. Start with a freelance project or your own website and let that be your first experience. Then you are an SEO! When I am hiring, I care about my interest and motivation to learn much more than a certificate.
Find a mentor, join communities, and expand the professional network
Get a mentor. There are many initiatives out there. One that easily springs to mind is
the Women in Tech SEO community
, which is such a welcoming, open, and kind space to ask questions about a whole host of SEO-related topics. They do regular mentoring programs and have different channels to engage.
Be prepared to be constantly learning. And a good mentor and a network of like-minded professionals are resources to be valued and nurtured.
Just go for it. I joined the industry in 2010 and it was a very male-dominated industry with a definite gender pay gap. However, there is so much more equality these days with amazing women leading the way in SEO. There is a strong community of women out there doing SEO, and the support on offer for women starting a career in SEO is incredibly strong. There's never been a better time to be a woman working in SEO.
Learn more about SEO so you can imagine what kind of work awaits you. Don't be afraid to take a training position. Get knowledge from experienced SEOs.
Go ahead! There's no gender in that. Tech is for everyone!
Just do it! I have enjoyed this industry a lot! I had two babies without ever having to interrupt my SEO career. It is really a very female-friendly place to be if you want to have it all.
I'd rather not stress gender in a professional field that much. Yes, there are countries where this is a real problem; most of them are in the East. But, you should just be doing your work and learning things. I don't look at gender when I'm at work. Another thing is when you want to compete with other co-workers, be that for a career or exposure at speaking events, etc., of course they'll be using any weakness of yours against you. If you are positioning yourself as a fragile female vs a real and knowledgeable professional, they'll use it against you, rest assured. Thus, if you have any ambition, you'll need to be competitive. I'd suggest stressing genderless and knowledge and achievements more. That will make the professional space more comfortable for everyone.
Read "Secrets of Six-Figure Women." It's not all about money, but the mindset needed to make it in an often challenging space and to not get in the way of your own success. Do not be the "caretaker" in your field; be a professional and speak with authority.
Both men and women can become good SEO specialists. The same tasks can be performed with different approaches. In some cases, women can even come up with more creative SEO solutions thanks to our "female logic." In SEO, you can develop in different directions - content, technical, management, etc. And there is always a place for creative tasks. Don't be afraid to try a new profession!
SEO is driven by passionate, curious, tenacious people who are focused on getting things done and moving the needle. There's no gender in that. Support each other and back yourself. This is a career that will take you places.
Don't let traditional gender "roles" steer how you specialize. I'm a tech and I have worked in teams of all-male website developers. Tech is for everyone.
Women in SEO infographics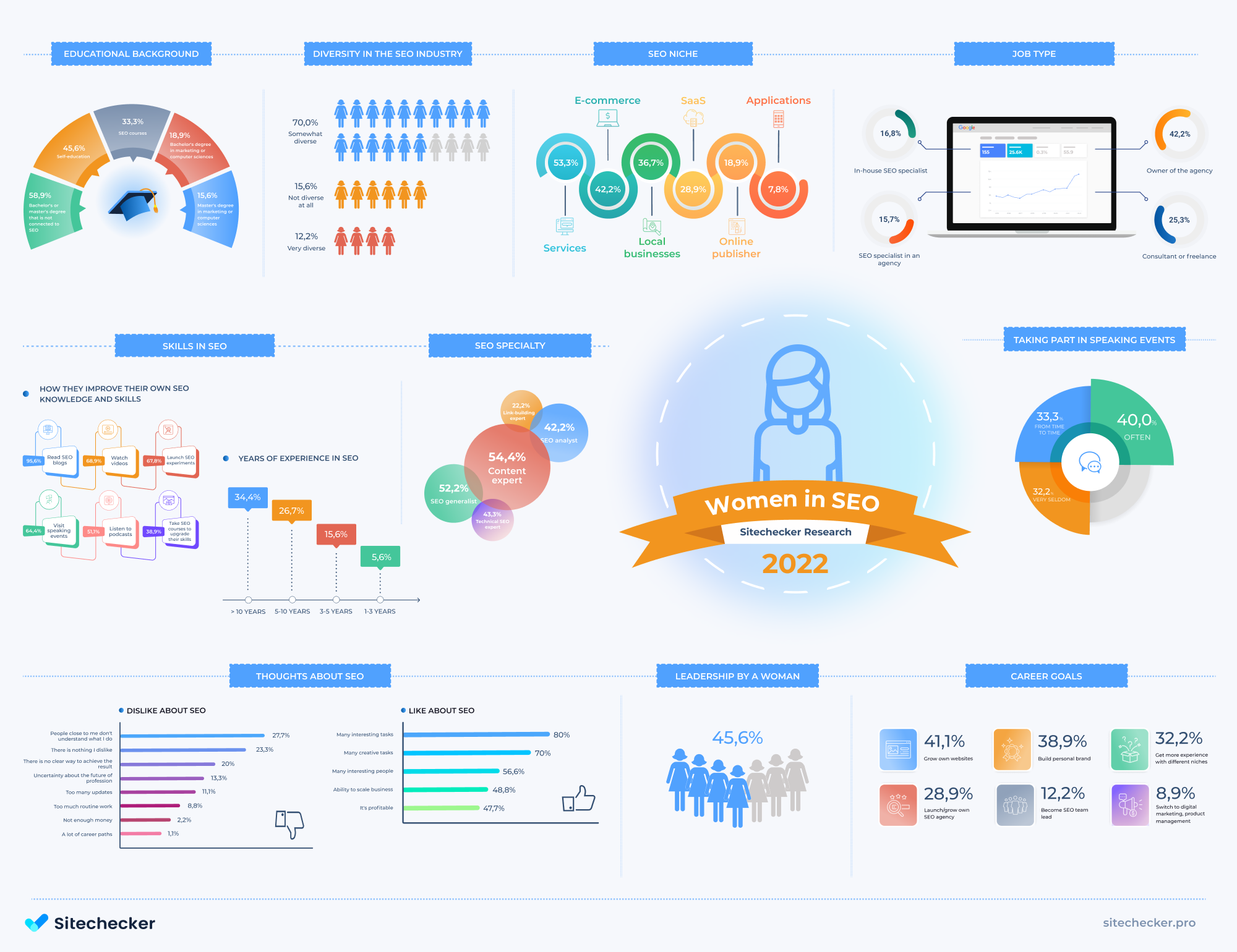 Share this article and infographics with your colleagues and followers in social media to share how they can encourage diversity in the SEO field.
Conclusion
The SEO industry still has a way to go when it comes to gender and inclusive diversity, but it has already come a long way. Let's move toward a more inclusive future, valuing diversity on all fronts. SEO is for everyone!