One of the myths that Google has been successfully disseminating among webmasters and SEO professionals in recent years is the myth of the higher relevance of page content over its link profile in the ranking formula. This misconception and its consequences have been described well by Brian Dean in one of his posts.
The truth is that backlinks are still of great importance. The more competitive a search query is, the greater the importance links have compared to other factors. There are 2 factors that gives us grounds to make such conclusions:
constant feedback from the search engines, which we receive while promoting our projects;
a thorough evaluation of several large studies on the impact of different page parameters on its ranking in the search results.
Studies on importance of backlinks
One of the largest studies on ranking factors made by Ahrefs confirms the thesis about the power of backlinks. Look closely at the charts below.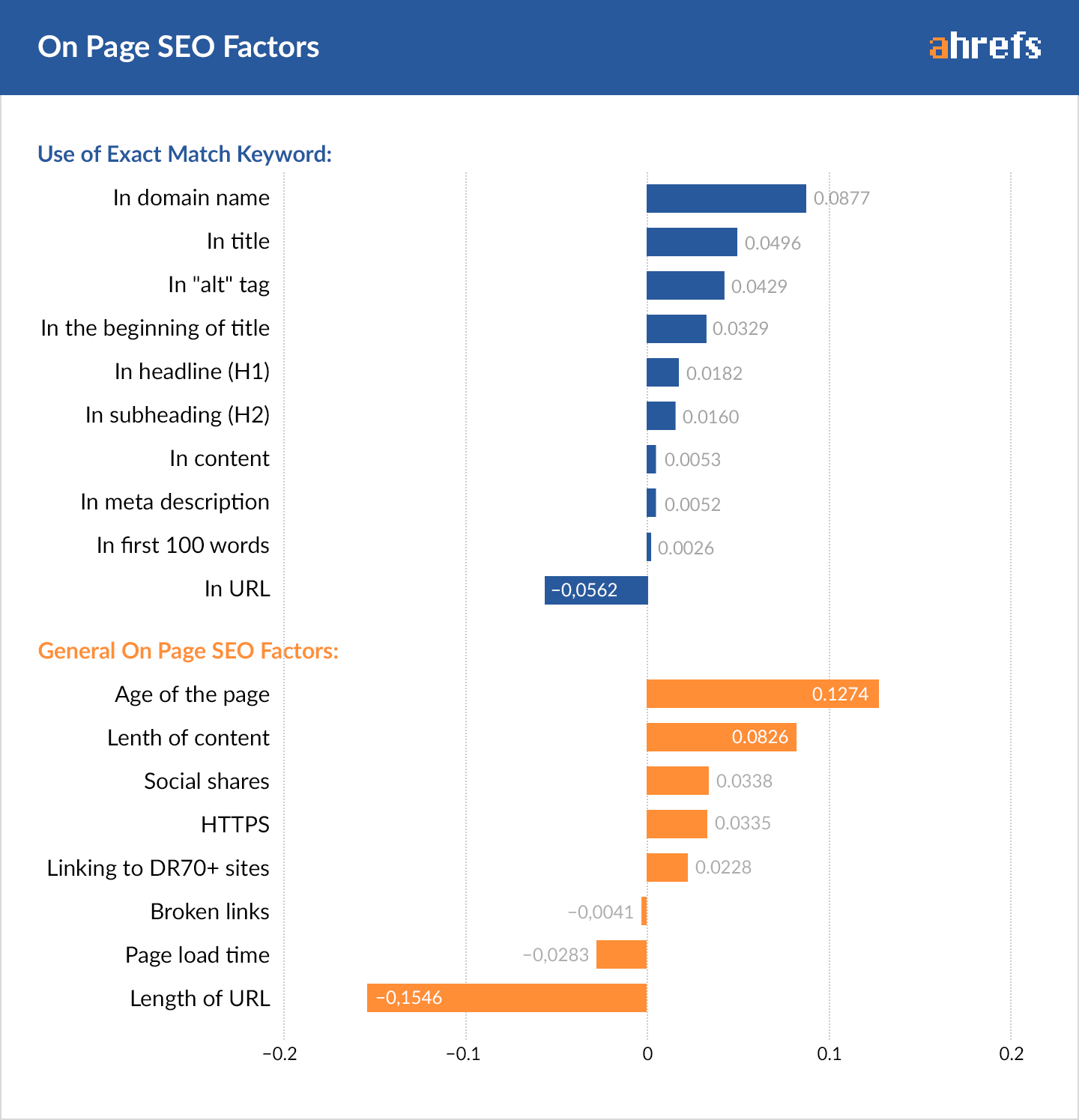 Compare the significance of the parameters in figure one and two. None of the content factors can equal the importance of the page backlinks.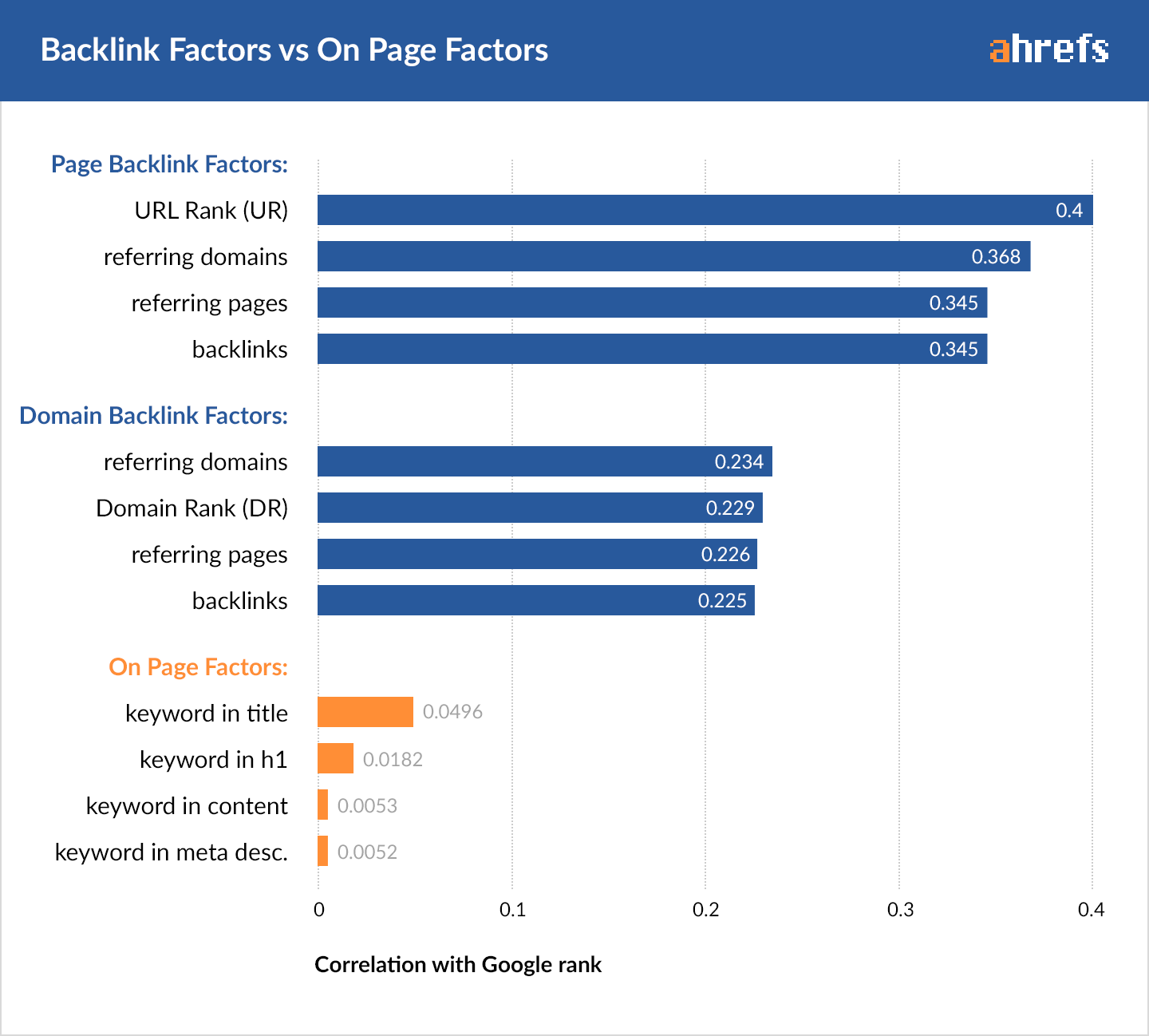 Correlation does not mean causation. However, this independent study and our own experience suggest one thing – rapid growth of the project is impossible without investing in building a link profile.
Why do I need to check backlinks 
As it's said above, the importance of backlinks was huge. But what are the main reasons why you need to check inbound links and tracking backlinks? The answer is quite simple. Not all the backlinks can bring you a positive result. If your links are left on the websites which have bad rankings, for example, low traffic, bad anchor list or even are under the search engine penalty, there is a big chance to get sanction for your own website. That's why you need always manage your backlinks profile and delete all the unnecessary ones.
Firstly, always check anchors. To get a higher ranking, your anchor list should be well organized. This way you help search bots to scan your URLs correctly and point to the keywords which are relevant to the certain page. For example, if your landing page is about "business training" but the anchors are "SEO trends" or "buy shoes online", search bots simply identify them as spam.
Secondly, analyze what tags your links have. As we know nofollow links prevent search robots from links whose attribute contains this meta tag. But they are can be useful quite a lot. They help to diversify the anchor list so that it does not look too spammy. You may agree that all links which have attribute "dofollow" look as spam.
Thirdly, lots of analyzing tools have their own rankings. For example, Ahrefs backlinks checker has DR parameter. It points to the quality of the domain. The formula is the following: the higher DR is, the more trust website receives from search engines.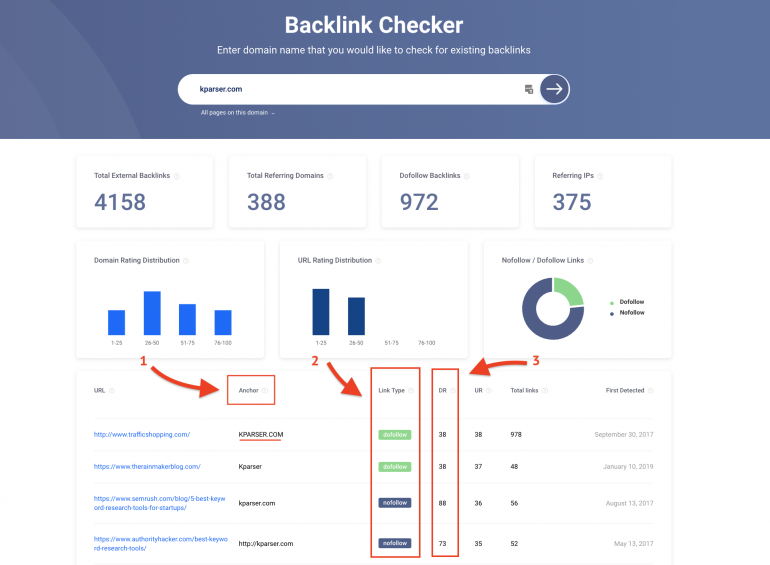 To be always updated with any website changes click on free website monitoring tool. Be notified by email about an error is made.
How do I check dofollow backlinks
It is simple enough. By submitting a specified URL to the checker, you will receive the results and diagrams which will help you to analyze what backlinks have "dofollow" attribute and bring you link juice to your web page. Also, you will see what backlinks are closed for indexation with "nofollow" tag.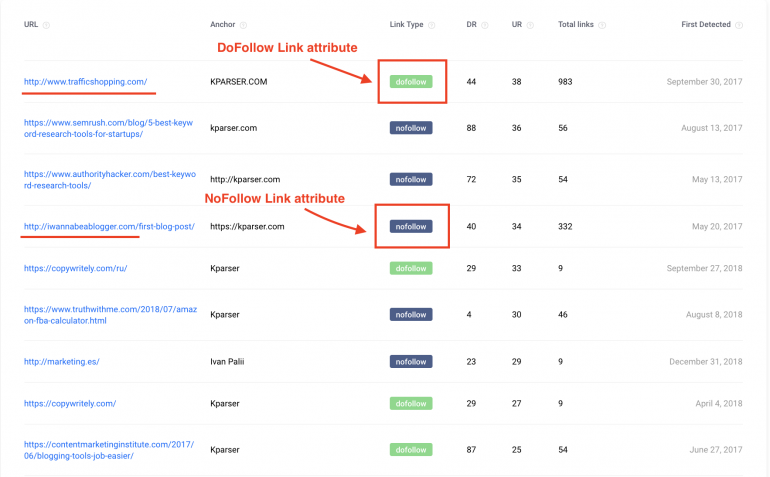 Or you can see the needed tag in page's code. Just click on the link and open page's code.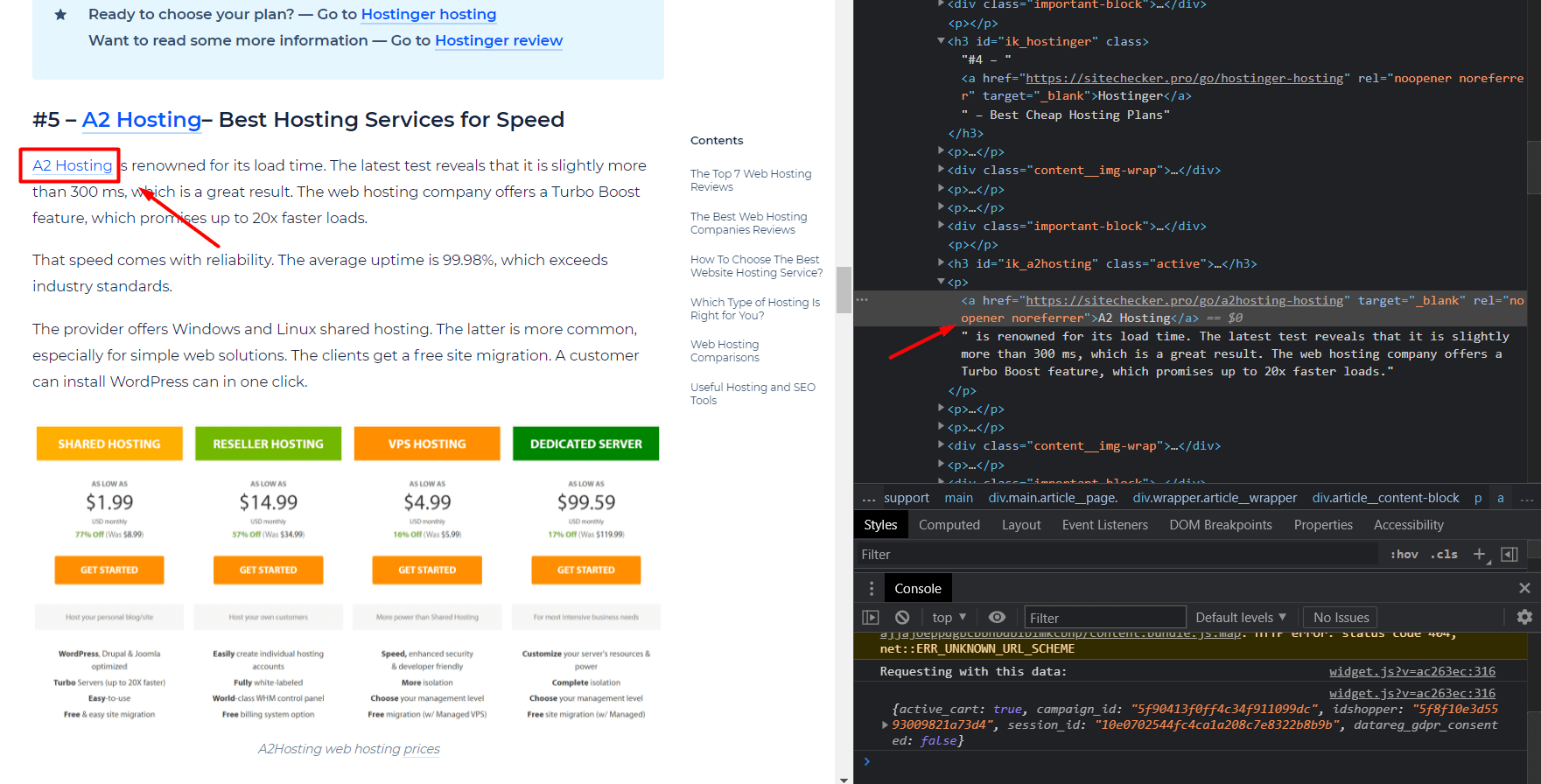 If the link has dofollow attribute it will be shown in the code if the link has no attribute written, it is also considered as "dofollow" by default. Moreover, you can try dofollow link checker tool.
How long do backlinks take to show up
As usual, it takes up to 7 days to index the backlink. But you can't be sure that search engine bots will definitely index your backlink because it depends on different factors:
Domain Authority of donor website. If your backlink is placed on a high authority website, Google will index it faster. It is related to the fact, that search engine always crawls and index backlinks from high authority website because of their relevance. You can check your website's SEO score now

easily.

Traffic from the donor website.

If nobody visits a website, who will follow your link? That's the key point why search engines bots don't consider backlinks from non-traffic sites as relevant.

The relevancy of text where the link is placed.

If you place the link which leads to a recipe blog on a website about car insurance, what is the percentage that Google will rank it as relevant? Very low, such as your chances to index this type of link.

Robots.txt and sitemap.xml files. You may follow all the requirements "How to get a high-quality backlink" but the result will be zero if the page where you place a link is closed for indexation. So, always check robots.txt to prevent yourself from disappointments.
Link building as a separate part of SEO
Competition in search engine results grows naturally with the increase in the number of sites. Every new site needs to invest more and more effort into obtaining backlinks. It does not matter how good your product, service, or text is if others do not know about it. Operation in the modern market assumes that a good product, by default, has the technology to bring it to the market.
Thus, a separate sphere of SEO, namely, link building, has grown. The first creators of content on the web placed links to each other based on the natural desire to share useful information with readers. Now link building is a serious strategy, and the site owner needs to invest a lot of time and money in its implementation.
The emergence of the concept of "networking" would be a good metaphor here. In a small settlement where everyone knows each other, mentioning other people in a conversation is a natural part of the conversation. In a big metropolis, people's interactions are slightly different. The number of professional spheres in which people are involved is greater, the number of interactions with strangers is greater, and the competition is also higher. To effectively interact with other people, one must be able to find specialists in a particular niche and build relationships with them. Does it resemble anything? Exactly. Link building – is precisely networking. And if you can easily establish contacts with people offline, then it will be much easier for you to understand how to build backlinks online.
Key steps for working with backlinks
Working on our projects, we managed to accumulate a large and successful experience with links. This experience consists of two elements:
The use of the right backlink checker tools;
The use of the correct step-by-step algorithm for working with links.
1. The right backlink checker tools
The first four tools are the best data sources on any website's backlinks. The fifth is our own creation – it is the best for visualizing these data.
By combining these tools, you can undertake competitors' backlink analysis. So, we turn to the ideal technology for working with backlinks.
2. The right technology
Each site is located within a certain market. The better you understand your niche and the patterns that work within it, the faster you can grow. If you enter the niche for the first time, you need to study its leaders. Let's consider a step by step example of the technology that we use in our work. Here we will work out a combination of Ahrefs + Linkstrategy tools. The niche is the search suggestion tools or, on a larger scale, the keyword research tools.
a) What search queries do users use to look for your product
If you do not yet know which sites you are competing with, try to imagine what search queries users are typing in when searching for your product/service on Google. Check out a few possible options. For us, one of the most important queries was "keyword generator".
b) Who is at the forefront of Google's SERP for these requests
Next, you evaluate the TOP and see which of the sites is closest to you thematically. We are currently in the first spot for this request, but we initially competed with the site keywordtool.io, which is currently occupying the second place.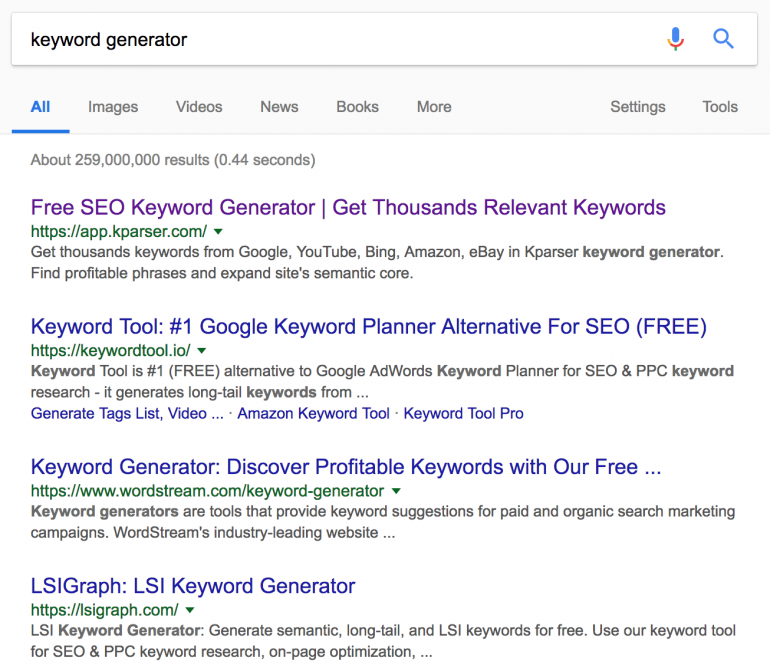 Prior to launching the promotion, we analyzed this site's reference strategy to understand the best way to build backlinks.
c) We download site backlinks using Ahrefs backlink checker
In order to do this, we simply unload the backlinks of the competitor using Ahrefs backlink checker. In this case, to check backlinks we unload only the dofollow links.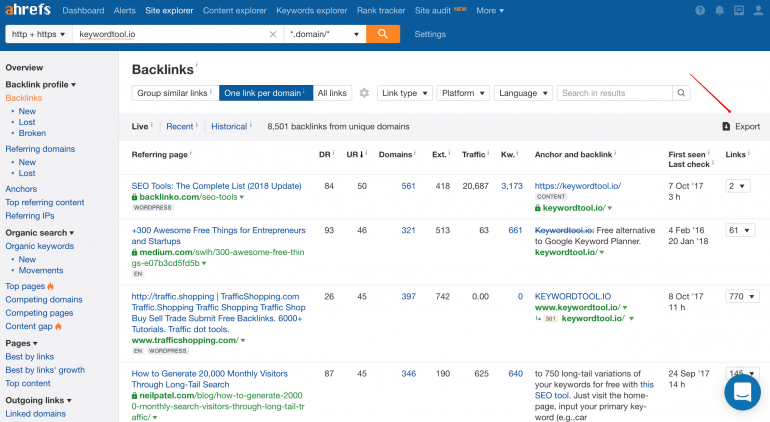 d) We upload the resulting file to Linkstrategy
In the file itself, you do not need to change the format or edit it. We go to Linkstrategy and load the original file in only two clicks. After uploading, we immediately get to the screen with the visualization of backlinks in time.
e) We carefully examine which first links were built on the domain / URL
In some niches, the first backlinks are most often built from their own resources. Understanding this, we can identify the grids of competitors' sites. If the links are from unrelated sites, we can evaluate what type of links the competitor decided to use first – whether he immediately began ordering posts on other sites, applied blog comments, or focused on question-answer sites.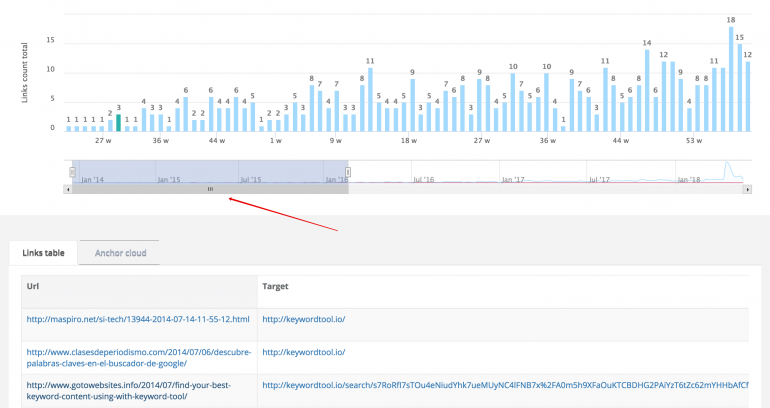 f) We look to see whether there are peaks in traffic growth
In our case, there are no peaks in organic traffic growth. But if we look at the traffic and the link profile together, we can notice an interesting nuance.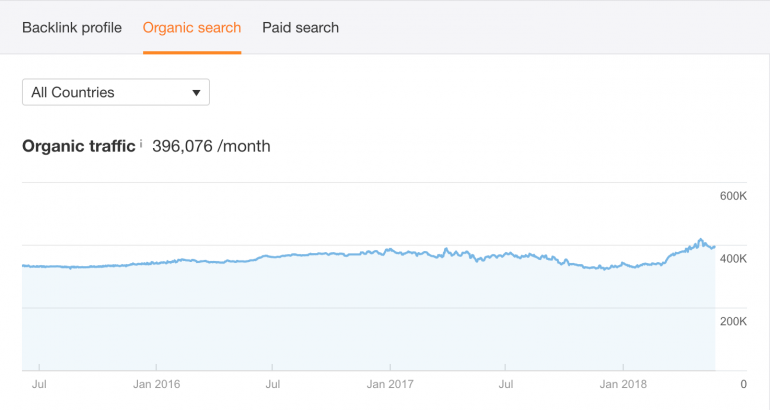 g) We look to see whether there are peaks in the growth of the link mass
On the Ahrefs report, we see 5 fairly sharp drops in the number of link pages.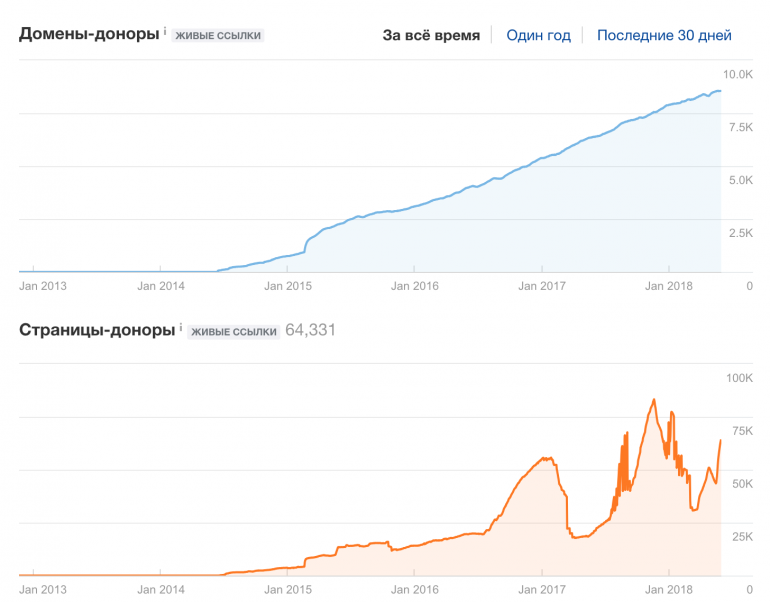 Within Linkstrategy there is a very sharp surge in the growth of links in one of the weeks. When we examined the type of links, we saw that these, basically, were the links from blog platforms (mostly blogspot).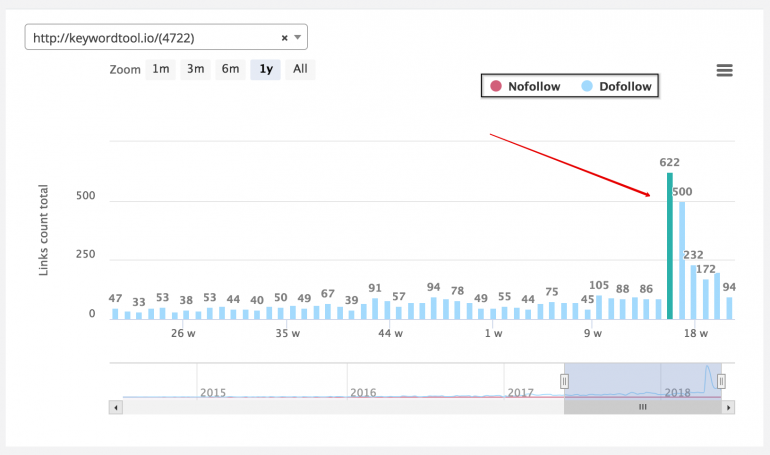 Such a surge is certainly not accidental. Here we need to consider two points:
Objective. Why did the competitor decide to increase the number of backlinks now?
Method. What method did he use – a mass installation on outsourcing, a viral post in social networks, or ordering a publication on some top site?
After comparing the Ahrefs and Linkstrategy charts, one can see that the sharp increase began after the major losses of referral pages in March. So, we understand that the competitor's main objective was the fear of not losing traffic due to such a sharp collapse. And after examining the links themselves during the period of rapid growth, we came to the conclusion that it was a massive manual post-publication with very weak content.
h) We look to see what kind of anchor strategy the competitor uses

The anchor strategy is quite simple – brand anchors predominate. Going over separate landing pages, we see that branded anchors are used in more than 90% of cases.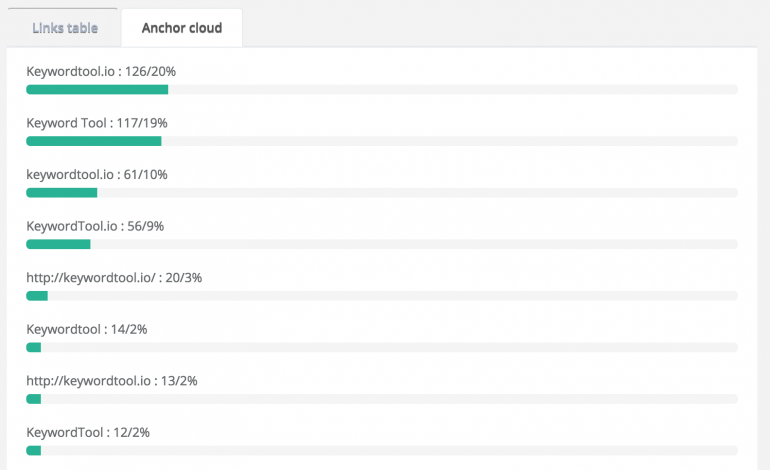 i) We form our own strategy
It is important to note that we are investigating the competitor's link history, not in order to copy it entirely. We are looking for patterns, and then we implement them within our unique strategy. When creating a strategy, we also assess the strengths and weaknesses of our product, as well as available link building resources. If we are sure that our product is better than our competitor's according to some parameter that is meaningful to the user, then it is worth starting with ordering posts from high-quality bloggers with a thematic audience.
Such product coverage changes the rules of the game in the market and can cause active material reposts both in social networks and on other blogs. On the other hand, if we have the opportunity to publish many links cheaply, and the product differs insignificantly from that of our competitors, we can start with the gradual build-up of links of thematic links immediately, and see how our positions perform. For this purpose, you can use platforms for the distribution of content on the Internet (like WhitePress), select the appropriate pages for publication with a link and monitor the effects.
Guide on how to track natural backlinks
At the initial stages of project development, it is very important to track backlinks that appear naturally. There are several reasons for this:
The first steps in working on a project are basically futile shots. And the first natural links are the most honest external evaluation of your site, the first market feedback. It can help you see where you should direct the development of the site as a product.
The first donors can become your long-term partners. The more sites you have, the more valuable each such partner is. Since the one who posted a backlink to your resource not only knows about you already but is also positive about your work.
Which page are the first donors attaching the links to? What do donors say about your site/page on their resource? If you are being compared, then how and to whom? Answers to these questions will clarify your view of the situation and make the following steps more effective.
Value of the backlinks in the future
We believe that the main struggle in the ranking formula is currently between backlinks and behavioral factors. All elements related to the technical optimization of the page (keywords in the title, h1 tag, content, alt tags, short URL address – all that can be changed quickly and easily) are becoming of less and less importance. Google is gaining more and more data to understand how much the user likes a certain site compared to others. So, the main struggle is between those parameters, the accumulation of which is expensive in terms of time, money, and trust.