Email marketing is in the Top 3 most popular distribution channels among B2B and B2C marketers, along with websites and social media. Emails are a great tool for nurturing prospects and keeping customer retention high. By automating your email marketing routine, you can effectively manage a big mailing list.
Email finder is among the most important marketing tools that you'll ever need. This is a software program that helps marketers find and verify email addresses, systemize information, and much more. In this guide, we'll break down how to make the best use of an email finder. On top of that, we've reviewed the best email finder tools that can take your email marketing to a whole new level. Let's get started!
What is an email finder?
Email finder is a program that collects email addresses from open sources on the web. It's a vital tool for any business whose ambition is to grow and improve outreach.
Let's see how an email finder service can be beneficial for your business.
Email finder facilitates attracting new leads that can convert into loyal customers.
Email finder helps you build connections with business partners, investors, and influentials.
Wait 1-2 minutes to get the results.
Email finder helps you search and hire narrow specialists. It's much faster and cheaper than using conventional head-hunting practices.
That's why, in addition to a one-stop site analysis tool, such as Sitechecker, digital marketers absolutely need a clever email finder solution.
Who and why needs email finders?
Email finders are mostly used by sales managers and marketers that need smart and quick solutions for generating leads and boosting brand loyalty. However, growth-oriented digital businesses are not the only ones who can benefit from email finder solutions. Email finder is a versatile tool that performs a variety of tasks.
Email finders and email trackers like Mysignature can be extremely useful for PR specialists, allowing them to find new advertising platforms and connect with journalists, bloggers, and influencers.
As already mentioned, email finder is a great solution to search for professionals online. The tool extracts email addresses from employee profiles on LinkedIn and other job search platforms. Plus, you can narrow down your search by position, skills, and other criteria.
Top 15 email finders for 2023
We've put together quick reviews of the best-performing email finders out there. We've hand-picked the best tools with a large client base, wide suite of features, and user-friendly interface. Pick the right solution that meets your needs, select a suitable pricing plan, and propel your business into the stratosphere!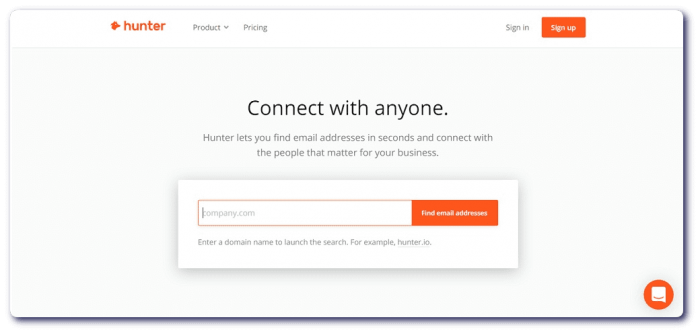 The first on our list is Hunter, an effective tool for building prospect lists and searching for professionals on the web. The tool extracts emails from over 67 million open sources. The service allows you to search and verify email addresses, as well as send emails. Users can search for emails by:
domain and company name;
employee names;
lists of domains and names.
By using the Hunter extension for Chrome, you can find and verify emails directly in your browser. Plus, a seasoned marketer can't do without a website analysis extension from Sitechecker.
Pricing plans:
up to 25 searches per month — free;
up to 500 searches — $49 per month;
up to 30,000 searches — $399 per month.
According to 63% of reviewers on G2, the tool works like a charm. Usability has an average vote of 9.4 out of 10.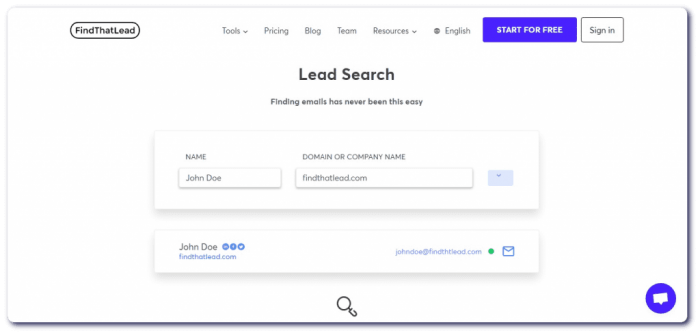 Here is another online tool that streamlines lead and personnel search. The tool even allows you to send emails to the newly found addresses. Email addresses can be searched by:
company, domain, employee name;
Twitter and LinkedIn profiles
keywords;
number of staff, niche, and location.
Like most email finders, FindThatLead offers a browser extension that enables users to search for and verify email addresses on-page.
Pricing plans are as follows:
$49 — up to 5,000 contacts per month;
$150 — up to 18,000 contacts per month;
$399 — up to 30,000 contacts per month.
G2 reviewers ranked the tool's usability at a 7.8 out of 10. According to 55% of users, the service is flawless.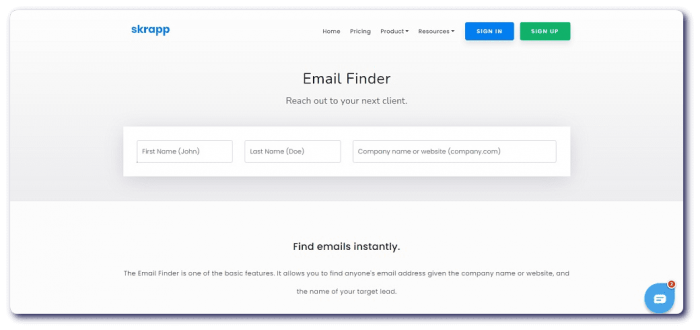 Skrapp is a one-stop email account finder with a convenient search, API, and email verification feature. Plus, the tool allows users to download email lists in XLSX or CSV format. With Skrapp, you can search for emails by:
domain (including mass search);
company name;
employee name.
Based on your business needs, you can choose from a variety of pricing plans:
from $34 — up to 1,000 contacts per month;
from 69 — up to 5,000 contacts per month;
from $139 — up to 20,000 contacts per month;
and others.
Based on G2 reviews, users gave Skrapp an average vote of 8.3 out of 10. 36% of users gave Skrapp the highest vote. Ease of installation scored a decent 8.9.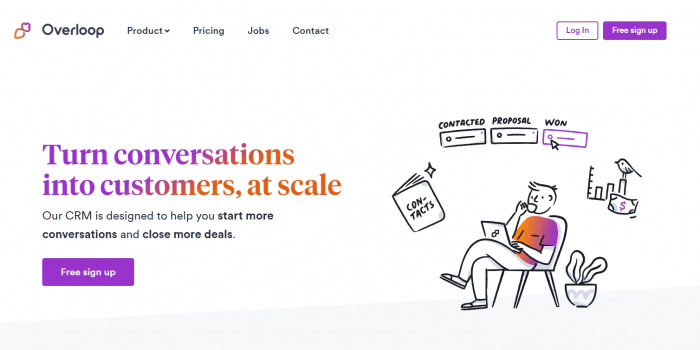 Overloop is a smart email finder tool that allows users to verify email addresses and emails, export email lists in Google Sheets or CSV format, and much more. Emails can be searched by:
domain (including mass search);
email owner's name;
LinkedIn URL;
prospect's profile.
Pricing plans start from $39 for 250 credits per account per month.
73% of users on G2 gave Overloop the highest vote. Customer support scored a solid 8.9 out of 10.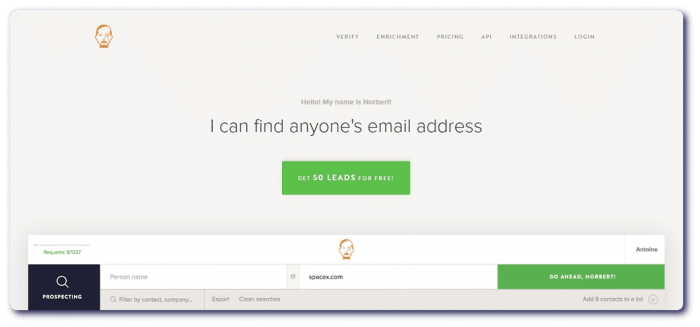 Referring to ahrefs, VoilaNorbert calls itself the most accurate email search solution. Each new user gets 50 free contacts. The tool has an impressive array of functionalities, such as:
easy shared access;
domain search (including mass search);
LinkedIn's search;
email search by owner name;
emails;
drip campaigns.
Pricing plans range from $49 for 1,000 leads to $499 for 50,000 leads per month.
On G2, a staggering 82% of users gave VoilaNorbert 5 stars. Ease of integration got a stellar 10 out of 10.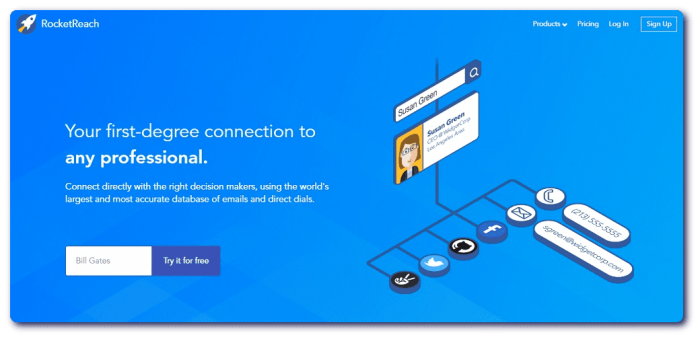 RocketReach is a fast email account finder with a dedicated extension for Chrome. The tool boasts an impressive range of search functionalities:
extended search (by name, education, occupation, location, etc.);
search by employee name, job title, and social profiles;
on-page search (with Chrome extension).
Pricing plans vary from €35 to €177 (individual plan).
On G2, RocketReach got the highest vote from 73% of customers. In terms of usability, the tool scored an 8.7 out of 10.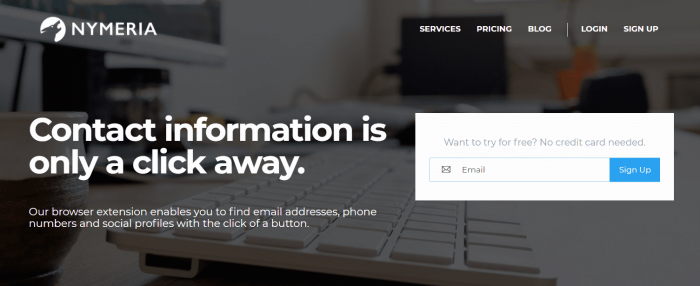 Nymeria is a clever email finder that supports a shared access feature, allows to convert email lists to CSV and XLSX, and much more. Take a look at other useful functionalities offered by the tool:
extended search by various criteria;
search on LinkedIn and GitHub;
email verification.
Pricing plans start from $39/month for 100 contacts and reach $159/month for 1,000 contacts.
Launched in 2021, Nymeria is still a new product on the block with few user reviews. On a brighter note, those few testimonials that we could find on the web are all positive.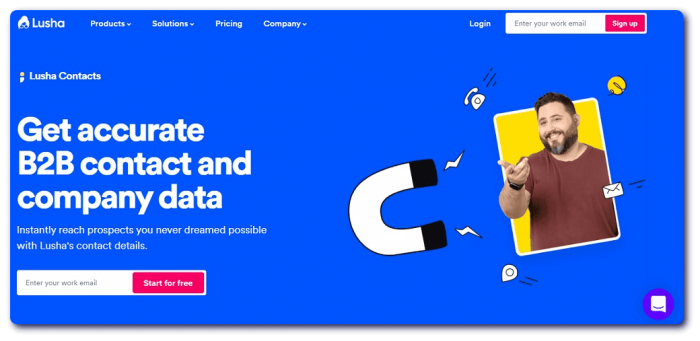 Lusha is a powerful email finder for searching employee email addresses and collecting vital information about companies and their staff. The tool seamlessly integrates with CRM systems and popular email services. The key functionalities include:
email search by domain and company name;
employee list, job title, and phone number search;
contact search across social profiles;
great tool for recruiters (extensions for Gmail and LinkedIn are available).
Pricing plans:
free — up to 5 credits per month;
$74 for 1,200 credits per month;
$149 for 3,600 credits per month.
Lusha earned the highest vote from 62% of reviewers on G2. The tool's usability scored an impressive 9.3 out of 10.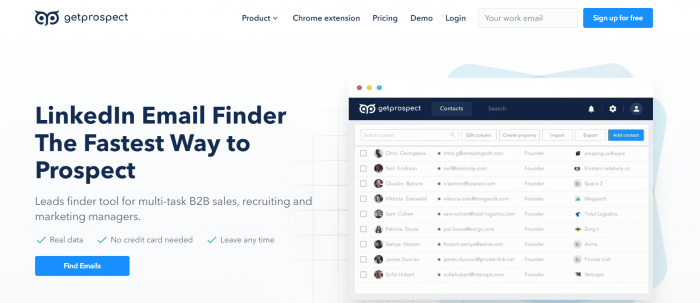 Like any top-of-the-range email finder, GetProspect enables shared access and export in XLS format. GetProspect comes with all basic features that you expect to find in an email search service:
search by domain (including mass search);
search by name;
URL search on social media;
email verification.
Pricing plans:
free — up to 100 emails per month;
$49 — up to 1000 emails per month;
$99 — up to 5,000 emails per month;
and others.
59% of reviewers on G2 gave GetProspect the highest vote. At the same time, usability only got a 8,6 out of 10.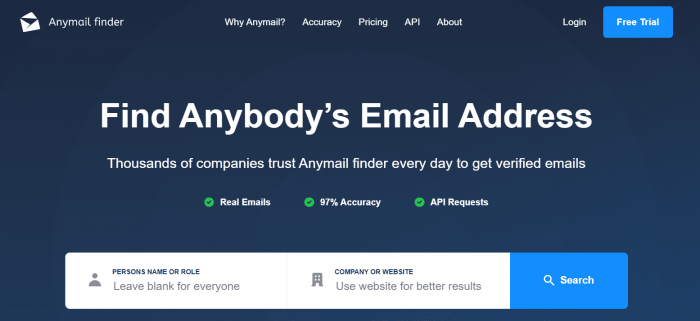 This email address finder supports shared access, API integration, and export in CVS. Users can search for emails by:
domains (including mass domain search);
owner name.
Pricing plans:
free trial — up to 90 verified emails;
€29/month— up tp 200 verified emails;
€39/month — up to 1,000 emails;
€89/month — up to 5,000 emails;
€129/month — up to 10,000 emails.
Only 25% of users gave Anymail Finder the highest vote. 50% of reviewers gave it 4 stars out of 5.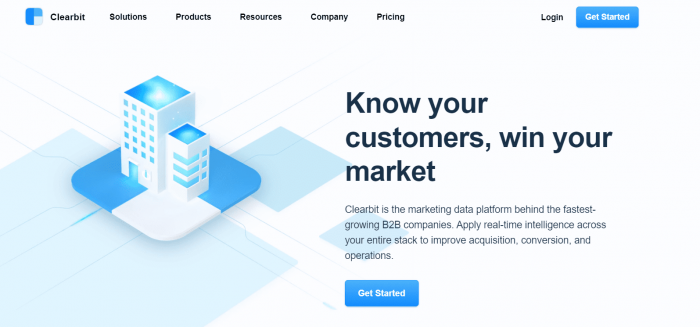 Clearbit is an automated email search tool that supports API integration with CRM and email clients. Check out some of its key functionalities:
search by email;
social media page analysis;
phone number search;
account identification;
prioritizing the most promising contacts.
Prices depend on your CRM database, monthly web traffic, and number of contacts.
On G2, the tool earned the highest vote from 66% of reviewers.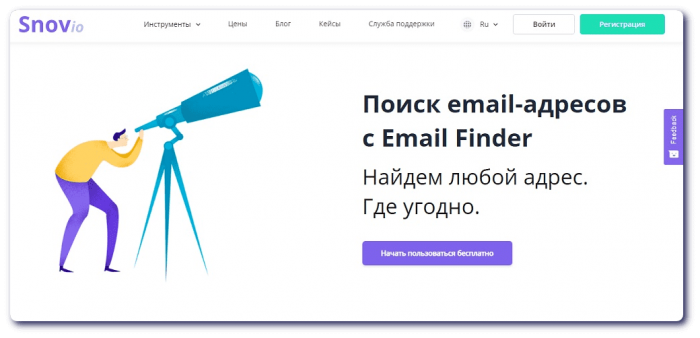 Snov is an all-in-one service that includes a bunch of tools, including email finder. Users can search for emails:
by domain or domain list;
by employee's job title, name, and contact information;
on LinkedIn and Twitter.
To search emails directly in your browser, download the Chrome extension. Export your email list in CSV, XLSX or Google Sheets.
Pricing plans range from $19 for 1,000 emails/month to $738 for 100,000 emails/month.
The tool got the highest vote from 82% of users. Users point out the tool's usability, giving it a 9 out of 10.

This is another professional tool for searching and verifying emails. The service automates and streamlines search processes, saving you plenty of time. Here are some of the key benefits:
advanced search and verification algorithm;
search settings (search by name, mass search, etc.);
easy integration with CRM;
data export to CRM systems, in CSV format.
Prices start at $49/month for 1,200 contacts. Also, there's Enterprise, an individual plan tailored for your business needs.
The tool earned the highest vote from 52% of uses on G2. Usability ranks at a decent 8.8 out of 10.

This is a smart in-browser tool for searching verified emails on LinkedIn. Both individual and mass search is available. Also, the service enables you to generate prospects via various communication channels, including email and socials. Take a look at some of the basic features:
integration with CRM, export in CSV;
online email verification (up to 70% accuracy);
mass search on LinkedIn Sales Navigator.
The tool is available absolutely for free.

76% of reviewers on G2 are happy with Reply, especially its email search tool. Seamless integration earned an 8.6 out of 10.
EmailSearch.io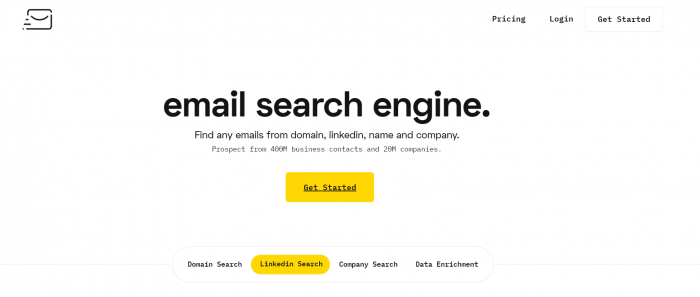 EmailSearch collects data, including emails, on LinkedIn and other social media platforms. The tool boasts a bunch of useful features:
email tracking, automation, API integration;
email search by phone number on socials;
advanced search settings.
Prices range between $29/month for 1,000 contacts to $99/month for 20,000 contacts.
How to pick the best email finder?
Unfortunately, there's no such thing as a one-fits-all email search solution. There's no definite answer as to which tool is best for marketers and which one for recruiters. The choice is all yours!
But how do you make the right choice? Well, one way to go is to test several tools at once and see which one suits you best. With free plans and trial periods, any business can do that without worrying about money issues.
If, however, you gravitate towards a more systematic approach to choosing a perfect email finder tool, you need to answer the following questions:
What type of contacts are you interested in?
How many contacts per month do you need?
How much can you afford to spend on an email finder tool per month?
What other features are you looking for?
Free email finders
If you're looking for a free email finder, be sure to check out Email Permutator+. Unlike a regular email finder, the tool does not search email addresses. Instead, it generates emails by username, first name, last name, and domain. As a result, you get an email list much faster than if you had to make it manually. The only shortcoming is that you can't verify the results. Email Permutator+ is a great solution for businesses that only need up to 10 contacts per month. If your needs go beyond that, you should better opt for a paid tool.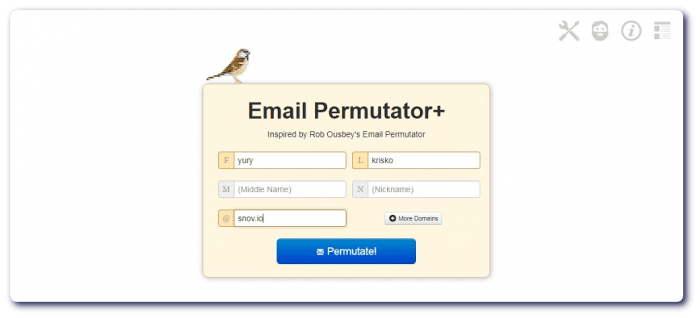 Final word
In addition to searching emails and other contacts, a good email finder tool comes with a wide range of additional functionalities. If you happen to have any problems integrating or setting up your tool, you can always get assistance by getting in touch with customer support. We hope that this guide will help you select an ideal email search solution for your needs, whether it's lead generation or head-hunting. And with a range of pricing plans, you can easily find the option that fits your budget.