If you're looking for an alternative to Siteimprove, consider the competitor — Sitechecker. It's another powerful SEO tool to conduct effective site audits and improve ranking. We've prepared a comprehensive comparison of these popular platforms for SEO analysis to help you determine which one better suits your business goals.
With our comparison guide, you will get a detailed review of both tools based on the following parameters:
Site audit
Integrations
Site monitoring
Rank tracking
Backlink tracking
Extra tools
Cost and value
Unique features
Available pricing plans and more.
Use our Siteimprove vs Sitechecker comparison to choose the best tool for your needs and take your website SEO quality to a new level!
Siteimprove vs Sitechecker: Comparison of Features
Before diving deeper into comparing Siteimprove vs Sitechecker, let's start with the basics. The table below reviews each platform's key features to help you see their core advantages and disadvantages.
Sitechecker
Siteimprove
GENERAL
Trial period
30 Days
☓
No credit card required
✓
✓
Monthly pricing
from $41
no available information
SEO PRODUCTS
Site audit
✓
✓
One-time site audit
✓
☓
Site monitoring
✓
✓
Rank tracker
✓
✓
Backlink tracker
✓
✓
SEO Chrome Extension
✓
✓
SEO Software
✓
✓
SEO Dashboard
✓
✓
FREE SEO TOOLS
On-page SEO Checker
✓
✓
Website Traffic Checker
✓
✓
Website Safety Checker
✓
☓
Website Down Checker
✓
☓
Website Rank Checker
✓
☓
Website Hosting Checker
✓
☓
Website Speed Checker
✓
☓
Website Backlink Analysis
✓
☓
Website Broken Link Checker
✓
✓
COMPETITOR RESEARCH
Link strategy
✓
✓ (advanced plan only)
SPECIAL FEATURES FOR DIGITAL AGENCIES
White Label
✓
☓
SEO Reporting
✓
✓
Project Sharing
✓
✓
Number of Projects
3 to unlimited
no available information
COMMUNICATION & SUPPORT
Demo
✓
✓
Support
Live chat, email, demo calls, FAQs, video guides
Live chat, email, demo calls, FAQs, instructions
Affiliate Program
✓
✓
RATING
Crozdesk
4,4 of 5 (15 reviews)
4,6 of 5 (308 reviews)
G2
4,4 of 5 (15 reviews)
4,6 of 5 (309 reviews)
Capterra
4,5 of 5 (115 reviews)
4,5 of 5 (30 reviews)
Don't you find it exhausting to work on SEO all day long?
Sitechecker is the perfect solution for all your site needs.
Site Audit: Siteimprove vs Sitechecker
A website audit is the core function of both platforms. It's a vital feature that determines an SEO tool's effectiveness. With the help of an audit, you can analyze your website's technical performance, including its sitemaps, server errors, and metadata.
Sitechecker Site Audit Main Features
Sitechecker's site audit uses a cloud-based real-time website crawler that detects and prioritizes your page's technical issues. Here are the key features it involves:
Full-fledged audit in 2 minutes
Customizable crawling settings
Website score
Report notifications via email
Excluding non-critical issues
How-to-fix video guides
Access to the code lines and HTTP headers
Audit of internal and external links
Quick on-page audits
Sharing projects with teammates or contractors
Branded PDF reports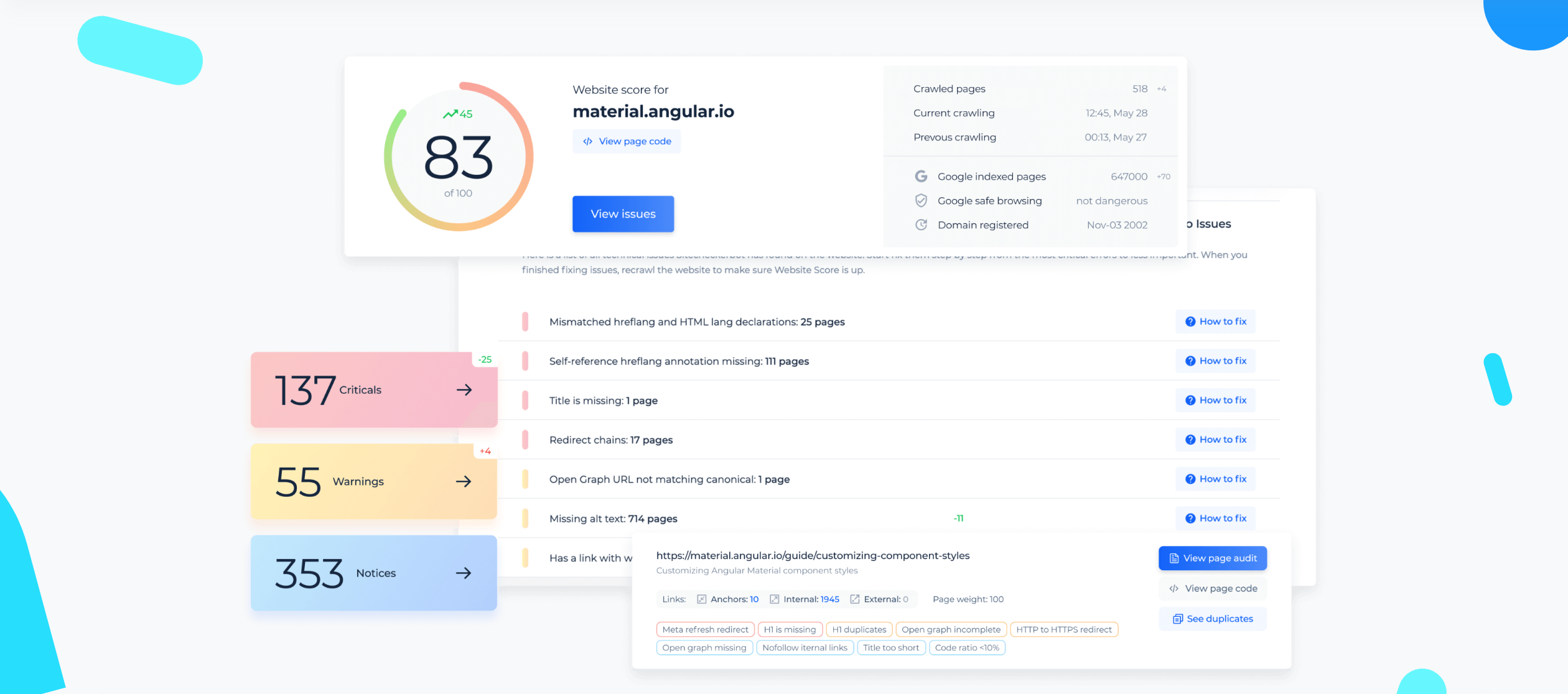 Siteimprove Site Audit Main Features
Siteimprove offers the following website audit features:
Multilevel audit of ten different website aspects
Reports structured by seven categories
Website score
Email notifications
Project sharing via email
Text explanations of website errors

Site Monitoring: Siteimprove vs Sitechecker
Constant website monitoring is an important SEO aspect helping track web pages' performance and avoid losing Google traffic. The tools like Sitechecker and Siteimprove should provide at-a-glance access to all changes. Thus, you can measure their impact on website ranking.
Sitechecker Site Monitoring Main Features
Sitechecker offers multiple features allowing you to see what's happening to your website and detect errors on time. Here are the most significant ones:
A single-glance overview of the latest website changes
Timely email alerts about indexability issues
Reports about code changes caused by external impacts
Rank Tracker monitoring the page's current position in SERP
Filters to analyze the pages and events' history
Competitor analysis regarding the competitors' SEO strategies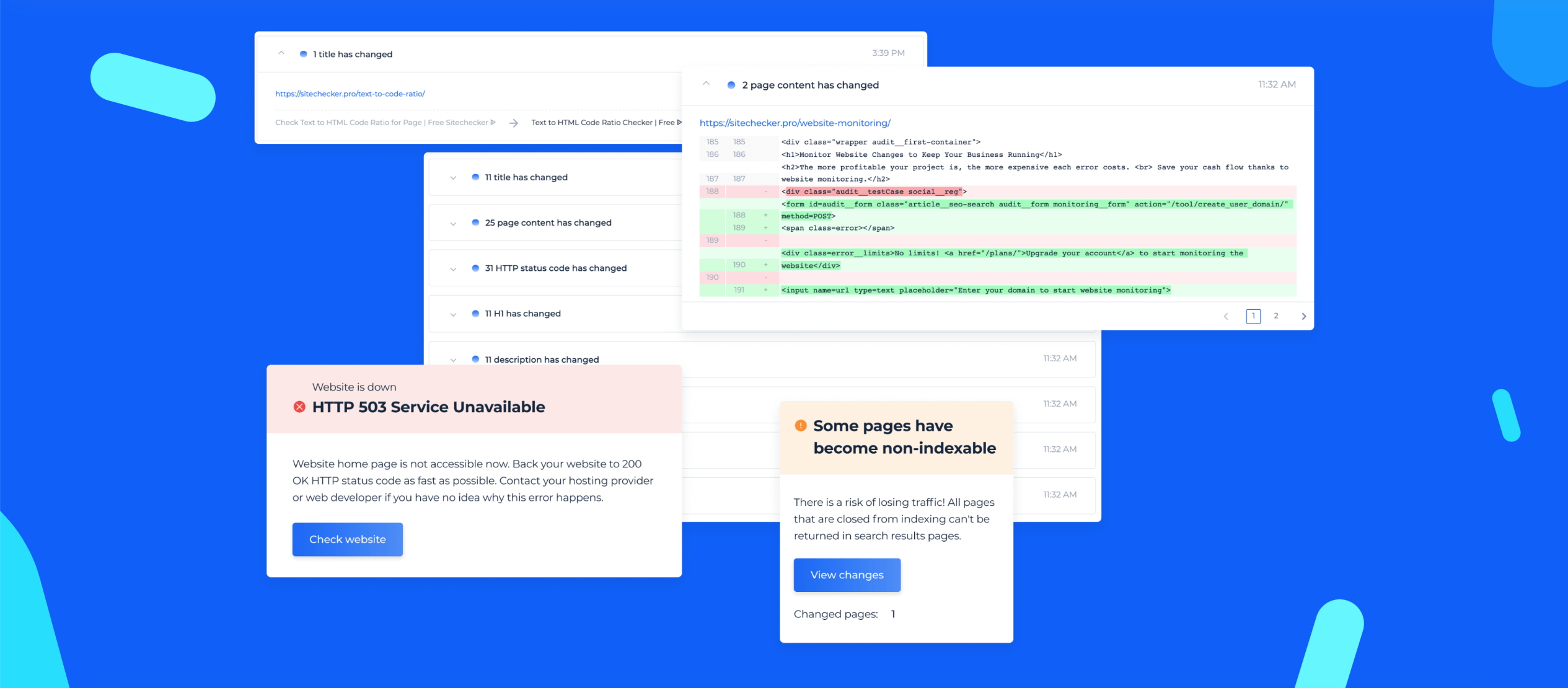 Siteimprove Site Monitoring Main Features
Siteimprove involves the most common features helping to monitor the website's performance:
Dashboard showing the website's SEO, accessibility, QA, and digital certainty index score.
Response alerts about issues via email.
SEO score checker assessing website ranking.
Competitor analysis available for the advanced pricing plan.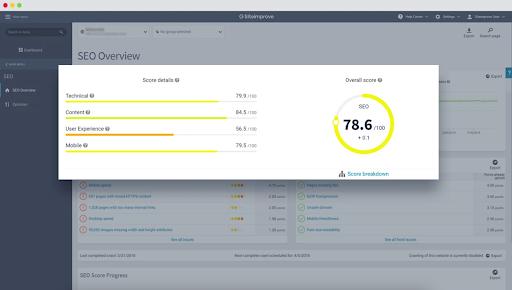 Rank Tracking: Siteimprove vs Sitechecker
Another essential feature of an effective SEO tool is rank tracking. It allows businesses to monitor and control their website performance in search engine results. Also, you can see how the site's visibility rate and indexation progress change.
Sitechecker Rank Tracking Main Features
Sitechecker offers a rank tracking tool that involves many helpful features:
Rank tracker suitable for any location, search engine, and device
Email reports with top keywords
Filters for keywords by search volume, position, pages, groups, text, etc.
Customizable table settings
Notifications about unwanted changes in ranked URLs
A calendar for comparing ranking positions on different dates
SERP analysis with top competitors' keywords
Adding notes to indicate events
Full-screen mode covering more keywords
Bulk keyword manipulations
Branded PDF reports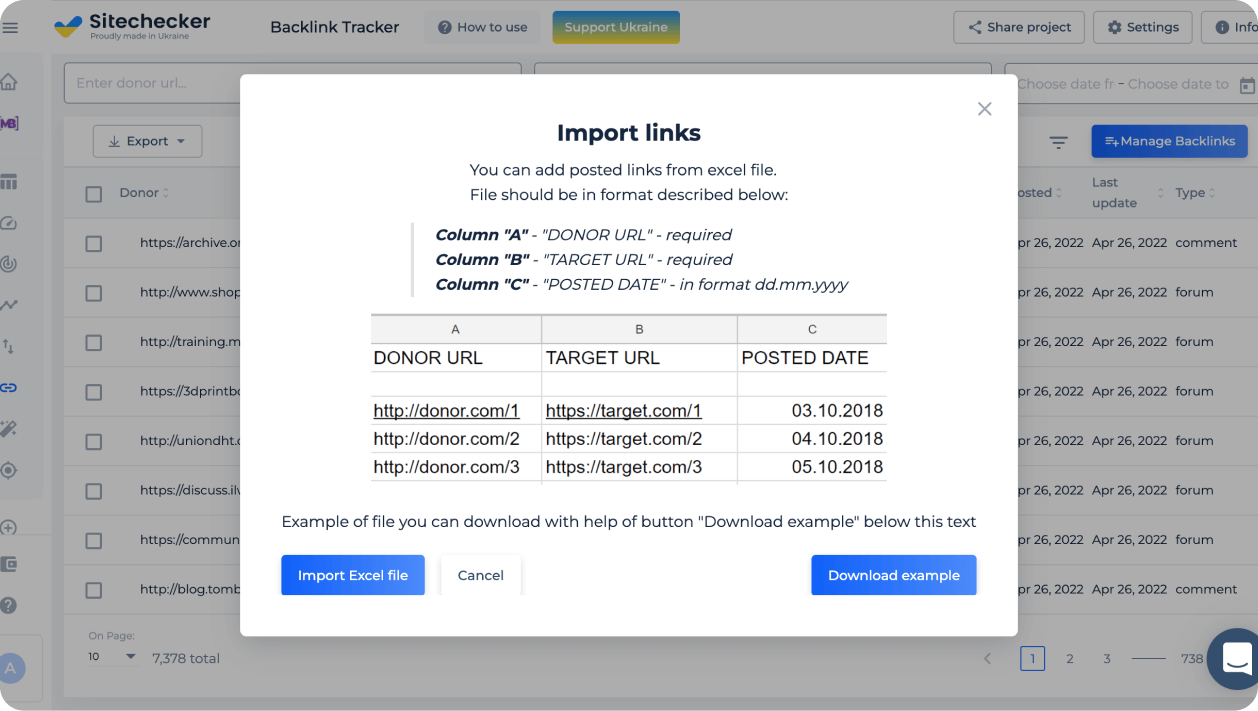 Siteimprove Rank Tracking Main Features
Siteimprove's analog to the Sitechecker's Rank Tracker is SEO Keyword Discovery. However, it's available only for the advanced subscription plan. Here are its core features:
Multiple filtering options dividing keywords into five different categories
Keyword performance tracking, enabling you to view search volume, estimated traffic, keyword potential, and the ranking page of a given keyword

Backlink Tracking: Siteimprove vs Sitechecker
Backlinks are links leading from one website to another. Collecting and tracking backlinks is crucial for your website SEO strategy as they directly affect ranking efficiency. Thus, a well-functioning SEO optimization platform should involve corresponding features.
Sitechecker Backlink Tracking Main Features
Backlink tracking is one of Sitechecker's free tools available for all subscribers. Here are the tool's key specifics:
Importing the most valuable links to collect them in one place
Checking and tracking statuses of indexed backlinks
Notifying about links becoming non-indexable
Detecting the most common backlink anchors
Checking which pages have the most efficient backlinks
Evaluating and reporting link-building dynamics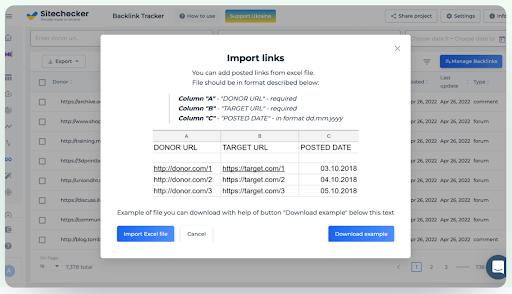 Siteimprove Backlink Tracking Main Features
Unlike Sitechecker, where all backlink features are available for all users, Siteimprove offers them for advanced pricing plan only. Here are its main functions:
Providing Link Profile with information about your backlinks and anchor texts
Detecting and investigating low-value backlinks
Reporting about high-value backlinks
Optimizing the existing backlinks with Link Reclamation

Extra Tools: Siteimprove vs Sitechecker
In addition to the most critical tools and features, Siteimprove and Sitechecker offer some extra capabilities. Let's look at what precisely each platform provides.
Sitechecker Extra Tools Main Features
The following additional tools are available for the Sitechecker users:
SEO Chrome extension evaluates the page's performance in the browser
Speed checker enables testing of how fast your website is and provides improvement suggestions
Traffic checker provides comprehensive website traffic statistics
Safety checker verifies if the website is secure and legit
Hosting checker provides web host and server details
Down checker assesses website downtime causes and details
Broken link checker detects broken (404) or dead links on your website
Siteimprove Extra Tools Main Features
Now, let's look at additional free tools offered by Siteimprove. Most of them focus on website accessibility.
Accessibility checker provides a quick overview of the website's current accessibility level
Accessibility browser extension allows checking accessibility status in the browser
Accessibility statement generator demonstrates your website follows inclusiveness standards
Color contrast checker shows whether the website has accessible color combinations
Siteimprove vs Sitechecker: Pricing Plan Comparison
Services' cost is one of the critical factors when choosing an SEO service for your business.
Siteimprove doesn't provide any information about their pricing plans. A free trial is not available as well. However, you can request a demo or a quote on the Siteimprove website. Thus, let's look at Sitechecker pricing plans to determine if this Siteimprove alternative fits your budget.
| Pricing Plan | Sitechecker |
| --- | --- |
| Basic | $490/year |
| Startup | $990/year |
| Growing | $1990/year |
| Enterprise | $499/month (billed annually) |
Main Advantages of Sitechecker
Sitechecker is an excellent alternative to the competitors like Siteimprove. It can be a perfect choice for business owners, digital agencies, and in-house marketing teams. The tool enables fast and detailed SEO audits and provides personalized reports to improve website performance. With Sitechecker, getting your web page to the top of Google search is much easier.
Let's take a closer look at the most significant advantages of the Sitechecker SEO platform.
Boost Your On-page and Technical SEO
Sitechecker allows you to run a real-time website crawler and conduct instant technical SEO audits. With this tool, you can detect any technical issues on your page and receive a detailed report therein. Such a list of guidelines will help you address those issues in the future.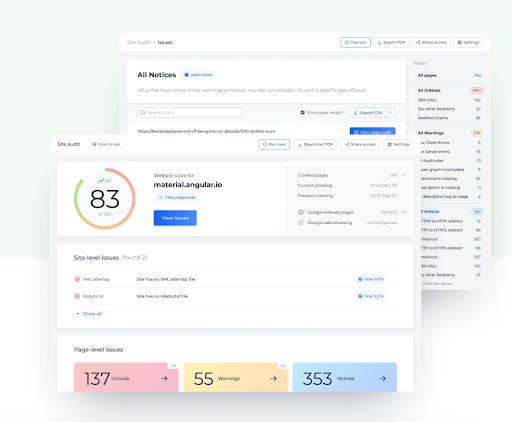 Take Advantage of Google Search Console and Google Analytics Integrations
Google Search Console and Google Analytics can provide valuable insights crucial for business intelligence. However, without a result-driven SEO tool, you won't know how to use that data. Sitechecker offers multiple ways to benefit from the information gathered by Google tools and reports.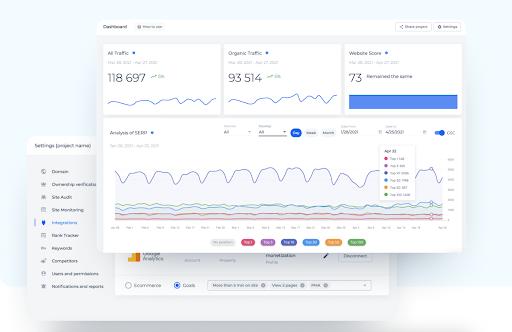 Get Custom and Comprehensive SEO Instructions
The Sitechecker platform provides daily reports regarding your site's performance, including website content, ranking, and backlinks. Based on these analyses, the tool automatically generates updated to-do lists helping you fix any challenges before they become critical.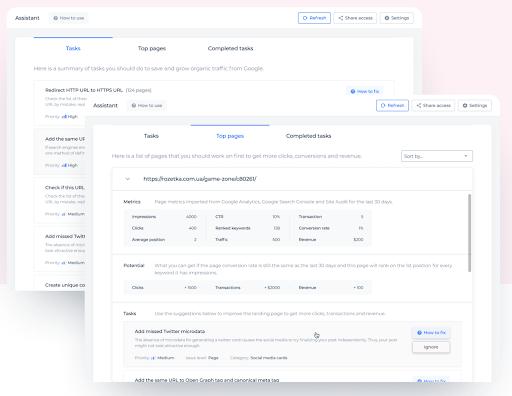 Constantly Track Your Website's Changes
Low Google traffic and poor ranking may be critical for your website performance and, thus, cause severe damage to your business. Therefore, real-time website monitoring is crucial. With Sitechecker, you can track your SEO efficiency and respond in time if something goes wrong.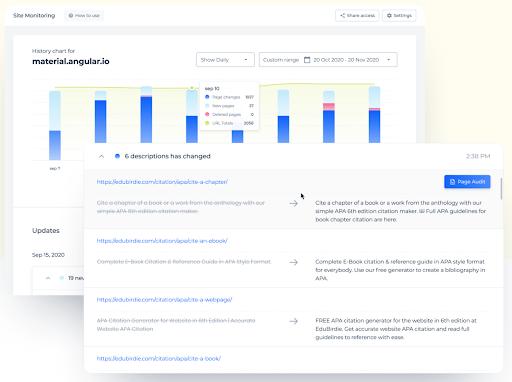 Use Rank Tracker to Get Detailed Keywords Reports
Sitechecker enables regular monitoring of your website ranking, visibility rate, and indexation change. This information will allow you to be constantly aware of your site's successes and failures. Also, the platform enables you to analyze keywords and see which actions lead to growth.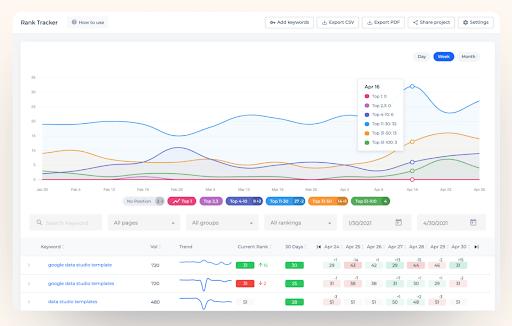 Manage and Analyze Your Backlinks
Backlinks performance is another factor that can make or break your SEO and content strategy. With Sitechecker, you can track how your backlinks change over time and immediately get notified when losing some of them.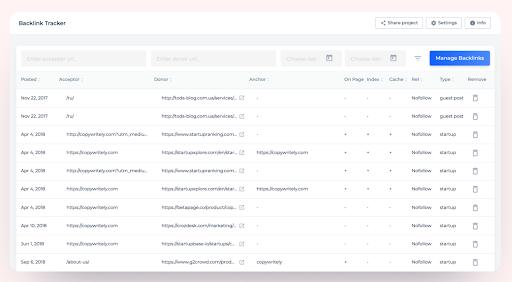 Quickly Assess Your On-page SEO with Chrome Extension
Adding the Sitechecker Chrome extension to your browser is the fastest way to check and improve your page's SEO. This feature will allow you to assess meta tags, keywords, images, links, tags, page speed, and more.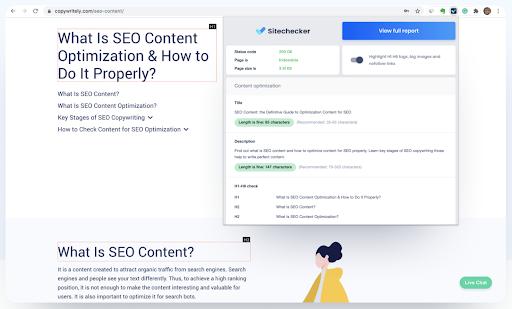 Try Sitechecker SEO Audit right now
Sitechecker is the perfect solution for all your site needs.
How to Switch from Siteimprove to Sitechecker
If you've decided that Sitechecker is a preferable option for your business needs, switching to the platform won't take much time and effort. The service offers a 7-day free trial version that allows you to check how all the essential features work and adapt to the interface.
The Sitechecker tool provides a good user experience, a comprehensive dashboard, and responsive 24/7 support via live chat, video guides, demo calls, and FAQs. Therefore, your onboarding experience will be fast and frictionless.
Additionally, you can watch a video guide explaining how to use the Sitechecker tool for beginners:

FAQ
How Often Is My Data Updated with Sitechecker? Is It Every Day?
Sitechecker provides customers with automatic website rescanning, which detects any changes, issues, and fixes on your website every 12 hours. Moreover, the updates frequency does not depend on the subscription plan you opt for.
Can I Use All Features in the Trial or Smallest Accounts?
The trial Sitechecker version and the basic pricing plan provide access to all basic features. These are branded PDF reports, Google Analytics and Google Search Console integrations, Google Chrome extension, etc. In contrast, you can audit more websites, pages, keywords, and backlinks with a Startup, Growing, or Enterprise plan.
What to Focus on When Choosing SEO Tool?
When deciding which SEO tool to choose, stick to your business objectives, and evaluate whether the tool effectiveness, data accuracy, and functionality meet your individual needs. In particular, you should pay attention to the following factors: Cost, Features, Data accuracy, Audits and reports frequency, Keyword research effectiveness.