If you are looking for a professional SEO platform or an alternative to AccuRanker, we suggest you pay attention to Sitechecker. This powerful tool will help you audit your site and offer step-by-step instructions on improving your ranking. And we offer you a detailed comparison of these popular SEO analysis tools to help you choose the best one.
Our review will help you understand how the two platforms differ. We'll look at the following characteristics:
Site audit
Site monitoring
Ranking tracking
Backlink Tracking
Extra tools
Pricing and Subscription Plans.
After reviewing our comparison of AccuRanker and Sitechecker, you can choose one that best suits your business needs!
AccuRanker vs Sitechecker: Comparison of Features
Before diving into the detailed comparison between AccuRanker and Sitechecker, let's overview. The table below shows the main features of each platform, its strengths, and its weaknesses.
Sitechecker
AccuRanker
GENERAL
Trial period
7 Days
14 Days
No credit card required
✓
✓
Monthly pricing
from $29
from $129
SEO PRODUCTS
Site audit
✓
✓
One-time site audit
✓
☓
Site monitoring
✓
☓
Rank tracker
✓
✓
Backlink tracker
✓
☓
SEO Chrome Extension
✓
☓
SEO Software
✓
☓
SEO Dashboard
✓
☓
FREE SEO TOOLS
On-page SEO Checker
✓
☓
Website Traffic Checker
✓
☓
Website Safety Checker
✓
☓
Website Down Checker
✓
☓
Website Rank Checker
✓
☓
Website Hosting Checker
✓
☓
Website Speed Checker
✓
☓
Website Backlink Analysis
✓
☓
Website Broken Link Checker
✓
☓
COMPETITOR RESEARCH
Link strategy
✓
☓
SPECIAL FEATURES FOR DIGITAL AGENCIES
White Label
✓
☓
SEO Reporting
✓
✓
Project Sharing
✓
✓
Number of Projects
3 to unlimited
no available information
COMMUNICATION & SUPPORT
Demo
✓
✓
Support
Live chat, email, demo calls, FAQs, video guides
Live chat, email, demo calls, FAQs, instructions
Affiliate Program
✓
☓
RATING
Crozdesk
4,4 of 5 (15 reviews)
4,7 of 5 (14 reviews)
G2
4,5 of 5 (19 reviews)
4,9 of 5 (50 reviews)
Capterra
4,5 of 5 (201 reviews)
4,8 of 5 (196 reviews)
Don't you find it exhausting to work on SEO all day long?
Sitechecker is the perfect solution for all your site needs.
Site Audit: AccuRanker vs Sitechecker
Website auditing is a core feature that determines the overall quality and effectiveness of the SEO platform. The audit allows you to analyze the technical performance of your website, including content, metadata, links, and possible server errors.
Sitechecker site audit main features
Sitechecker uses a cloud-based web scanner to audit your website. This allows you to conduct it in real time and identify and prioritize possible technical problems. Site audit includes next features:
Full audit in under 2 minutes
Flexible scanning options
Website score
Email notification
Exclusion from the report of non-critical issues
Video instructions
Editing code and HTTP headers
Link audit
Fast on-page audit
Exchange of projects
Detailed PDF reports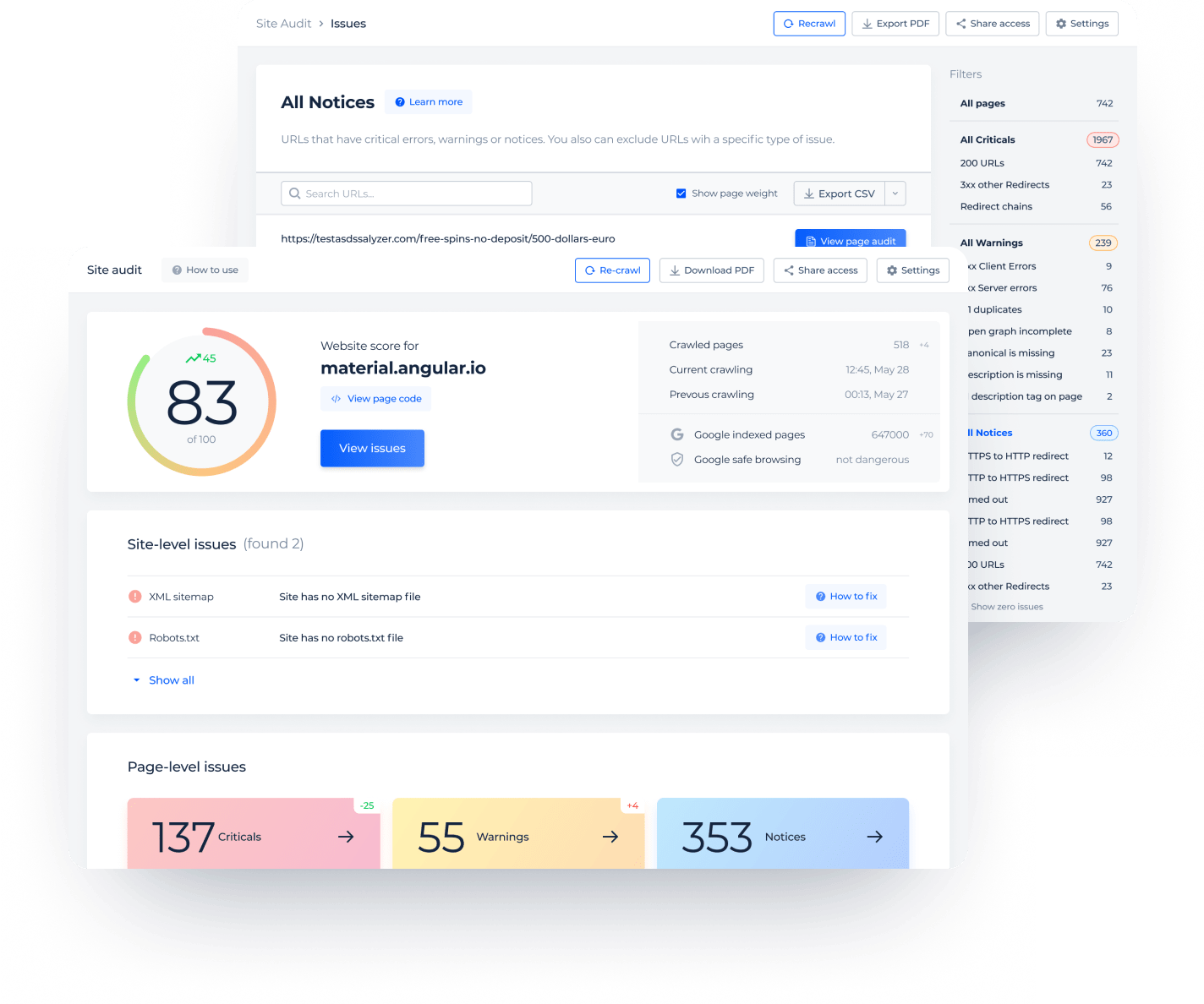 AccuRanker site audit main features
AccuRanker, in turn, doesn't have a tool for conducting a full technical audit of a website and focusing only on keywords. The platform offers a relatively limited number of SEO tools:
Competitor analysis
Keyword research
Daily and on-demand keyword updates
Historically progress for specific elements
Multiple filtering options and data segmentation
Exchange of projects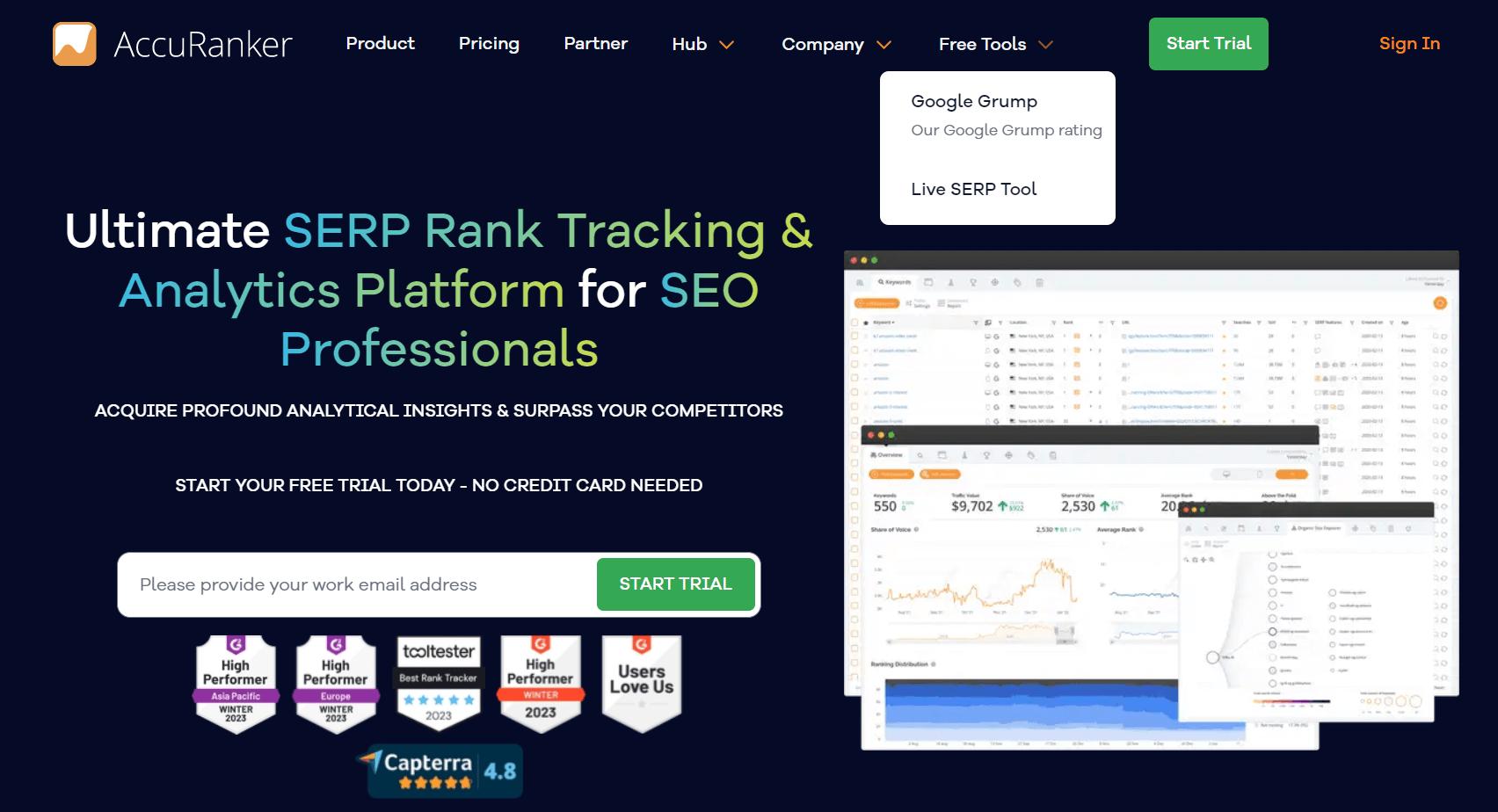 Site Monitoring: AccuRanker vs Sitechecker
Constant SEO monitoring of your website helps to monitor the effectiveness of content, links, and metadata and avoid a slump in Google traffic. Effective SEO platforms usually provide instant access to information about site status and changes. It allows you to track the effectiveness of your actions.
Sitechecker site monitoring main features
Sitechecker, in particular, provides access to a whole set of functions that allow you to capture changes and detect issues in time. Here are some of them:
A brief overview of recent changes
Email notification about indexing problems
Reports on code changes due to external factors
Rank Tracker to track position in SERPs
Detailed filters for event history analysis
Monitoring competitors regarding their SEO strategies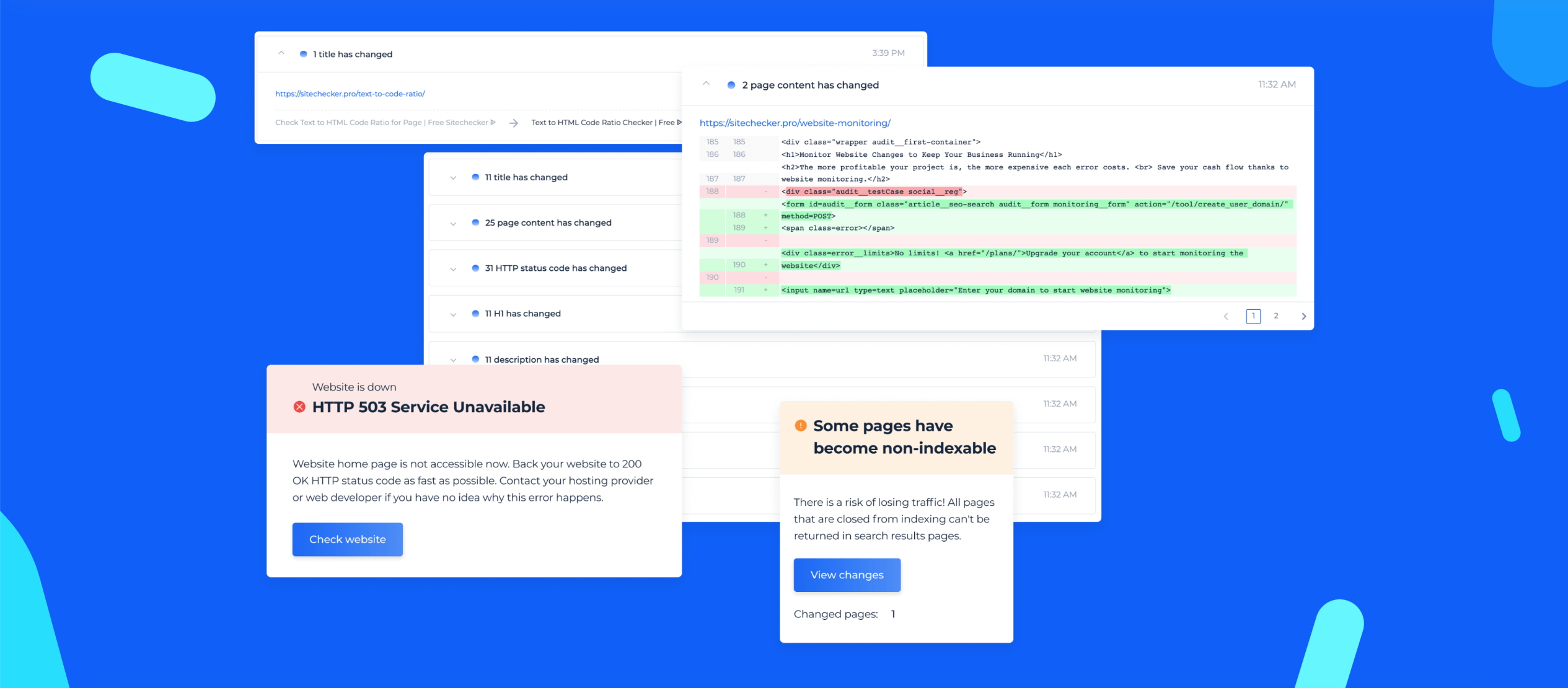 AccuRanker site monitoring main features
As we've already mentioned, AccuRanker has a much smaller number of features and focuses on keyword audits rather than complex technical audits. Monitoring functions available to you:
Tracking landing pages for indexing in search engines
Share of Voice function for monitoring competitors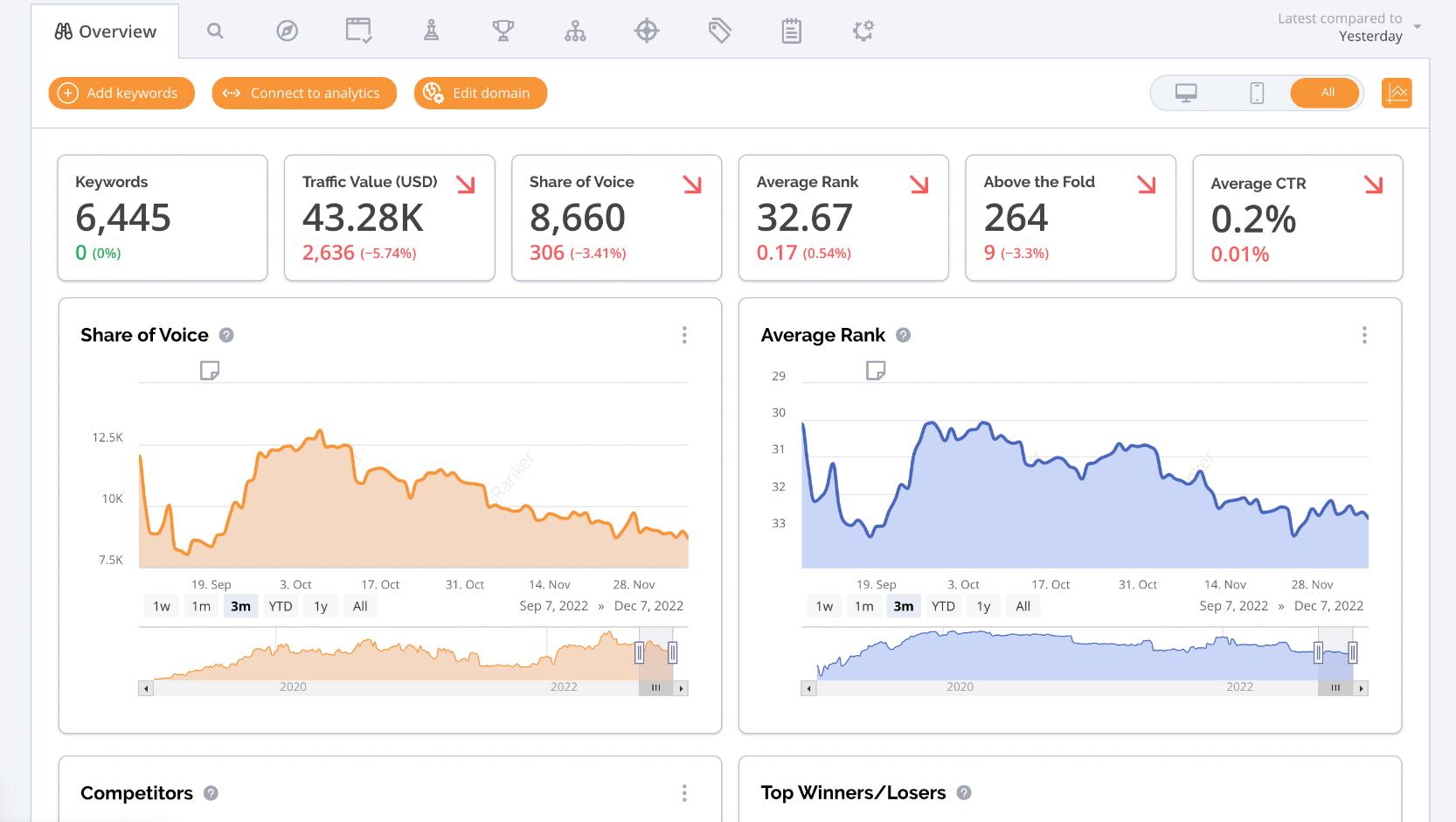 Rank Tracking: Sitechecker vs AccuRanker
Another notable characteristic of the SEO platform's effectiveness is rank tracking. This allows businesses to understand and monitor website performance. It also allows you to monitor the dynamics of site visibility and indexing.
Sitechecker rank tracking main features
Sitechecker offers a multi-functional rank tracking tool:
Detailed keyword filtering
Notification of negative changes in ranked URLs
Calendar for comparing the rating in different periods
SERP analysis with competitor keywords
Adding notes to mark events
Full-screen mode
Mass manipulation of keywords
Email reports
Detailed PDF reports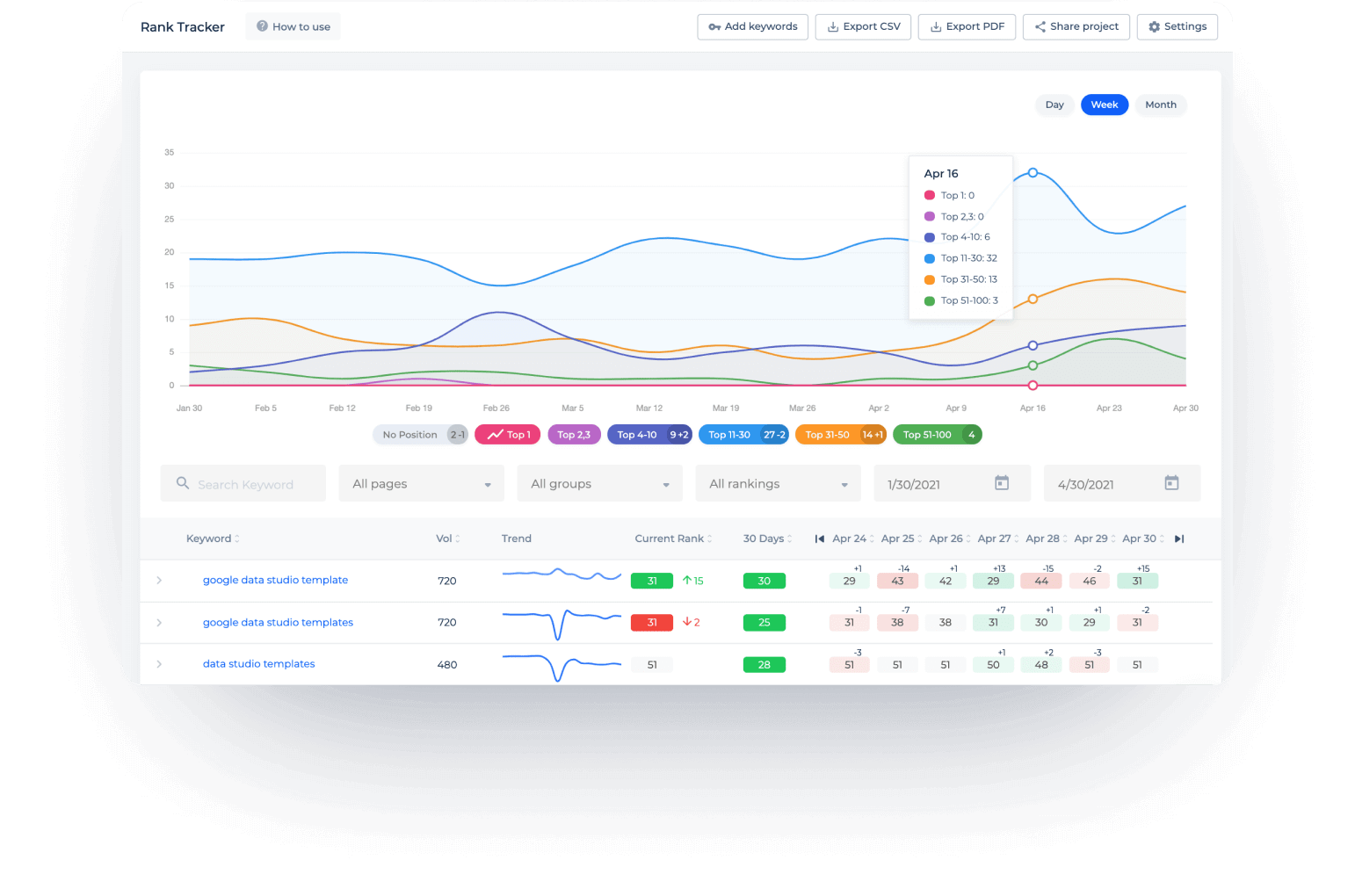 AccuRanker rank tracking main features
Since AccuRanker is a specialized keyword rank tracker, its functionality is not that extensive:
Filter data in hundreds of ways
A wide range of indicators is available
Instant updates on demand
SERP history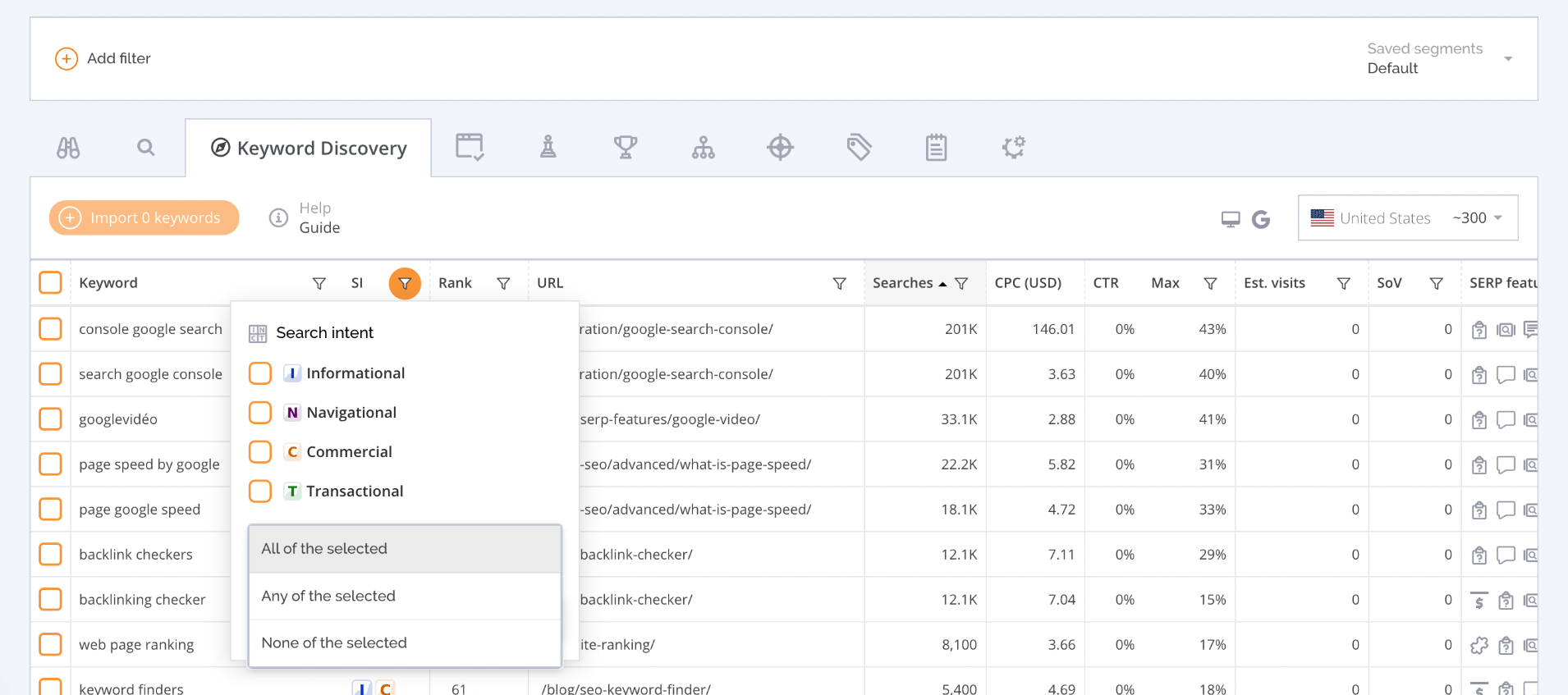 Backlink Tracking: AccuRanker vs Sitechecker
Backlinks lead from one website to another using anchor text. Building and tracking backlinks are vital to your SEO strategy, as they directly affect traffic and rankings. Therefore, an effective platform for SEO optimization must have such functions.
Sitechecker backlink tracking main features
The backlink tracker is basic and available to Sitechecker subscribers of all levels. Key features of this tool are as follows:
Keeping your most valuable links in one place
Tracking the statuses of indexed backlinks
Notification of changes in link indexing status
Identifying the most common backlink anchors
Identifying the pages with the most effective backlinks
Reports on link-building dynamics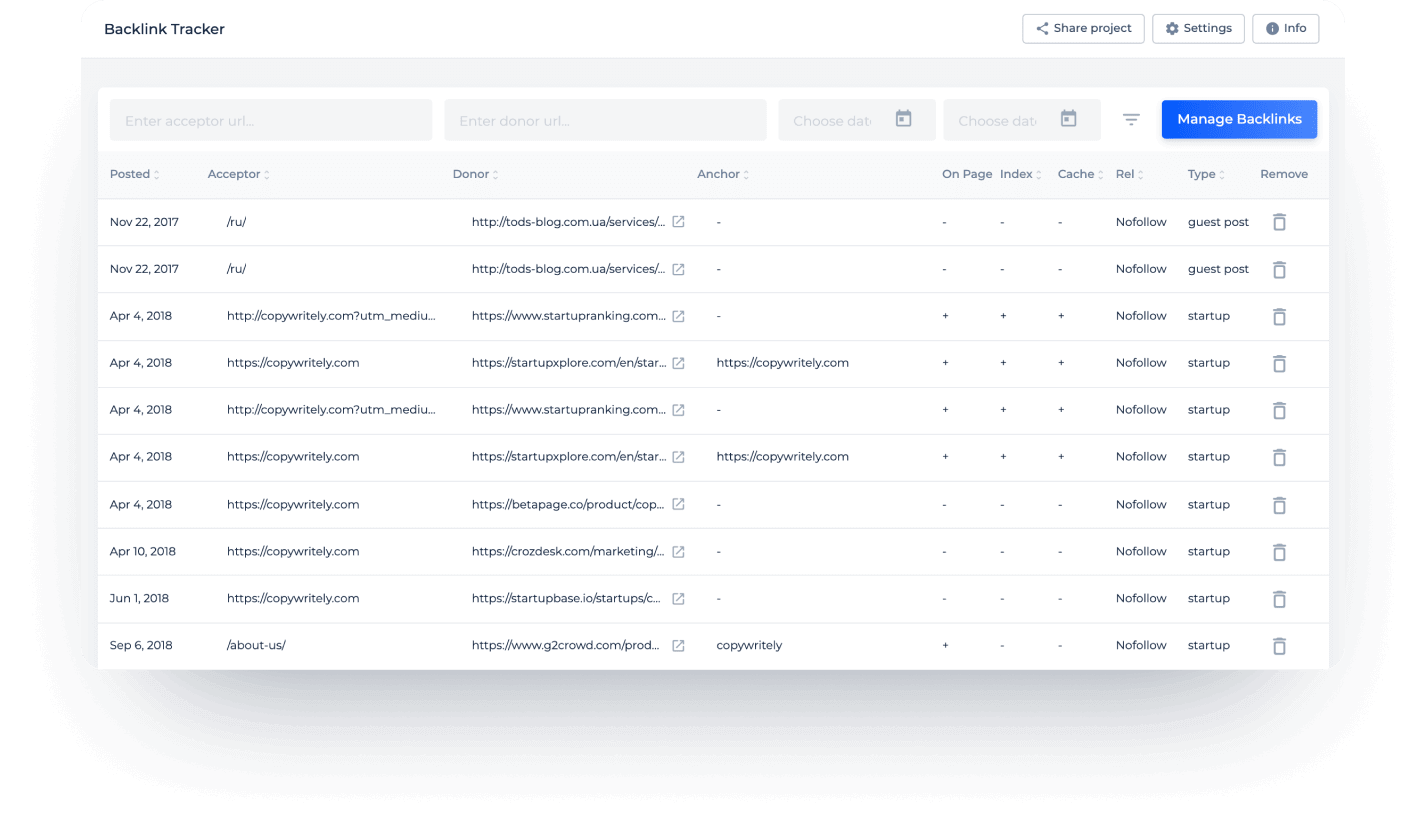 AccuRanker backlink tracking main features
Even though the backlink checker is a handy tool, the AccuRanker platform does not have a separate backlink tracking function.
Extra Tools: AccuRanker vs Sitechecker
In addition to a set of primary and guaranteed tools and functions for all subscribers, AccuRanker and Sitechecker also offer extra features to everyone. Next, we'll look at exactly what each platform offers.
Sitechecker extra tools main features
Sitechecker offers the following extra features:
SEO browser extension helps to evaluate website performance in Chrome
Speed checker evaluates the speed of your website and suggests what can be improved
Traffic checker provides detailed statistics about your website traffic
Safety checker checks the website for legality and safety for users
Hosting checker provides server and web hosting details
Down checker informs you about the reasons why your website is down
Broken link checker detects broken links on your website
AccuRanker extra tools main features
AccuRanker, in turn, offers only two additional tools:
Google Grump highlights fluctuations in Google's algorithm based on thousands of random keywords
SERP checker allows you to monitor the performance of various locations and keywords quickly
AccuRanker vs Sitechecker: Pricing Plan Comparison
When choosing a SEO platform for your business, the available functionality and its relationship with the cost of services are essential.
AccuRanker has a unique rate grid where you pay not for a specific set of features but for the number of keywords you plan to target. The price starts from €129/month for a thousand keywords.
At the same time, the annual subscription provides a 10% discount, and a 14-day free trial is also available. Below we look at some prices from the wide range available.
| Pricing Plan | AccuRanker |
| --- | --- |
| 1 000 keywords | €129/month |
| 2 000 keywords | €249/month |
| 5 000 keywords | €609/month |
| 10 000 keywords | €849/month |
| 50 000 keywords | €2769/month |
The tariff plans of Sitechecker are classic and quite transparent. Let's review them.
| Pricing Plan | Sitechecker |
| --- | --- |
| Basic | $29/month |
| Startup | $49/month |
| Growing | $99/month |
| Enterprise | $399/month |
Main Advantages of Sitechecker
Sitechecker is an excellent alternative to many competitors, including AccuRanker. This platform can be an ideal choice for different groups of users: corporate marketing teams, marketing agencies, and business owners. The tool allows for quick SEO audits and provides detailed reports with tips to improve website performance.
Therefore, let's move from an overview of the functionality to a detailed consideration of the advantages of the Sitechecker SEO platform.
Your website's on-page and technical SEO improvement
The Sitechecker web scanner works in real-time thanks to cloud technologies. Hence, it performs quick technical audits, providing the most up-to-date SEO data. In addition, this tool detects any technical issues on your website and provides detailed reports with suggestions for improvements. These instructions will help you solve these problems in the future.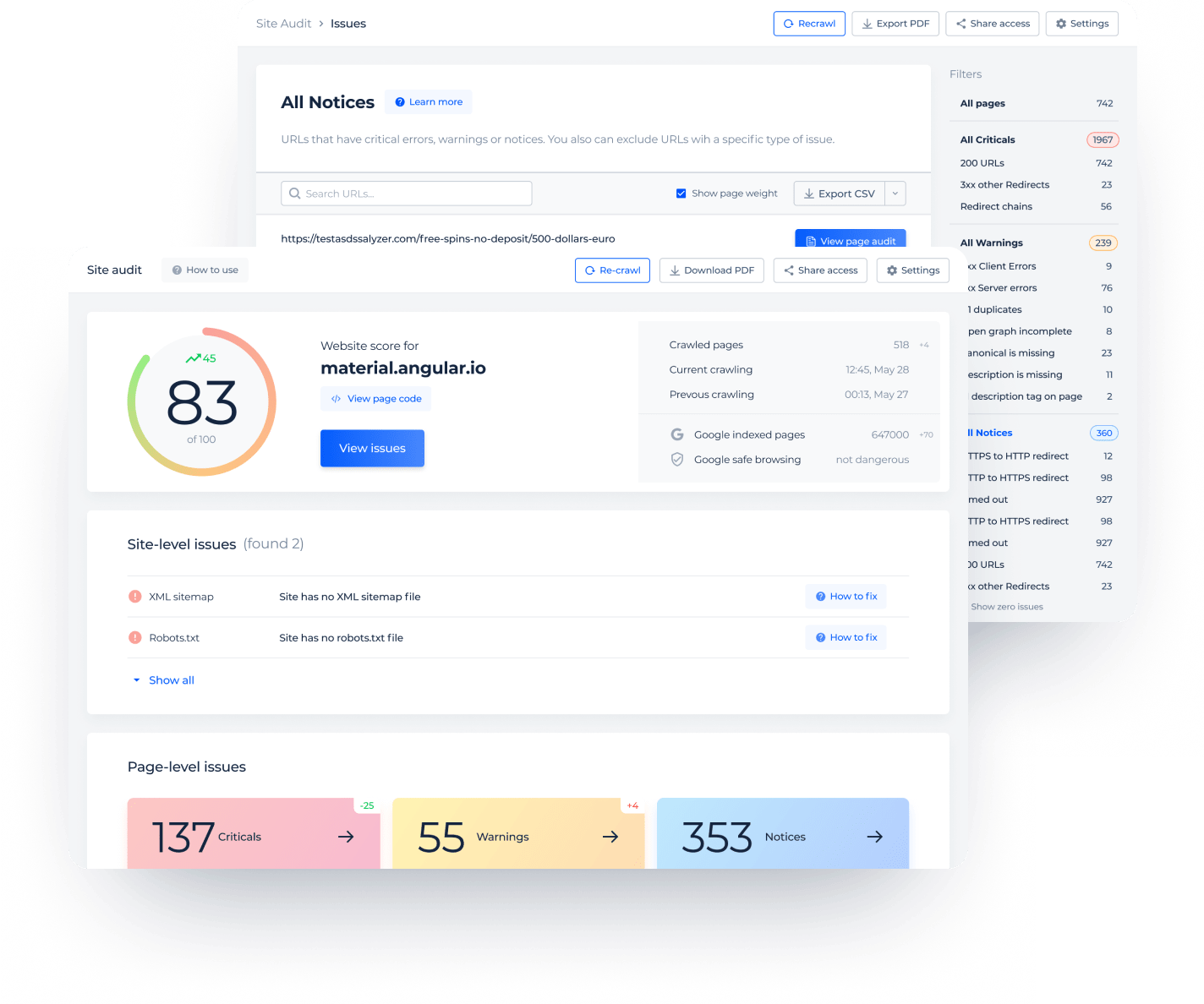 Google Search Console and Google Analytics integrations
Google Search Console and Google Analytics remain constant sources of valuable statistics for businesses about the effectiveness of marketing and SEO efforts. But without a professional SEO tool, using this data correctly will be much more difficult. Sitechecker offers enough integration with Google tools to benefit from the information in several ways.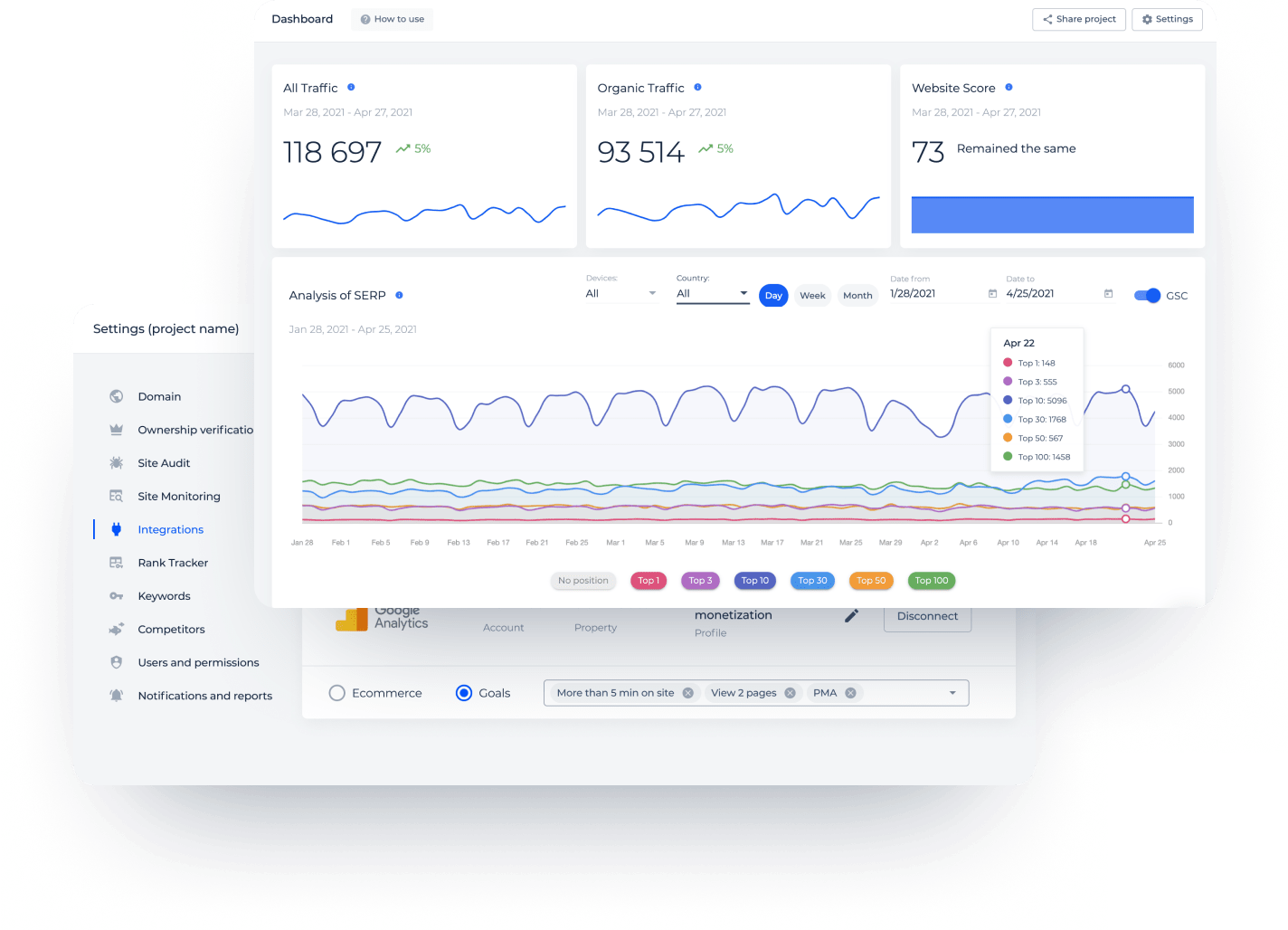 Personalized step-by-step SEO instructions
Sitechecker provides detailed and personalized daily reports with up-to-date SEO performance of your site. In particular, about the effectiveness of content, backlinks, and current rank. Then, based on all the data available to the platform, it automatically forms advice and instructions for solving existing problems for you.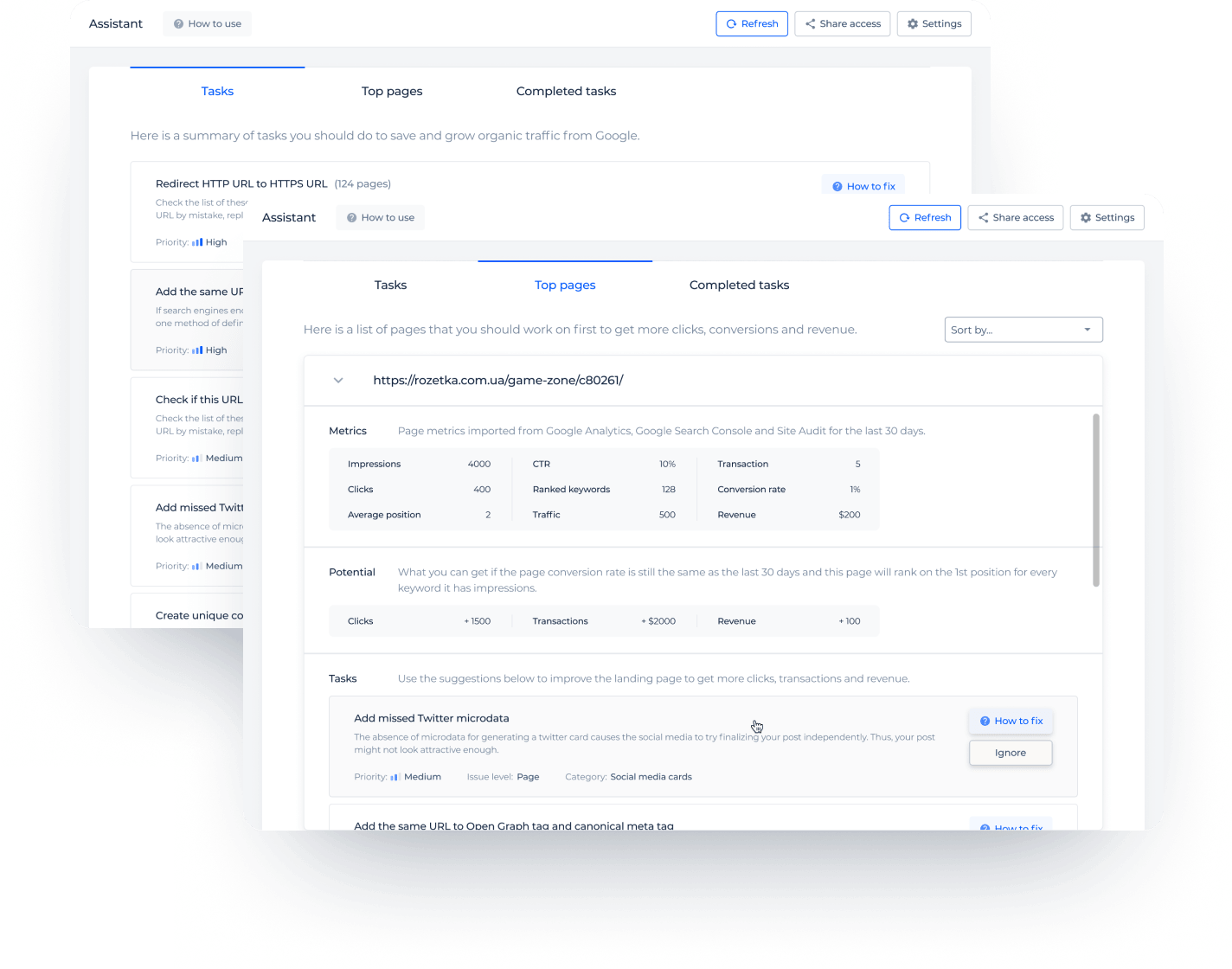 All your website's changes 24/7 monitor
A low ranking and horrible traffic from Google is a nightmare for any online business because they can cause severe damage and mean a loss of investment. That is why monitoring SEO indicators in real-time is so important. Sitechecker provides tools to monitor the performance of your website and allows you to react in time if there are problems.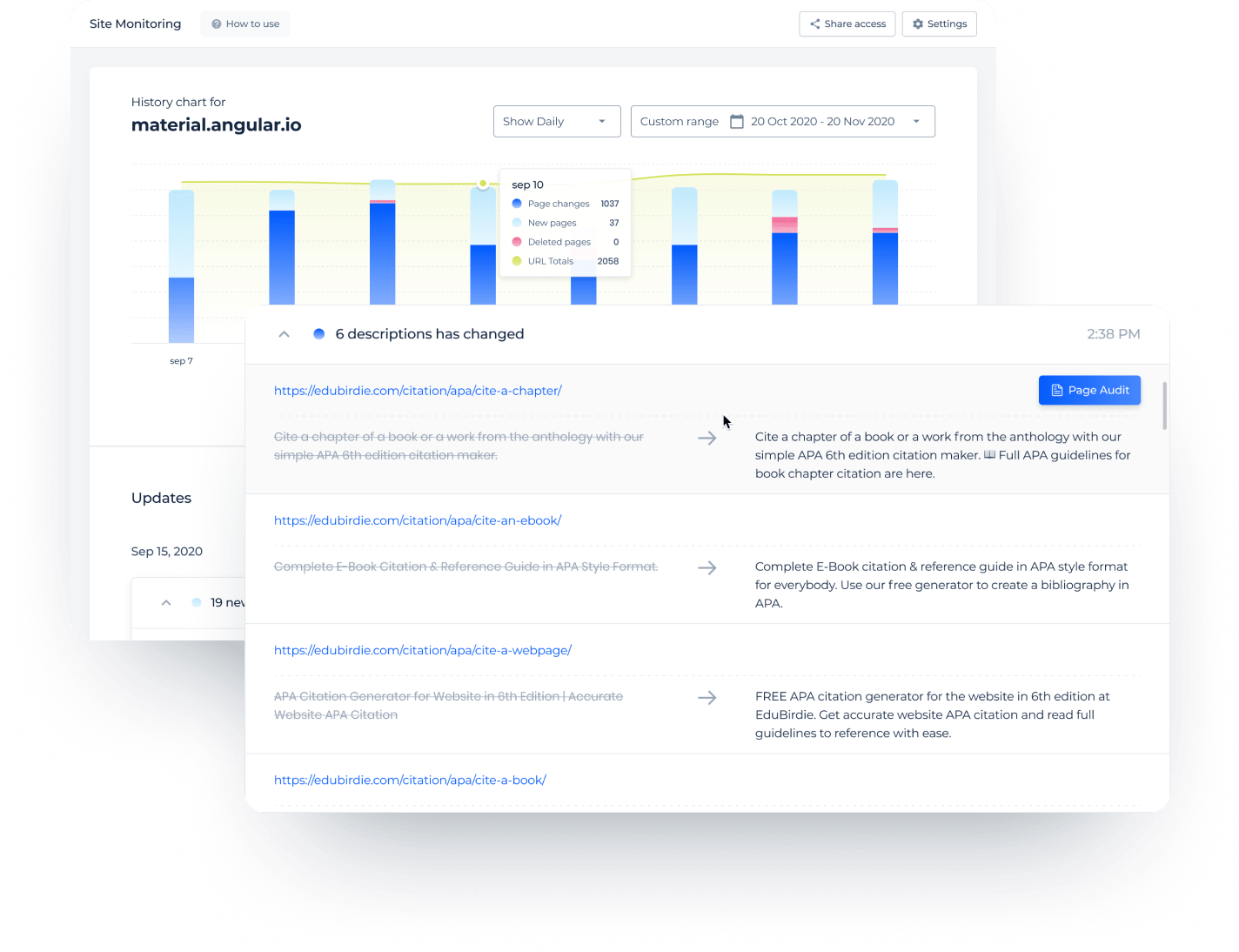 Clear keywords report with an accurate rank tracker
The Sitechecker platform has several tools for regularly tracking SEO metrics, including ranking, indexing changes, keyword quality, and performance. A keyword analysis is convenient because it lets you quickly make the necessary changes. With all this information, the platform will constantly inform you about the state of affairs on your site.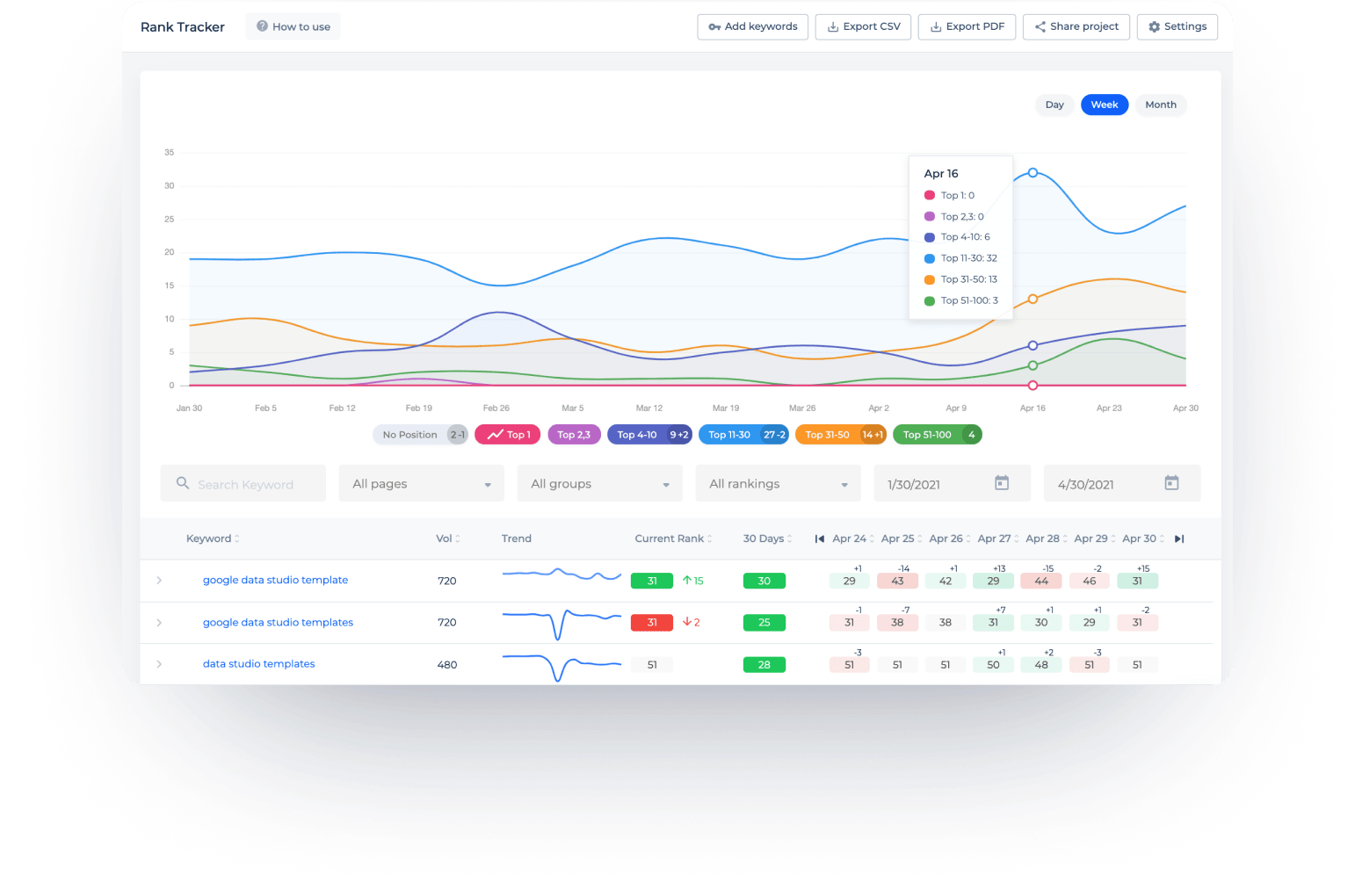 Control of all the backlinks you've built
The number and quality of backlinks is another important factor that can negatively or positively affect the effectiveness of SEO and content. Sitechecker helps conveniently monitor changes' dynamics over time and immediately receive notifications about the loss of backlinks.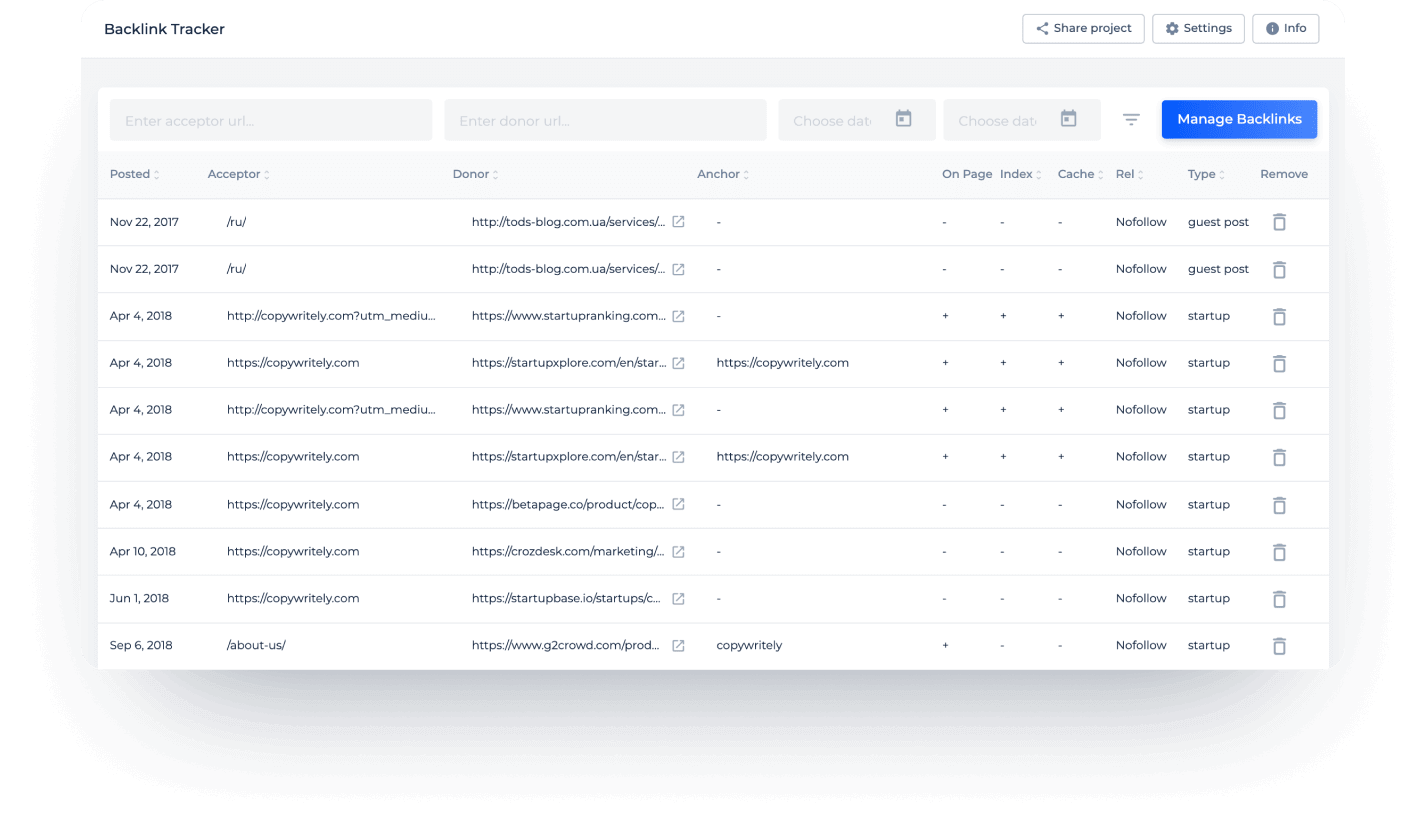 Saving time with Chrome Extension
The Sitechecker Chrome extension will help you quickly review your website's SEO status and improve it if needed. In particular, this tool will allow you to evaluate the following indicators: keywords, content, meta tags, images, page loading speed, links, and more.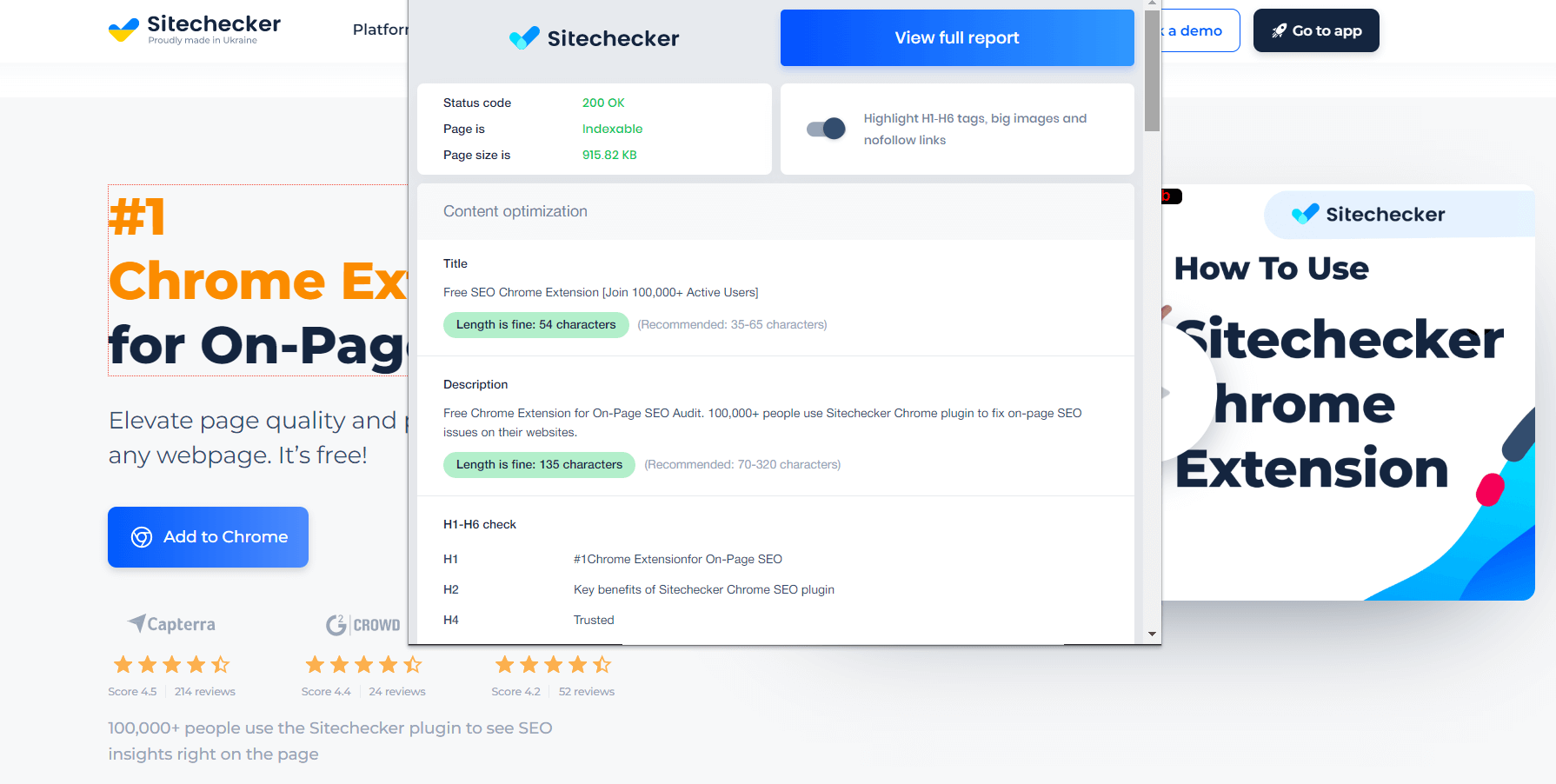 Don't you find it exhausting to work on SEO all day long?
Sitechecker is the perfect solution for all your site needs.
How to switch from AccuRanker to Sitechecker
If, after reading our comparison, you've decided that Sitechecker is the best fit for your business, consider making the switch. This process will not take much time and requires minimal effort. In particular, you can try the 7-day free version to get used to the interface and ensure that all the tools work well with your site.
The Sitechecker platform is a good alternative that effectively interacts with the user and has a convenient dashboard. In addition, subscribers can access 24/7 support and a set of helpful video guides.
To get started, we also suggest watching a video explanation about the Sitechecker platform for beginners:
FAQ
How often is my data updated with Sitechecker?
Sitechecker automatically scans your website every 12 hours and provides a detailed report of detected changes, issues, and fixes. It is important to note that the frequency of updates is independent of your subscription level.
Can I use all features in the trial or the smallest accounts?
The trial version and the basic subscription level provide access to all the core features of Sitechecker that a business needs. These include PDF reports, integration with Google tools, browser extensions, and more. In addition, a subscription is required to increase the number of websites, backlinks, and keywords that can be checked.
What to focus on when choosing an SEO tool?
When selecting an SEO tool for your business, focus primarily on your business goals and the functionality and accuracy of the tool. In particular, keep the following factors in mind:
Features
Data accuracy
Periodicity of scans and reports
Keyword research quality
Pricing