SEO activity is undoubtedly among the priorities in the promotion strategy of a website. A powerful and user-friendly SEO instrument is a must for achieving success. Mangools is a bright example of popular tools in the domain. However, we'd like to present an alternative program — Sitechecker.
We've conducted research that compared these two SEO platforms and prepared a detailed evaluation. Unlike many reviews of such kind, we built ours around the determined list of parameters. Let's cover the following:
Basic & unique features
Site audit
Integrations
Site monitoring
Rank tracking
Backlink tracking
Extra tools
Pricing & billing plans
Check our Mangools vs Sitechecker comparison to find the best suitable SEO instrument.
Mangools VS Sitechecker: Comparison of Features
Let's start comparing the basic features. The table below shows the main services and attributes of the two SEO tools.
Sitechecker
Mangools
GENERAL
Trial period
30 Days
10 Days
No credit card required
✓
✓
Monthly pricing
from $41
from $49
SEO PRODUCTS
Site audit
✓
✓
One-time site audit
✓
☓
Site monitoring
✓
✓
Rank tracker
✓
✓
Backlink tracker
✓
✓
SEO Chrome Extension
✓
✓
SEO Software
✓
✓
SEO Dashboard
✓
✓
FREE SEO TOOLS
On-page SEO Checker
✓
✓
Website Traffic Checker
✓
✓
Website Safety Checker
✓
☓
Website Down Checker
✓
☓
Website Rank Checker
✓
☓
Website Hosting Checker
✓
☓
Website Speed Checker
✓
☓
Website Backlink Analysis
✓
☓
Website Broken Link Checker
✓
☓
COMPETITOR RESEARCH
Link strategy
✓
☓
SPECIAL FEATURES FOR DIGITAL AGENCIES
White Label
✓
☓
SEO Reporting
✓
✓
Project Sharing
✓
✓
Number of Projects
3 to unlimited
no available information
COMMUNICATION & SUPPORT
Demo
✓
no available information
Support
Live chat, email, demo calls, FAQs, video guides
Live chat, email, demo calls, FAQs, guides
Affiliate Program
✓
✓
RATING
Crozdesk
4,4 of 5 (15 reviews)
4,5 of 5 (28 reviews)
G2
4,4 of 5 (15 reviews)
4,6 of 5 (40 reviews)
Capterra
4,5 of 5 (115 reviews)
4,7 of 5 (60 reviews)
Don't you find it exhausting to work on SEO all day long?
Sitechecker is the perfect solution for all your site needs.
Site Audit: Mangools VS Sitechecker
The website audit is among the most important services of both SEO tools. It allows users to analyze the performance of the web resource, identify strengths and weaknesses, find errors, and plan future promotion.
Sitechecker site audit main features
The quality of the Site Audit can depict the overall effectiveness of the tool. Sitechecker's real-time website crawler comes with the following features:
Customizable crawling settings
Comprehensive audit in 2 minutes
Quick on-page audits
Branded reports
Email report notifications
Audit of internal and external links
Redirects checking
Duplicate content detection
How-to-fix guides
Security vulnerabilities identification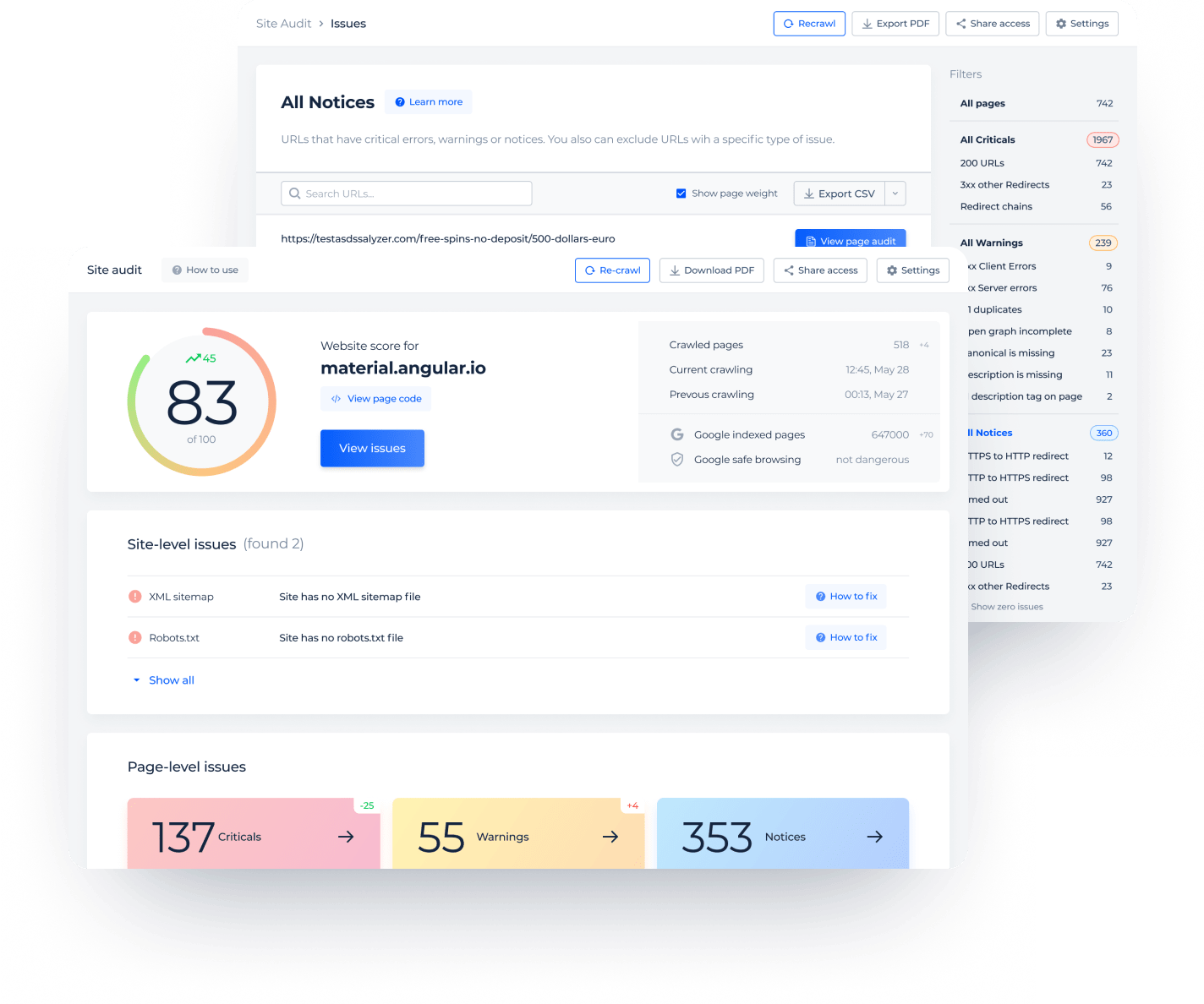 Mangools site audit main features
As for Mangools, it offers site audits with the following features:
Hidden text identification
On-page factors analysis
Speed test
Checking Google SERP
Detecting a possible penalty from Google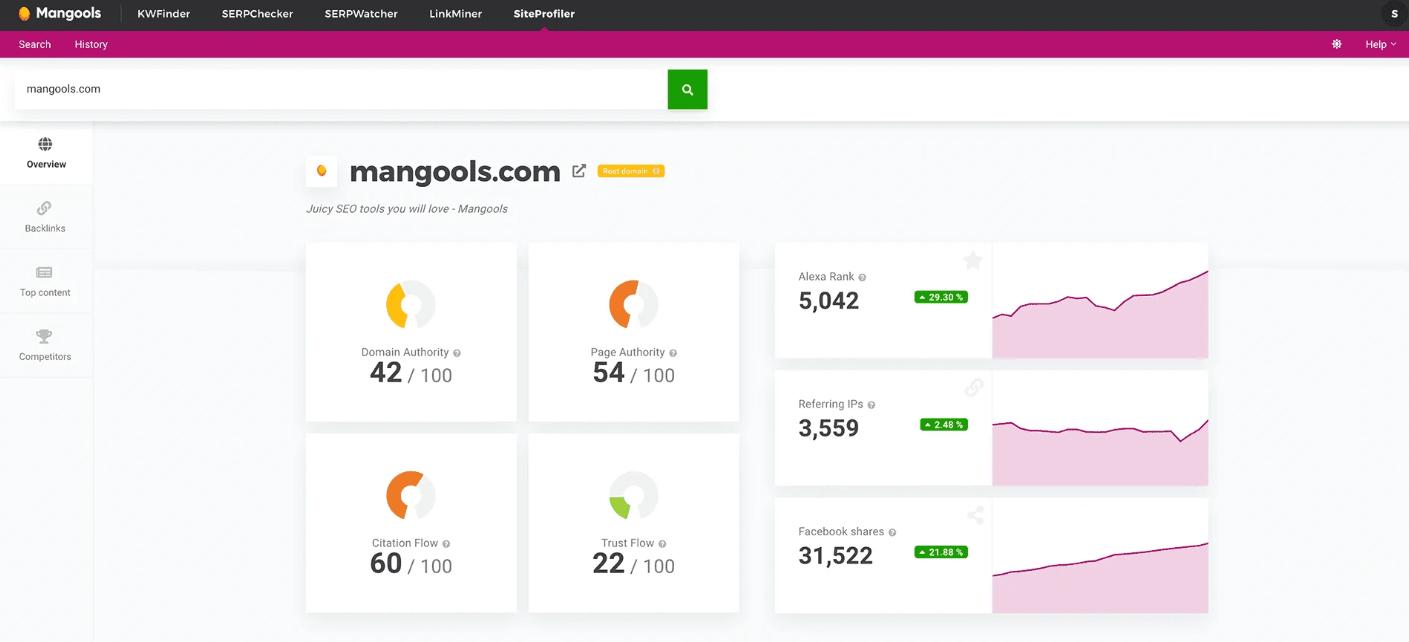 Integrations: Sitechecker VS Mangools
Both platforms offer versatile features and possess powerful instruments for SEO activity. However, sometimes you need additional resources from external programs. Let's compare the integrations, Sitechecker, and Mangools support.
Sitechecker integrations main features
The most important integrations for Sitechecker are the following:
Google Analytics. It allows you to check and monitor traffic, conversions, and revenue.
Google Search Console. With this tool, you can import & structure data and track statistics regarding keywords ranking and clicks.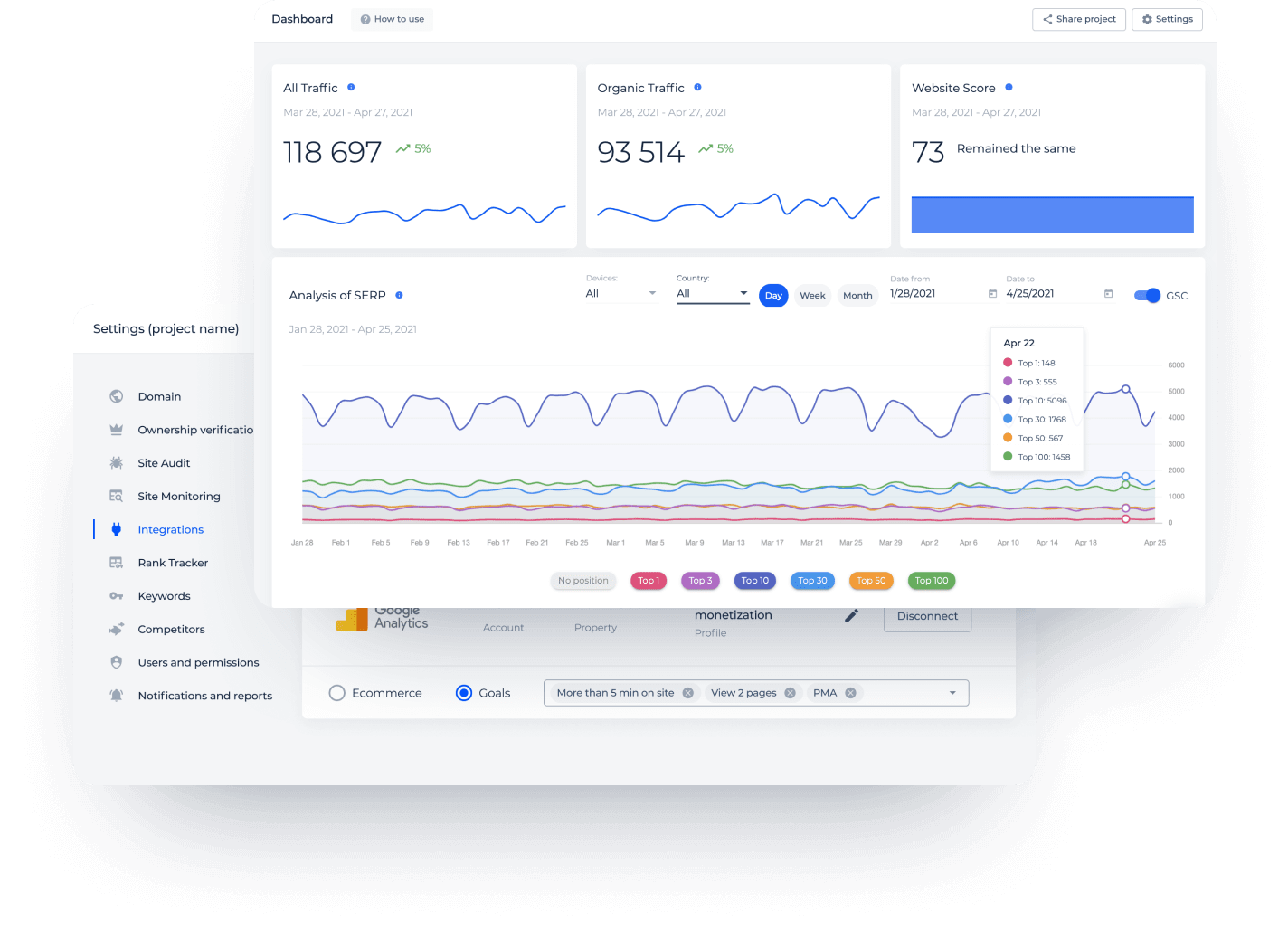 Mangools integrations main features
As for Mangools, with this tool, users can count on assistance from such integrations as KWFinder & SERPChecker. They offer the following features:
Estimation of the exact search volumes, related keyword suggestions, and SEO difficulty score
Processing of a larger number of keywords per one request
High-priority requests
Site Monitoring: Mangools VS Sitechecker
Successful SEO activity is only possible with constant tracking of changes and results. Site monitoring prevents traffic losses and allows users to monitor web pages' performance.
Sitechecker site monitoring main features
With Sitechecker's assistance, you can easily monitor everything happening to your website. Below are some of the most prominent features of the Sitechecker Site Monitoring tool.
Quick overview of the last changes on the website
Timely alerts in case of a risk of losing traffic
Detection of code changes caused by external factors
Measuring the impact of website changes on its rankings
History analysis regarding specific events or pages
Competitors' analysis against their SEO activity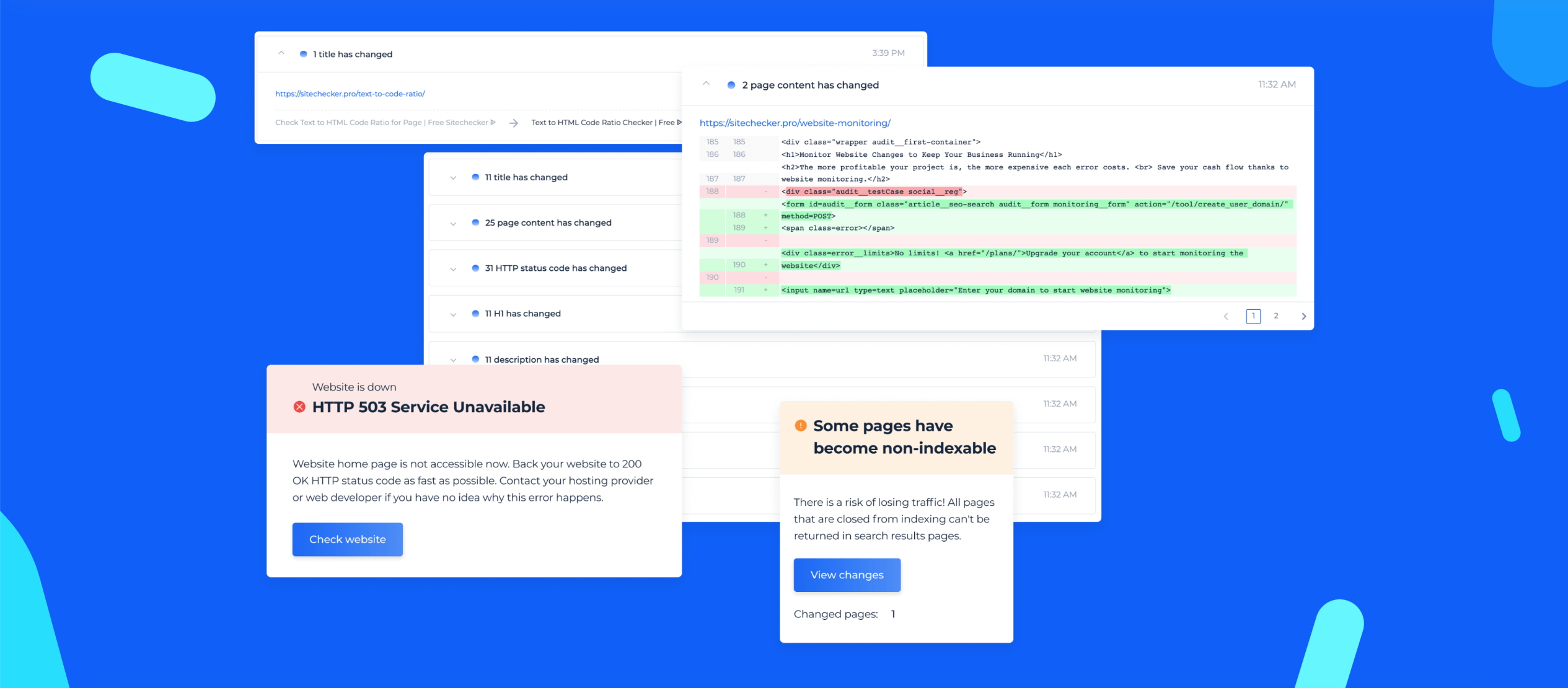 Mangools site monitoring main features
Mangools offer some basic features for site monitoring. They include
Identification of the rich snippets' impact on the CTR
Competitors analysis
Website ranking assessment
Email alerts notifications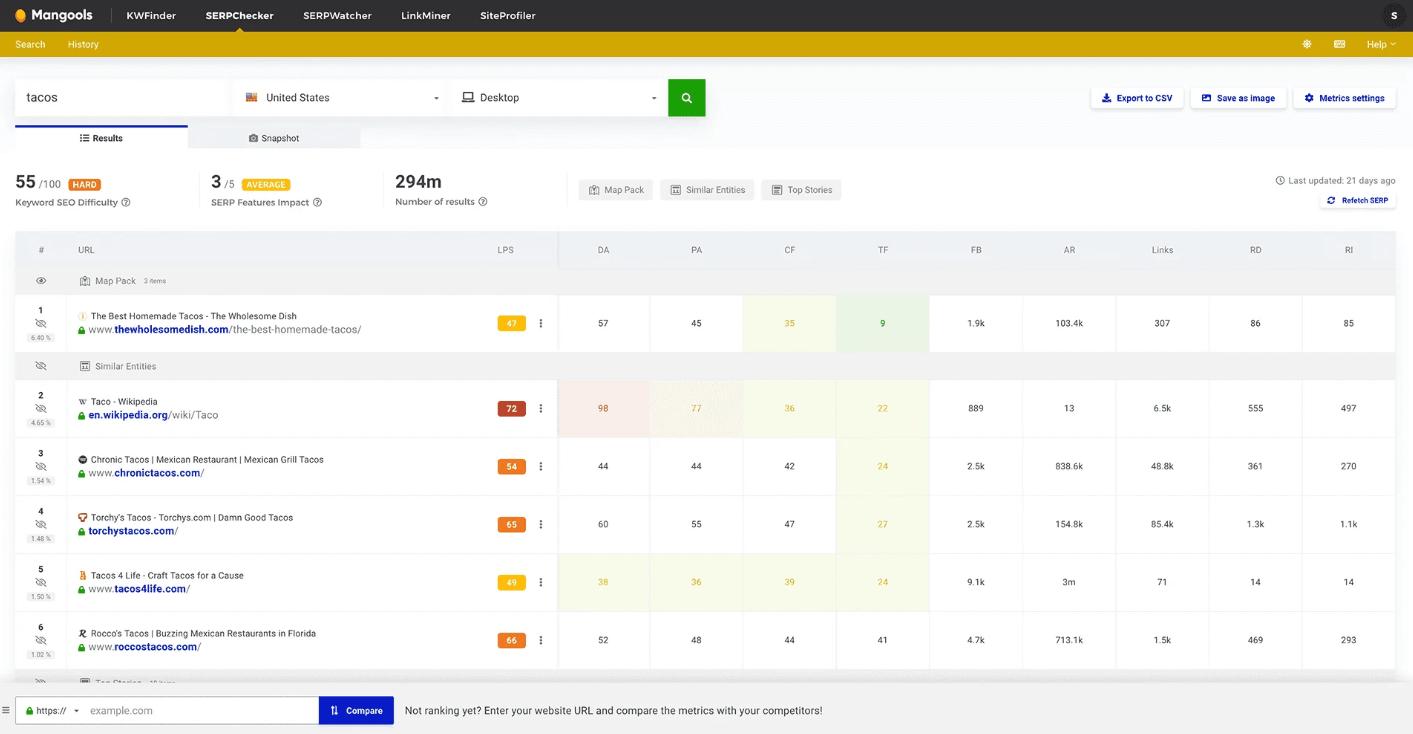 Rank Tracking: Sitechecker VS Mangools
Rank tracking is another key feature of any SEO platform. It allows users to monitor a site's performance among the SERP, check its visibility rate, track indexation progress, and implement all the necessary changes.
Sitechecker rank tracking main features
Sitechecker possesses a special Rank Tracker with the following features:
Website rankings tracking in any location, device, and search engine
Daily and weekly email reports
Keyword filtering by multiple parameters
Identification of the most successful keywords
SERP analysis of competitors' keywords
Bulk keyword actions
Customizable table settings
Notifications when keywords are ranked by URLs other than those that you planned
Positions comparison against any dates
Adding notes to highlight events
Full-screen option to cover more data
Branded PDF reports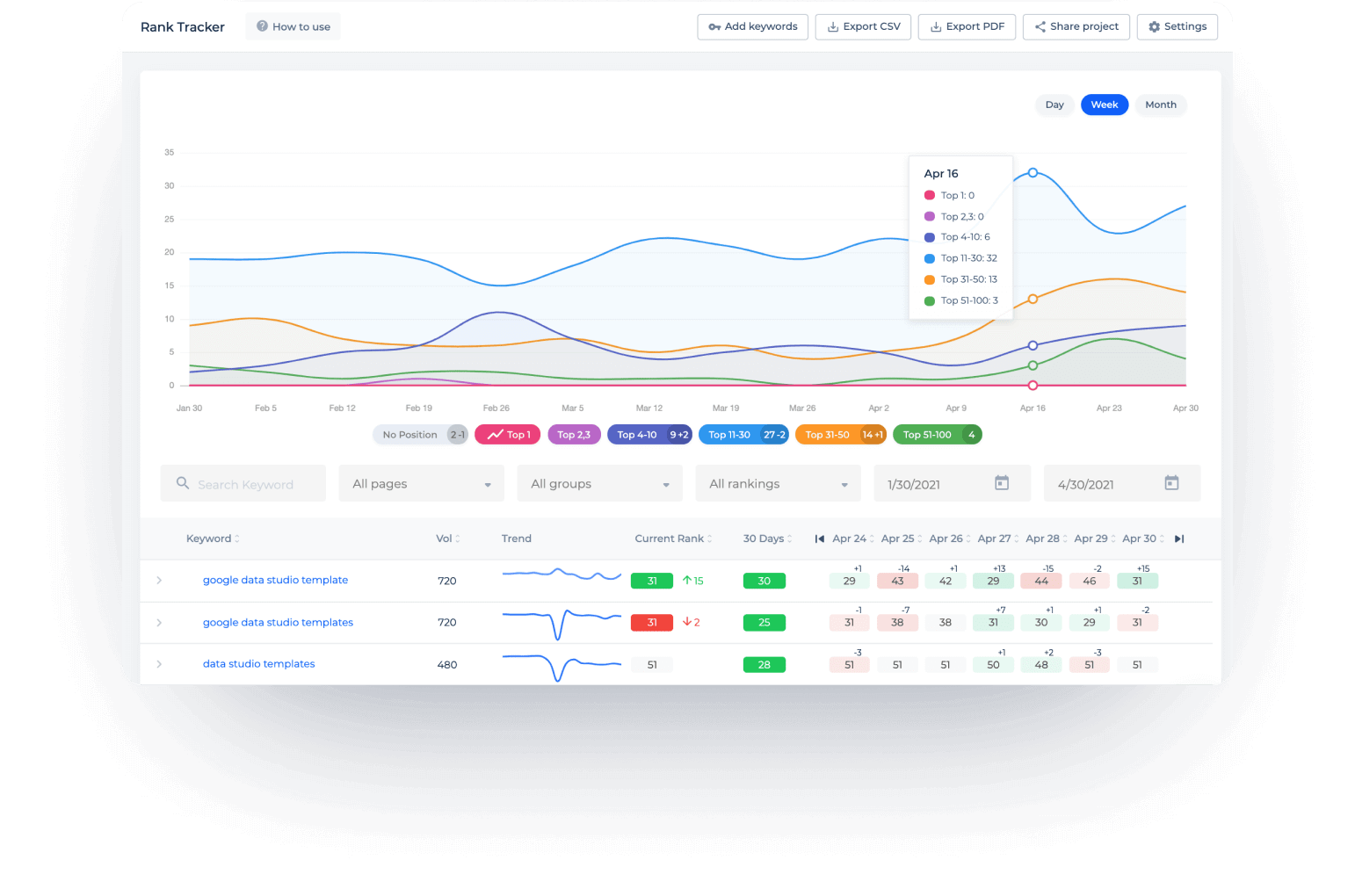 Mangools rank tracking main features
Mangools also provides a special rank-tracking tool, SERPWatcher. It includes the following features:
Monitoring of organic traffic potential
Daily rank updates
Rank tracking in any location, on any device
Interactive reports sharing with teammates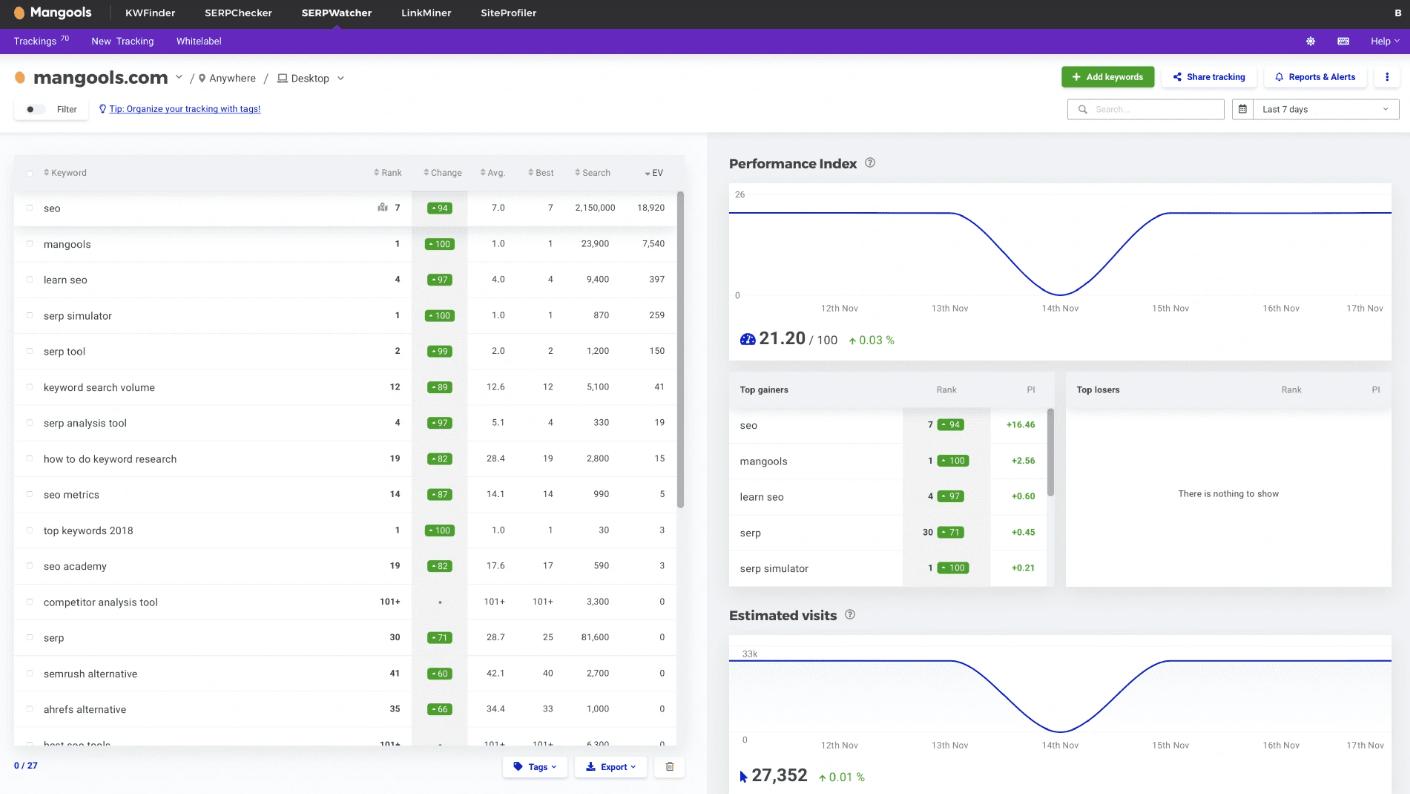 Backlink Tracking: Mangools VS Sitechecker
Backlinks are also vital for efficient SEO activity. They lead to your website from external resources, generating valuable traffic and directly impacting ranking.
Sitechecker backlink tracking main features
Sitechecker offers a free Backlink Checker with the following features:
Collecting all backlinks in one place
Checking if referring pages are available in the Google index
Bringing lost backlinks back to life
Detecting the most used anchors that link to your website
Monitoring the leading landing pages in terms of backlinks
Evaluating backlink profiles' growth dynamics
Mangools backlink tracking main features
Mangools has developed a special LinkMiner, a backlink checker tool with a vast database. It offers such features as
Mining the most powerful backlinks of competitors
Link placement checking in the website preview
Forming lists of the best URLs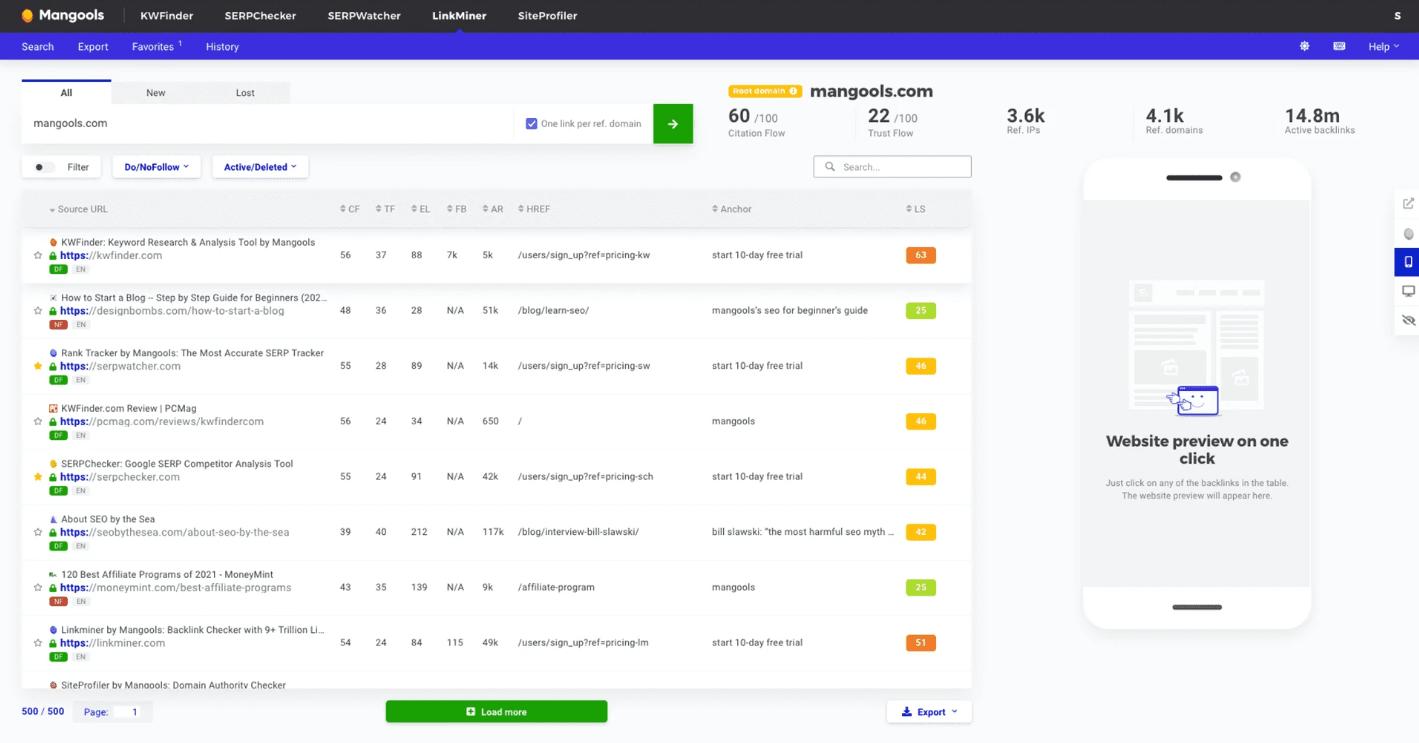 Extra Tools: Mangools VS Sitechecker
Apart from their own services and features, both Sitechecker and Mangools provide users access to several additional resources.
Sitechecker extra tools main features
In addition to its own SEO Software, Sitechecker empowers its users with the following extra tools:
SEO Chrome Extension for even more suitable performance tracking
Traffic checker for the comprehensive traffic monitoring
Safety checker to verify the security and legitimacy of the website
Hosting checker to identify who exactly hosts a web resource
Broken link checker to find dead or broken links
Speed checker to measure the site's speed
Page counter to estimate the number of pages on the site
Mangools extra tools main features
As for Mangools, users can rely on the following additional tools:
SEO Browser extension for Chrome and Firefox for easier activity monitoring
SERP Volatility checker to monitor Google algorithm updates and identify significant changes in Google SERP positions
SERP Simulator to see the SERP snippet preview of a website
Mangools VS Sitechecker: Pricing Plan Comparison
Pricing and billing plans are certainly among the top priorities to compare when choosing a SEO tool or the best suite of services. Let's compare the ones of Sitechecker and Mangools.
| Pricing Plan | Sitechecker | Mangools | You save with Sitechecker |
| --- | --- | --- | --- |
| Basic / Basic | $278/year | $358.8/year | up to $80 |
| Startup / Classic | $470/year | $538.8/year | up to $70 |
| Growing / Enterprise | $950/year | $1078.8/year | up to $130 |
| Enterprise / Institute | $3830/Year | – | N/A |
Main Advantages of Sitechecker
As we can see, Sitechecker has several peculiar advantages as a SEO tool. They do allow users to efficiently plan and implement the site's optimization strategies. Let's figure out these main advantages.
Your website's on-page and technical SEO improvement
With real-time website crawler and technical SEO audits, Sitechecker's users can timely identify and solve any technical issues. In addition, detailed reports allow for monitoring the SEO activity and comparing the efficiency of different measures. Finally, Sitechecker suggests useful guidelines for improving a website's performance.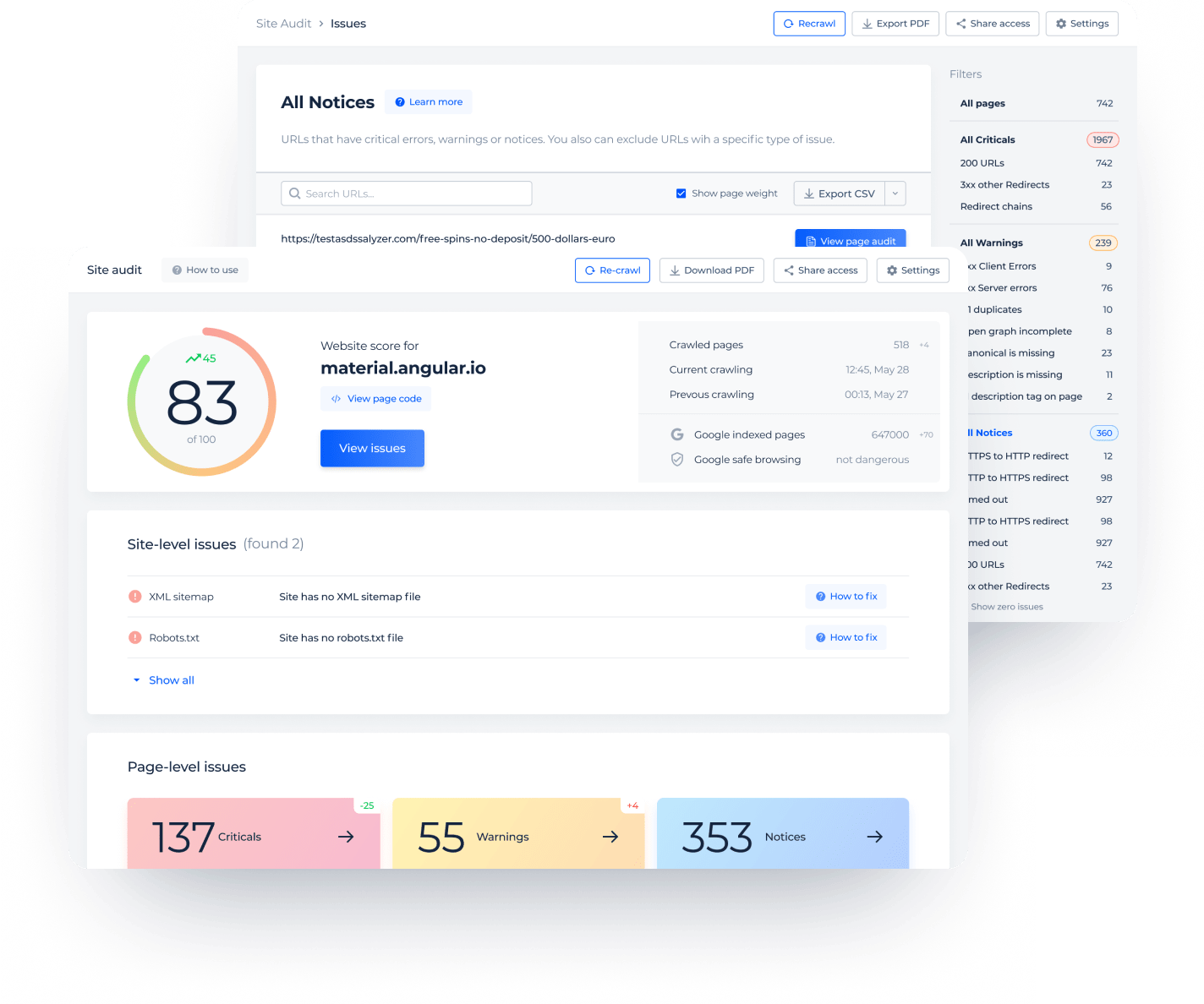 Google Search Console and Google Analytics integrations
Sitechecker offers a truly powerful and versatile SEO instrument. At the same time, Google Search Console and Google Analytics provide users with valuable information necessary for building correct plans and strategies. You can easily check all the gathered data via a convenient and user-friendly SEO Dashboard.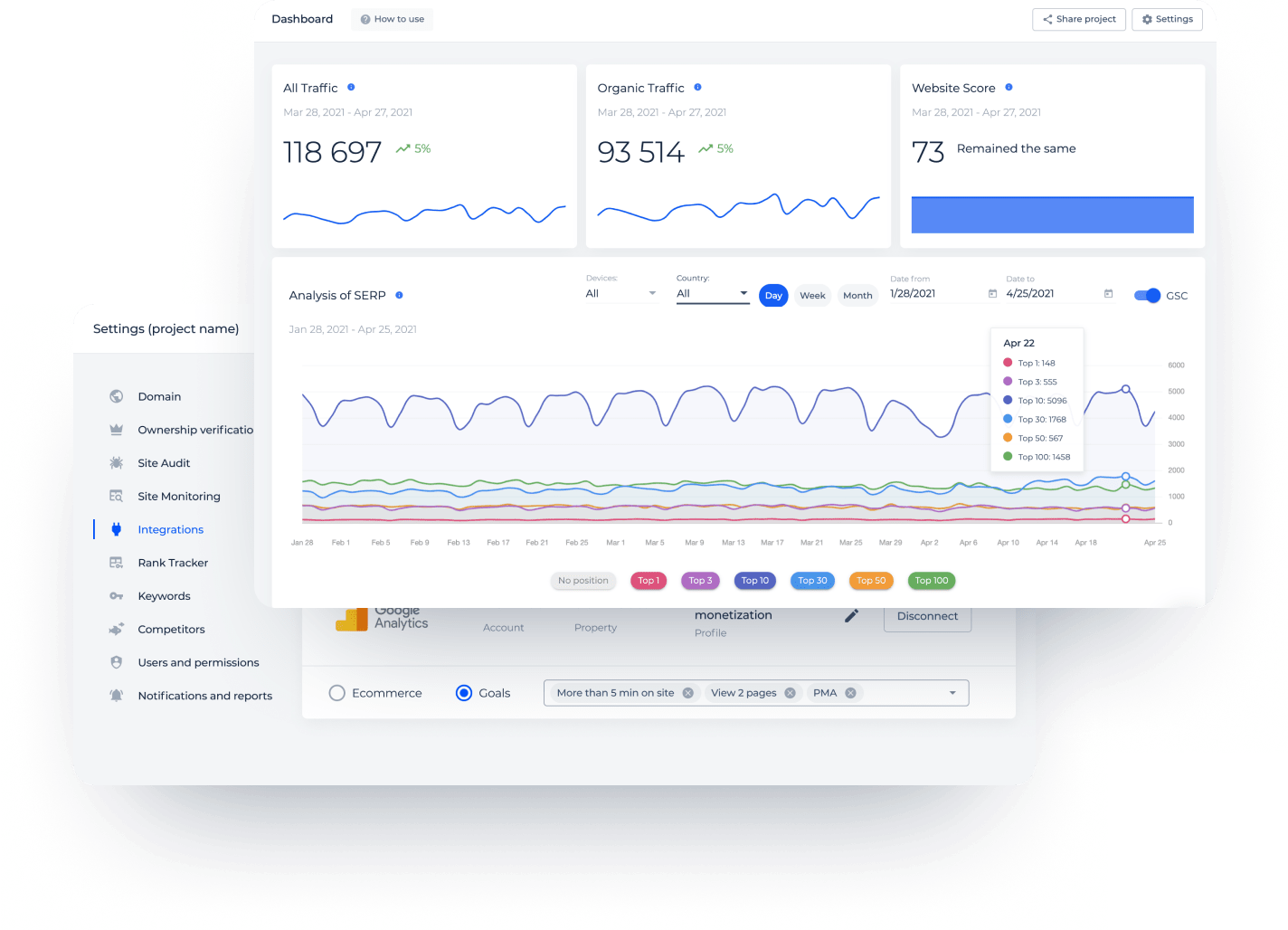 Personalized step-by-step SEO instructions
Sitechecker regularly analyzes multiple metrics of your website. Based on this information, the platform provides comprehensive reports. These reports, in turn, contain to-do lists with helpful instructions on improving your SEO activity.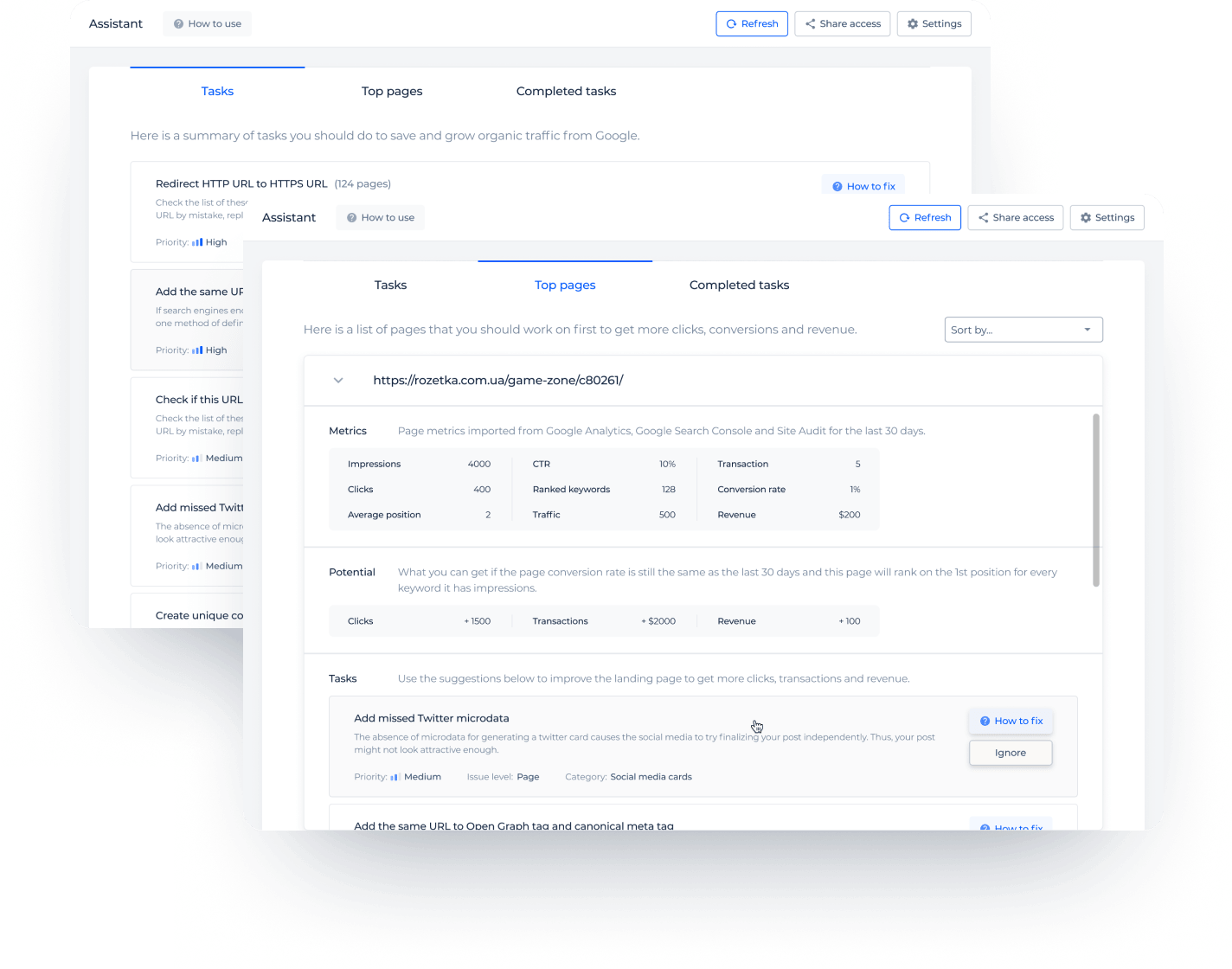 All your website's changes 24/7 monitoring
The overall website's SEO performance includes multiple processes with constantly changing results. Thus, monitoring such changes regularly is key to the timely detection of weaknesses or problems.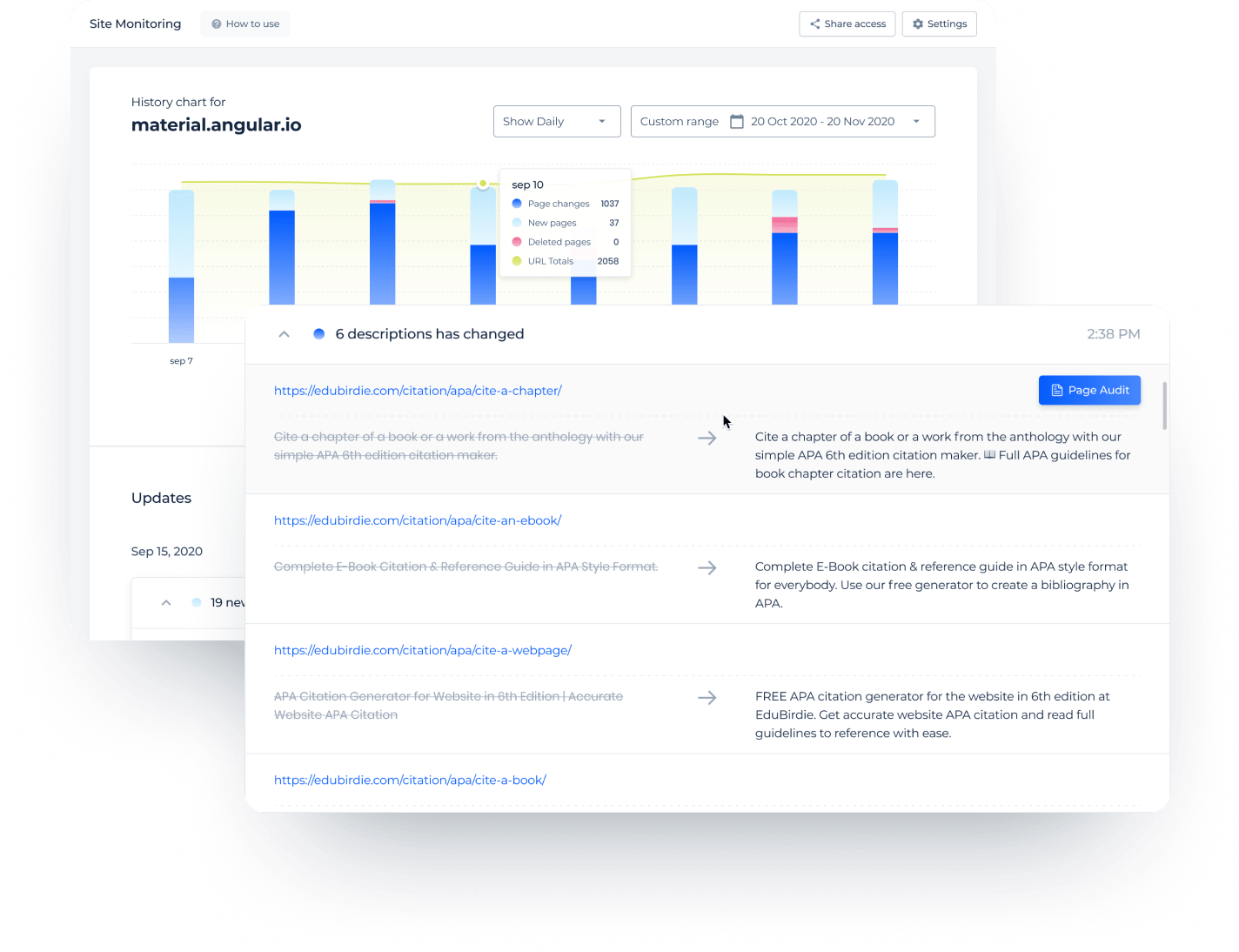 Clear keywords reports with an accurate rank tracker
With Sitechecker, you can regularly track website ranking, visibility rate, changes in positions of SERP, and indexation progress. The tool also analyzes keywords and provides users with reports indicating the most valuable parts of the content.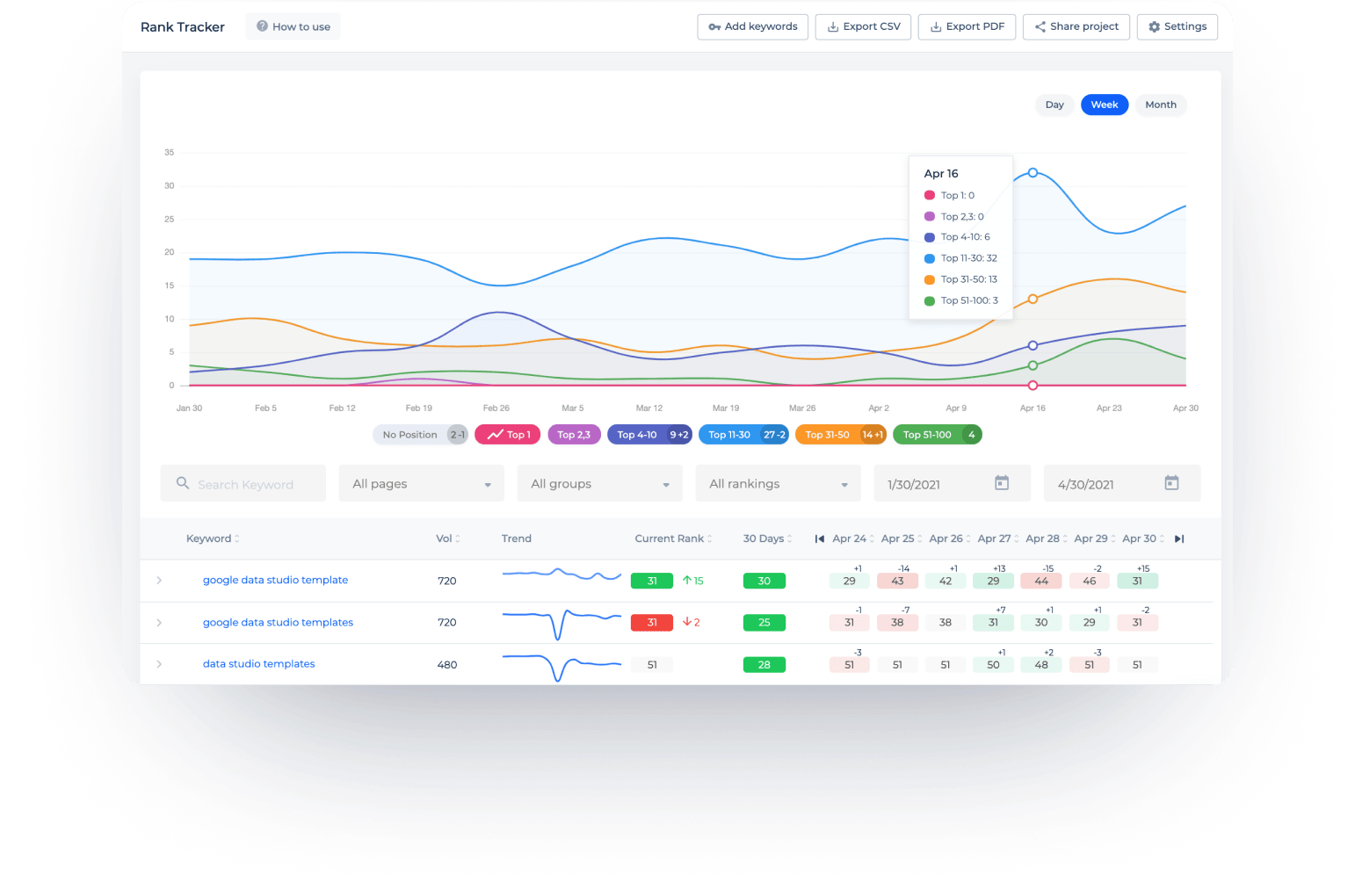 Control of all the backlinks you've built
Backlinks are vital for the website's visibility. Sitechecker offers a tool to monitor and analyze all the backlinks. In addition, you can receive notifications if your site loses some of the backlinks.

Saving time with Chrome extension
Sitechecker's Chrome extension allows users to instantly check the on-page SEO. With this tool, you receive convenient access to such parameters as meta tags, keyword density, images, links, hreflang tags, and page speed.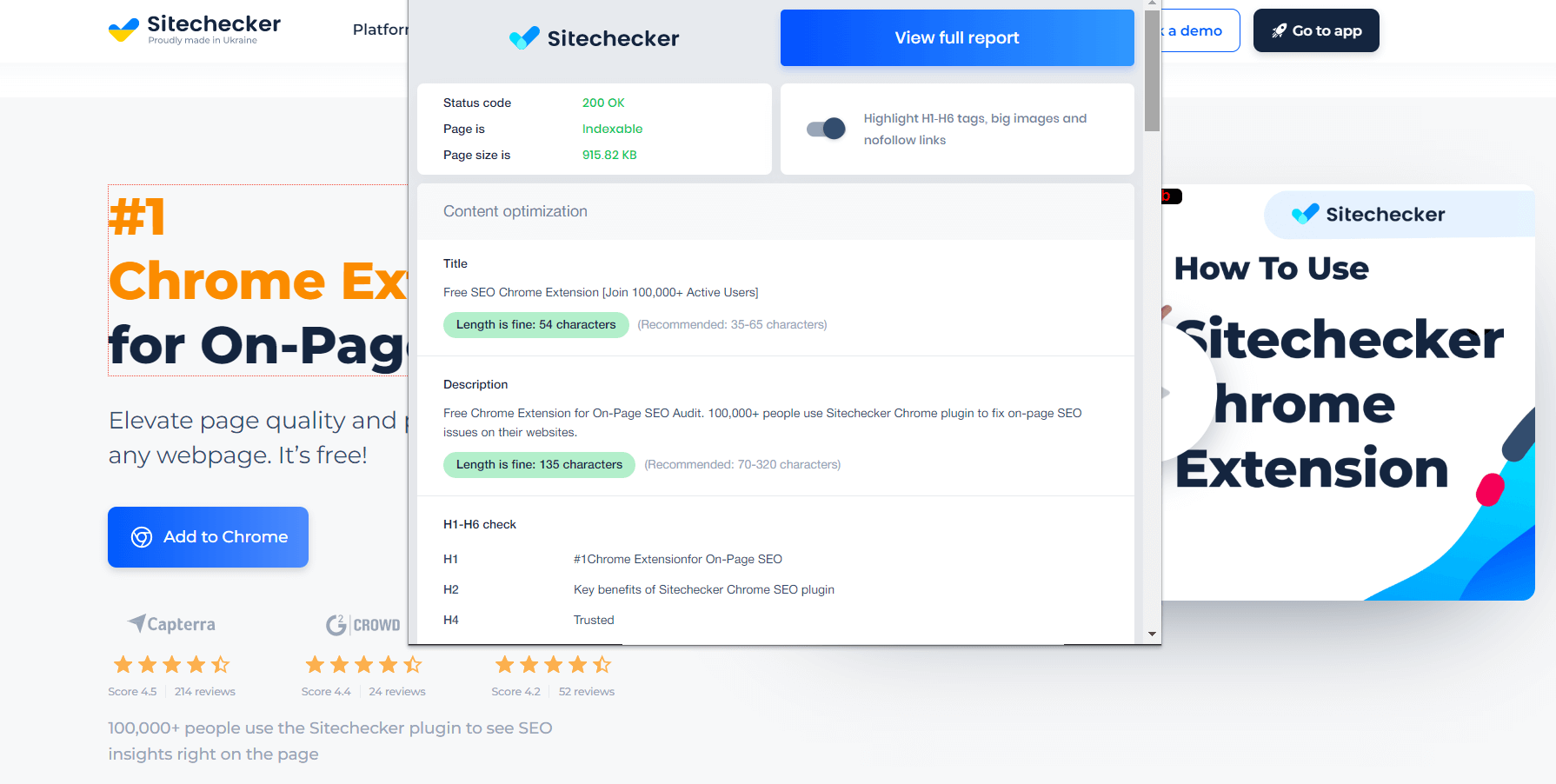 Don't you find it exhausting to work on SEO all day long?
Sitechecker is the perfect solution for all your site needs.
How to Switch From Mangools to Sitechecker
Sitechecker is an advanced and user-friendly SEO tool, and switching to it isn't difficult. First of all, the platform possesses an intuitive interface that facilitates adaptation. Secondly, the free trial period provides enough time to check and test all the features.
Moreover, experienced technical support is 24/7 ready to help. There are multiple ways of receiving assistance, like live chat or demo calls. Finally, there are many video guides with detailed instructions.
For a smooth and easy adaptation, you can start by watching a how-to-use guide for beginners:

FAQ
How often is my data updated with Sitechecker? is it every day?
Sitechecker updates the information about the website every 12 hours via an automatic website rescanning.
Can I use all features in the trial or smallest accounts?
Sitechecker provides access to all basic functions during the trial period and in case of the lowest subscription level. You can switch to the Growing plan, for instance, if you need to check more backlinks or perform an audit of a larger number of pages.
What to focus on when choosing an SEO tool?
When choosing an SEO tool, we advise paying attention to the following factors: available features, data accuracy, usability, pricing & billing plans, comments & reviews, and customer support service.