SEO activity requires reliable instruments to accomplish tasks on a daily basis. You've probably heard about one such tool, SmallSEOTools. However, today we offer you a competitive alternative — Sitechecker, a versatile SEO analysis tool that allows users to check, analyze, and monitor various site metrics. For your convenience, we prepared a guide on these two instruments with a detailed SmallSEOTools vs Sitechecker comparison.
In order to provide an exhaustive comparison of the competitors, we paid particular attention to the following parameters, services, and peculiarities of both tools:
Overall value proposition
Unique features
Site audit
Site monitoring
Rank tracking
Backlink tracking
Available integrations
Extra tools
Pricing and billing plans, and many more
Let's now move to our analysis, compare the main peculiarities and strengths, and find which online tool can provide a better boost to your site's SEO performance.
SmallSEOTools VS Sitechecker: Feature Comparison
To begin with, we visualized the key features of each platform. Below you can find the table containing information on the main characteristics of both SmallSEOTools and Sitechecker.
Sitechecker
SmallSEOTools
GENERAL
Trial period
30 Days
☓
No credit card required
✓
✓
Monthly pricing
from $41
from $24.8
SEO PRODUCTS
Site audit
✓
✓
One-time site audit
✓
☓
Site monitoring
✓
✓
Rank tracker
✓
✓
Backlink tracker
✓
✓
SEO Chrome Extension
✓
✓
SEO Software
✓
✓
SEO Dashboard
✓
✓
FREE SEO TOOLS
On-page SEO Checker
✓
✓
Website Traffic Checker
✓
✓
Website Safety Checker
✓
☓
Website Down Checker
✓
☓
Website Rank Checker
✓
✓
Website Hosting Checker
✓
✓
Website Speed Checker
✓
✓
Website Backlink Analysis
✓
✓
Website Broken Link Checker
✓
✓
COMPETITOR RESEARCH
Link strategy
✓
☓
SPECIAL FEATURES FOR DIGITAL AGENCIES
White Label
✓
☓
SEO Reporting
✓
☓
Project Sharing
✓
☓
Number of Projects
3 to unlimited
no available information
COMMUNICATION & SUPPORT
Demo
✓
✓
Support
Live chat, email, demo calls, FAQs, video guides
Email, FAQs, instructions
Affiliate Program
✓
✓
RATING
Trustpilot
4.0 of 5 (22 reviews)
4.0 of 5 (3 reviews)
Truely
4.9 of 5 (57 reviews)
4.3 of 5 (59 reviews)
Sitejabber
5 of 5 (1 review)
5 of 5 (1 review)
Don't you find it exhausting to work on SEO all day long?
Sitechecker is the perfect solution for all your site needs.
Site Audit: SmallSEOTools VS Sitechecker
A site audit precedes carrying out any SEO activity. It allows you to figure out weak spots in your webpage that concern visibility or user experience. Consequently, both platforms offer site audit services as core ones.
Sitechecker site audit main features
Sitechecker offers a detailed SEO audit report with a personalized list of tips on how to improve the position of your site in search engine results. The tool uses a real-time crawler that spots any technical issues. Some of the main peculiarities of the Sitechecker's Site Audit include the following:
Audit of internal and external links
Quick on-page audits
Report notifications & alerts via email or Microsoft Teams
Detailed text and video how-to-use guides
Custom PDF reports
Google Search Console and Google Analytics integration
Adjustable crawling settings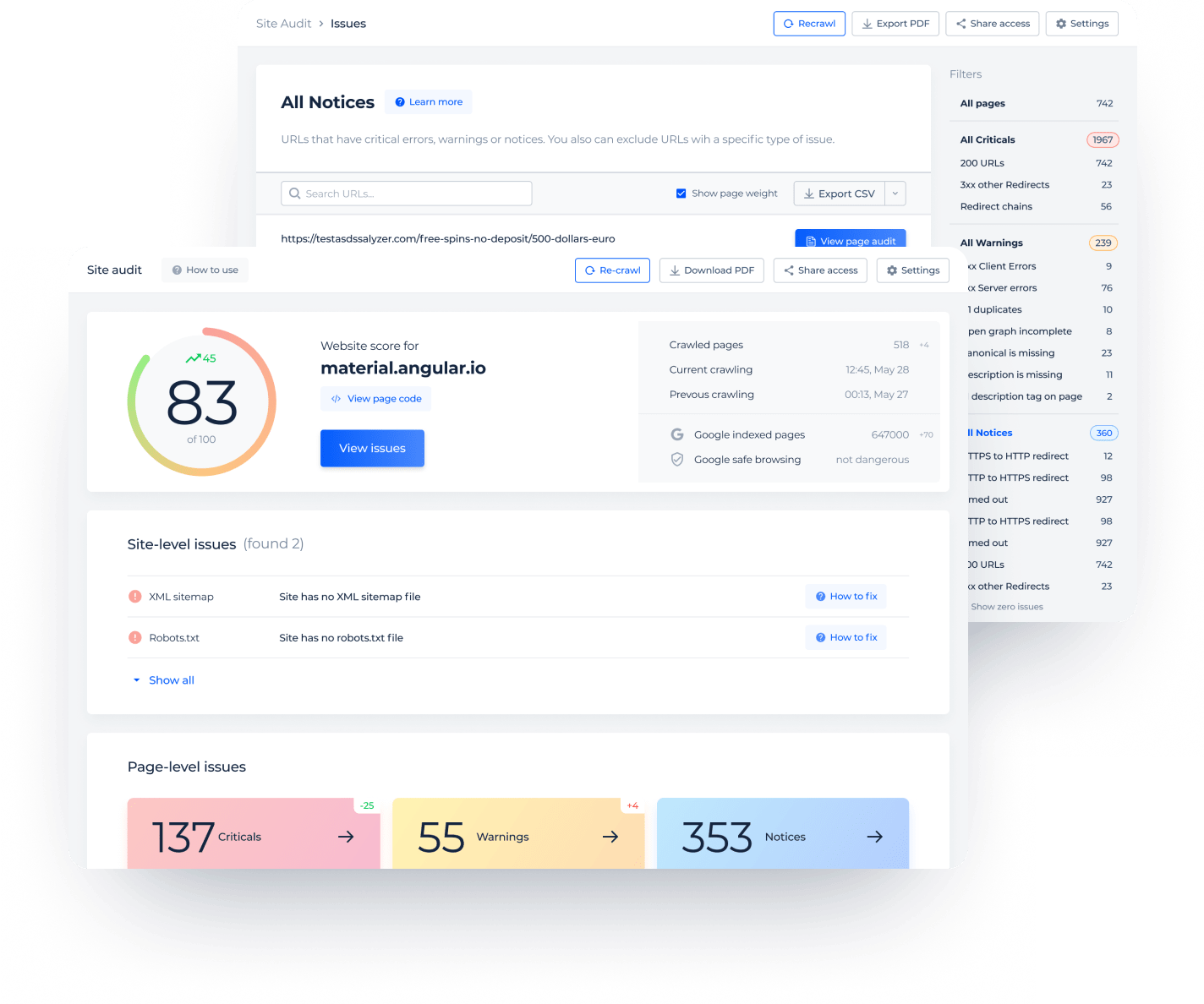 SmallSEOTools site audit main features
SmallSEOTools site audit includes the following peculiarities:
Quick SEO test showing warnings and errors found
Site's grading on key metrics
Website score
Design analysis with screenshots
Social media performance

Integrations: Sitechecker VS SmallSEOTools
SEO tools like Sitechecker or SmallSEOTools are powerful platforms with multiple services and features. However, in some cases, external add-ons can dramatically boost SEO instruments' performance and usability.
Sitechecker integrations main features
Among the integrations Sitechecker supports, pay attention to the following:
Google Analytics. Connecting GA allows users to easily track traffic, conversions, and revenue.
Google Search Console. Import and structure data, as well as check statistics concerning keywords ranking and clicks.
SmallSEOTools integrations main features
SmallSEOTools offers its users some useful integrations too, including:
WordPress for website adjustment and customization.
Google Analytics for gathering and tracking data.
Semrush for advanced content management.
Site Monitoring: SmallSEOTools VS Sitechecker
Constant monitoring of your SEO progress is vital for efficient SEO activity. To track your site's performance and traffic flow, both Sitechecker and SmallSEOTools offer a site monitoring service.
Sitechecker site monitoring main features
Site Monitoring is among Sitechecker's key features, as it allows users to detect any problems in time and take the necessary action. It includes:
An overview of the latest site changes
Email alerts about any issues
Monitoring of the page's current position in SERP
Page performance history analysis
Analysis against competitors' SEO strategies
Detailed how-to-use guides
Content changes tracking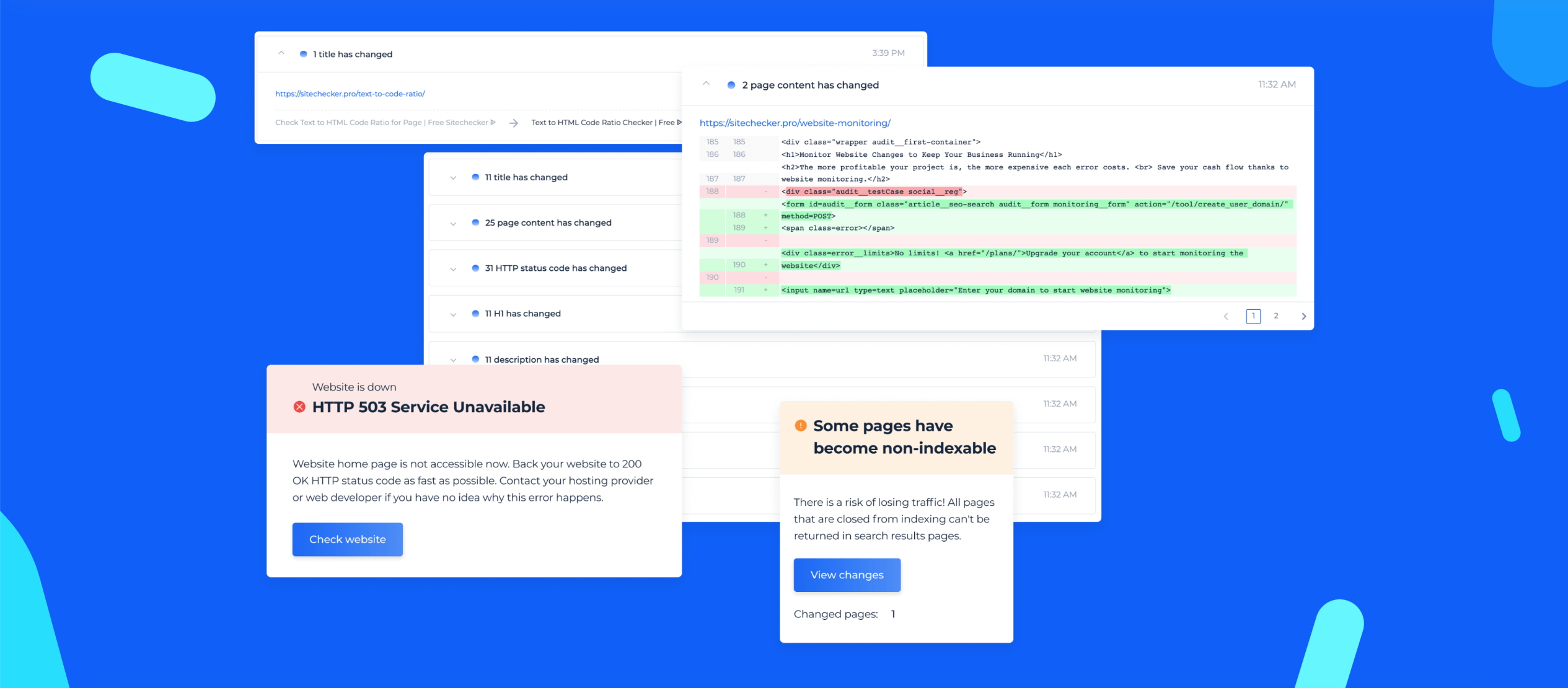 SmallSEOTools site monitoring main features
SmallSEOTools offers basic site monitoring tools and features, such as:
Admin dashboard showing key performance metrics
Competitors' analysis by checking similar sites
Different pages' content comparison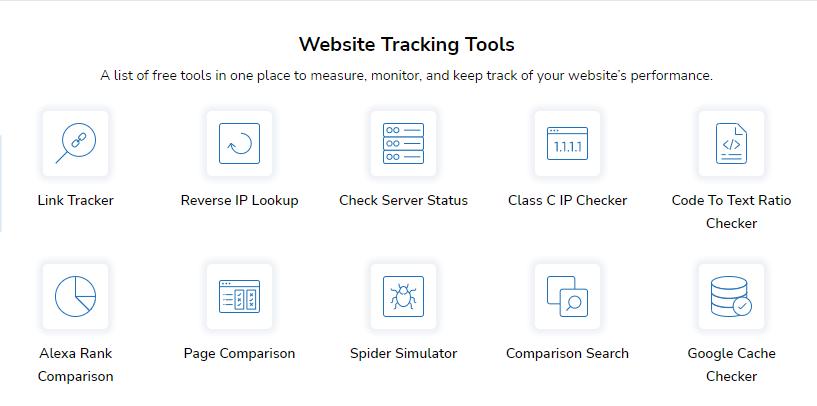 Rank Tracking: Sitechecker VS SmallSEOTools
Another important parameter we couldn't help but include in our review is the site's rank tracking. It allows users to check the webpage visibility on search engine result pages and monitor the indexation progress.
Sitechecker rank tracking main features
Sitechecker provides a powerful Rank Tracker tool with multiple features like:
Rank tracking in any location, search engine, and on device
Daily and weekly email reports
Top keywords tracking
Keyword filters by search volume, position, pages, groups, or text
Customizable table settings
Notifications about unplanned changes in ranked URLs
Ranking comparison for different dates
SERP analysis for any keyword
Ability to add notes to highlight events
Full-screen option to display more data
Bulk keyword actions
Branded PDF reports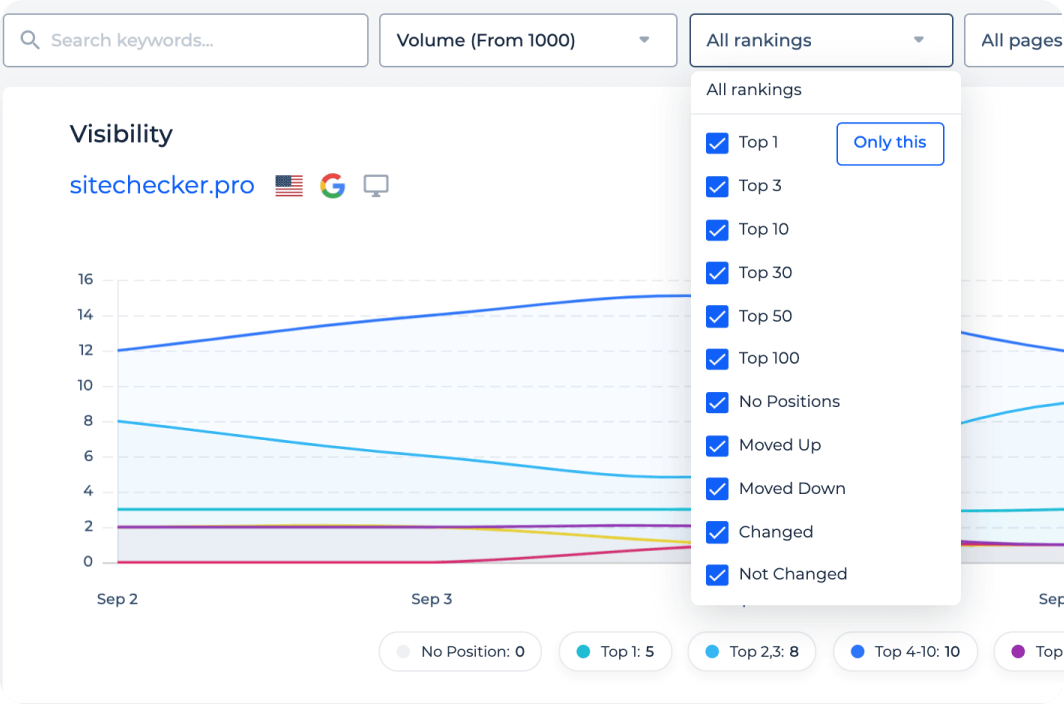 SmallSEOTools rank tracking main features
SmallSEOTools provides rank-tracking services primarily for Google and Alexa. It:
Includes free page score calculator
Integrates latest algorithms
Analyzes every page's rank
Provides rank tracking by country, stating reach (number of visitors) and change

Backlink Tracking: SmallSEOTools VS Sitechecker
Backlinks are links that lead to your website from external resources. They are crucial for enhancing a website's visibility and attracting additional traffic. Thus, backlink tracking is an integral part of SEO activity.
Sitechecker backlink tracking main features
Sitechecker arms its users with an advanced Backlink Tracker to check and monitor existing backlinks. Its main features include:
Backlinks collection in one place
Backlinks indexation check
Notifications when backlinks become non-indexable
Detection of the most used anchors
Finding the landing pages that have more backlinks from authoritative domains
Evaluation of backlink profile growth dynamics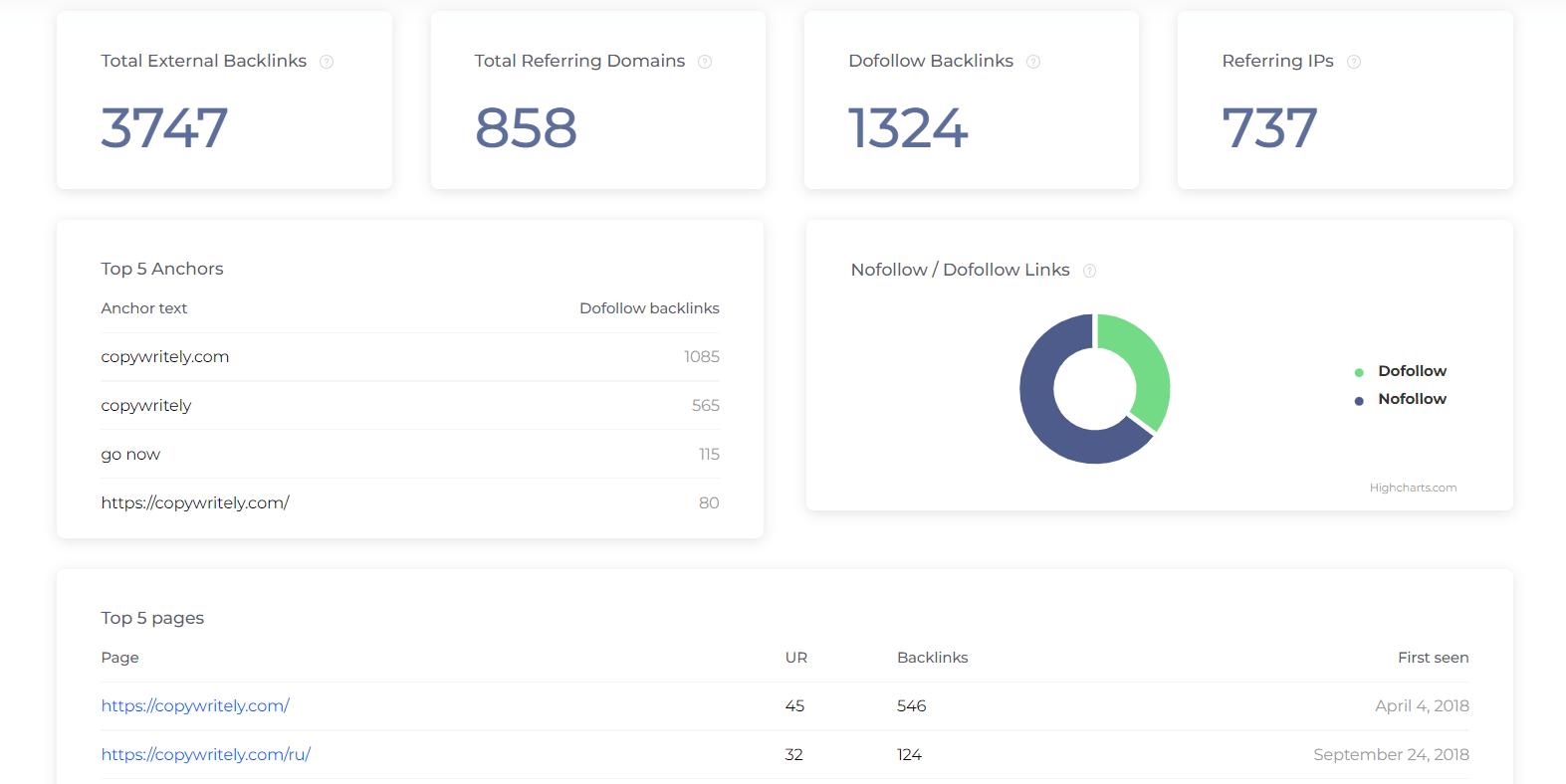 SmallSEOTools backlink tracking main features
SmallSEOTools provides a set of online instruments for work with backlinks. The main features are:
Backlink audit and analysis
Discovery and tracking of the main backlink sources
Research of the best-performing content
Detection of the most valuable keywords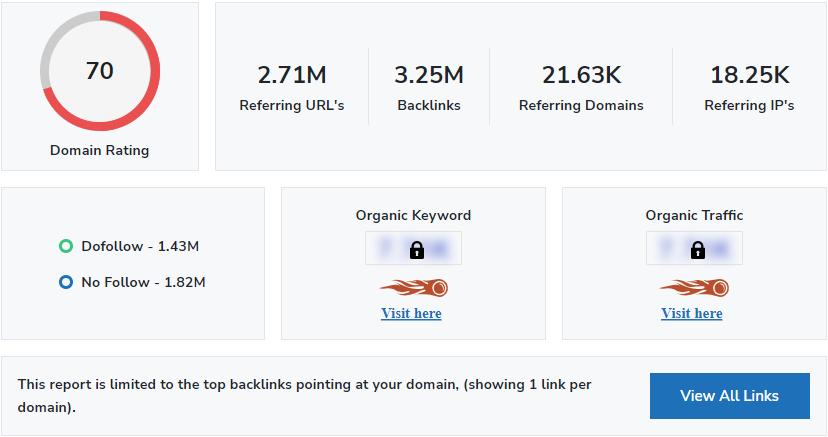 Extra Tools: SmallSEOTools VS Sitechecker
In order to boost users' capabilities, both competitors offer the usage of some additional tools. Let's take a look at what is at your disposal.
Sitechecker extra tools main features
Sitechecker provides free access to the following extra tools:
Website page counter to check out how many pages exist on the website
Traffic checker to estimate website traffic stats
Safety checker to verify whether the site is secure and not listed as suspicious
Speed checker to test site/page speed
Hosting checker to find out who hosts a particular website
Broken link checker to scan websites or URLs for broken or dead links
SEO Chrome Extension to further facilitate SEO activity
These tools are vital extensions to SEO Software that may help to implement a comprehensive digital strategy.
SmallSEOTools extra tools main features
As for the SmallSEOTools, it also provides access to several extra tools, such as:
Plagiarism checker to verify the uniqueness of the content
Article rewriter to modify existing materials
Text-to-image and text-to-speech converter
Image compressor to decrease image size
Image resizer to change image proportions
As we can see, SmallSEOTools also focuses on text- and image-related services.
SmallSEOTools vs Sitechecker: Pricing Plan Comparison
Pricing is certainly among the most important parameters to consider when choosing an SEO tool. Both Sitechecher and SmallSEOTools provide several subscription plans. Let's compare them.
| Pricing Plan | Sitechecker | SmallSEOTools | You save with Sitechecker |
| --- | --- | --- | --- |
| Basic & Basic | $278/year | $117.6 – 717.6/year | up to $440 |
| Startup & Classic | $470/year | $297.6 – 957.6/year | up to $490 |
| Growing & Enterprise | $950/year | $357.6 – 1797.6/year | up to $850 |
| Enterprise & Institute | $3830/Year | $1797.6 – 7197.6/year | up to $3370 |
It is important to mention that each SmallSEOTools's pricing plan has four sub-plans. In addition, there is an opportunity to pay weekly. At the same time, Sitechecher offers a 7-day free trial period.
Main Advantages of Sitechecker
Sitechecker is a very powerful and versatile SEO tool that offers multiple services. With various functions, it may become equally useful for individual SEO specialists, small businesses, as well as huge enterprises. Let's figure out what are the main advantages of Sitechecker that set it apart.
Your website's on-page and technical SEO improvement
Sitechecker's real-time website crawler and technical SEO audits allow users to identify and solve any technical issues on the webpage. Moreover, detailed reports guarantee the ability to track, analyze, and monitor your activity, assess the efficiency of your efforts, and build long-lasting strategies.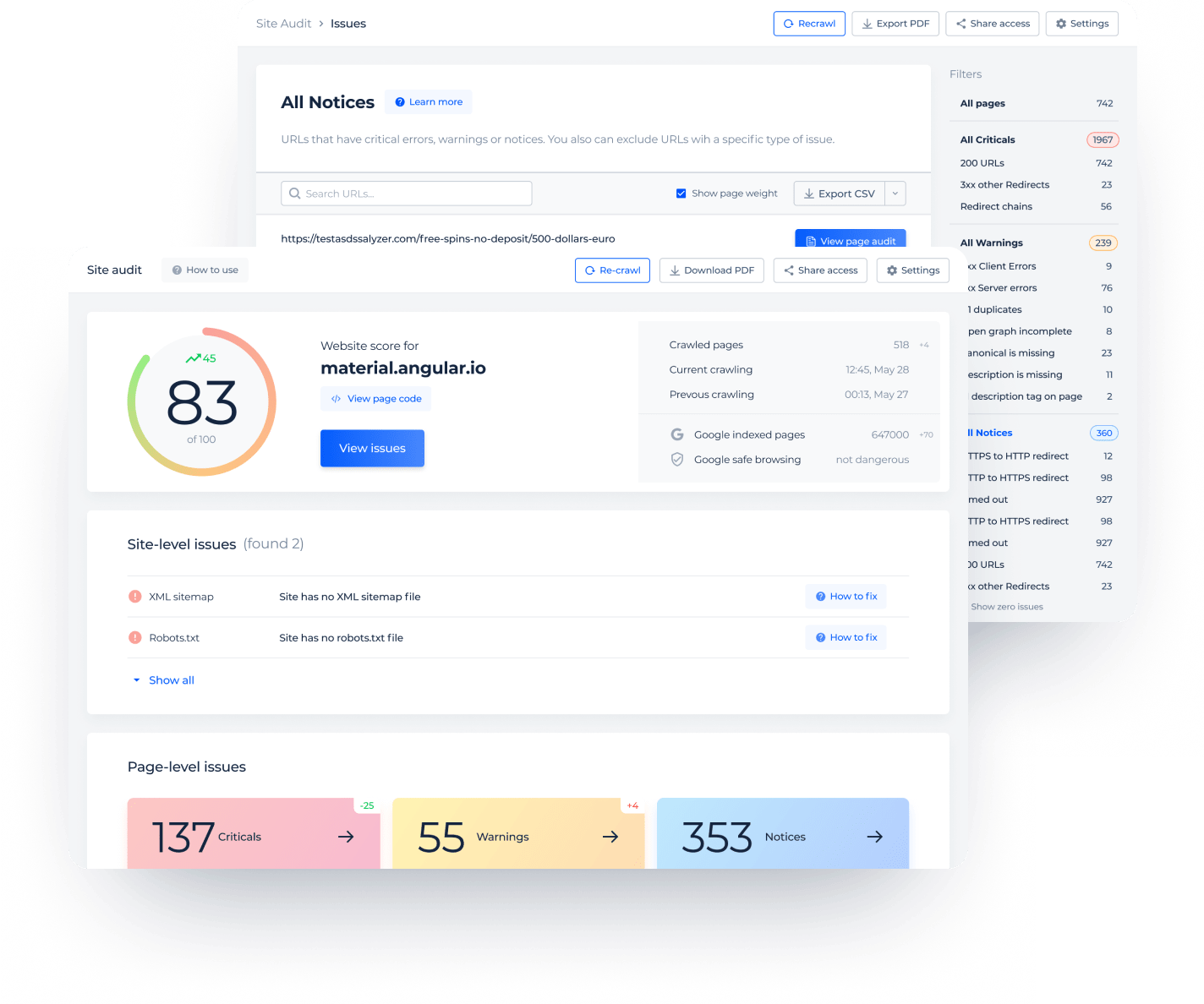 Google Search Console and Google Analytics integrations
Sitechecker offers a unique opportunity to combine the tool's multiple SEO services with the data and insights from Google Search Console and Google Analytics. Advanced SEO instruments of Sitechecker guarantee the efficient usage of the gathered information, while the flexible SEO Dashboard ensures user-friendly data visualization.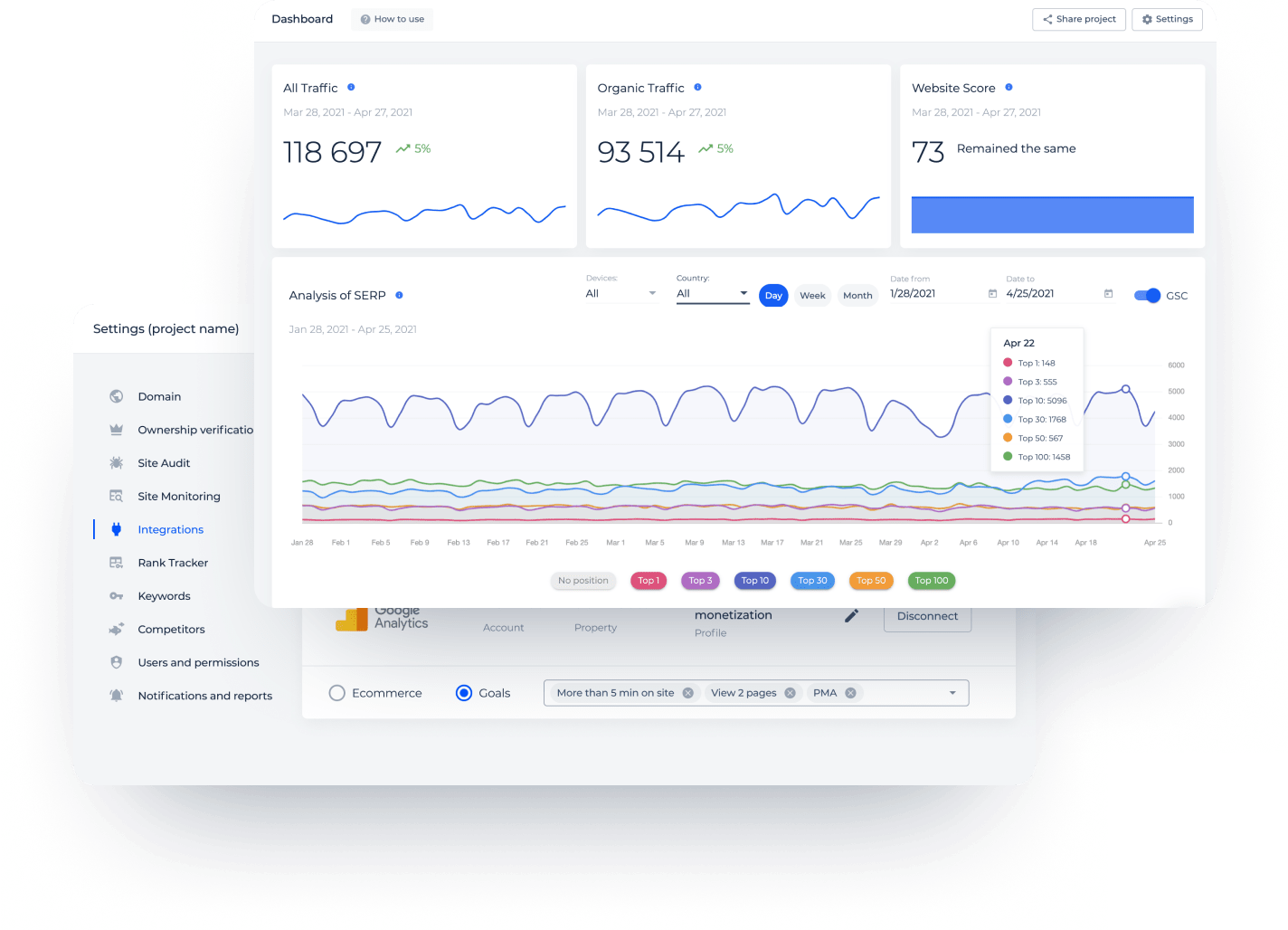 Personalized step-by-step SEO instructions
Even the most experienced specialists sometimes need advice. Sitechecker provides regular reports with information on a website's performance. The platform automatically generates a to-do list with recommendations and instructions based on the gathered data regarding website content, ranking, backlinks, and technical issues.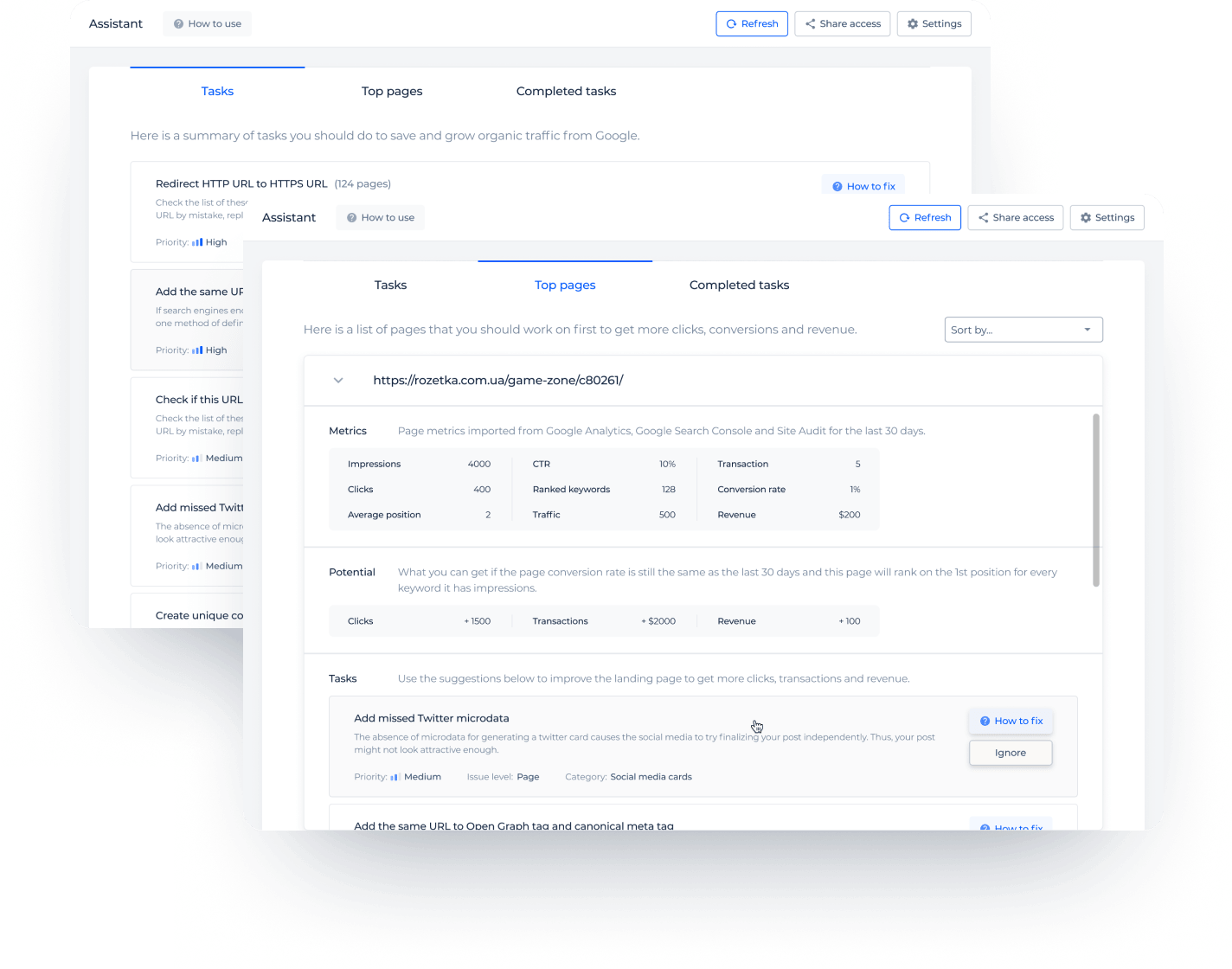 24/7 monitoring of all your website's changes
Real-time website monitoring ensures the timely detection of any issues. It also allows users to identify which efforts and which combinations work better. With this in view, business owners can quickly solve problems and use their funds more efficiently.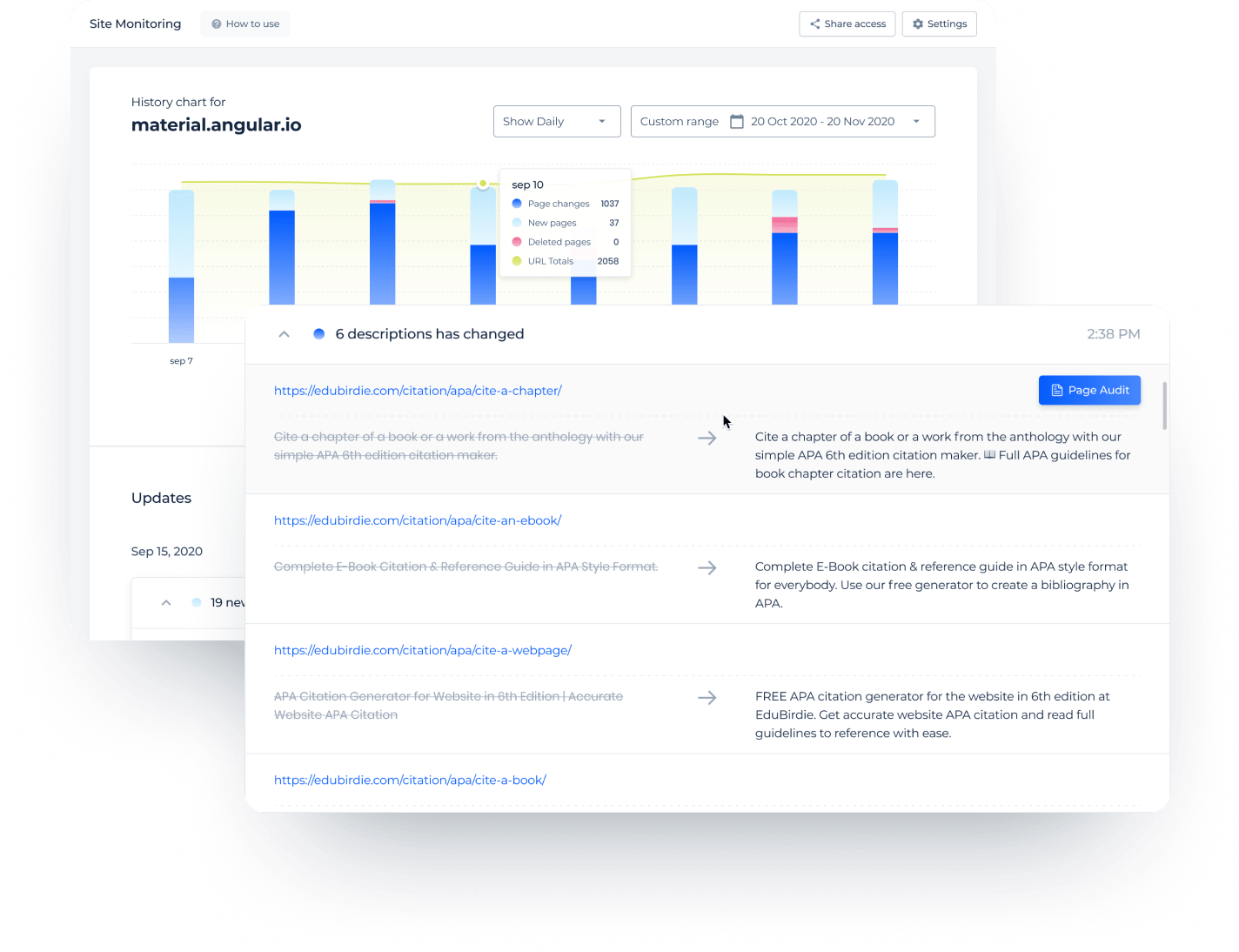 Clear keywords reports with an accurate rank tracker
Sitechecker provides regular website rank tracking with visibility rate, changes in positions of SERP, and indexation progress. Keyword analysis with the following detailed reports also allows users to figure out the most valuable parts of the content and indicate what activities contribute to the growth.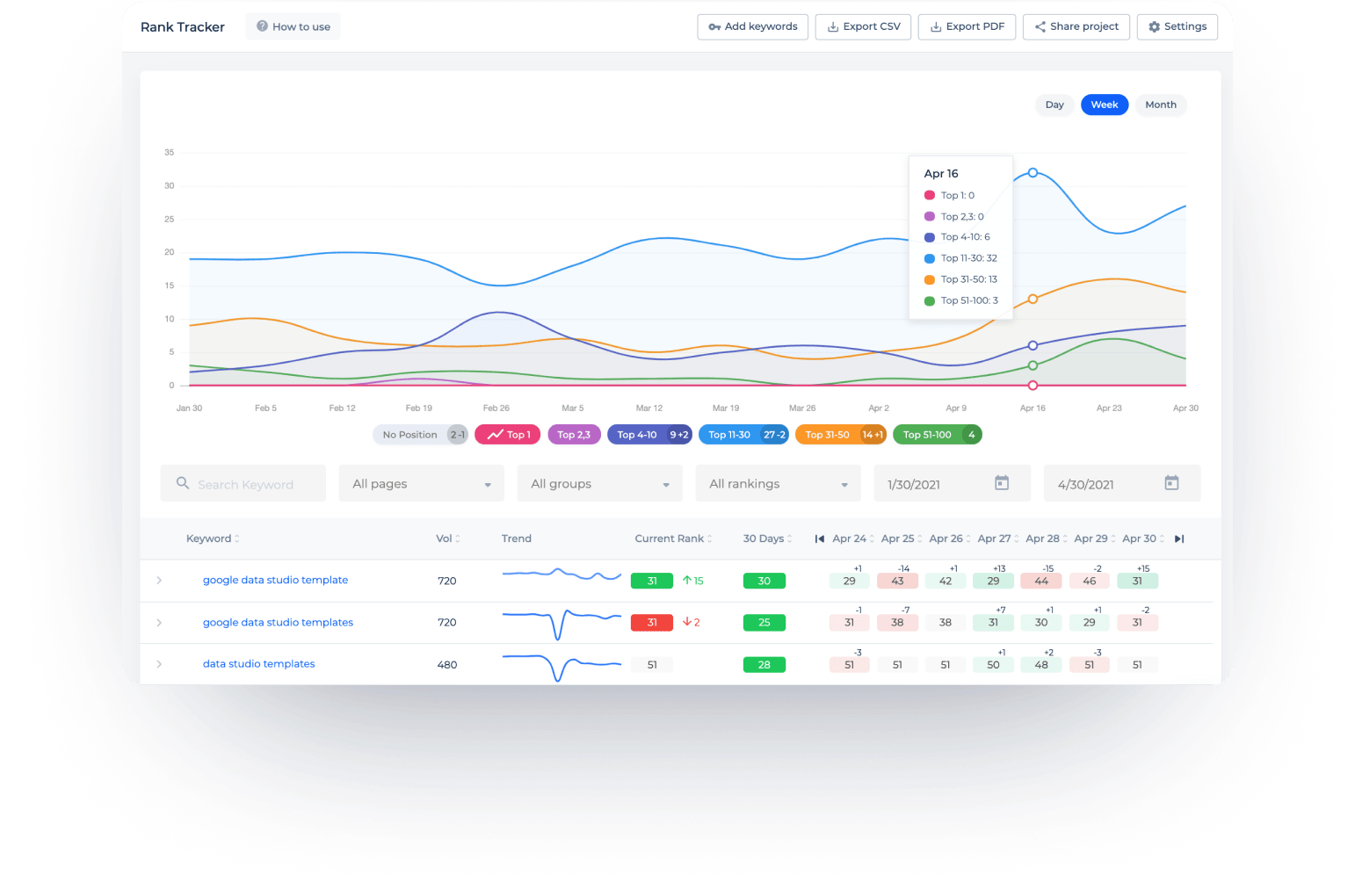 Control of all the backlinks
Backlinks play an important role in building the SEO strategy. Sitechecker offers you an opportunity to monitor and analyze all the backlinks. You can also track when the website loses some of the backlinks or they become inactive.
Saving time with Chrome extension
Sitechecker's Chrome extension is the easiest and fastest way to check the on-page SEO for any landing page. This tool allows users to instantly examine meta tags, keyword density, images, links, hreflang tags, and page speed and implement required alterations.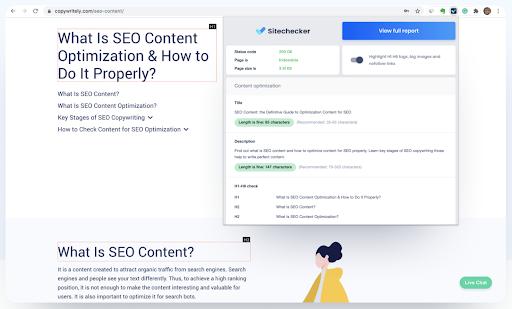 Try Sitechecker SEO Audit right now
Sitechecker is the perfect solution for all your site needs.
How to Switch From SmallSEOTools to Sitechecker
If you decide to use Sitechecker for your SEO activity, the switching process won't take long. Fits of all, a truly friendly interface and a fascinating user experience make it easy to adapt to a new platform. Moreover, with a 7-day free trial, you'll have enough time to try all the features and services.
A comprehensive 24/7 support is always ready to help in case you have any questions. We offer live chat, demo calls, and FAQs. Finally, Sitechecker prepared multiple video guides describing how everything works.
You can start your journey with Sitechecker form watching a how-to guide for beginners:
FAQ
How often is my data updated with Sitechecker? is it every day?
Regardless of the subscription plan, Sitechecker launches automatic website rescanning, which detects any issues or changes on the website every 12 hours.
Can I use all features in the trial account or with the basic plans?
Sitechecker's trial and basic plans include all basic functions. If you need to extend the number of pages to audit or backlinks to check, choose, for example, the Growing plan.
What to focus on when choosing an SEO tool?
We strongly recommend paying attention to available features, pricing & billing plans, data accuracy, usability, and customer support.