If you are looking for alternatives to Siteimprove, we recommend that you pay attention to Serpstat. This powerful SEO tool will help you conduct a quality site audit and get the necessary data to improve its ranking. To understand all the intricacies of these popular SEO-analysis platforms, we decided to compare them in detail.
This guide will help you decide which of the two tools will help you achieve your business goals based on the following essential characteristics:
Website audit
Ranking tracking
Site monitoring
Backlink tracking
Additional tools
Unique features
Price and tariff plans.
Please choose the best platform for your business needs and take your website SEO to the next level with our detailed comparison of Serpstat and Sitechecker!
Serpstat vs Sitechecker: Comparison of Features
But before we get into the detailed comparison between Serpstat and Sitechecker, let's look at the big picture. In this table, we list the main features of each platform to demonstrate the difference between the two tools and their pros and cons.
Sitechecker
Serpstat
GENERAL
Trial period
30 Days
7 Days
No credit card required
✓
✓
Monthly pricing
from $23
from $48
SEO PRODUCTS
Site audit
✓
✓
One-time site audit
✓
☓
Site monitoring
✓
✓
Rank tracker
✓
✓
Backlink tracker
✓
✓
SEO Chrome Extension
✓
✓
SEO Software
✓
✓
SEO Dashboard
✓
✓
FREE SEO TOOLS
On-page SEO Checker
✓
✓
Website Traffic Checker
✓
✓
Website Safety Checker
✓
☓
Website Down Checker
✓
☓
Website Rank Checker
✓
☓
Website Hosting Checker
✓
☓
Website Speed Checker
✓
☓
Website Backlink Analysis
✓
☓
Website Broken Link Checker
✓
✓
COMPETITOR RESEARCH
Link strategy
✓
✓
SPECIAL FEATURES FOR DIGITAL AGENCIES
White Label
✓
✓ (enterprise plan only)
SEO Reporting
✓
✓
Project Sharing
✓
✓
Number of Projects
3 to unlimited
1 to 7
COMMUNICATION & SUPPORT
Demo
✓
✓
Support
Live chat, email, demo calls, FAQs, video guides
Live chat, email, demo calls, FAQs, instructions
Affiliate Program
✓
✓
RATING
Crozdesk
4,4 of 5 (15 reviews)
4,6 of 5 (429 reviews)
G2
4,4 of 5 (15 reviews)
4,6 of 5 (442 reviews)
Capterra
4,5 of 5 (115 reviews)
4,7 of 5 (150 reviews)
Don't you find it exhausting to work on SEO all day long?
Sitechecker is the perfect solution for all your site needs.
Site Audit: Serpstat vs Sitechecker
Both platforms are designed primarily for auditing websites. This is their primary and most important function, which determines the overall effectiveness of any such SEO program. In addition, the audit allows you to assess the technical performance of your website, including the sitemap, metadata, and possible server errors.
Sitechecker site audit main features
The site audit function of Sitechecker uses a cloud-based web scanner for analysis. It allows real-time auditing. With a web scanner, you can detect and prioritize technical issues. In particular, it includes the following key features:
Full audit in just 2 minutes
Customizable scan options
Shows website score
Sends e-mail notifications
Filters out non-critical issues
Video instructions on how to fix
Access to code and HTTP headers
Audit of external and internal links
On-page audit
Ability to share projects
Structured PDF reports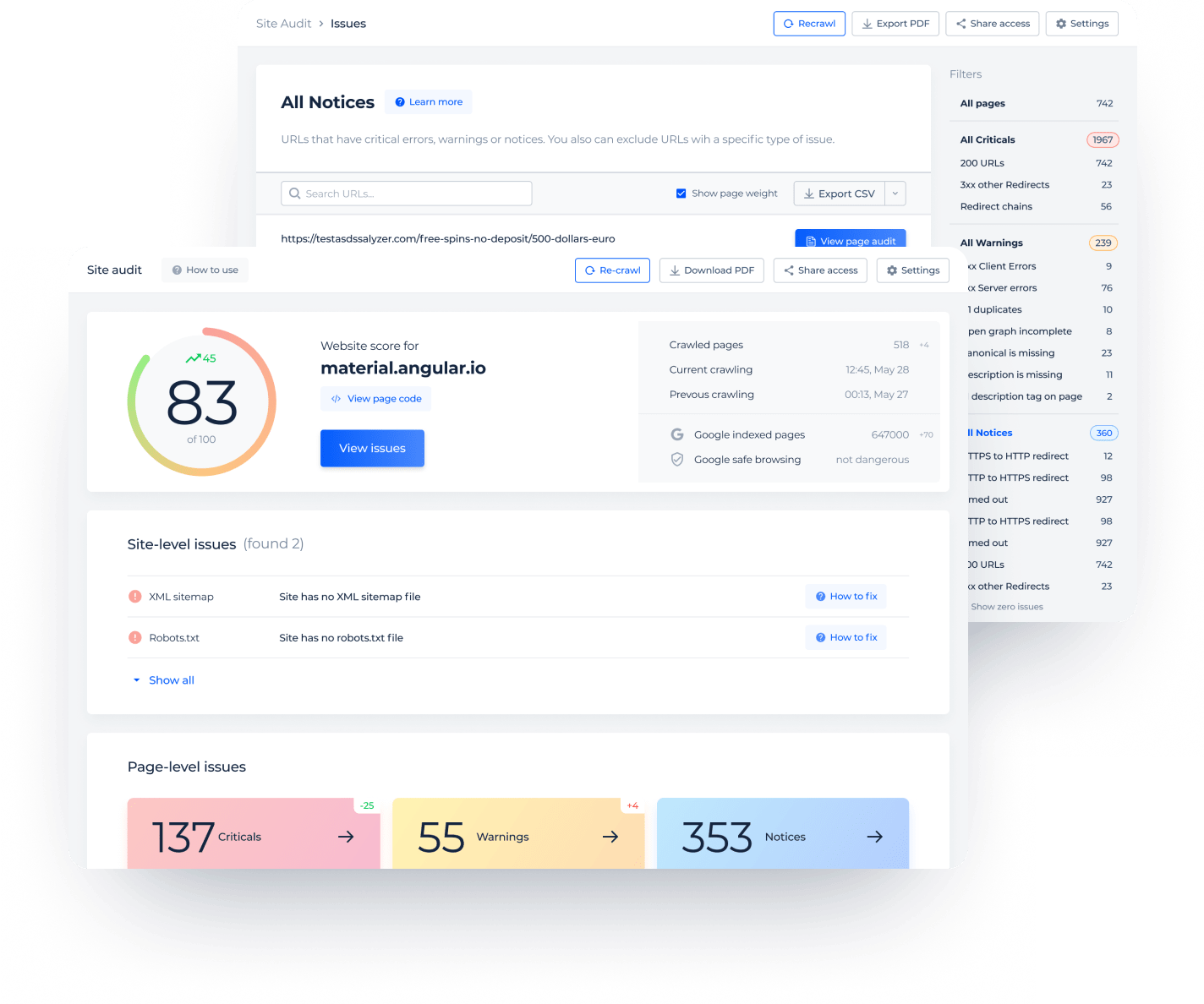 Serpstat site audit main features
Serpstat offers the following website audit functions:
Custom setting before starting the audit
Multi-level audit of six different aspects of the site
Personal reports with convenient filters
Found errors are divided into categories by priority
A description of each problem and recommendations for resolution
Sharing of projects by e-mail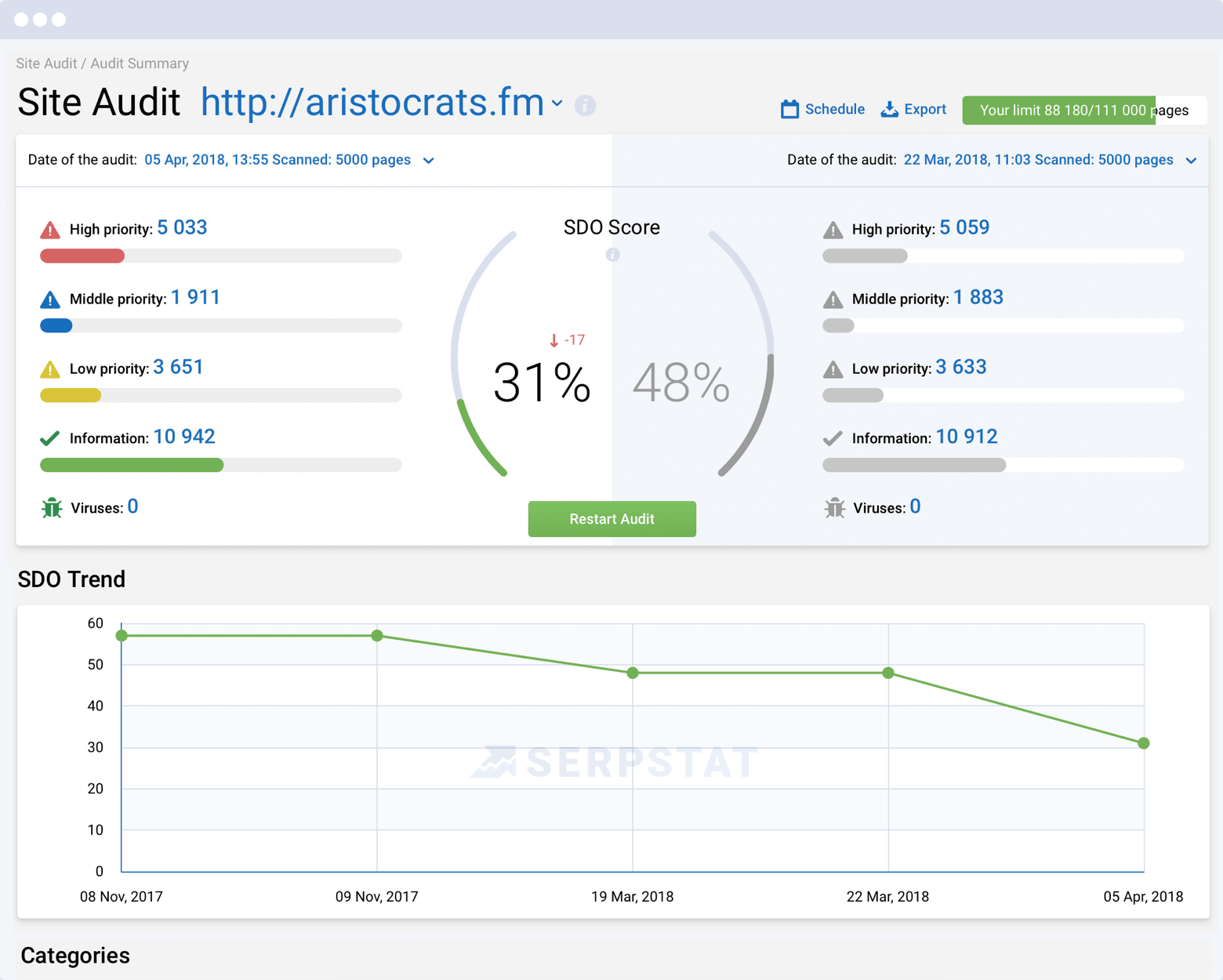 Site Monitoring: Serpstat vs Sitechecker
Constant, careful website monitoring is an essential component of SEO. It helps monitor your web page's performance and prevent traffic loss from Google. The quality of tools like Serpstat or Sitechecker is determined by whether they can instantly provide access to the information you need to monitor. This way, you can measure the impact of your changes on your website's ranking.
Sitechecker site monitoring main features
Sitechecker has several features that will allow you to monitor what is happening with your website and detect problems in time. Let's look at some of them:
A brief overview of recent website changes
Instant e-mail alerts for indexing issues
Reports code changes caused by external influences
Rank Tracker shows the current position of a page in the SERP
Filters for analyzing events and page history
Analysis of competitors and their SEO strategies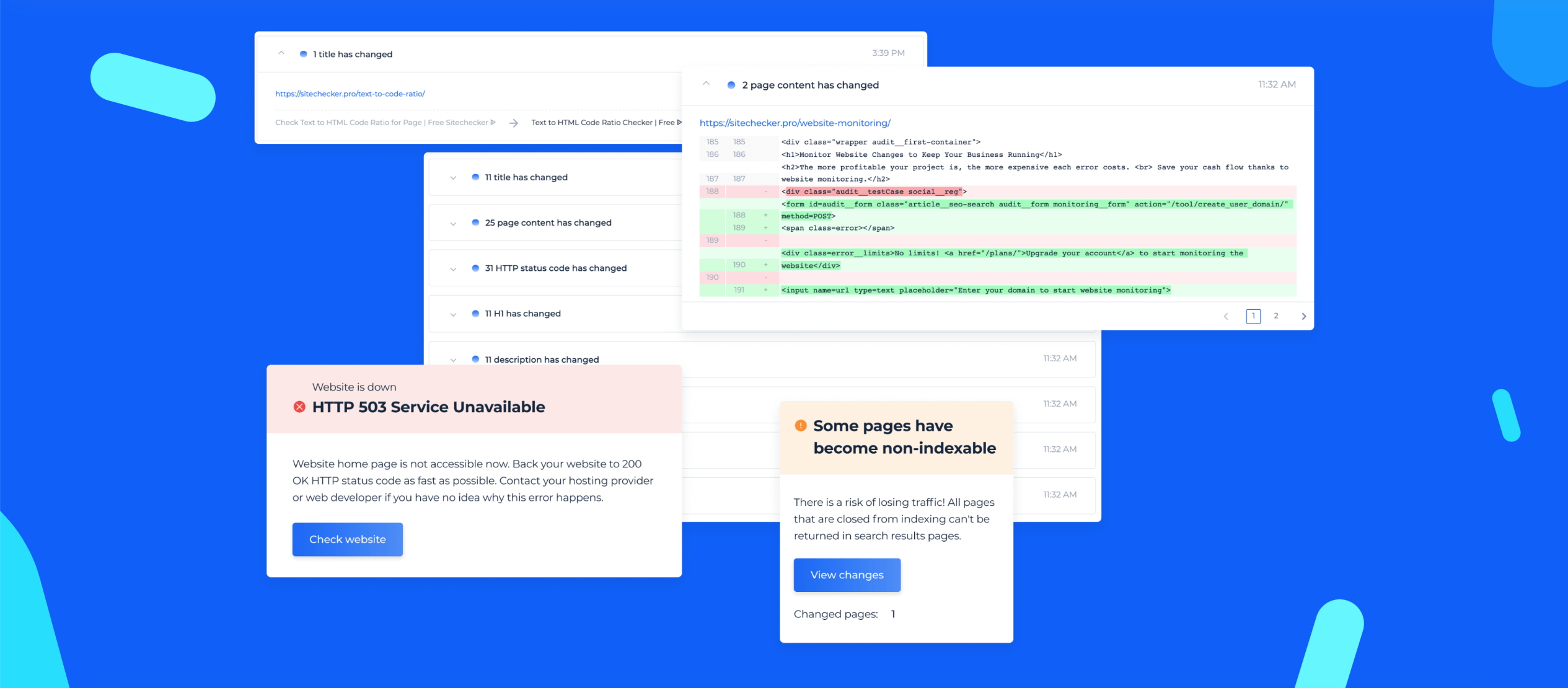 Serpstat site monitoring main features
Serpstat also offers a set of standard features that help businesses track website performance:
A panel with all SEO indicators and the dynamics of changes.
E-mail notification of issues.
Monitoring of competitors' positions.
Position monitoring filter system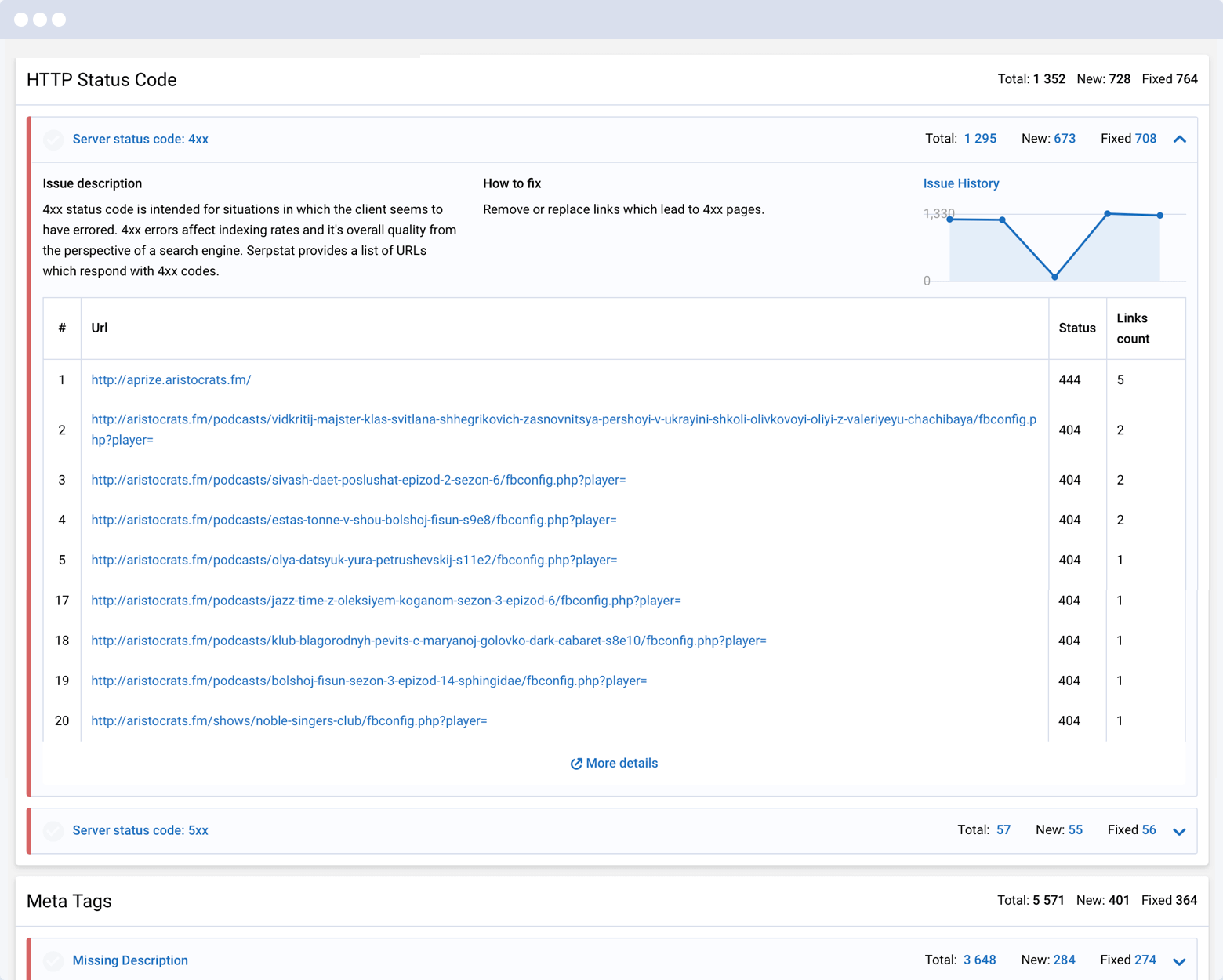 Rank Tracking: Sitechecker vs Serpstat
Another essential tool that any effective SEO program should have is rank tracking. With this tool, companies can monitor their website's performance in search results and adjust their strategy as needed. You will also be able to monitor changes in the site's visibility and indexing progress in real-time.
Sitechecker rank tracking main features
Sitechecker's rank-tracking tool is very effective and includes many useful features:
E-mail reports with the most popular keywords
Advanced keyword filters across multiple categories
Table settings are easily customizable
Notification of negative changes in ranked URLs
Calendar for comparing ranking positions over time
SERP analysis with the most popular keywords of your competitors
Adding notes to mark events
Full-screen mode to view more keywords
Bulk keyword manipulations
Informative PDF reports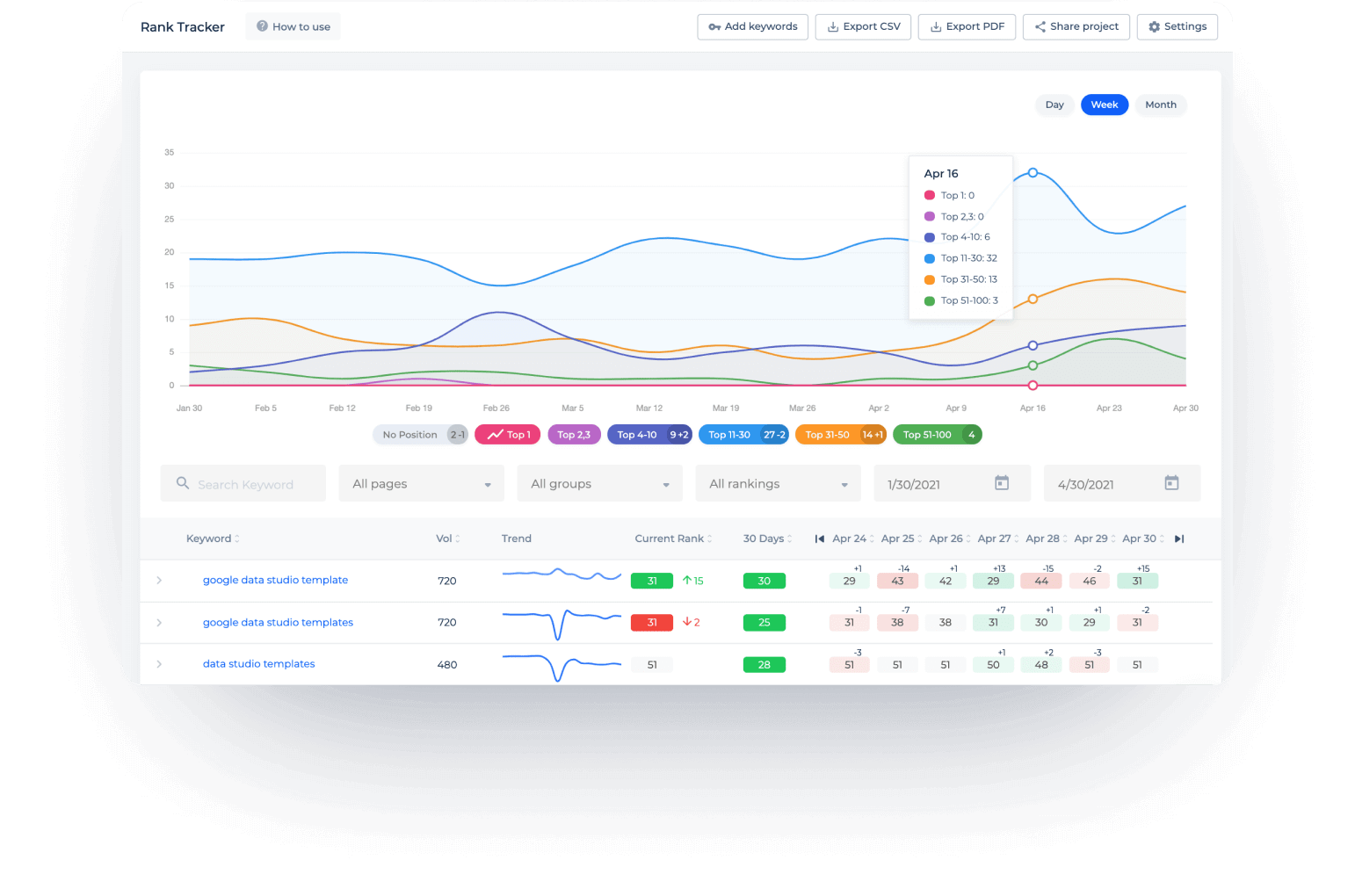 Serpstat rank tracking main features
Serpstat also has a website rank tracker similar to Sitechecker's. But it is not included in the basic subscription package. Its main characteristics are as follows:
Keyword position tracking
Daily keyword position reports for mobile and desktop versions of the website
Dashboard with monitoring of the dynamics of changes in your site and competitors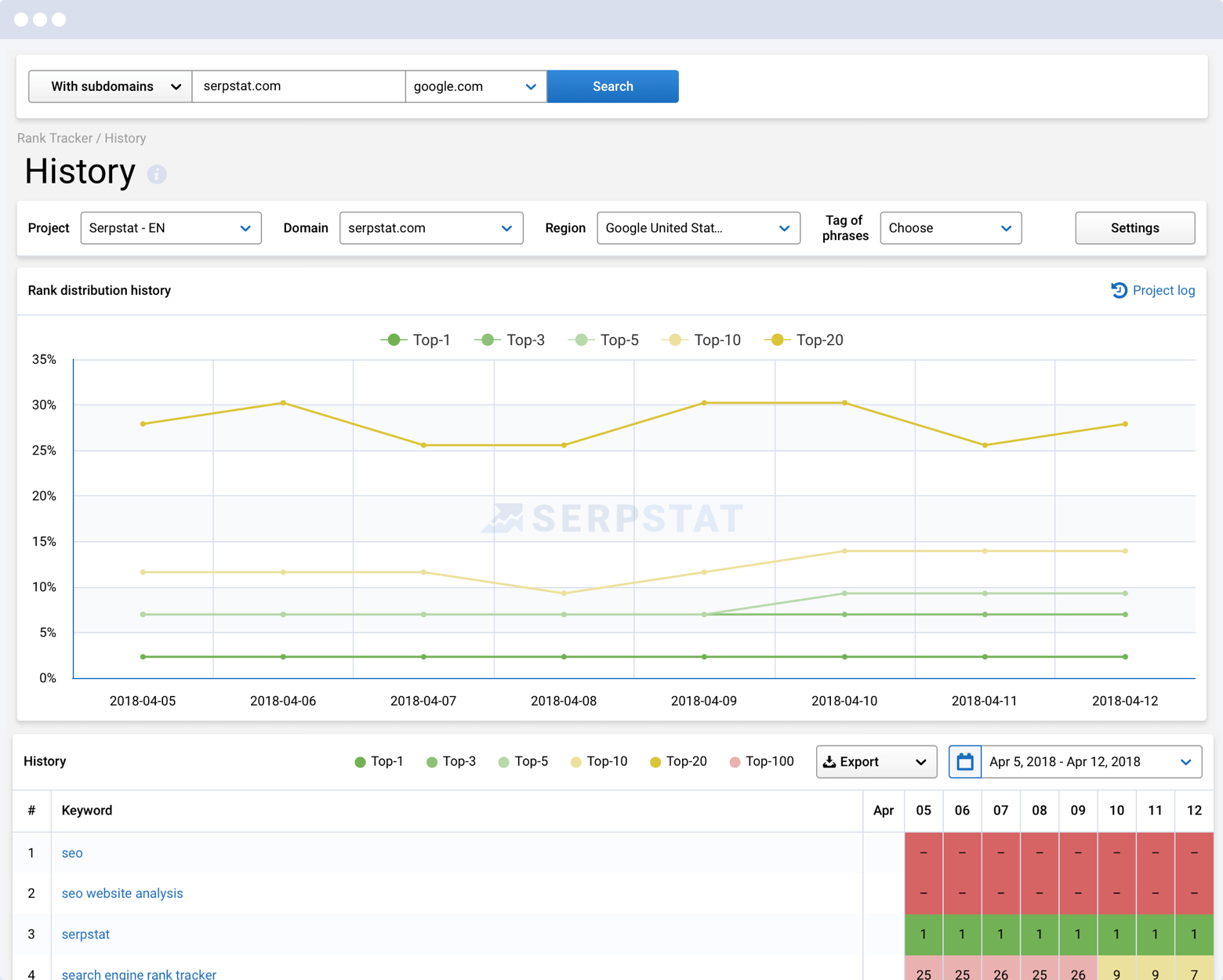 Backlink Tracking: Serpstat vs Sitechecker
Backlinks are needed to bring a user from one website to another. Therefore, collecting and tracking backlinks is critical to your SEO strategy, as they affect the effectiveness of your efforts and your website's ranking. It follows from this that a high-quality SEO optimization platform must necessarily have this functionality.
Sitechecker backlink tracking main features
Backlink Tracker is a primary Sitechecker tool available to all subscribers, as are many others. Some of the key features of this tool are next:
Ability to import the most valuable links
Tracking the statuses of indexed backlinks
Alerts when links become unindexed
Catching the most common backlink anchors
Detecting the pages that have the most effective backlinks
Detailed reports on link-building dynamics
Serpstat backlink tracking main features
Serpstat offers this function in the basic package. The main functions of this tool:
Analysis of the results of the link-building campaign
Monitoring the quality of backlinks
Detection of harmful backlinks
Collection of the most common competitor link donors
Lists of links and link types
Extra tools: Serpstat vs Sitechecker
Along with the basic and most essential tools and functions, Serpstat and Sitechecker also offer additional features. First, let's look at what is available to users of each platform.
Sitechecker extra tools main features
For Sitechecker users, in particular, the following additional tools are available:
SEO Chrome extension that evaluates page performance in Chrome
Speed checker tool checks website speed and suggests things to improve
Traffic checker tool provides detailed traffic statistics
Safety checker checks the website for safety and legality
Hosting checker provides information about the web host and server
Down Checker analyzes and reports on the causes of website downtime
Broken link checker analyzes a website and finds broken (404) or dead links
Serpstat extra tools main features
Serpstat offers a limited number and variety of additional features. All tools available to users are available in different subscription packages. The only extra feature is the Local SEO tool, offered separately for $20/location.
Serpstat vs Sitechecker: Pricing Plan Comparison
The cost of subscription and individual tools is the first thing to pay attention to when choosing an SEO platform for a business.
The price of a Serpstat subscription per month is significantly higher than Sitechecker. However, you can save money if you choose an annual subscription plan immediately. At the same time, a 7-day free trial version is available. So, let's compare the plans of Sitechecker and Serpstat in a handy table to determine which platform fits your budget better.
| Pricing Plan | Serpstat | Sitechecker |
| --- | --- | --- |
| Basic | $48/mo. | $23/mo. |
| Standard | $104/mo. | $39/mo. |
| Premium | $209/mo. | $79/mo. |
| Enterprise | $349/mo. | $319/mo. |
Main Advantages of Sitechecker
Sitechecker is an excellent alternative to many SEO platforms, including Serpstat. It can be ideal for digital agencies, in-house teams, or business owners. The platform provides high-quality SEO audits and provides detailed reports. All this will help to quickly increase the effectiveness of your website and bring it to the first positions of Google searches.
Below, we would like to take a closer look at the benefits of the Sitechecker platform together with you.
Your website's on-page and technical SEO improvement
Sitechecker tools can perform web crawls and technical SEO audit in real-time and instantly. The program lets you quickly identify existing technical issues on a website and receive a detailed report so you can start making improvements immediately. In addition, reports with lists of instructions stay with you and help you solve similar problems again if necessary.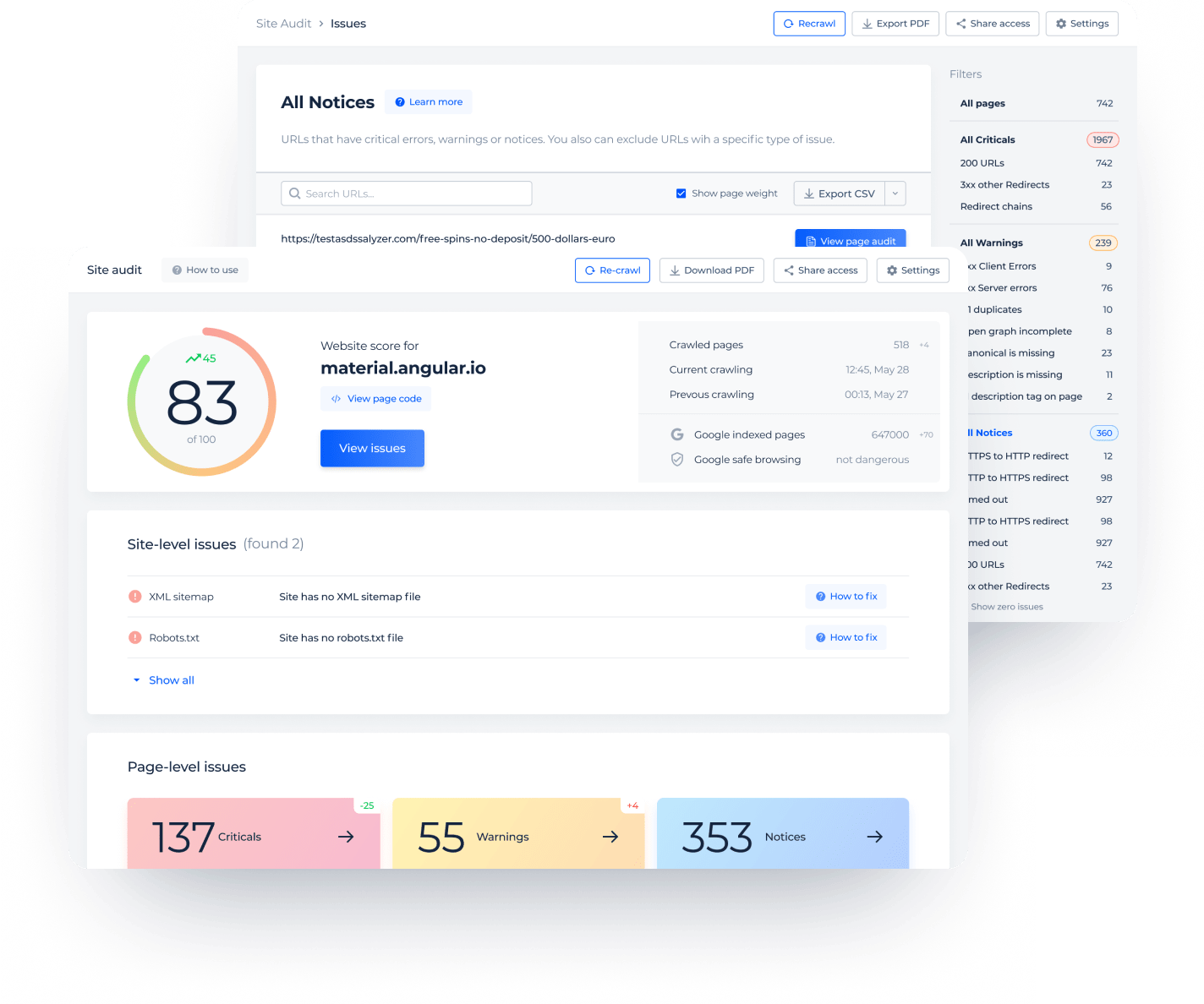 Google Search Console and Google Analytics integrations
Google Search Console and Google Analytics are valuable and relevant tools that provide business owners and SEO specialists with important information. However, using this data with a professional SEO platform is easier. Sitechecker's integration with Google tools gives you multiple ways to get the most out of it.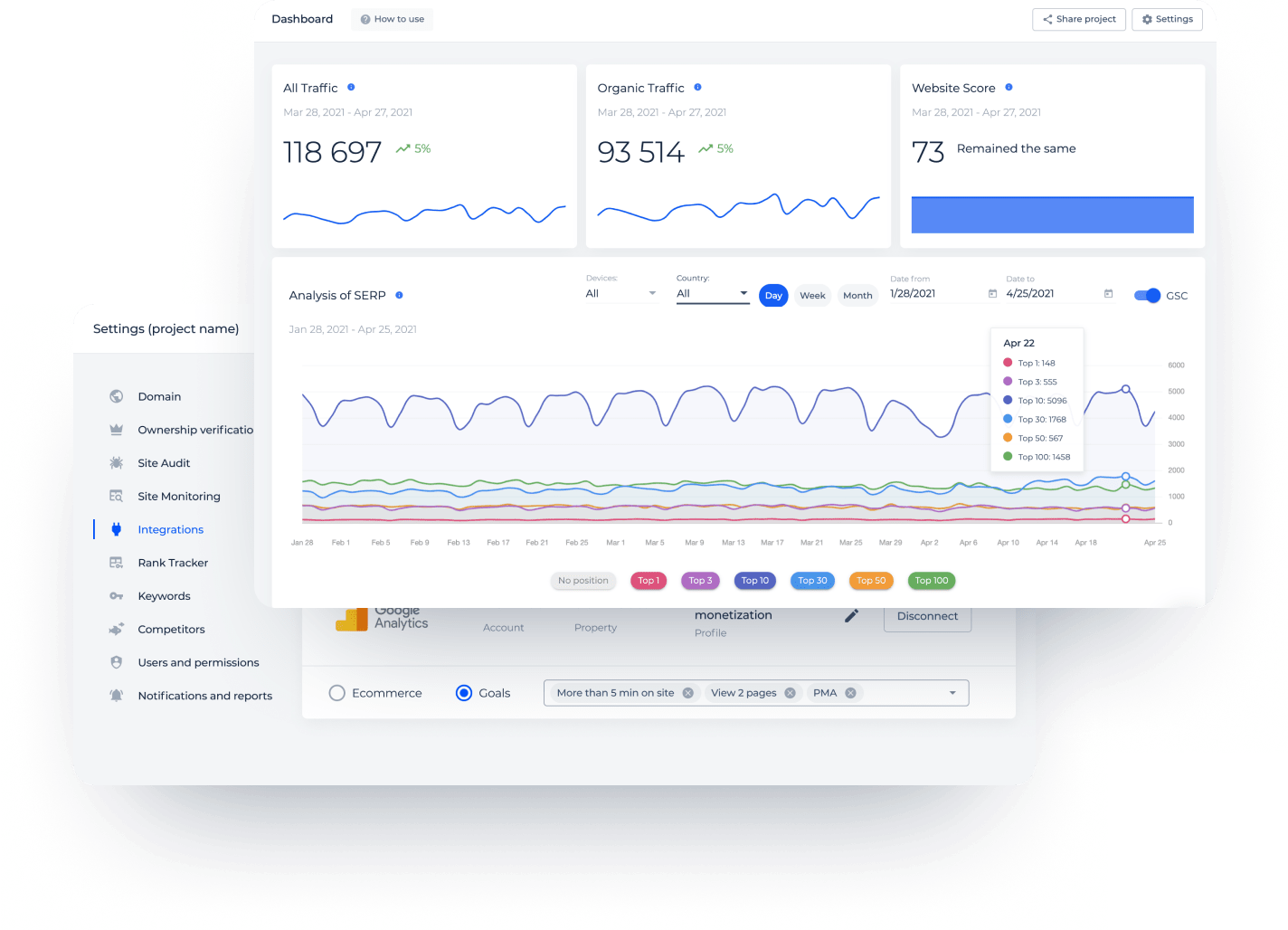 Personalized step-by-step SEO instructions
From Sitechecker, you will receive daily reports on your site's performance. This will help you better understand your website's content performance, backlink quality, and overall ranking. In addition, the analysis of these indicators allows the program to automatically form lists of tasks for you, the implementation of which helps to solve existing problems and maintain the quality of SEO.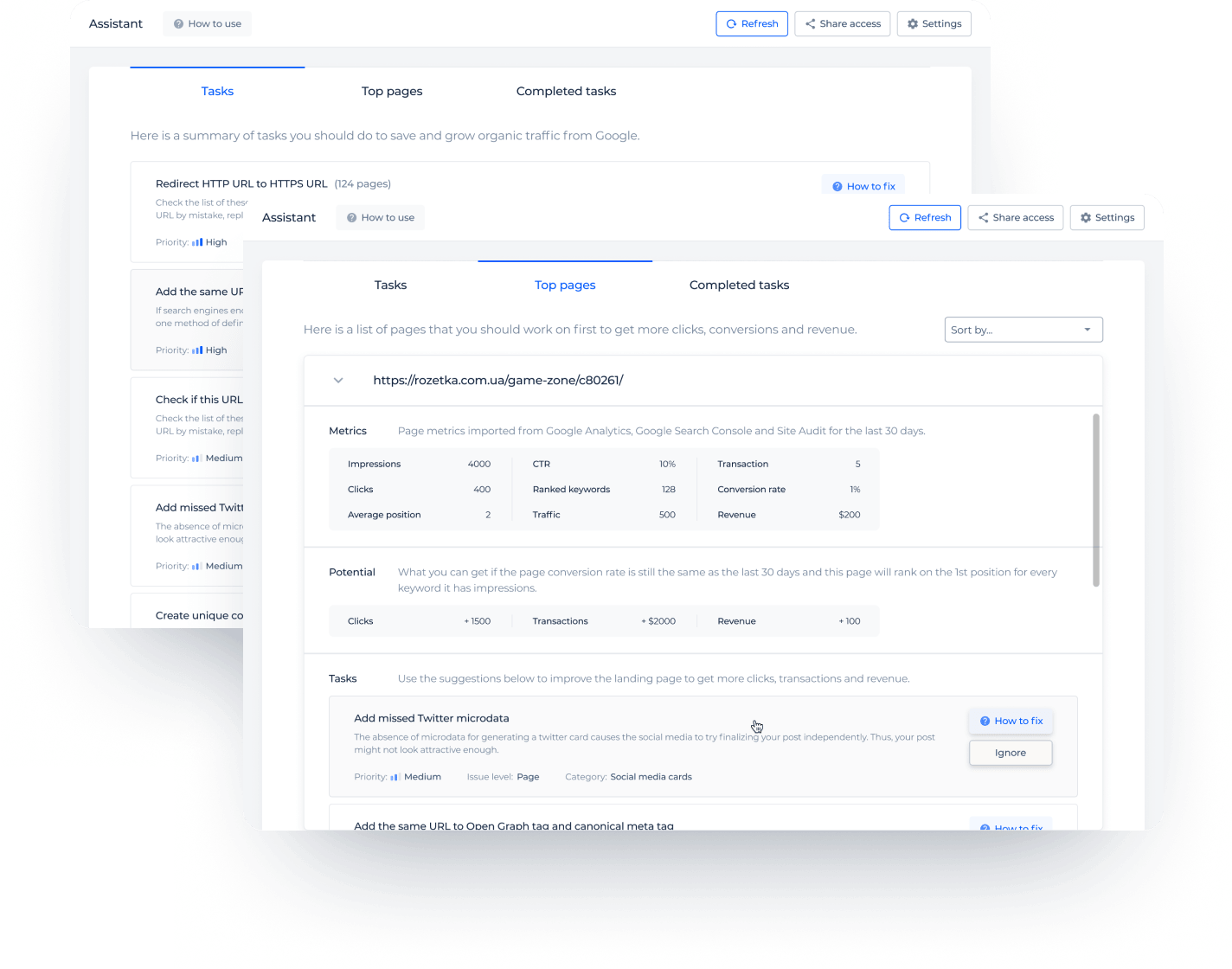 All your website's changes 24/7 monitor
A low ranking and low traffic from Google mean that your site could be more effective, and accordingly, you will not be able to get the desired conversions. Therefore, real-time monitoring of the website is essential to sustain the business. Sitechecker allows you to monitor SEO effectiveness and respond to problems on your com website immediately.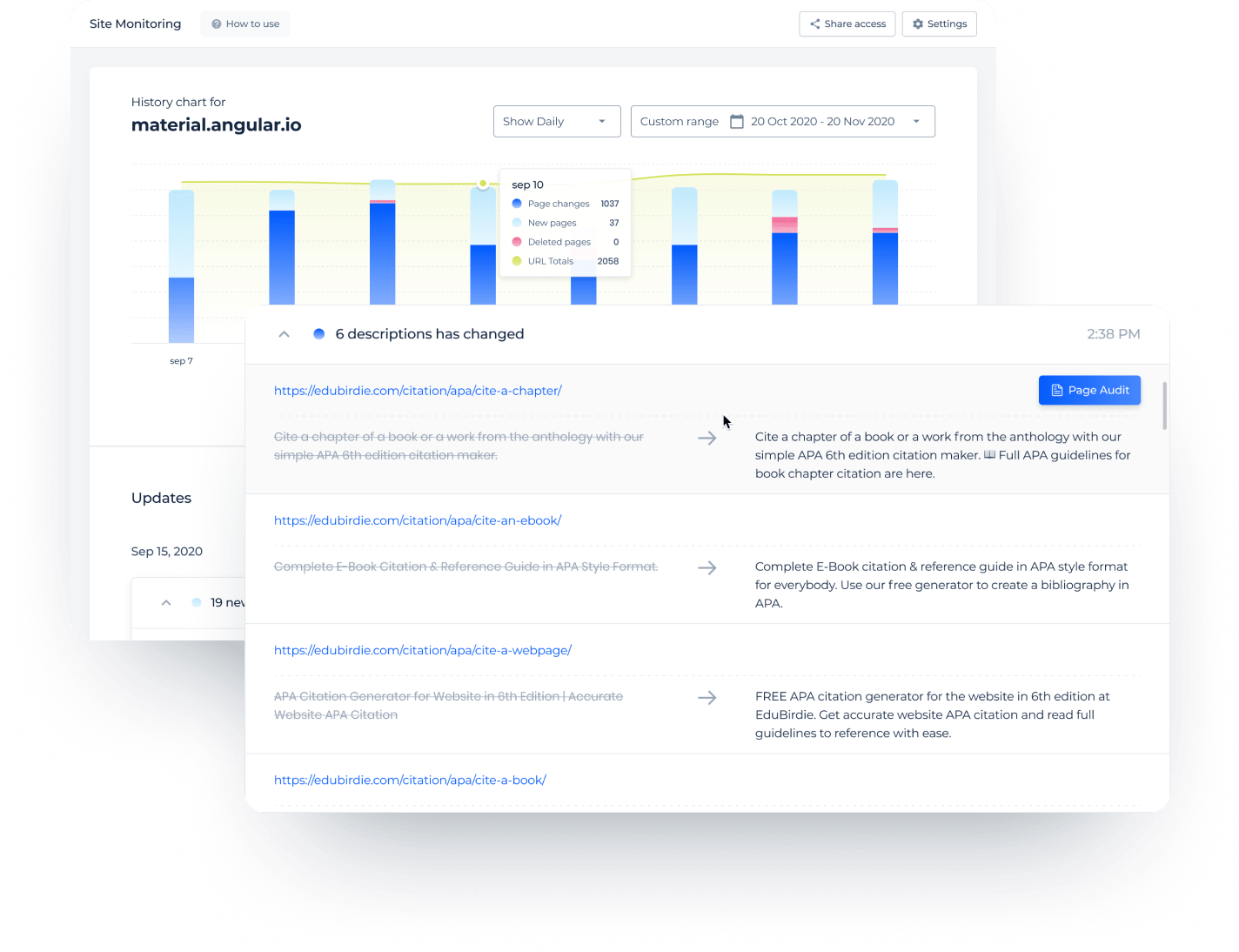 Clear keywords report with an accurate rank tracker
As already mentioned, Sitechecker allows you to monitor the level of visibility of your site and changes in indexing. Also, with this program, you can conduct a deep analysis of keywords and trace exactly which changes lead to an increase in the ranking. This will allow you to understand what is happening with your site now.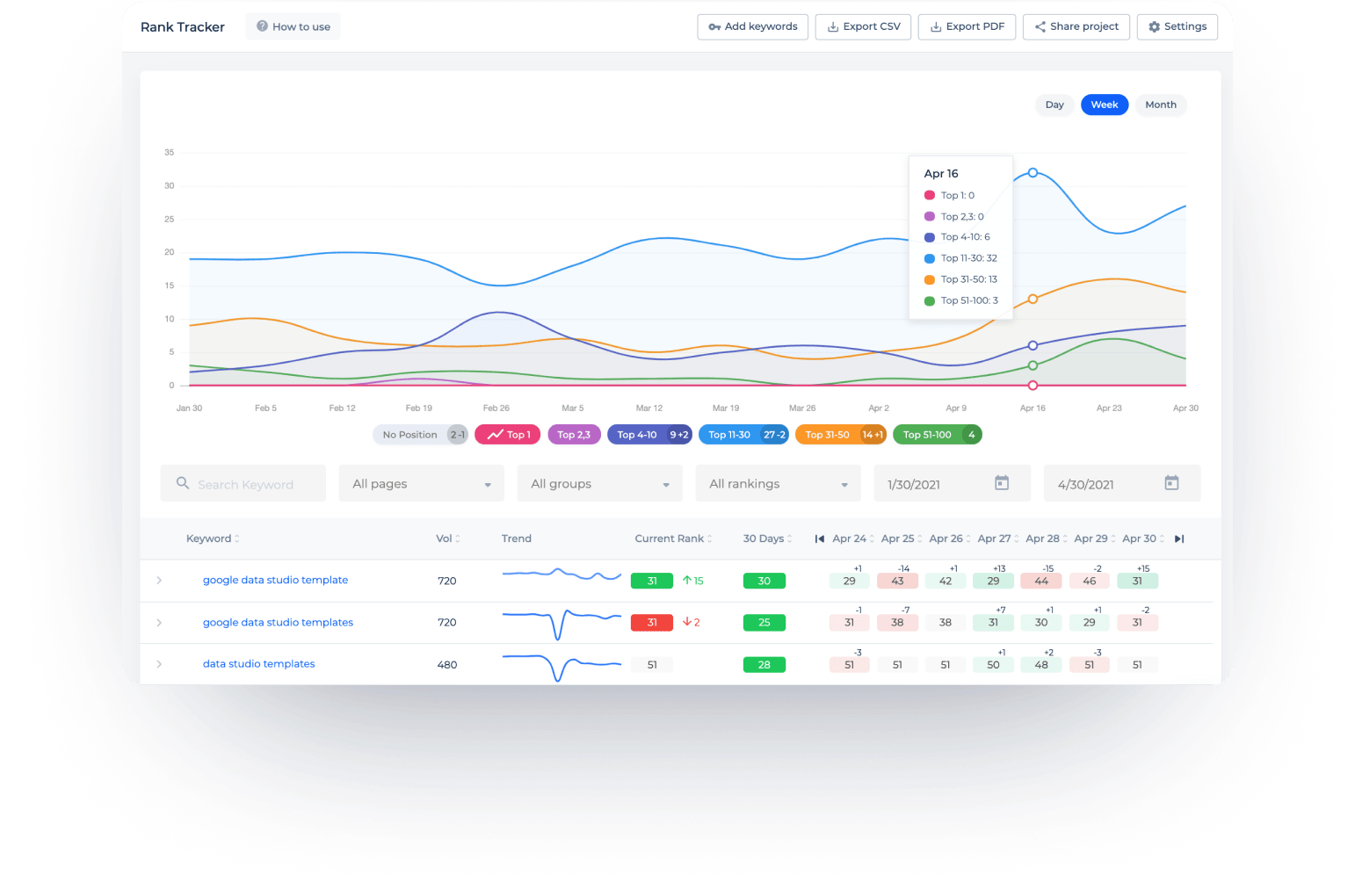 Control of all the backlinks you've built
Backlinks are an essential factor that can negatively or positively influence the implementation of your SEO strategy. Sitechecker allows you to monitor your backlinks' status, quantity, and quality. Also, the tool will immediately send you notifications about negative changes.

Saving time with Chrome extension
The Sitechecker extension for Chrome is an additional feature that allows you to quickly check and improve the search engine optimization of your website. This feature will enable you to evaluate the quality of your meta tags, content, keywords, links, page loading speed, and more in the browser.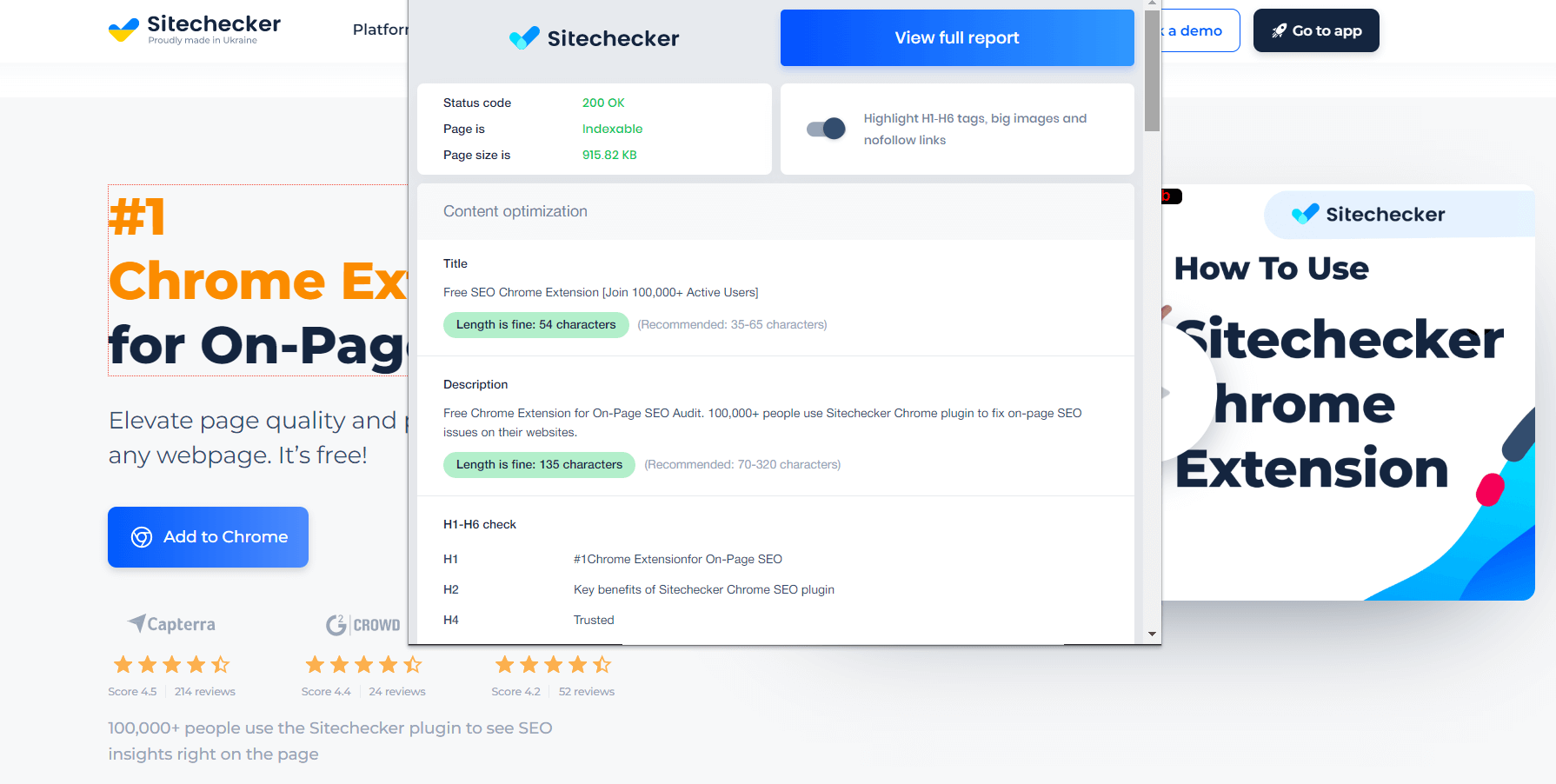 Don't you find it exhausting to work on SEO all day long?
Sitechecker is the perfect solution for all your site needs.
How to switch from Serpstat to Sitechecker
If you've concluded that Sitechecker's SEO program better meets your business needs, consider switching. We will immediately note that this is a quick and simple process. First, you can use the 7-day free trial version to test and understand how all the main functions of the platform work with your site to get used to the new interface.
Sitechecker's design is focused on easy interaction with the user. The program has an intuitive yet informative dashboard. Subscribers also have 24/7 chat support, video tutorials, and the ability to order demos. This dramatically improves the onboarding experience.
For clarity and better understanding, we suggest watching a video guide for beginners on using Sitechecker:
FAQ
How often is my data updated with Sitechecker? Is it every day?
Sitechecker users receive automatic website rescan results every 12 hours. The report will inform you of any website changes, issues, and fixes during that time. The frequency of updates is independent of the subscription plan.
Can I use all features in the trial or the smallest accounts?
The trial version of Sitechecker offers access to the program's main features. Specifically, Google Analytics and Search Console integration, Chrome extensions, PDF reports, and more. However, to study more websites and analyze keywords and backlinks, you need to subscribe to at least the Startup plan.
What to focus on when choosing SEO tool?
When deciding which SEO tool to use, consider your business goals first. Evaluate whether the platform's functionality and reporting accuracy meet your needs. In particular, pay attention to the following points:
Subscription price
Functionality
Accuracy of reports
Frequency of monitoring
Effectiveness of keyword analysis