If you want to find an alternative for Botify, consider its closest competitor — Sitecheker. It's an all-in-one SEO audit tool that uncovers new search engine promotion opportunities, so you can get to the top of the Google search. With our in-depth review, you can compare both tools on the parameters:
Site audit
Site monitoring
Rank tracking
Integrations
Backlink tracking
Extra tools
Cost and overall value
Use this article to find out which tool will better suit your business needs and boost your organic traffic with SEO-focused tools.
Botify VS Sitechecker: Feature Comparison
Let's start with the basics to point out the critical differences between services. We described each platform's key features in one table to make this task easier for you.
Sitechecker
Botify
GENERAL
Trial period
30 Days
☓
No credit card required
✓
☓
Monthly pricing
from $41
Individual
SEO PRODUCTS
Site audit
✓
✓
One-time site audit
✓
Doesn't provide information
Site monitoring
✓
✓
Rank tracker
✓
✓
Backlink tracker
✓
✓
SEO Chrome Extension
✓
☓
SEO Software
✓
☓
SEO Dashboard
✓
✓
FREE SEO TOOLS
On-page SEO Checker
✓
☓ (no free services)
Website Traffic Checker
✓
☓
Website Safety Checker
✓
☓
Website Down Checker
✓
☓
Website Rank Checker
✓
☓
Website Hosting Checker
✓
☓
Website Speed Checker
✓
☓
Website Backlink Analysis
✓
☓
Website Broken Link Checker
✓
☓
COMPETITOR RESEARCH
Link strategy
✓
✓
SPECIAL FEATURES FOR DIGITAL AGENCIES
White Label
✓
✓
SEO Reporting
✓
✓
Project Sharing
✓
Doesn't provide information
Number of Projects
3 to unlimited
Doesn't provide information
COMMUNICATION & SUPPORT
Demo
✓
☓
Support
Live chat, email, demo calls, FAQs, video guides
Live chat, FAQs, forum, email, help desk
Affiliate Program
✓
☓
RATING
Crozdesk
4,4 of 5 (15 reviews)
☓
G2
4,4 of 5 (15 reviews)
4,4 of 5 (50 reviews)
Capterra
4,5 of 5 (115 reviews)
4,4 of 5 (4 reviews)
Site Audit: Botify VS Sitechecker
A site audit is the main feature of both platforms. Fine audit tools give you the ability to analyze technical performance and improve it most efficiently.
Sitechecker site audit main features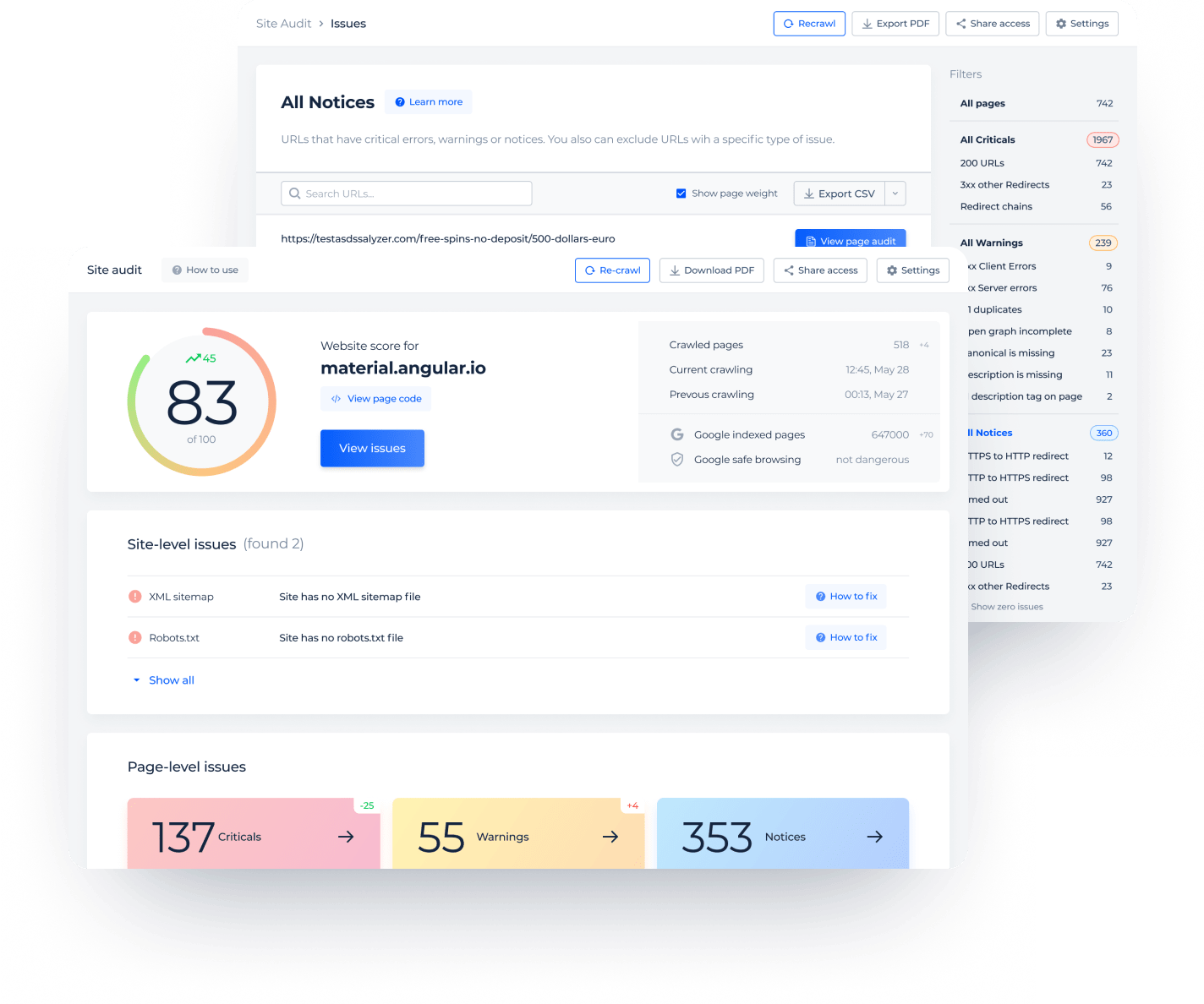 Sitechecker audit tool uses a cloud-based website crawler. It detects and prioritizes page issues in real time, so you will always have the latest data. Here are the most popular features of the Sitechecker Site Audit tool:
Full-fledged audit in 5 minutes.
Website score.
Customizable web crawling settings.
Full audit of internal and external links.
Quick on-page results.
Blog with How-to-fix articles.
Report notifications via email.
Branded PDF reports for agencies.
Sharing feature: show details of the projects to teammates or contractors.
Botify site audit main features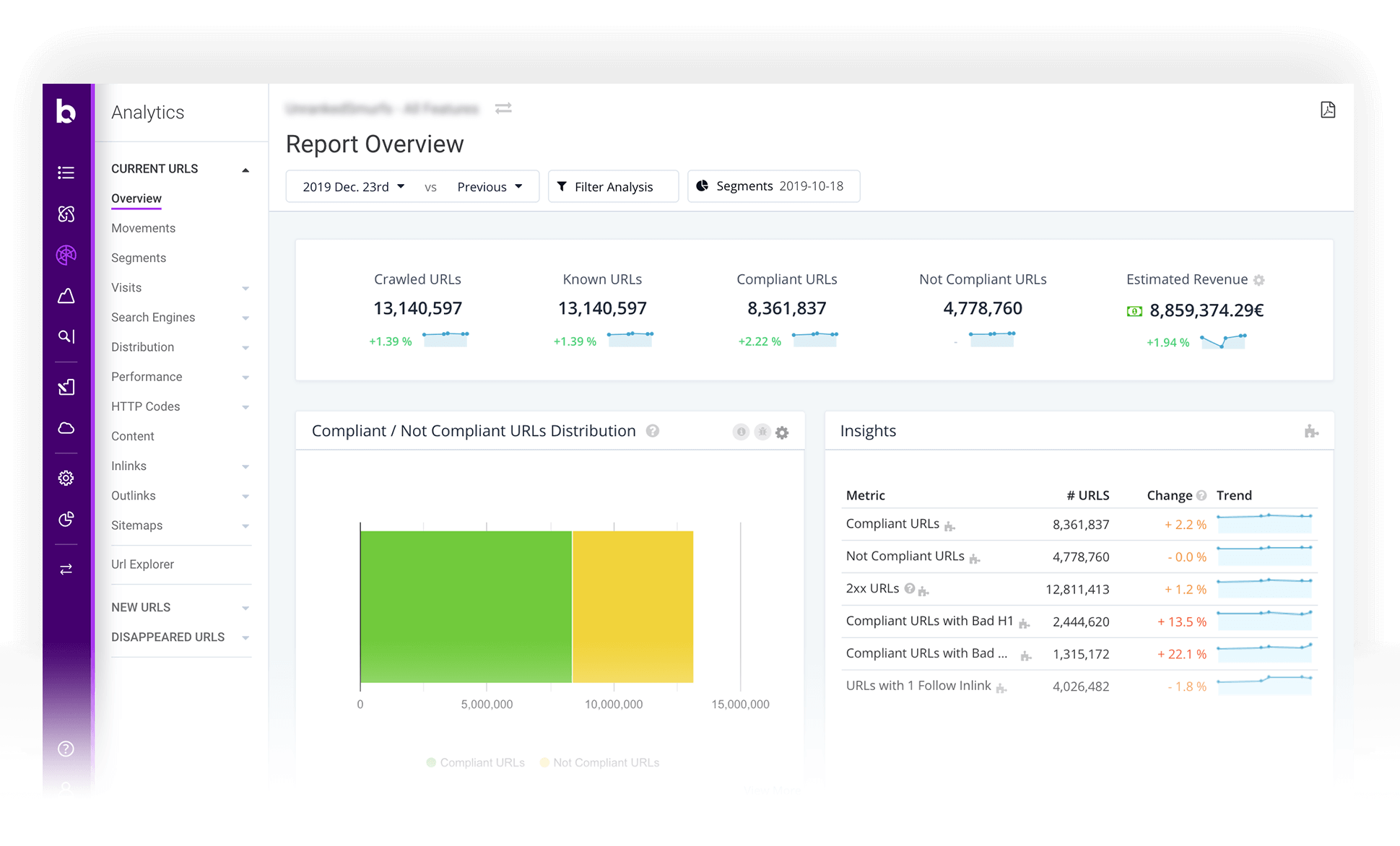 Botify service offers you the following features:
Template content analysis
Engagement analytics
Trend alerts
Duplicate checker
Site monitoring: Botify VS Sitechecker
Constant site monitoring is vital to SEO strategy. It can help you find your website's strong and weak points. If search engines mark the site as a poor-quality one, they will lower its rankings. Tools like Sitecheker and Botify provide you with high-precision analysis, measuring the impact of the tiniest changes.
Sitechecker site monitoring main features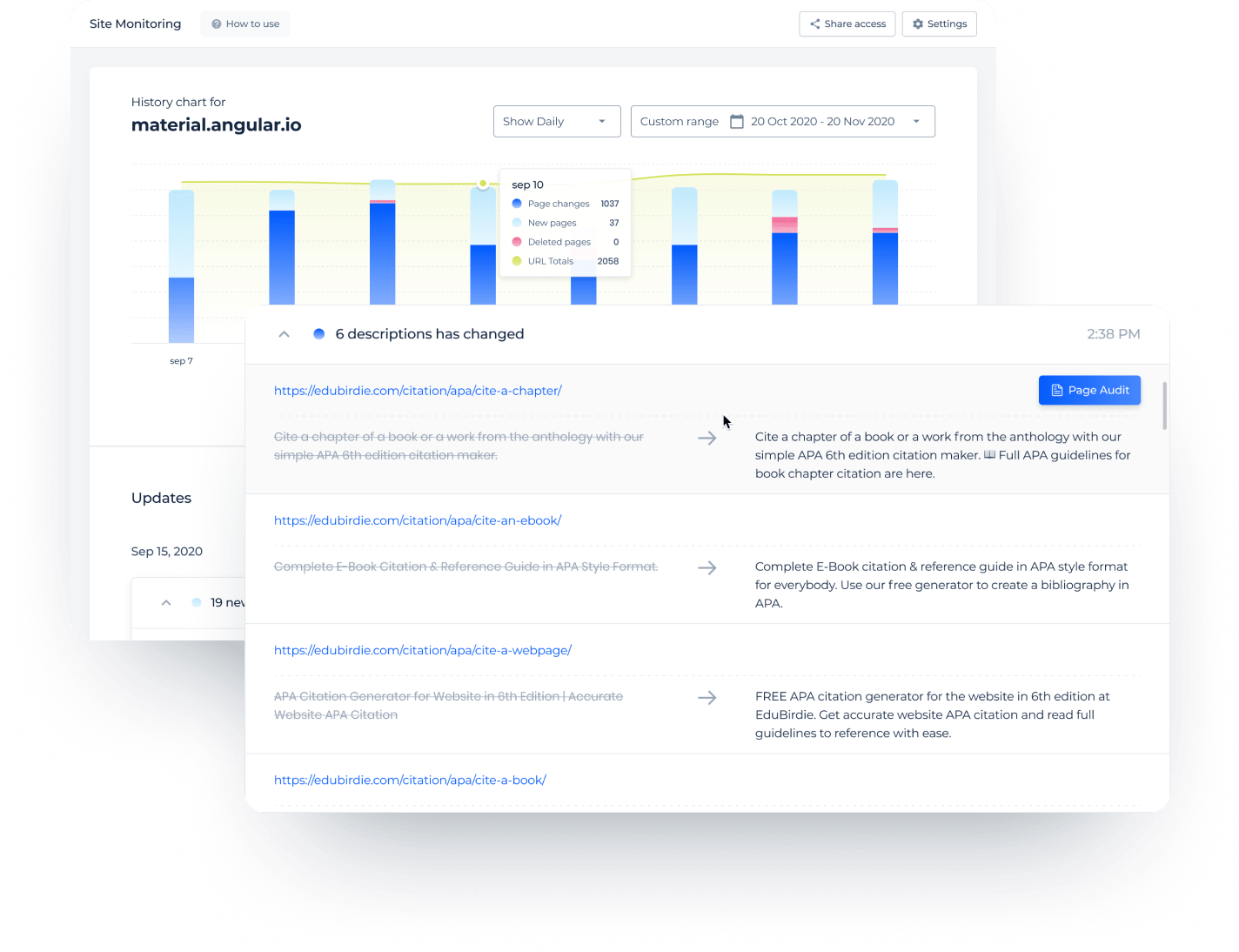 The Sitechecker tool offers monitoring features in real-time. It allows you to track all changes and fix mistakes and bugs immediately. Check out what it can offer:
An overview of the latest changes
Reports about code changes caused by any external impact
Rank Tracker with current SERP position
Instant email alerts about indexing issues
Dozens of filters related to the pages and events' history
Competitor analysis regarding the rivals' SEO strategies
Botify site monitoring main features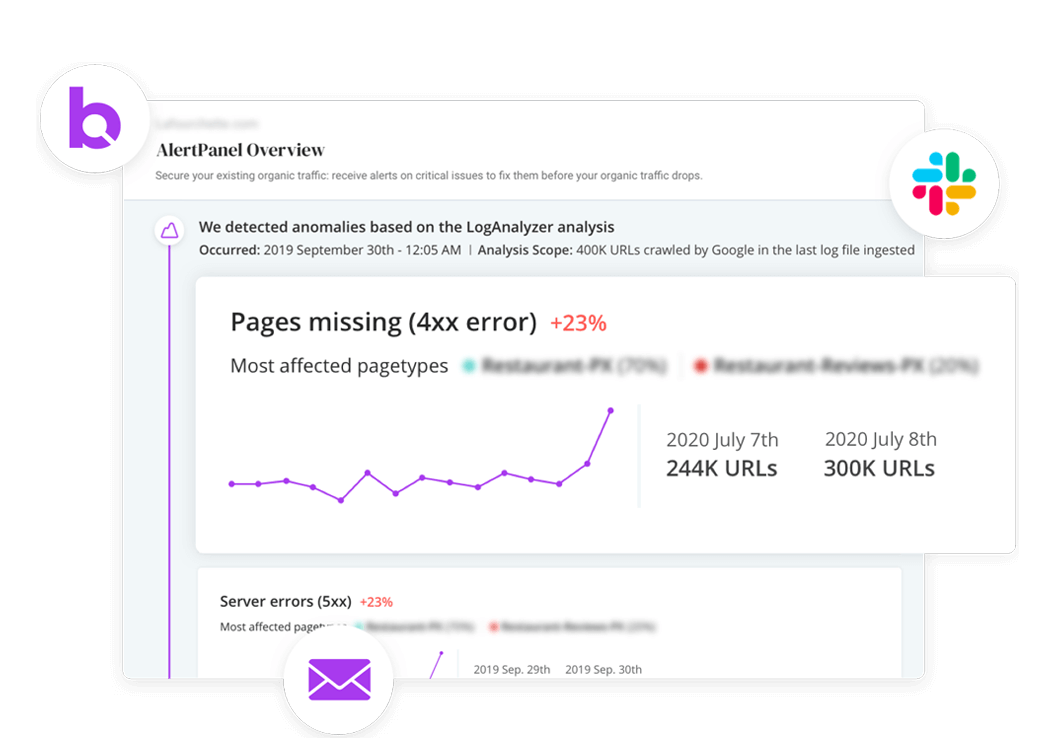 Botify can offer you the following monitoring features:
Smart Evolution charts show relationships between website parameters.
Log Analyzer helps businesses adjust the structure of their websites.
Activity and conversion tracking.
Rank Tracking: Sitechecker VS Botify
It's another vital function of any SEO tool. Rank trackers allow businesses to monitor their organic search results. It's vital to find a service with fine tracking features. Otherwise, the business would not know what they can change to boost organic traffic.
Sitechecker rank tracking main features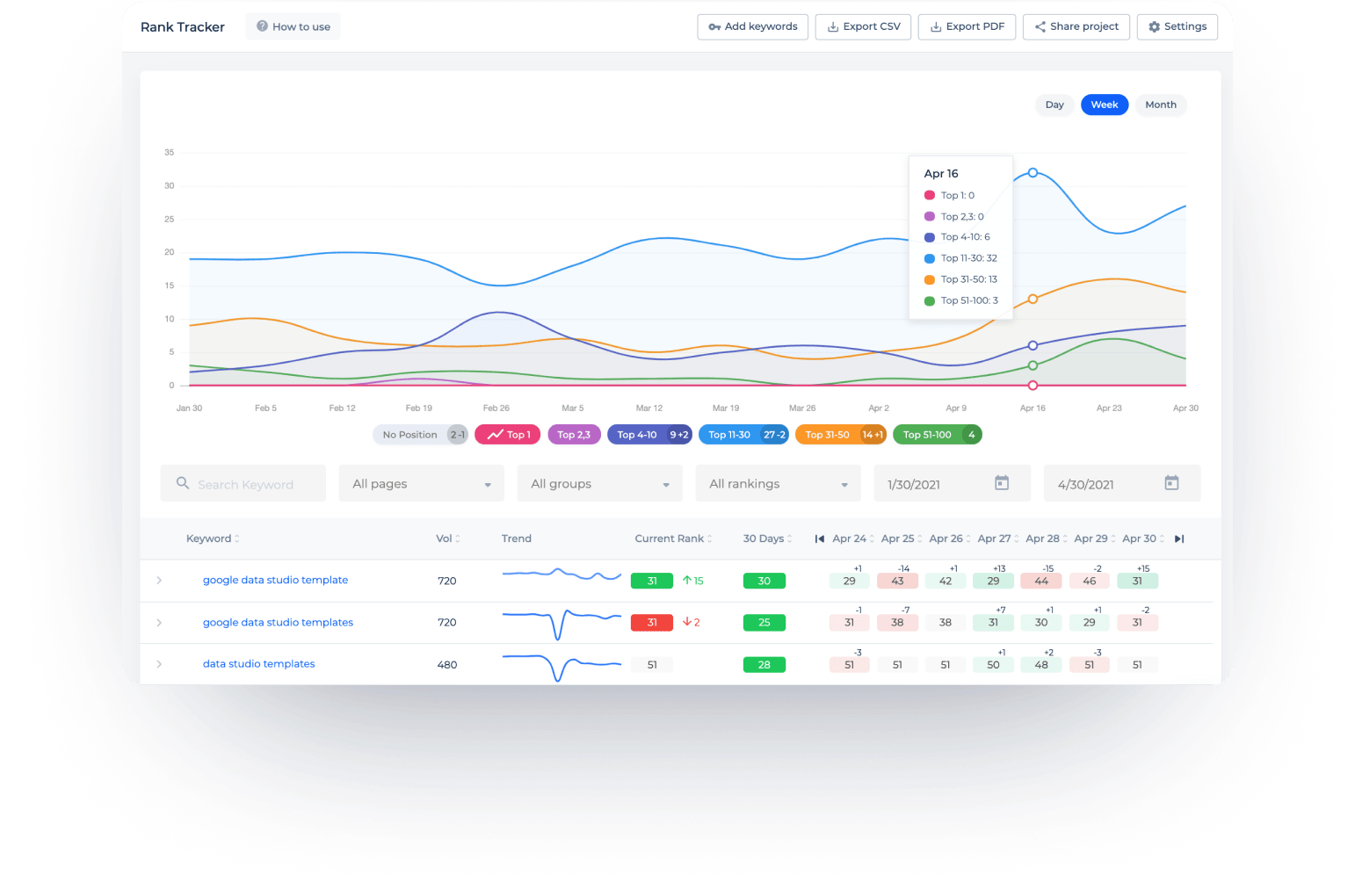 Sitechecker has a ranking tool with various useful features:
Filters for search volume, location, position, pages, etc.
SERP analysis with top keywords of the rivals
Bulk keyword manipulations
A calendar for comparing rankings on different periods
Alerts about unwanted changes in ranked URLs
Customizable dashboard settings
Memos for indicating events
Full-screen mode allows for covering even more keywords
Email reports with TOP keys
Branded PDF reports
Botify rank tracking main features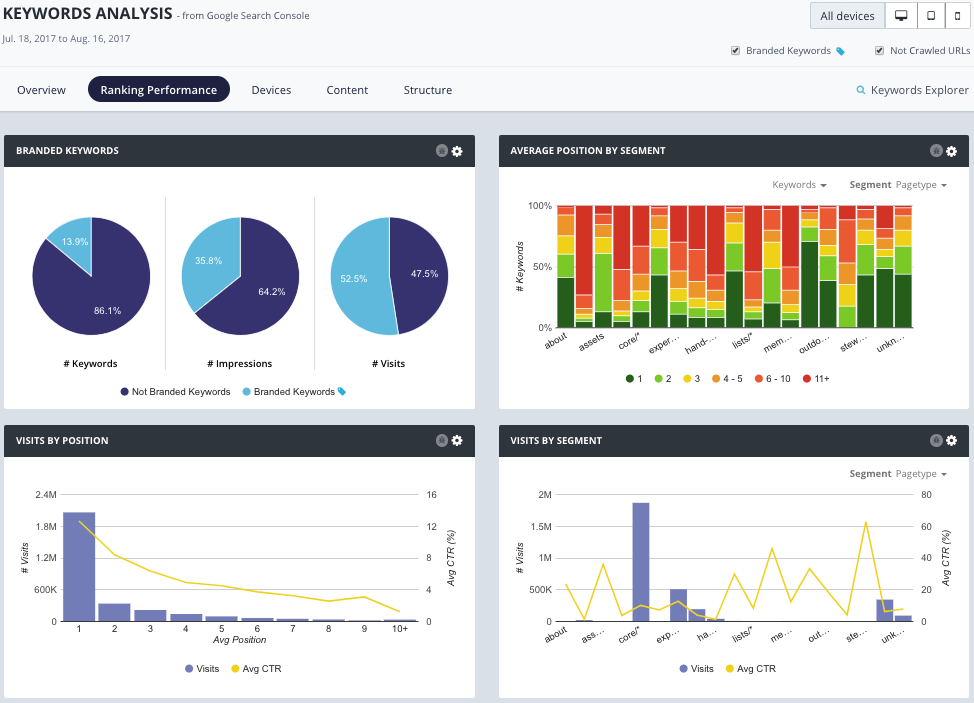 Botify has an advanced rank tracker even in the basic package.
Fast search for efficient long keywords
URL's Dynamic filtering
SERP competitor analysis
Missing clicks finder: identifies low-positioned keywords with high impressions
Integrations: Sitechecker VS Botify
Third-party integrations increase the tool's possibilities. It's not a must-have feature, however, such functionality makes search engine optimization easier. So let's take a close look at Sitechecker and Botify integration capabilities.
Sitechecker Integrations Main Features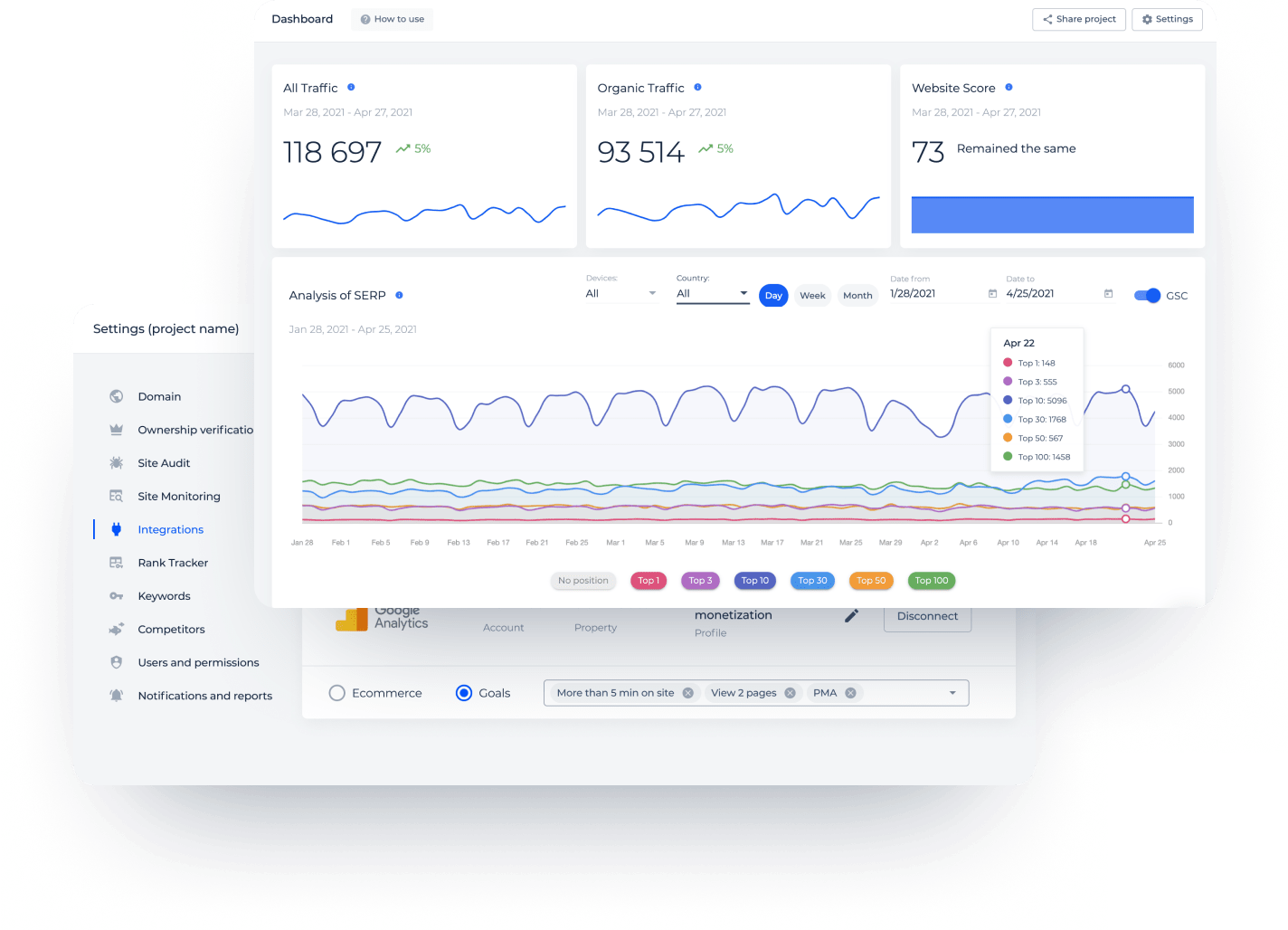 As of early 2023, Sitechecker has three integrations:
Google Analytics 360: the tool supports the latest versions (Google Analytics 4 and Universal Analytics) of the most popular Google SEO tool.
Google Search Console: this integration helps you to measure even more parameters of the search traffic and performance. It also means that Sitechecker supports other useful Google tools, such as Google Trends, Ads, etc.
Slack: you can get alerts, reports, and notifications directly in your Slack account. Thus, you won't miss crucial information as it won't get lost among other letters in your email.
Botify integrations main features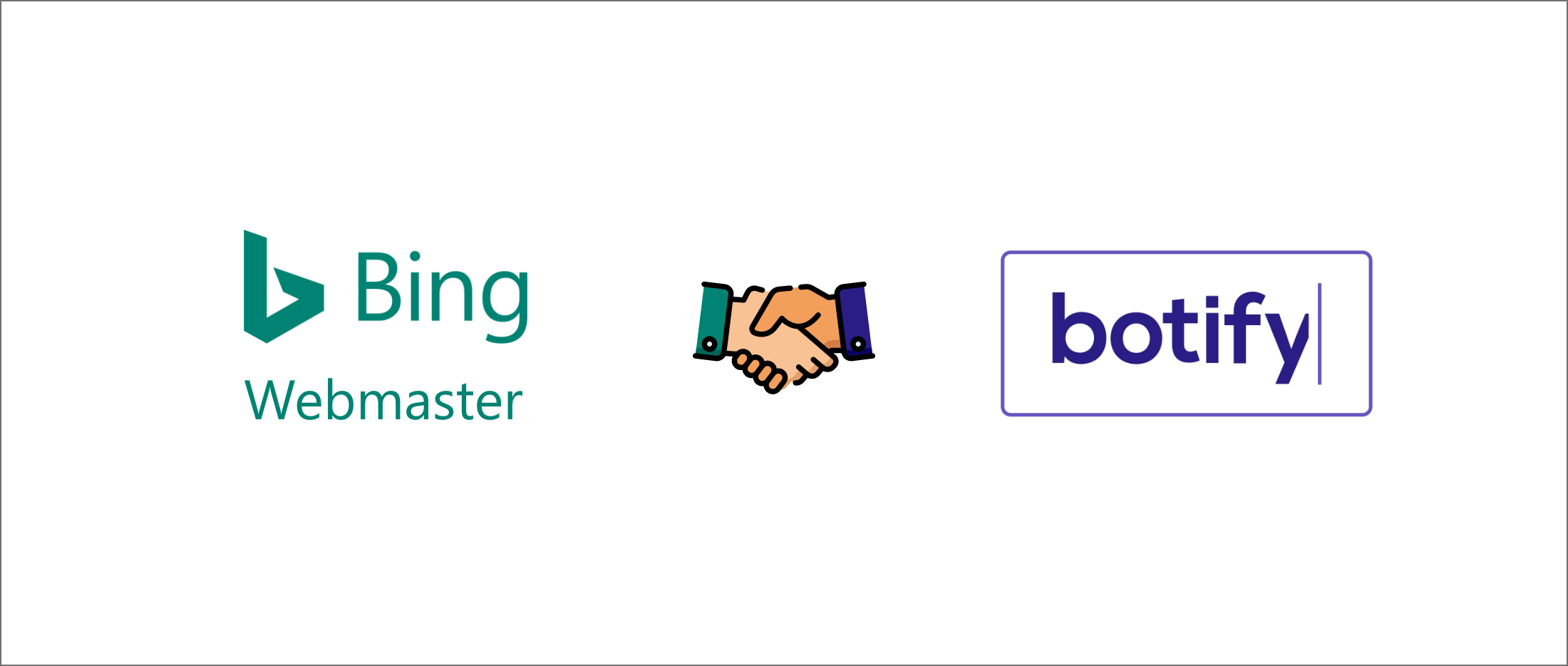 Botify has a similar list of integrations, but with some peculiarities:
Bing: this integration allows clients to push their content directly to Bing, reducing the need for search engines to crawl your site.
Contensquare: gives even more deep web analytics with user-friendly charts and insights.
Google Analytics 360: the premium version of Google Analytics with built-in automation, predictions, insights, and data management.
Backlink Tracking: Botify VS Sitechecker
Backlinks are links on other websites that go back to your website. Search engines use them as the "votes" for a specific page.
A website with multiple quality backlinks is more likely to get a higher organic rank. However, If the website that shares a link to your page has a bad reputation, there is a chance that search engines will lower your rank. Thus, it is crucial to have a backlink tracker with instant notifications.
Sitechecker backlink tracking main features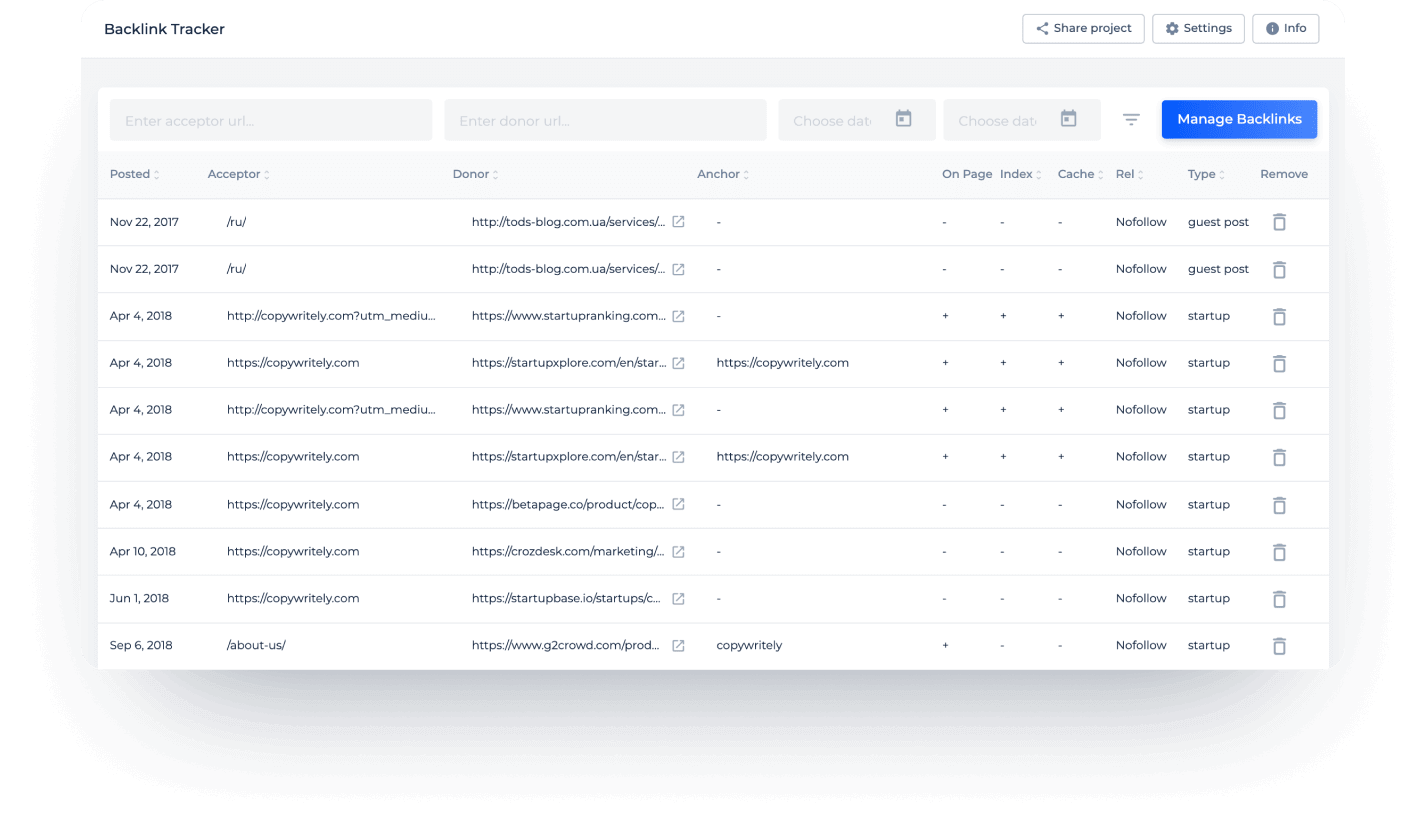 Backlink tracker is one of Sitechecker's free tools. It's available for all subscribers, so you can use it anytime you want to. Here is what the Sitechecker
backlink checker
can do:
Import the most valuable links in one database
Detect about most common backlink anchors
Notify when links stop indexing
Check and notify about pages with the most efficient backlinks
Check and track the statuses of all indexed backlinks
Evaluate and report link-building dynamics
Botify backlink tracking main features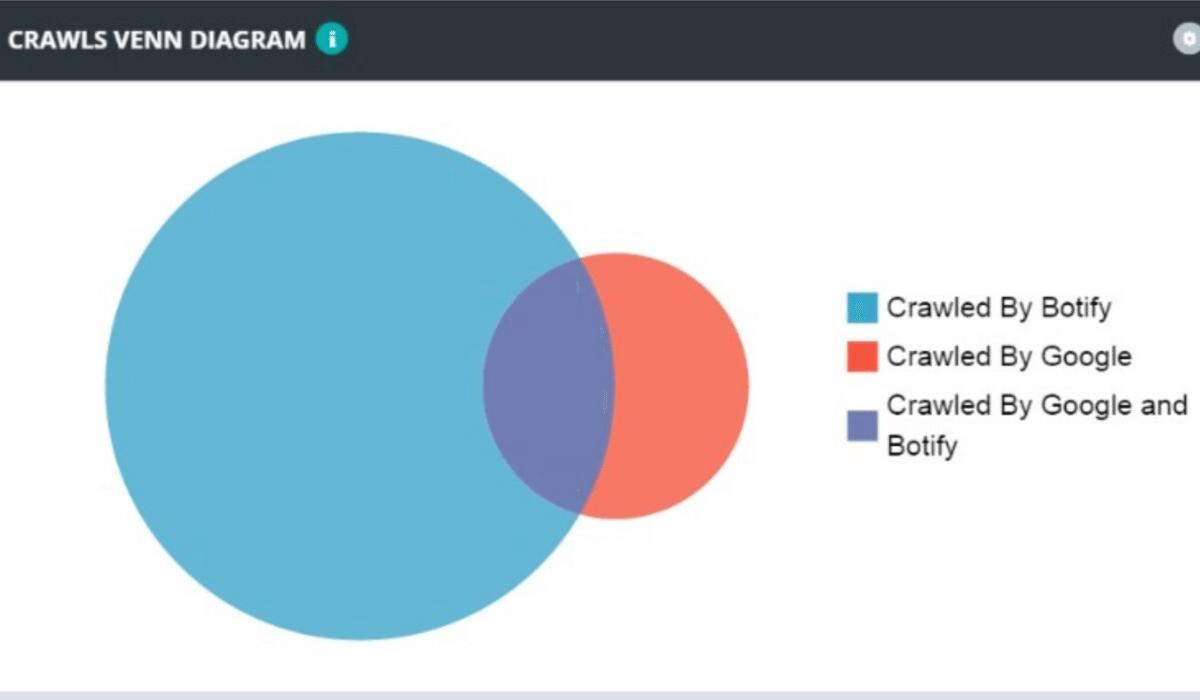 Botify doesn't have any free backlink-tracking features. The paid ones include:
The web crawler to find and sort links leading to your website.
Social media monitoring to collect and sort backlinks from socials.
Extra Tools: Botify VS Sitechecker
The basic features of SEO tools may look similar. It's important to take a closer look at the extra features. They are the ones that often set services apart from their rivals.
Sitechecker extra tools main features
Check out the seven most popular Sitechecker features:
Speed checker allows you to test the loading speed of individual pages. After analysis, it gives improvement suggestions.
Traffic checker gives you comprehensive website traffic statistics.
SEO Chrome extension estimates page performance right in your browser.
Safety checker verifies if the website is secure and legit.
Hosting checker shows you the server and web host technical details.
Down checker evaluates the causes and details of the pages and website downtime.
Broken link checker detects broken (404) or dead links in real time.
Botify extra tools main features
This service is widely known because of its extra features:
Site crawler can work with millions of pages in a day. It performs unique analysis at 100 URLs/second.
Professional services: brands or agencies can ask Botify technical, educational, or data experts for help.
Advanced site migration tools can help you build migration plans, test changes before launch, and monitor search engine crawlers, etc.
Digital publishers feature audits structured data and constantly monitors for parity between AMP and regular pages.
Botify VS Sitechecker: Pricing Plan Comparison
Price is one of the most critical factors when a company chooses an SEO service. Financial and marketing departments want to make sure that the business will use the most cost-effective option on the market.
Botify publicly claimed that they have a customizable price policy. There are no plans, and the final service cost depends on the providing tasks. However, you can book a demo on the Botify site.
On the other hand, Sitechecker is transparent about its prices. You don't need a demo meeting to find out how much you will have to pay.
Have a look at Sitechecker pricing plans to determine if this Botify alternative fits your budget.
| Pricing Plan | Sitechecker |
| --- | --- |
| Basic | $490/year |
| Startup | $990/year |
| Growing | $1990/year |
| Enterprise | $499/month (billed annually) |
Main Advantages of Sitechecker
Sitechecker is a user-friendly alternative to competitors such as Botify. This tool provides comprehensive and fast SEO audits. It also gives you recommendations to improve your content strategy, so you can easily get your web page to the top ranks of Google search.
Your website's on-page and technical SEO improvement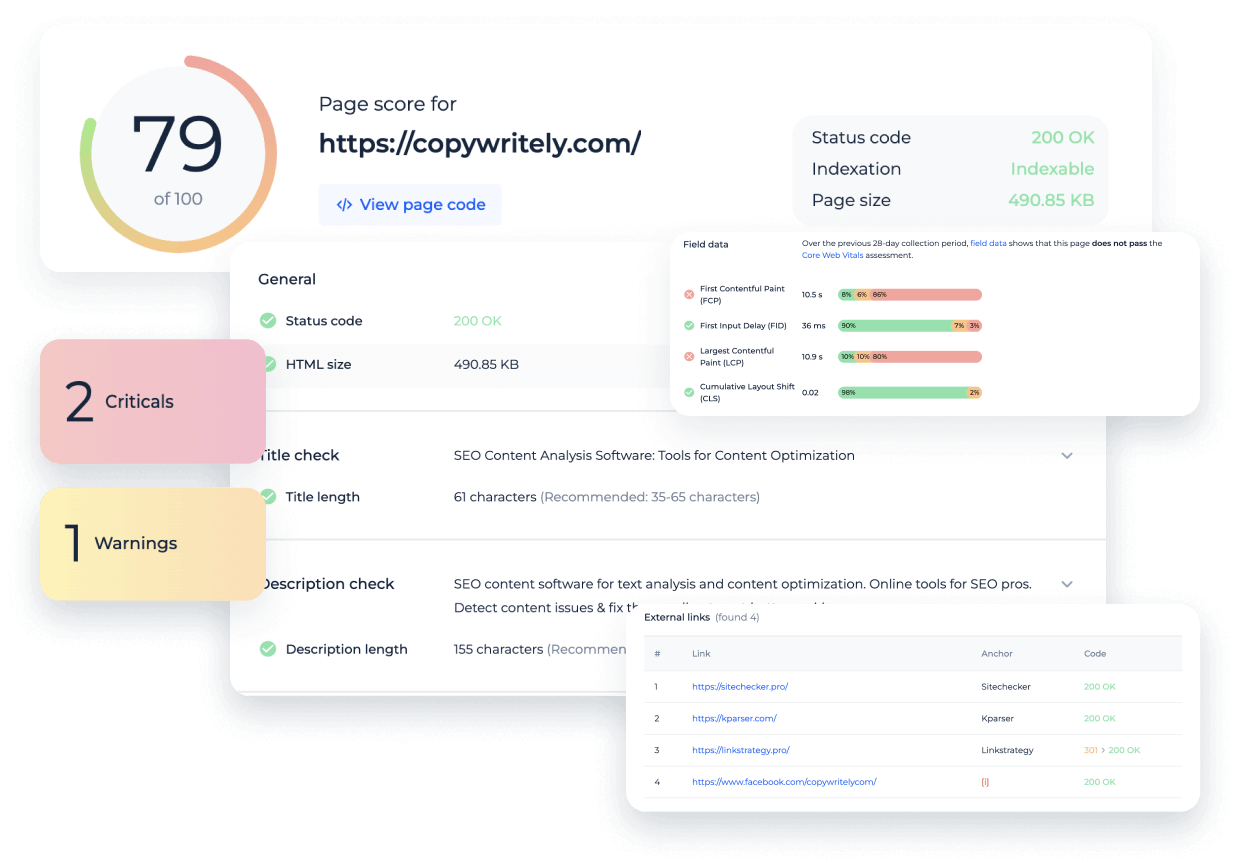 Run a real-time website crawler and SEO auditor that will help you find any technical issues instantly. Detailed reports will give you guidelines for improving your marketing strategy.
Google Search Console and Google Analytics integrations

Third-party integrations increase the tool's possibilities. Google Analytics and Google Search Console can provide you with valuable insights. Sitechecker transforms this data into user-friendly charts and reports. Therefore, you will have a better understanding of the current SEO situation.
Personalized step-by-step SEO instructions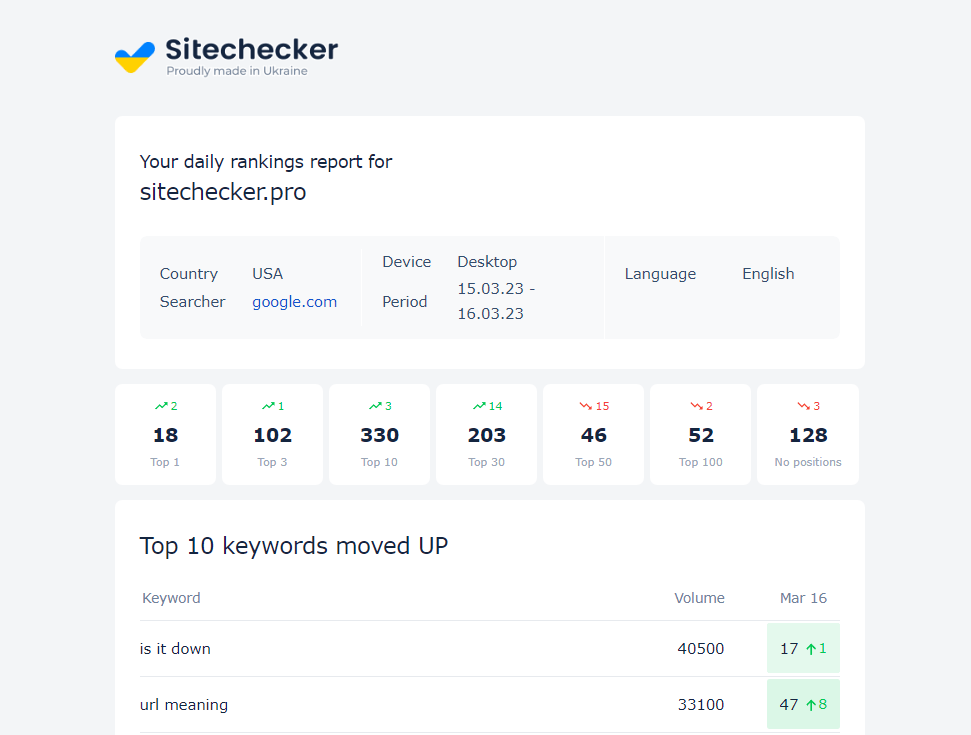 Sitechecker provides daily reports that show details of your site's performance: rankings, content, keywords, backlinks, etc. Based on this info, the tool generates step-by-step troubleshooting guidelines.
All your website's changes are monitored 24/7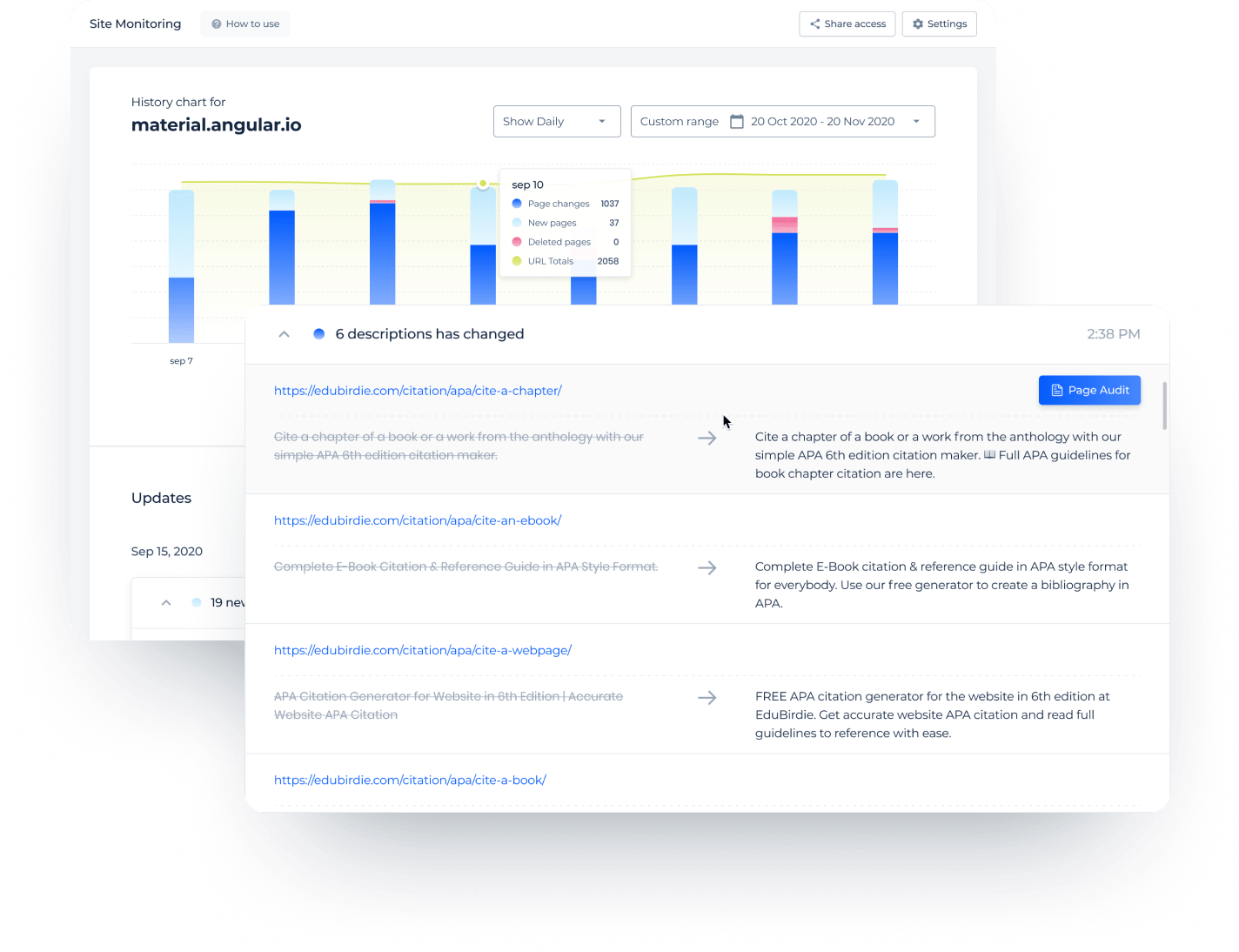 Poor ranking and low traffic can severely damage your online business. It's important to use a tool with a real-time monitoring feature. It allows you to fix any SEO issues as fast as possible, so they won't impact the website's performance.
Clear keywords reports with an accurate rank tracker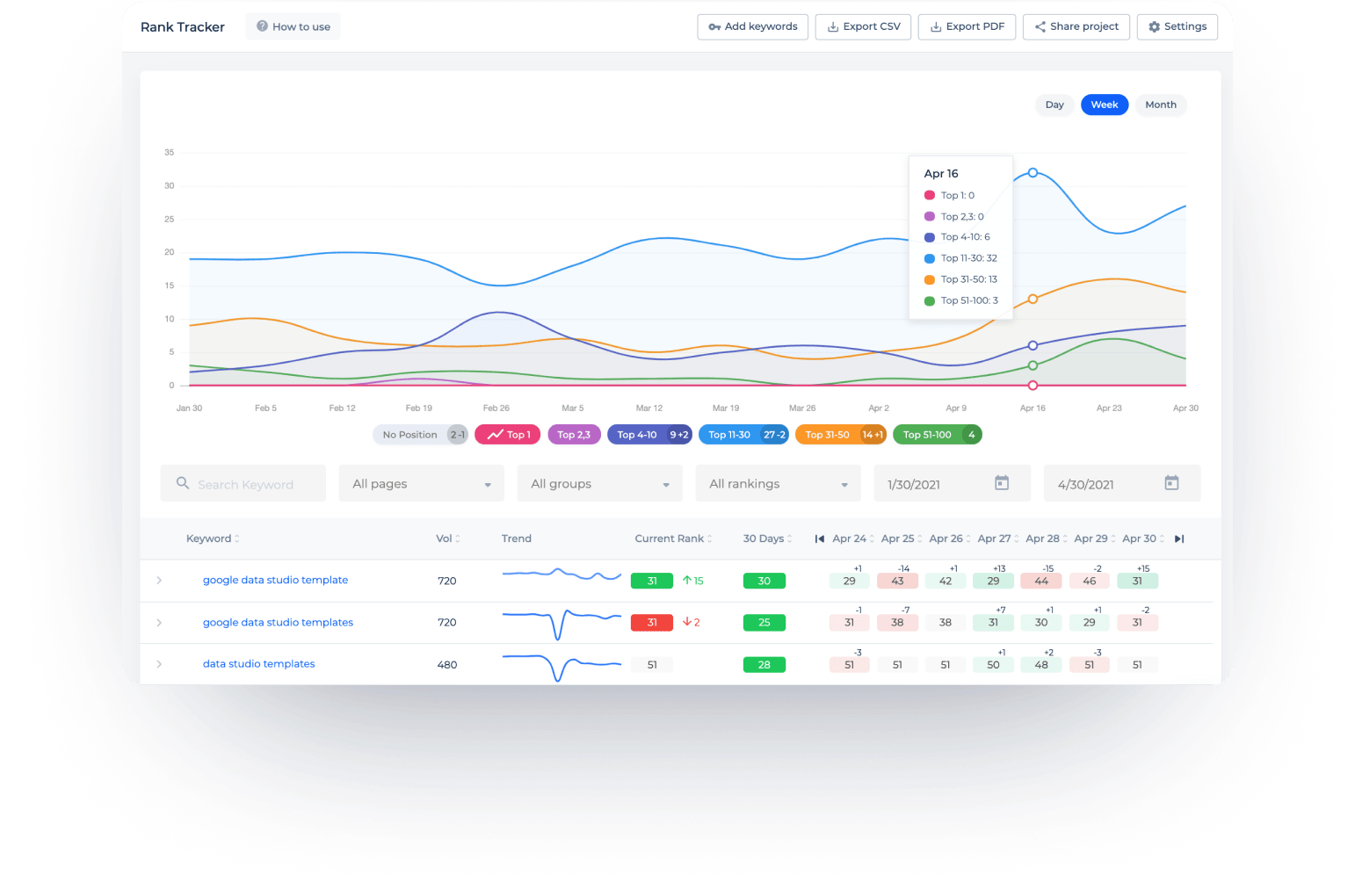 With Sitechecker, you will always be aware of your site's successes and setbacks. This tool will monitor your ranking, indexation, and visibility rate 24/7. It also has a unique keyword feature that allows you to find the most efficient keywords to be ahead of the competitors.
Control of all the backlinks you've built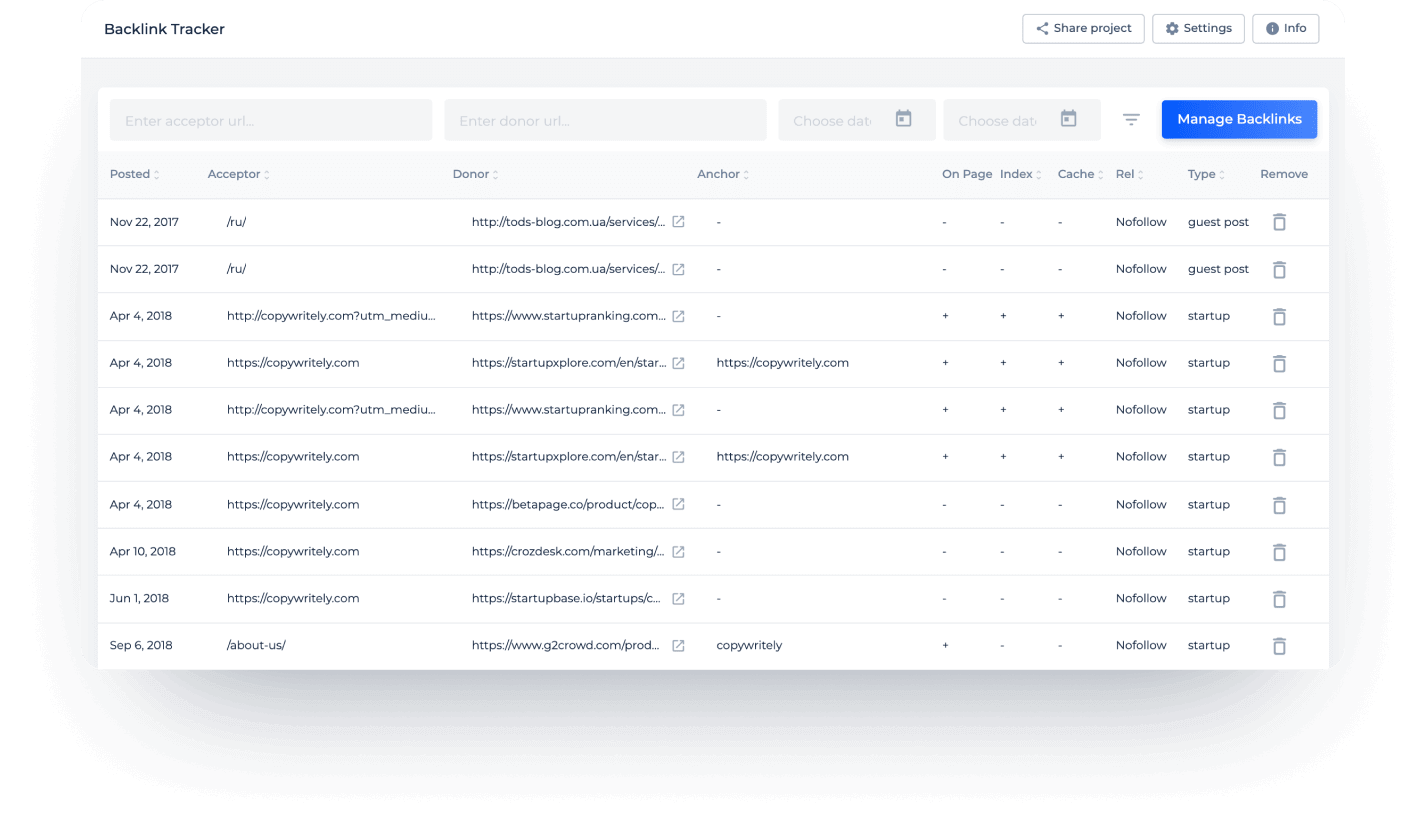 Fine backlink history can boost your rankings, while bad or absent history can derail your efforts. The Sitechecker tool has a real-time tracking feature that immediately notifies you about any changes.
Save time with the Chrome extension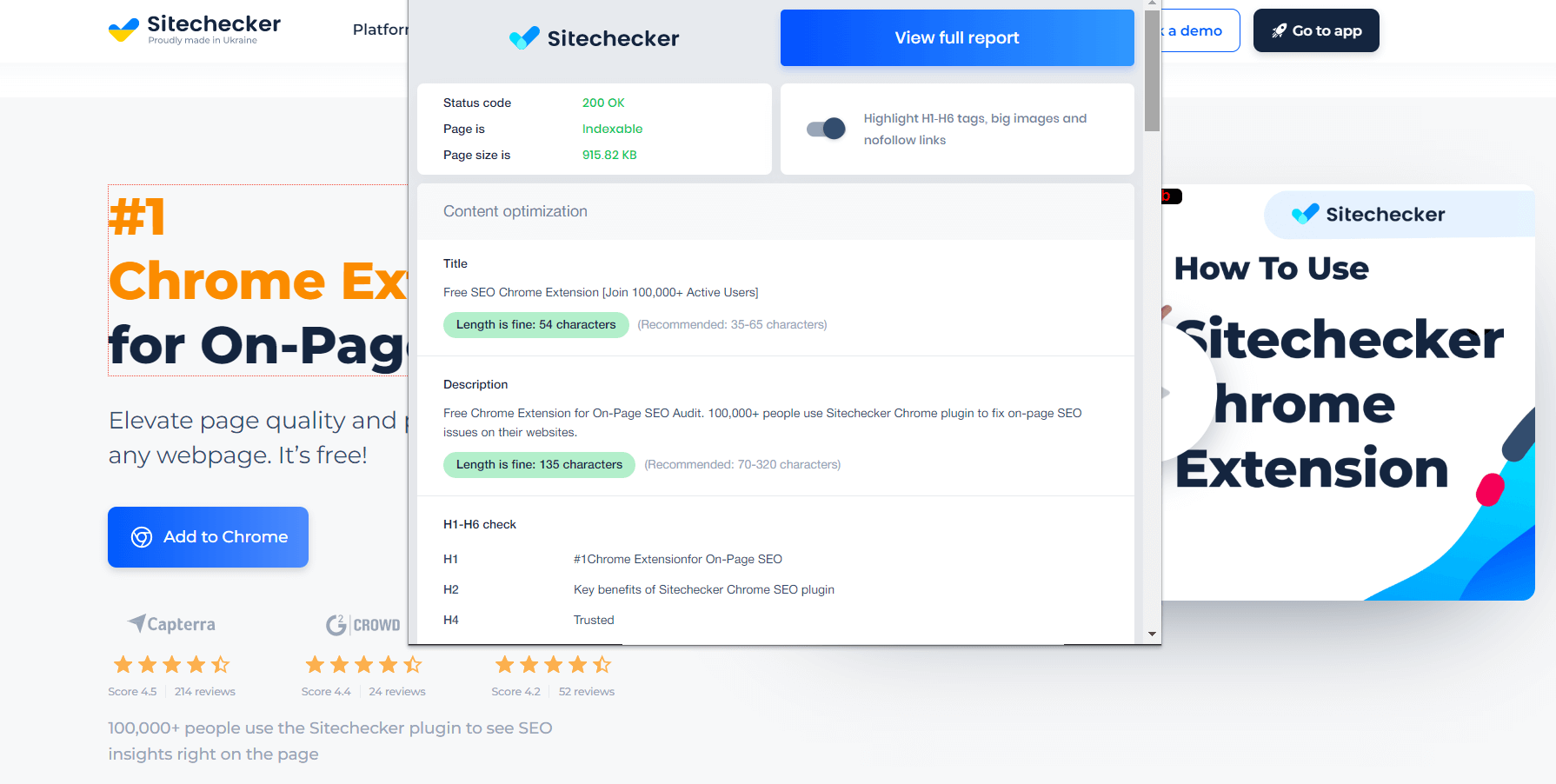 Chrome Sitechecher extension is one of the fastest ways to track and improve the SEO component of individual pages. This feature gives you access to keywords, meta tags, links, page speed information, and even more.
Try Sitechecker SEO Audit right now
Sitechecker is the perfect solution for all your site needs.
How to Switch from Botify to Sitechecker
If you decide to use Sitechecker, you can easily switch to it. Moreover, you can test the tool with a 7-day free trial. Thus, you can try the features before making the final decision.
The Sitechecker provides a user-friendly experience, a comprehensive and customizable dashboard, various tools, fast and efficient user support, demo calls, and FAQs.
If you want a better understanding of the Sitechecker features, watch this video guide:
FAQ
How often is my data updated with Sitechecker? Is it every day?
Yes, you will get daily reports in Sitechecker. This tool automatically scans the website, detects issues, and fixes them every 12 hours. This feature is available in all subscription plans.
Can I use all features in the trial or the basic accounts?
Yes, the Sitechecker trial can close the basic needs of any business. You also can test Google Analytics and Google Search Console integrations, Chrome extension (which works on Opera as well), branded PDF reposts, etc.
What to focus on when choosing the SEO tool?
When selecting the SEO tool for your business, focus on your goals and budget. Also, pay close attention to the following factors:
Features
Data accuracy
Audits and reports frequency
Keyword research effectiveness
Cost of the various plans