The most important product updates for May 2022.
1. New design of Site Audit summary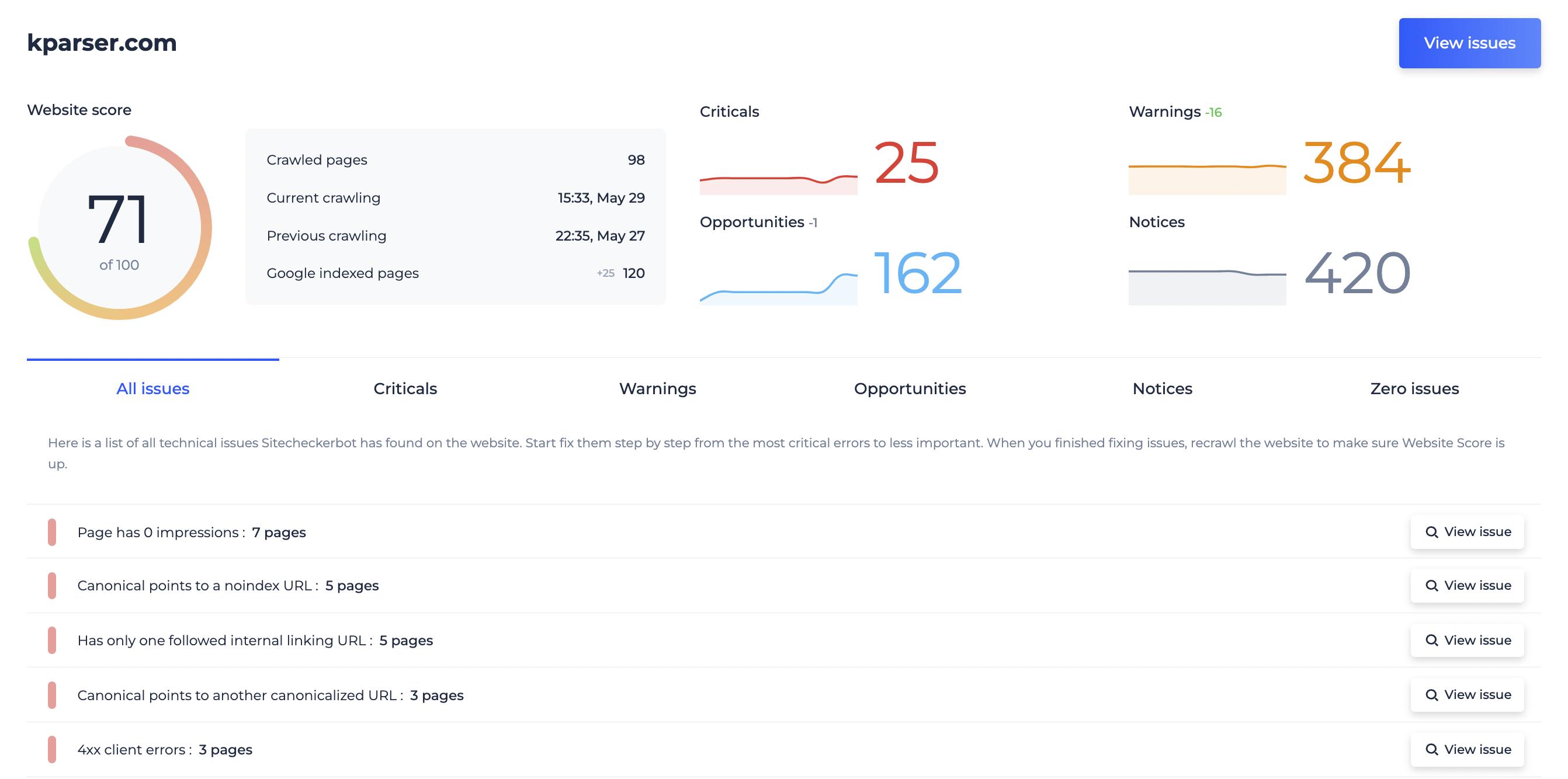 A new design of Site Audit summary brings you more ease of use and visual information.
2. Visual presentation of issues dynamics
Criticals, Warnings, Opportunities, and Notices now have graphs to indicate how the number of found issues changes over time to easily track your progress.

Each graph indicates the progress over the last 10 audits. You can hover over the graph to see the number of issues from previous results.


3. In-depth view of certain site-level issues
Some site-level issues have a lot to cover in order to fix them. Now you can click on site-level issues to see more detailed information and tips on fixing them.
For example, in "Site has an invalid robots.txt file" you can dive into the issue and see the reason behind this site-level issue.

The same goes for other issues. Here are a few other examples:


4. New filtering options in Site Audit
Now when you dive into a list of pages, you can filter pages based on the priority or category of the issues.
In priority, you can filter the pages based on Criticals, Warnings, Opportunities and Notices by selecting an issue you are interested in.

While in category, you can filter based on what issues touch upon, like crawling and indexing, code validation, duplicate content, and much more.


Keep in mind that you can select only one issue to filter the pages by.
5. Opportunities in Site Audit
We added a new category to Site Audit called Opportunities.

This section will help you to determine possible ways to improve your SEO and other helpful tips. Some checks in the Opportunities section directly utilize the Google Search Console integration, so make sure to connect it to your project during its creation or editing.
6. New site-level checks
Site Audit is a continuously evolving tool and we try our best to keep it as informative as possible.
In the last couple of months, we added a lot of new checks to the algorithm.
In total, it's 9 site-level checks.
Here is a list of all-new Site-level issues we added:
Crawlability (checks if the home page is open for scanning in robots.txt file)
Indexability (checks if the home page is open for indexing in robots meta tag or X-Robots-Tag header)
Social media check (checks if the home page has links to at least one social media profile)
Strict Transport Security (checks if the home page's HTTP header informs browsers that the site should only be accessed using HTTPS)
Content Security Policy (checks if the home page has HTTP header that helps to avoid Cross-Site Scripting (XSS) and data injection attacks)
X Frame Options (checks if the home page has HTTP header that helps to avoid click-jacking attacks, by ensuring that its content is not embedded into other sites)
X Content Type Options (checks if the home page has HTTP header that helps to avoid MIME type sniffing)
X Powered check (checks if the home page have HTTP headers that disclose web server's version)
Cookies Security (checks if the home page that uses cookies has HttpOnly flag that helps to prevent XSS (cross-site scripting attacks) from gaining access to the session cookies via JavaScript.
7. New page-level checks
In addition to new site-level issues, we added a bunch in page-level as well.
This inclusion will help you to get more information about crawlability, indexability, website speed, mobile UX, security, and much more.
Here is a list of all-new page-level issues we added:
Page is blocked by robots.txt and has at least 1 impression
Orphan pages with impressions
Page is not submitted to sitemap and has at least 1 impression
Page has not been updated more than 1 year
Canonical loop
Canonical outside of head
Canonical points to a disallowed URL
Canonical points to a noindex URL
Canonical points to another canonicalized URL
Canonicalized URL is noindex, nofollow
Canonical points to homepage
Canonical tag in HTML and HTTP header
Canonical points to external URL
Missing viewport <meta> tag in <head>
Multiple viewport <meta> tags were found in <head>
Unsupported browser plugins found
Has one or more image-map <map> tags
Viewport <meta> tag does not have a width set
Viewport <meta> tag has a maximum-scale set
Viewport <meta> tag has a minimum-scale set
Viewport <meta> tag has a specific width set
Viewport <meta> tag is missing an initial-scale
Viewport <meta> tag initial-scale is incorrect
Viewport <meta> tag prevents the user from scaling
Avoid excessive DOM size
Avoid excessive DOM depth
Avoid excessive DOM width
Serve static assets with an efficient cache policy
Use video formats for animated content
Serve images in next gen formats
4xx pages that have at least 1 click
Canonicalized pages that have at least 1 click
3xx pages that have at least 1 click
8. Export to Google Sheets
Until recently, we had only two ways of exporting data from Sitechecker: in .pdf format and in .csv format. Now we added a third option to export reports directly to Google Sheets.
All you need to do is click on the Google Sheets option in the Export menu and after the report is opened in a new tab save it to your Google Account.

Export to Google Sheets is currently available in Site Audit, Rank Tracker, and Backlink Tracker.
9. Site ownership
Site ownership helps you to avoid robots.txt manipulation and excludes an option that somebody can crawl your website not the way it was intended by your rules.

Currently, we have 3 ways of verification:
– Connecting to Google Search Console

– Via uploading HTML file to your website

– Via implementing HTML tag to your website

Ownership verification is a one-time procedure: once you connect it to a project – you don't need to do it again.
10. Insights category
We killed the Assistant tool, but created Sitechecker Insights based on one of the Assistan'ts tabs. Insights contain the table with top 20 landing page by traffic and conversion potential.
To define the list of these pages we import metrics from Google Search Console and Google Analytics and use a few custom metrics to calculate the potential.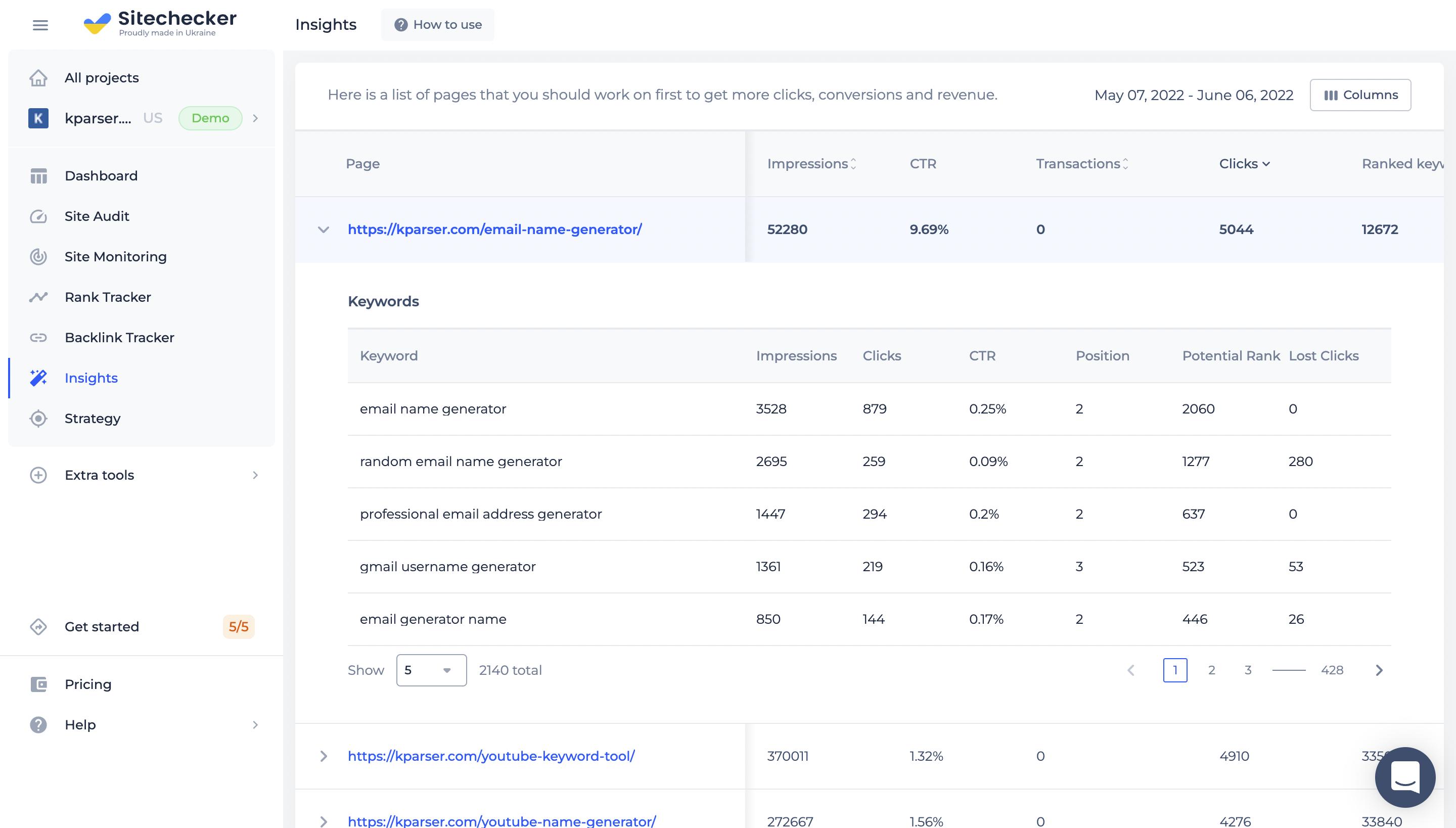 11. New features in Backlink Tracker
Backlink Tracker now can show you the last time the data on added backlinks was updated. There is a separate column for this data in the backlinks table.

Also, we introduced exporting options to Backlink Tracker and you can export the data in three ways:
in .csv format
copying in a push of a button
in Google Sheets
All you need to do is access the Export button which sits right above the backlinks table.

12. New video content
We actively working on expanding our helpful SEO guides and you can check out all the latest videos via this link to our YouTube channel 
From recent videos, we suggest checking out a guide on how to set up a Google Search Console and how to install Google Tag Manager to your website:


13. 90,000+ installations of Sitechecker Chrome Plugin
Already 90,000 users have installed our SEO plugin for Google Chrome. We're excited to see more and more professionals simplify their on-page SEO work with this tool.


There are many more interesting things ahead of you.  Check out our public backlog, vote on the features you like, and add your ideas.
Follow us on Twitter, LinkedIn, Facebook and YouTube to stay informed about new product updates, interviews and SEO tips.