The most important product updates for May 2023.
1. Dashboard 2.0
We are excited to announce the new version of our Dashboard – Dashboard 2.0! This new dashboard was designed with the user experience in mind. It offers a number of features that make it easier to get a snapshot of your data at any given time. 
The first thing you will notice about this new version is that we have removed all outdated data from the dashboard, making it easier to focus on more relevant information.
New widgets
Now you can easily toggle between different metrics without having to search through multiple tabs. 
Small widgets will allow you quick access to specific metrics from sources like Google Analytics, Google Search Console, Site Audit, Rank Tracker, and Site Monitoring tools.

Large widgets meanwhile give you more precise data from different tools, so that you can quickly assess how your business is doing overall. We hope this improved version of our dashboard will help to make life easier for our customers and allow them to better track their performance over time!

It is also possible to move the tabs inside the large widgets to prioritise your work with them.
Both small and large widgets can be customized. Just hit the button at the top of the screen and choose which widgets will appear and in which order.

Historical data
With the new Dashboard, you can now access your Google Analytics and Google Search Console historical data. Just click on the calendar and set the dates you want to check the information for. In case we have this data for our internal tools, we will also show it on the Dashboard for the selected period accordingly.
If there is a data comparison, we compare the selected data with the previous analogical period.

Detailed integrations from GA and GSC
Before that, you could only see some basic information integrated from Google Analytics and Google Search Console. However, from now both widgets are filled with more valuable data that will allow you to take a birds-eye view of all the main statistics.
Google Analytics widget from now will have the following metrics you can visualize on the graph (All Traffic, Organic Traffic, Conversions, Conversion Rate, Revenue, Average Order Revenue).

Google Search Console widget will have even its own tabs you can switch between to deep dive into more insights (Positions, Visibility (top 100), Performance, Top 100 pages, Top 100 keywords). In this widget, you can even filter the data by visitors' device and country.

You can also see the new metrics Ranked Pages and Ranked Keywords that are based on the Google Search Console data. Such graphs are unique and they are not available directly in GSC.
Custom notes on all graphs
This update brings you the possibility to add custom notes on all the graphs on the Dashboard. Just click on the button and add the note. The note can be added to all the graphs at once.
This feature is extremely valuable, as it allows you to see how changes on your website influenced different metrics.

2. Site Audit Updates
External links tab in Site Audit
Welcome to the newly released feature of Site Audit – the external links tab! With this feature, you can now easily view an entire list of outgoing external URLs that are linked to your website with their status codes. Before this feature, you were only able to view external links page-by-page on your website. Now, with the external links filter, you can easily view all the URLs to a different websites linked to your website in a single page.
To navigate to this section, click on the "View all affected pages" button in your Site Audit, and then click on the "External links" tab in the right sidebar.
API feature for Site Audit tool
API for Site Audit was one of the most popular feature requests. This is usually requested by agencies that want to automate their reporting for their clients. We've developed a first version of the API for Site Audit that makes it easier for our users to automate their reporting. We've included the parameters that must be specified in the requests, and by default, the data is returned from the last available Site Audit report. You can learn more about it here. 
It is now available for all the users subscribed to Premium and Enterprise plans in the settings of the Site Audit.
Export features for the Site Audit issues
We are excited to announce that now you can export data as a list of issues, in addition to exporting data as URLs into Google Sheets or CSV files. This is an important feature, as it makes it much easier for you to set tasks for developers on fixing some particular issues.

Google Updates in the Search metrics tab inside Page Details
From now, when you view the Search Metrics tab in the Page details report, you will be able to see icons that indicate when a Google update has occurred.
Hovering over the icons will give you a quick description of the update. The icons have been added to two graphs – Performance metrics and Position dynamics by top 15 search queries – to give you a better understanding of your website performance. We hope that this feature will help you stay up to date with all the Google updates that take place.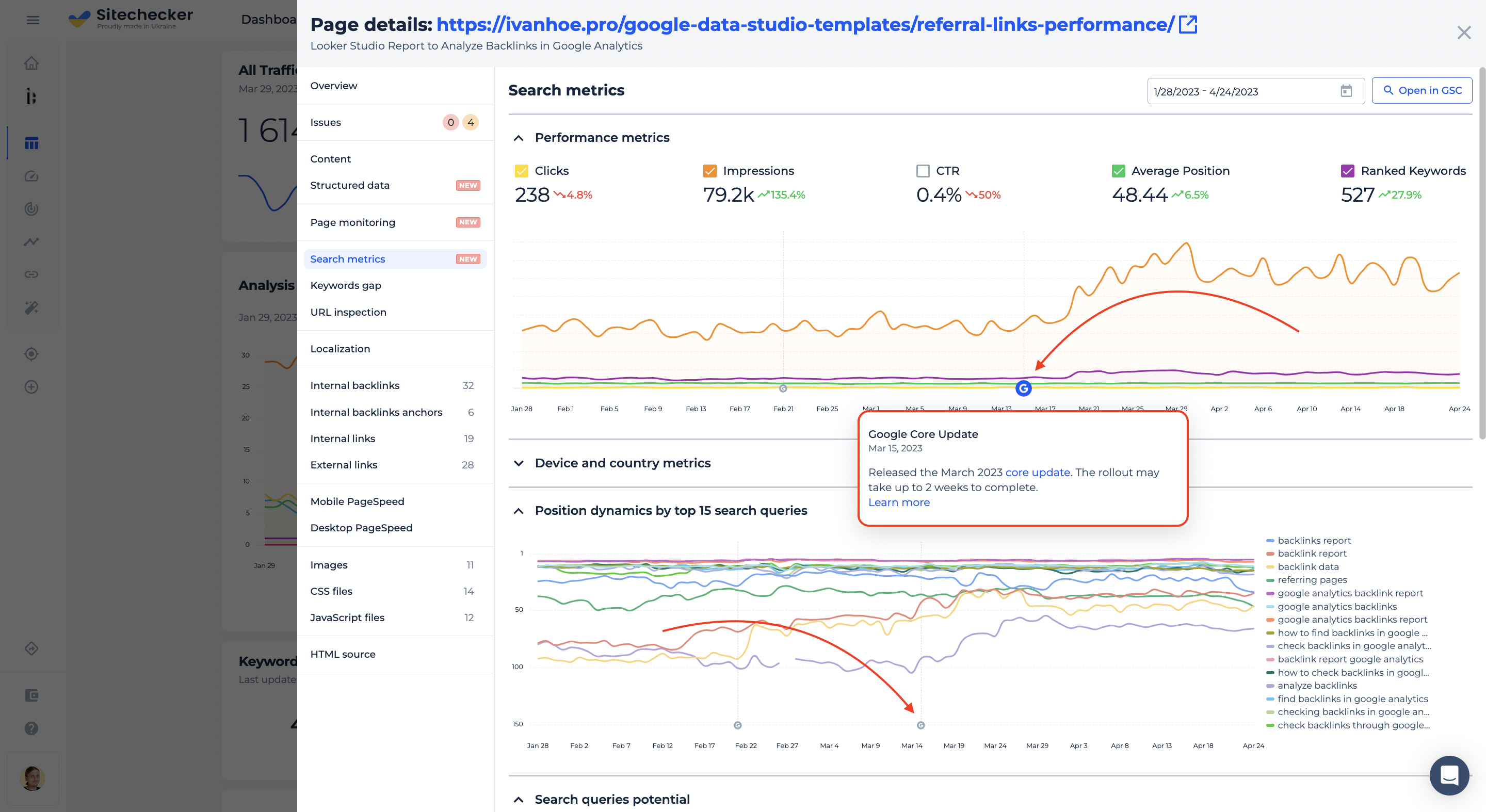 Notification if there were not all the pages crawled
Sometimes it may happen that not all the pages are being crawled on your website. That is why, to make sure you have a full picture of your SEO health, we have implemented a banner on the Site Audit summary. You will see it in case there are fewer pages were crawled than the number of indexed pages.

3. Updated design of the project list
Our development team has been hard at work, introducing new and improved features to make your experience even better. The design of the projects list has been updated making it easier to read and navigate. 
The Site Audit and Site Monitoring tabs in the project list have been improved as well. In Site Audit, when a website is under audit, a timer will appear to show how long it has been running.In Site Monitoring, you will now see the most recent events. GSC and GA integrations were also improved. Now the charts are logarithmic instead of linear, which will give you more objective information about your traffic and impressions.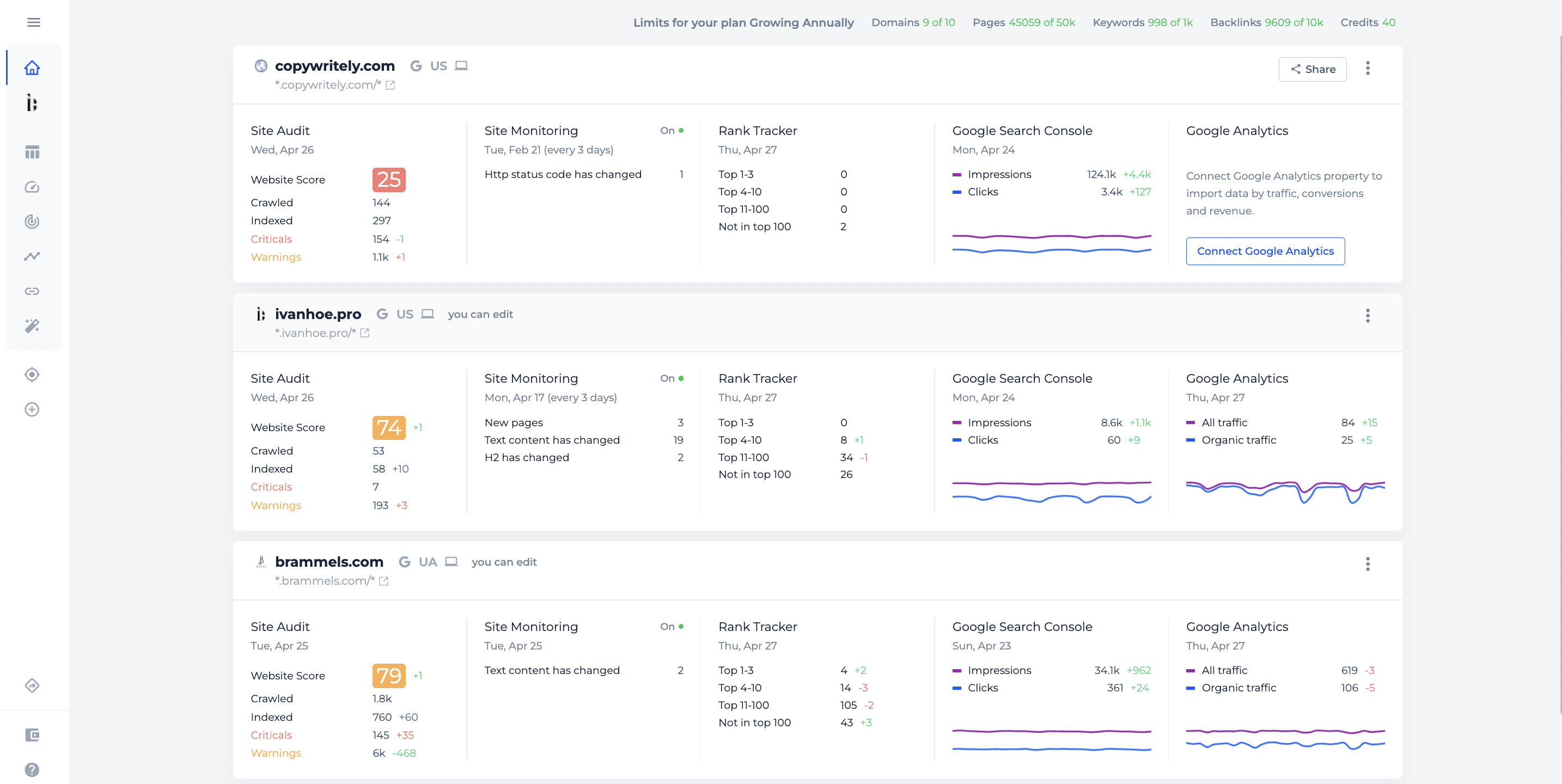 Also, in the new project list you can see how your limits for the account are distributed across all of your active projects.

Additionally, we've added a device indicator in the sidebar as well. This will help you to distinguish the right project, if the only difference is a device you are tracking in the Rank Tracker tool.

4. Site Monitoring updates
New graphs
In Site Monitoring, we have a feed that can be divided into Site Audit updates and Content updates. However, previously we only had one graph for Content updates, which was not ideal as it didn't show changes for Site Audit issues thus, the graph didn't match the feed. To solve this, we have updated the design of the Site Monitoring graphs. Now you will automatically see two graphs side by side that show both Site Audit and Content updates! This new design will make it easier for you to monitor your website performance and make the necessary changes to keep your website running smoothly.

New events
Also, we continue adding more events to Site Monitoring tool, so our users can stay up-to-date with all the changes on their website. Here is the list of the new events:
Google Tag Manager code snippet removed

Google Analytics tracking code removed

Facebook tracking pixel removed

Hotjar tracking code removed

Microsoft Clarity tracking code removed

Open Graph tags changed

Twitter Cards changed

Meta viewport tag changed

WordPress version updated

Page indexation status changed

WordPress theme updated

WordPress plugins added

WordPress plugins removed

HTTP headers changed

Hreflang tags changed
5. Rank Tracker integration to Looker Studio
Another useful feature implemented within the latest updates of Sitecheceker- the ability to export Rank Tracker data to Looker Studio (previously called Google Data Studio).
You can connect our Rank Tracker to Looker Studio right from our app. For this, navigate to Rank Tracker tool and then locate the button "Looker Studio" at the right top of the screen.

The feature is available only to users of the Standard, Premium, and Enterprise plans.
6. Extended 14 days free trial
We understand that our users' time is highly valuable. That's why we have extended our  trial period from 7 to 14 days to ensure that all the users have ample time to explore all of our features and determine if is is exactly what they are searching for. 
This change is also beneficial for our enterprise customers. You may need more time to evaluate the product and decide if it's the right fit for your business. With the extended trial period, you can take your time and make sure you're making the best decision.
7. New features in the Insights tool
We are happy to announce a new feature at Sitechecker.pro – the ability to export Insights data! This new feature allows our users to download their data in either CSV or Google Sheets format. Now you are able to export either all the pages listed inside the Insights tool or only filtered by the parameters you indicate. 
We have also added a "Country" filter so that you can easily filter data by country. The countries are filtered by Impressions from highest to lowest. We hope this new feature will help to make your data analysis more efficient and accurate.