The most important product updates for November 2022.
1. Slack notifications
We're glad to announce a new important integration in Sitechecker — Slack integration.
Slack integration is now available for subscribers of Standard, Premium, and Enterprise plans.
Before now you could get alerts and reports only to an email address. Email is good as a source for such things, because of the possibility to add styles to emails. But it has two limitations that Slack has no:
Email address is used for many purposes, and alerts are often lost among other letters.

Alerts and reports are sent as personal emails and it's difficult to discuss them with teammates.
With Slack, you can create a separate channel to get all alerts and reports and discuss any important updates in threads. You can access the new feature in the settings of your project or profile, inside the notifications tab.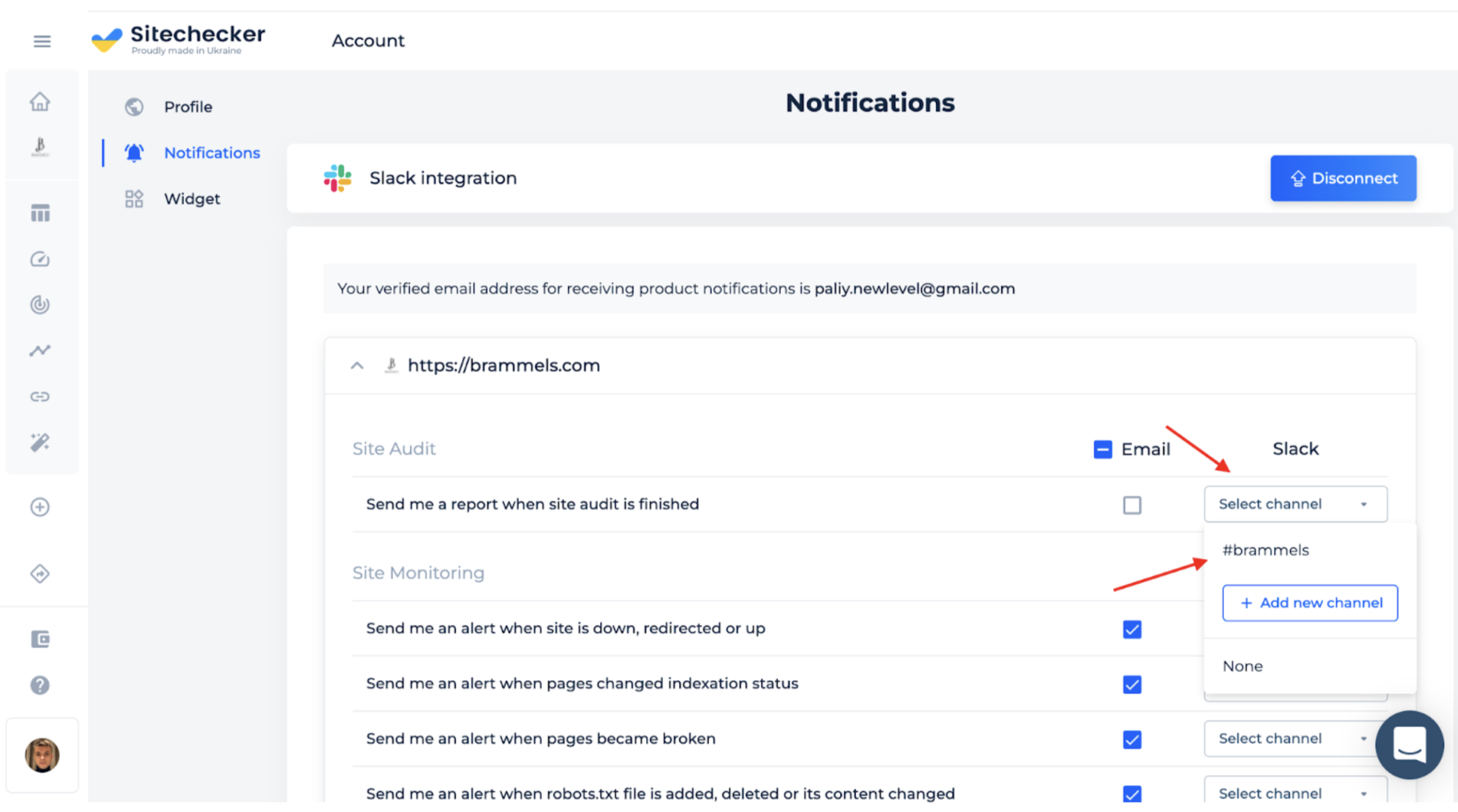 Here is a full guide on how to connect to Slack and a quick overview of the reports you will be getting. 
2. New features in Site Audit report
Site Monitoring integration
It is essential to know when and where particular issues appear on your website. That is why we have integrated Site Monitoring history into the list with the URL of the issues. Now you can see when a certain issue was found on the page using the "Issue found" column.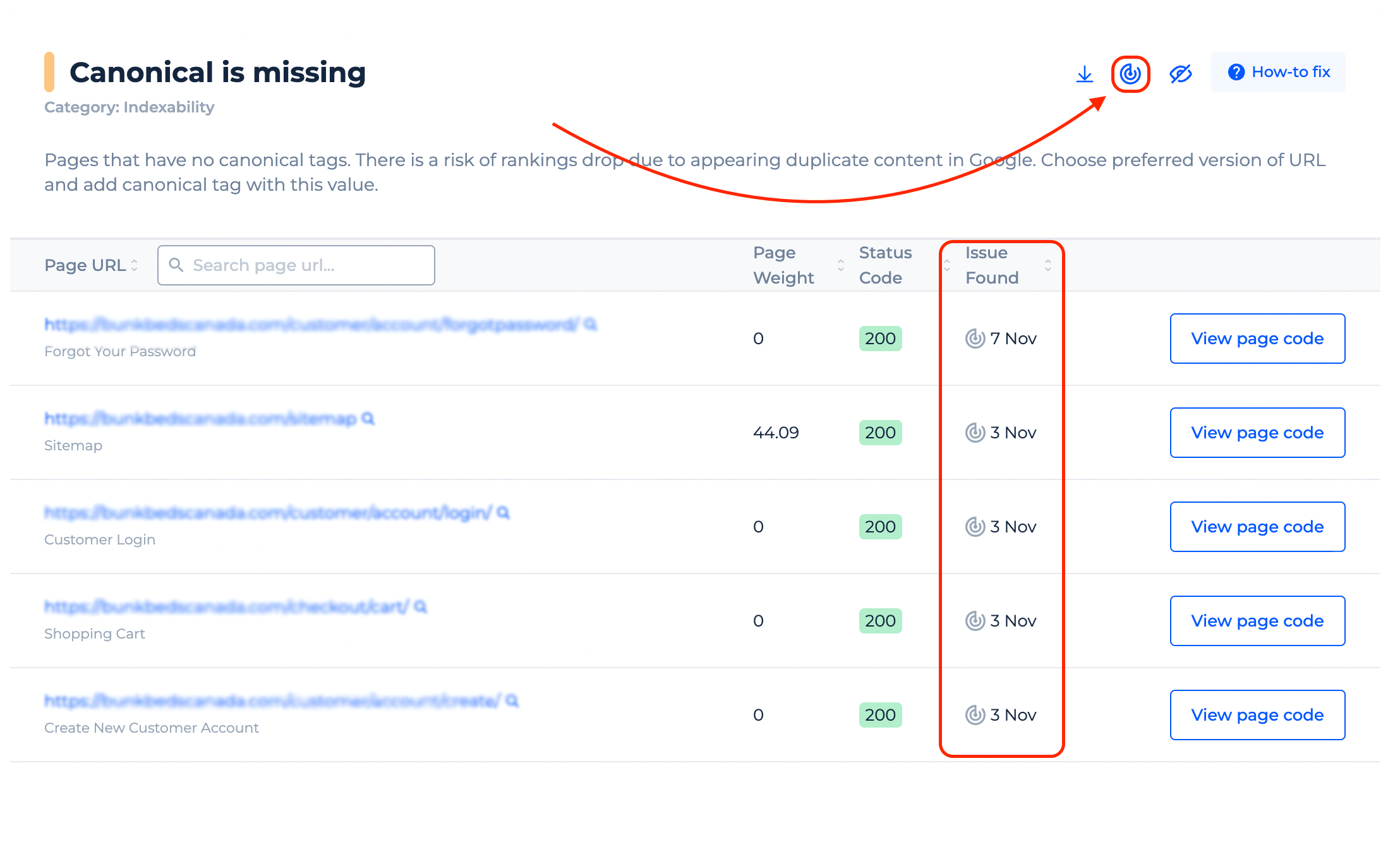 Along with that, you can navigate to the sidebar with the whole history with the changes for the issue. There you can see the list of new URLs that we have found and the ones that were fixed.
(The arrow on the previous screenshot shows the button to open this sidebar).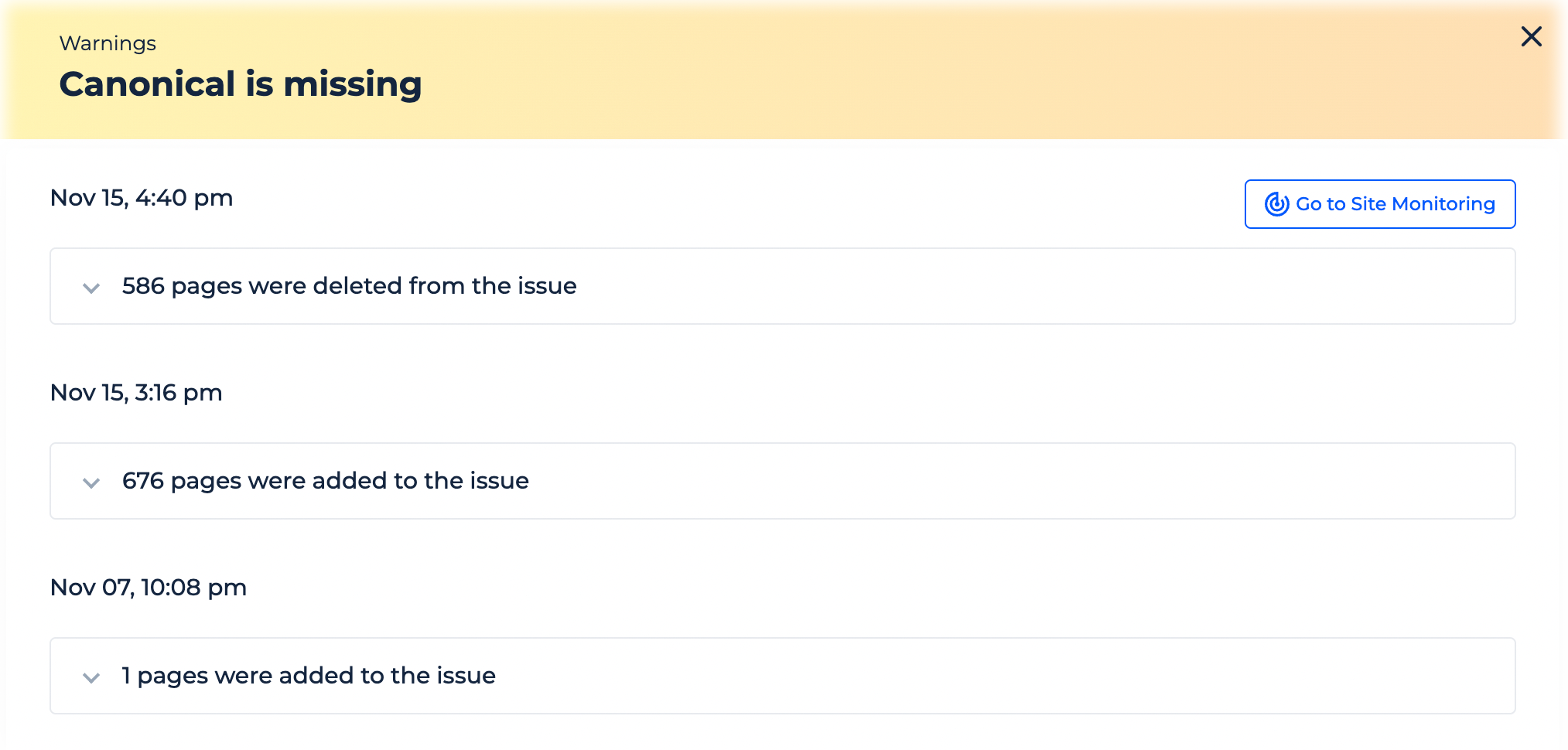 Just make sure that you turn on Site Monitoring in the settings of your project.
Ability to generate a sitemap
With our new export option, you can now generate a sitemap based on all the links our bot has crawled on your website. You can even choose the type of URLs to export based on their status codes.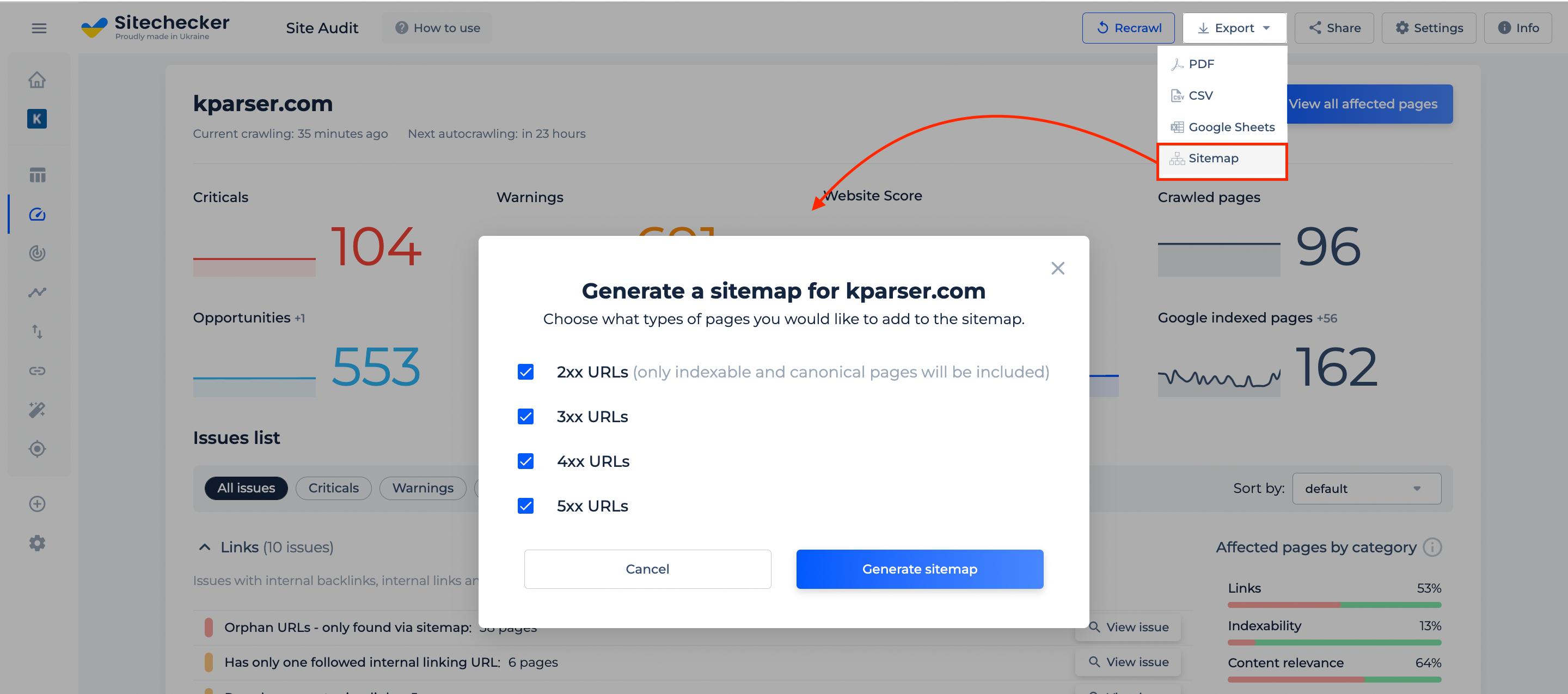 Folder filter for the URLs
Sometimes it is necessary to know what issues the particular sections of the website have. Thus, we have added an additional filter by the folders your website has. This will allow you to: 
See what site subfolders your website has.
Check how many pages there are in the particular subfolder.
Easily work with a certain category of pages. Simply filter the pages and work on them.

Search bar for all issue types
We constantly update our tool and add more and more different checks. We understand how difficult it can be sometimes to search for the needed one. So, we have added a search bar for you to easily navigate between them.
External links crawling
It is really important to know whether some of your external links may be heading to broken pages. That is why we have added an option to crawl external links to your website. It is now available to users subscribed to Standard, Premium, and Enterprise plans and can be activated in the settings of Site Audit. 

3. Site Monitoring via webhook
A webhook is a way for one application to deliver data to another app in real-time.
In case a website is constantly changing, it is essential to monitor and see what and when was changes. Especially if you work in a team. That's why from now you can add your project for monitoring when a certain event happens on your website. This will re-crawl it and you will see what exactly was changed in the Site Monitoring tool. 
You can copy the body of the code in the settings of your project in the Site Monitoring section. Please note that this feature is available only for users subscribed to Premium and Enterprise plans.

4. New dynamic Site Audit header

Before the latest updates, there were just a number of issues we found on your website. It is really hard to make an objective analysis without seeing the bigger picture. Thus, we released a dynamic header with graphs of changes for you to see when some issues appear and others are fixed. 
Also, we do understand how frustrating it can be to find a sudden drop in the website score. Most of the time it happens because we release new issues to be up-to-date with the current SEO trends. That is why from now we will inform you about it, so it will not flabbergast you. The recent notifications will be in the green highlighted box under the main board of Site Audit. 
5. Source where the URL was found
Sometimes our bot can find the URLs in other places rather than internal backlinks. For example in Sitemap or Google Search Console. Thus, for the convenience of our users, we have added a section in the Page Details report where you can see where exactly this page was found. There are 3 main sources:
Internal backlinks – if there are internal links to the page
Sitemaps – if the URL is at least in one sitemap
Google Search Console – if there is a page integrated from the GSC list 
To access this section, click on any URL in the Site Audit report and navigate to the "Overview" tab.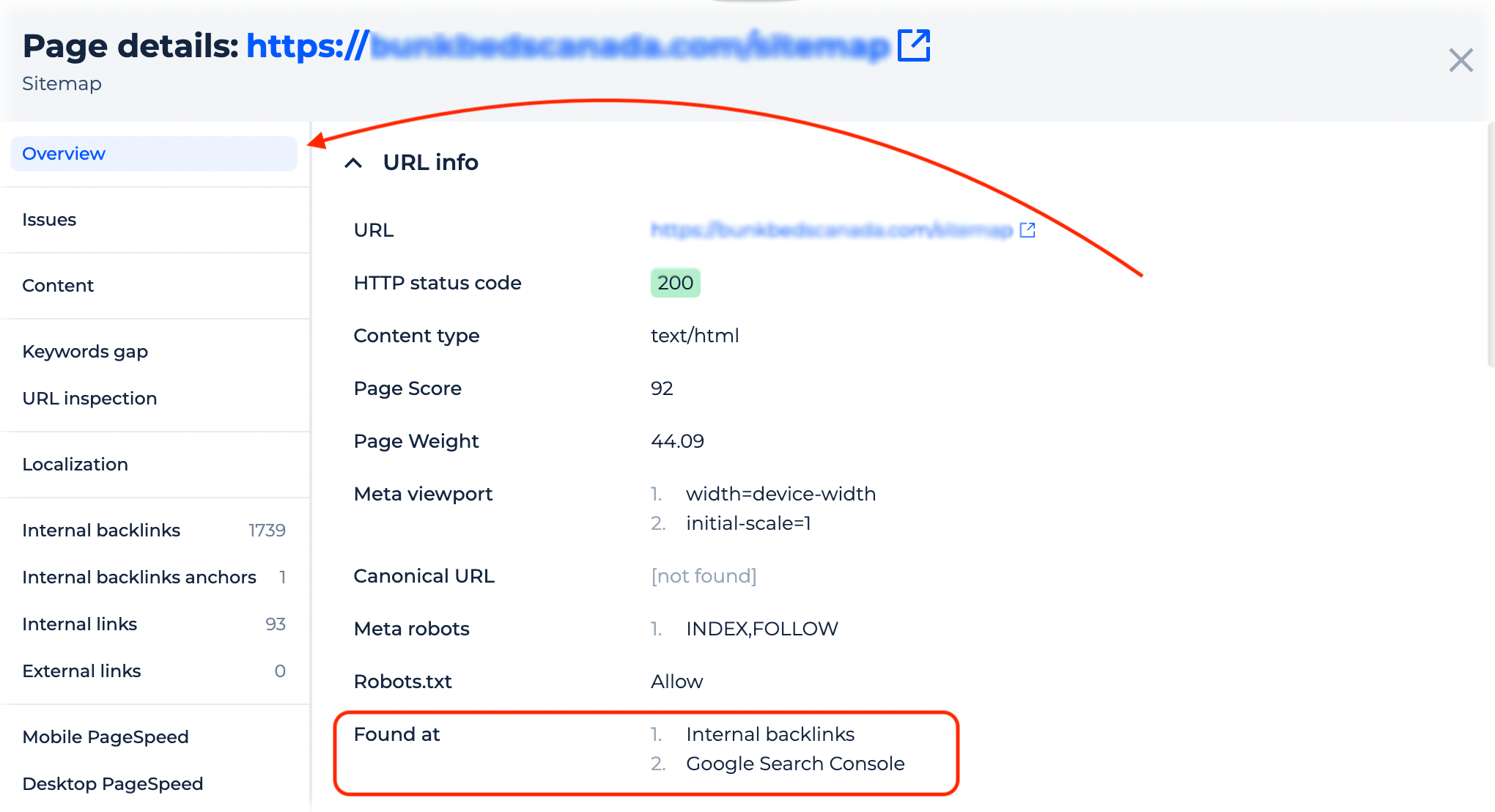 6. Anchors tab in Page Details
Now in the linking section of Page Details report you can see not only the general internal and external linking of the URL, but also all the main anchors of it.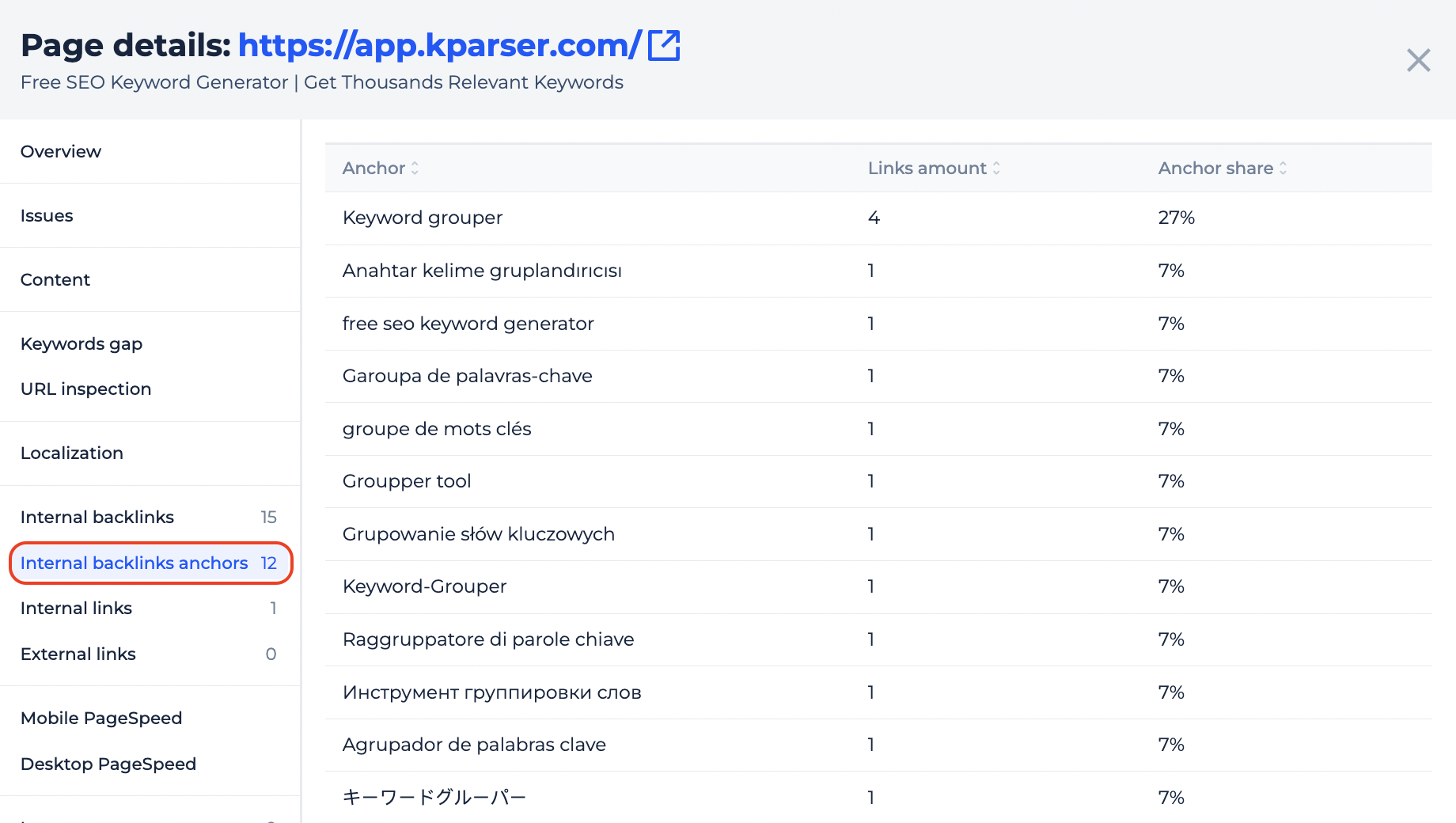 With it, you can now see what anchors are used for the specified URL and in what percentage. This will help you to analyze which ones are not suitable for your current keyword planning, so you can quickly fix them.
7. Monthly ranking reports in Rank Tracker
From now all the users who track the keywords in the Rank Tracker will be able to set up notifications for monthly ranking reports. This will send you the data about your keyword positioning for the last month.
The reports are generated on the first day of each month in case there is data for at least 5 keywords and 14 days of the previous month. You can get both email and Slack notifications for this type of report. 

8. New page-level checks in Site Audit tool
With each update our Site Audit reports become more and more accurate with the new checks. Here is the list of all the new page-level issues. 
Orphan URLs – only found via canonical

Orphan URLs – only found via sitemap

Orphan URLs – only found via canonical

Orphan URLs – only linked from other isolated URLsl

Orphan URLs – only found via noindex, follow

Orphan URLs – only found via redirect

Noindex URL in XML sitemaps

3xx redirects in XML sitemaps

URL in multiple XML sitemaps

Timed out URL in XML sitemaps

Canonicalized URL has incoming hreflang

Disallowed URL has incoming hreflang

Has conflicting incoming hreflang annotations

Page contains a form with a GET method 

Page has content-type other than text/html 

Page has identical HTML id attributes

Technically duplicate URLs

Base URL malformed or empty

Page has disallowed CSS files

Page has disallowed images

Page has disallowed JavaScript files

Internal redirects from case normalization

Internal redirects from trailing slash mismatch

Internal URL redirect broken 

Internal URL redirects back to itself
9. New Extra Tools
Backlink Generator
With this tool you are now able to generate backlinks for your website. After you enter your domain, we will generate a small list of backlinks. This is a great opportunity to kickstart your backlink journey in SEO. 

Here is the list of backlinks we are generating. There is a total of 17 of them: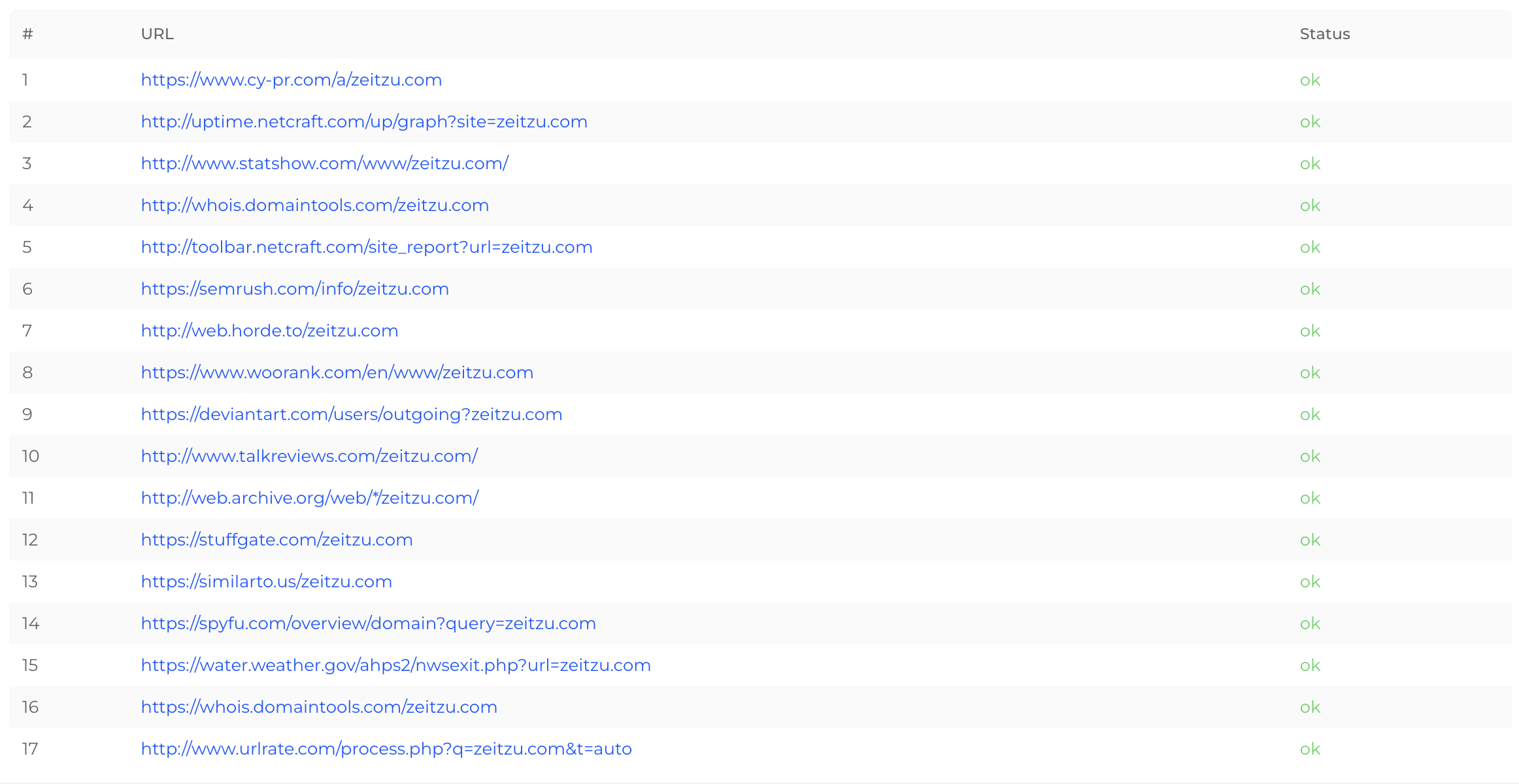 WordPress checker
This mini-tool will allow you to check what WordPress theme is used on the specific website. For example, your competitors. 

And here is what the results for checking the theme for Sitechecker look like:

10. A fixed login through the invitation
Before the latest update you might have faced an issue when you were trying to invite your client or colleague to view your project and he/she had to create a new one. This was really inconvenient and now the issue is fixed.
Feel free to share your project with as many people as you want and they will instantly have an access to your project.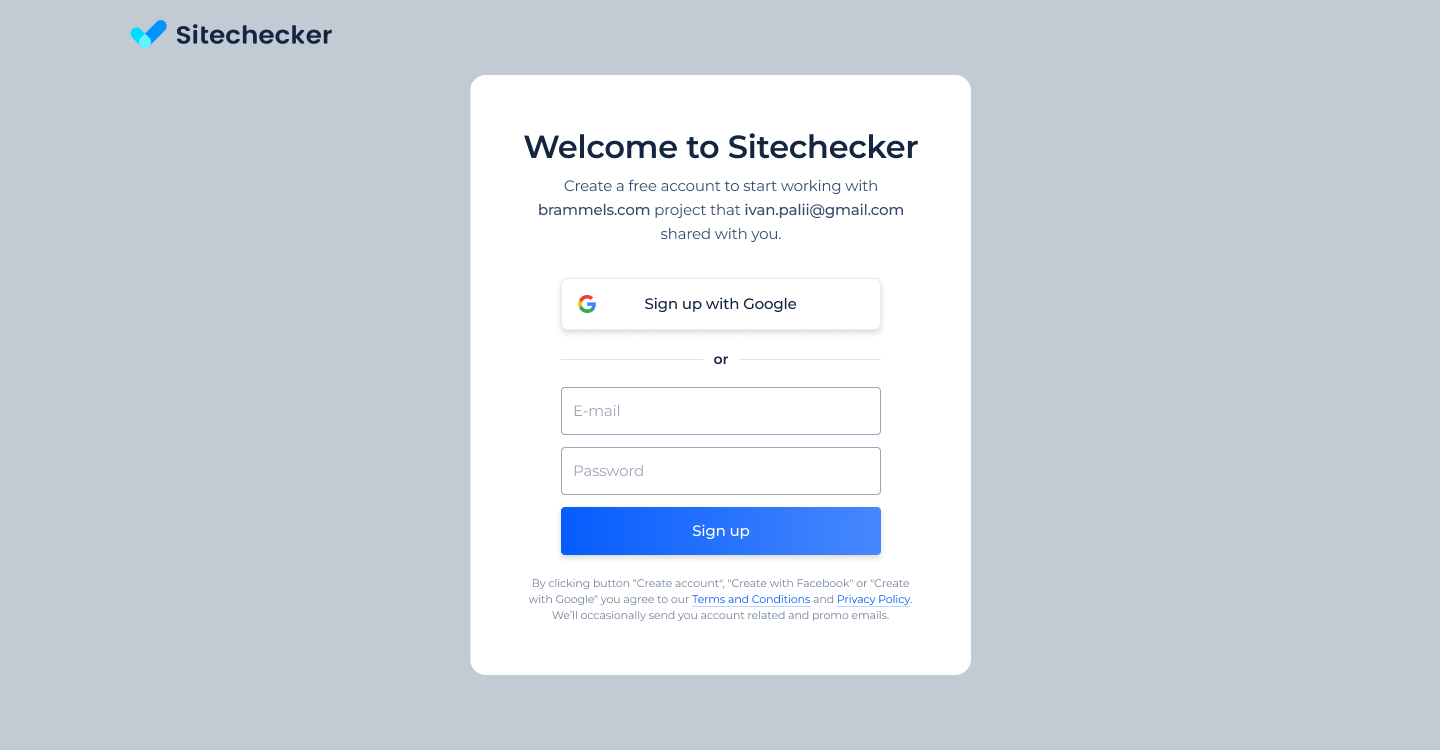 11. Subscription to SEO newsletters
From now all the users and guests can subscribe to our newsletters full of helpful studies, guides, interviews and SEO updates to help you improve your website. For SEO beginners and pros. Spam-free. Short & sweet. Check it here.
12. New Sitechecker guide and how-to-fix videos
Recently we have updated our guide on how to use all the main features inside the tool. It can be useful not only for beginners but also for experienced users, as you may find some previously hidden features inside.
On our YouTube channel, you will find many guides on how to fix the issues we find on your website, so you can quickly understand the importance of the issues and resolve it by yourself. 
13. New Pricing Plans
We are currently launching new features to the tool making some of them available only for certain subscription plans. Previously, there were only quantity differences between plans. Here is how the list of plans looks now: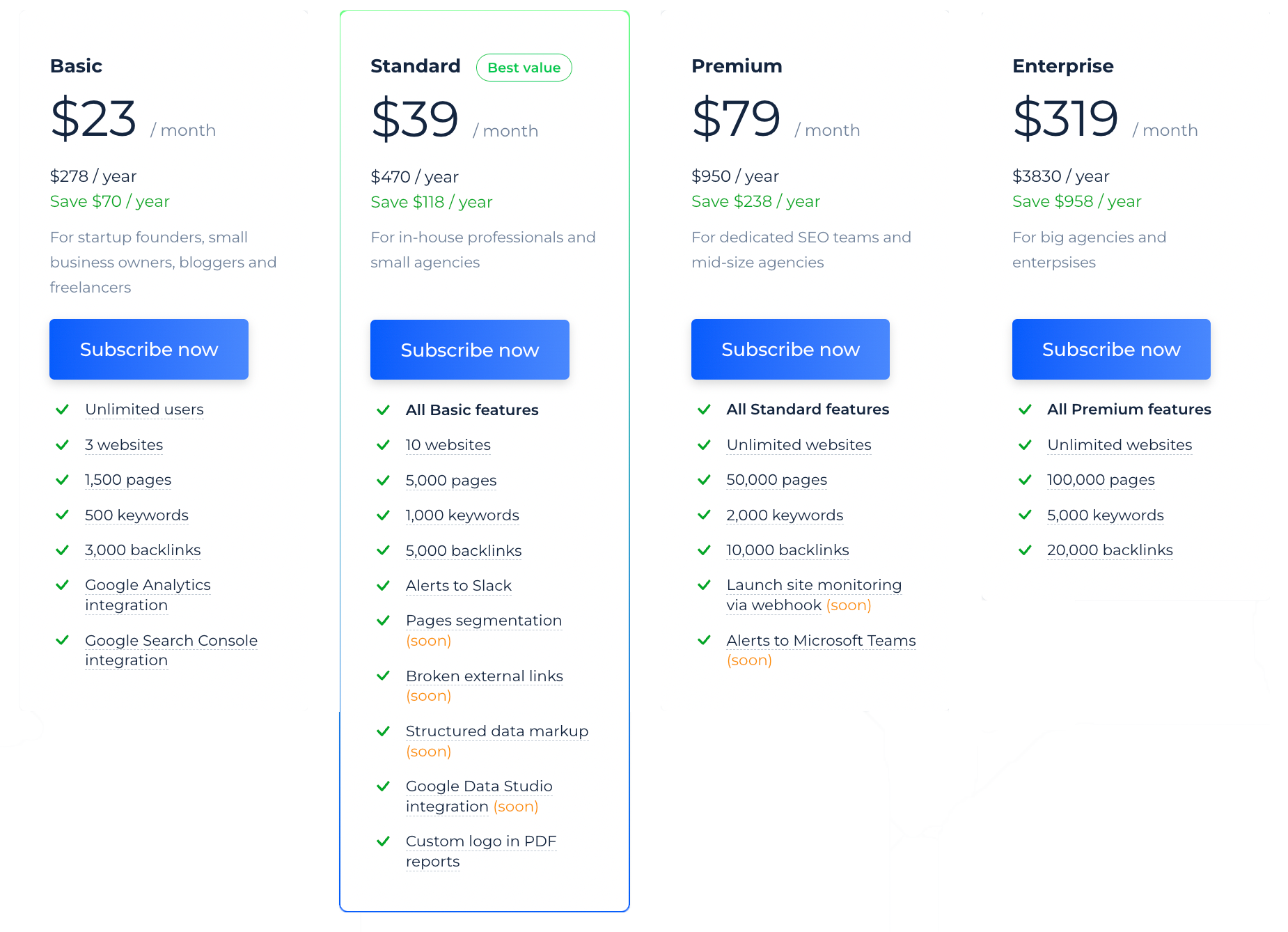 The previous 'Startup" plan became "Standard" and "Growing" was re-named "Premium". As you can see, they now differ not only by the number of websites, URLs, and keywords but also by some features available in each of them. The ones that still in the development are tagged as "(soon)".
All the loyal customers with the old plans will be provided with the same features. Users that have the "Startup" plan now have the same features as in "Standard" and users of the "Growing" plan have the "Premium" plan's features accordingly.
There are many more interesting things ahead of you.  Check out our public backlog, vote on the features you like, and add your ideas.
Follow us on Twitter, LinkedIn, Facebook and YouTube to stay informed about new product updates, interviews, and SEO tips.