You have decided to create your website on the Internet. To do it, you must come up with and register a domain name suitable for your purposes. Look at what similar domain names are already registered, and choose a unique one so that your site visitors will not confuse you with someone else.
You have to pay for a domain name, but there are ways to get one for free. What is a free domain? You shouldn't pay for it!
The best of these ways, we will introduce you in this article.
Follow these simple tips and get more information on how to get a domain name for free!
How To Get a Free Domain Name Using Bluehost
The easiest way to get a free domain name is to use the services of a hosting provider. A reliable and popular option is the company Bluehost. With their help, you can get excellent speed, high performance, reliable servers, and a free domain name and hosting.
If you decide to host your site on their hosting, then you will have to pay for services at the company's rates. However, in that case, the domain name will be provided to you completely free of charge. You will be able to extend its registration or cancel it in the future. Keep in mind that the company will not take it away.
So, how to get a free domain name? Let's take a closer look at the steps to get a free option with Bluehost.
Step #1: Go to Bluehost.com
First, go to the main page of Bluehost.com.
Here you need to go to Hostings to see the types of hosting and choose the right plan for your website.


Step #2: Select Your Hosting Type
Bluehost offers its customers three popular types of hosting services with the ability to get free domain names. Let's take a closer look at them.
Shared hosting is the best option for first-time users whose site does not need many resources and performance to function. You pay not for the entire server but only for the part you will use.
The owners of other sites will use the other server capacities. It allows you to save a significant budget for your website because comparing the cost of other types of hosting; you will realize how cheap it is. If you have a tiny site, you do not need to pay extra money for the resources you will not even use.

A VPS is a virtual server that allows you to use more resources for your website. You are still using shared hosting, but the company provides you with it to expand the capabilities of your website. This option is suitable for those website owners who can count on a sudden increase in traffic and users.

And finally, a dedicated server. With it, you will not share the performance with other website owners. It is a great option for large sites with high traffic that is constantly growing. The price as you see here is high, but the performance and speed are at a very high level too!

The main audience of our article will choose shared hosting to get a free domain. Let's focus on it.


Step #3: Select a Web Hosting Plan
Well, we've settled on shared hosting. Here are the plans that are available to you in this type of hosting. Take a look at the features of each one to see which one is more suitable for your online business needs. Pay attention to the extensions and extras included.
Will you be using them, or is it just a waste of your budget? We recommend stopping there and making the right choice.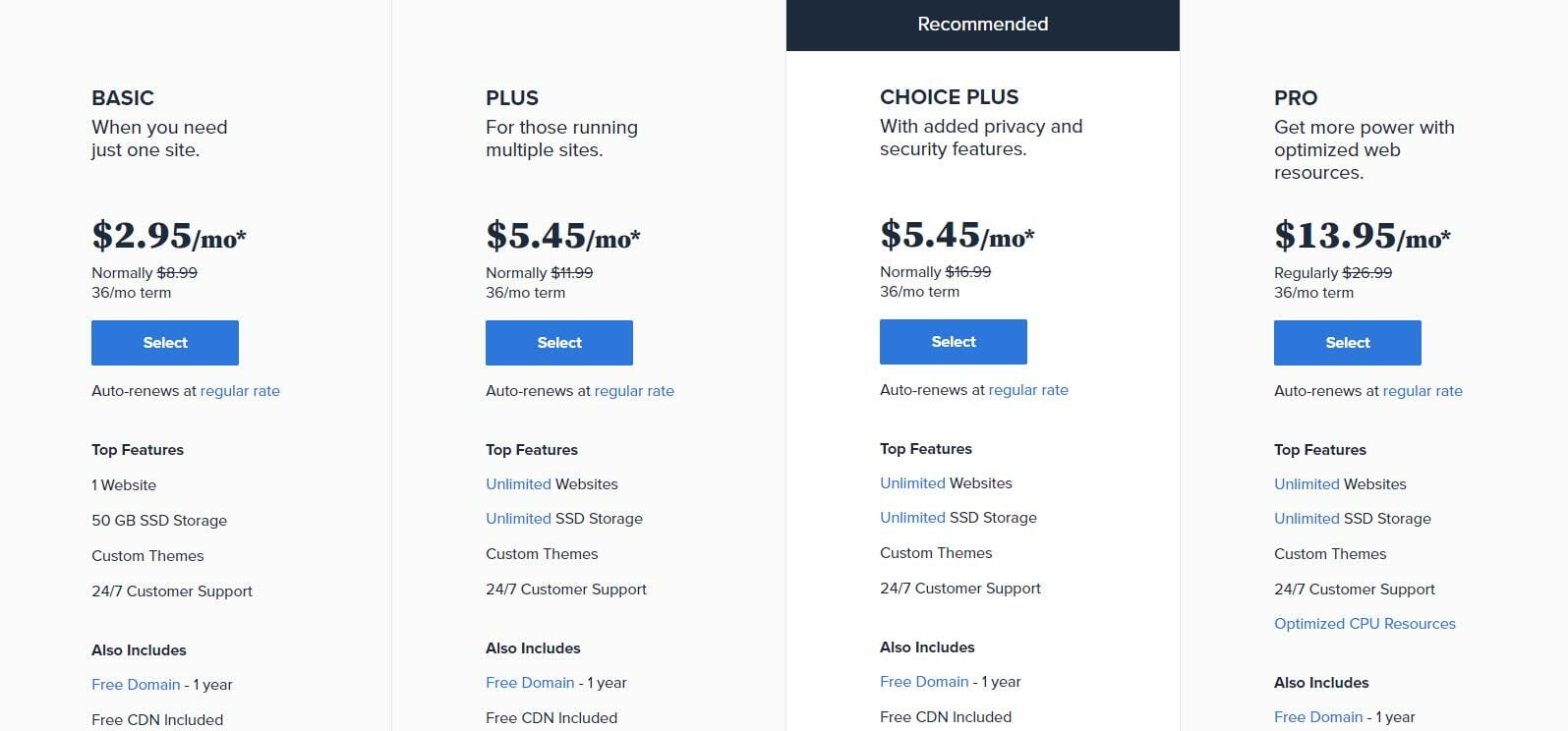 If you have a small website and want to try working with a hosting provider, we recommend choosing the basic plan. Its capabilities are quite enough to provide a small website with resources. By buying a plan for the long term, you can save a lot of money.
Step #4: Register Your Domain
Now it's time to check the availability of your domain name for free and register it. Remember that the name should reflect the essence of your website and be unique. On the registration page, select the option to create a new domain and enter its name.
You should also choose an extension. We recommend .com because it looks the best. However, if your domain name with this extension is already taken, you can choose any other extension, like .net, .co, etc. Keep in mind that the .com extension is the most expensive, and if it is out of your budget, you can choose another extension.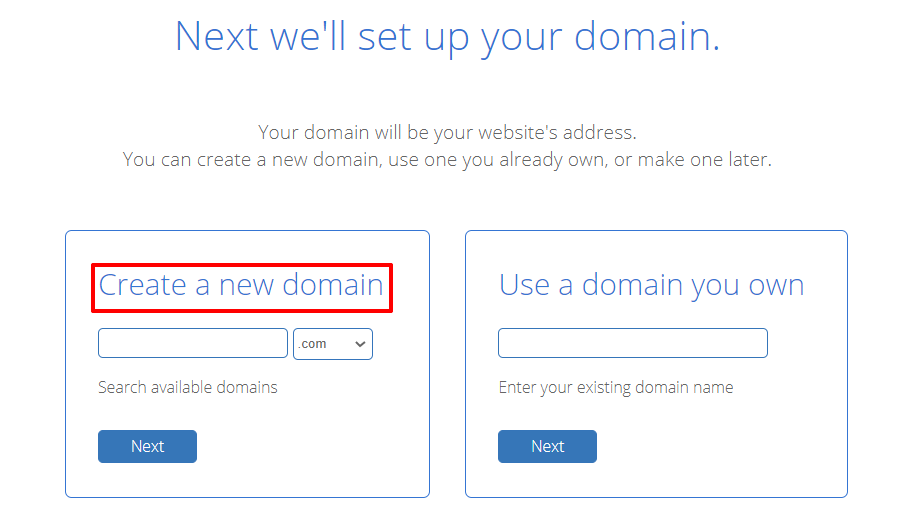 Step #5: Finalize the Deal
We are at the last step of getting a free domain name with hosting from Bluehost. On this page, you need to choose how long you will be using the plan. The longer-term you choose, the cheaper the hosting plan will cost you per month. Here on the page, you will also see that the name is provided to you for free.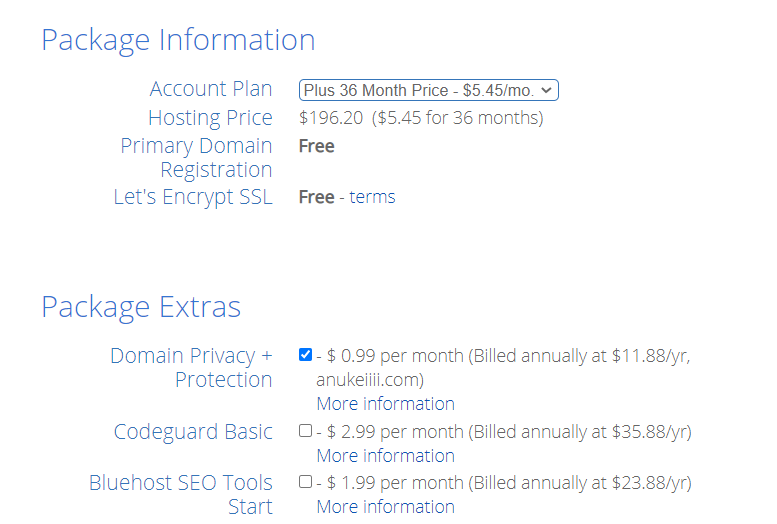 Pay attention to the add-ons. Not all of them are necessary for you if you just start developing your website on the Internet. It is an opportunity to save money if you turn off add-ons that you don't need. However, we recommend leaving the very first add-on enabled, which is domain protection.
It does not cost too much and will allow you to secure your website. It is a great way to enable inexpensive protection. The rest of the extensions are up to you, depending on the needs of your website.
Here we have dealt with how to get a free website domain with Bluehost. However, there are other ways to get a free domain. Let's look at them.
Other Ways to Get a Free Domain Name
To make our article as useful as possible for you, we have also selected four other ways to get free website names. We recommend using the option with Bluehost because it is the easiest. However, if for some reason this option is not for you, then consider the alternatives.
Use a Free Subdomain
You can use a subdomain. It is an opportunity to get your own name within an existing domain. For example, you can do this with the website builder Wix. It will look like this:


The disadvantages of this method are obvious. Your domain name will be large. The more compact the name, the easier it will be for users to remember it. Take this into account when choosing the right way.
This method is suitable if you want to practice your site on the Internet and take advantage of website builders. You will not suffer reputational damage if you only practice in such a domain.
Pay for a Premium Site Builder Plan
A free name is usually included in the premium plans of website builders. For example, Wix, Squarespace, Zyro. When you buy a premium plan, you get a free site name and the opportunity to create a website on a reliable website builder using a wide range of features.
It's a good way to simply and quickly get a domain name, not in a subdomain.
Usually, website builders offer fairly expensive premium plans, which can nullify your savings in getting a free domain. However, here you get a domain and the ability to create a website based on templates and get support from the service team.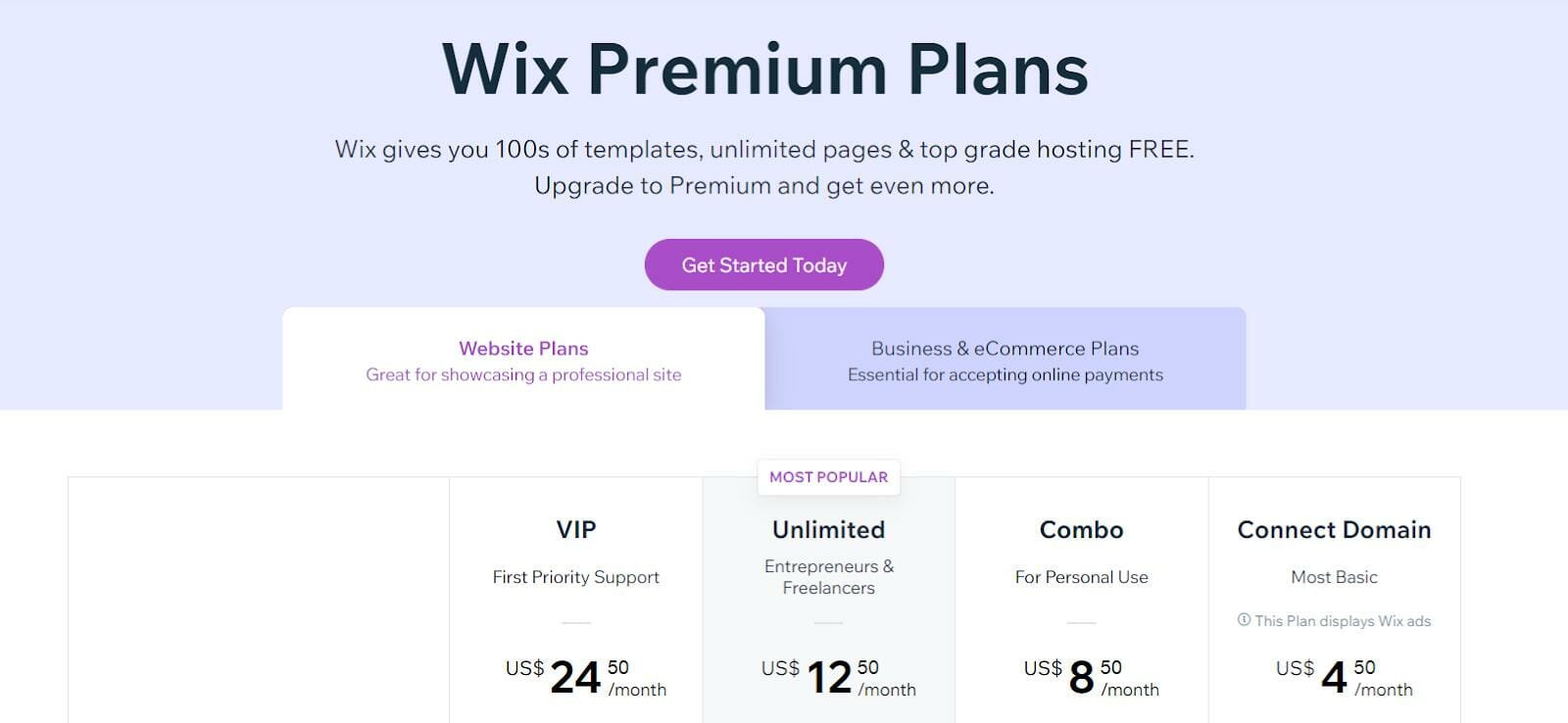 This option is suitable if you have no ideas on creating a website independently and you need a free name for your website. If your site is already set up and only needs a domain, it is still recommended to choose the Bluehost option.
Use a Free Domain Name Registrar (Not Recommended)
We do not recommend this method because it has more cons than pros. However, this method exists, so we decided to talk about it in this article. You can register a free name using a special service for registering.
What do you get? A free domain name for your website.
And what are the disadvantages of this method? In exchange for a free domain, the service will place advertisements on your site, and you will not be able to control or cancel them.
Next, likely, you will not get the most popular extension. It will affect the reputation of your site among users and harm search engine optimization. You can get a free one with Dot TK.


Even if you manage to promote such a site to thousands of views per day, you will not be able to monetize your traffic. All you get is the opportunity not to pay for a domain name.
Of course, the final decision is up to you, but we strongly advise against using this method if your goal is to promote your site in SERPs and to attract traffic.
Free ccTLD Services (Not Recommended)
Well, and the last method, which exists to get a free domain. We do not recommend it either. There are many free TLD (Top Level Domain) services for different country codes on the web. It refers to the extension of your domain name.
With free services, you can get some country extensions.
The only pros is a free domain. Everything else is a disadvantage, which threatens to remove your site from the Internet for violation of advertising rules. We recommend that you use proven ways to get free web domains.
Important: Don't Forget to Renew Your Domain!
Keep in mind that each domain has an expiration date.
You should keep track of your expiration date. If you miss the deadline, you risk losing your domain forever. It is not just a loss of the site name but also a loss of all your efforts to promote the site on the network.
You will lose all the money you invested in advertising, all the visitors, and all the traffic. It will be very unpleasant if, by some chance, you lose your results of work, and your domain will buy someone else.
So we recommend that you take the issue of domain expiration very seriously. Set a reminder or set the auto-renewal of the domain not to risk losing the results of your work.
Conclusion
Well. In this article, we looked at easy ways to get domain names for free. You probably know that launching your website on the Internet is not the cheapest deal, so a free domain is a good way to save your budget.
So how can you get a domain name for free?
Get a free name using Bluehost – the easiest and most proven way. Just register and get a free name for a year. 

Use a free subdomain – get a subdomain as part of your existing domain.

Pay for a premium site builder plan – your free domain will be included in the premium site builder plan.

Use a free domain name registrar – free website registrars will give you a free name, but this method has more disadvantages than advantages.

Free ccTLD services – we also do not recommend this option because you can easily lose your website.
FAQ on How to Get a Free Domain Name
A domain name is a part of your website address that identifies it as belonging to a particular domain. Simply put, it is exactly what a user types in a browser to access your site.
When Do You Need to Register a Domain Name?
The typical case is when you want to launch your site and reserve its name on the Internet for some time. You need to do it for a website, an email, or other online services; alternatively, you want to get your brand an online presence and need a proper domain to reflect it.
How to Choose The Best Domain Name?
General rules are: it should be short and easy to remember, associated with your site's subject, and the extension must be popular, best of all .com.
Which Is The Best Domain Name Registrar?
Bluehost is excellent and reliable, a perfect fit for free domains as well. If you do not want to complicate obtaining a domain, this is the best option.
How do I renew my domain name?
Keep track of your expiration date so that you can renew it in time. We recommend that you set up auto-renewal. If you are using a hosting provider, then you will receive a reminder to renew.