If a question "How do I get my business on Google?" has crossed your mind at least once, it's time to find out about Google My Business. This tool helps website owners to present their services to a wider circle of people and build a network of loyal clients. Here are our simple guidelines for this functionality.
Google My Business is a free tool for managing the display of company data on maps, search, and other Google's services. It is especially important for companies that have offline sales points. GMB provides a list of useful features. You can:
Simultaneously update information about your company in Search, Maps, and other services.
Create Hangouts with followers.
Manage reviews on maps, respond to comments.
Learn how clients find your company.
Study detailed statistics about views of your page.
Get access to analytics directly from the personal account.
Special features of Google Business
In case your company is registered in Google Business correctly, it will appear on Google listing as a snippet that features the following details:
location;
phone;
working hours;
and route.
There are also stars under the company's name. Ratings are based on comments visitors have left.
Google My Business advantages
So how does Google My Business work? It is enough to share a new page in Google+. Soon after this, it will be indexed, website ranking will increase, and your company will automatically appear on Google Maps. Advantages also include:
Management of company data, information about its products, and services displayed among the search results. Photos, address, phone number, working hours – these and other details can be added and altered if it is needed. Regular updates of the information make your company look more reliable for users.
Easy communication with users. They leave comments and reviews you are to react to quickly and professionally. Effective feedback management helps to improve companies in general, not just online image.
Statistics analysis and attracting new clients. Google My Business helps to detect how users find information and come to your website. You can also track the number of calls to an indicated phone number.
Google+, though not a very popular social network, added several other useful features:
Information updates via the web interface and mobile apps (Android and iOS).
Promotion of both websites and pages on social networks.
Tracking customer journeys.
Viewing the number of page, profile, posts and photos views, clicks on "Routes," lists of items users viewed or searched, data on subscribers with the segmentation according to location, gender, and age.
Launching AdWords Express campaigns with choosing a language of advertising and decide upon the topics of requests.
Usingfree Hangouts service for video conferences.
Using hashtags and manage them via Tag Google Business Manager.
Integrating important events with calendar and notify clients about them.
Workwith a big number of branch offices with every shop getting a unique ID.
Google My Business provides effective tools for managing client streams. Networks and retail outlets experience the most benefits, for their clients are most frequently oriented on the location. You can publish information about your business even if it doesn't have an office. For instance, beauty specialist who works in a certain area of the city can indicate their home address (without an apartment) and automatically get into the top on relevant and geographically close requests – computer lessons, tutors, and other specialists working nearby.
There are several factors that influence Google My Business ranking:
Distance — the closer you are located to a user, the higher the probability to see it in search listing
Rating and reviews — the number and quality of reviews, as well as the regularity of posting. Buying comments is useless. Fake comments are deleted, and accounts of users who left them are blocked.
Behavioral factors — how many people find your business card, enter the website, make calls, etc.
Individual search results based on users interests.
Correct Google My Business settings.
According to Moz research, My Business settings make 19% of all ranking factors – more than any other factor taken separately. They also make 7% in localized organic ranking.
How to setup Google My Business
It is possible to enjoy all the mentioned above advantages only in case all required information is provided. No need to worry, everything is pretty simple and you can edit most details later. Here are your step-by-step Google My Business guidelines.
Step 1
 Create an email for your business. Use it to register the GMB account.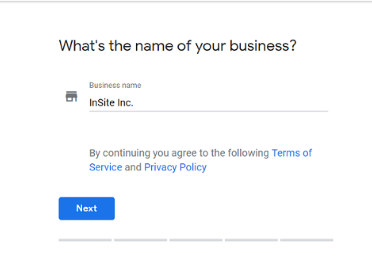 Step 2
Indicate company name and location. If there are several offices, mark all of them.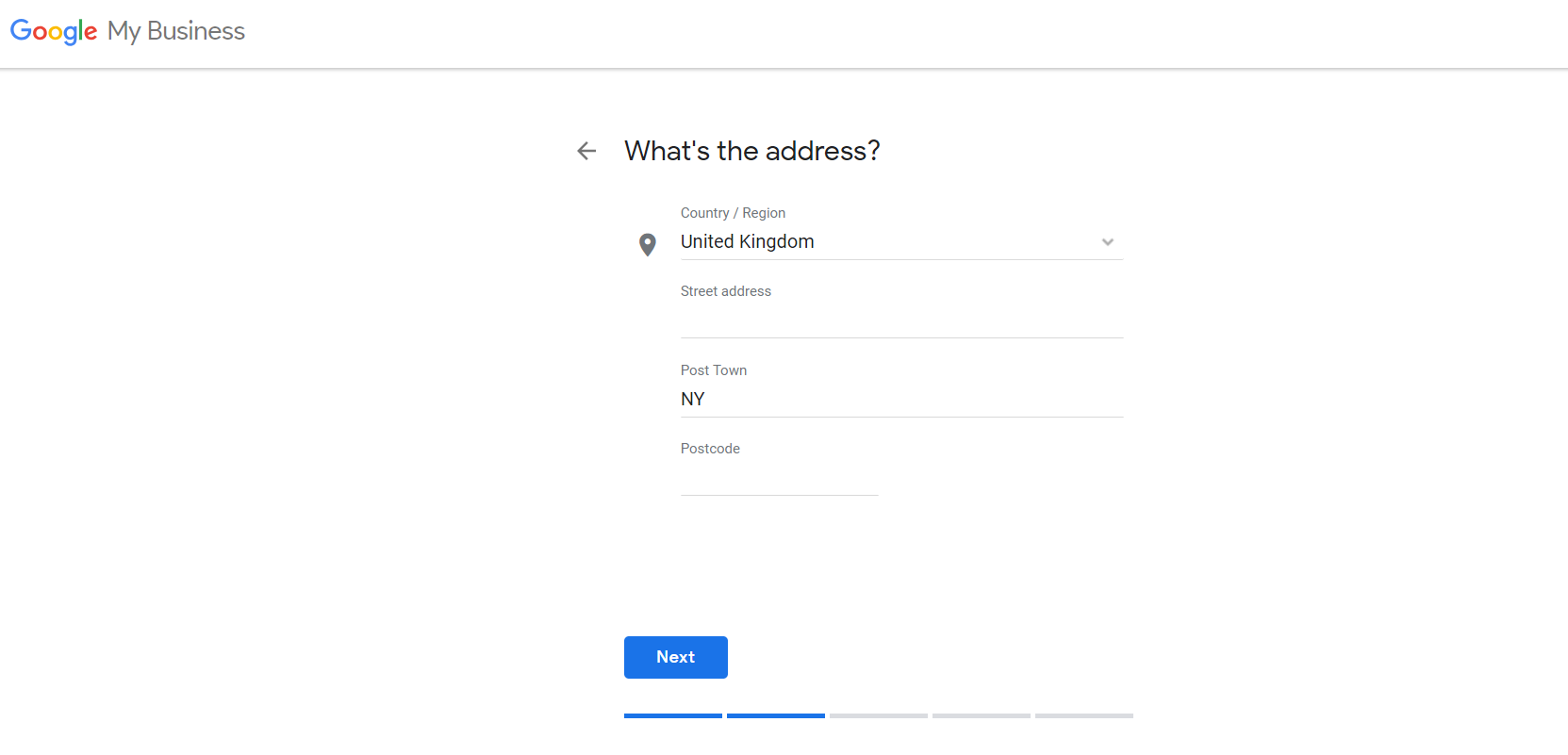 Step 3
Indicate the categories of activity relevant to your company. It is possible to choose up to nine, but only one will be displayed and visible for users. If there is no exact category, choose the closest one.

Step 4
Enter a phone number. Indicate the web address. It is not obligatory, but contact data will positively influence user experience and your reputation. You can add links to other important pages – price lists, order forms, etc.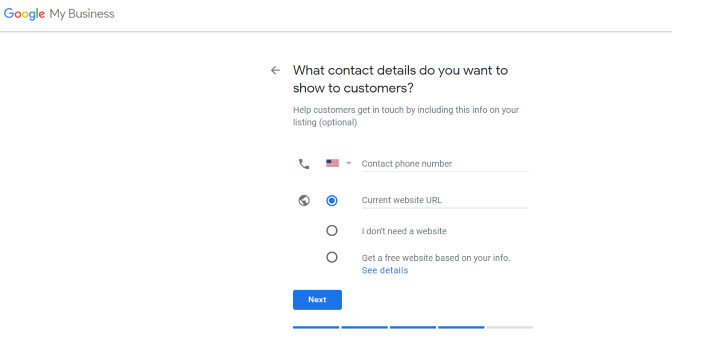 Step 5
Pass the authorization. You can do it via post or phone number. You will be informed about a PIN (via a letter or call). Verified Google Search Console users can request immediate authorization via Console account.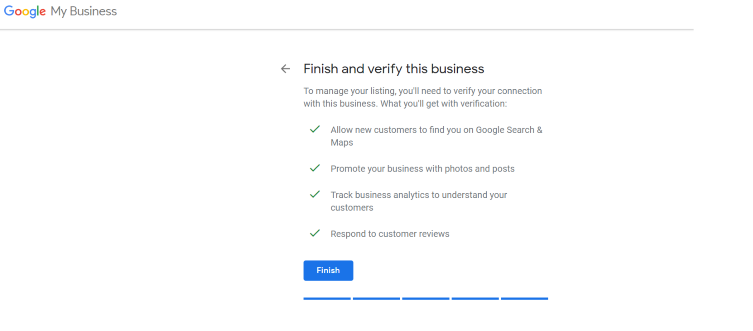 Step 6
After that, you can tie social networks accounts to update all information simultaneously.

Step 7
If your company has already been registered and you need to add a branch, start typing in the name and the service will display all matching names. Contractors can request access to join.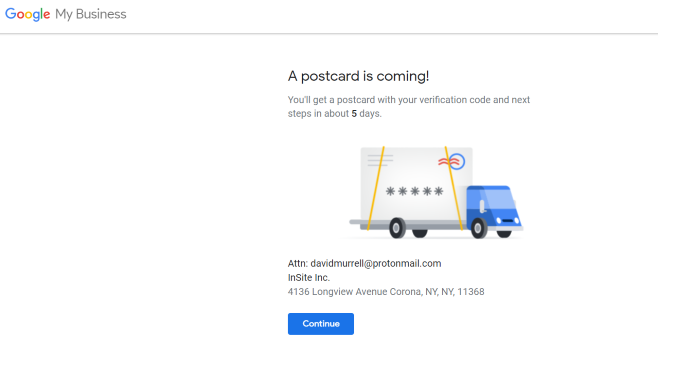 Step 8
If someone else uses your name or you have forgotten a password, just restore it via sending a claim to Google support.

It is possible to add several users to a business account. There are three options: administrator, owner, and manager. Administrator can edit information, hold video meetings, and track statistics. Owner adds users and deletes the pages. Manager can communicate with clients and manages reviews. The statistics are available only for authorized accounts.
How to optimize the account
Provide as much information as possible. Add all functioning phone numbers, indicate the correct category, add images – logos, photos representing your services, photos of exterior and interior, even photos of employees if you find it helpful.
Update information regularly. This is a way to demonstrate that the page is active and to gain users' trust.
Work with the feedback. Reply to reviews, both positive and negative ones. Do it professionally, without rude or angry replies. Read comments to use them as an advantage and improve your place.
Consider new formats. Adding 3D tours works perfectly for hotels, guesthouses, restaurants, and other businesses, where customers value comfort.
Google My Business doesn't require any investments. Meanwhile, it increases the chances to establish contact with potential customers — the higher the traffic is, the higher the sales are.
Final thoughts
Now you know everything about how to use Google My Business. This free service will be useful for both online and offline business. Register Business and Analytics accounts on one email for your convenience. Work on the cards of branch outlets and optimize them for achieving high-ranking positions.   Don't miss also the power of video ads on YouTube and get more about it on Valuer platform for the promotion of business. Enjoy the results!