A title tag is one of the most important parts of your site for SEO. When users request a search engine, they see a list of clickable headlines. Each title tag is a summary of the content that people want to find on the page. Aside from adding the keyword, you should also make sure your headlines are short and clear.
What Does "No Keywords in Title" Mean?
This means that your meta title tag doesn't have the targeted keywords.
Here you can discover additional information about the title tags. You can also check how it's likely to appear in Google's search results here.
https://moz.com/learn/seo/title-tag
What Triggers This Issue?
This issue could occur due to the following reasons:
You may not have added keywords to your meta title before
Perhaps your original title was too long. Therefore, Google decided to rewrite your title, and some parts of it could disappear in it, for example, your keywords. And Google can also take part of the title from the middle or use other text on your page.
Or Google judged that a meta title was irrelevant to the content of your page. And the search engine rewrote your title.
How to Check the Issue?
You need to check if the meta titles match their pages. Additionally, we recommend you keep the title length to 570 pixels wide. It's about 50-60 English characters. Therefore, Google will not crop or redo your titles. You can also list your users' typical searches and grab the keywords you want from there.
Sitechecker can assist you in monitoring title tag-related issues, ensuring they don't hinder your SEO progress.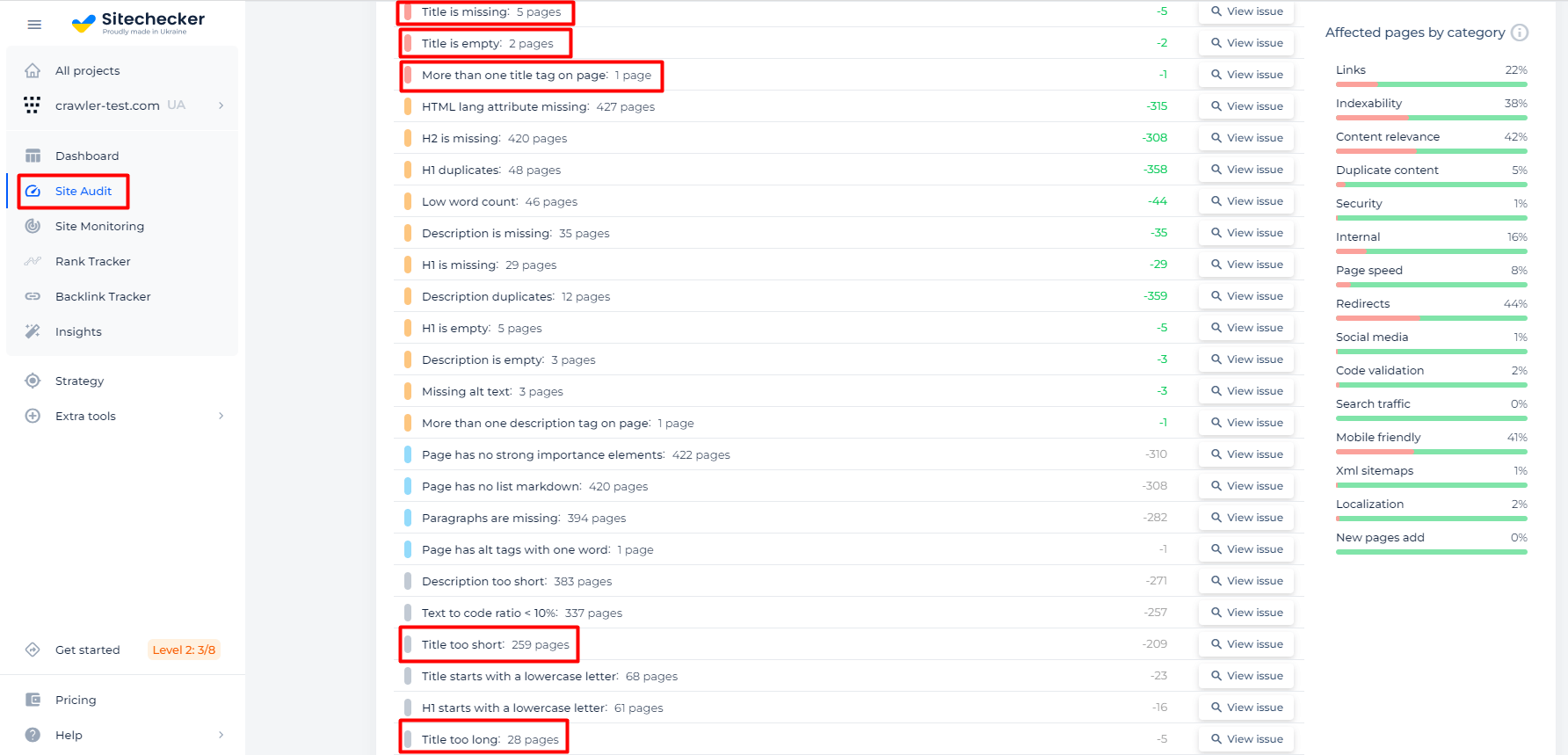 Why is This Important?
Your pages may contain relevant and useful information. But if their meta titles are irrelevant and without keywords, you risk missing out on the opportunity to show users the value of your content.
Optimizing titles can help to increase your CTR and traffic to your website. You cannot ignore this question as headlines are short ads for your pages. It would help if you also kept in mind that users often only focus on the first two words in meta titles.
Keep an eye on your title tags to ensure they effectively contribute to your SEO!
Make a full audit to find out and fix your technical SEO in order to improve your SERP results.
How to Fix the Issue?
If none of the targeted keywords were found in the meta titles of your pages, we recommend that you fix it as follows:
Select pages of your site that do not have keywords
Rank pages by importance
Find out the reasons for missing keywords in meta titles
Find keywords for each heading
Rewrite meta titles
This plan is especially effective in solving the issue when you have to rewrite many headlines quickly.