Most important product updates for May and June 2021.
1. Updating Top pages report in Assistant
The new viewing option makes it possible to form a list of columns with metrics that you would like to see on the page and evaluate the results for all the top 20 pages at once in a convenient form.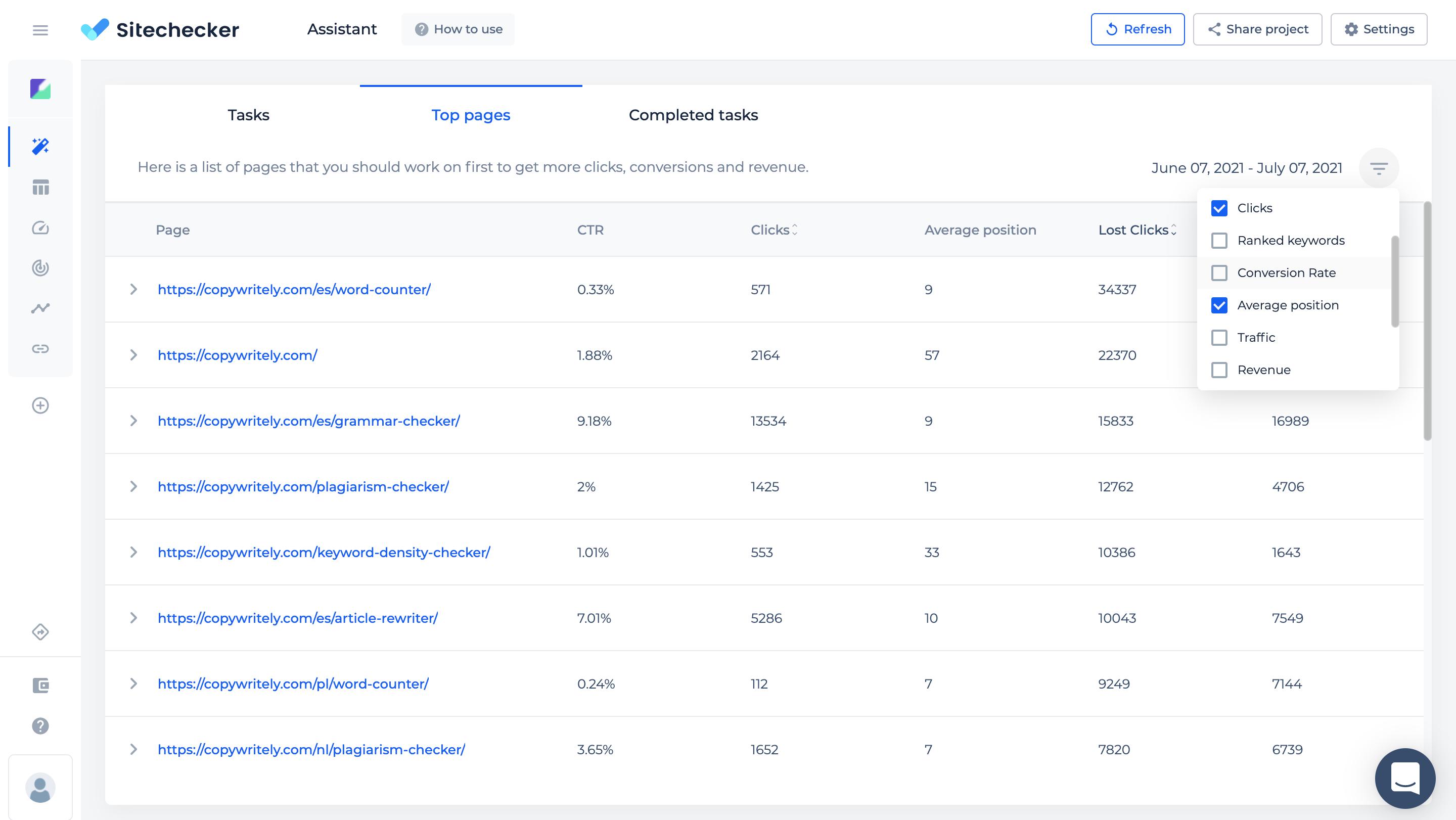 Metrics that you can display in columns across the page.
Google Search Console metrics
Impressions;
Clicks;
Average position;
CTR;
Ranked keywords.
Google Analytics metrics if you chose Ecommerce tracking
Sessions (Traffic);
Transactions;
Ecommerce Conversion Rate;
Revenue.
Google Analytics metrics if you choose Goals tracking
Sessions (Traffic);
Goal Completions;
Goal Conversion Rate;
Goal Value.
Metrics that we calculate independently based on previous ones
Potential Rank = Impressions / Average Position;
Lost Clicks = (Impressions * 0.2) – Url Clicks;
Lost Transactions = ((Impressions * 0.2) – Url Clicks) * Ecommerce Conversion Rate;
Lost Revenue = ((Impressions * 0.2) – Url Clicks) * Ecommerce Conversion Rate * Avg. Order Value;
Lost Goal Completions = ((Impressions * 0.2) – Url Clicks) * Goal Conversion Rate;
Lost Goal Value = (((Impressions * 0.2) – Url Clicks) * Goal Conversion Rate) * (Goal Value / Goal Completions).
We use 0.2 as the default average CTR for the top-ranked page on Google. Research by Backlinko and other sources shows similar data – the first place gets about 30% of clicks. But since a huge number of searches in the SERP usually goes without clicks to sites and this figure is growing every year, it is better to average it up to 20%.
The second important addition is that you can expand the page and get a list of the keywords you need to work on first in order to get more traffic from that page.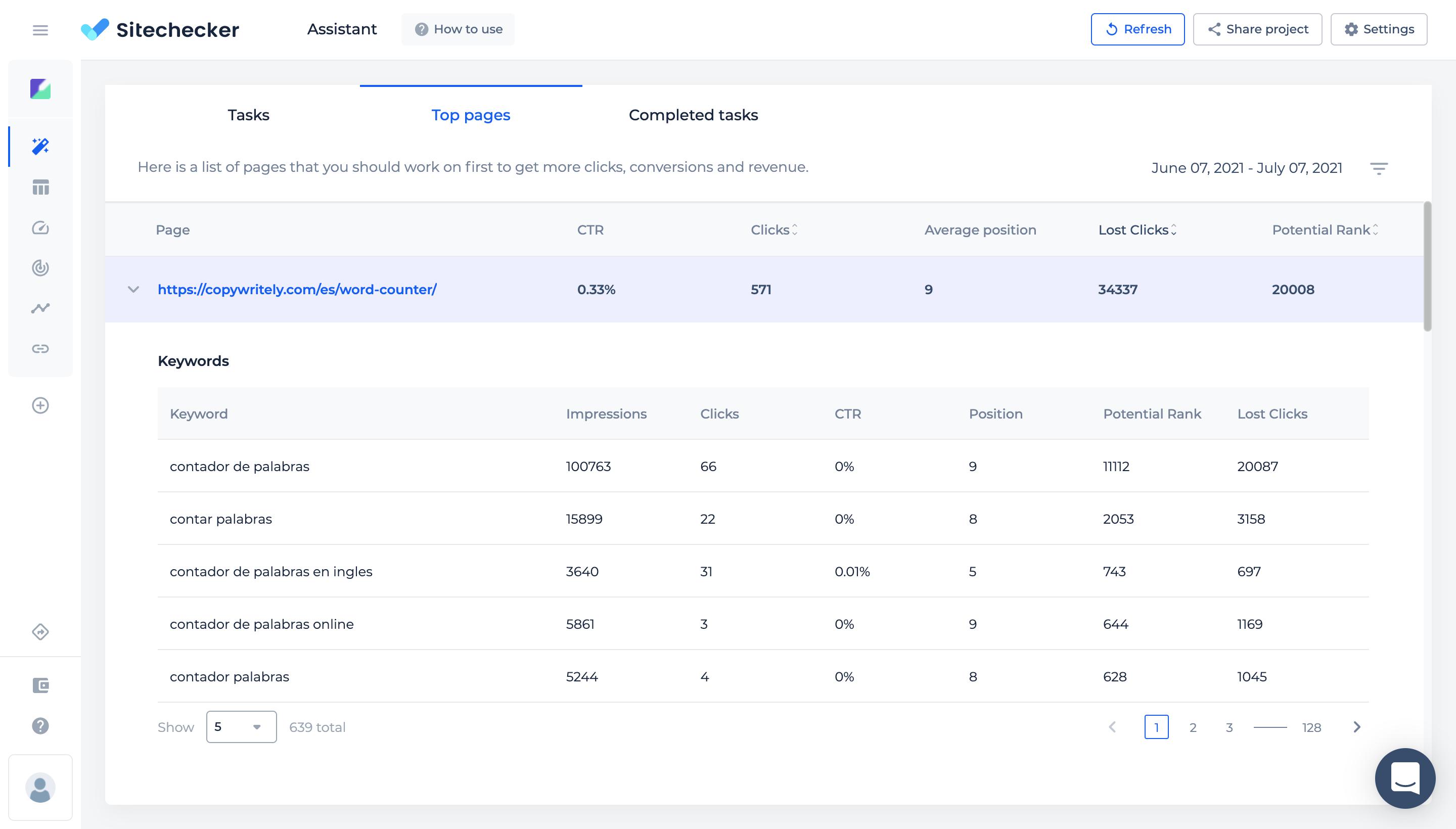 We've also added the ability to connect any combination of Google Analytics and Search Console accounts. It often happens that in GSC you have cross-domain tracking configured, but in GA you do not, and vice versa. Because of this, the report could break. Now you get the data anyway.
2. Monitoring website availability every 5 minutes
Now, in addition to monitoring the entire site every 12 hours, day, week, month (depending on your settings), we monitor the site's main page for availability every 5 minutes.
If your site is unavailable for our bot, you will receive such an email.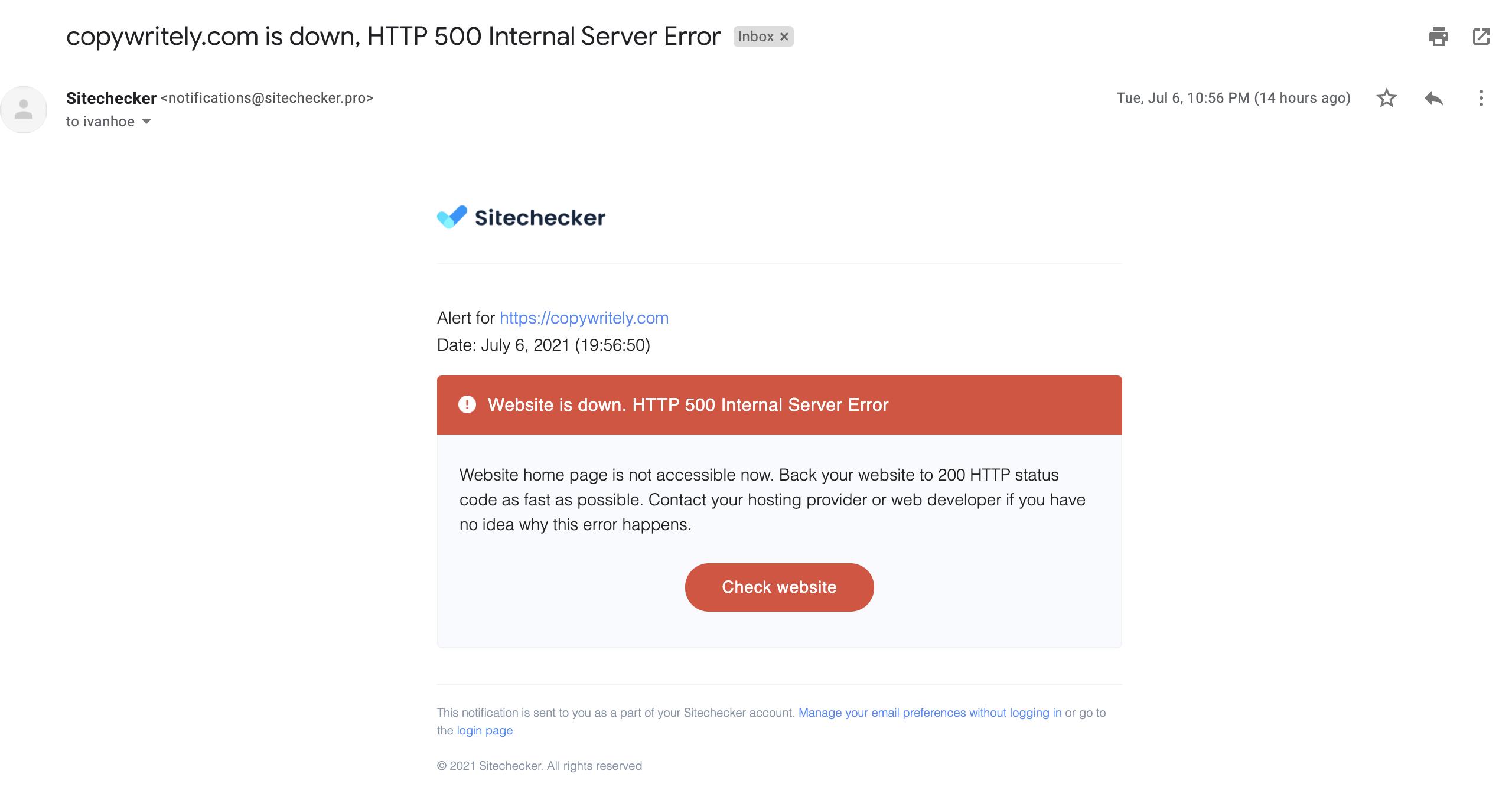 And when the site comes back to life, you will receive such an email.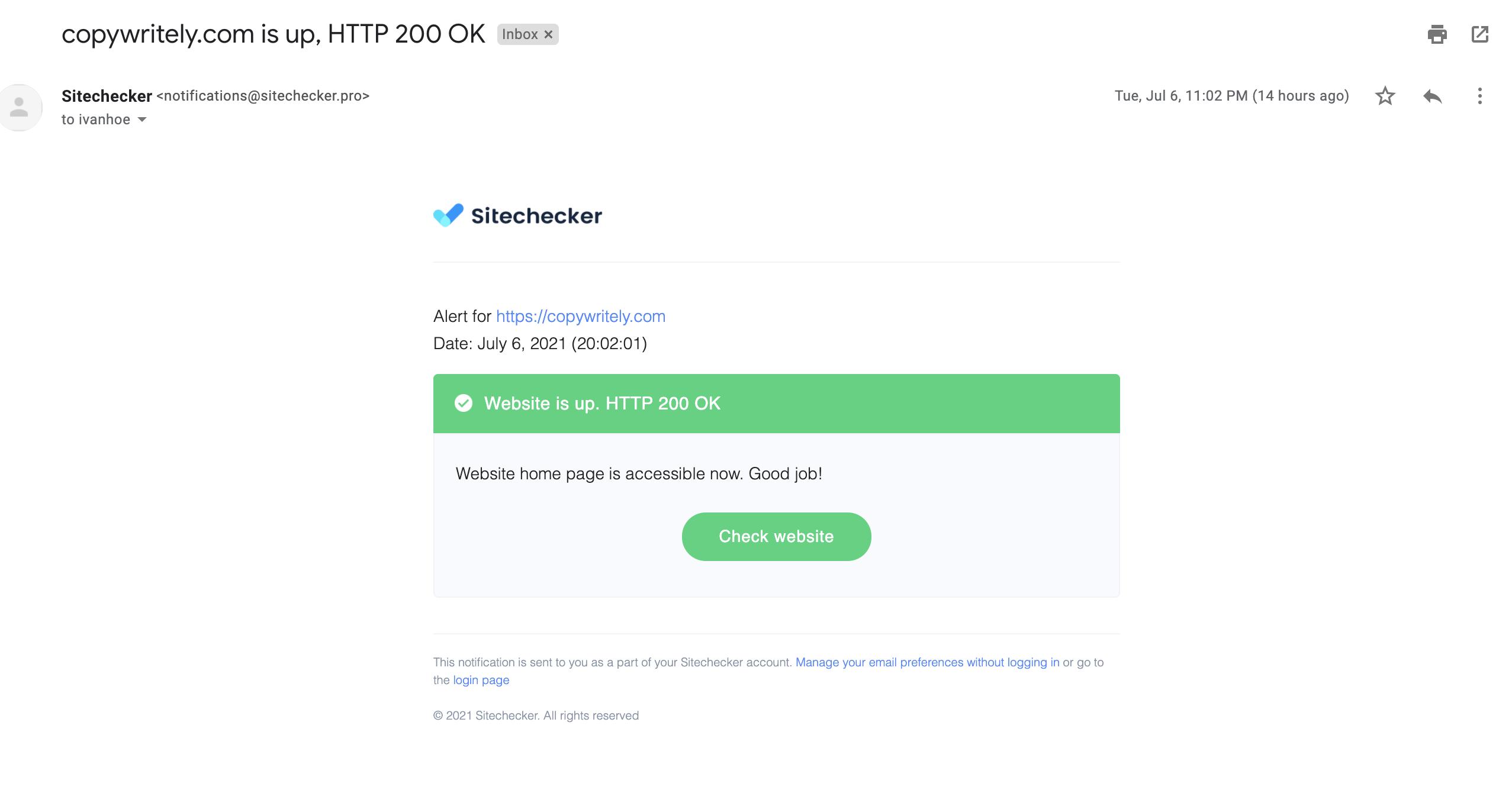 Important! You may not always know what technologies your site is using. It may happen that your security system can block the Sitechecker bot. This can lead to the fact that some of the events will be false. If you think that Sitechecker is sending false notifications about a site crash, write to us in the chat about it or email [email protected] and check if our bot is blocked on your server. This instruction will help you open access to our bot.
3. Scanning images, JS, CSS files in Site Audit
In the site crawl settings, you will see three new settings: Crawl images, Crawl JavaScript, Crawl CSS. They are disabled by default.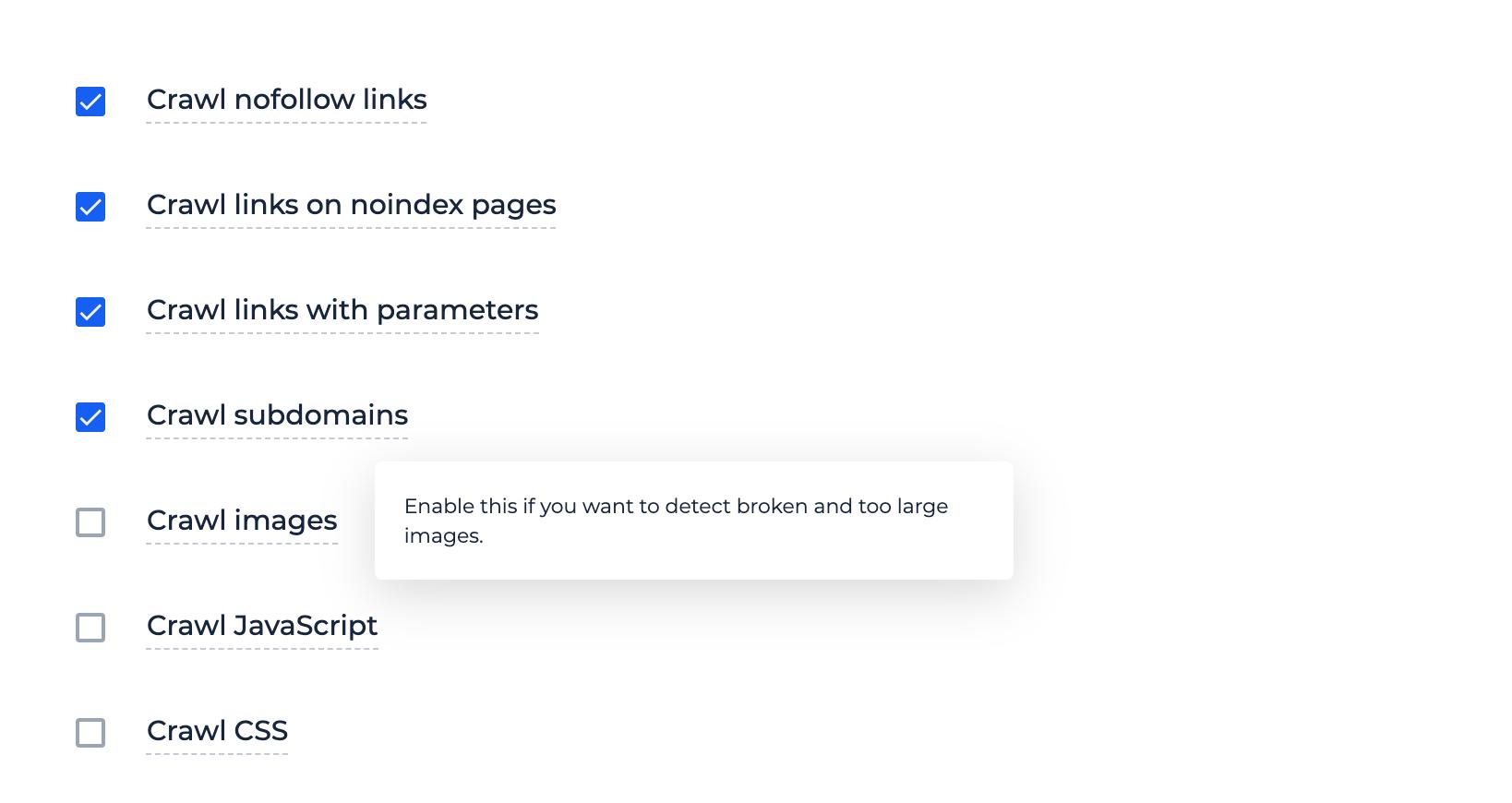 If you enable them and save the project, then you will have new checks inside Site Audit:
Page has broken JavaScript files;
Page has broken CSS files;
Page has broken images;
Page has empty src attributes;
JavaScript file size is over 25 KB;
CSS file size is over 15 KB;
Image size is over 100 KB.
Through the pages in each check, you will be able to see a list of problem files.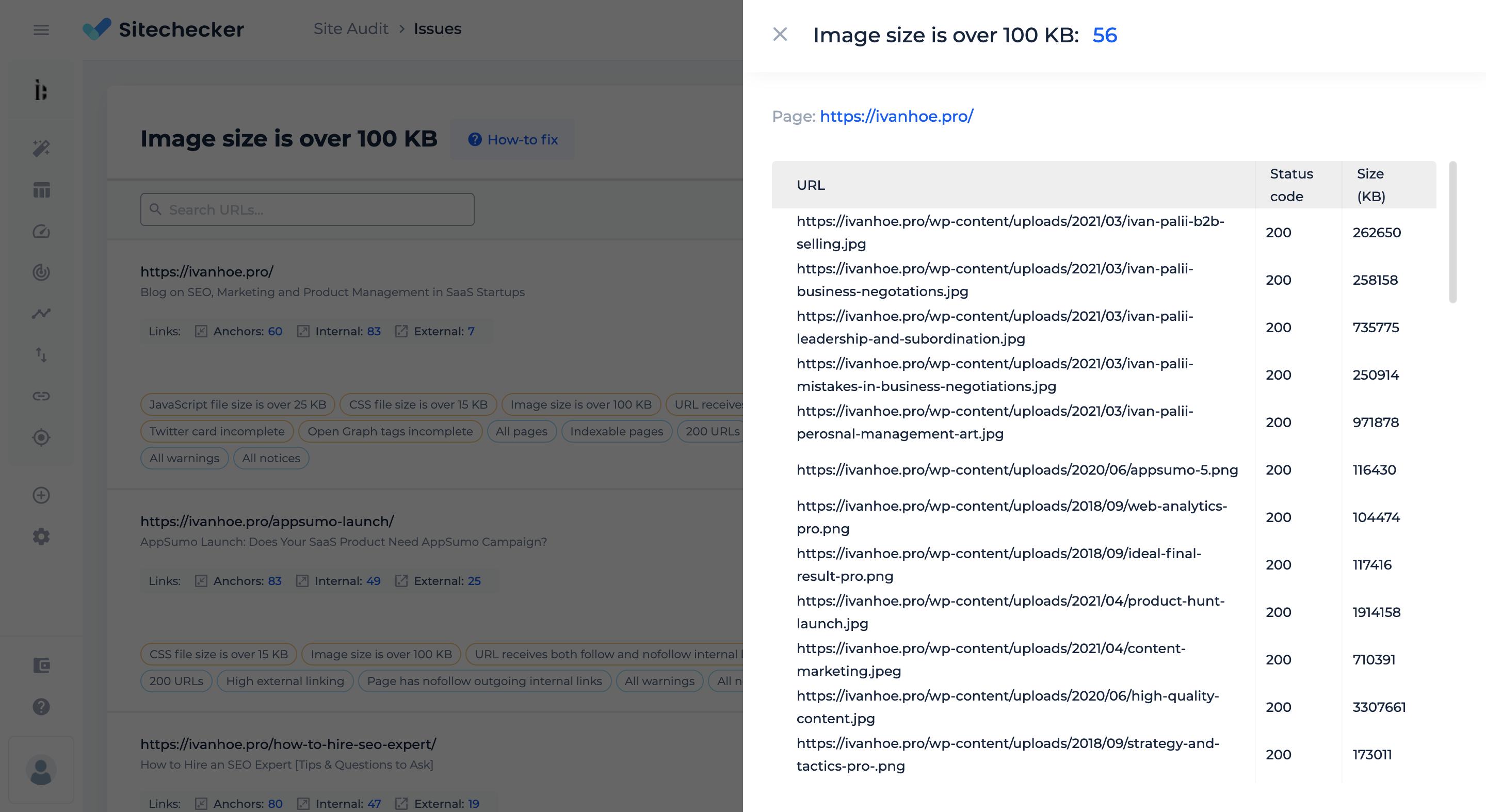 4. Onboarding to explore the possibilities of the platform
All paid users can see the onboarding button in their sidebar. It has three levels. At the completion of each level, you get additional limits on pages, keywords, and backlinks.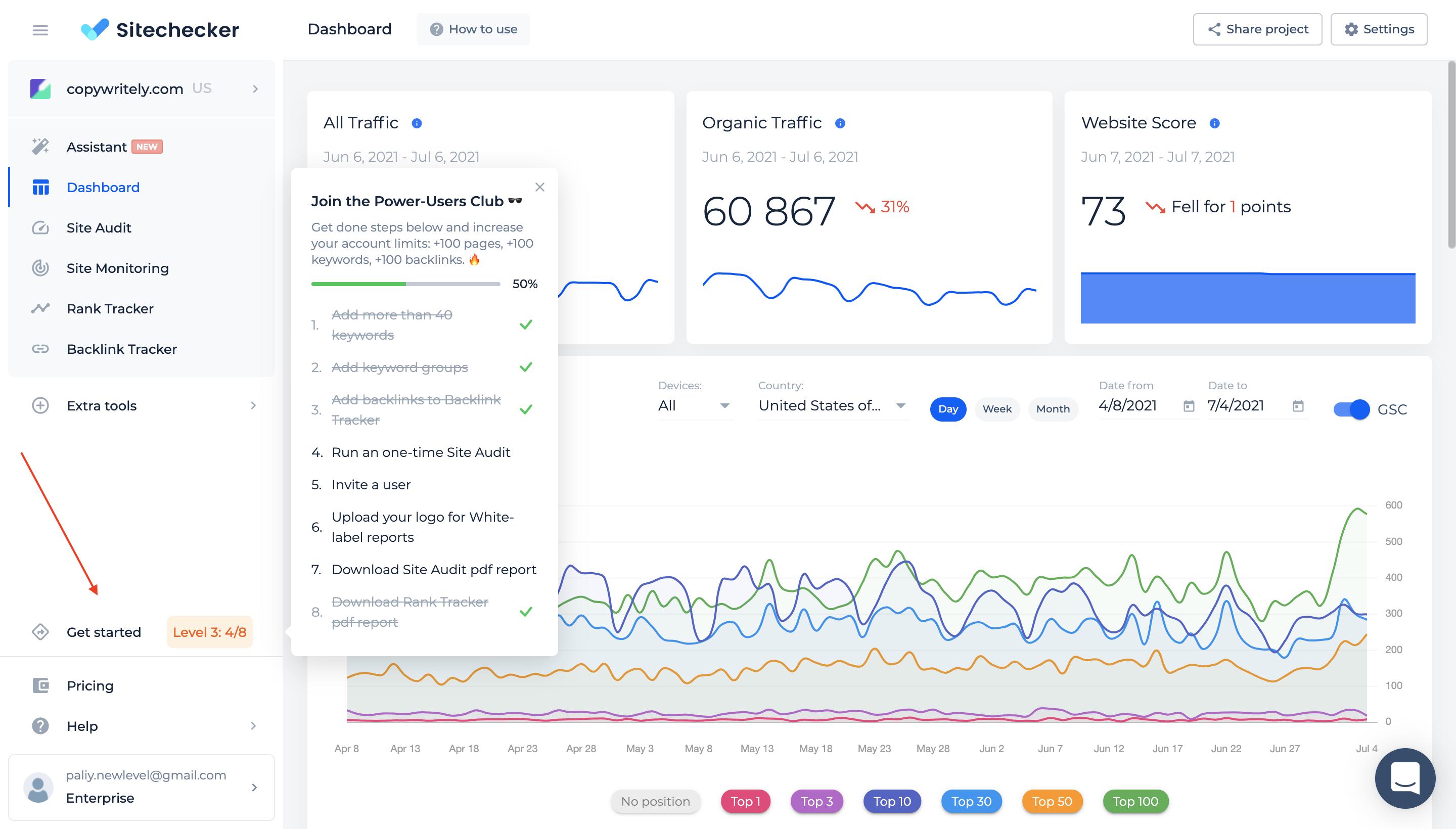 5. The problem with repeated changes in Site Monitoring has been resolved
For sites with regular automatic changes, constant content change events led to a decrease in the tool value – there was too much noise in the data.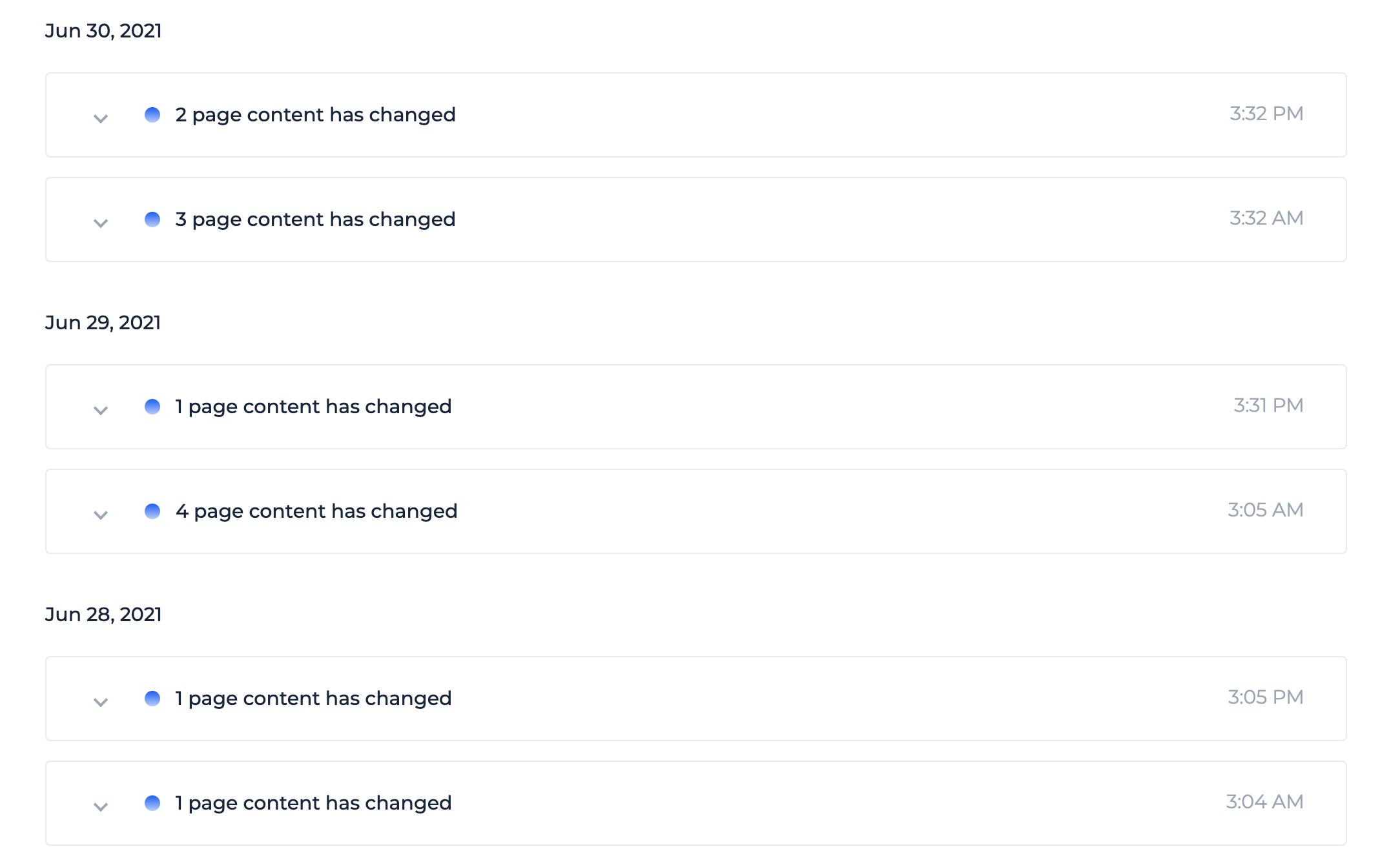 Now we do not include such automatic changes in the event list.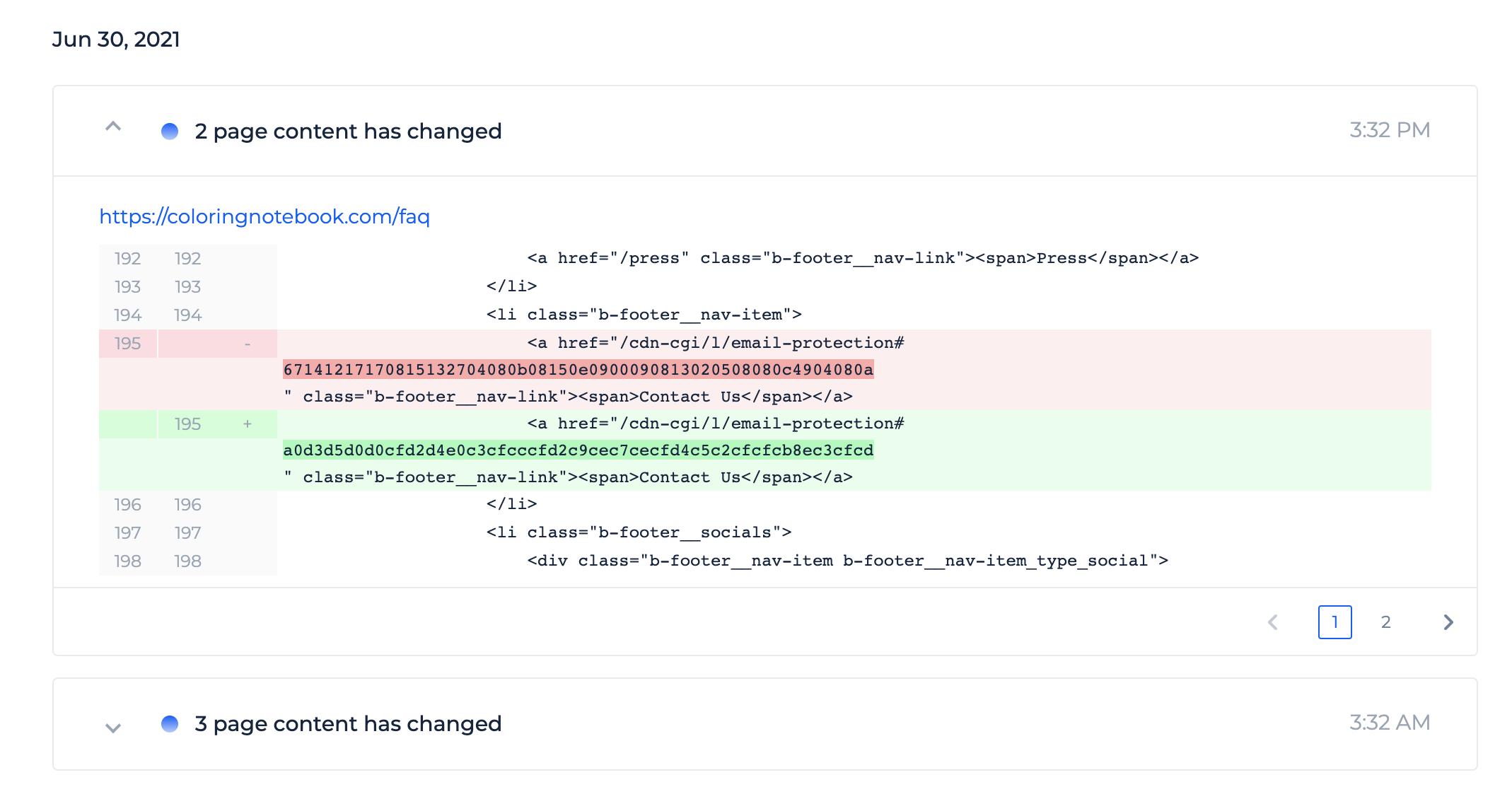 6. CSV and PDF reports in Rank Tracker have become filter dependent
Now, the filters that you apply to the table affect the data that you receive when you download PDF and CSV files.
The only difference is that the period selected in the calendar affects the CSV report, but does not affect the PDF report. In the PDF file, you will always see the latest position data for the last 7 days.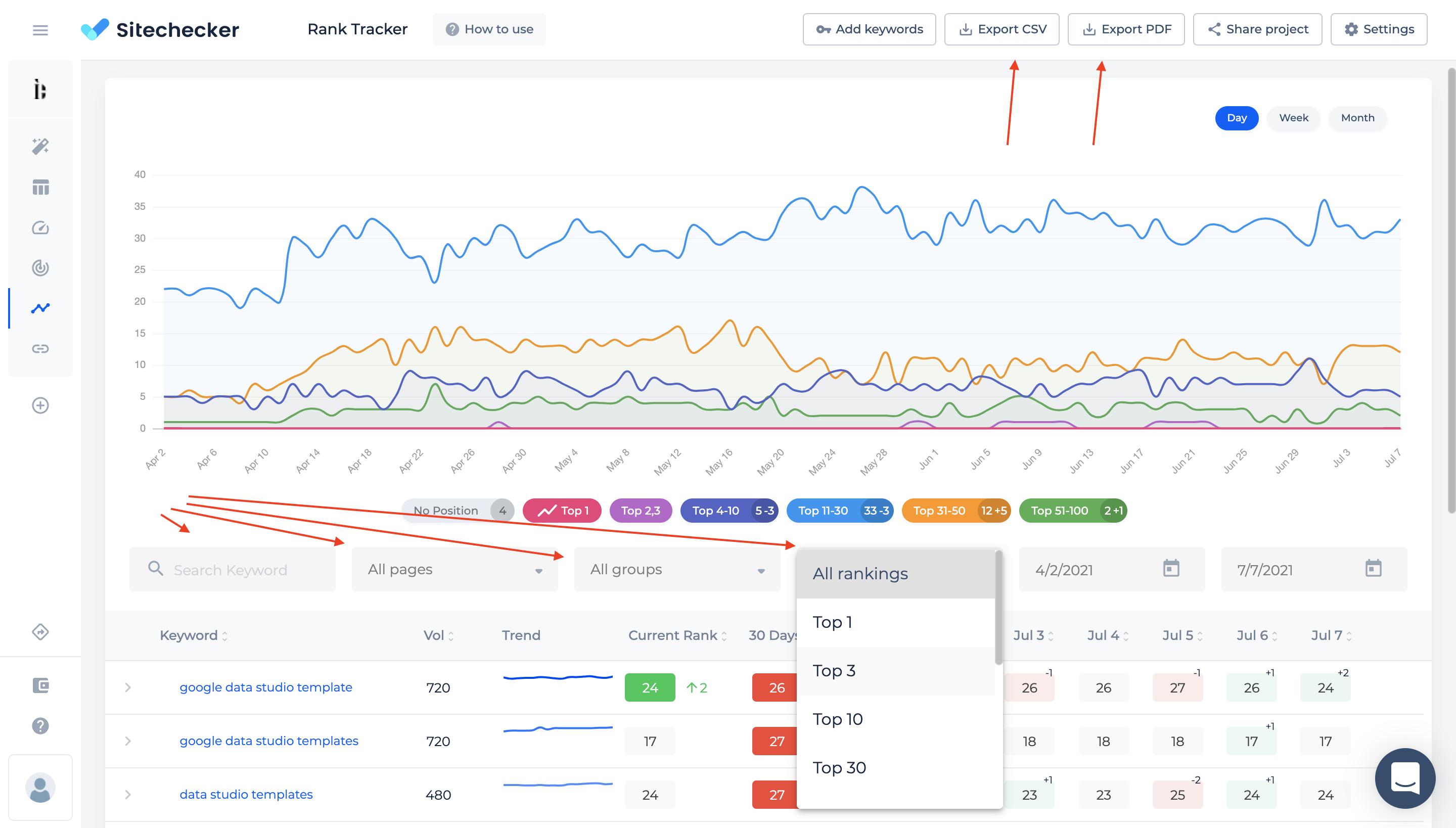 7. 60,000+ installs of the Google Chrome plugin
Already 60 thousand users have installed the Sitechecker extension in Google Chrome. We fixed most of the bugs in the extension and increased the waiting time for a response to 2 minutes. Often, when there are a lot of images and links on the page, it takes a long time to check them.
To start using the updated version of the extension, uninstall and reinstall it.
8. New video instructions for correcting errors in Site Audit
We launched the creation of video explanations on how and why to fix specific errors in Site Audit. For now, three videos are already available in the playlist on our YouTube channel, as well as in the How to fix tabs in the application interface.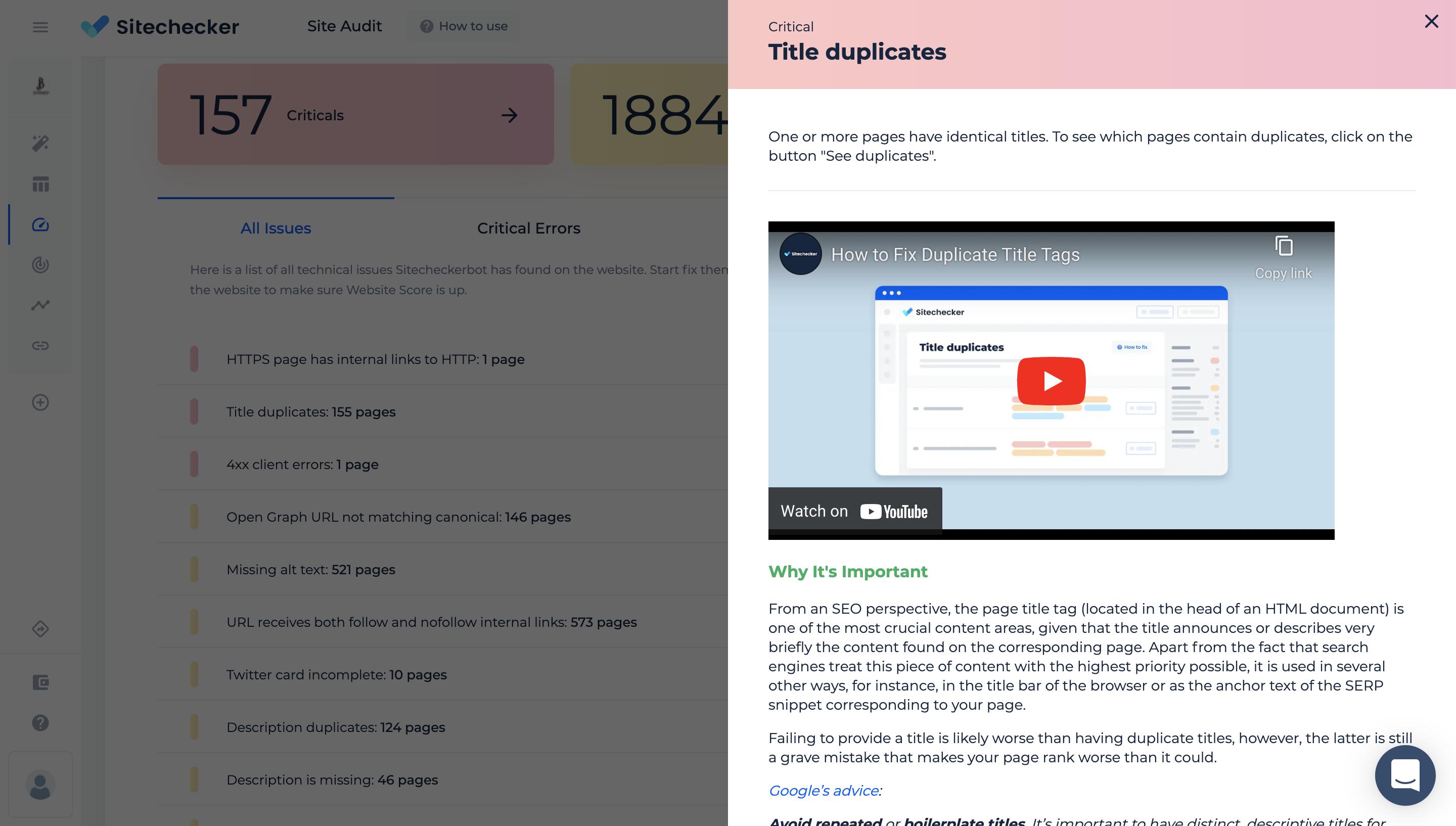 Check out our public backlog, vote on the features you like and add your ideas.
Follow us on Twitter, LinkedIn, Facebook and YouTube to stay informed about new product updates, interviews and SEO tips.