Jason Barnard (The Brand SERP Guy) is an author and digital marketing consultant. He specialises in Brand SERP optimisation and Knowledge Panel management. Jason's first book, The Fundamentals of Brand SERPs for Business, was published in January 2022. He regularly publishes articles on leading digital marketing publications such as Search Engine Journal and Search Engine Land and regularly writes for others including Wordlift, SE Ranking, SEMrush, Search Engine Watch, Searchmetrics and Trustpilot. He is also the founder and CEO at Kalicube – a groundbreaking digital marketing agency that, through the Kalicube Pro SaaS platform, helps clients optimise their Brand SERP and manage their knowledge panel.
1. How many years of experience in digital marketing do you have?
I started way back in 1998, the year Google was incorporated. So, 22 years and counting. Interestingly, my first role in Internet marketing was as a cartoon blue dog (more about that later 🙂 
2. What type of digital marketing do you have the strongest skills?
Today, I'm "The Brand SERP Guy", so my strongest skills are all centered around brand-related SEO.
However, back in 1998 I started with marketing in the widest sense promoting a website for kids that had no business model. The aim in that initial startup phase was purely to drive qualified traffic. 
Once the site gained some traction, and we started competing with sites like PBS kids and Disney, I moved to Mauritius in the Indian Ocean. Unfortunately, I couldn't find any developers for the tech aspects, so I had to learn tech SEO. In fact I had to learn how to run a server, Apache, PHP, MySQL, and pretty much every other tech aspect of a website. 
Now I am increasingly focusing on content and brand marketing in the form of Brand SERPs (more on that later :).
3. What projects have you launched recently that you are proud of?
Kalicube is a project that tracks, analyses and measures Brand SERPs (the Search Engine Results page for a search on your brand name). It started as a small project that was supposed to last for a few months, but 7 years later it has grown to be a specialist agency offering both coaching and a series of online video courses.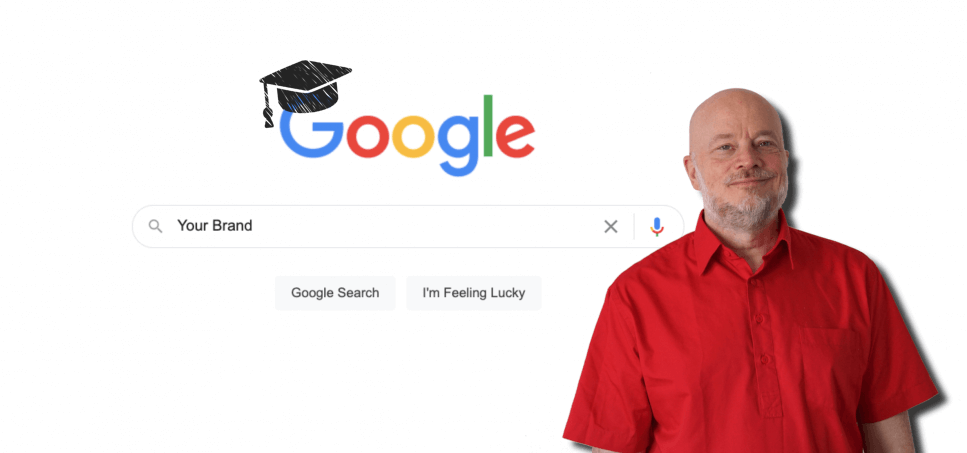 4. What do you do to further your own SEO knowledge and skills?
Learning from others who REALLY know a specific topic is an amazing way to expand knowledge. I host a podcast and have been lucky enough to be able to pick the brains of some of the most knowledgeable people in  the industry: Joost de Valk, Bill Slawski, John Mueller, Rand Fishkin, Dawn Anderson, Danny Goodwin, Loren Baker, Barry Schwartz, Jes Scholz.. and 150 others 🙂
The other way I improve my knowledge is through Kalicube – I track the SERPs of 70,000 brands, products, music groups, people and events across 11 countries, and have a  database that contains 10 million SERPs, and a similar number of entries in Google's Knowledge Graph. Every single time I look into the data, I learn something new about how Google's algorithms function (I call it 'Darwinism in Search'), how it perceives and presents brands (and other entities), and what content it is favouring in SERP features such as video boxes, knowledge panels, image carousels and entity boxes.
5. Is there any marketing or SEO blog you like most of all and why?
Search Engine Journal is one I follow closely because it does the basics very well — news and practical articles — but pushes things forwards by also showcasing new ideas and theories. 
6. What are the TOP-3 errors you made at the beginning of your SEO specialist career?
In terms of Brand SERPs
up until 2020, I was over-reliant on Wikipedia articles. Although they are a phenomenally important source of information for Google,

I agree with Rand Fishki

n

that Wikipedia is dangerous ground from a perspective of controlling one's brand image and message.

thinking that images aren't front-line-important for brands. I failed to have a visual strategy for my brand until I employed a graphic designer. She changed my mind about the importance of visuals for a digital strategy: from Google search to videos to social media to forums and beyond

underestimating the SEO power of creating content for platforms that aren't Google (more about that later).
7. What SEO tactics do you think are underrated?
Video. It seems to me that most marketers who have a focus on video (let's call them YouTubers) are missing out by not looking at Google SERPs and the value SEO can bring them. 
And inversely, most marketers who have a focus on Google SERPs (we can call them SEOs) are missing out by not making more of what video can bring to SEO.
8. Do you believe that backlinks are Google's past? Is link building important for increasing the website's positions nowadays?
Links remain important. But you can expect them to gradually drop lower and lower in the equation as Google gets better at judging authority/credibility through entity-related signals. At their most basic, links are simply relationships between entities —  in this context web pages are entities, and links are relationships. And they actually indicate popularity rather than authority or value. In a world where the entity-based search is quickly evolving, Google is increasingly able to identify authority and quality using many other entity-to-entity relationship signals.
Links will become 'just-one-of-many' authority/quality signals and become progressively less important.
Jason Barnard, digital marketing consultant
9. In your opinion, does the technical health of the website affect the ranking positions in search engines?
To the extent that your site needs to be crawlable, indexable, and digestible, yes. Beyond those fundamentals, you can expect technical health to gradually drop lower and lower in the equation as Google uses machine learning to get significantly better at identifying and extracting meaningful information from webpages.
10. How do you stay up-to-date on the near-constant search algorithm changes?
It is perhaps time to stop trying. The algorithms are driven by machine learning, meaning that even the engineers don't know quite how the machine makes its decisions. You need to look at the goals the engineers are setting for the machine, the metrics they use to measure success, and the data they are feeding back to the machine. 
11. Are you going to surprise SEO and Digital Marketing world with something new (tool/app, course, product)?
Yes indeed 🙂
Kalicube currently offers several tools: for tracking and measuring Brand SERPs, looking at the Knowledge Graph, and even getting an insight into the sources Google trusts… that toolset is destined to expand in 2021. 
12. How do you make competitors analysis? Please provide a short 1-2-3 steps guide. 
If you want to get a quick, cheap, and accurate analysis of two aspects of an individual competitors' digital strategy, simply Google their exact match brand name. You'll see at a glance what is working for them in their content strategy, what their online reputation looks like, and how well they are managing their wider digital ecosystem. 
Analyzing the nuances of the Search Engine Results Page for exact-match brand searches (Brand SERP) gives you amazing insights into the digital ecosystem and strategy for your own brand… and also for your competitors 🙂
Jason Barnard, digital marketing consultant
13. In your opinion, does a user's behavior impact on website ranking in SERP?
Yes, but not directly in the ranking algorithms. Neither in the 'blue link algorithm', nor any of the related SERP features/rich element algorithms. Listen to what Nathan Chalmers says about the Whole Page Algorithm to understand just how much user behavior affects what we see in search results, and how!
14. What is your approach to developing an SEO strategy?
I advocate an approach that is simple and the same for all brands.
Make sure that everything you do in SEO helps Google with one or more of its three needs: Understanding, Credibility, and Deliverability. If you have empathy for Google's needs, SEO becomes much, much easier.
Jason Barnard, digital marketing consultant
15. How do you see the future of SEO (in 5 years)?
It is already true today: Google depends on Understanding, Credibility, and Deliverability. For your SEO strategy to be successful, everything you're doing needs to serve one or more of these three pillars. If it doesn't, then it probably isn't worth doing. In 5 years' time, this is going to be even more true. 
16. Which SEO or marketing tools can you recommend as a must-have for every SEO specialist?
Search Console is my first go-to place because it is data straight from the horse's mouth. If you are interested in optimizing your Brand SERP (and you should be 🙂 then Kalicube is the specialist tracking tool that I recommend. 
17. What advice can you give for those who are just starting their career in digital marketing?
Beware of promises of quick wins, one-trick strategies to rank… and remember that each and every situation is unique so there is no one-size-fits-all solution, just a combination of tactics and techniques that will improve the situation.
A great deal of advice and information you find online focuses on the blue link algorithm and ranking a page in the blue links. That remains valid, but be careful not to miss the immense opportunities offered by SERP features / rich elements that also appear on that Search Engine Results Pages. Make sure you are optimizing for all relevant results: video results, Twitter boxes, knowledge panels, local business listing, entity boxes, and so on.
Most importantly — focus on entities. By organizing your content and strategies around entities and then relationships between them, you are necessarily communicating with machines in a manner they will understand more easily. All the major platforms you'll be using in your digital marketing strategy are built around entities: Google, Facebook, Bing, Amazon, Twitter, LinkedIn, Quora, Apple… and all their algorithms have entities at their core. 
Of course, the single most important entity is your brand. By extension, your Brand SERP is the single most important SERP for your business. 
18. You are noticed at many digital conferences. How important live communication is for business? How does it work for you?
Whatever your business, being silent isn't an option. Every business has to communicate with its audience. All things being equal (service, offer, pricing…) it is often the 'connection' between humans that triggers acquisition. Face to face communication is often the best way to spark that connection.
Conferences and webinars are a great way to get that face to face contact with peers, clients, prospects…
19. Should a business have a corporate blog?
Only if they have something to say! A  blog is often the knee-jerk reaction when a business starts thinking about content marketing online. Unfortunately, many brands fail to provide real value to their audience through their blog, thus making it a waste of resources. 
To bring value to your business, every piece of content you create needs to be truly useful to your target audience. And more often than not, that content will be most useful and bring most. It also needs to be in the format that is most relevant. Perhaps the video is more appropriate. Or audio. Or visuals. Or a how-to list…
Creating content specifically designed for the platforms where your target audience is already present: YouTube, Medium, Quora, Facebook… Create valuable content in the relevant format and push it out onto those platforms. The aim is that this content 'pays for itself' on the platform it was initially designed for. The content on your blog would then be an adapted, perhaps extended, version of that content that you 'package' for Google. Using this approach, your content has already generated business value for your brand on the third party platform and the blog itself, and its performance on Google, is a bonus!
20. How can start-ups and early-stage businesses use SEO effectively to drive traffic to their sites?
See the previous answer! I would add that building an extensive, relevant Q&A section is a very good way to drive highly qualified traffic for a new brand. Find the questions your audience is asking and answer them clearly, simply, and accurately. To find the questions that are most relevant to your audience, use a tool such as alsoasked.com or simply check out the People Also Ask that appear on the Google results that interest you.
One teat trick for a startup is to gather a list of questions associated with a competitor and answer those that are not branded (trying to steal traffic from a competitor by ranking on their branded terms is rarely a profitable tactic). 
21. What do you prefer the most: client SEO, own projects, consulting, something else?
Far and away, I prefer my own projects. At Kalicube.pro I track over 70,000 brands in 11 countries.  I collect their Brand SERP (the Search Engine Results Page Google shows for a search on the exact brand name) and use that data to better understand how Google builds this type of result, which in turn allows me to find the strategies, tactics, and techniques brands need to implement in order to control that result and make it accurate, positive and convincing.
Why is that important? Because Brand SERP is your new business card — every single person who is important to your business will search for your brand name at some point in their journey.
22. What strategy do you prefer: launch and grow many small projects or work on a few solid projects?
Far and away, one big project. From 1998 to 2008 I spent all my time, energy, and resources on Boowa & Kwala — a site of games, stories, and songs for kids. Over 10 years I built it from nothing to being in the top 10,000 sites in the world with 60 million visits in 2008.
Unfortunately, until recently I had to work on many small projects for other people… but since the start of 2020, I have been able to commit 100% to my work on understanding Brand SERPs and teaching brands and people to optimize theirs at Kalicube. Hopefully, this project will have as much success as Boowa & Kwala 🙂
23. Can you share your professional and business plans for the next 2-3 years?
As for me, the future is all about Brand SERPs – I'm "The Brand SERP Guy", after all 🙂 I'll keep collecting and studying them. I will also extend my analysis and study knowledge panels, and Google's Knowledge Graph. 
Business-wise, I'll simply record more courses to teach brands and people how to optimize their Brand SERP, improve their knowledge panels, and cement their place in the Knowledge Graph.