Alexandra Tachalova is a founder of Digital Olympus conference and former marketing manager at SEMrush. In interview for Sitechecker she shared interesting ideas on link building and impact of the latest changes in search engines' algorithms on her business. You also can find find her on Twitter.
1. How many years of experience in digital marketing do you have?
More than 10 years ago, I joined the marketing department in a company called Veeam where I was responsible for Salesforce reporting. This is when it all began.
If you're not familiar with Salesforce, it is one of the top CRM systems. By the way, at that time, giants like HubSpot were not even in the picture and now they are breathing down Salesforce's neck.
Thanks to Veeam, I became an active user of Facebook and Linkedin and found out what "a lead" was. However, it was not exactly the buzzword kind of marketing, because the biggest part of my responsibilities was reporting. Even when I joined SEMrush 4 years later, it still wasn't "that" kind of marketing as, during the first year of my work there, I was still mainly responsible for integrating Salesforce into the company's processes.
But one way or another, I've always been interested in digital marketing. Long story short, I started my own agency and that's when things got interesting.
2. Which period of SEO history is the most interesting for you?
In my opinion, things got fun when it was announced that from now on all that matters is good content and traffic will follow. That's when everybody ditched on-site and off-site SEO and focused on writing more content than the Internet could handle 🙂 Many of my clients who were ready to pay $5000-$10000 for content are long out of business. However, it was a good time. Nobody was overwhelmed with the price of 5 grand for a post of 4000 words.
I think it's important to mention, that writing content for the sake of content alone is a tough job, even if it's well paid. Right now, I never do it because no matter how much effort you put into your piece, without proper promotion, in 99% of cases it's gonna gather dust on the client's blog.
3. How do you perceive the latest changes in the search engines' algorithms: reducing the number of clicks to sites, solving user problems immediately in the search results? How does this affect your plans?
To be honest, it doesn't affect them much. We're doing link building, not complex SEO projects, yet links are still a major part of SEO success.
Lately, me and my colleague were checking the positions for one highly commercial keyword in Ahrefs. That's the kind of a search term for which websites get into a serious fight. So, we've noticed this: when both websites have solid brands and get stable traffic from various channels, two things matter:
The quality and the quantity of the website's referring domains; if that number is lower than what your competitor has, it's highly unlikely that you will beat them in search given the fact that they are actively building links to particular pages.
The quality and quantity of the referring domains of that page that you want to see in the top.
4. What are your strengths in digital marketing and specifically in SEO? Why did you decide to concentrate on them?
Coming from years of experience in digital marketing, communication is the most crucial success factor. So, in the last 5 years, I've been mastering my communication skills, learning how to be helpful to people in order to get what I want. Currently, our main business direction is link building via email outreach. So, it has all come together and right now I'm using my ability to negotiate every day.
5. What do you prefer: to do SEO for clients, grow own brands, consulting? Why?
At the moment, we have somewhat of a mix between our own and clients' projects. I'm least interested in consulting and I'm partial to setting barrier prices for my services because the number of my billable hours is limited and doesn't scale whatsoever.
Speaking of my own projects, it's my Digital Olympus conference. As of client work, it's link building.
6. How do you determine success in SEO: by ROI, by market share, by experience gained?
Success should be estimated by countable metrics related to money. We sometimes get projects where clients want to boost links for their commercial pages; such projects eventually get both traffic and an increase in the number of clients.
7. Which projects are you most proud of?
Definitely Digital Olympus. Mainly, since the second time in a row, we're organizing an offline conference. Right now, we've rented a huge venue for 600 seats in Krakow. Among the keynote speakers, there is an array of famous experts including Aleyda Solis, Jono Alderson, Lukasz Zelezny, Judith Lewis and many more.
I have another client project now, we've started working on link building for them in July and here are the results we've got so far (by the way, that's the case when a site has a lot of links in its portfolio and gets a lot of traffic):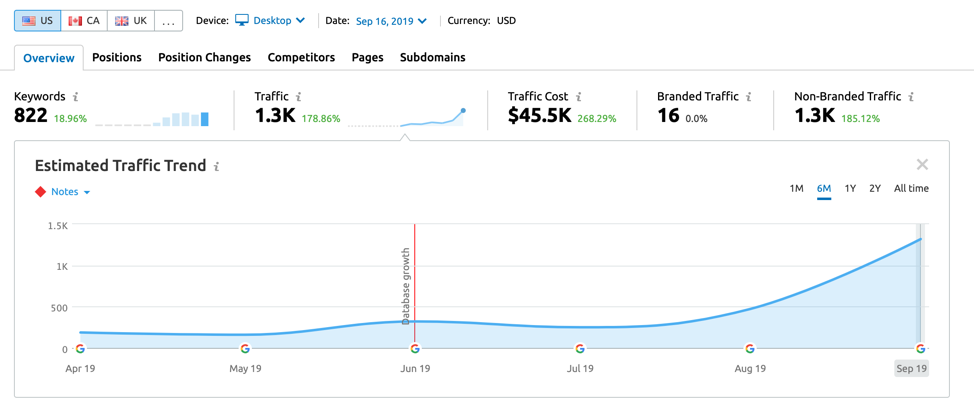 8. Are you using black and grey hat SEO techniques now? What do you think of them?
No, and this is something that nobody should be doing. We check every website for which we're building links for signs of shady links in their portfolio. Moreover, sometimes we dig into webarchive.org if we have reasons to think that some of their links were not obtained organically.
9. Do you have higher education? Does it help you in your work?
Yes, I do hold a degree in PR. It helps me a great deal, as in Russian universities they teach system thinking and lay the foundation for broad-based knowledge. Sometimes, when I speak at conferences, I even bring up things that I've learned in the sociology class (about quantitative and qualitative research methods).
10. Can you share your professional and business plans for 2-3 years?
I would like to launch my own education course. Probably, it won't be a regular course, as I'm planning not only to share knowledge about link building but also help students build links themselves. However, I don't want to focus solely on education as, in my opinion, it bears the risks of losing a professional grip.
11. How do you keep up to date of the latest changes in SEO: practice, reading blogs, taking courses, conferences, networking?
Practice. Putting in long hours of work and constant experimenting. I haven't read a single post that would tell about any link building tactic that I haven't tried myself. And frankly speaking, the majority of posts are pretty useless.
Also, I learn a lot from communicating with the link building experts. However, we always rethink other people's experiences to get things done better, faster and more effectively.
12. Are there any marketing and SEO blogs you like the most? Which and why?
There are a few blogs that are quite interesting to dive into: Kevin Indig, Marie Haynes, Robbie Richards.
In terms of corporate blogs, sometimes I see fresh ideas on Moz and Ahrefs.
But the real revelation for me was this post that I found when I was looking for ways to make a WordPress site faster, which is always a hot topic for us.
13. What services, companies, tools have inspired you over the past year?
I think, the biggest discovery of the year was Pitchbox. It's the instrument that we use for email outreach. All in all, it has a great deal of pretty cool features, but we don't do mass emails, so we use it more like a CRM system.
As for companies, I think it's Moosend, an email marketing tool. They managed to increase their traffic by almost 300% in a highly competitive niche, which is indeed a great job (kudos to Nick!)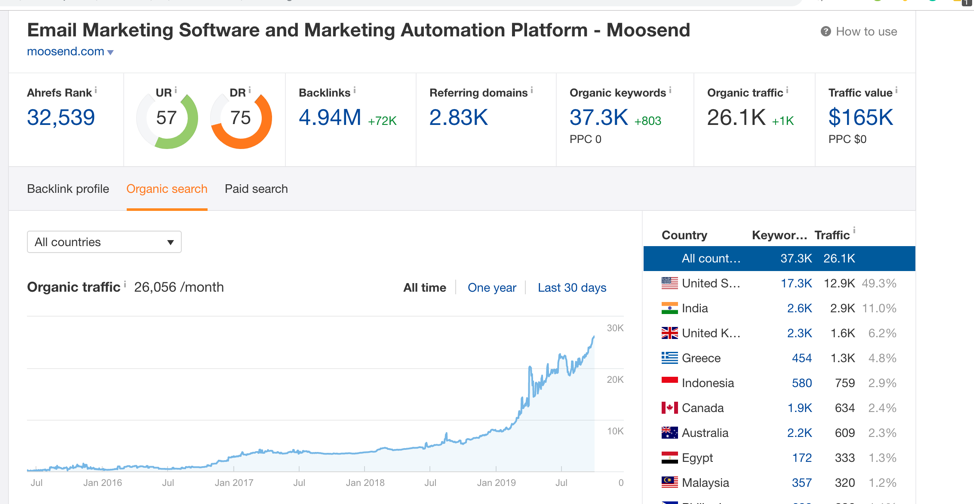 14. What are the most popular SEO errors you see in other companies?
Surprisingly, the biggest mistake is not doing email outreach. Everybody is creating content, but later on, they don't do anything with it. As a result, this content doesn't get any rankings and just languishes on the blog.
I personally think that a website should be as small as possible. If you can't afford to promote every piece properly, stop producing so much content. The trick is, poorly-ranking content negatively affects the whole website.
15. What tools do you think should be present in the arsenal of every SEO specialist?
I use many different tools in my work, but these three are a part of my swiss-army knife toolkit:
Ahrefs, a link research tool with its own crawling bot and their own index.
SEMrush is a platform for digital marketers with around 30 different tools from keyword research to brand monitoring.
Hunter.io, a great tool to spot professional email addresses.
16. What SEO ranking factors do you consider the most priority? Can you list them?
If we're talking about websites that can't boast with huge traffic, that's how I see it:
The right keywords (those that have a high search volume and low competition in SERPs).
Links.
Content quality high enough to keep the user on the page (user behavior factors).
If your site is a brand.
17. What metrics do you pay attention to when analyzing competitors?
Very often, I check whether the website's competitors do link building. This fact is easy to spot by looking at the blog's backlink profile growth trend: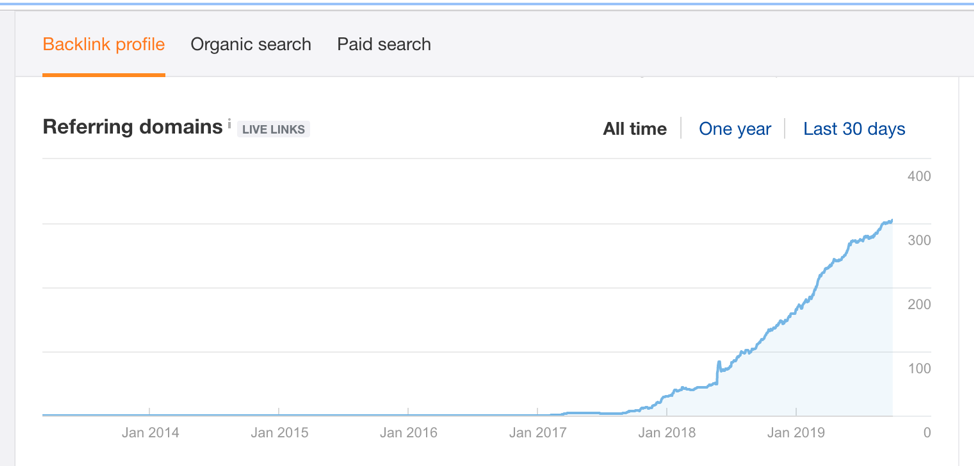 So, if the trend looks like this, the next step is to check how long it took that website to get to the top of the search with its best pages. This data helps you predict the outcomes for your clients should you do the same at a similar pace or slower/faster.