When you target a website, you aim it at specific parameters, including your target audience's language and location. These two metrics are essential for launching successful SEO campaigns, especially if you plan to make your website multilingual.
On this tool page, we'll tell you more about hreflangs. You'll learn how to implement hreflang and launch more effective targeting campaigns. You'll also find out how to use our Hreflang Checker tool and maximize its effectiveness with no effort at all. Keep reading — the most interesting is way ahead!
How to Use Our Hreflang Checker to the Max
Our Hreflang Checker is essential for improving your SEO metrics and ranking. This minimalistic yet effective solution will help you keep track of your website's HTML attributes and avoid unwanted mistakes.
Here's how you run a local SEO analysis with this tool:
Step 1. Add your domain and run a free trial
To ensure our solution is the best choice, you can start with a free test version. On the main page, add the desired domain in the search bar. It's 100% free and fast.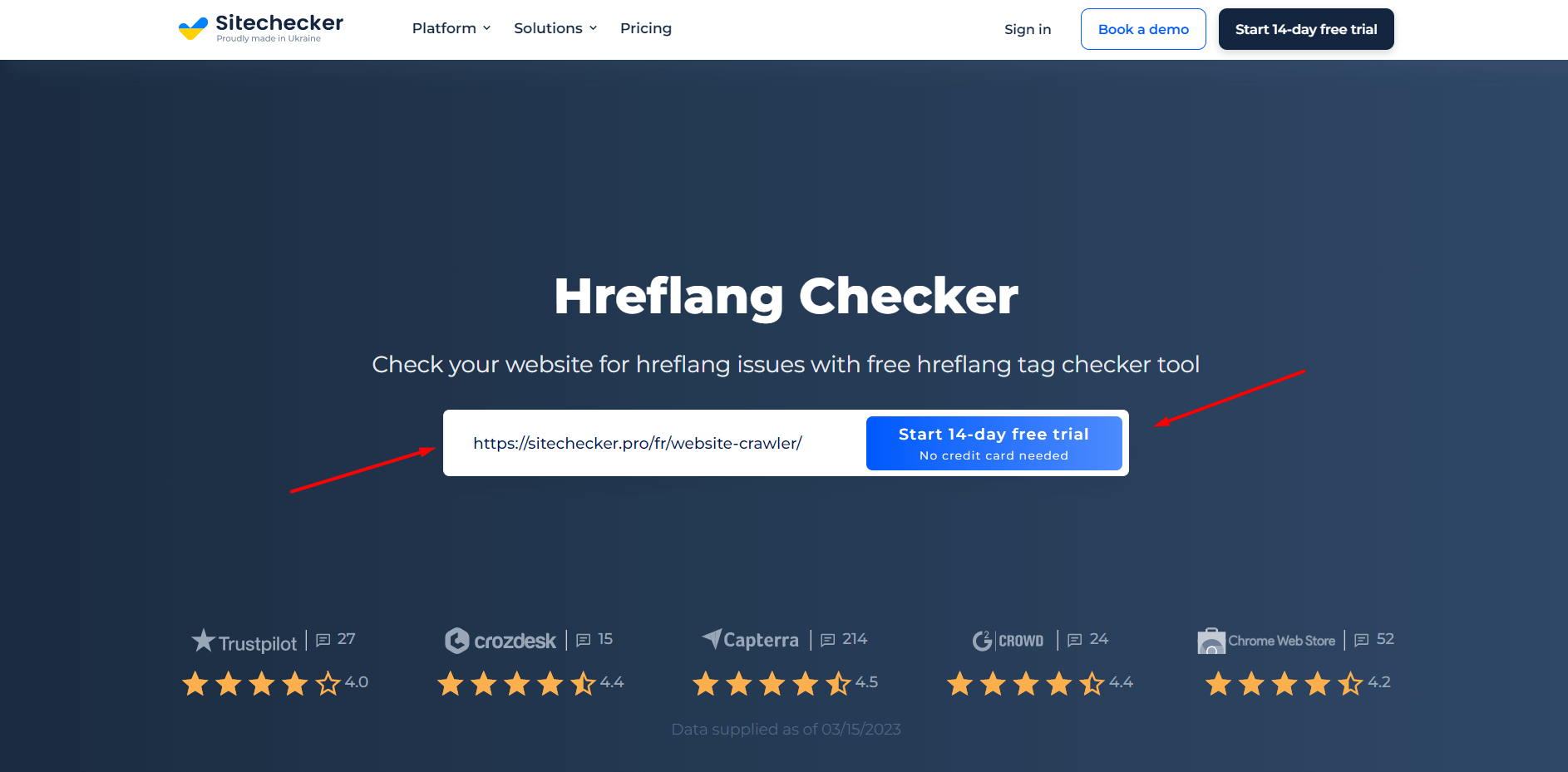 Once you've activated a free trial, enter your URL again in the new search field. There is no need to add keywords in the Rank Tracker — the crawling process will start immediately. It'll take a few moments for the validator to analyze the URL. You'll be redirected to the results page right away.
Step 2. Interpreting the Hreflang Checker results
After crawling, you will be redirected to the Page Audit – Localization section where the necessary information about hreflang tags of analyzed page is displayed.

Features of Hreflang Checker Tool
After conducting a full-site audit, you can pinpoint many types of issues with your website. Additionally, there are instructions for resolving the problems!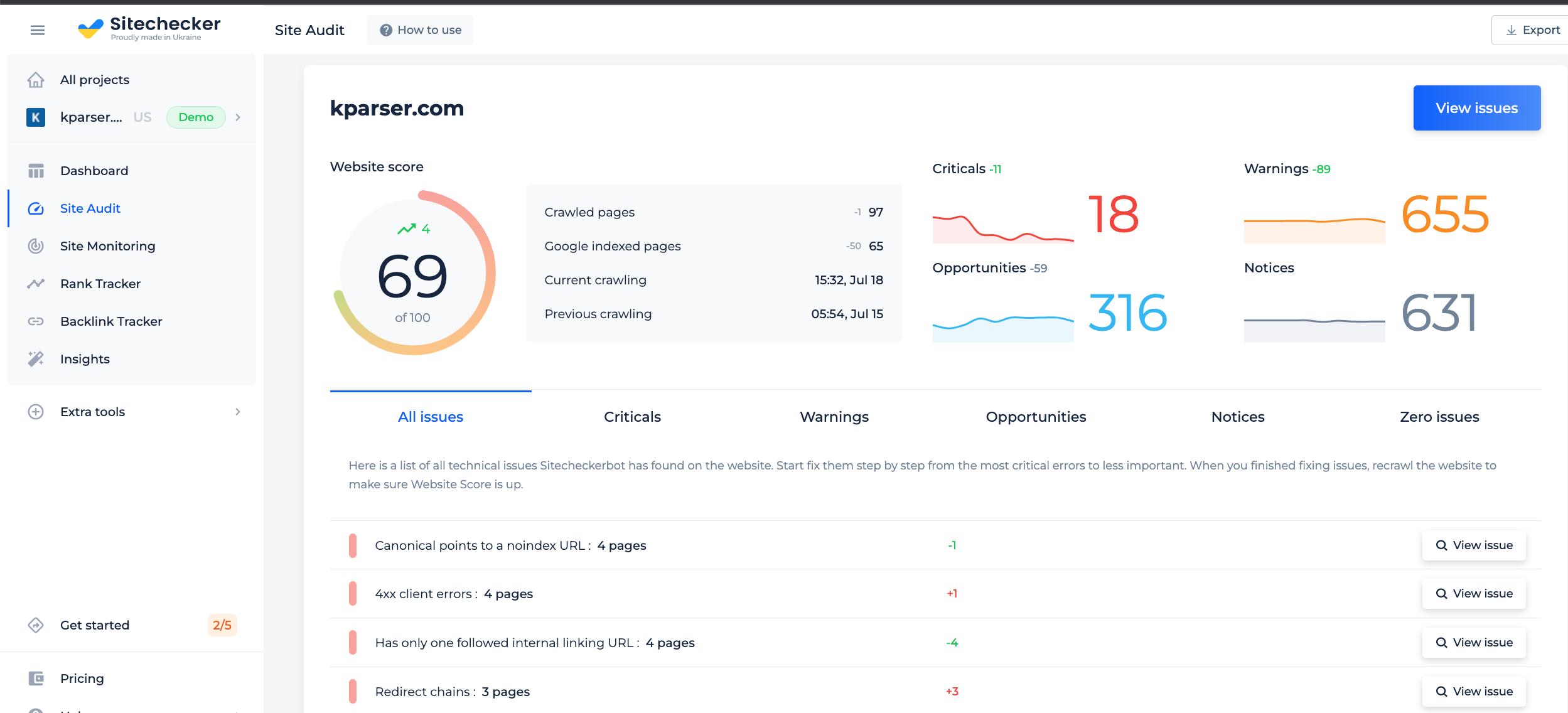 Our Hreflang testing tool can complete a full scope of tasks, including issue detection. Besides, this feature is available even in the free trial so that you can run a quick check immediately.
This means that, together with instant crawling, you'll see if any of your pages have hreflang issues, so you can instantly handle them. As a result, you'll get freshly validated HTML attributes and a high-ranking website.

If you're concerned about any possible problems with the HTML attribute on a particular page, our on-page checker can help you uncover them so you can fix them before they get worse.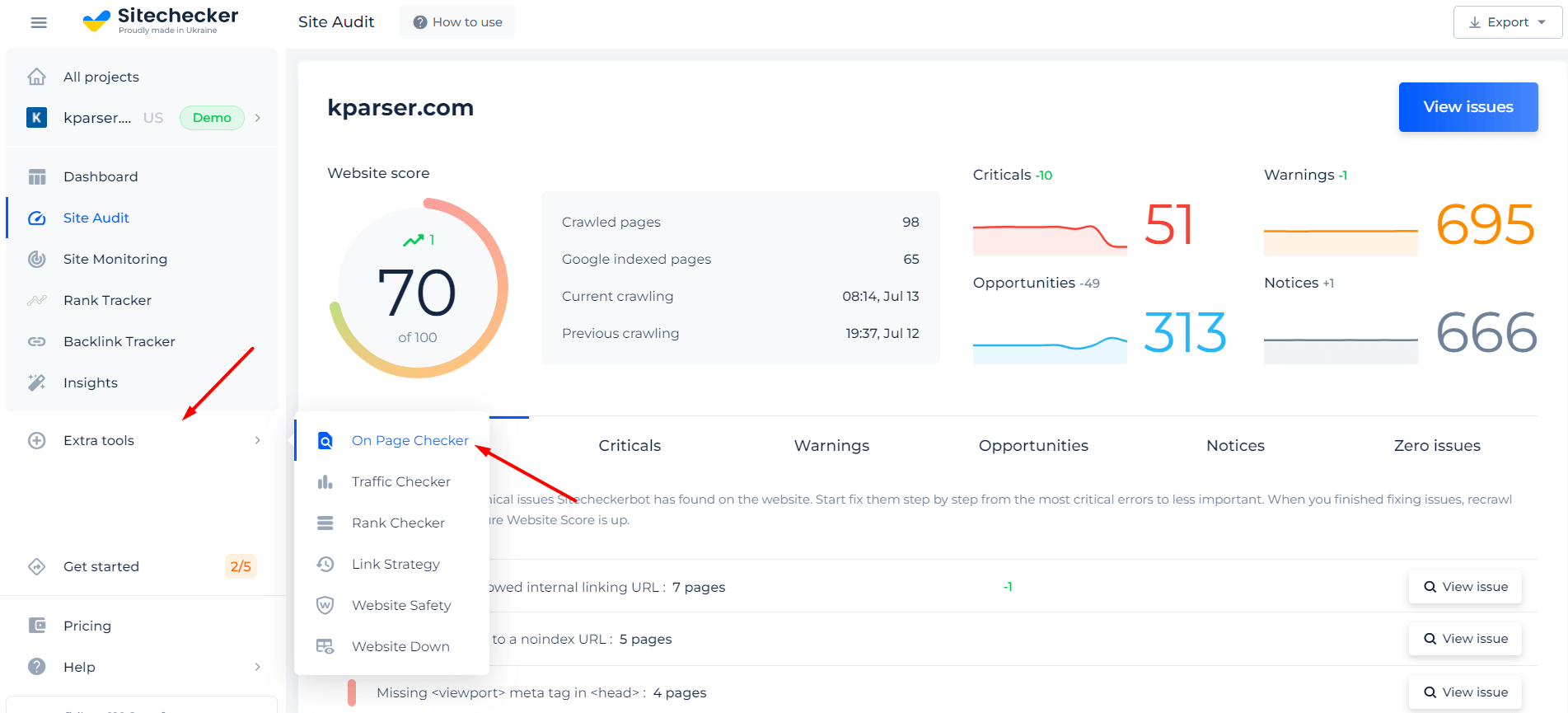 Find all pages with localization issues right now!
Make a full audit to find out and fix page localization issues in order to improve your technical SEO.
What Is a Hreflang And Why Is It Important
A hreflang tag is an HTML configuration search engines use to figure out the webpage's language or which region or location it targets. It works like this: when you search for a particular brand's website in Spain, the first search result would be "sitename.sp". Whether you're searching for the same brand from the UK, it would be "sitename.uk".
Why is using hreflangs essential? They highlight the most relevant search results to Google algorithms and how they should rank there. That's how users from France get the French website version instead of a German one and vice versa. To put it in more detail:
Adding a hreflang increases regional visibility and clicks
Hreflangs help minimize excessive bouncing from a page
They prevent your page from lower ranks
Hreflangs provide a more favorable user experience
They help promote your international content strategy
What You Should Know about Validating a Hreflang Tag
Having a valid hreflang will enable regional and language targeting for your webpage. Sometimes, you insert one in the HTML code wrong, so nothing happens. All the valid HTML attribute codes are compliant with particular ISO formats.
The language is defined in an ISO 639-1 format and usually looks like this: xx. The country code looks like this: -xx and is specified in ISO 3166-1 format. The latter is optional. However, you can use it to identify the country if several of them speak the same language (e.g., German).
To ensure you've entered the right HTML attribute, check how you wrote it. Here are some basic specifications for valid tags:
It can be a two-character code like "de"
A language-region combination like "en-UK" or "en-uk"
A language-script code: "sr-Latn"
A language-region-script combination: "sr-ba-Cyrl"
You can also see a valid hreflang as an x-default. This is used in country drop-down menus or defining the user's IP address to automatically identify the country and language for the desired page.
What Happens If a Hreflang Is Wrong
Poorly-implemented or incorrect hreflangs harm your website's international targeting and appearance. It'll also affect your page's ranking in particular regions and prevent you from improving these metrics.
There are plenty of hreflang mistakes you might make while starting a new website version or migrating it:
No return links
Wrong or absent canonical tags
Incorrect language code
Using relative instead of absolute URLs
Using a country code with no language
That's why, if you want to avoid these and other issues, you must run hreflang audits and ensure the page code is done correctly. This way, you'll know what and how to solve and avoid making the same mishaps in the future.
Why It's Important to Check Hreflang Tags
Checking hreflang tags help you prevent failure in implementing your international strategy and low SEO rankings. Regular hreflang audits and checks allow you to see all the mistakes and quickly fix them. Plus, they'll show you how well your hreflang strategy is working and what needs improvement.
Implementing and checking hreflang tags can also rescue you from penalties associated with copied or duplicate content on international sites. It'll also help avoid the Duplicate Language in Hreflang issue. This will leave your SEO score unharmed and help differentiate dialects like UK and US English.
Using the Hreflang Code Correctly
If you know all the HTML attribute formatting rules, there won't be a problem validating it on your website. Making this right will improve your webpage's performance and drive more attention from international audiences.
If you use the hreflangs correctly, you won't have ranking issues and won't get penalized for duplicate content. It's an easy yet efficient way to boost your website's SEO without extra hassle.
If you still have questions about HTML attributes and how to validate them, here's an excellent explainer video to help you out:

Why Would You Need Sitechecker as Your Hreflang Tester
Our Hreflang Checker tool works with any browser like Chrome or Safari, so it's universal in usage. It helps you run quick hreflang audits and detect all the on-page issues with them. This is a perfect tool for getting reliable, accurate results and for those who aren't quite familiar with hreflang audits that much.
It's simple yet provides detailed stats, it works fast, and it doesn't require any special skills to use. Our solution will greatly help if you launch a new website version and localize it for multiple regions.

FAQ
When should I use the hreflang code?
You should use a hreflang code when you want to reach bigger audiences from particular regions. The HTML attribute help identify the language and country of targeted users and show them the localized version of your website for better engagement and fewer bounces.
What happens if hreflang is wrong?
If the implemented HTML attribute is wrong, the relevant page wouldn't reflect in users' search results and lower your SEO rankings. Faulty HTML attributes can harm your international online presence and minimize the effectiveness of your optimization campaigns.