Most companies are using multiple ways of attracting new potential customers or keeping the existing ones engaged on their websites and social media. Even though most businesses stick to Instagram, Facebook, and LinkedIn, Twitter is also a powerful platform for driving more attention to your brand and making informative, creative content.
One of the most effective ways of using this social network is by implementing Twitter cards on your website. They show up on your web page for several reasons, helping your company look more professional and trustworthy. Plus, it drives more traffic to the link you want to share. Finally, it enables you to create posts of various formats and makes them more visually appealing.
What's a Twitter Card Validator?
It is a special card reader tool that helps you see whether the one you've created properly looks and works either on your website or Twitter page.
The tool practically works as a debugger for a variety of issues. It processes your card's URL and analyses its meta tags and content. It helps you see if the Tweet's data is relevant and effective enough to drive more engagement.
The checker also shows you previews of what your cards would look like once you post them. You can make all the necessary changes beforehand to make the one look as appealing and professional as possible.
How Can You Use a Twitter Card Checker?
To ensure you're using the tool to the fullest, read this brief description of how card validation is working. It's no rocket science — you won't need any additional skills to deal with it!
Step 1. Insert your page URL and start a free trial.
Once you get to the card Validator page, add your URL to the search bar. The trial registration process is quite quick. You can use your Google or Facebook accounts, no plastic money is needed.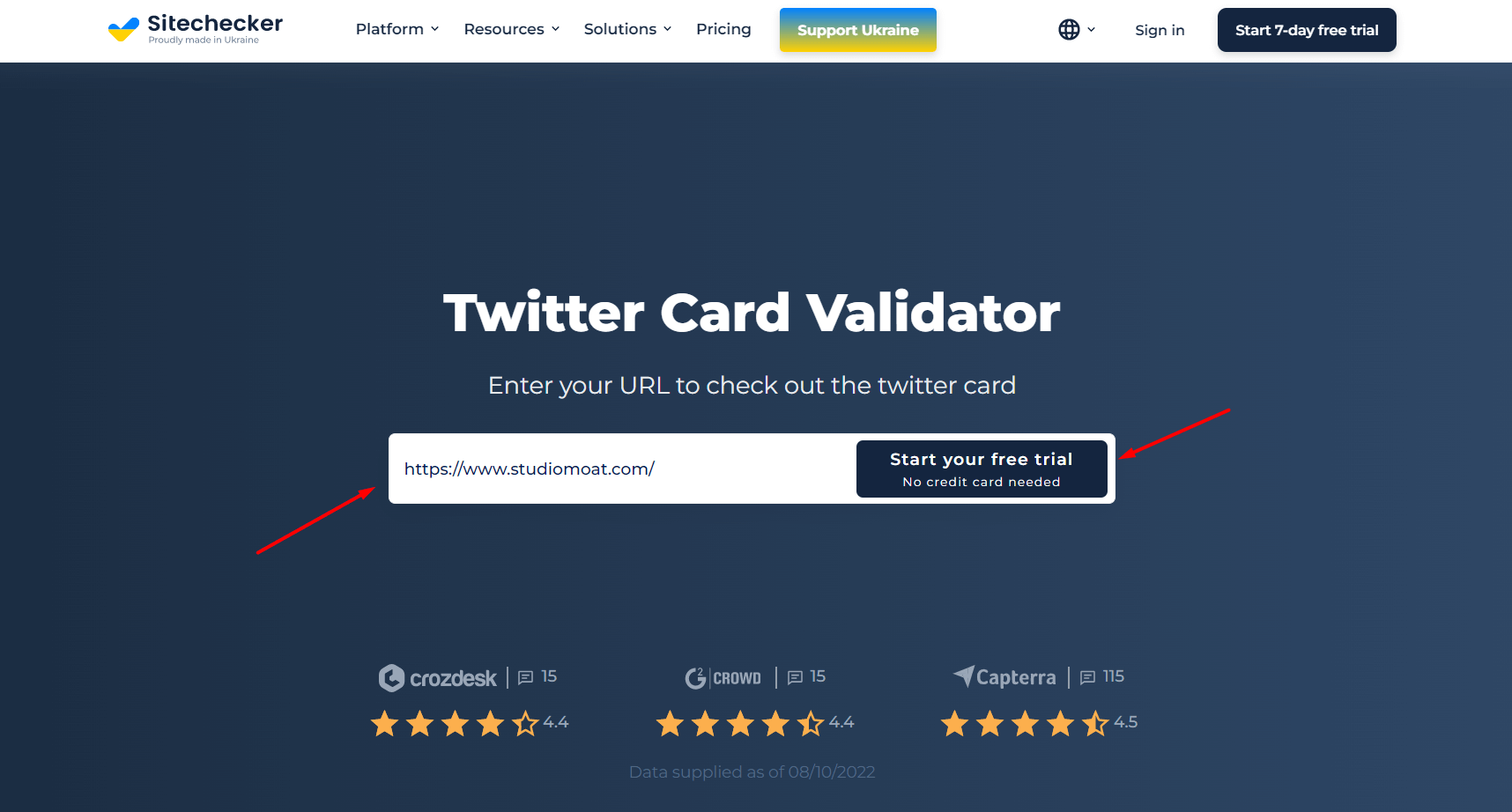 Step 2. Result analysis
After the analysis is over, you'll get the results right away. The information block is in the Content category. If you have a related Twitter card, it'll show what information is missing, as well as the one included in the card.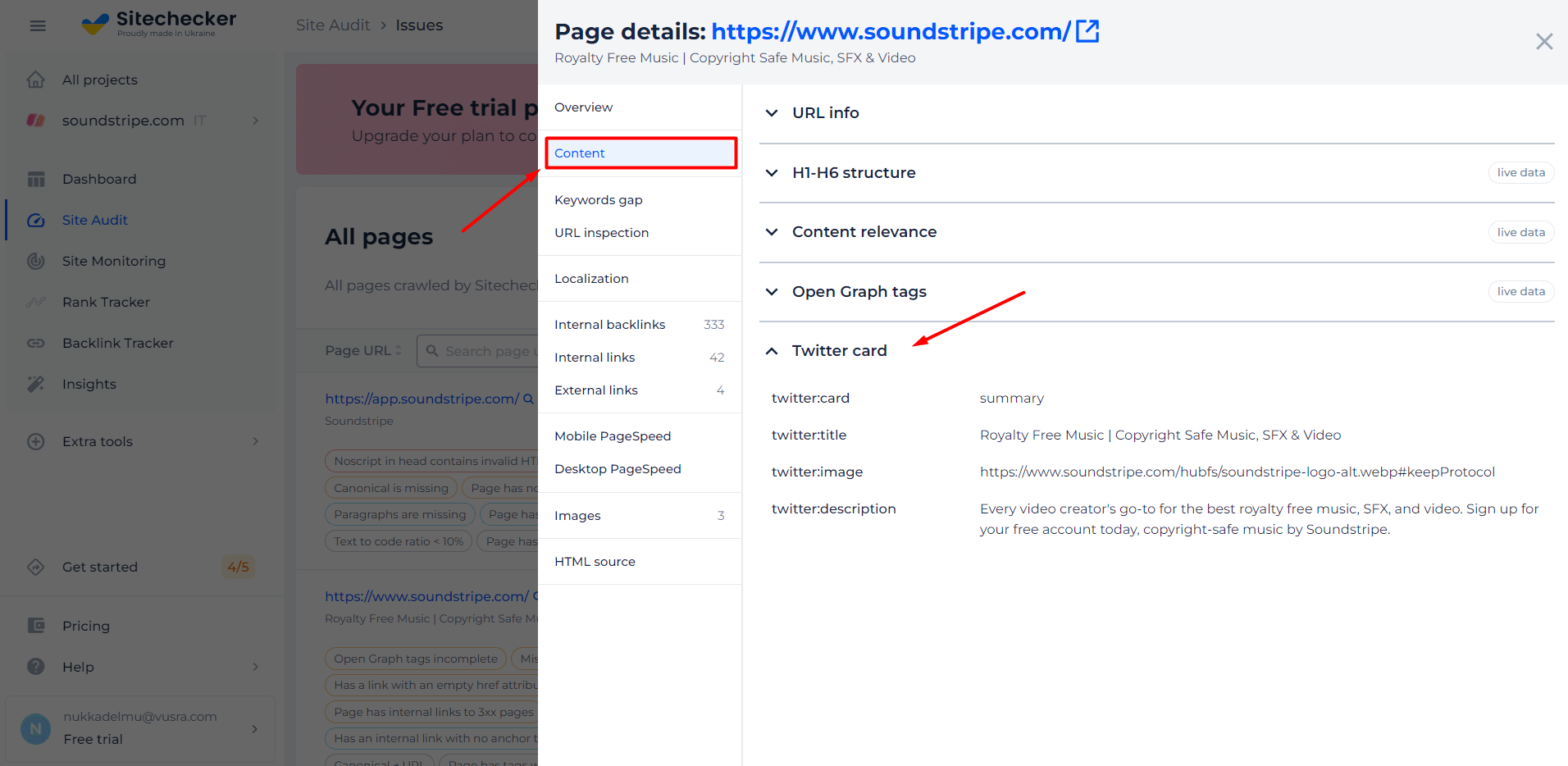 How Do Detect All Pages With Twitter Card Issues?
Our tool can help you solve a range of issues, especially if you need to detect web pages with Twitter card issues. We run not just one URL crawling, but all website. So as result you will get the full site audit. In this case, on the site audit summary page, in the category Social media cards, you can find out all Twitter card issues that your site has. By clicking on the "View issue" button, you can get the list of URLs that have this issue.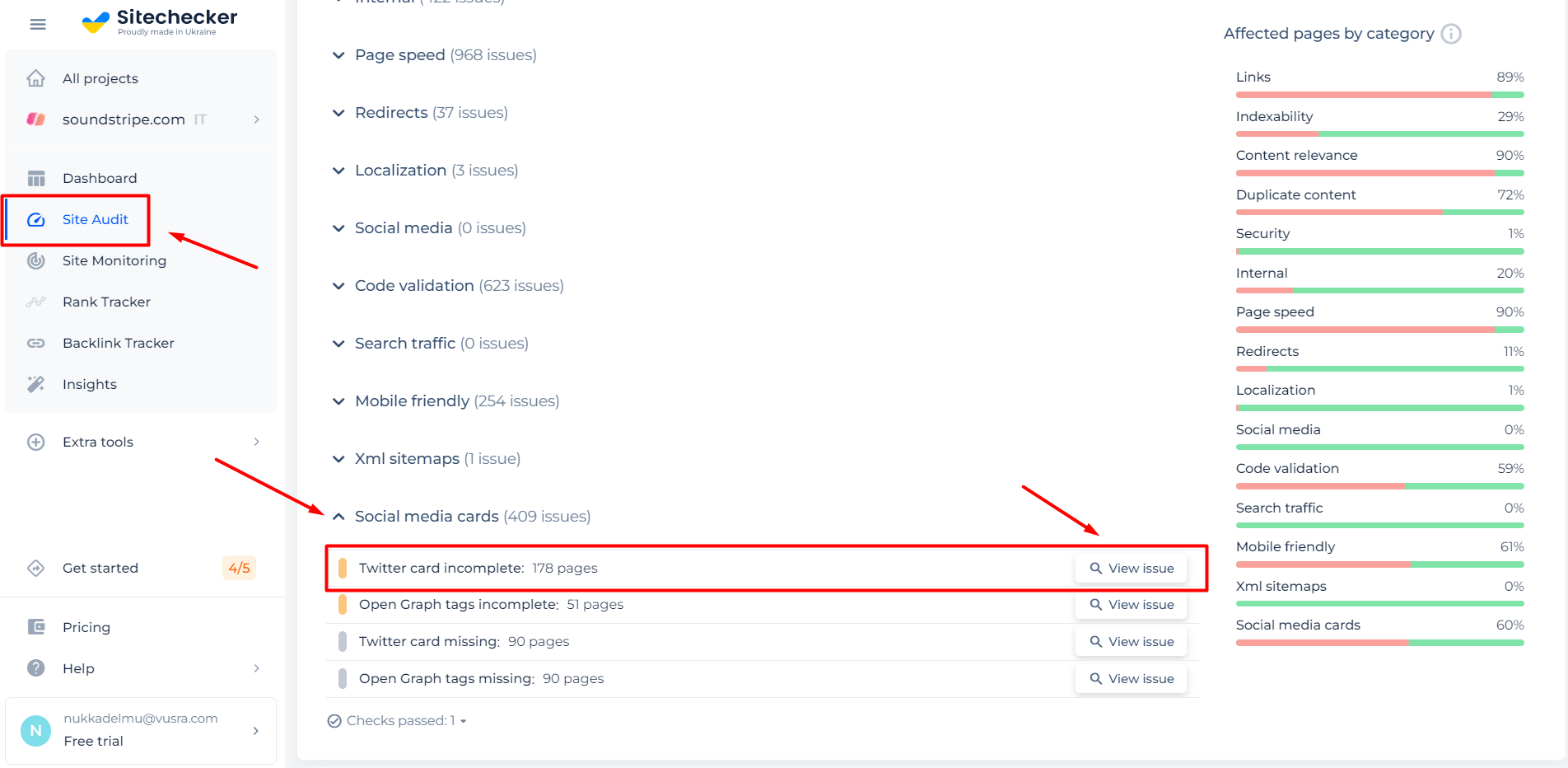 On the pages list, you will be able to "View issue in code" and read the instruction on how to fix it.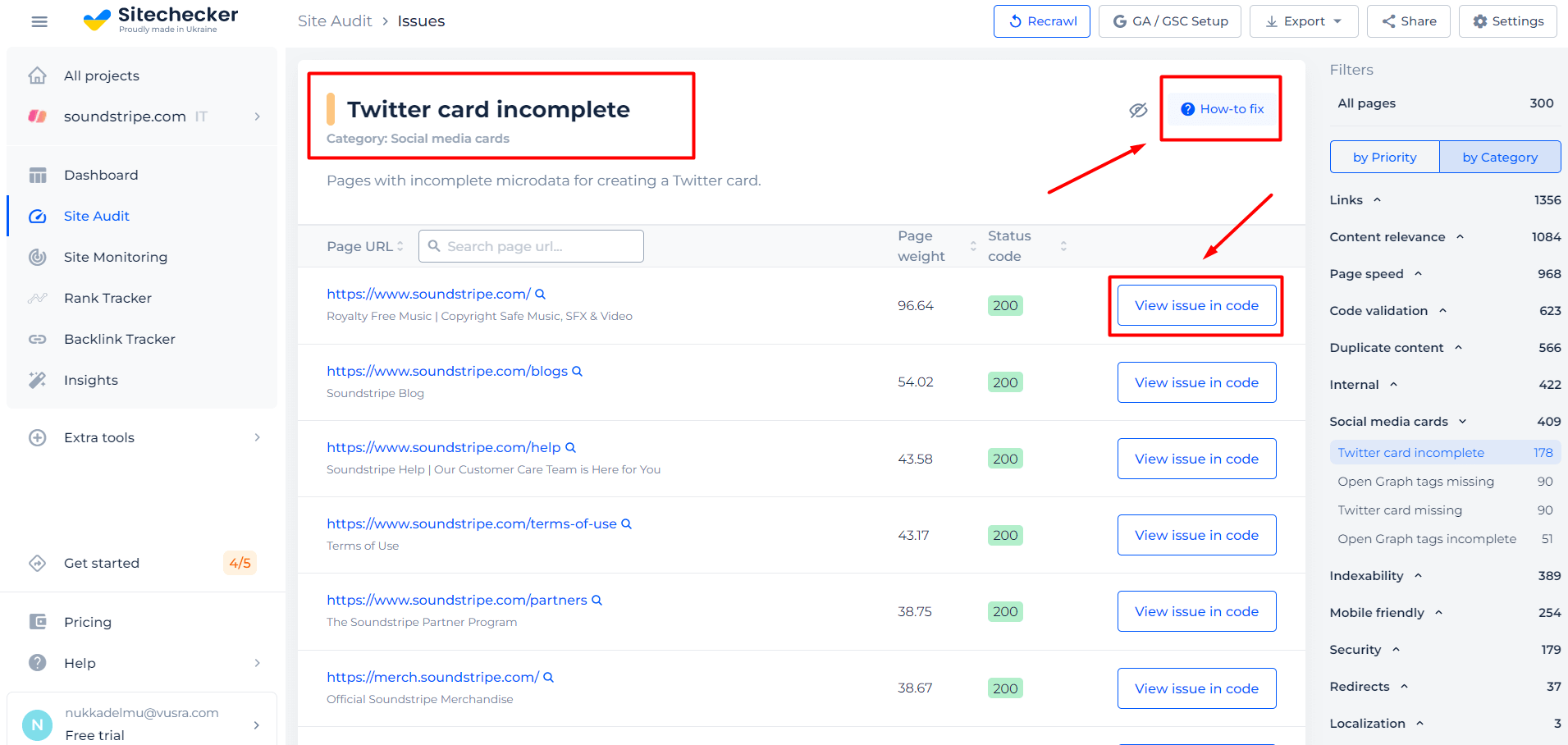 Also, you can make the manual checking using any browser is enough to check the issue. Open the source code of the flawed page To do this, click the right mouse button at any spot on the page and choose the "browse the code" option.
The source code must contain microdata for Twitter.
Example: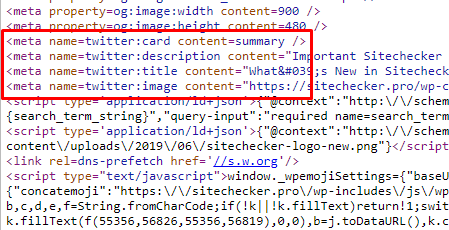 Analyze not only twitter card issues, but the entire site!
Make a full audit to find out and fix your technical SEO.
What is a Twitter Card?
A Twitter card is basically an add-on to your Tweets, it is allows you to add multimedia to your posts, like videos or images. Twitter adds these cards to posts that include your website's URL. A prerequisite to adding the one is having a meta tag "twitter:card" showing the type you need.
You can choose among the following card types:
Website;
Video website;
Image app;
Video app.
All of them help you deliver the most vital information about the website without exceeding the character limit. You can add appealing images (even the ones of larger size or dimensions), informative videos of any length, or just a banner that represents what your company is doing.
You can find more information this video guide by Barbara Feldman.
Is a Twitter Card Important for SEO?
In a nutshell — yes! Twitter cards are a great addition to improving your website's SEO metrics. They help increase engagement, improve the CTR, and hence, result in more conversions. Getting extra traffic from Twitter is another way of reaching more people and potential customers of your product.
Plus, they are an excellent means of boosting your brand awareness, specifically through social media. Since the outreach from social channels is quite massive in most cases, it may be useful for your company to involve an additional promotional channel. Twitter is a perfect way to reach broader audiences worldwide.
How to Fix a "Twitter Card is Missing" Issue?
Twitter card missing issue means that website has pages without it.
To fix the issue it is necessary to add microdata to the page template to have the card displayed. Check out twitter recommendations here.
There might also be a problem when a Twitter card is incomplete. This means your website has the one, but it's missing some information or metadata. If you want to solve this quickly, you can check our instructions right here.
FAQ
How do you get a 2022 Twitter card?
First, head to Twitter Ads. Go to the Creatives menu and click on Cards. There, you'll see a blue Create button. Choose the desired format and start editing it. Add a headline, upload a picture or video, add a link to your website, and name it. After that, your card will go into the library, where you can make final edits before posting it. Publish the Tweet, and you're good to go.
How do Twitter cards work?
It helps you add pictures, videos, and media experiences to your Tweets. As a result, it helps drive more traffic to your website. For example, you may add a few markup lines to your webpage, and users that Tweet links to your content will have a Card attached to the Tweet. It's visible to their followers, and people can see a neat Twitter card that'll make them want to reach your website.
Can you edit Twitter cards?
You can't change an image that's attached to the one and has already been published. If you want to change this picture in a post, move the cursor towards it and click Change to Photo Post.