A meta description is an HTML element to provide a summary of the page.
Search engines like Google can use meta description tags when users search for something on the Internet. These blocks appear below the page titles as search results. Users often pay attention to the meta description to match their requests. Accordingly, the quality of the meta description strongly influences the click-through rate (CTR).
What Does "No Keywords in Meta Description" Mean?
This notification means when the targeted keywords assigned to this URL are missing from the page's meta description tag. Here you can find more about meta description.
What Triggers This Issue?
This issue occurs when the meta description doesn't match the page content. For example, a user is looking for information about a new laptop model, but there is only general information about the company in the short description under the heading. Why did it happen? Perhaps this site applies one meta description to all pages. This approach leads to a low CTR.
There are other reasons for the absence of keywords:
Using double quotes or other non-alphanumeric characters in a meta description
Keyword typos in a meta description
Using the same language in the meta for one page in different languages
How to Check the Issue?
You can check how the meta descriptions for the pages of your site look now. Perhaps your descriptions are all the same. This approach can turn away users as they pay attention to the meta description. A couple of seconds, or even a second, is enough for the user to decide whether to make a click.
You can also find competitors' pages and see how they write their meta descriptions.
Use online services such as Sitechecker to assist in rectifying your descriptions. It scans and identifies a variety of description-related issues.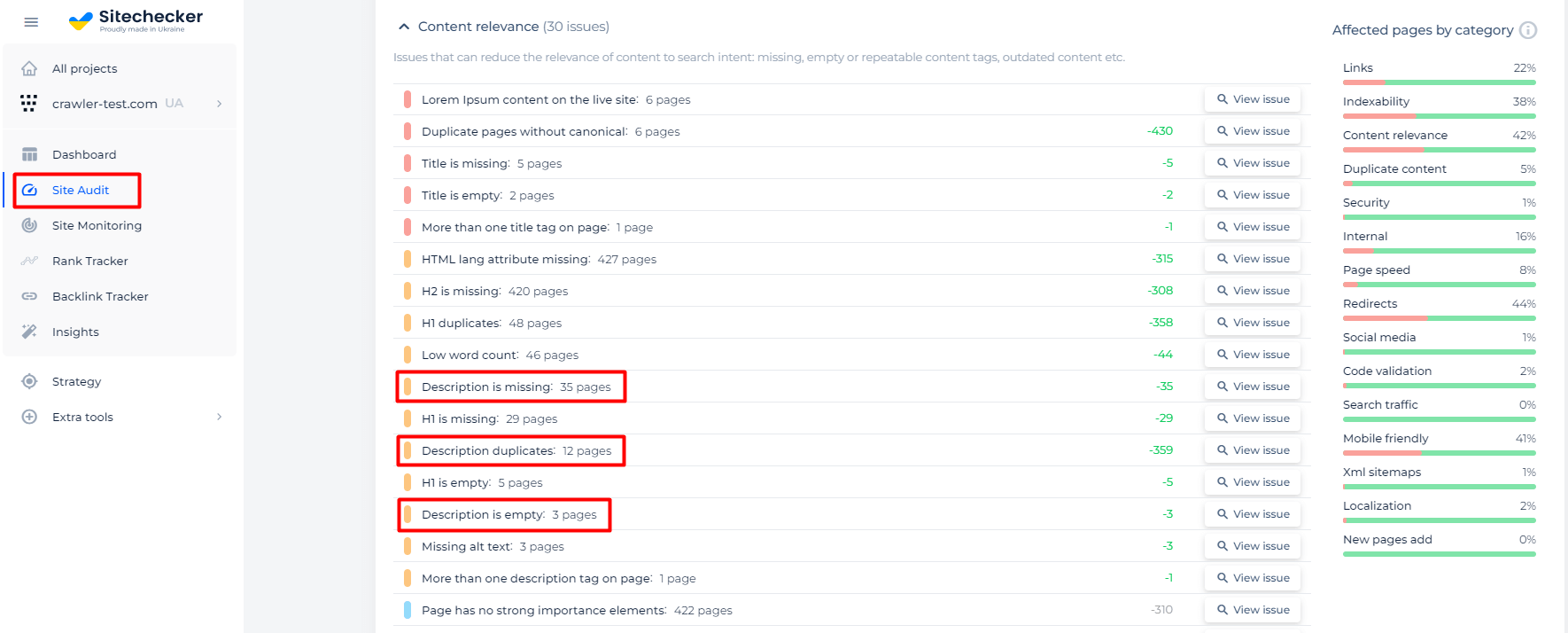 To verify duplicate descriptions, simply click on the identified issue. You will then be presented with a list of text and the corresponding pages where duplication occurred.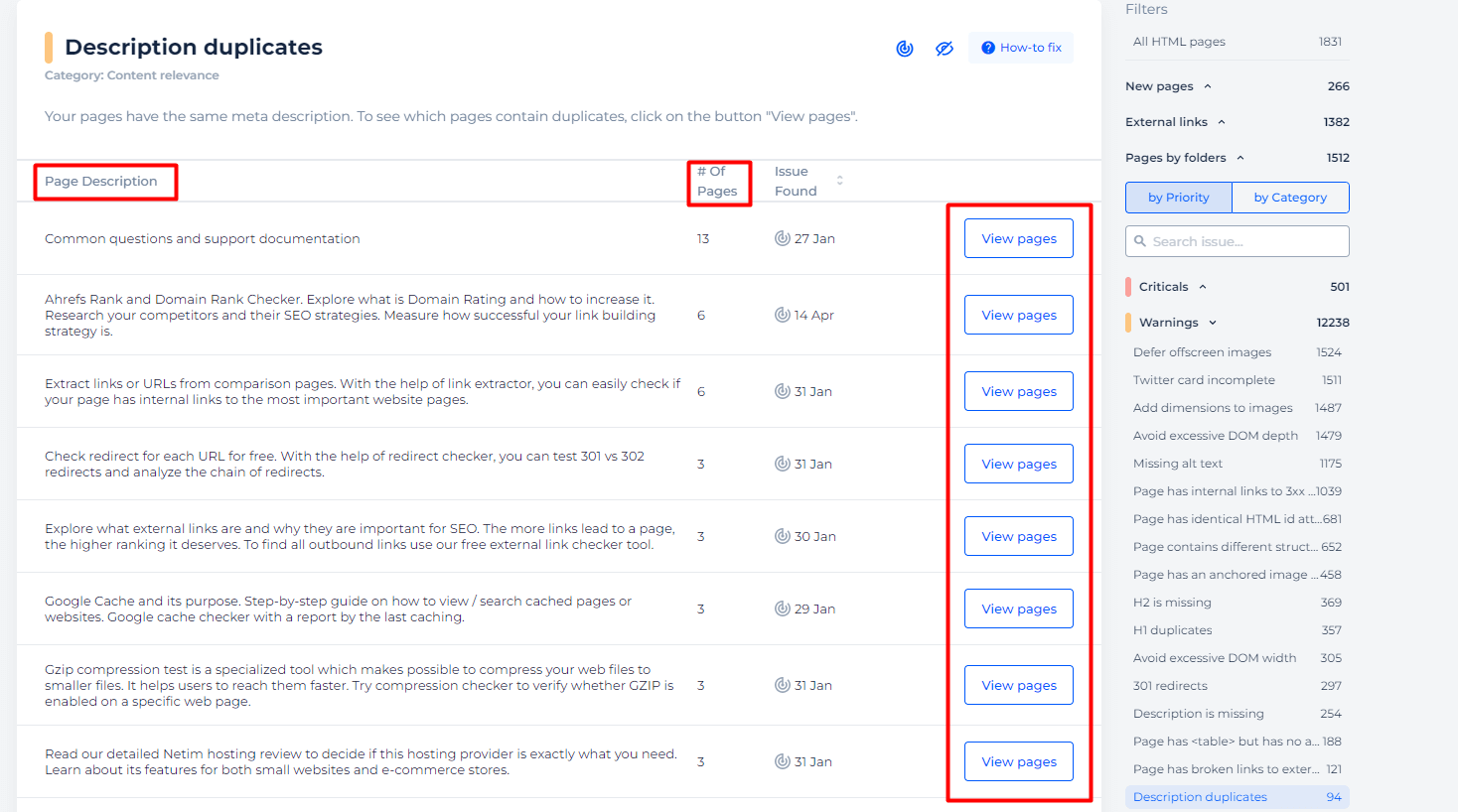 Additionally, you can monitor all pages that have missing descriptions.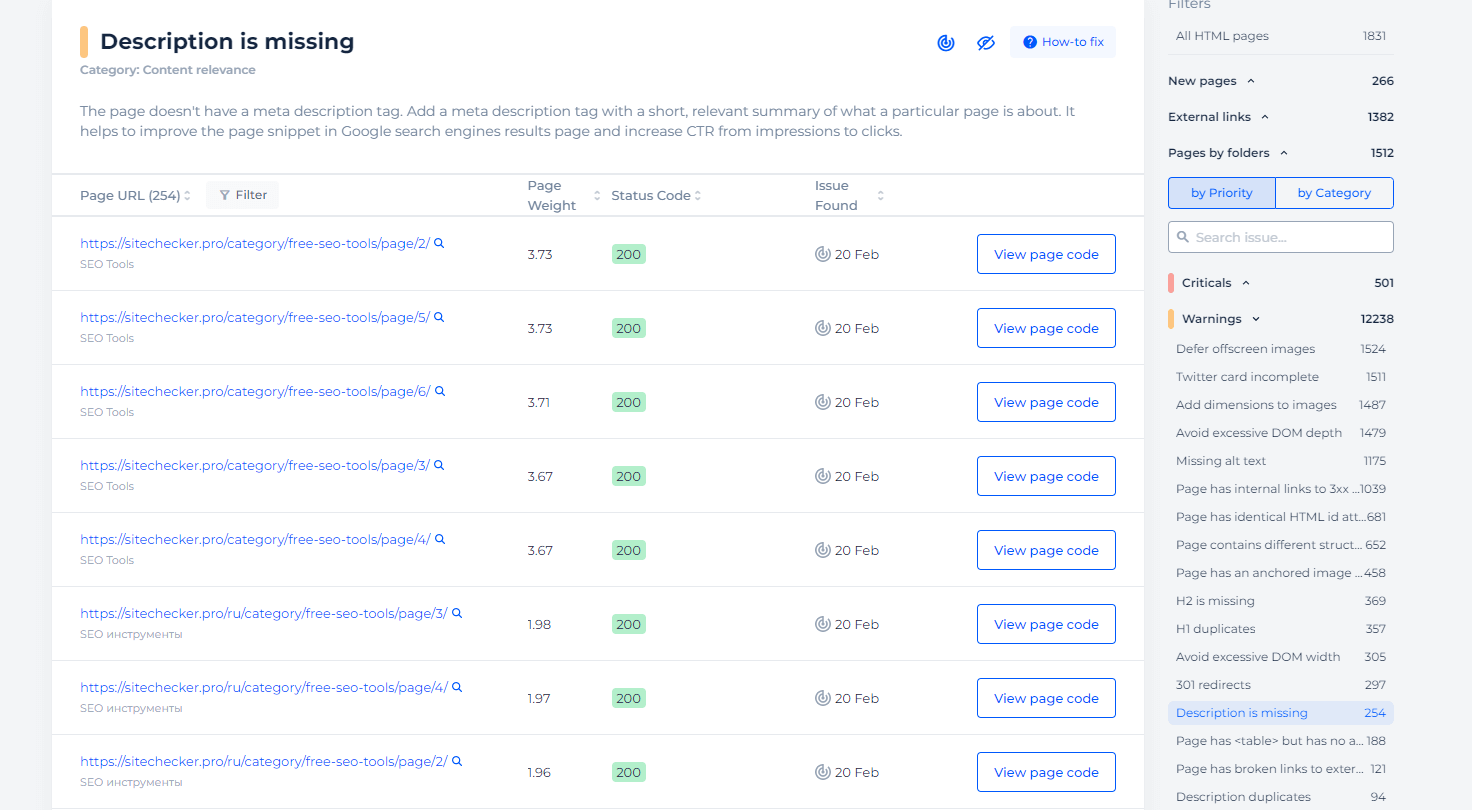 Why is This Important?
If you want to increase the level of visits to the pages of your site, then you should take care that the meta descriptions match the user's request. Then the description will be highlighted in bold in the SERP snippet. And the user will understand whether it is worthwhile for him to go to your page. Use this free method to increase your CTR and traffic to your website.
Check all the descriprion-related issues on your website!
Make a full audit to find out and fix your technical SEO.
How to Fix the Issue?
If you need to solve this issue, you can estimate how many pages on your site are now without effective descriptions. If there are too many of them, then you need to start with the most important ones. And so, step by step, you will put keywords in all meta descriptions.
Also, check out the following guidelines if none of the targeted keywords were found in meta descriptions of your pages:
Include targeted keywords that match user queries
Realize that every page must have a unique meta description
Keep the length to 160 characters
Do not overreach with the number of keywords
Make natural-sounding and human-readable meta description
Consider that each meta description is a short advertisement for each page